These Mini Pumpkin Cheesecakes are the perfect fall dessert for any occasion. It's a scrumptious cheesecake with the perfect hint of pumpkin.
Great for any party!
Follow me on Facebook, Instagram & Pinterest to stay up to date on all of my recipes!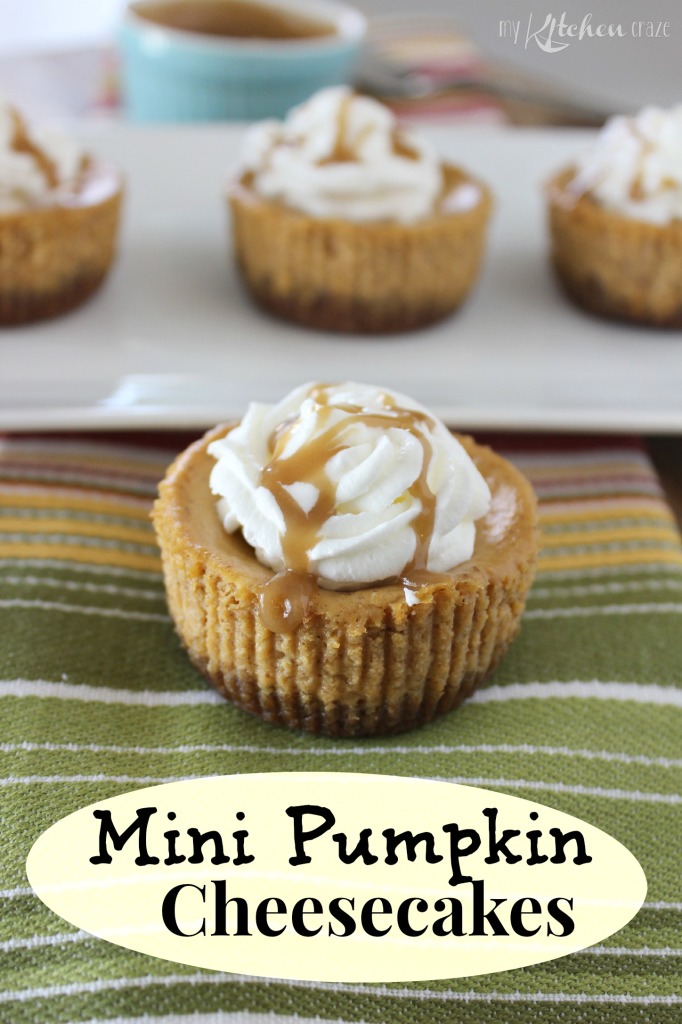 Since I had a lot of fun making and showing you all pumpkin recipes last week, I decided to continue Pumpkin Week for one more week. There is just too much to share with you for me to keep it only 1 week. I still have a few pumpkin desserts that I want to share with you. I did a question poll on my Facebook. Are you following me? I asked everyone what was their favorite pumpkin dessert. Everyone but a few picked Pumpkin Cheesecake. I did get pumpkin cinnamon rolls, which I need to make those because they sound dreamy. Yumm!
I have to be honest and say that I have never made an actual cheesecake before. I know, I know. How is that even possible when I have this blog and all of you wonderful readers. Can I tell you a secret, but promise you won't judge me. I'm not a huge fan of cheesecake. I like it, but its one of those things that I can have two bites of and be done. Now I have to say that these pumpkin cheesecakes kinda of changed me. I am thinking that with the pumpkin and the graham cracker crust, it took cheesecake to a whole new level for me.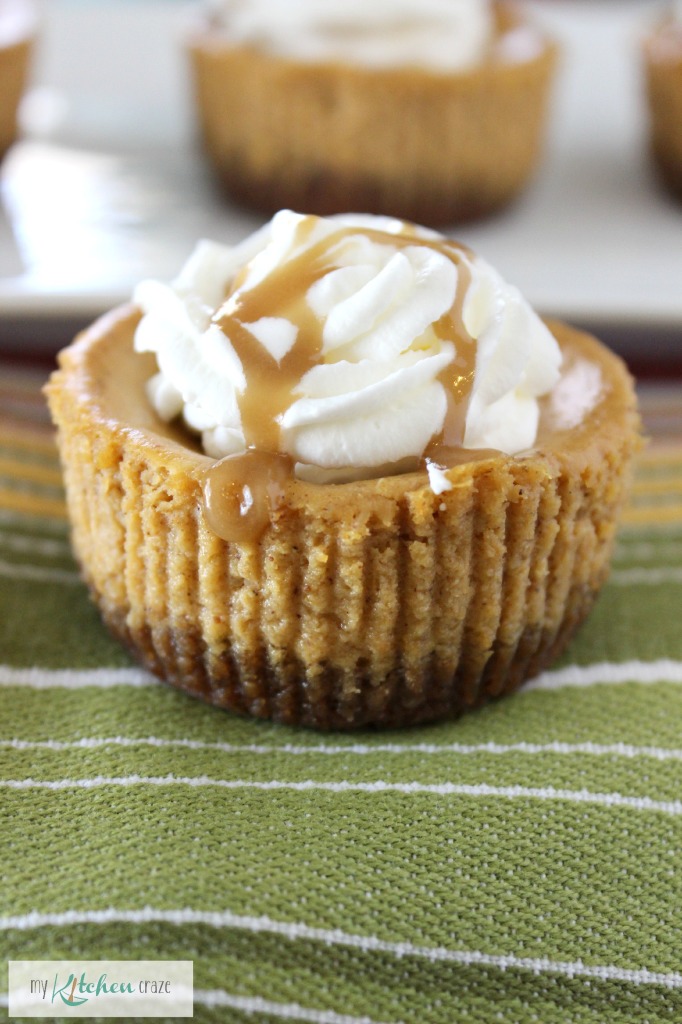 I took these to my hubby's work because I actually made two batches just to make sure they tasted perfect for you. I felt so loved at his work because everyone was saying that these we top-notch. I wanted to tell them that of course they were. I made two batches just to make sure the recipe was perfect for all my readers. Don't wanna give you anything, but perfection, right?!
Back to these cheesecakes. So you start out by mixing graham crackers and some pecans together to make the crust. Now I didn't have mini cheesecakes pans so I just used a muffin pan with paper liners. You could use whatever you like. Then mixing cream cheese with pumpkin, a lil ol' egg, some nutmeg and other stuff. You have this great mixture. It smelled amazing. I could have licked my fingers all day. After I baked them, I knew I needed something to top them off. Wanted to make them look pretty. So I whipped up (no pun intended) some whip cream and made some Carmel sauce to finish it off. Perfect, delicious and tasty mini pumpkin cheesecakes!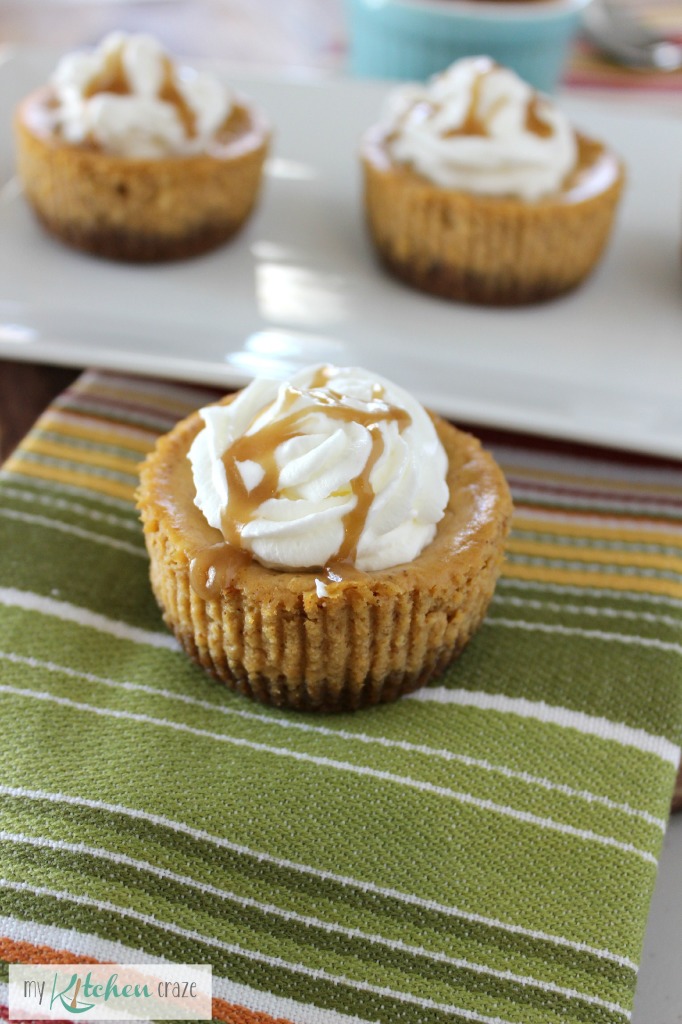 Mini Pumpkin Cheesecakes
Ingredients
Crust:

3/4 cup graham cracker crumbs
1/4 cup pecans, chopped
4 tablespoons unsalted butter, melted
2 tablespoons brown sugar, packed
pinch of salt

Pumpkin Cheesecake:

2 (8 oz) cream cheese, softened
1 cup brown sugar, packed
1 cup canned pumpkin
2 tablespoons sour cream
1/2 teaspoon salt
2 eggs
2 teaspoons vanilla
1 teaspoon cinnamon
1/2 teaspoon nutmeg

Whipped Cream:

3/4 cup heavy cream
2 tablespoons granulated sugar

Carmel Sauce:

1 stick butter
1 cup brown sugar, packed
1/3 cup heavy cream
Directions
Preheat oven to 350 degrees F. Place cupcake liners into each cupcake trays (12). Set aside.

Crust:

Place graham cracker crumbs, pecans, brown sugar and salt into a small bowl; stir to combine. Add melted butter and stir until the crumb mixture is well coated with the melted butter. Add 1 1/2 tablespoon of crust into the paper liners. Press crust down firmly with the back of a spoon or the tablespoon.
Bake for 8-10 minutes, or until golden brown. Cool on a wire rack while your make the filing.

Pumpkin Cheesecake:

In a stand mixer with a whisk attachment, add cream cheese and brown sugar. Mix on medium speed until light and fluffy. Beat in pumpkin, sour cream and salt, scraping bowl as needed. Add egg, vanilla, cinnamon and nutmeg. Mix until well blended.
Add about 1/3 cup mixture into each paper liners. Leave about 1/4" of space at the top.
Bake 15-20 minutes or until set. Start checking cheesecakes after about 10 minutes, as oven temperatures varies.
Cool on top of the stove for about 10 minutes, then transfer cheesecakes to a wire rack to cool for another 30 minutes.
Refrigerate at least 2 hours or overnight before serving.

Whipped Cream:

In a stand mixer with the whisk attachment, whisk together the heavy cream and sugar until medium peaks start to form. Place whipped cream in a piping bag with a tip of your choice. Pipe the whipped cream over cooled mini cheesecakes.

Carmel Sauce:

Melt butter in a medium sauce pan.
Add brown sugar and heavy cream. Whisk constantly over medium heat until the sugar has dissolved.
Bring mixture to a boil and boil for 3 minute; nothing more.
Remove from heat and allow to cool for 5 minutes, then transfer to a glass container to store in the refrigerator.
Notes
**Don't worry you will have extra cheesecake batter. You can make some more graham cracker crust and make more mini cheesecakes if you'd like.
**The Carmel sauce makes a lot so plan on using it for Carmel sundaes, or just eat it by the spoon like I do.
Copyright 2014 | My Kitchen Craze
Pumpkin Snickerdoodle Whoopie Pies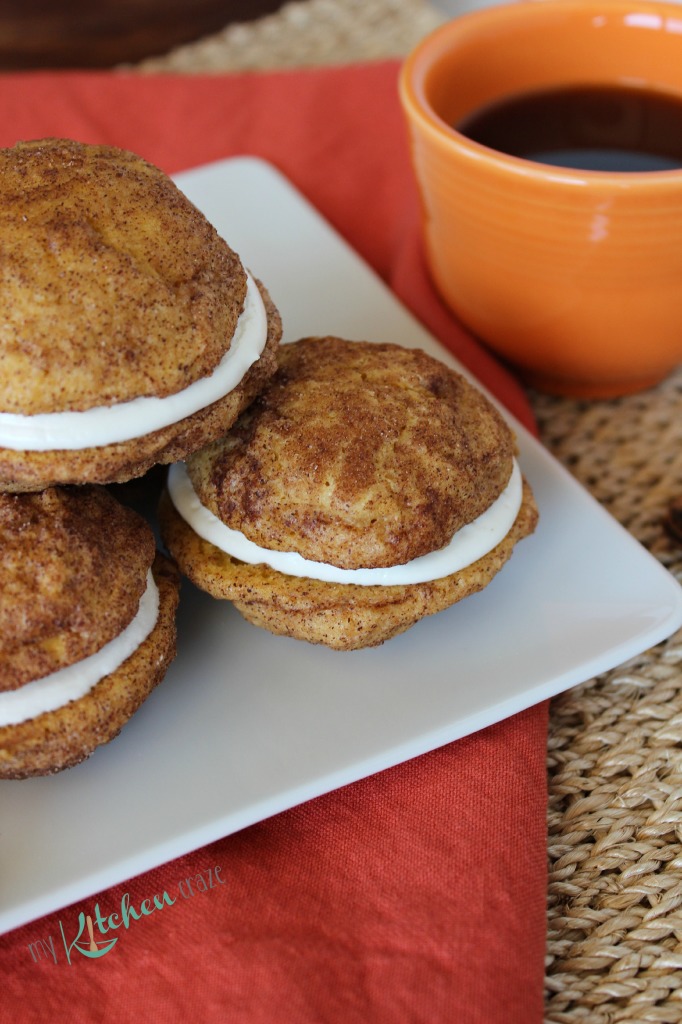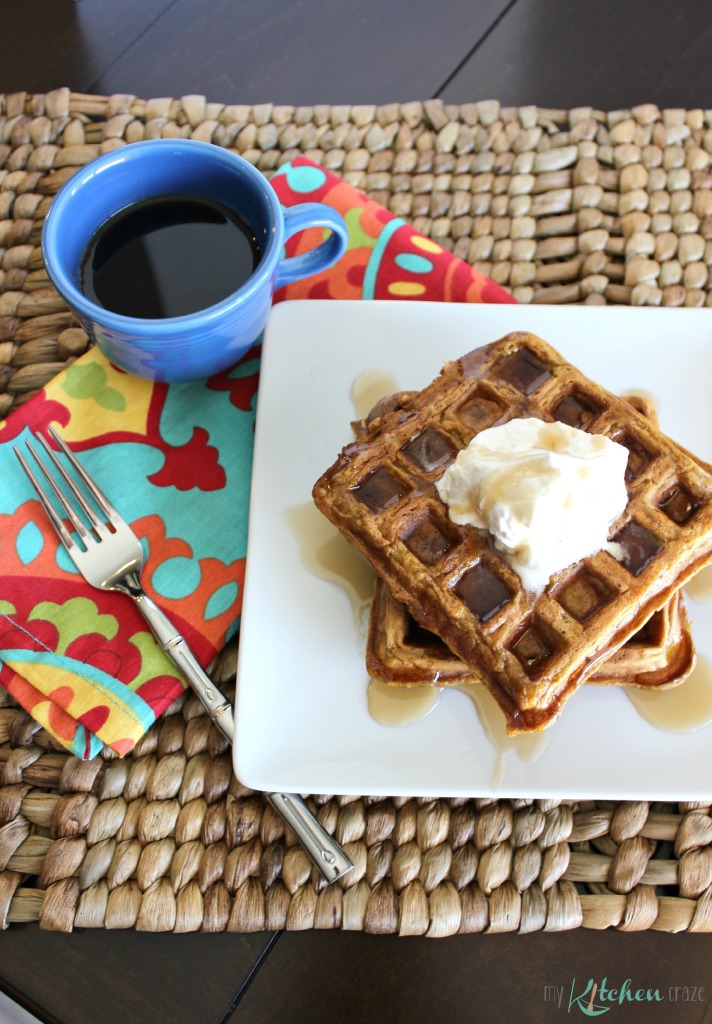 Let's be friends! You can find me here:
Have a great day!
Cyndi