Pumpkin Snickerdoodle Whoopie Pies
Indulge this season and make these delicious, irresistible Pumpkin Snickerdoodle Whoopie Pie Cookies! Moist, delicious cookies filled with marshmallow cream! Perfect for this season!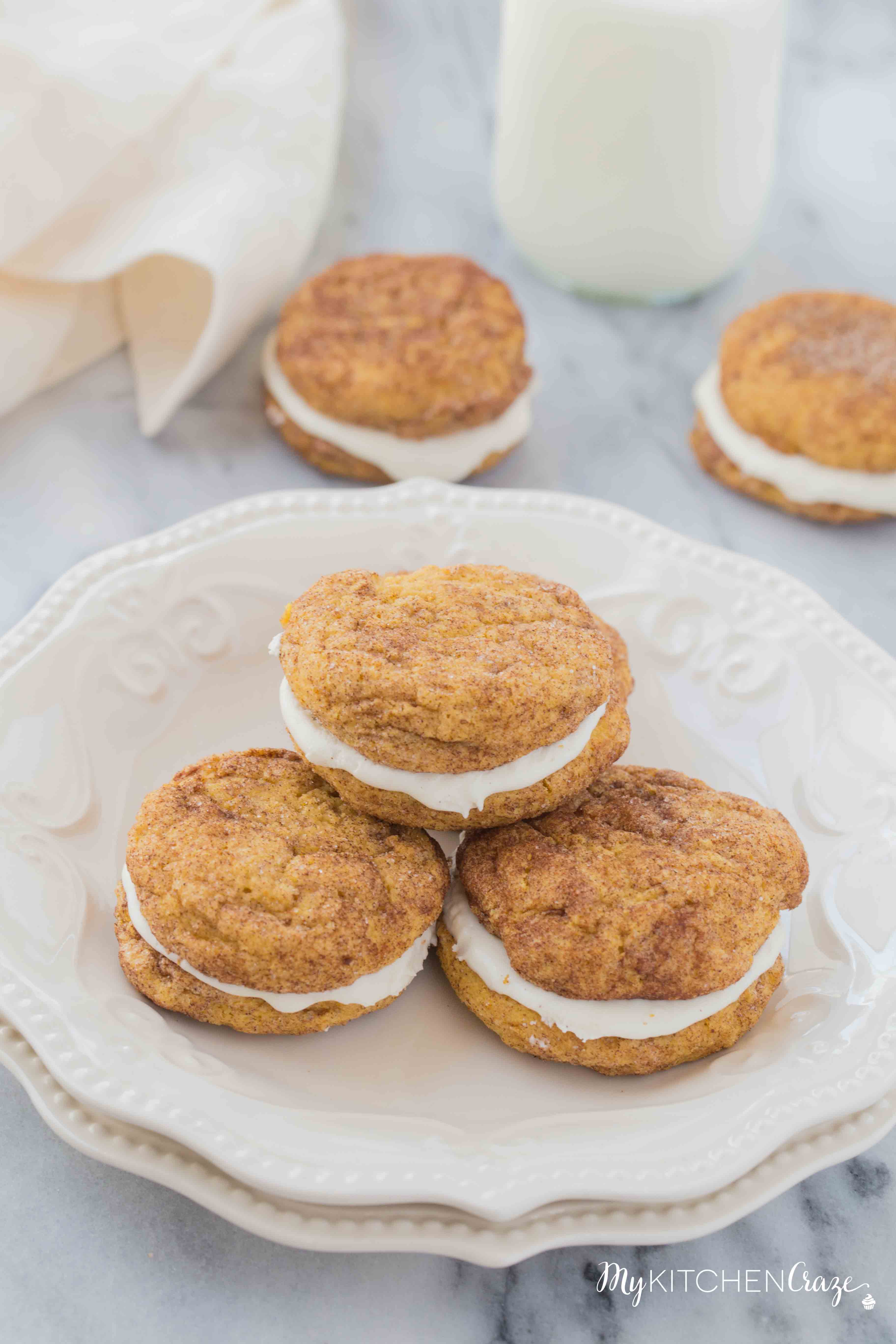 It's officially Fall and the weather hasn't arrived! Why? I'm so ready!
I'm trying to encourage the weather by baking and cooking fall recipes. Do you think it'll work? Probably not, but I'm hopeful!
There's something about Fall that I love. The cooler weather, the changing of leaves, Halloween and then all the yummy pumpkin goodies. Everything's pumpkin and I love it. I eat so much pumpkin during the season that by the time Winter starts, I'm ready to jump off the pumpkin bad wagon and onto winter wagon.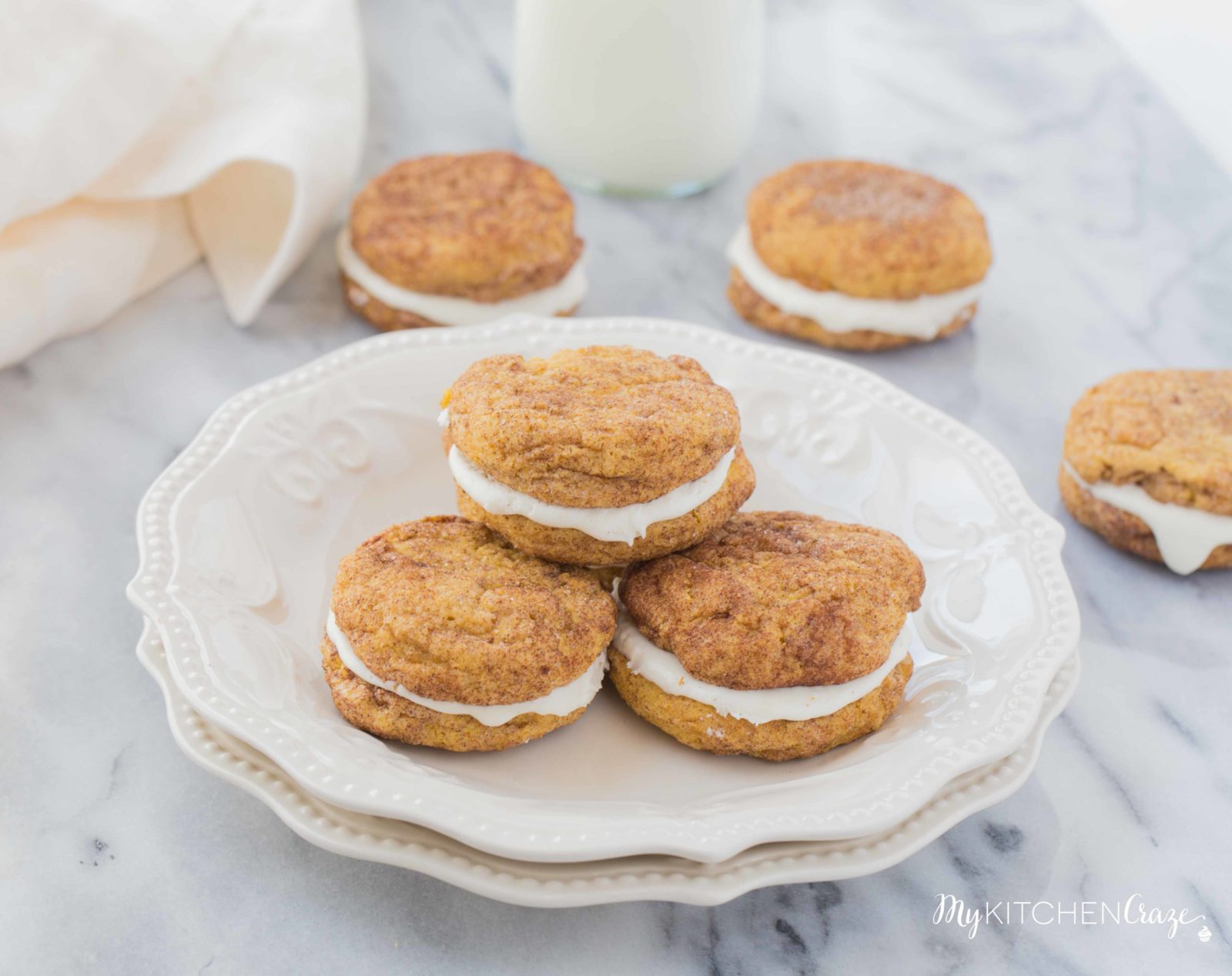 Today I'm sharing the first pumpkin recipe. I wanted this pumpkin recipe to be fun and delicious! It also had to be easy to make. I wanted this recipe to wow your co-workers and family. I want them to say, "Wow "name inserted", you made that?"
You all know I didn't love cooking and baking back in the day. I used to always get those pre-made cookie dough balls and I'd stick them in the oven to bake. I'd take them out of the over and think wha-la fresh-baked cookies. Hehe. I really had no idea how to bake from scratch. It's actually so sad.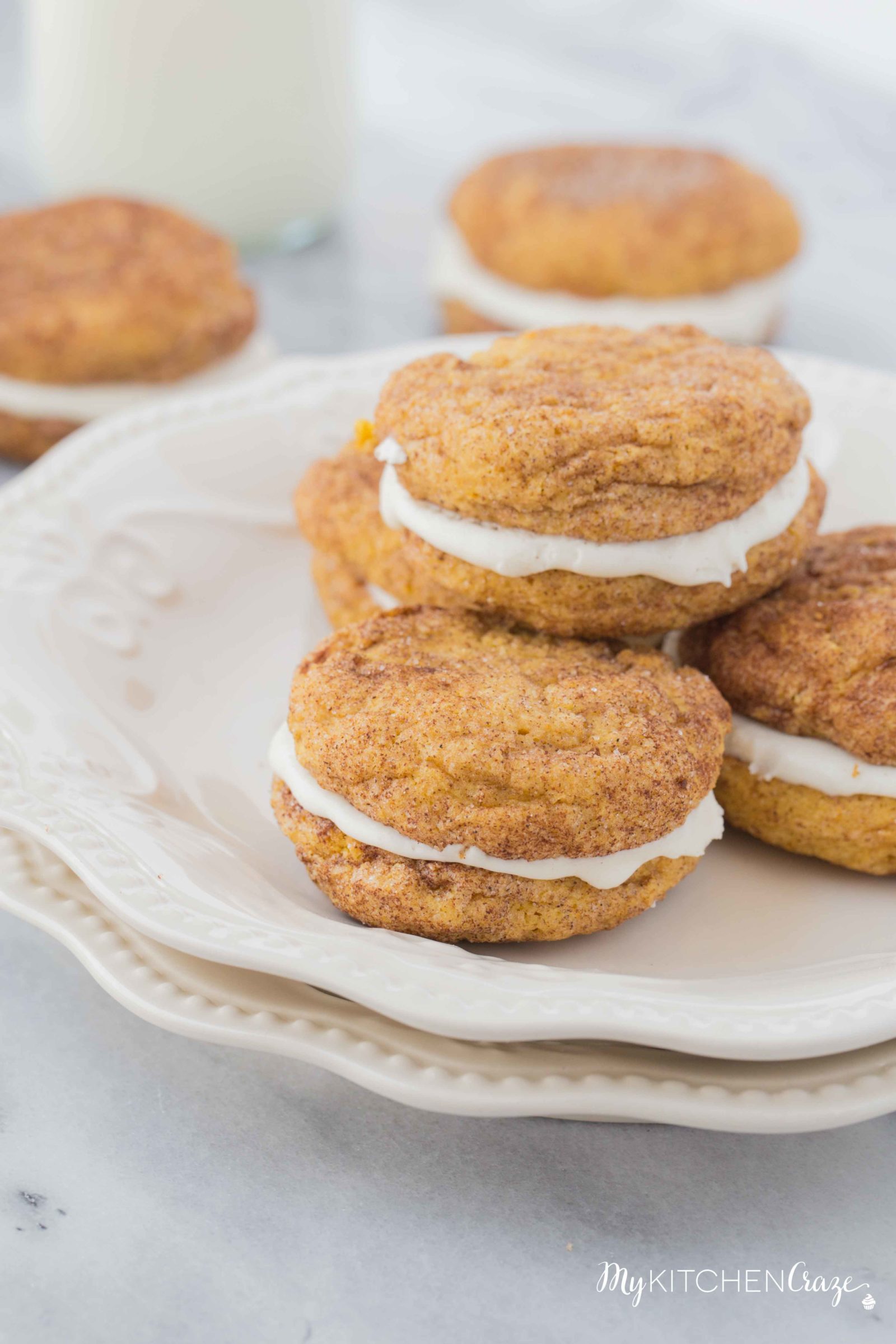 But times have changed and it's all about the fresh baked goodies. I absolutely love baking fresh desserts now. I wished I would have learned sooner so I would have had baked these Pumpkin Snickerdoodle Whoopie Pies. They would have been in my life so much sooner. 🙂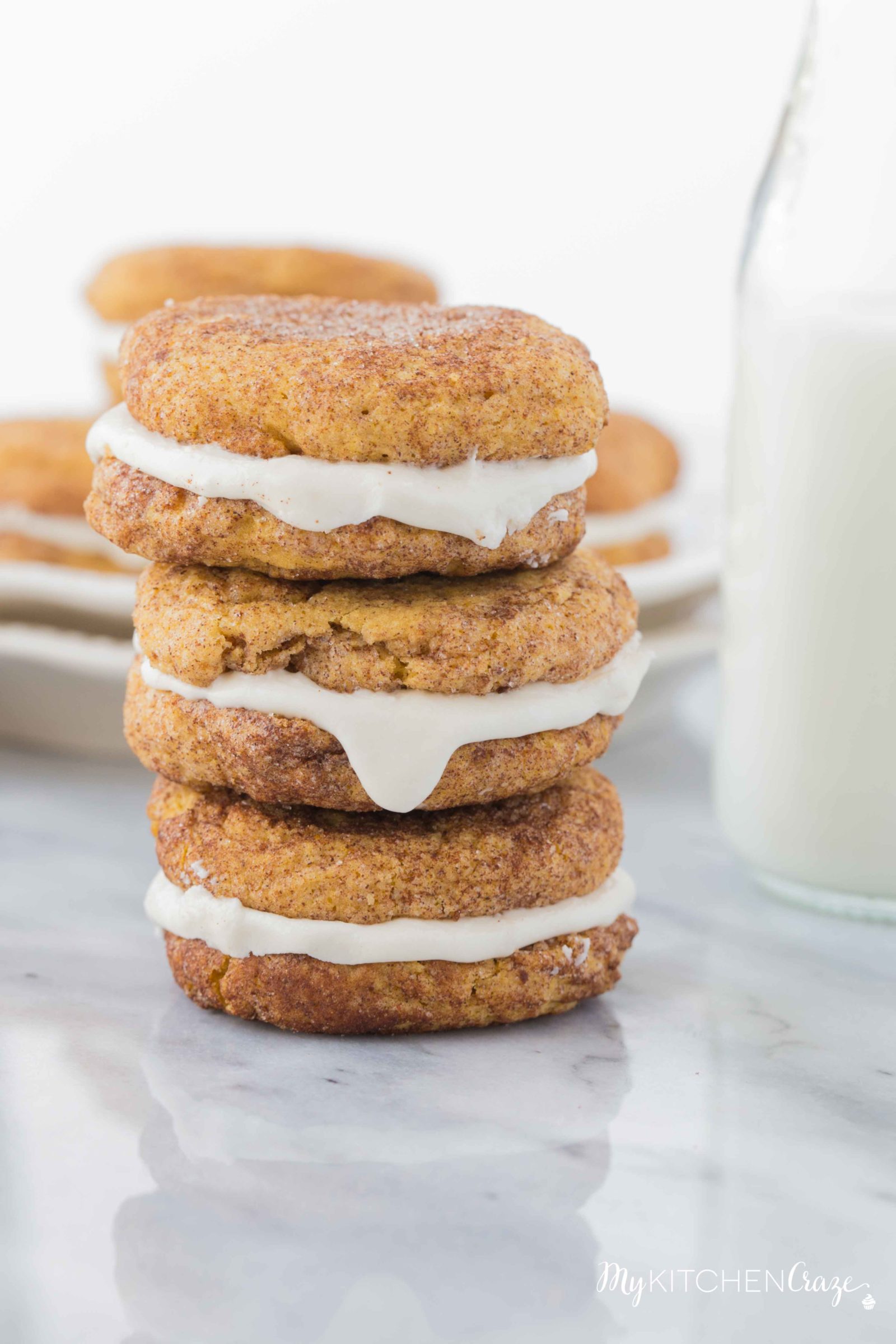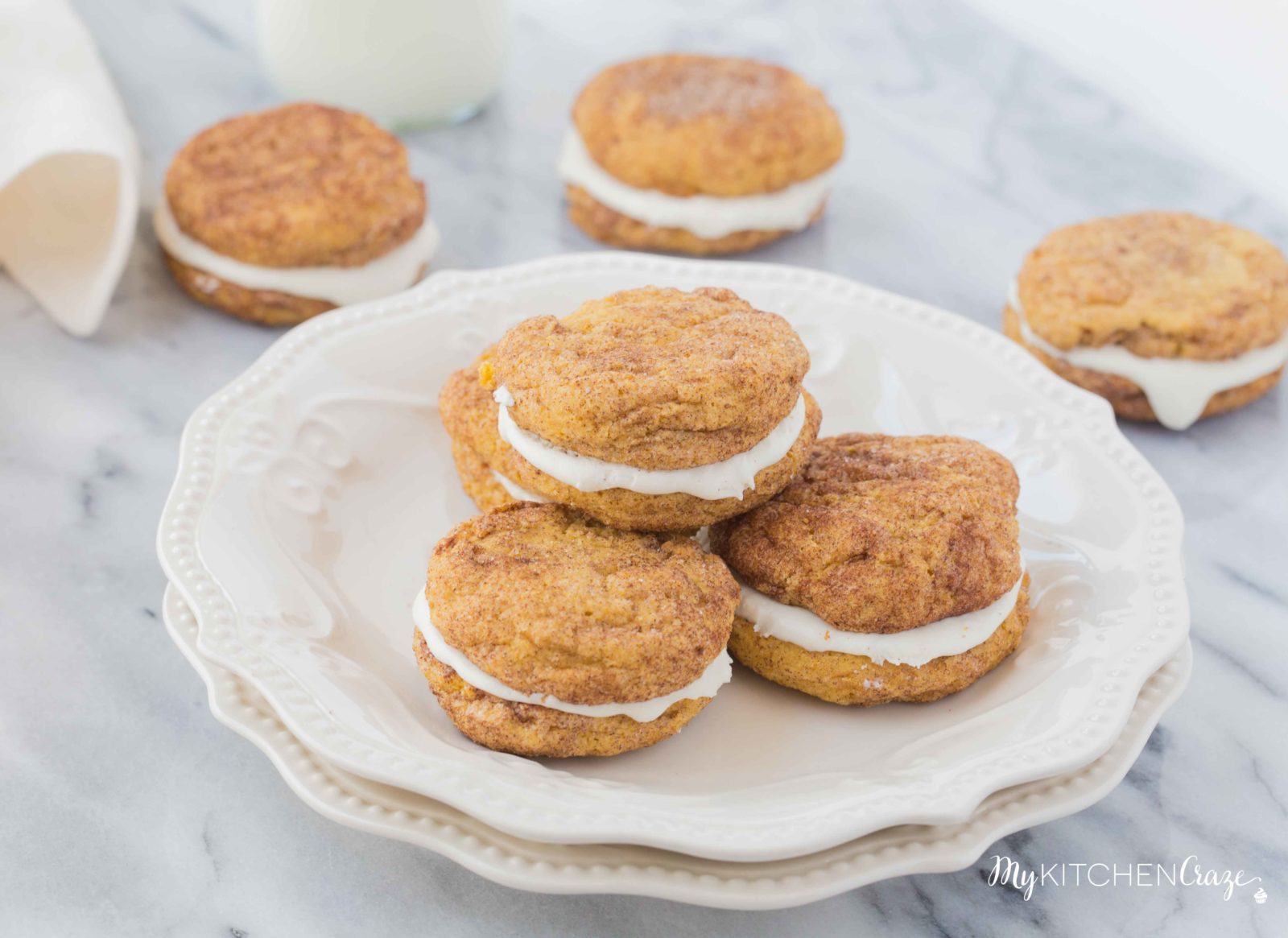 These cookies are moist, pumpkin-y with a cinnamon flavor. So good!! When I made these I didn't want to do just a simple pumpkin whoopie pie. I wanted something extra special. Enter the snickerdoodle part. That extra cinnamon and sugar-coating gives these cookies that extra umph.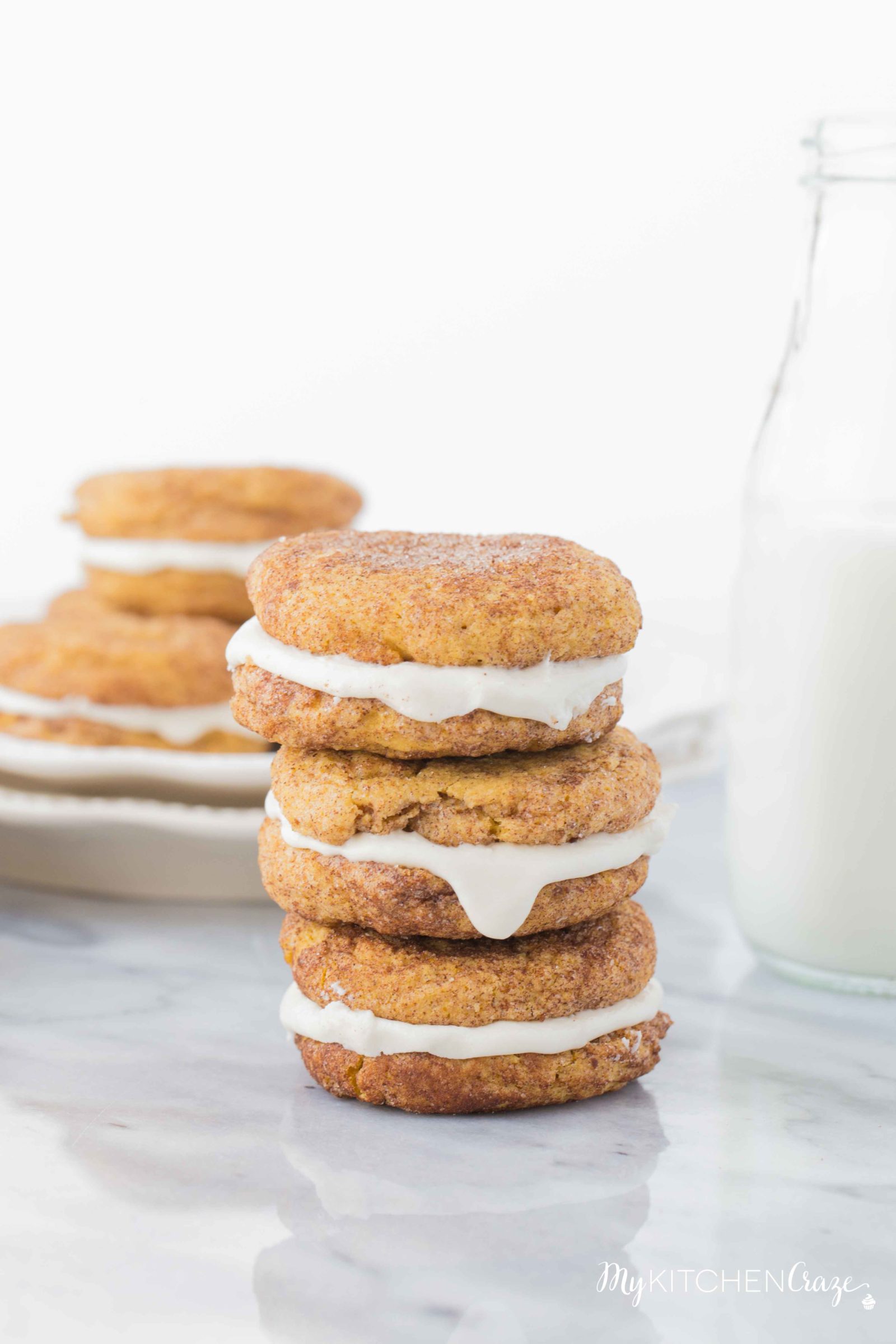 When I made these cookies I knew they were going to be good. I didn't think they were going to be that good. You guys…these cookies are Ah-maz-ing!! They turned out way better than I thought they ever would. They're so good that I had to send them with my hubby to work. I ate 3 in one day the other day. When I say 3 cookies remember it's two cookies smushed together with marshmallow cream. That's 2 cookies each bite. See what I mean. It's a lot of cookies. Now you see why I had to send them away, but man do I miss them now.
If you wanna WOW someone this fall holiday season, these whoopie pies won't let you down!
Servings: 18 whoopie pie cookies
Pumpkin Snickerdoodle Whoopie Pies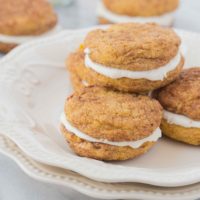 Print
Ingredients
Pumpkin Snickerdoodle:
2 sticks unsalted butter, softened
1 cup granulated sugar, plus 4 tablespoons, divided
1 egg
1 teaspoon vanilla extract
1 cup canned pumpkin puree
2 1/2 cups all-purpose flour
1/2 tsp pumpkin pie spice
1/2 teaspoon cinnamon, plus 2 tablespoons, divided
1/2 teaspoon salt
1 teaspoon baking soda
1 teaspoon baking powder
Cream Filling:
3 cups powdered sugar
1 jar, 7 oz marshmallow creme
3/4 cup butter, softened
6 teaspoons milk
Instructions
Pumpkin Snickerdoodle:

In a stand mixer, beat the butter and 1 cup sugar on medium speed for about 3 minutes, until light and fluffy. Add the egg and vanilla, beat for another minute. Add the pumpkin and beat until combined.

In a separate medium sized bowl, whisk together the flour, pumpkin pie spice, 1/2 teaspoon cinnamon, salt, baking powder, baking soda. Turn the mixer to a low speed and add the dry ingredients slowly. Mix until just combined.

Cover the bowl with plastic wrap and refrigerate cookie dough for one hour.

Preheat oven to 350 degrees F.

In a small bowl, combine the 4 tablespoons of sugar and then 2 tablespoons of cinnamon. Form the cookie dough into 1 1/2 inch balls and roll in the cinnamon/sugar mixture.

Place cookie dough balls 2 inches apart on a cookie sheet.

Bake for 12 minutes. Let cool for 5 minutes, then transfer to a wire rack.

Cream Filling:

In a stand mixer, use your whisk attachment and beat all filling ingredients on medium speed for about 2 minutes or until light and fluffy.

Spoon dollops of the cream filling onto the underside of the cooled cookies and top with another cookie. Repeat until all cookies are sandwiched together. Store in tightly covered container.