30 Minute Chicken Marsala + Video
30 Minute Chicken Marsala is loaded with tons of flavor and ready within 30 minutes. This Chicken Marsala is perfect served with noodles or mashed potatoes. It's a win win for a quick meal!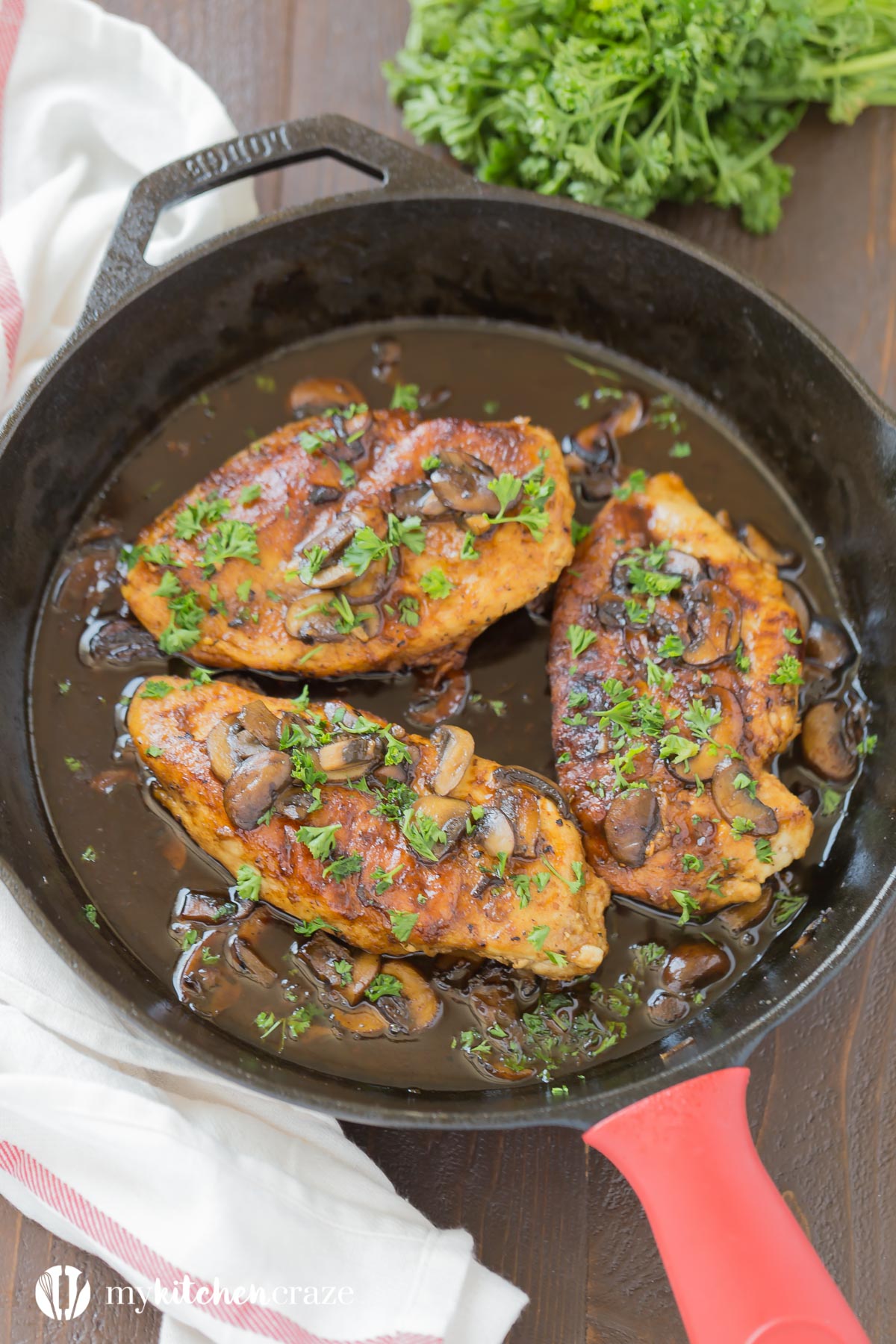 Happy first Thursday of the month friends! You all know what that means right?
Yep 30 Minute Thursday!! Yay! I love 30 minute Thursday. Not only do you guys get some awesome easy recipes but I also do too.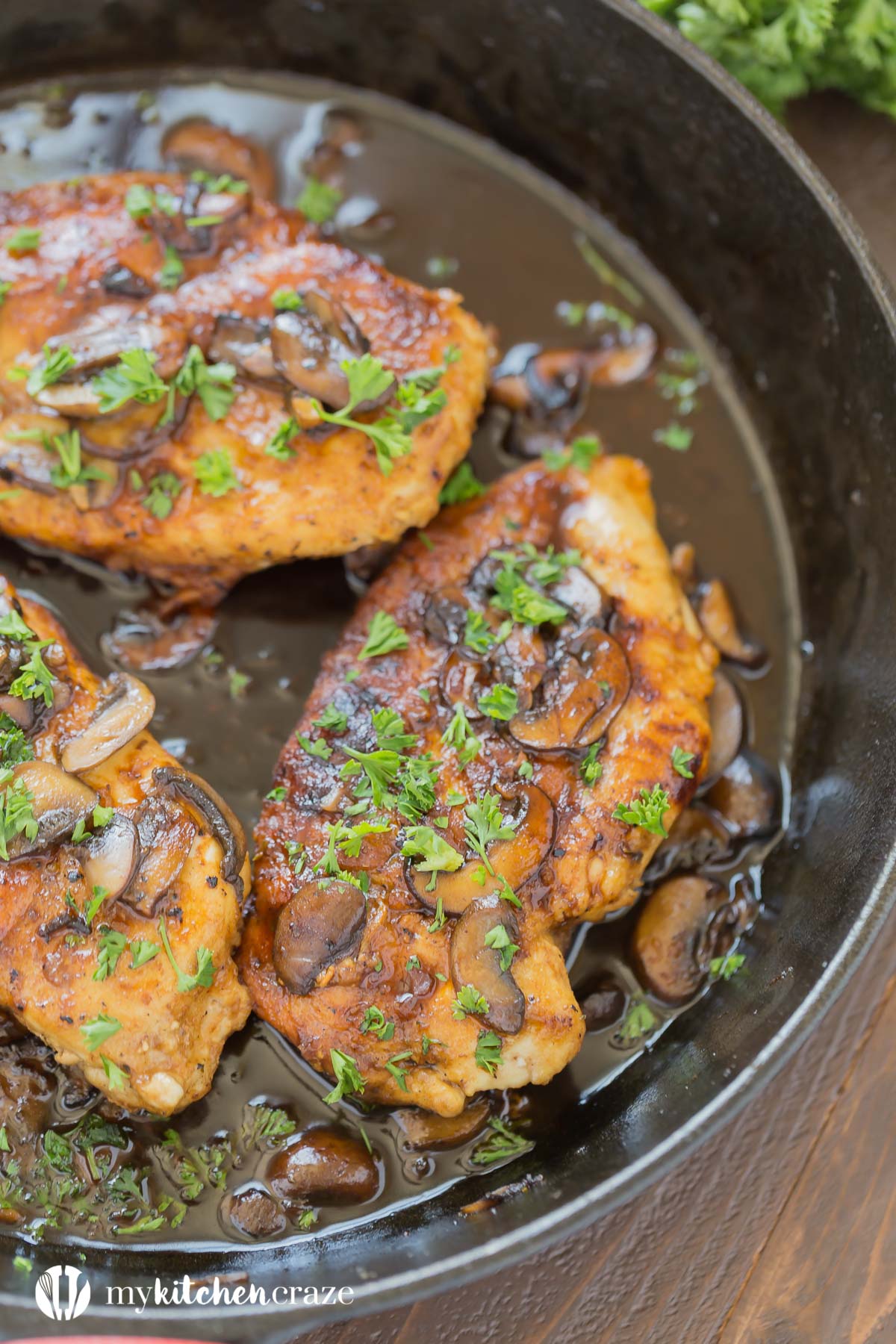 Yes I'm always looking for easy go to recipes. There always seems to be something going on these days. Whether it be soccer, school programs or other stuff. We are always busy. Always, always, always busy. I really look forward to 30 minute Thursdays. I love being able to collect multiple recipes that I know and trust will come together within no time at all.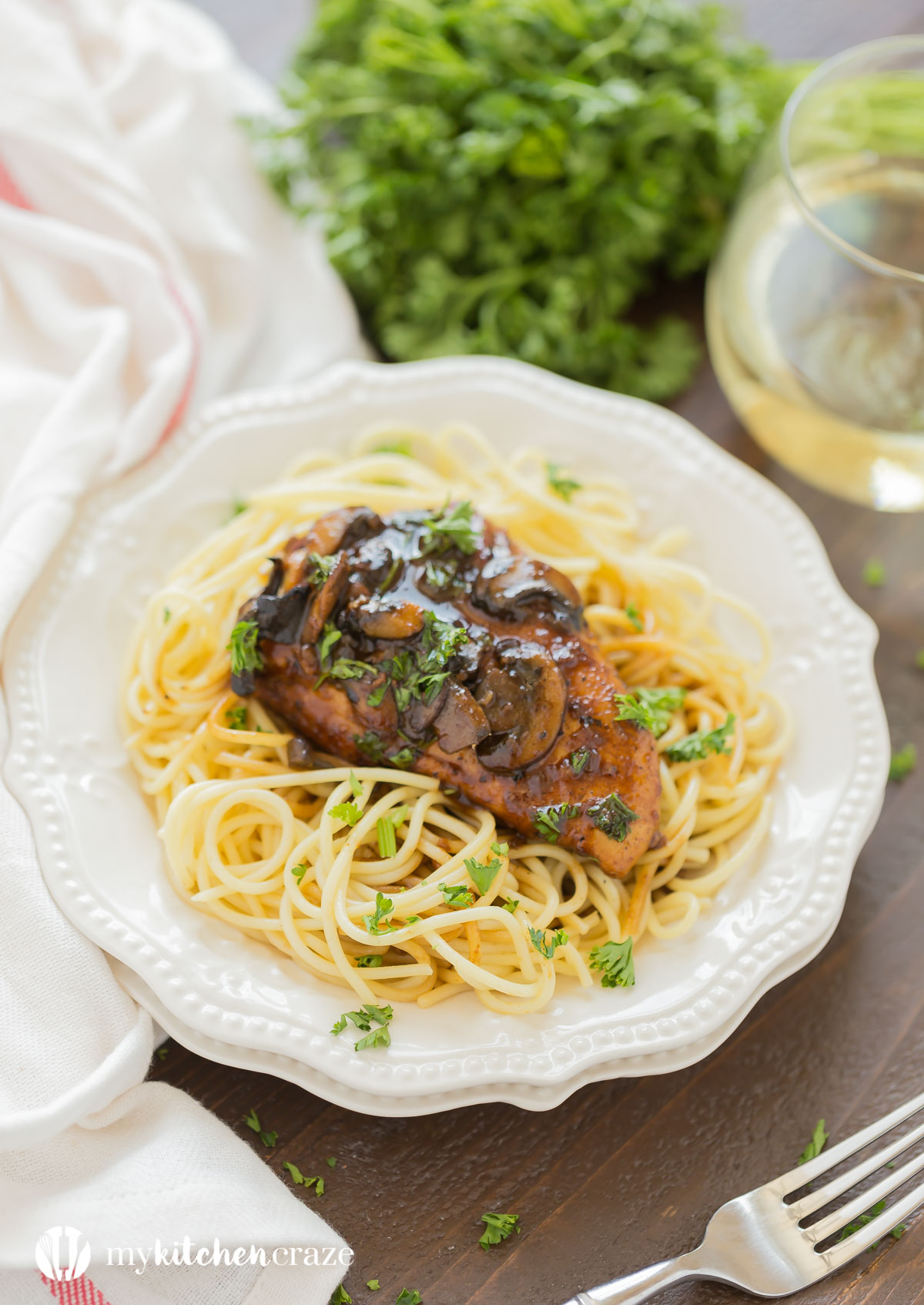 I'm always looking for easy meals especially on soccer nights. Soccer starts at 6pm and isn't over until 8pm. Because it starts at 6 and doesn't end until 8 dinners are always hard to decide on. Should we eat before or after? We can never decide. Some nights we want to eat before, but than other nights we want to wait until after. It's an on going issue in our house.
This chicken Marsala is one of those meals that comes together quickly and I feel like we can eat it before or after soccer. I pair this yummy chicken with pasta or mashed potatoes. You can decided what ever you want. But either way, it's yummy and quick.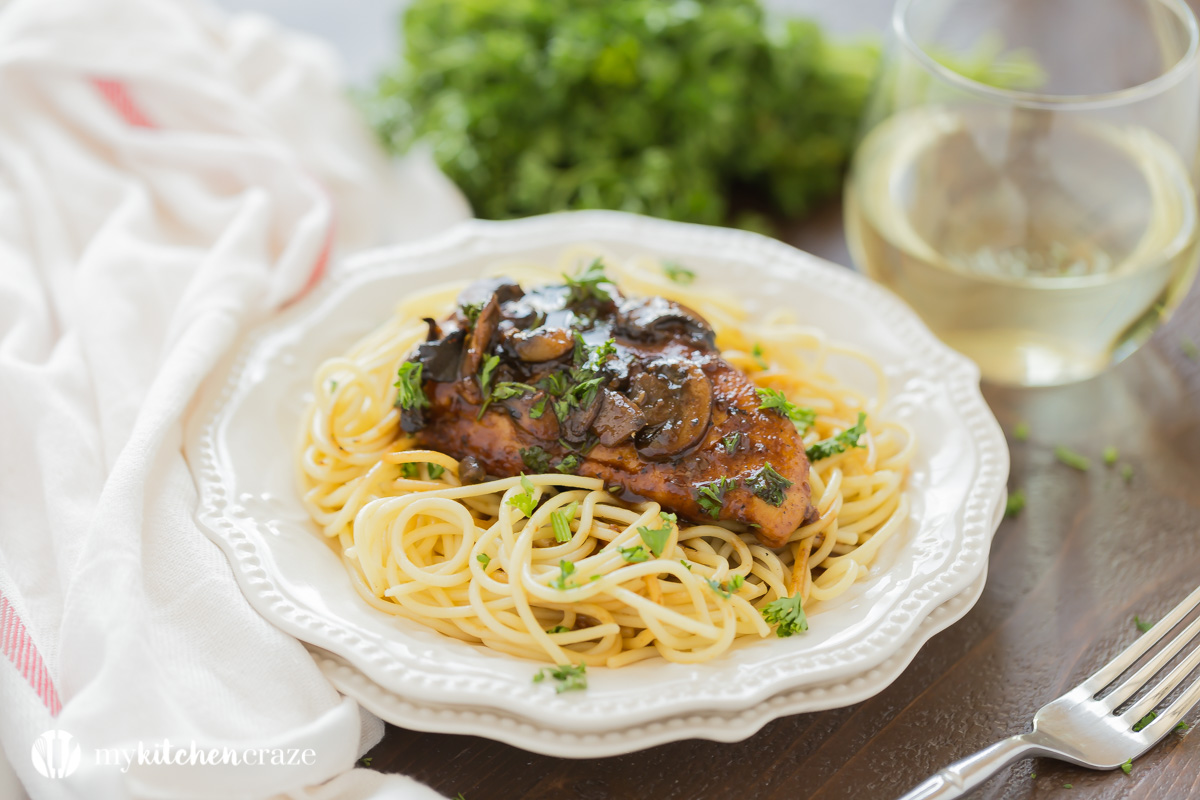 Here are some tips to making this meal quick & easy: 
Make sure to prep everything before starting to cook.
Pound your chicken to 1/4 inch thick or use thinly sliced chicken breast.
You can double or triple the recipe so you have enough gravy for your pasta/mashed potatoes.
I recommend you eating this dish right away. If you let it sit, the gravy will thicken up and you won't have enough for your side.
If you remember these tips and follow the recipe, this meal will be done within 30 minutes and you'll be eating a yummy hearty meal. Head over to all of the other bloggers sites to see what's cooking in their kitchen this 30 Minute Thursday! Enjoy!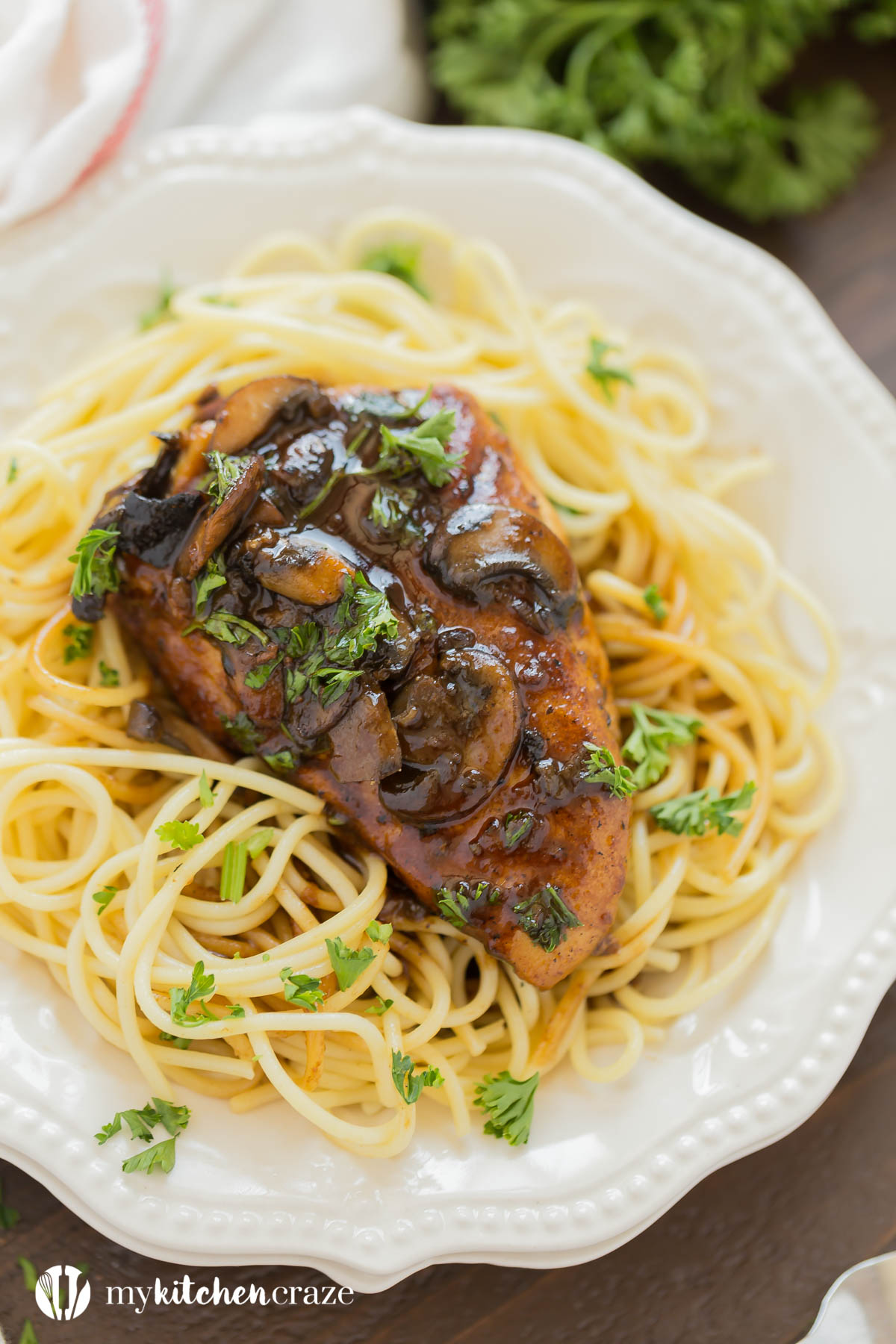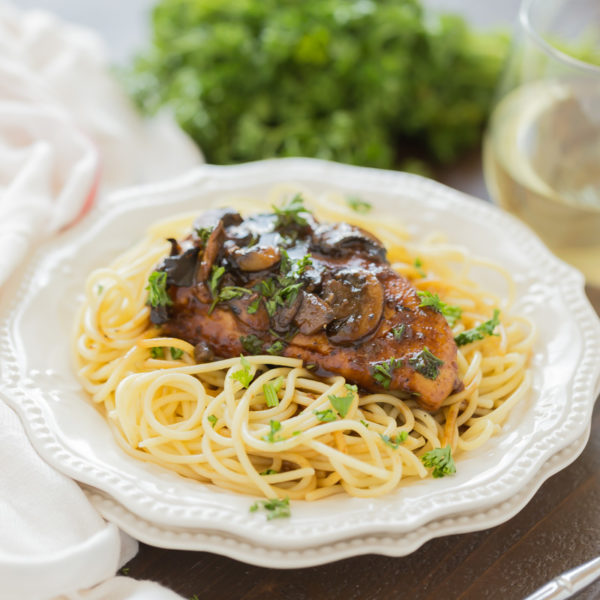 Get the Recipe:
30 Minute Chicken Marsala
Ingredients
1/4

cup

all-purpose flour

1/2

teaspoon

salt

1/4

teaspoon

pepper

1/2

teaspoon

dried oregano

3-4

chicken breasts

,

pounded to 1/4 inch thick

4

tablespoon

butter

4

tablespoons

olive oil

1

cup

mushrooms

,

sliced

1 1/2

cup

marsala wine

1/4

cup

sherry cooking wine

optional: pasta or mashed potatoes
Instructions
Prepare any side you'd like to accompany this chicken marsala recipe; set aside.

In a small bowl, mix together the flour, salt, pepper and oregano. Coat thinly sliced chicken pieces in flour mixture.

In a large skillet, melt butter in oil over medium heat.

Place chicken in the pan, and lightly brown on both sides, about 5 minutes each side.

Remove chicken pieces to a plate. Add mushrooms and sauté for 1 minute. Pour in wine and sherry. Bring to a small boil, add chicken back to pan.  

Cover skillet; simmer chicken 10-15 minutes, turning once, until no longer pink and juices run clear. Season with additional salt and pepper if needed. 

Serve with optimal pasta, mashed potatoes or salad. Enjoy!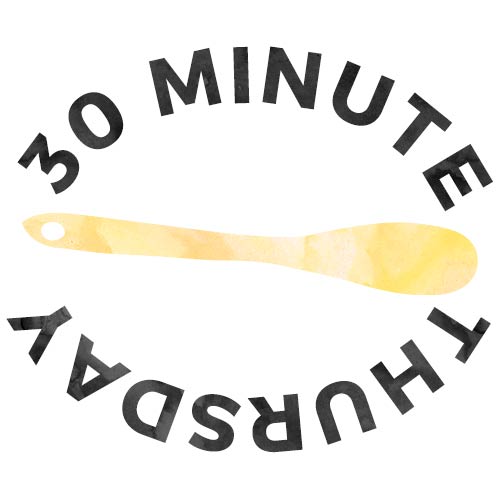 Easy Black Bean Soup by Pumpkin 'n Spice
Grilled Portobello Mushroom Asparagus Fajitas by Flavor the Moments
Chickpea and Avocado Pita Tostadas with Rhubarb-Radish Slaw by Floating Kitchen
10 Minute BBQ Ham Sandwiches by The Recipe Rebel
One Pot Sausage and Asparagus Pesto Pasta by Bake.Eat.Repeat.
One Pot Teriyaki Beef Zoodles by Life Made Sweeter
One Pot Black Bean Enchilada Pasta by Savory Nothings