Mini Pumpkin Cheesecakes plus a video
These adorable Mini Pumpkin Cheesecakes are the perfect fall dessert! Creamy cheesecake has the perfect hint of pumpkin, topped with homemade whipped cream and caramel sauce. It doesn't get much better than these cute mini cheesecakes this season!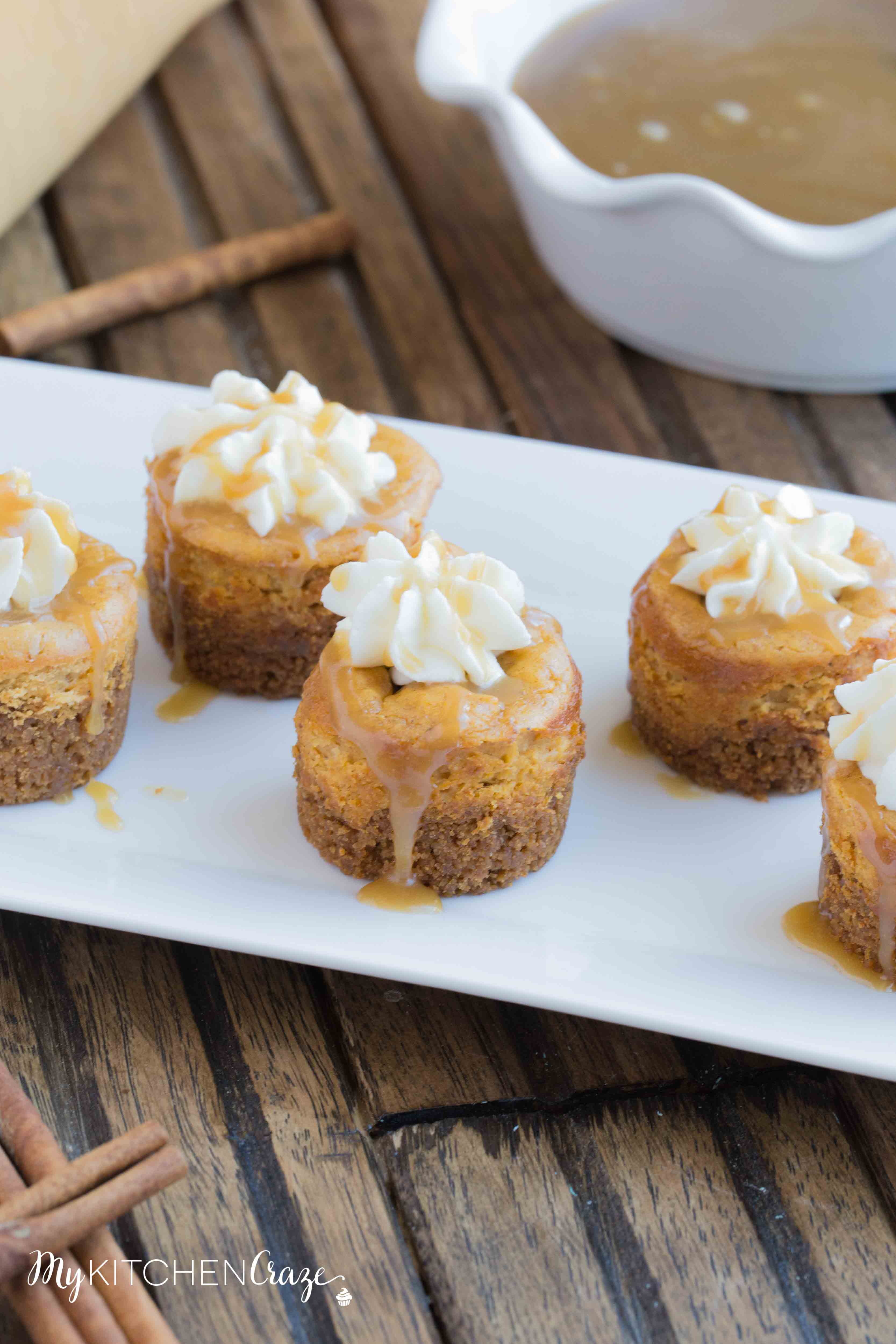 I have a yummy dessert to share with you guys today. I shared this recipe a few years ago, but I decided to make a video and take some new pictures. This recipe is one of my favorites during this time of season.
I have to let you in on a little secret though. Can you believe that I don't have an actual cheesecake on my blog? I know, I know that's weird right? How is that even possible. Well if I'm sharing all the secrets with you guys today, I might as well tell you this one.
I haven't always liked cheesecake. In fact I've only started liking them once I started making these mini pumpkin cheesecakes and these Mini Butterfinger Cheesecakes. I wasn't one of those girls that liked cheesecake growing up. In fact I used to hate cream cheese. I can't image living without cream cheese or cheesecake now, but back in the day was a different story.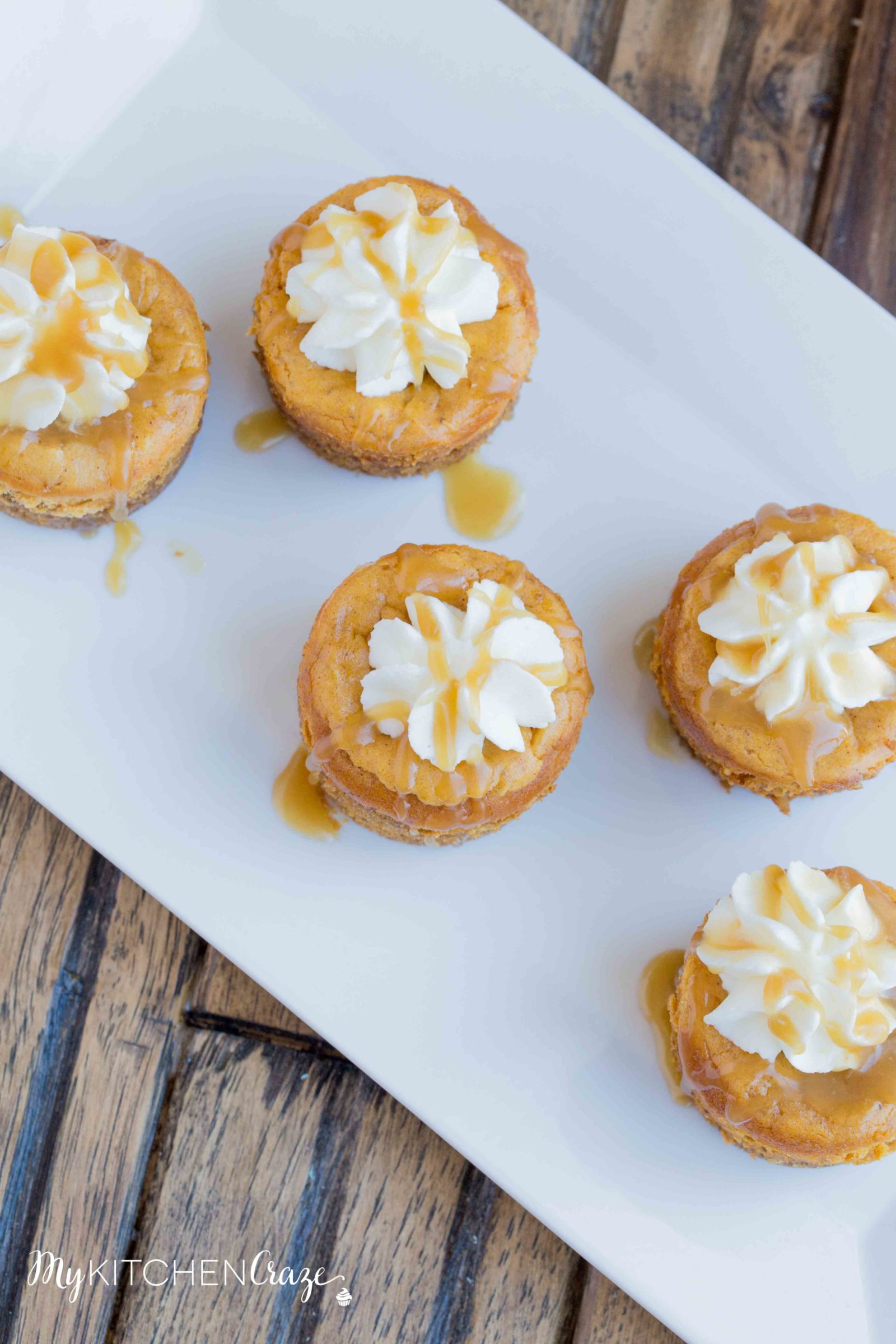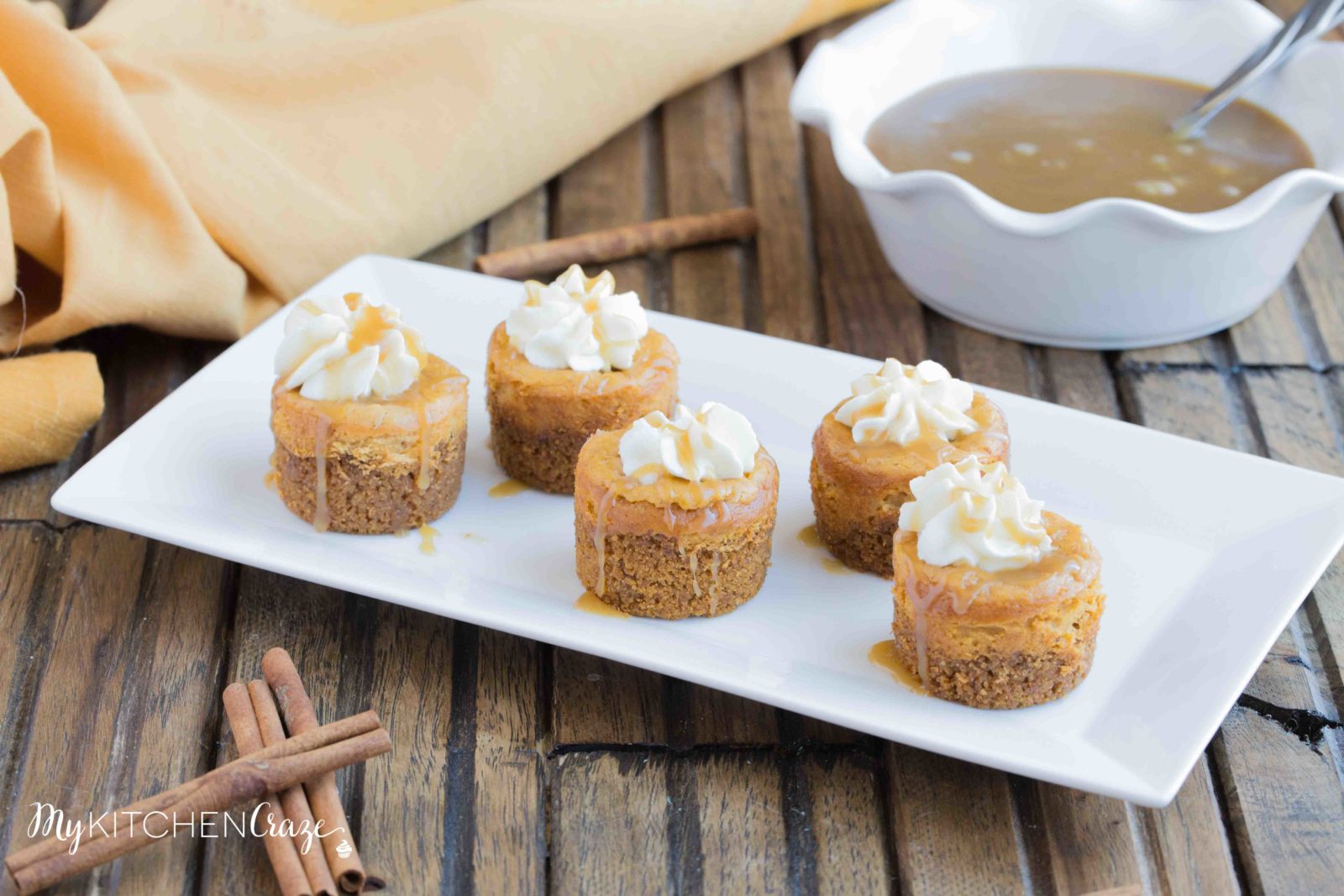 These Mini Pumpkin Cheesecakes forever changed me. Yay for that!
I've made these cuties numerous times and I always take some to my hubby's work. His co-workers went crazy for them. There was even one girl who said she hated pumpkin, but ate two of these mini cheesecakes. 🙂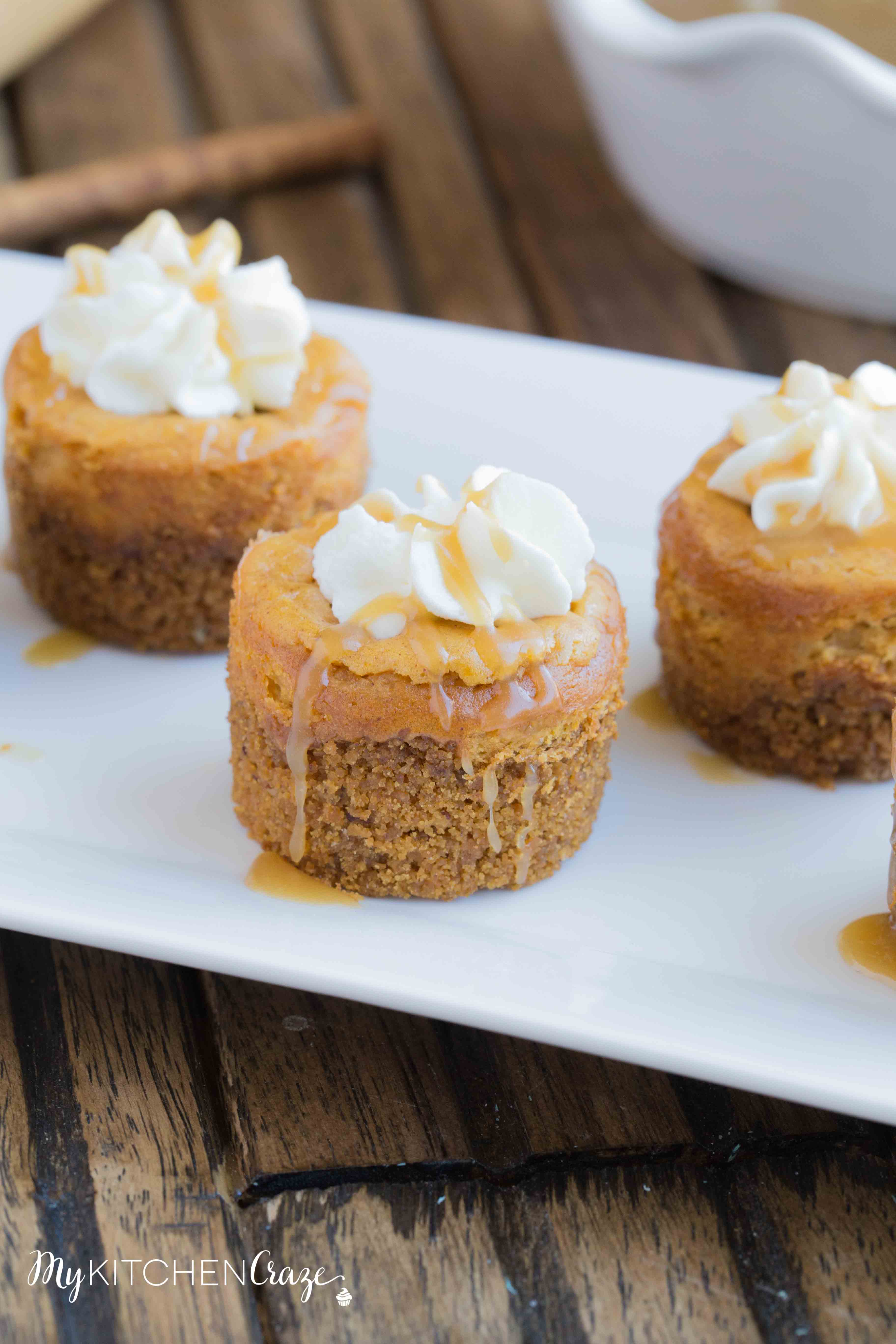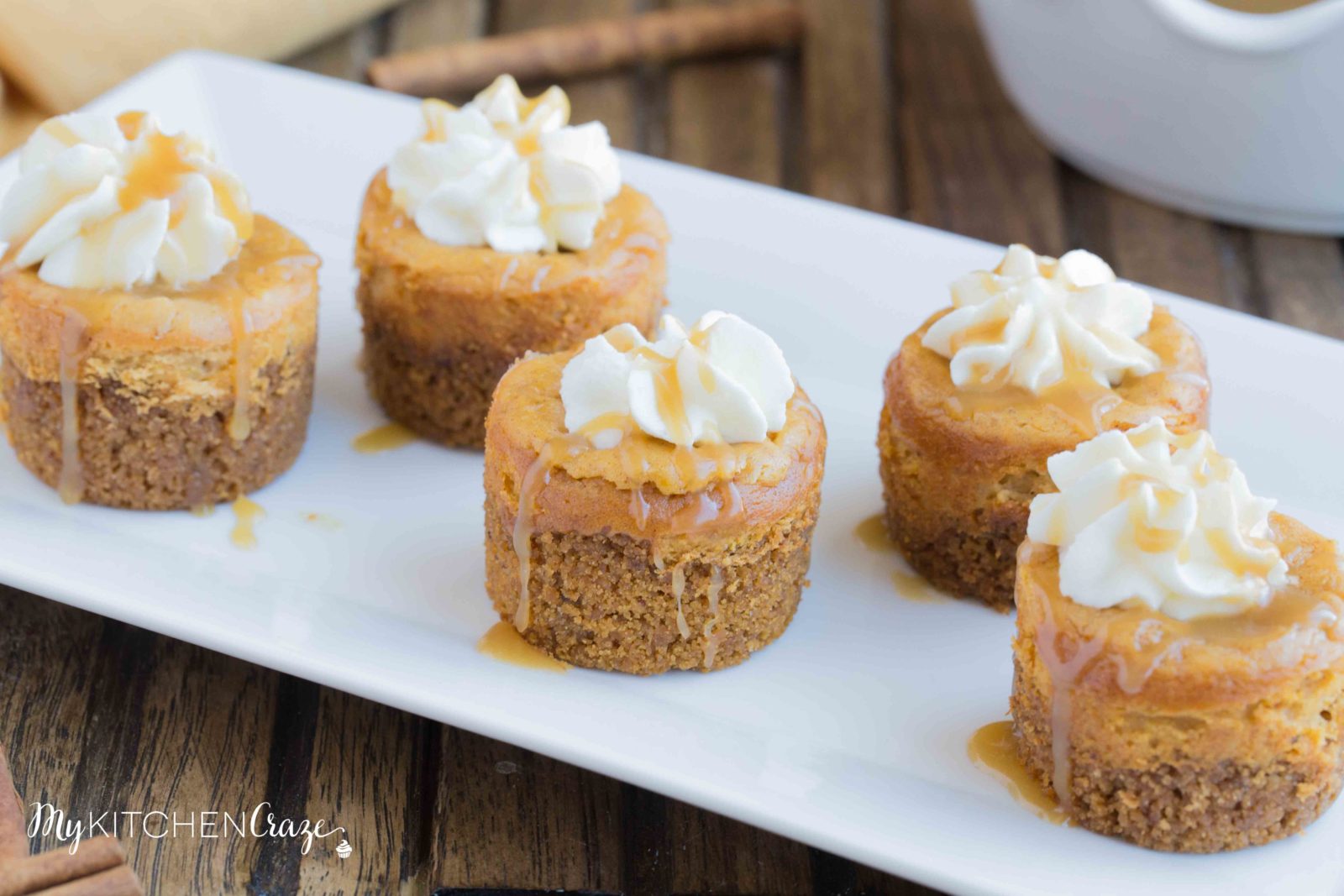 They're super easy to make, so don't get nervous if you've never made cheesecakes before. If you're just starting out, I recommend you getting this mini cheesecake pan. I've tried a ton and always come back to this one. If for some reason you can't get or don't have mini cheesecakes pans, you can use a muffin pan with paper liners. I used that a few times before buying the mini cheesecake pans. They worked just as great too.
Once you have your pans set up, the recipe comes together pretty quickly, so make sure to have all your ingredients laid out. When I was mixing the cream cheese with pumpkin it smelled amazing. I could have licked my fingers all day.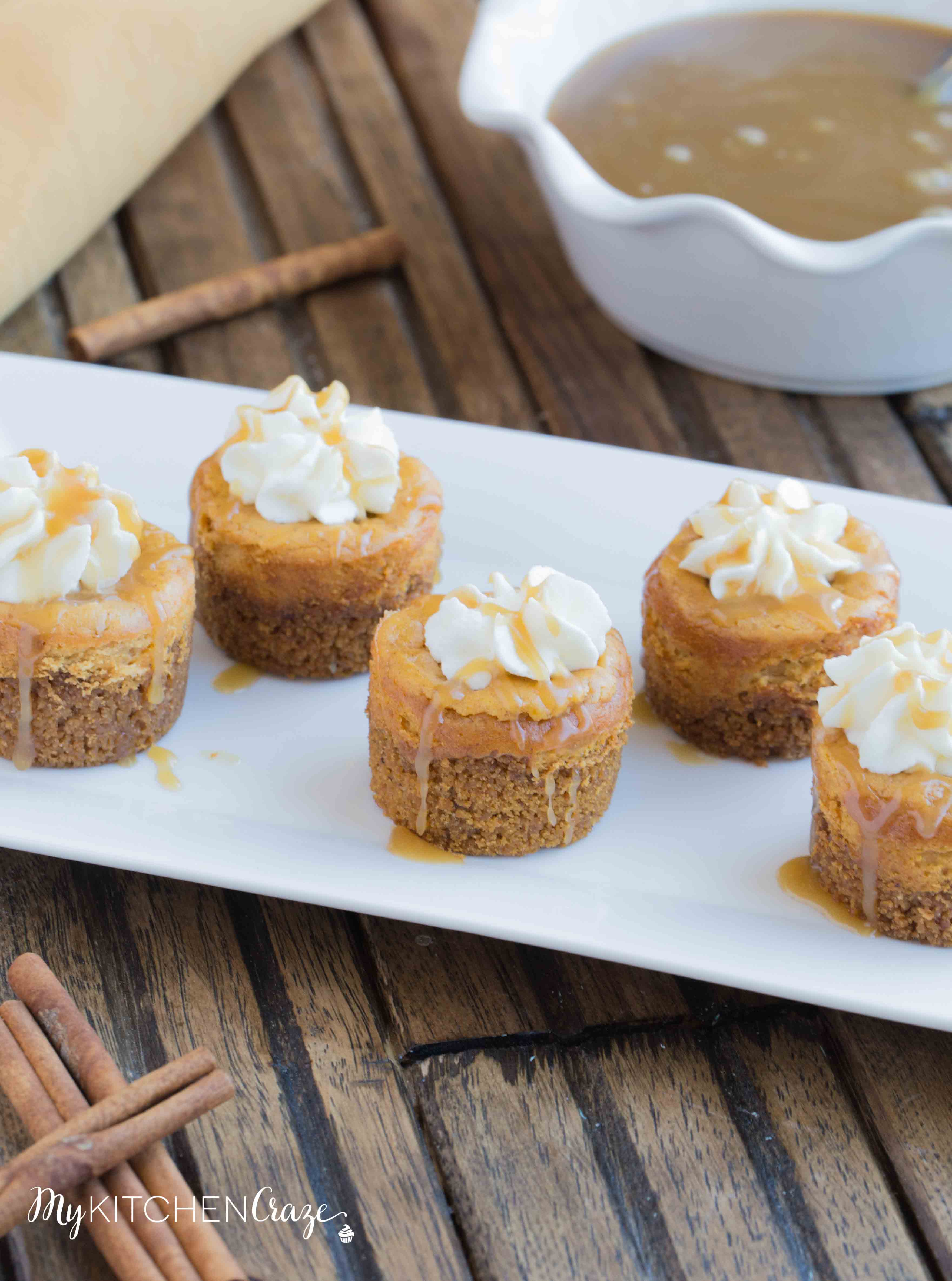 After they cooled down them, I wanted to top them off with something. I'm a girl, so they had to look pretty. I whipped up some whip cream and made a homemade caramel sauce. These cheesecakes are perfect, delicious and tasty! Make sure to make them this season!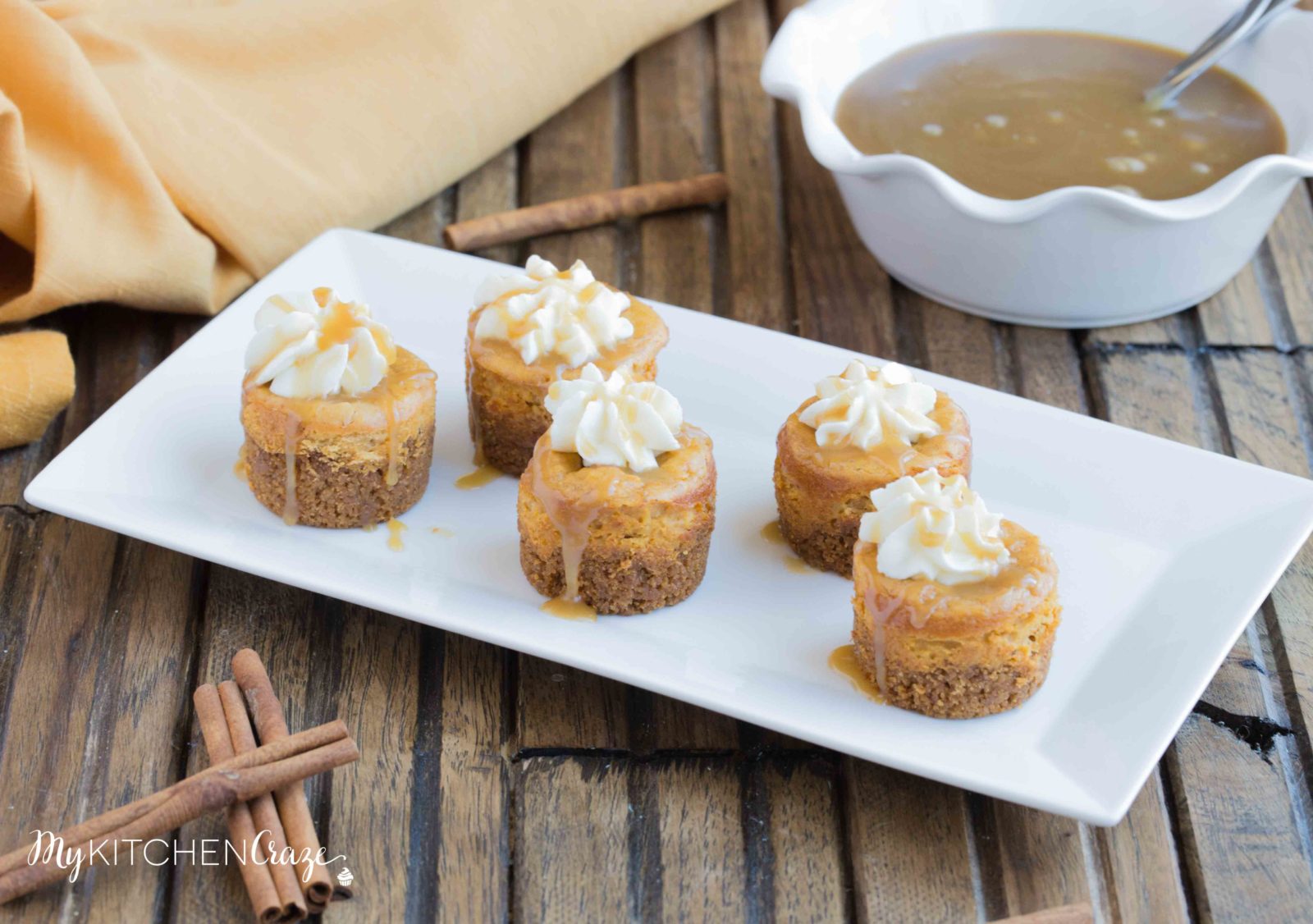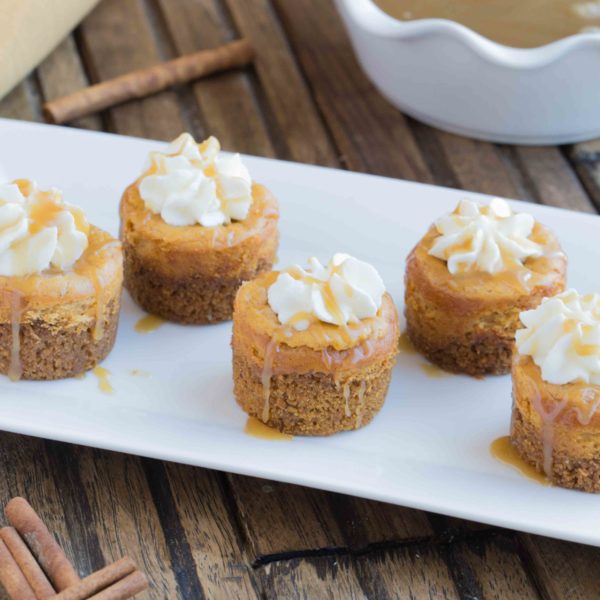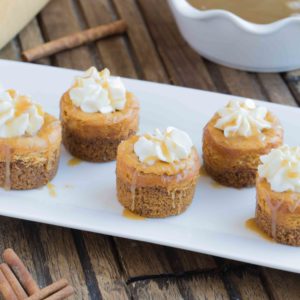 Get the Recipe:
Mini Pumpkin Cheesecakes
Ingredients
Crust:
¾

cup

graham cracker crumbs

¼

cup

pecans

,

finely chopped

4

tablespoons

unsalted butter

,

melted

2

tablespoons

brown sugar

,

packed

pinch

of salt
Pumpkin Cheesecake:
2

8 oz cream cheese, softened

1

cup

brown sugar

,

packed

2

eggs

1

cup

canned pumpkin

2

tablespoons

sour cream

½

teaspoon

salt

2

teaspoons

vanilla

1

teaspoon

cinnamon

½

teaspoon

nutmeg
Whipped Cream:
¾

cup

heavy cream

2

tablespoons

powered sugar
Caramel Sauce:
1

stick butter

1

cup

brown sugar

,

packed

⅓

cup

heavy cream
Instructions
Preheat oven to 350 degrees F. Place cupcake liners into each cupcake trays. Set aside.

Crust: Place graham cracker crumbs, pecans, brown sugar and salt into food processor or blender and pulse until crumbly. Add mixture to a medium bowl. Add melted butter and stir until the crumb mixture is well coated with the melted butter. Add 1½ tablespoon of crust into the paper liners. Press crust down firmly with the back of a spoon or the tablespoon.

Bake for 8-10 minutes, or until golden brown. Cool on a wire rack while your make the filing.

Pumpkin Cheesecake: In a stand mixer with a whisk attachment, add cream cheese and brown sugar. Mix on medium speed until light and fluffy. Beat in pumpkin, sour cream and salt, scraping bowl as needed. Add egg, vanilla, cinnamon and nutmeg. Mix until well blended.

Add about ⅓ cup mixture into each paper liners. Leave about ¼" of space at the top.

Bake 15-20 minutes or until set. Start checking cheesecakes after about 10 minutes, as oven temperatures varies.

Cool on top of the stove for about 10 minutes, then transfer cheesecakes to a wire rack to cool for another 30 minutes.

Refrigerate at least 2 hours or overnight before serving.

Whipped Cream: In a stand mixer with the whisk attachment, whisk together the heavy cream and sugar until medium peaks start to form. Place whipped cream in a piping bag with a tip of your choice. Pipe the whipped cream over cooled mini cheesecakes.

Caramel Sauce: Melt butter in a medium sauce pan.

Add brown sugar and heavy cream. Whisk constantly over medium heat until the sugar has dissolved.

Bring mixture to a boil and boil for 3 minute; nothing more.

Remove from heat and allow to cool for 5 minutes, then transfer to a glass container to store in the refrigerator.