Shrimp Enchiladas
Shrimp Enchiladas ~ Filled with tender, flavorful shrimp then topped with a delicious homemade creamy sauce. You're going to love these enchiladas!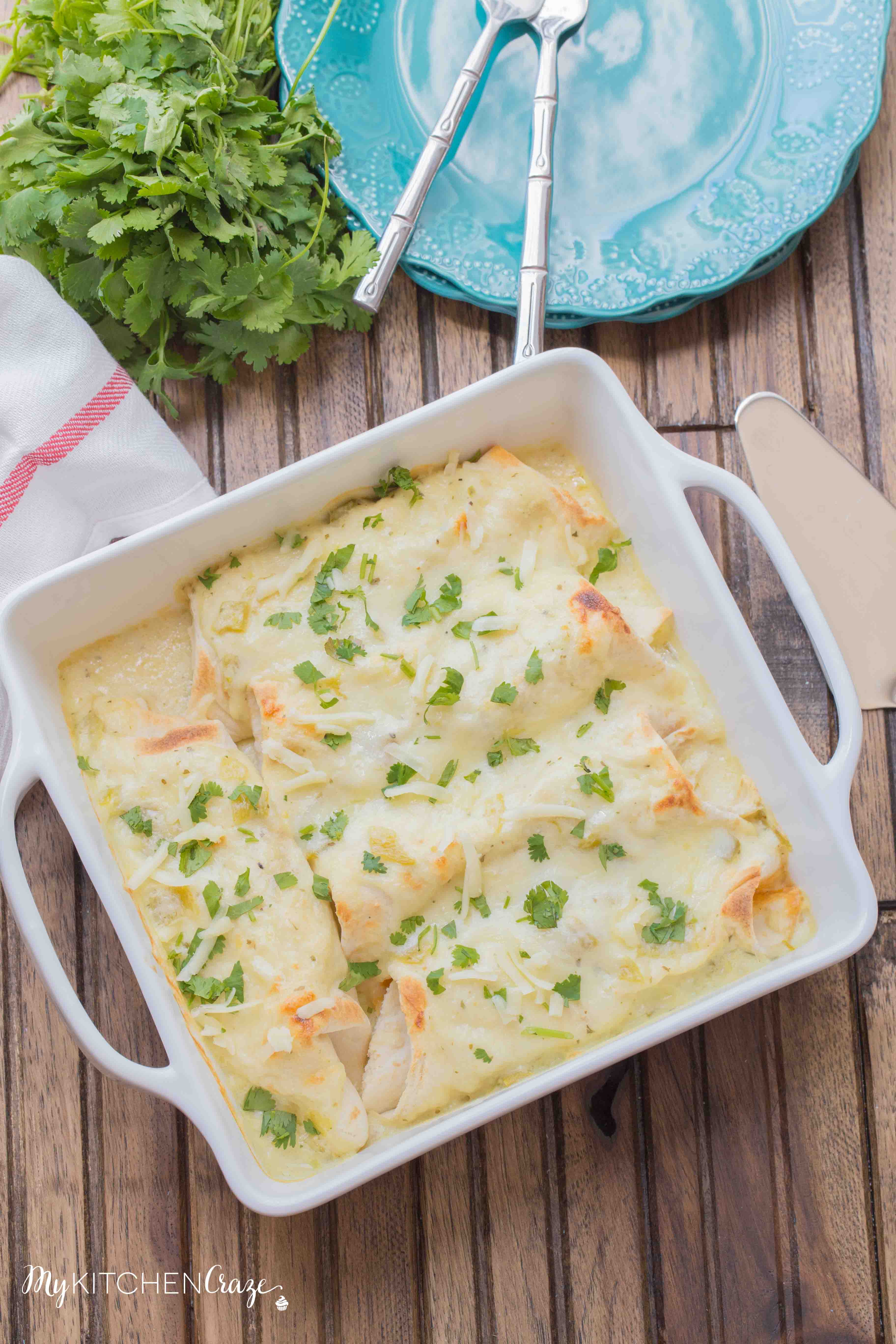 Today I'm sharing my favorite recipe with you all. Are you like me and go through stages where you have a favorite recipe, but then you kind of get tired of eating it all the time, so you move on to something else?
Well this recipe is that one for me, but I have yet to grow tired of this recipe. I created it one weekend when my girlfriend, Jessica was coming over with her family. Her and I love Mexican food, especially enchiladas and since I have become OBSESSED (sorry to yell at you, but it's true) with any and all types of seafood, I knew this dish would be a hit.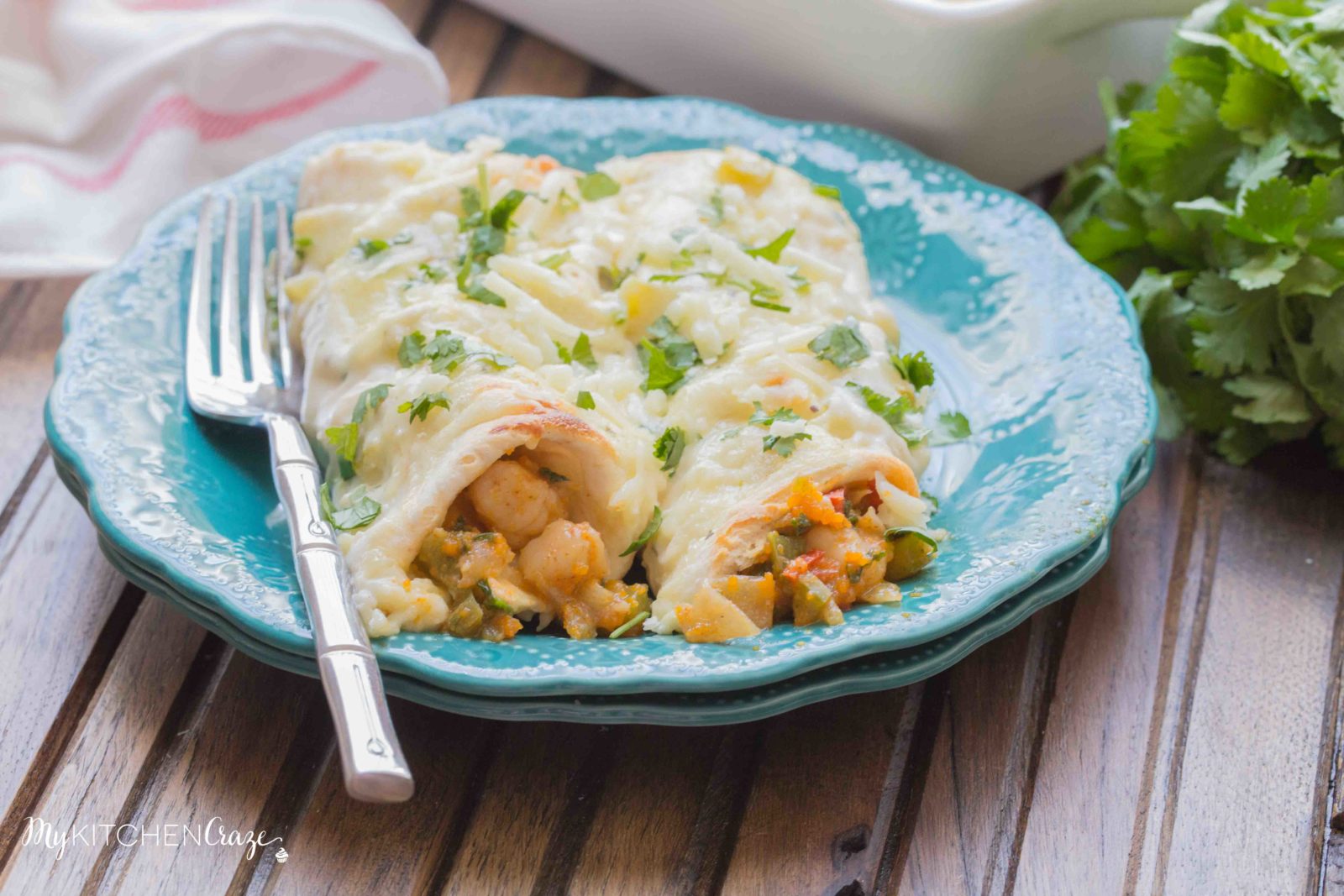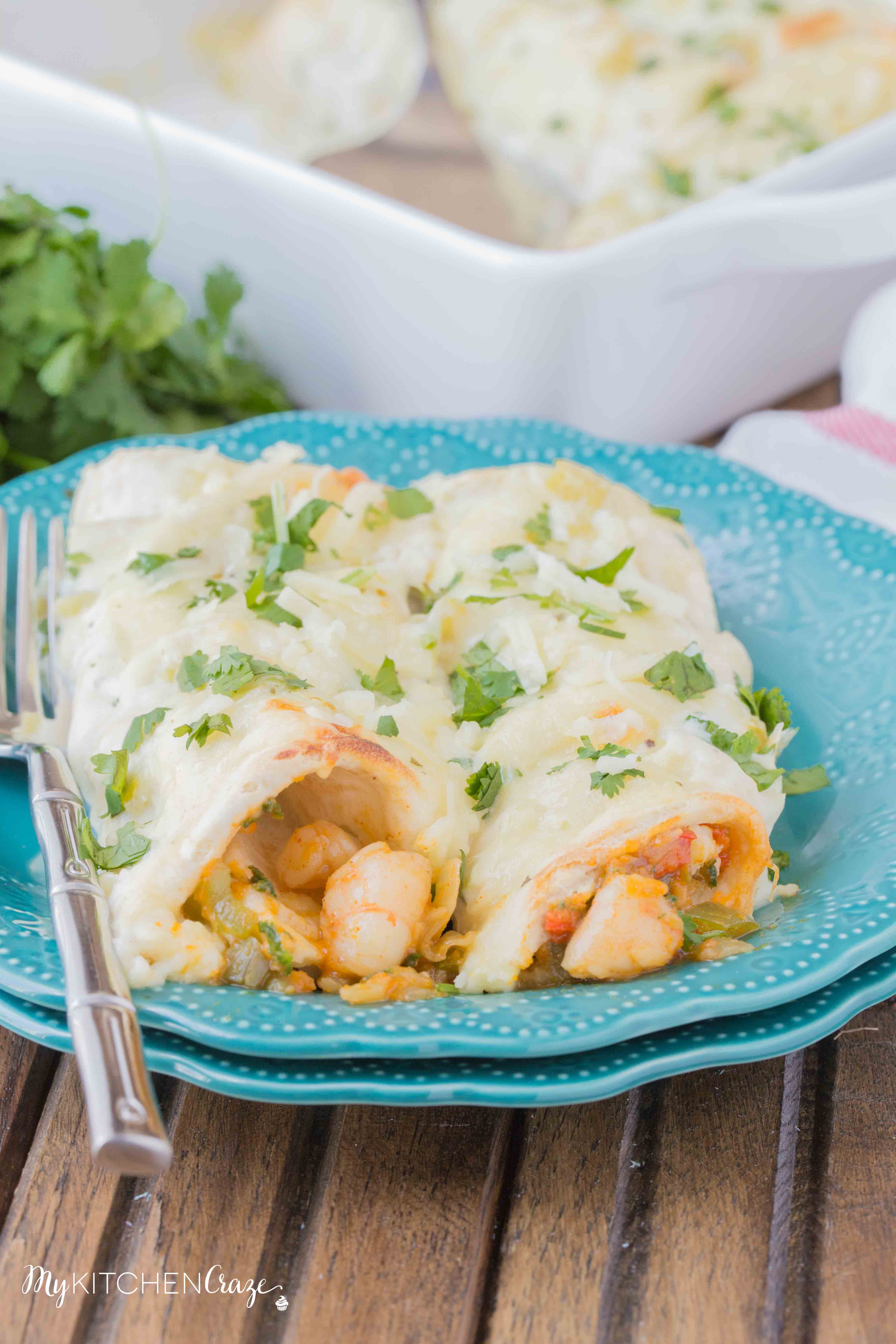 What I didn't realize was how much her and I would love it. She loved it so much, she emailed me the following week asking me for the recipe. I told her I just scribbled scratched down the ingredients and directions, but I hadn't gotten around to actually making it a recipe. She then tells me that I need to make it again, photograph it and put it on the blog. So that's what I'm doing today.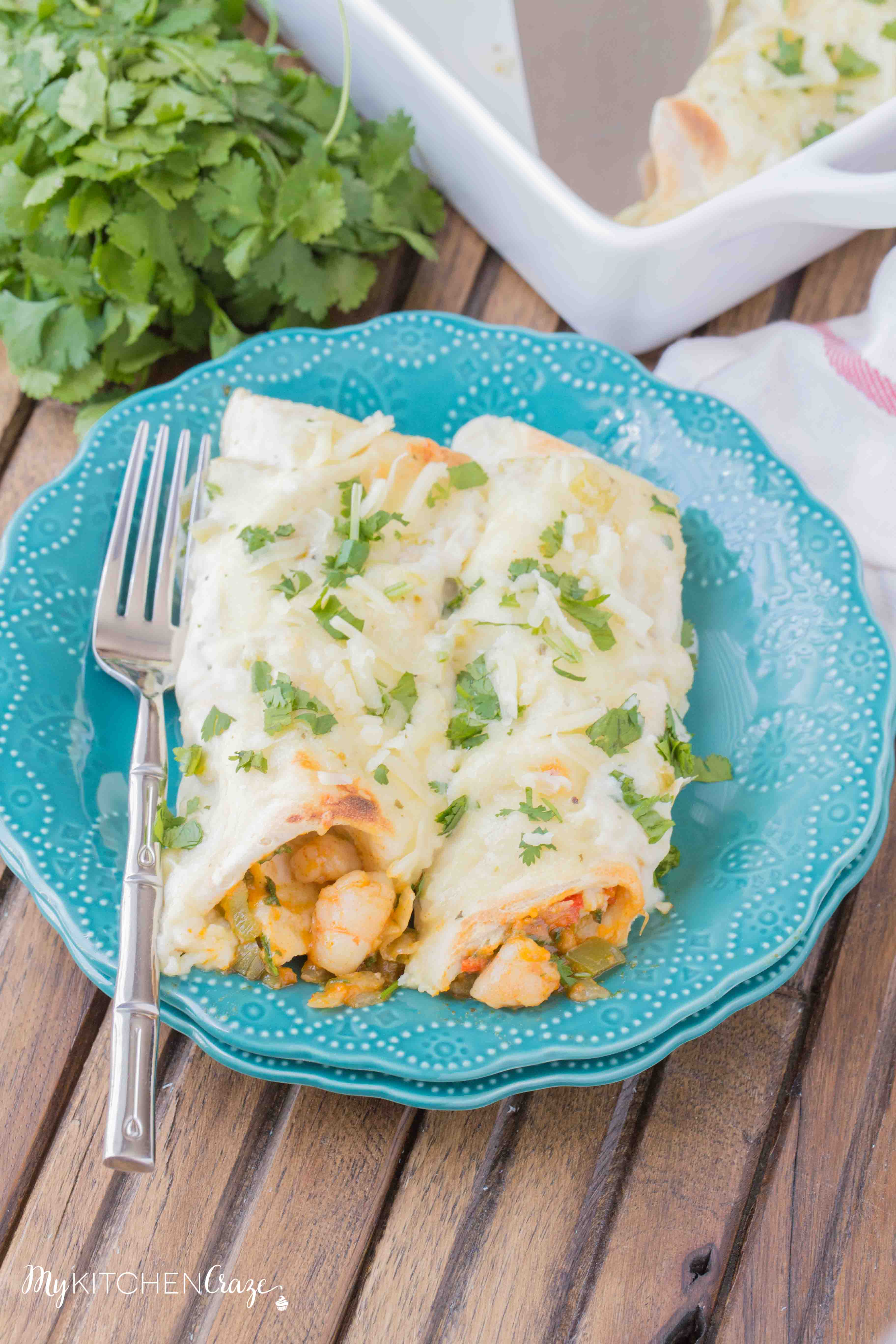 You guys I cannot tell you how good these shrimp enchiladas are. I think the homemade sauce put this recipe over the top. The shrimps are lightly seasoned and then cooked until almost cooked through. Then you assemble everything and bake it for roughly 20 minutes. So good!!
The ingredient list looks a little long, I know. But I promise every ingredient there is a must. I actually was putting some shredded cheese into the sauce mixture, but Jessica told me that was an extra step that didn't need to be put in there, so we took it out. Also I want to strongly advise you to use raw shrimp. The reason being is you don't want your shrimp to have too much moisture. And for some reason the pre-cooked shrimp has a ton of extra moisture and it will make the enchiladas soggy. Who wants soggy enchiladas. Not me. SO make sure to get the raw, deveined shrimp.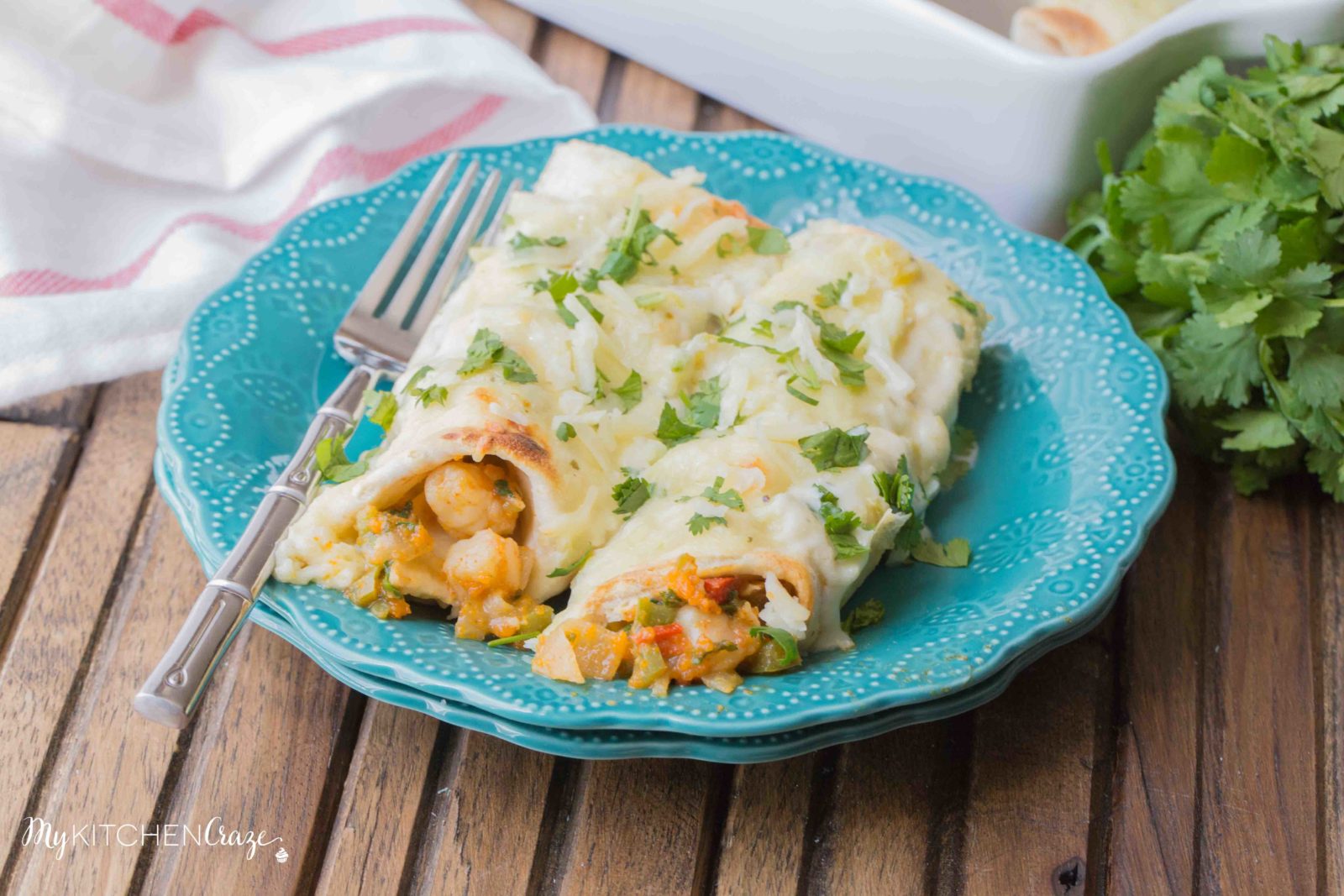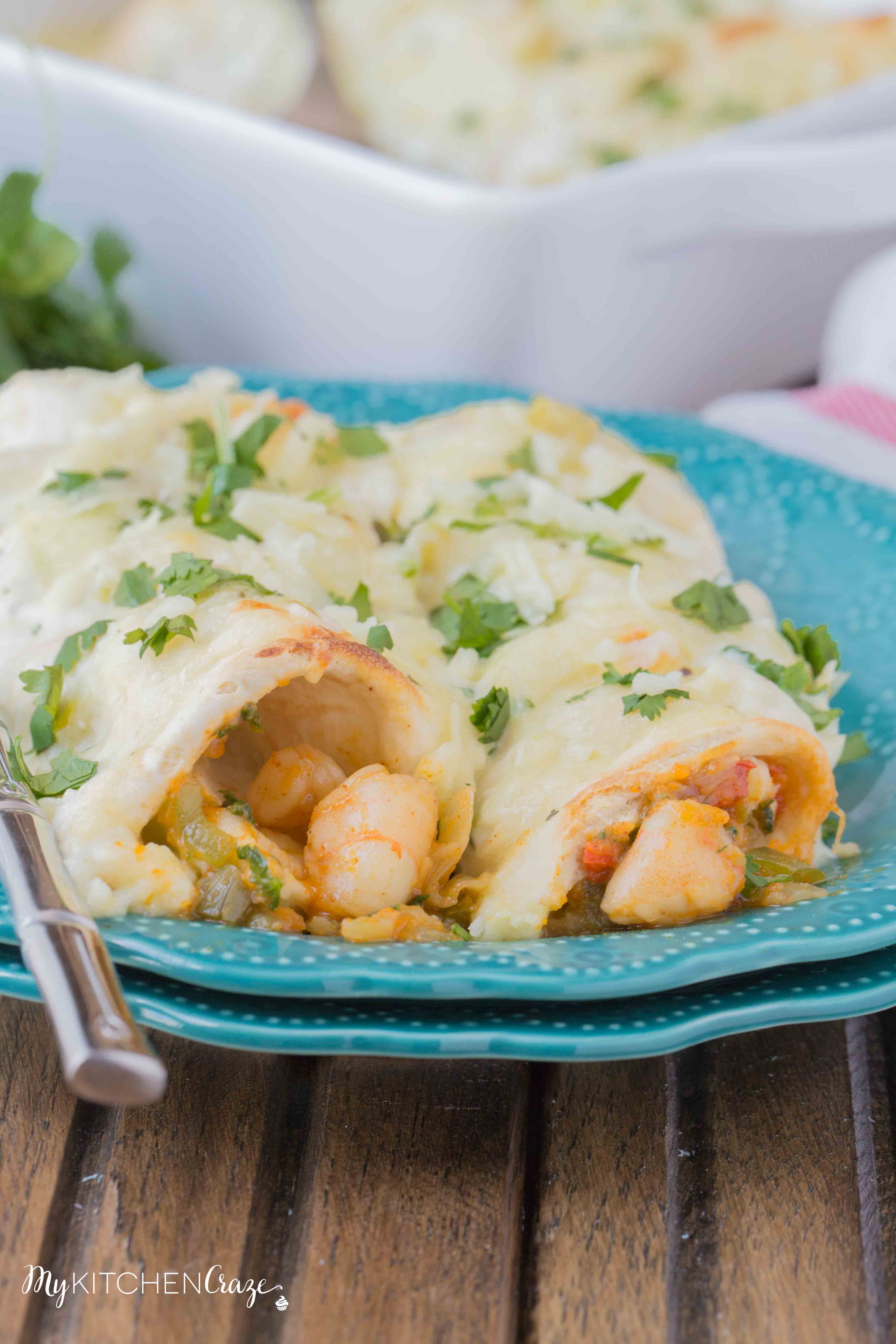 These enchiladas are great for a company dinner or a special occasion. Or you can be like me and just love them, so you make them at least once a week. I know, I know my poor family are shrimp enchilada out. 🙂
Next time your craving some good old enchilada and shrimp, think of this recipe. You'll be happy you made it. Enjoy!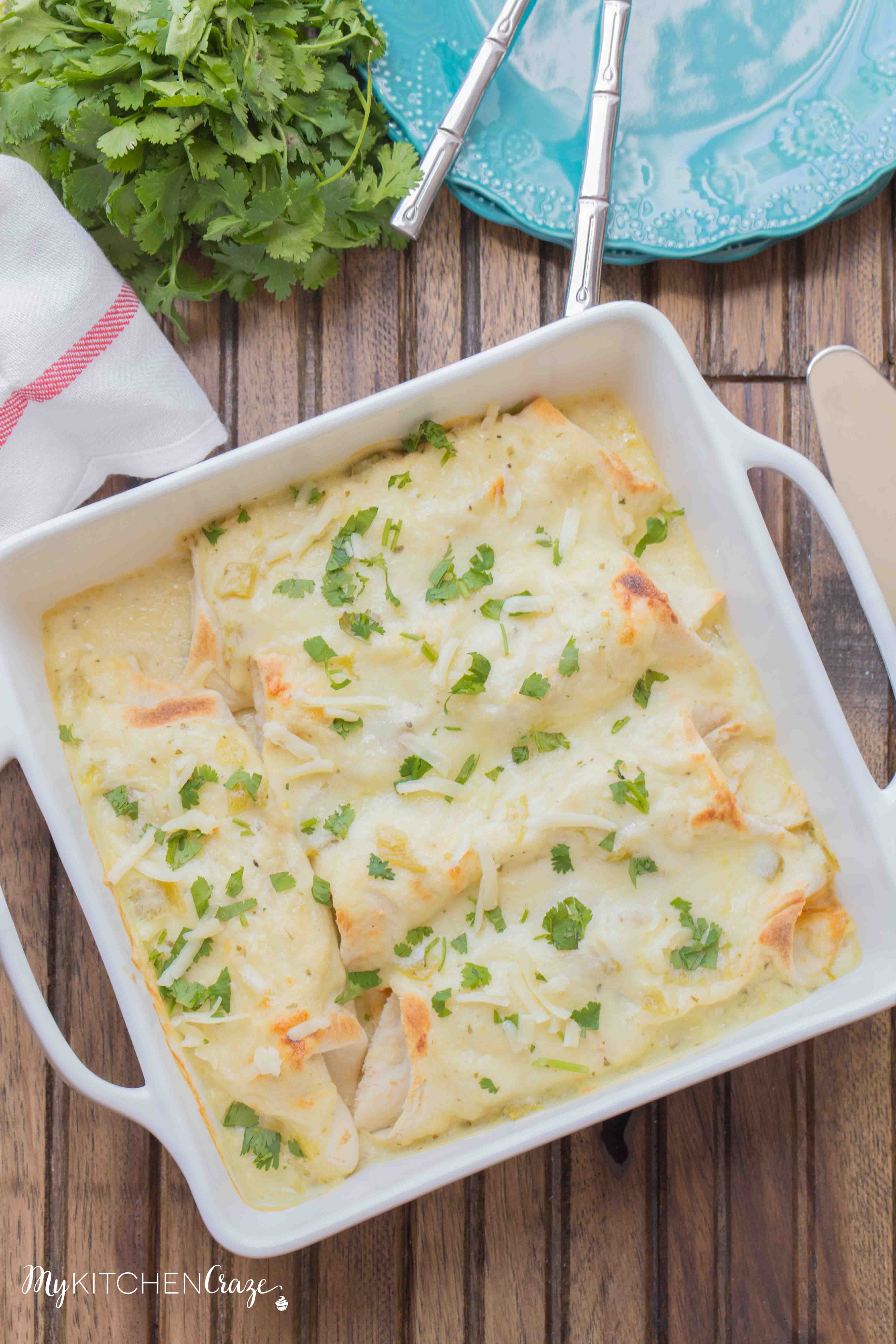 THIS POST FIRST APPEARED OVER AT JULIE'S EATS & TREATS WHERE I'M A CONTRIBUTOR!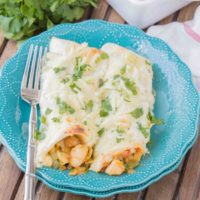 Get the Recipe:
Shrimp Enchiladas
Ingredients
 Shrimp mixture: 

2-3

tablespoon

butter

½

cup

red and green bell pepper

,

finely chopped

½

cup

onion finely diced

2

cloves

garlic

,

minced

1-

pound

shrimp

,

peeled and deveined, chopped into pieces

¼

cup

cilantro

,

chopped

½

tsp

salt

½

tsp

cumin

1

tsp

chili powder

8

9 inch flour or corn tortillas
Cream Sauce: 
2

tablespoon

butter

2

tablespoon

flour

1 1/2

cup

chicken broth

1

cup

sour cream

½

tsp

garlic powder

½

cup

diced canned chilies

salt and pepper to taste

¼

cup

green enchilada sauce or salsa Verde sauce

2

cups

Monterey Jack cheese

garnish: sour cream

,

cilantro, jalapeños, and limes
Instructions
Preheat oven to 350° F. Spray a 9x13 baking dish with non-stick cooking spray; set aside.

Shrimp mixture: Using a large skillet melt butter. Sauté the bell peppers and onions until lightly softened, about 3-5 minutes. Add the garlic and cook additional 30 seconds.

Add shrimp and cook 2-3 minutes, or until shrimp starts to turn pink. (You don't want to overcook the shrimp. Remember it will cook more in the oven). Remove from heat and add in cilantro, salt, cumin and chili powder. Stir and set aside.

Cream Sauce: In a large skillet melt butter over medium high heat. Add flour and cook 1-2 minutes. Slowly whisk in the chicken broth (1/2 cup at a time). Continue to cook, stirring constantly, about 3-5 minutes until thickened.

Lower heat, stir in the sour cream, garlic powder, chilies, and enchilada sauce. Add salt and pepper to taste. Add 1 cup of sauce to shrimp mixture, stir to combine.

Assemble enchiladas: Add 1/3 cup shrimp mixture to a flour tortilla, roll tightly and place seam side down in the baking dish. Repeat with remaining tortillas.

Pour the remaining sauce over the rolled tortillas. Sprinkle the cheese over enchiladas.

Bake 20 -30 minutes.

Serve immediately, garnish and enjoy!!