30 Minute Sausage and Shrimp Gumbo + Recipe Video
30 Minute Sausage and Shrimp Gumbo is a quicker way to enjoy a delicious classic! This gumbo is packed with delicious flavor, perfect for those busy hectic nights!! Everyone will love this recipe!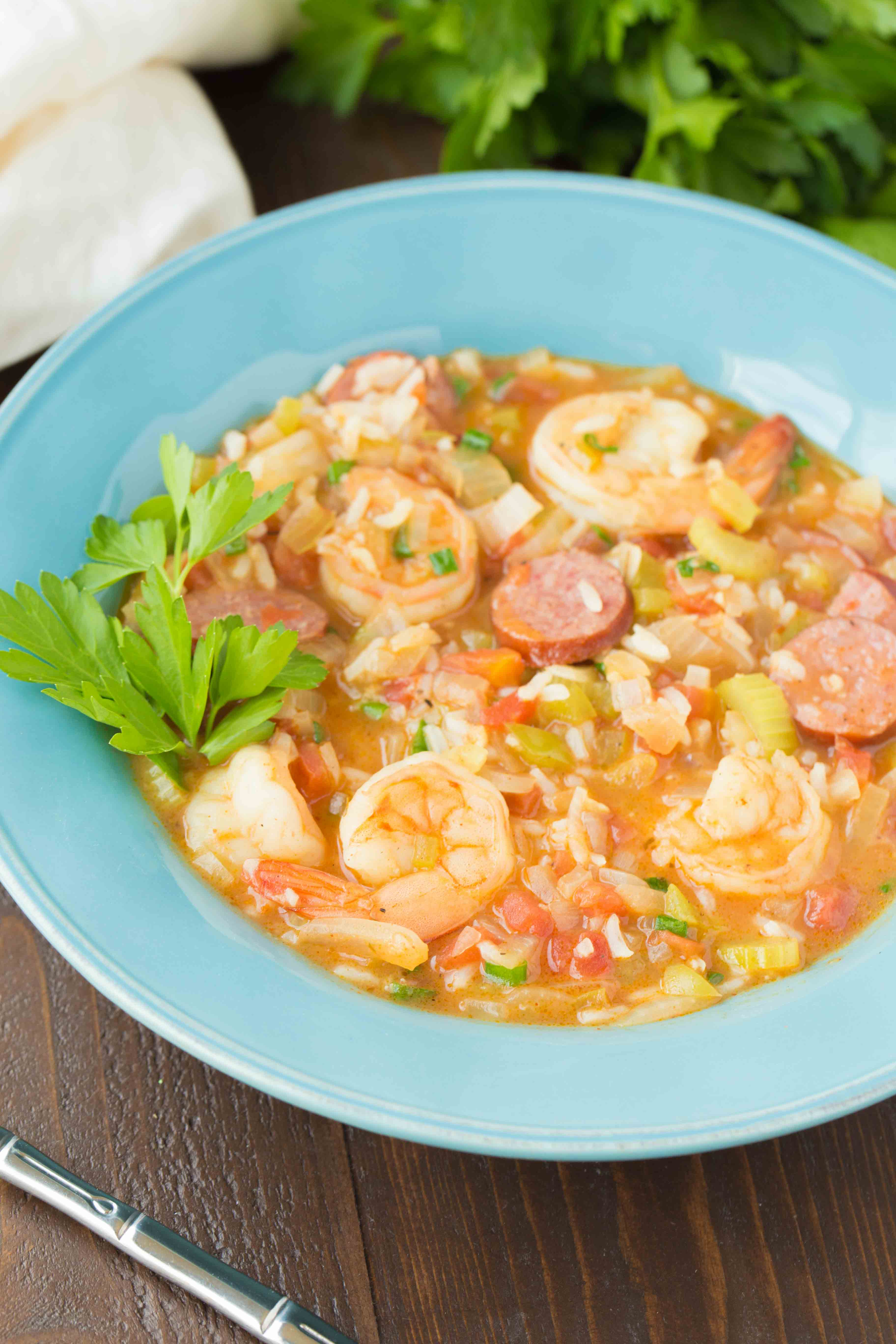 And…just like that we're into the first full week of 2017 and our first 30 minute Thursday. I know I always say I don't know where the time went, but I really don't know where the time is going. It keeps moving and moving and I'm not liking it one bit. I remember thinking that I had a month to prepare the kids for school and now here we are half way into the school year.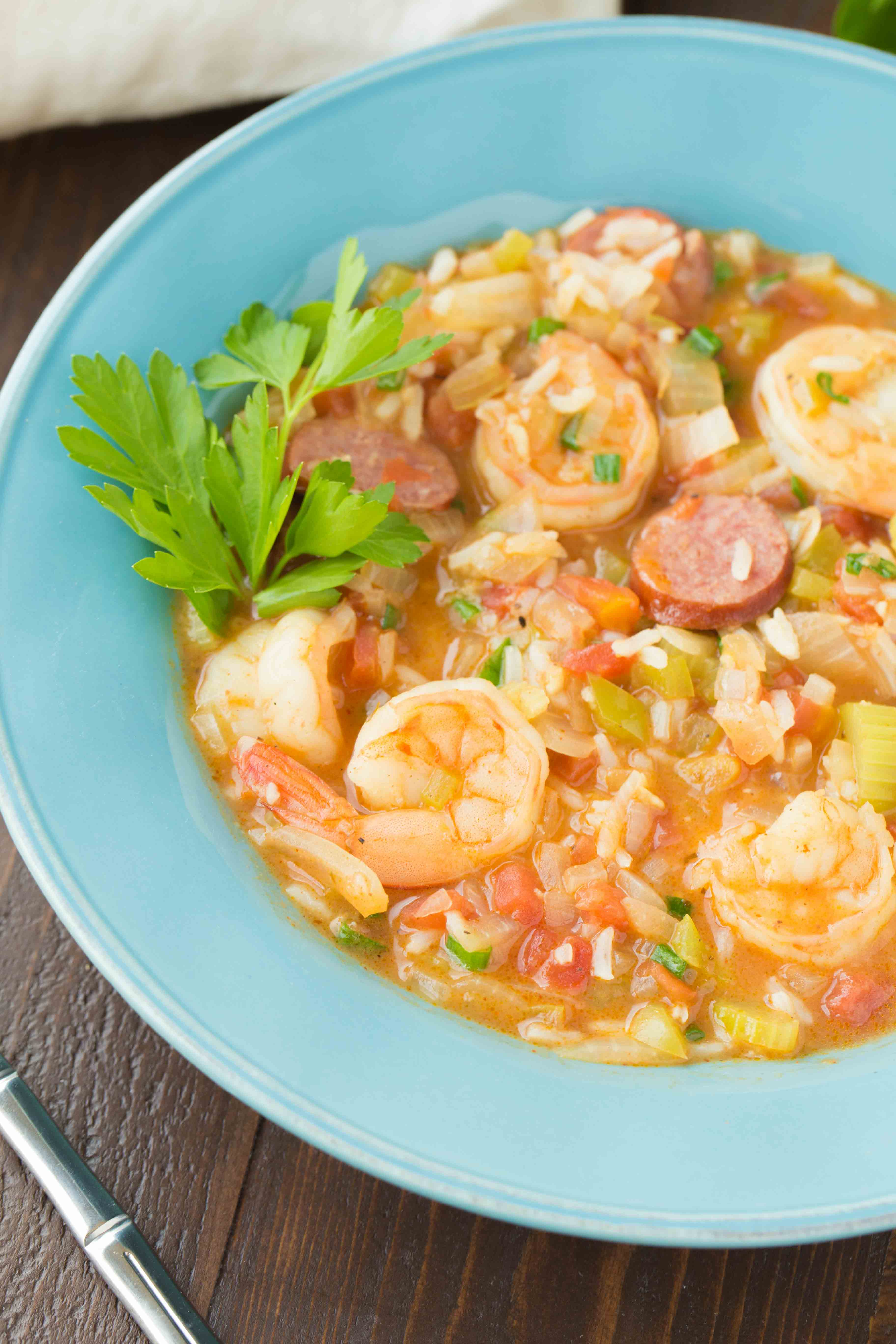 But life must go on, so today I'm sharing the monthly 30 minute Thursday along with my food blogger friends. Make sure you check out all the recipes below. They'll save you time in the kitchen, which we all need these days.
Today I'm sharing my favorite 30 minute Sausage & Shrimp Gumbo recipe. In no way is this a recipe from the south. Heck I've never been to the south, so I couldn't even replicate one if I wanted to, but this is my way of making a yummy gumbo within our busy week.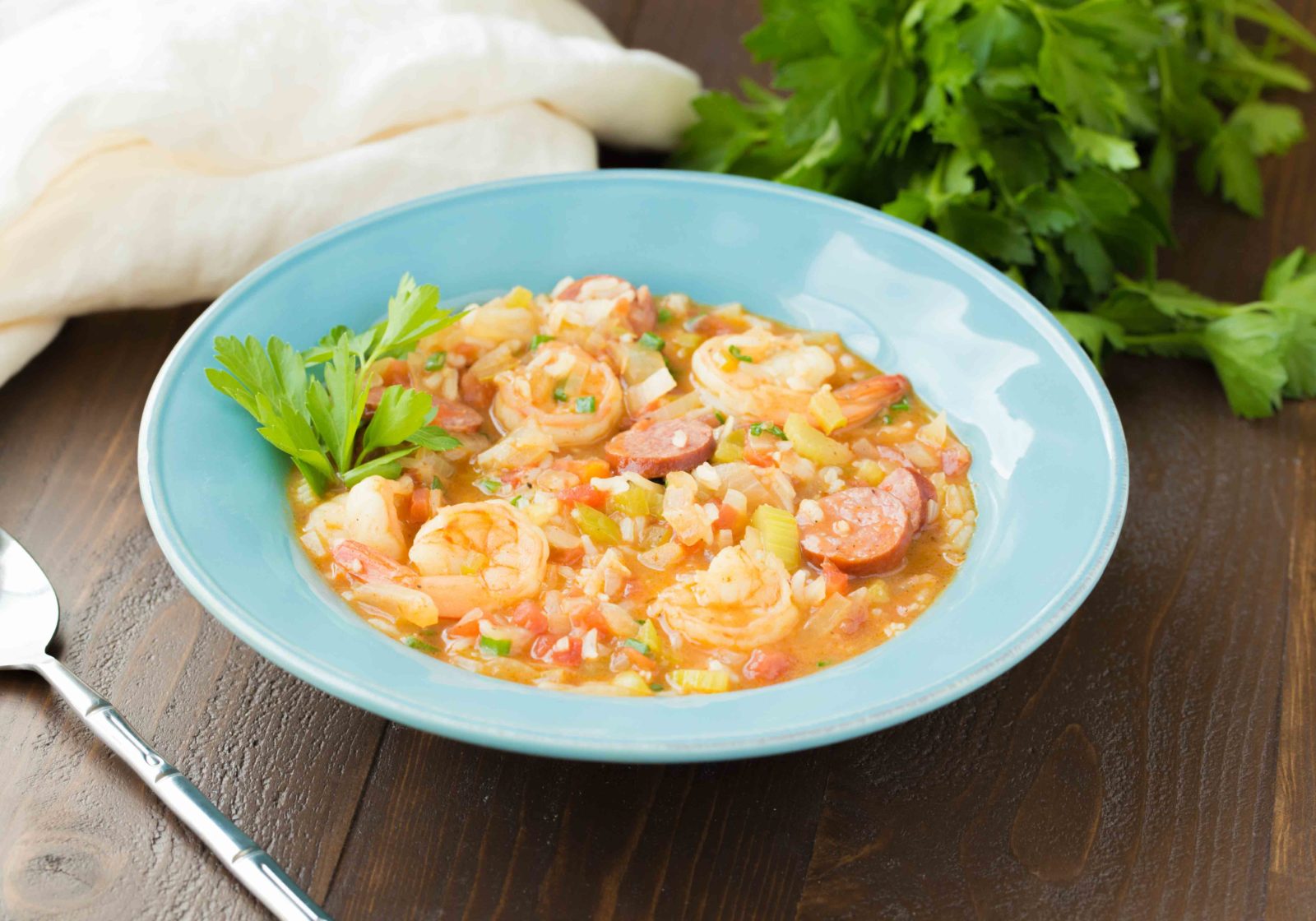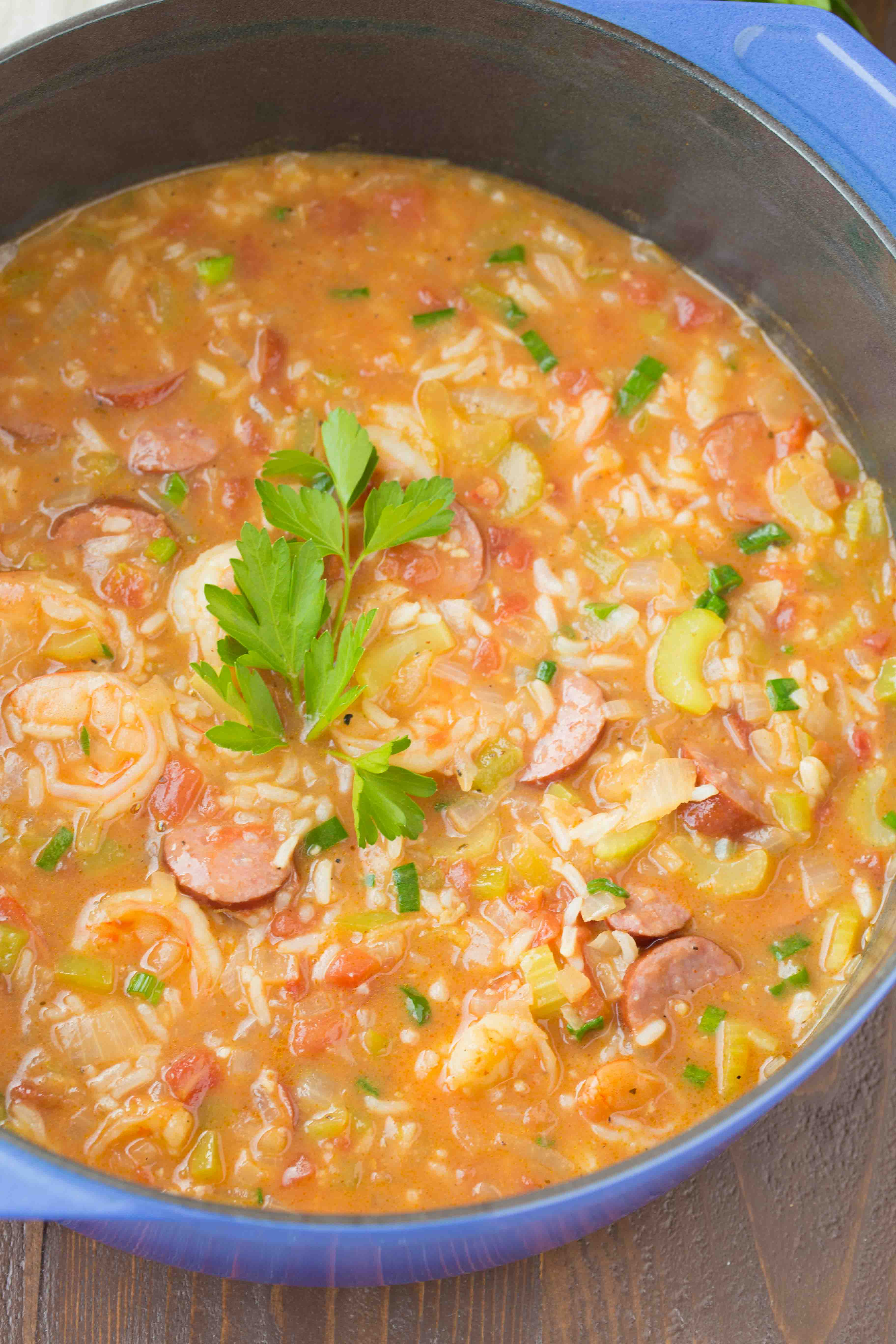 I do have an original shrimp gumbo recipe that I've made over and over, but it takes a lot of work and preparation. And honestly I don't have the time to make it during a busy week. This 30 minute gumbo recipe takes not only minutes to make, but gives me the satisfaction of having my gumbo fill. I love to load my gumbo up with all sorts of cajun flavor, tons of shrimp, beef sausage and some rice of course.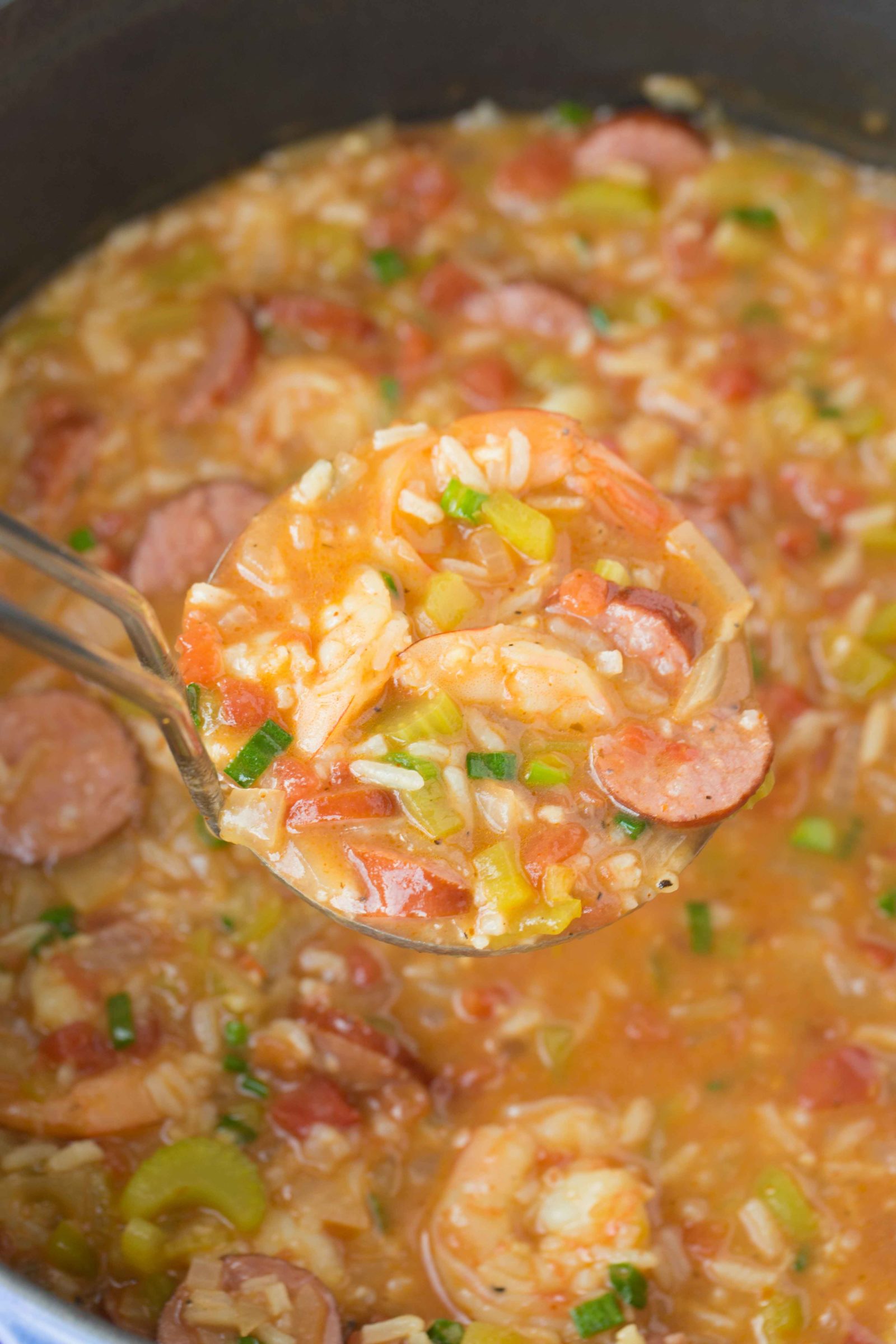 Normally I make rice on the stove while the gumbo is cooking, but lately I've been buying Trader Joe's frozen white or brown rice. I heat that up in the microwave while the gumbo is stewing and it just makes everything a little bit easier. You could always use instant rice, but honestly instant rice and I don't get along very well.
The few times I've used instant rice, I didn't like the flavor and it always turns mushy on me. Who knows though maybe it's being married to my Pakistani hubby who eats rice all the time and I'm just a picky rice girl. Either way try the Trader Joe's frozen rice if you can. Life saver!!
I love adding okra to this dish as well. I normally just buy the frozen okra because I always forget when okra's in season. If your not an okra fan, leave it out. Also since we love spice in our home, we always tend to add more chili powder and hot sauce. But please adjust to your preference. I do recommend keeping the creole or cajun seasoning the same. It gives the gumbo that gumbo flavor.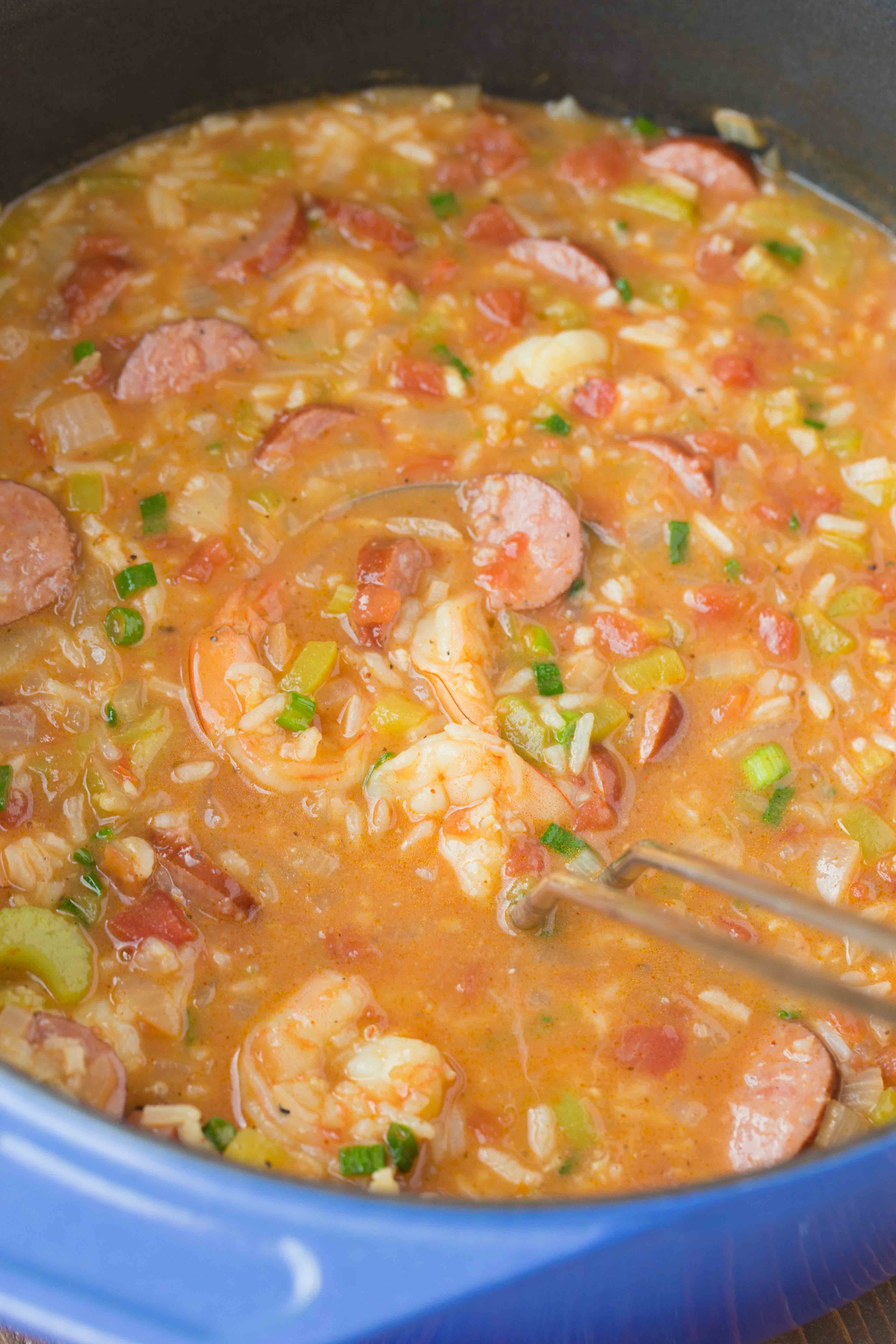 Hope you like my first 30 minute Thursday recipe of 2017!! Remember to head over to the other food bloggers to take a look at what their cooking up today. Don't forget to pin too.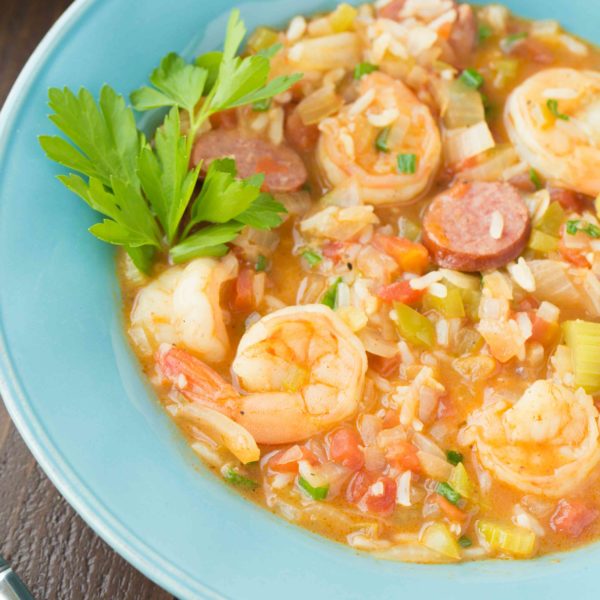 Get the Recipe:
30 Minute Sausage and Shrimp Gumbo
Ingredients
1

teaspoon

canola oil

1

cup

finely chopped onion

1

green bell pepper

,

 chopped

1

cup

celery

,

chopped

3

garlic cloves

,

minced

2

tablespoon

all purpose flour

1/2

pound

smoked beef sausage

,

halved and cut into 1/4-inch slices

1

cup

frozen orka

,

thawed (optional)

1

can

,

14-1/2 ounces diced tomatoes, undrained

2 1/2

cups

chicken broth

1

bay leaf

2 

teaspoon

cajun or creole seasoning

1

teaspoon

salt

3/4 

teaspoon

chili powder

1/4

teaspoon

pepper

1/2

teaspoon

hot pepper sauce

1 

pound

uncooked medium shrimp

,

peeled and deveined

1

cup

cooked white rice

1/2

cup

green onions
Instructions
In a Dutch oven, heat oil over medium heat. Cook onions, bell pepper and garlic in oil 5 minutes, stirring occasionally. Stir in flour. Cook over medium heat, stirring constantly, until flour has cooked off, about 2-3 minutes. 

Stir in remaining ingredients except shrimp and rice. Heat to boiling; reduce heat. Simmer uncovered 10 minutes, stirring occasionally.

Stir shrimp into gumbo. Cover and simmer about 5 minutes or until shrimp are pink and firm. Stir in cooked rice and remove bay leaf.

Serve soup and sprinkle with green onions.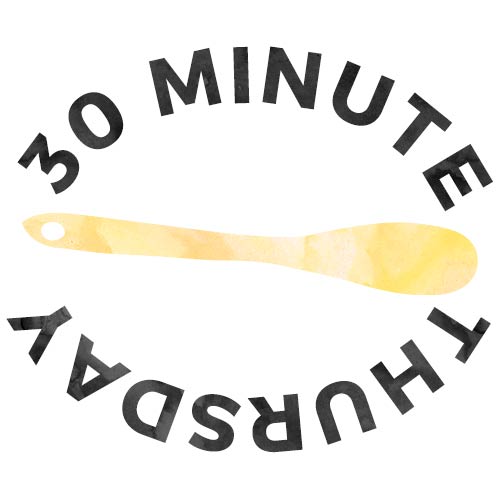 Fajita Gnocchi Skillet with Avocado Salsa from She Likes Food
Chicken Bacon Ranch Panini from Pumpkin N' Spice
30-Minute Chicken with Greek Avgolemono Sauce from Flavor The Moments
Winter Vegetable Minestrone Soup from Floating Kitchen
One Pot BBQ Chicken Chili Mac from The Recipe Rebel
Spiralized Veggie Thai Noodle Bowls from Sweet Peas and Saffron