Cajun Chicken Pasta plus a Recipe Video
Cajun Chicken Pasta is loaded with delicious flavors, a creamy basil white sauce and is perfect for a weeknight dinner! Simple to make and comes together quickly for you on those busy nights.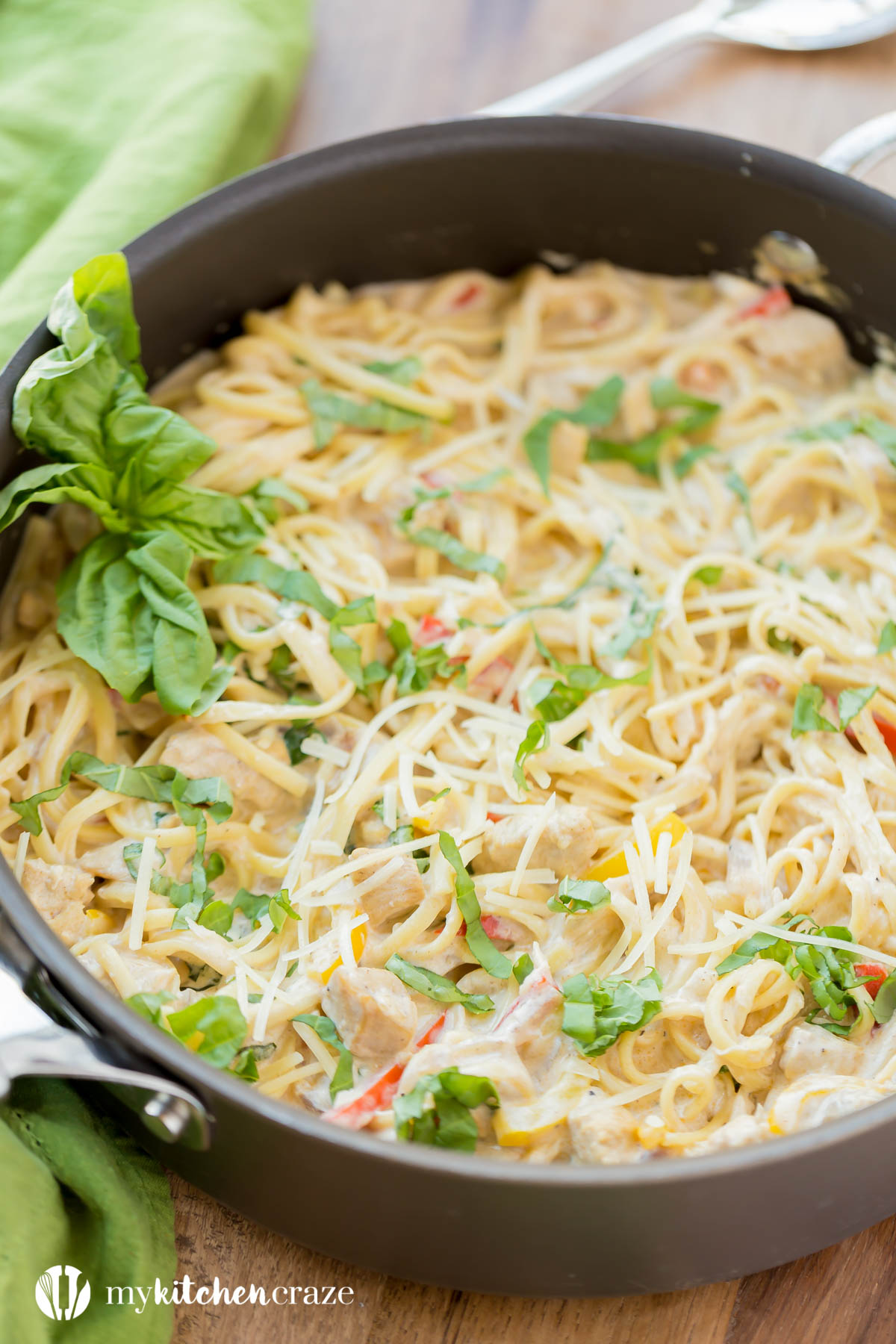 It's Tuesday and I'm dreaming about creamy basil sauce with spicy chicken and pasta. I don't think I've talked about this yet, but I finally started my New Years resolution. I realize I'm three months behind, but better late than never right?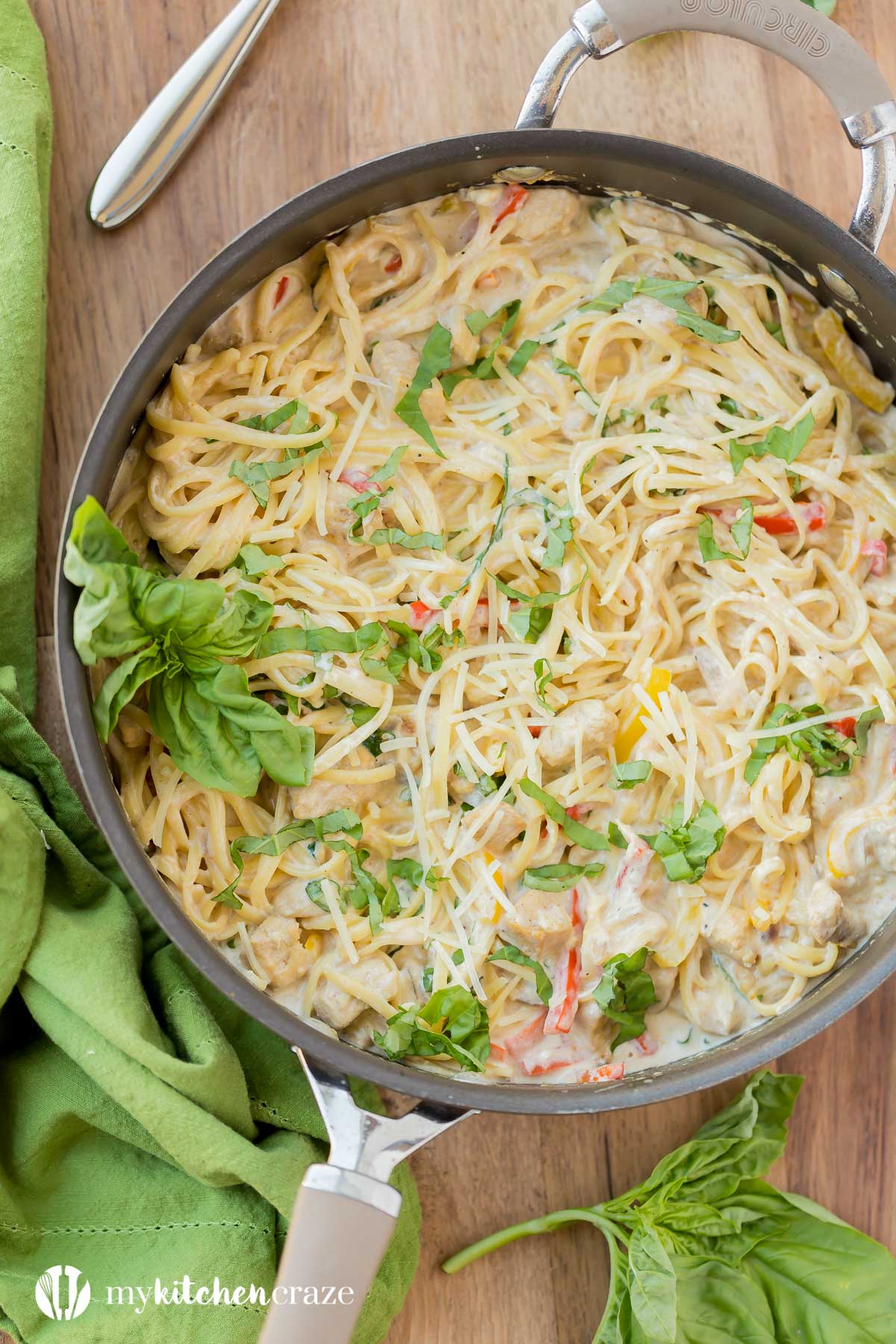 My new years resolution was to get my body back into shape. That seems to be my resolution every year, but this year I needed to make it happen. My girlfriend, Jessica and I decided to start counting calories and we joined Orange Theory.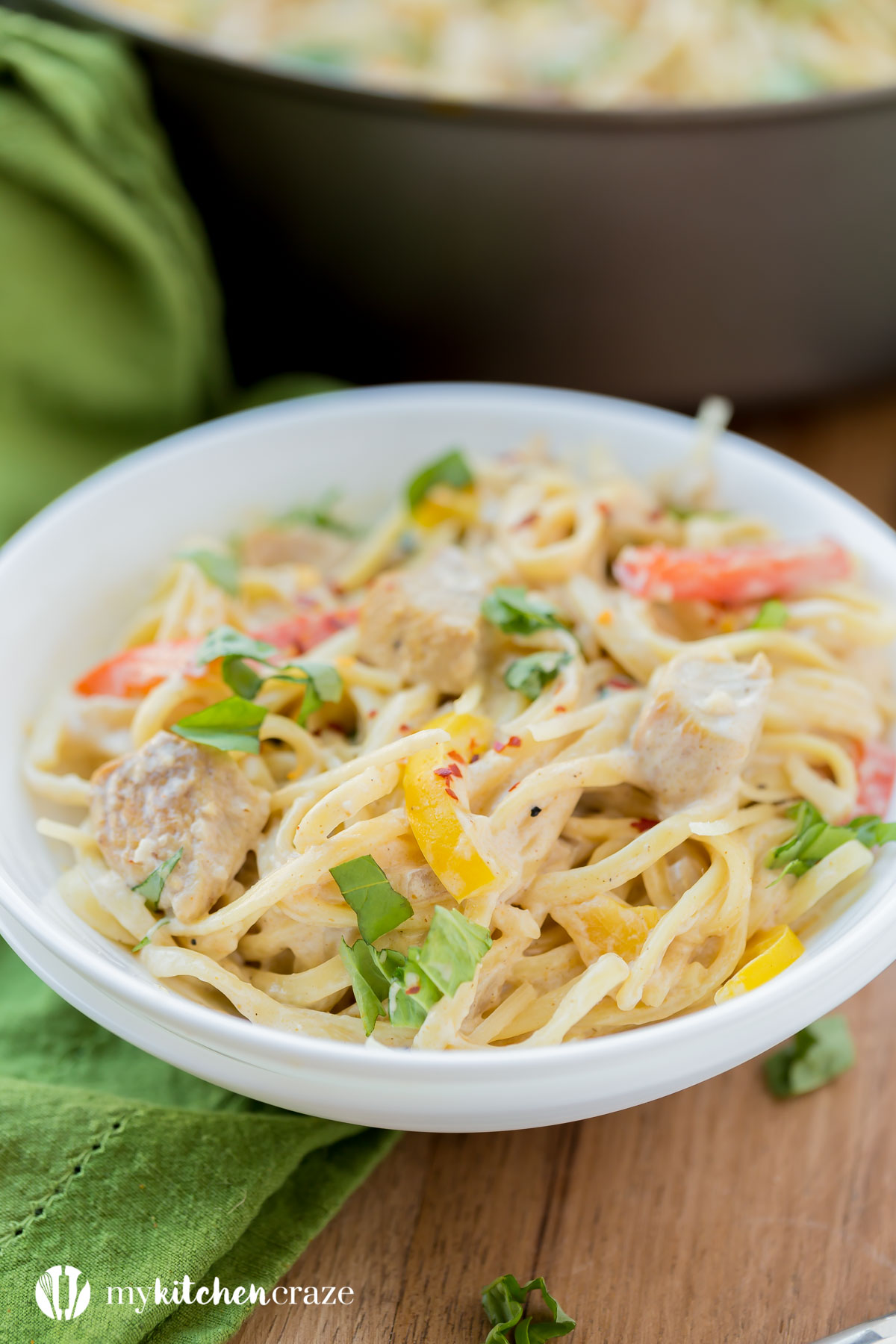 Have you heard about Orange Theory? If not then you need to google it. I thought I was going to hate it because honestly I don't like working out, but I have to tell you that I love everything about it. It's fun and they push you to do your best. I leave there bright red and exhausted, but I also burned about 600 calories. One of the things I love about it is I can indulge in dinners like this one and not feel guilty.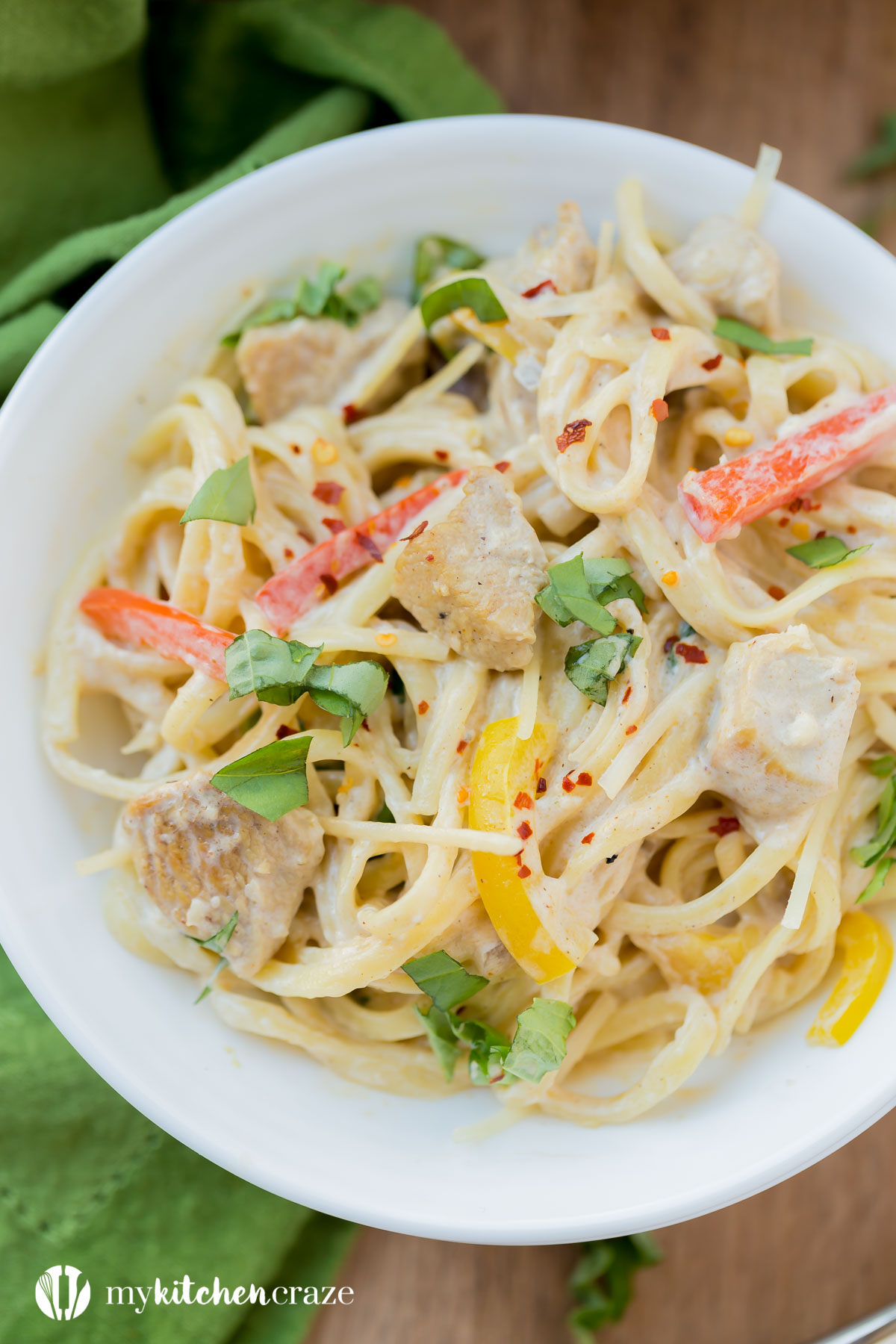 And this pasta is so good! It has everything I want in a pasta recipe. Homemade creamy basil sauce, spicy cajun chicken and vegetables to top it off. Oh and you can't forget the basil. The basil puts this dish over the top.
I actually made this recipe 4 years ago and totally forgot about it until my hubby, Sean reminded me. Once I made it again, I knew I needed to remake it for the blog. A bad habit I have is I'm always wanting to make new and delicious foods for the blog that I tend to forget about ones I've made in the past. Like this one. Then Sean reminds me and all is right with the world again, hehe.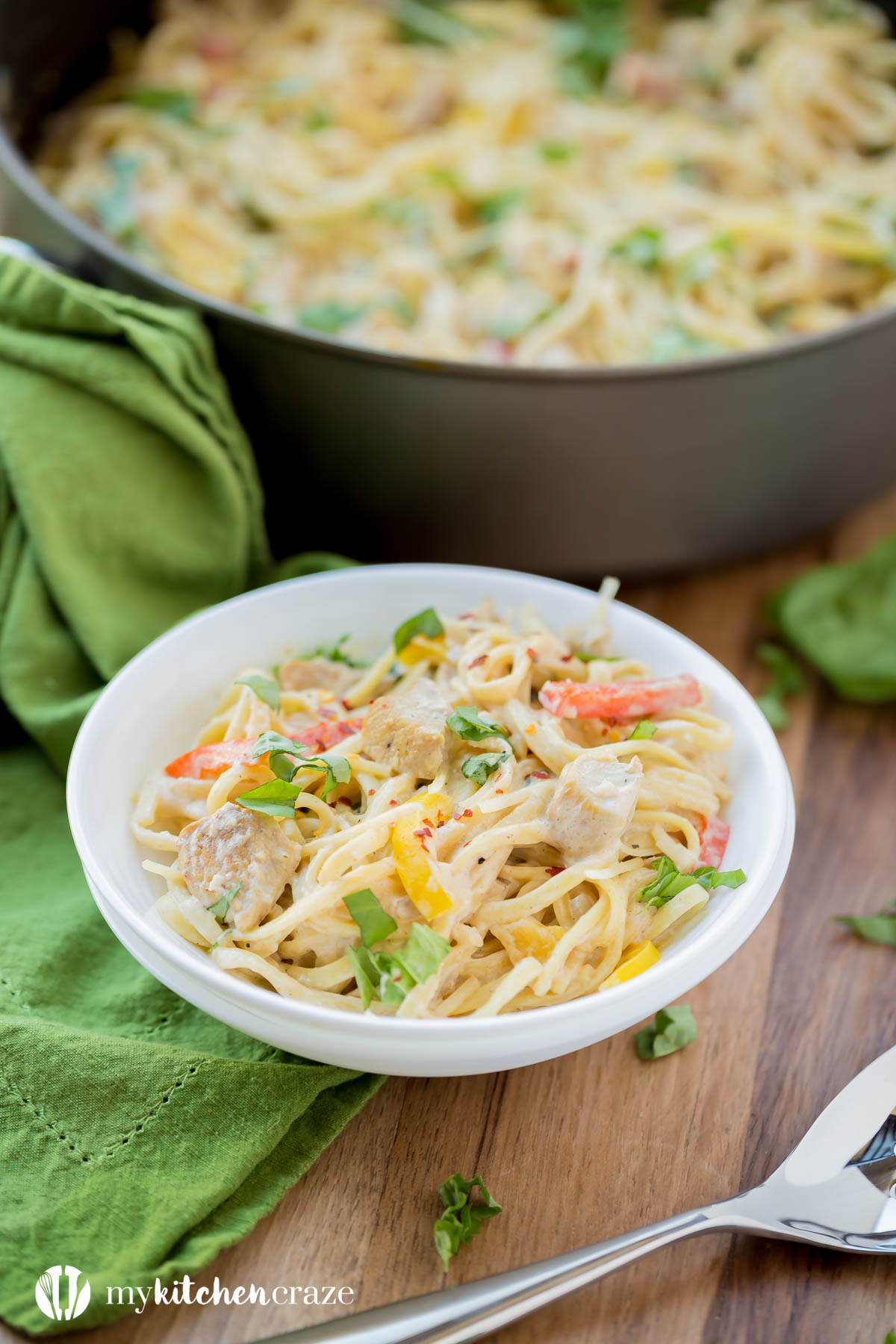 If you're on a diet like me and want a yummy pasta recipe to indulge in or maybe your craving some good old comfort food, then you totally need to make this Cajun Chicken Pasta. So so good!
I also included a video to show you just how easy and simple this recipe truly is. Watch to find out for yourself.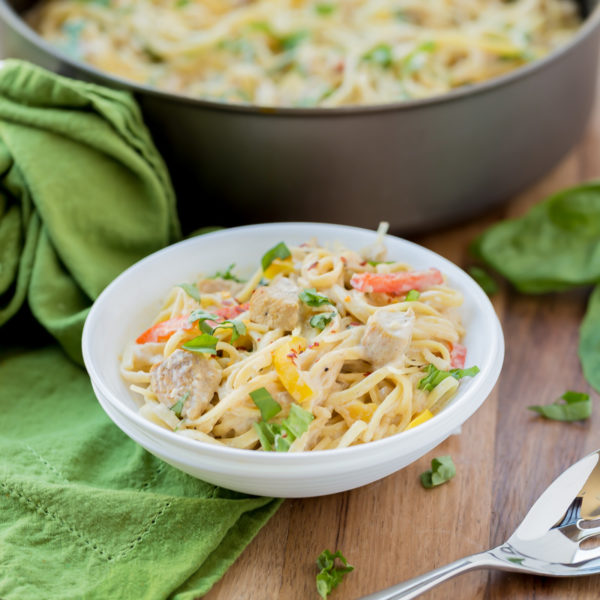 Get the Recipe:
Cajun Chicken Pasta
Ingredients
8

ounces

noodles

1

pound

chicken breast tenders

,

cut into small pieces

1 1/2

teaspoon

Cajun seasoning

1

teaspoon

garlic powder

2

tablespoon

olive oil

1

medium red bell pepper

,

thinly sliced

1

medium yellow bell pepper

,

thinly sliced

1/2

medium red onion

,

sliced

4

garlic cloves

,

minced

1

cup

chicken broth

1

cup

heavy cream

3

tablespoons

cream cheese

1

tablespoon

cornstarch

2

tablespoon

basil

,

divided

1/4

cup

parmesan cheese

salt and pepper as needed

garnish; red pepper chili flakes

,

basil and parmesan cheese
Instructions
Cook pasta according to directions on package. Set aside

In a large nonstick skillet, add 1 tablespoon olive oil over medium-high heat. Add chicken and season with Cajun seasoning, garlic powder and salt. Sauté for about 5-6 minutes, or until done. Place chicken into a bowl;set aside.

Add remaining tablespoon of olive oil to skillet and reduce heat to medium. Add bell peppers, onions, garlic and sauté 5-6 minutes, or until onions become translucent.

In a small mixing bowl, add heavy cream and corn starch. Mix until it makes it slurry. Set aside.

Reduce heat to medium-low, add chicken broth, heavy cream mixture, cream cheese, parmesan cheese and 1 tablespoon basil, stirring for about 2 minutes, or until cheese is melted and slightly thickens.

Return chicken to skillet, adjust salt and Cajun season to your taste. Cook another minute or two until hot and all mixed together.

Add cooked pasta and toss to coat. Top with red pepper chili flakes, basil and parmesan cheese.

Enjoy!