Loaded Potato Soup + a Recipe Video
Loaded Potato Soup ~ All the goodness of a baked potato turn into a comforting soup and loaded with all the fixins. Guaranteed to be a winner at the dinner table!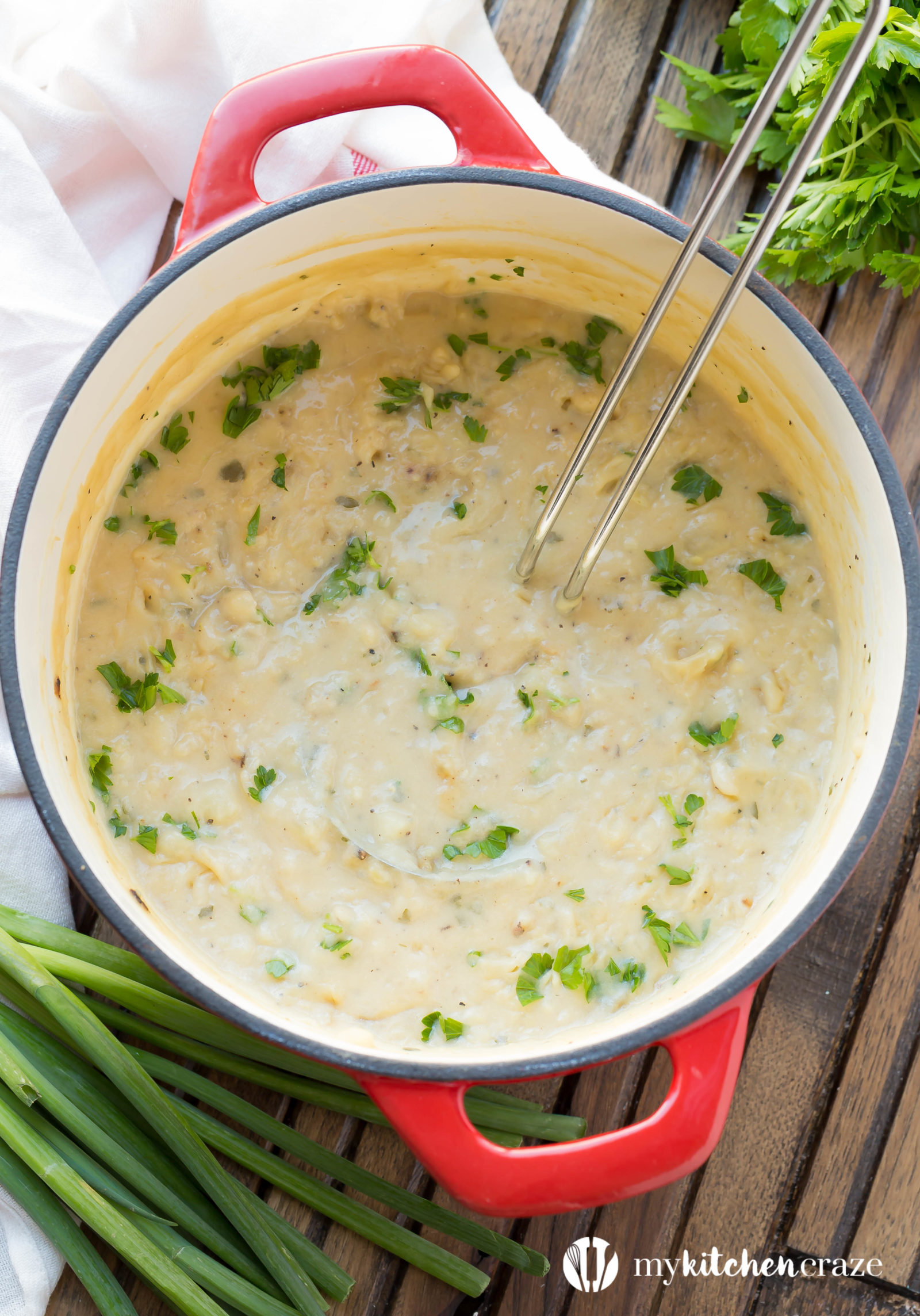 Ok friends, bare with me. I know it's almost April and Spring has started, but I'm still craving soup.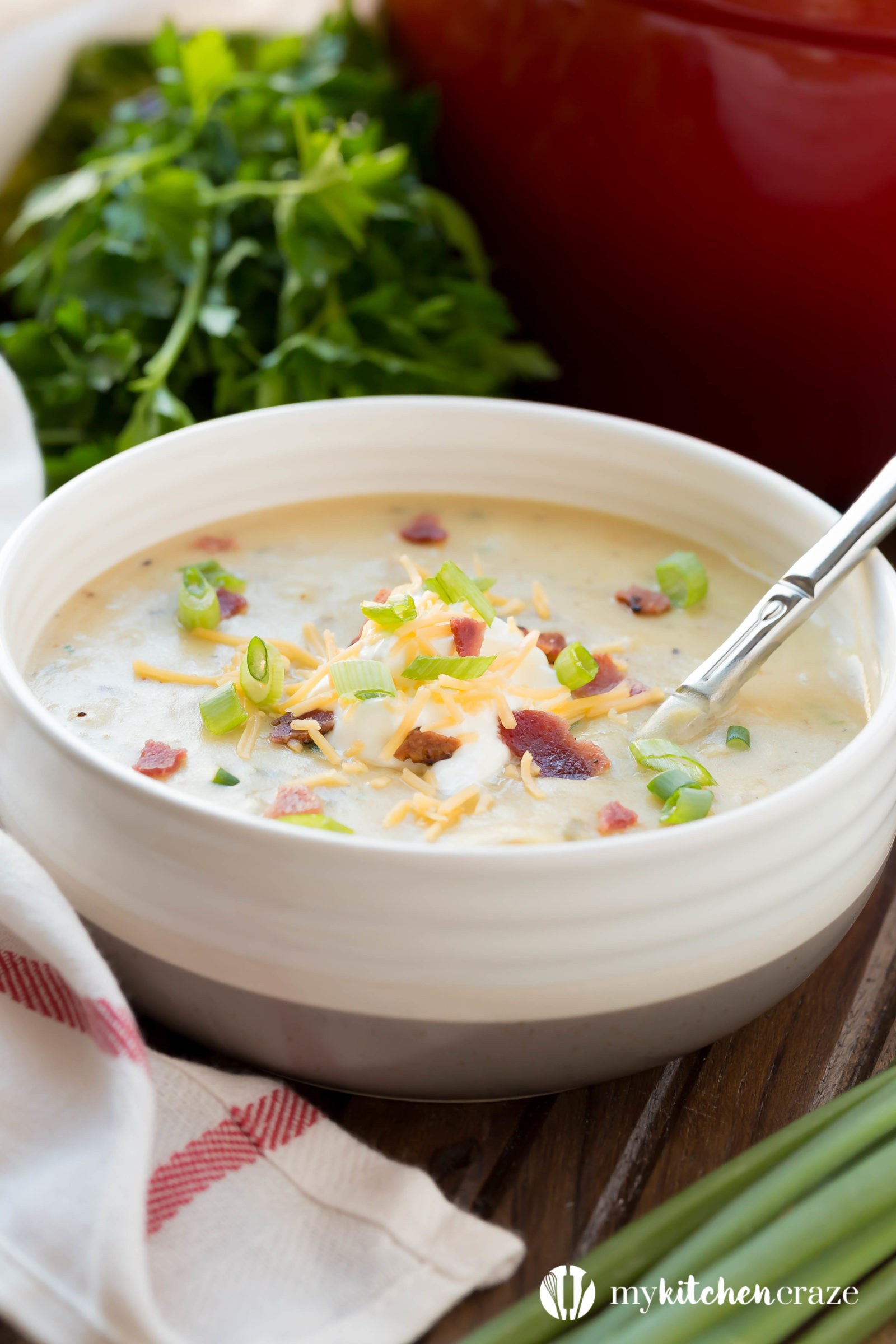 I'm holding onto soup recipes while it's still cool outside. Before you know it, it's gonna be 100 degrees outside. I've been making a lot of soup recipes lately too. Hope you all are liking them. Can you tell I'm digging soup recipes.
and Taco Soup
And these are only a handful. There are more here!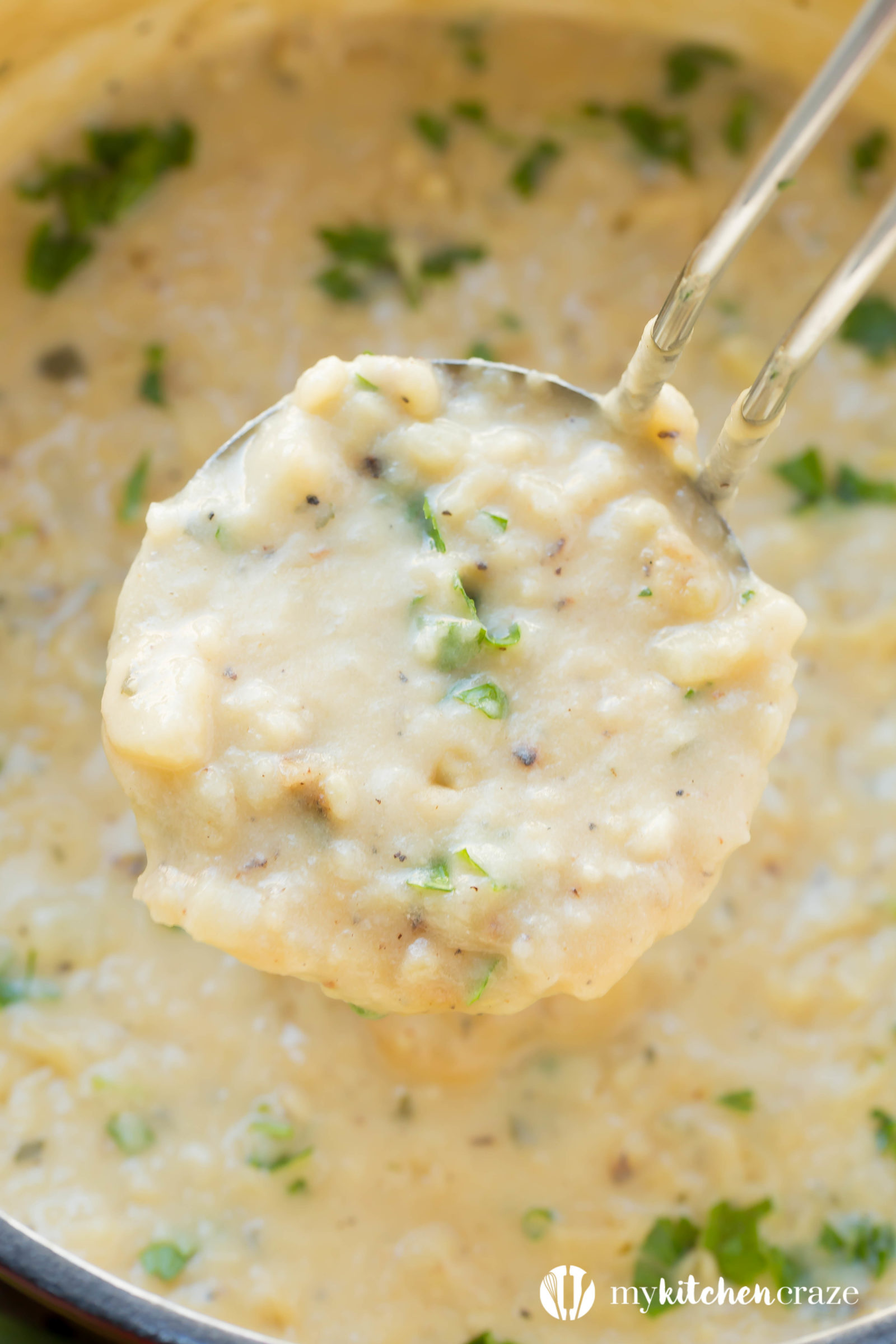 With that being said, let's chat about this Loaded Potato Soup Recipe. You guys this soup is so good and so simple.
The hubby's a huge meat guy, but every so often I can sneak in a non meat recipe. Last week I snuck in this potato soup. This recipe isn't technically meat free because it has bacon, but there's no meat in the actual soup.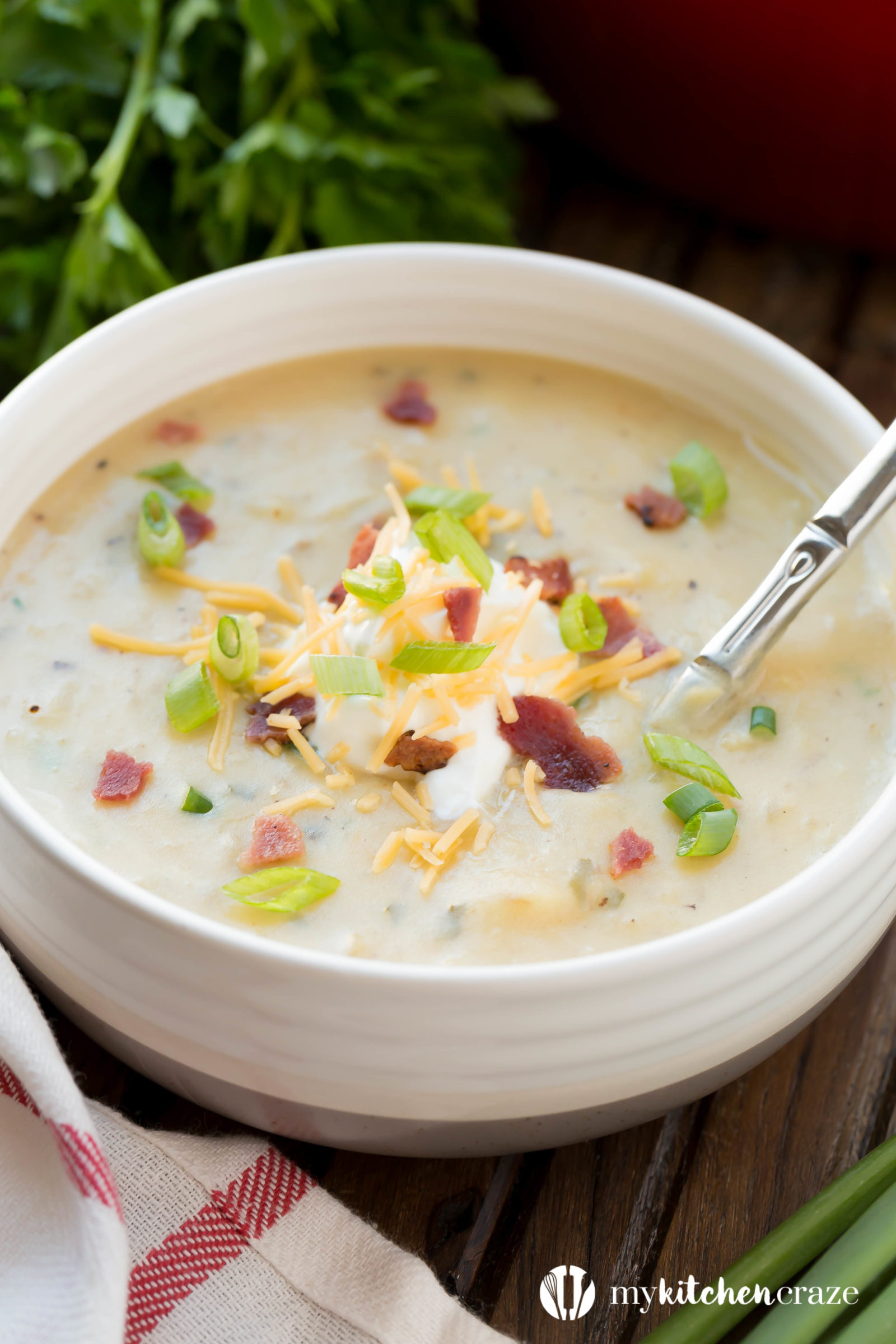 When I placed this soup in front of him, he was so excited. He said he'd been craving a simple and hearty soup for the last few days and this hit the spot.
I think the hardest part of this recipe is peeling and chopping the potatoes, but everything comes together nicely and before you know it, you have a comforting soup right on your dinning room table.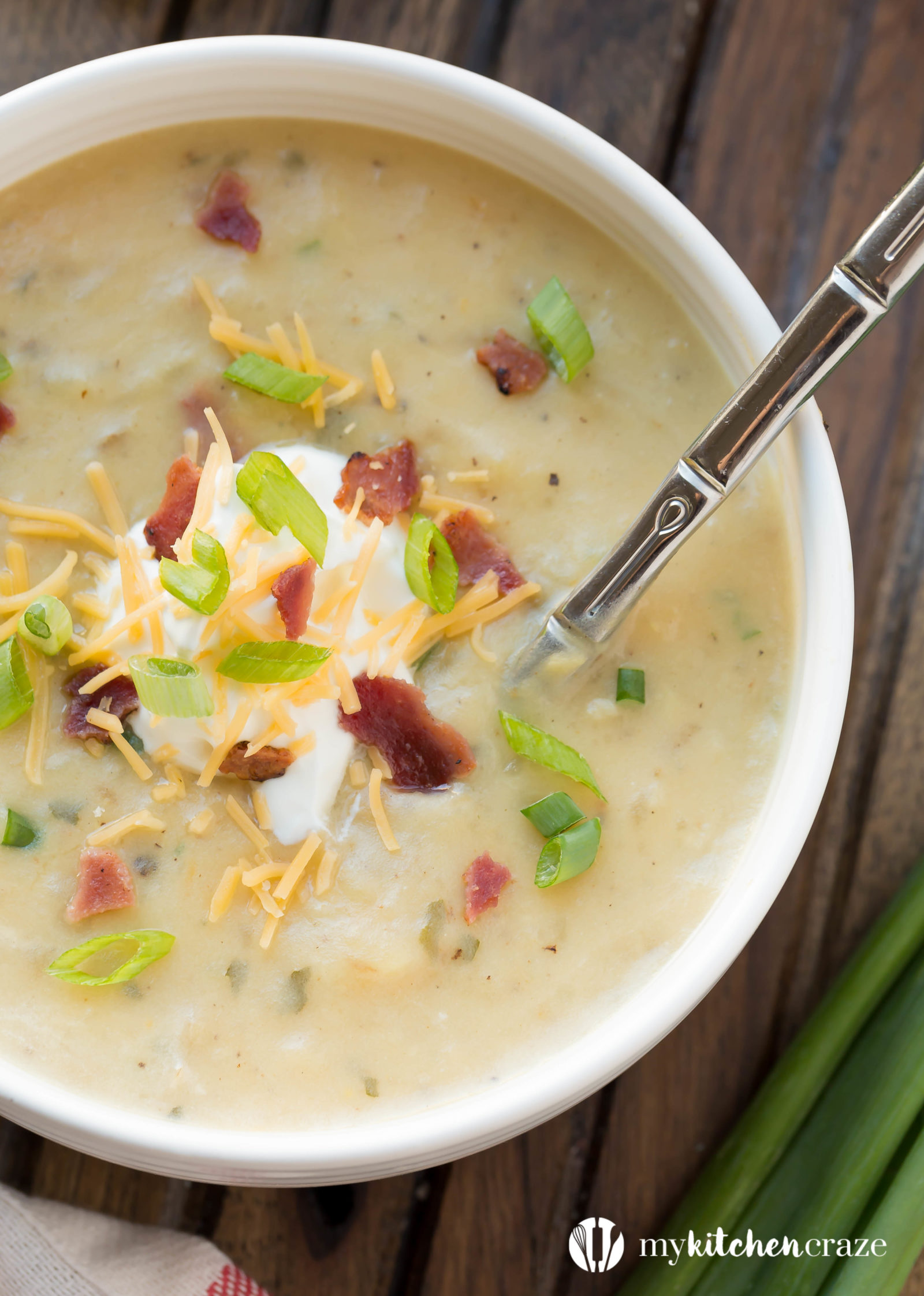 Recipe Video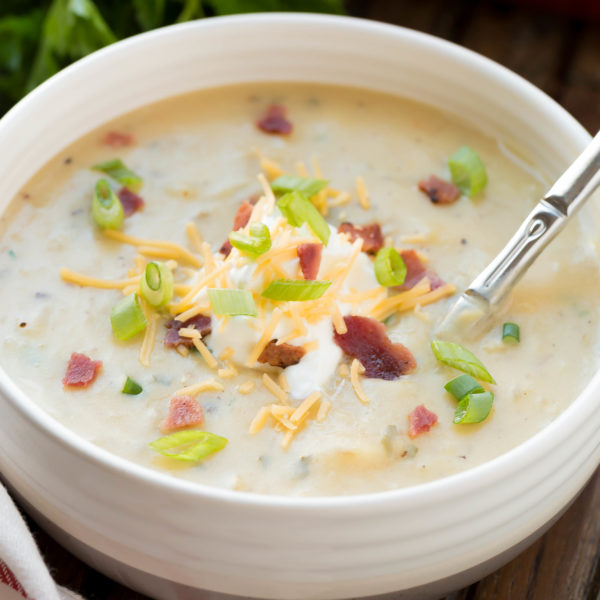 Get the Recipe:
Loaded Potato Soup
Ingredients
1

tablespoon

olive oil

1

medium onion

,

diced

5

garlic cloves

,

minced

4-5

large russet potatoes

,

washed & cubed

5

cups 

chicken broth

1/2

cup

water

1 1/2 - 2

cups

milk

1

cup

sour cream

1

cup

shredded cheddar cheese

1

teaspoon

dried parsley flakes

1

teaspoon

salt

1/2

teaspoon

pepper

1

tablespoon

corn starch

3

tablespoon

water

garnish: sour cream

,

shredded cheese, bacon, green onions, hot sauce
Instructions
In a large stock pot or dutch oven, heat oil over medium-high heat. Once the oil is hot, add onions and cook for about 5 minutes. Add garlic and cook for another minute or so. Making sure not to burn the garlic.

Add the potatoes, chicken broth and water. Bring to a boil. Reduce heat to medium and cook for about 20 minutes, or until the potatoes are fork tender.

Remove 2 cups of potatoes with a slotted spoon and set aside. With a masher, mash remaining potatoes right in the pot.

Once the potatoes are mashed, whisk in milk, sour cream, cheese, dried parsley, salt and pepper.

Stir in reserved cubed potatoes and bring to a light boil.

Whisk together the corn starch and water. Pour mixture into boiling soup and reduce heat to a low simmer. Simmer for another 5 minutes, until slightly thickened.

Garnish  soup and enjoy!