Italian Turkey Soup
Need something to warm you up this chilly season? Make this flavorful and delicious Italian Turkey Soup.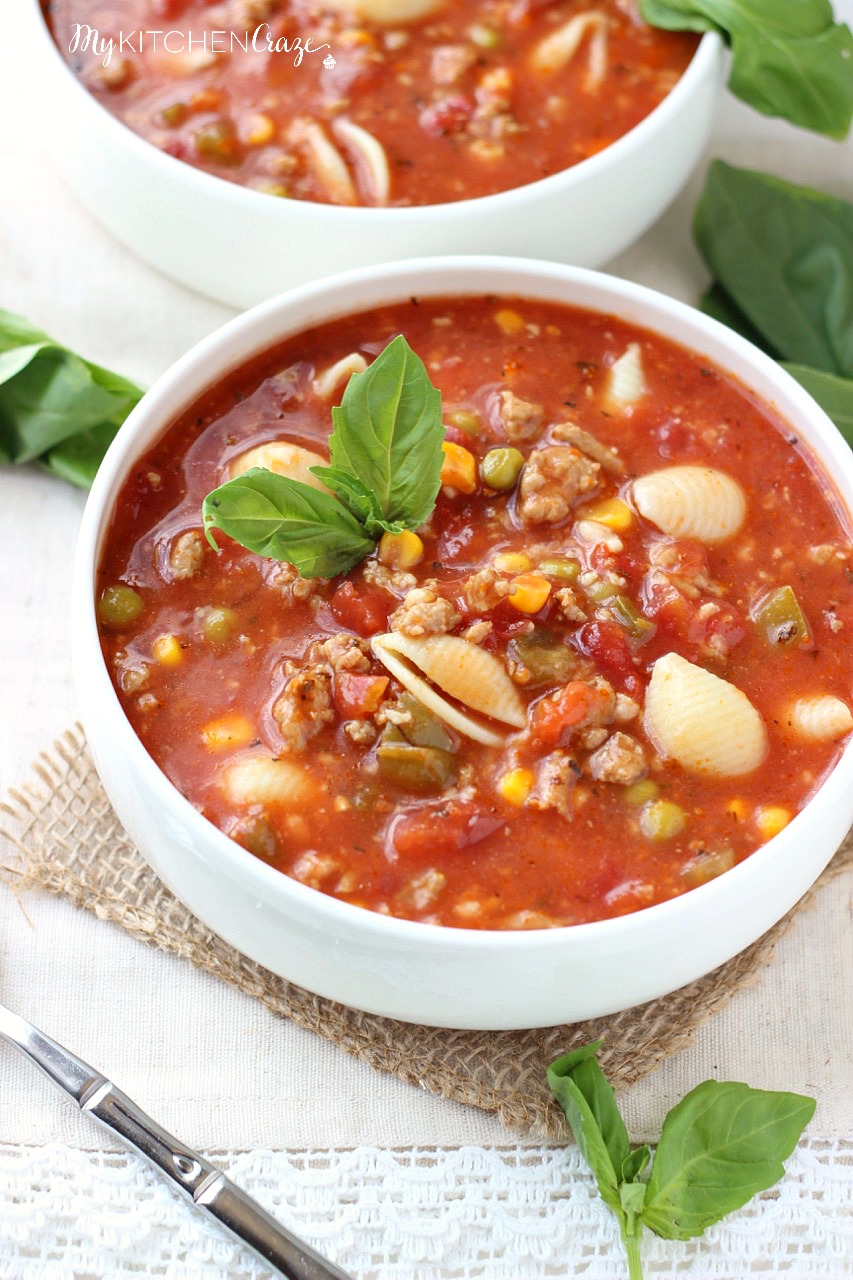 I've been on a soup kick lately because it's been so darn cold. I can't seem to warm up. When ever it's gloomy/rainy outside, I want to cuddle up with a blanket, a movie and a big bowl of soup. Yum!
When we lived in Palm Springs it never got cold or rainy enough to make soup. It gets chilly, but it's the type of cold that warms up during the day and by the time it's dinner time, you just don't feel like soup anymore. In Vegas I feel like it's always cold, gloomy and rainy. Now people tell me that it's normally not like this, but burr its cold.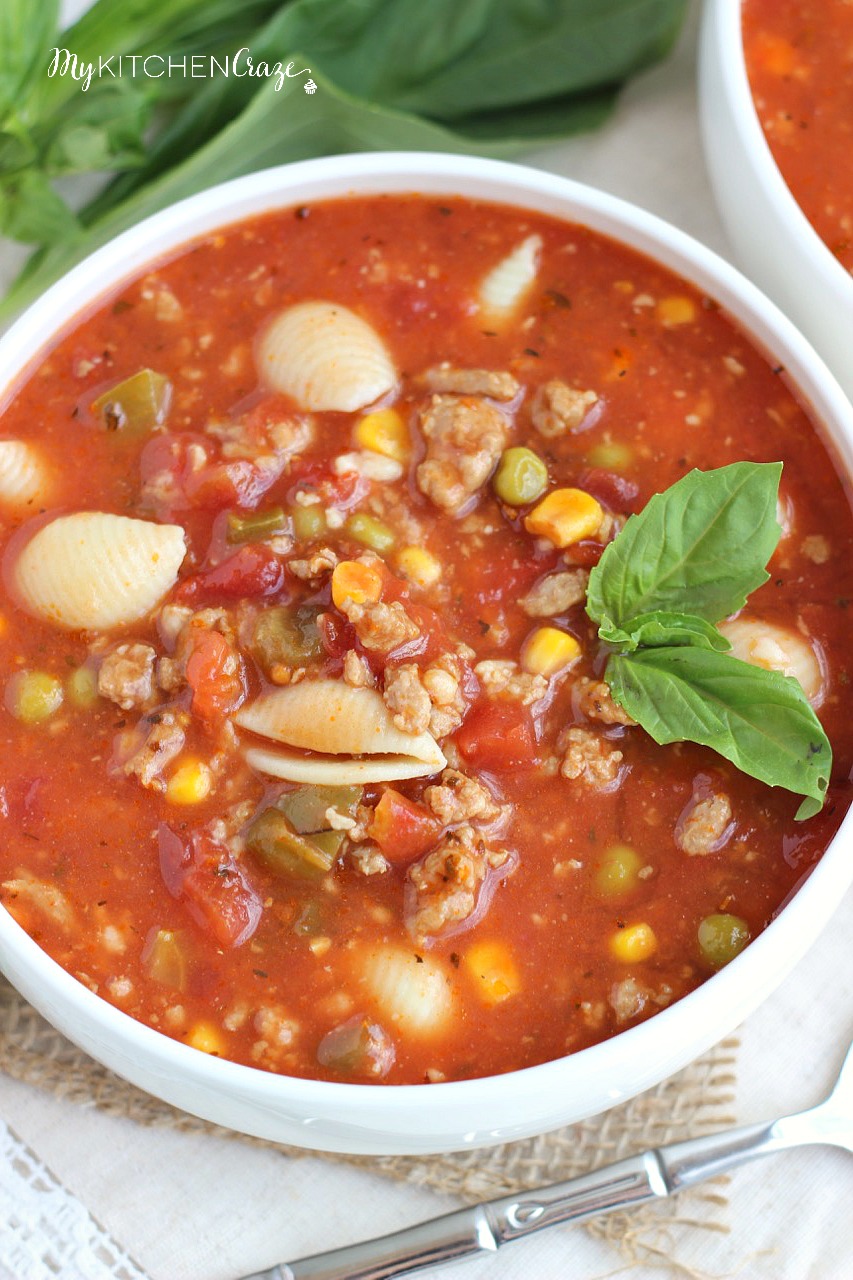 I've seen more rain in the past 4 months then I've seen in 10 years. I love the rain, but not sure how people deal with it on a daily basis. I mean everything is wet. How do you go grocery shopping without getting soaked? Last week when I decided that I wanted to make this soup recipe, I needed to run to the store to get a few items.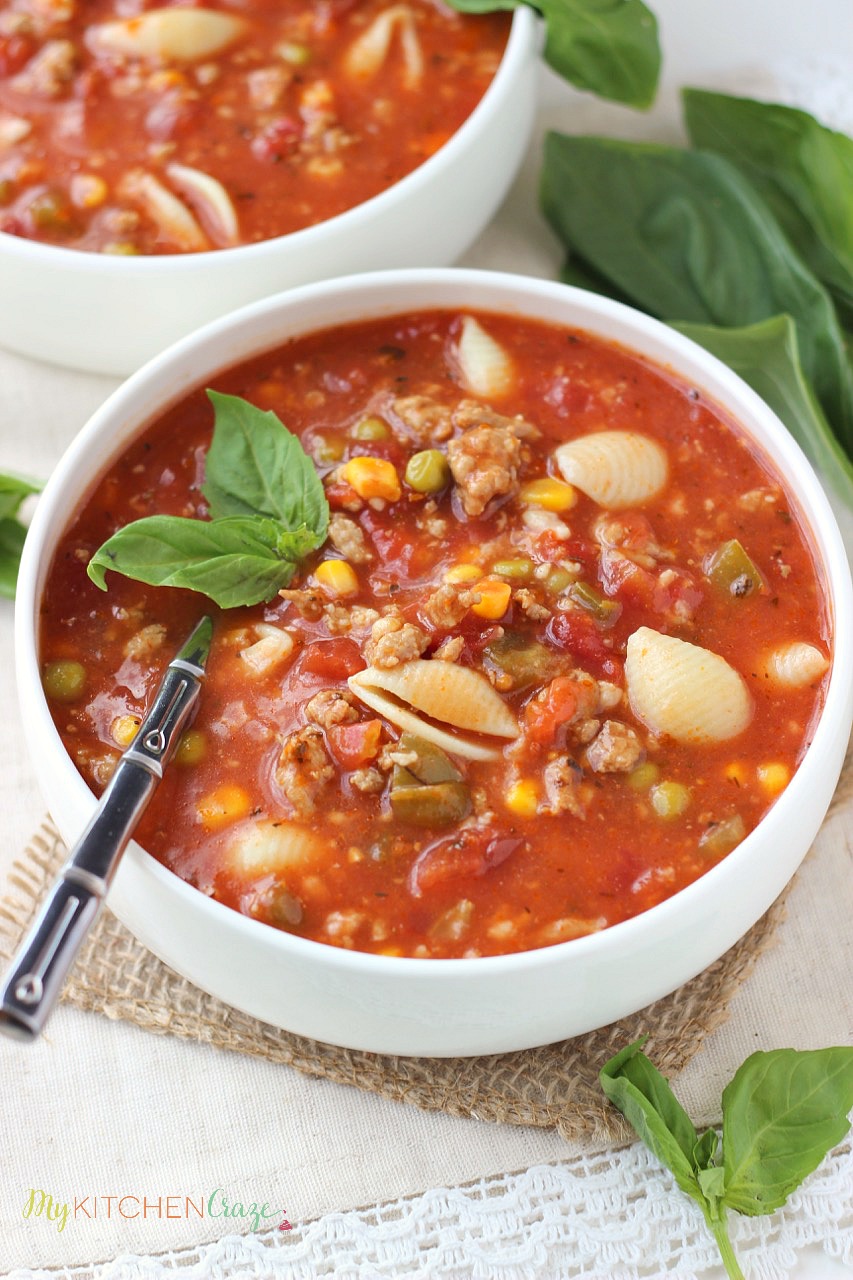 When I left the house it was cloudy, but no rain in sight. I even looked on my weather app to make sure it wasn't going to start raining. Well guess what…it's starting raining. No I'm sorry that's an understatement. It was pouring when I went outside.
Oh my gosh you guys. I was soaked and so were all my groceries. Let's just say I was pretty annoyed. But it was well worth it because this soup turned out awesome and good!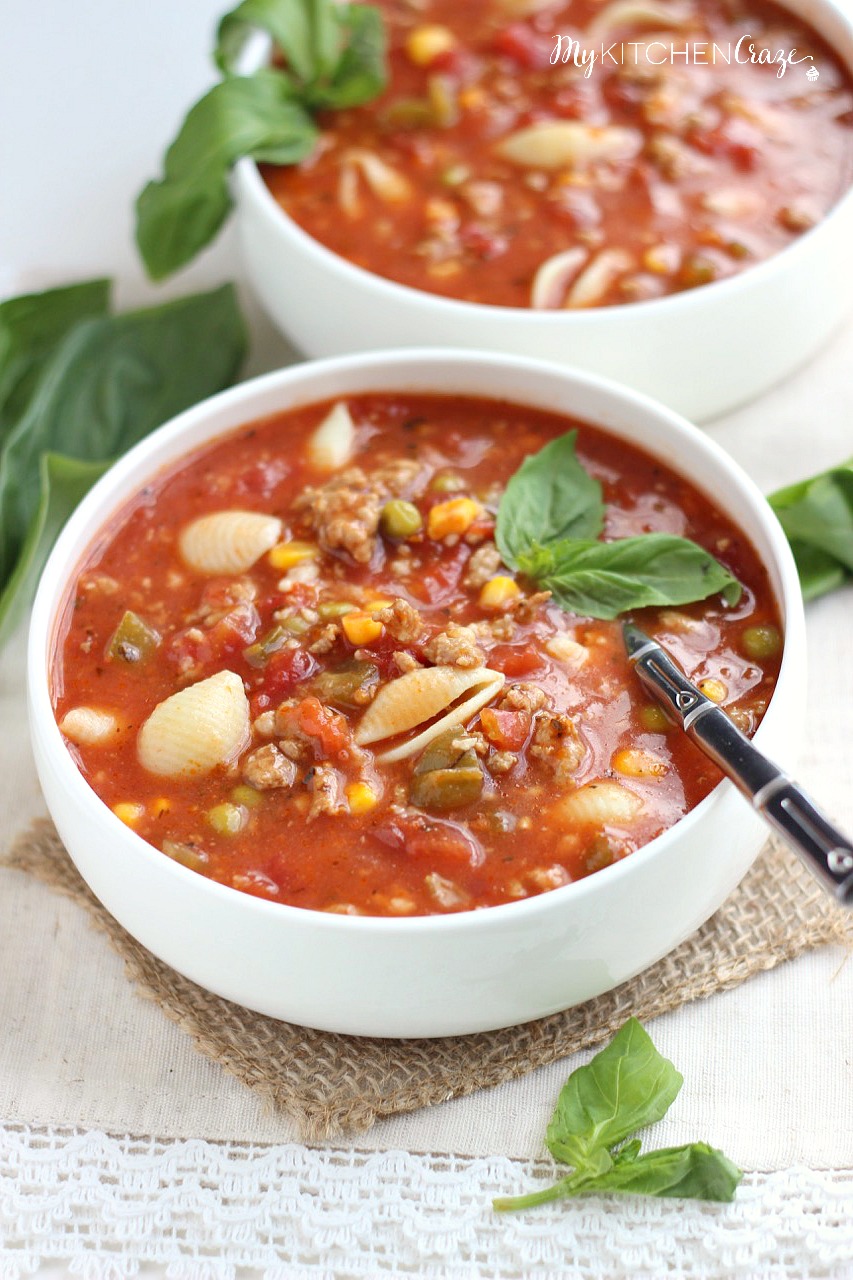 This soup is so tasty and is even better the next day. You literally throw everything in the pot, let it simmer for a while, pop some noodles in there and eat away. A lot of recipes will cook the noodles in the soup, but I've noticed that it takes away the liquid and makes the soup starchy. So I make the noodles on the side and just add them whenever we're ready to eat. You can add a little olive oil to the noodles so they don't dry out.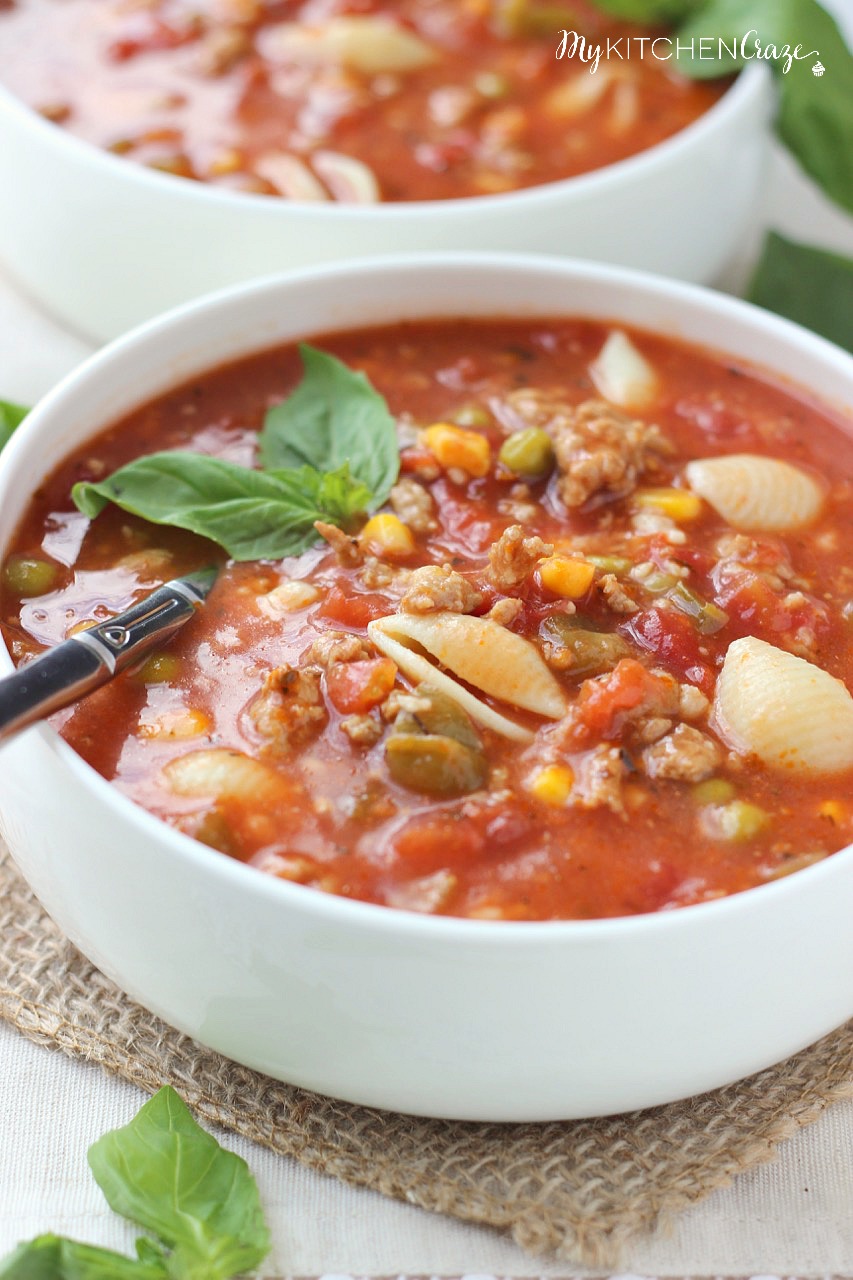 If you're cold and looking for a delicious tasty and flavorful soup to warm you up, then you need make this Italian Turkey Soup. It's good!! Enjoy and stay warm this winter! 🙂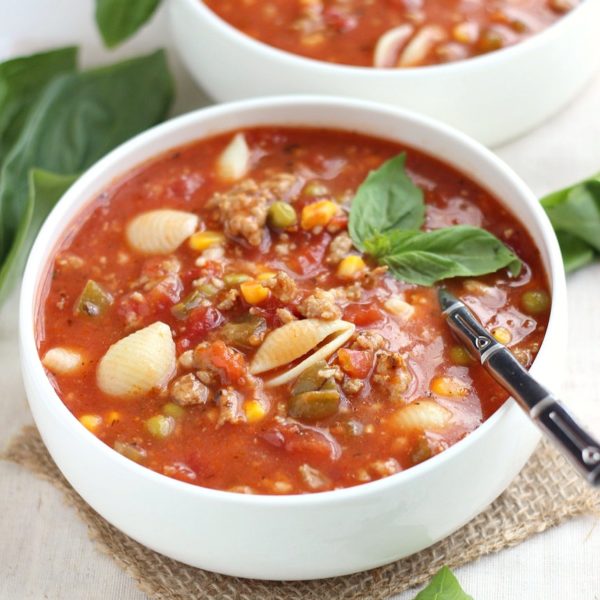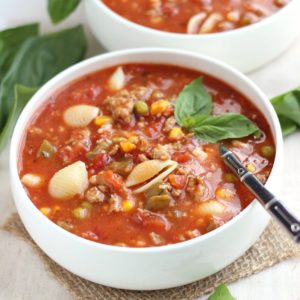 Get the Recipe:
Italian Turkey Soup
Ingredients
1

pound

Italian flavored ground turkey meat

1

green bell pepper

,

chopped

1

medium onion

,

chopped

3

garlic cloves

,

minced

2

cans

,

14 1/2 ounces diced petite tomatoes with basil, garlic and oregano, undrained

2

cans

,

14 1/2 ounces beef broth

1

can

,

8 ounces tomato sauce

1

cup

frozen corn

1/4

cup

tomato paste

2

teaspoons

Italian seasoning

1/2

teaspoon

pepper

2

teaspoon

chili pepper flakes

2-1/2

cups

uncooked spiral pasta

1/2

cup

shredded Parmesan cheese

1/2

cup

shredded mozzarella cheese
Instructions
In a large soup pot add water and cook noodles according to their boxed directions. Drain and stir in a little olive oil; set aside until ready to use.

In a large soup pot or dutch oven, cook turkey meat, bell pepper and onion over medium high heat, about 6-8 minutes or until meat is no longer pink. Crumble meat as it cooks. Add garlic and cook 1 more minute then drain any excess oil out and place back in the pot.

Set pot to medium heat and stir in tomatoes, broth, tomato sauce, corn, tomato paste, Italian seasoning, pepper and chili flakes.

Bring to a low boil then simmer 15-20 minutes. Stir in cheeses and noodles.

Serve and enjoy!

Soups, soups and more soups: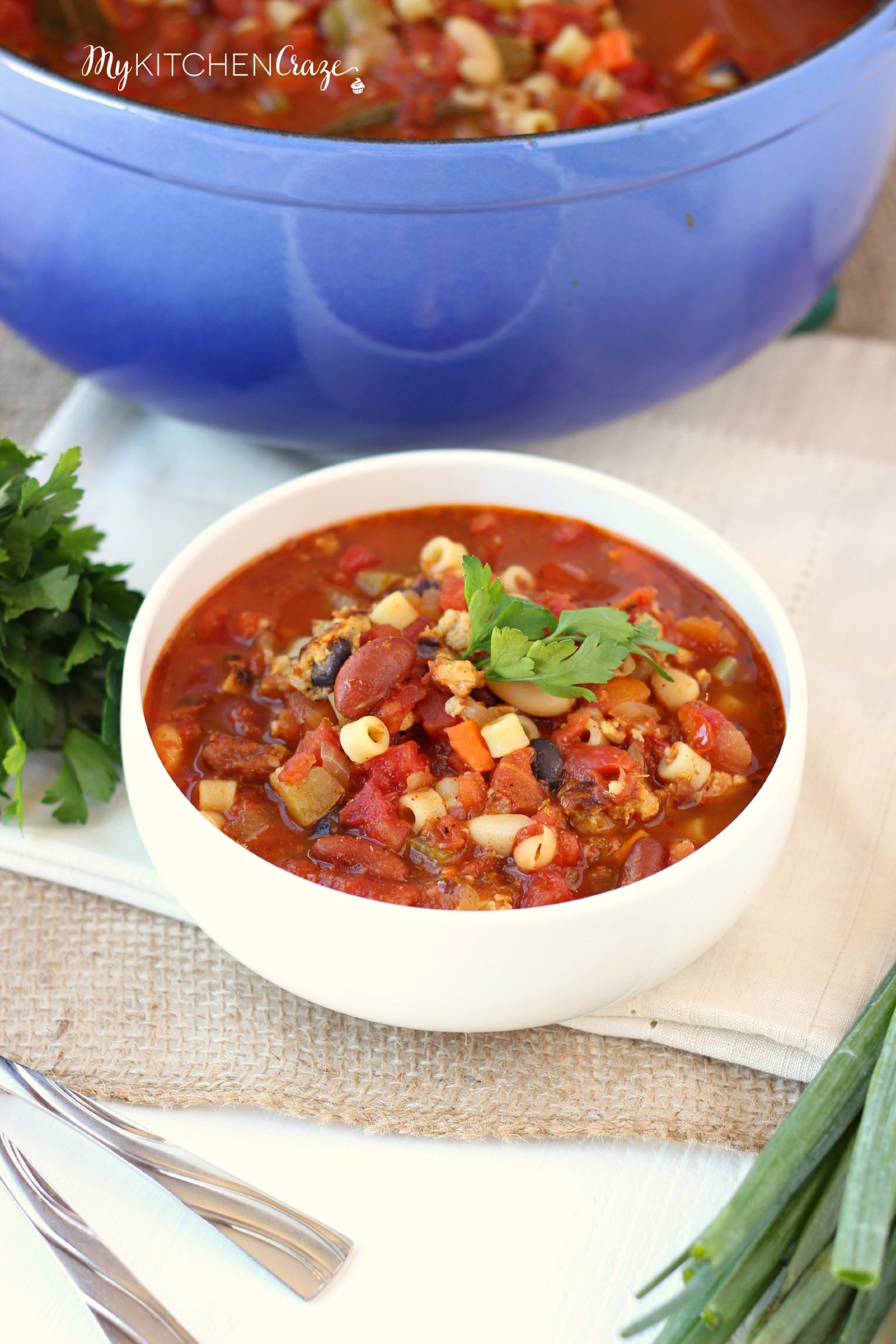 Pasta E Fagioli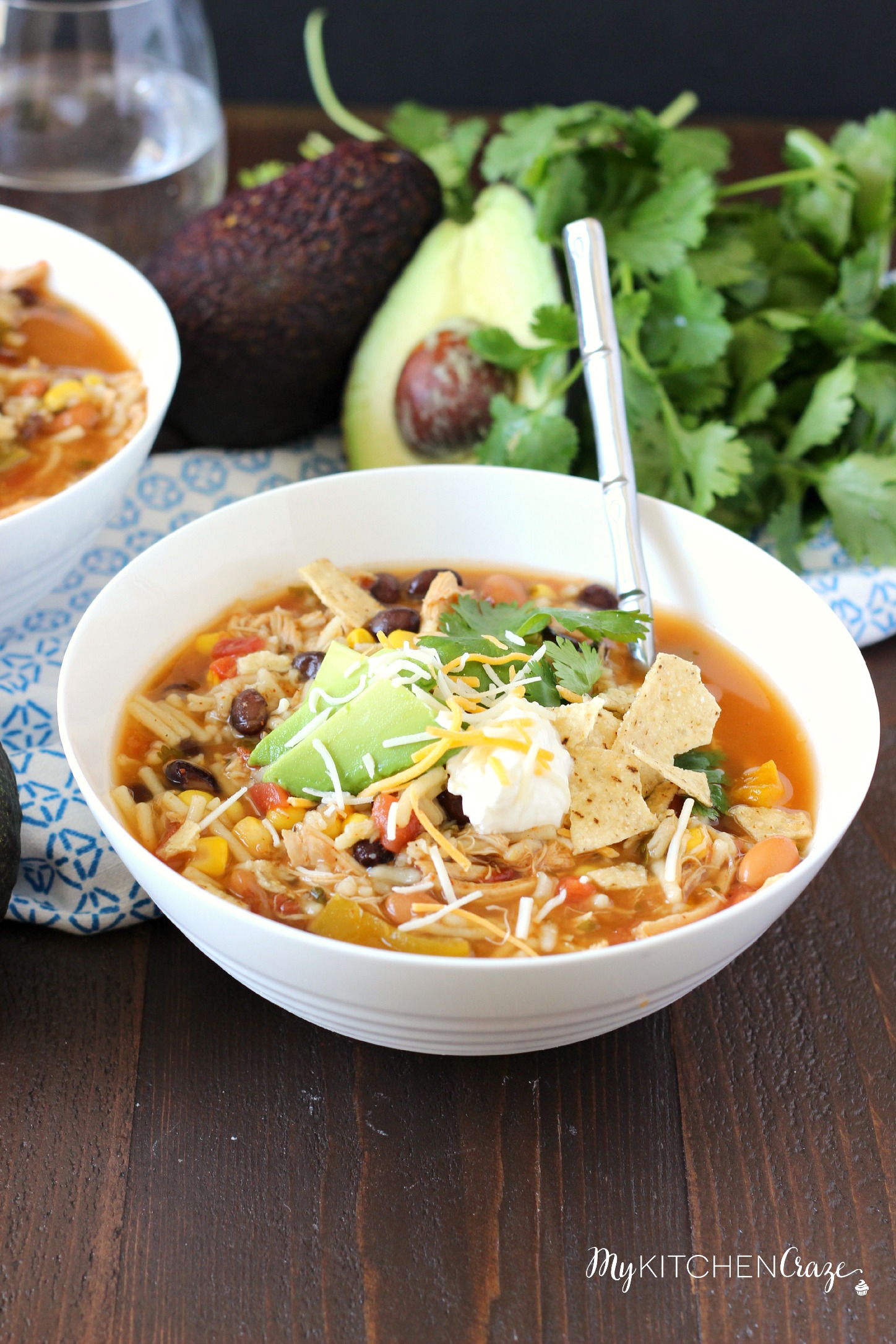 Taco Soup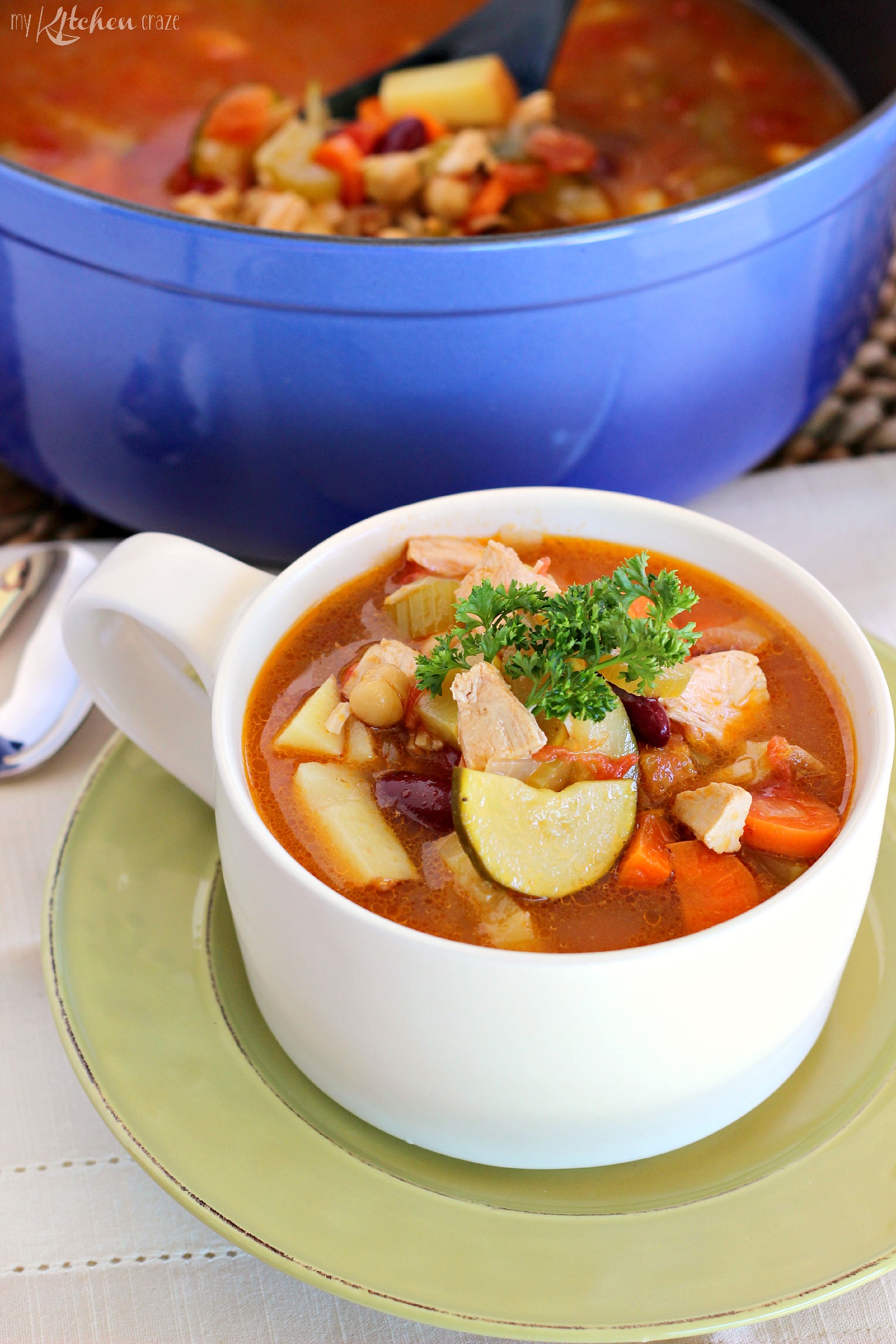 Turkey Vegetable Soup
Here are some more delicious soup recipes:
20 Minute Broccoli Cheese Soup: Cook Crave Inspire by Spend with Pennies
 Sweet Potato Curry Shrimp Soup by A Healthy Life for Me
Slow Cooker Tuscan Chicken Stew by Sweet Peas & Saffron
Slow Cooker Southwest Quinoa Chili by Mariah's Pleasing Plates