Chicken and Asparagus Fettuccine Alfredo
Chicken and Asparagus Fettuccine Alfredo is a creamy, cheesy sauce smothered in fettuccine noodles and steamed asparagus. Not only is this dish packed with amazing flavor, it's made with in 30 minutes. Score!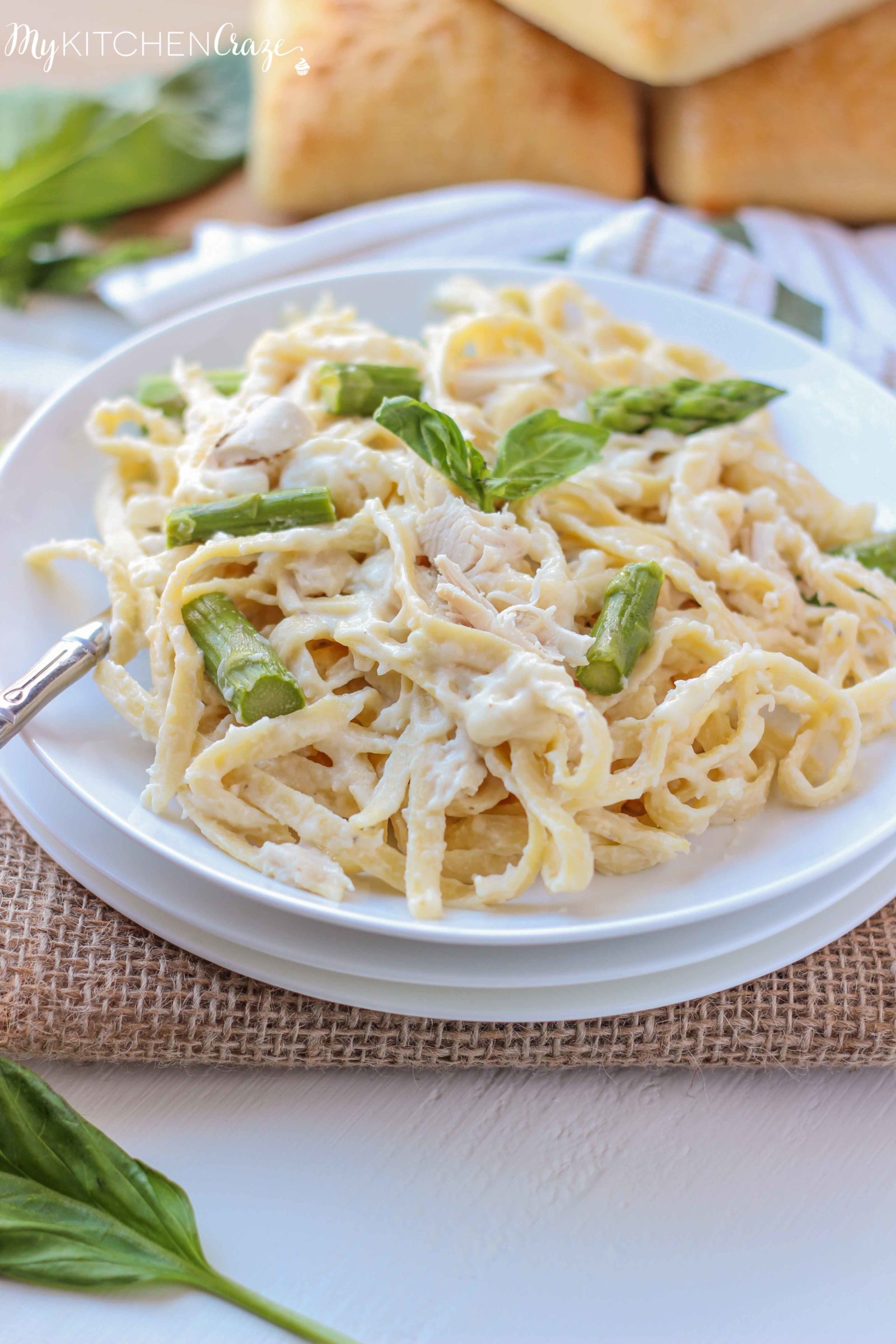 I love pasta. I really do. I love that there are so many different ways to eat pasta.
My girlfriend, Kimberly lived in Italy for a few years. She told me American pasta is nothing like Italian pasta. They use very little sauce and their noodles are always al dente. Also their pizza comes without or very little sauce too.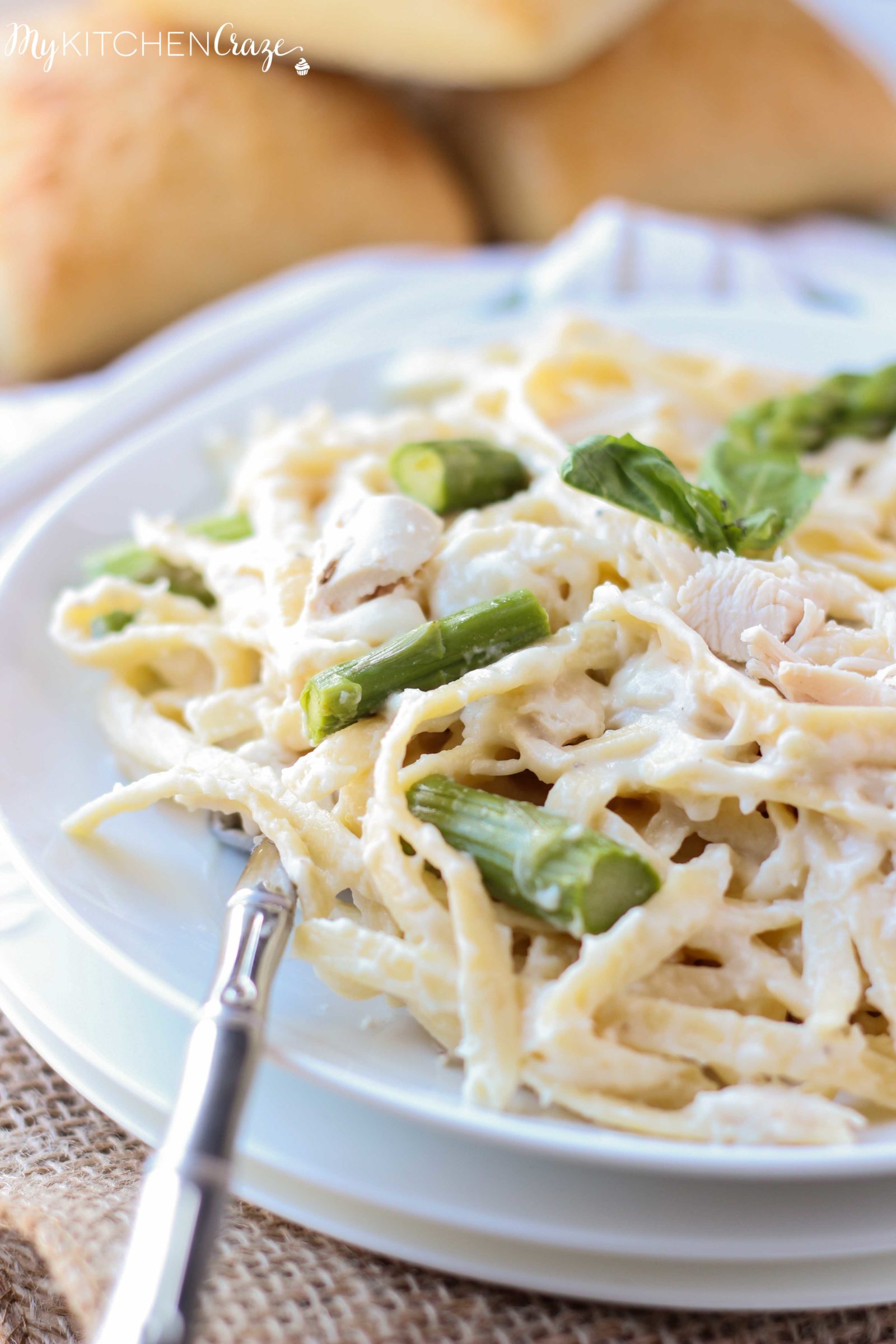 Hmmm…not sure I could do pizza without sauce. This makes me wonder what other foods we're making that don't really taste anything like the foods in different countries. Makes me want to travel all over. Then I can tell you. 🙂
I'm a lover of all foods and can't wait to try them all. Until then I'll stick with this delicious fettuccine Alfredo recipe. The whole family loves Alfredo, but I've never been one to make peace with sauces in a jar. I'm all for a quick meal around here, but I haven't found a Alfredo sauce that I've liked. I feel like the flavors are off. Maybe it's because it's pre-made in a glass jar and/or there's a bunch of junk that you don't need to be eating. Or maybe because it's not fresh.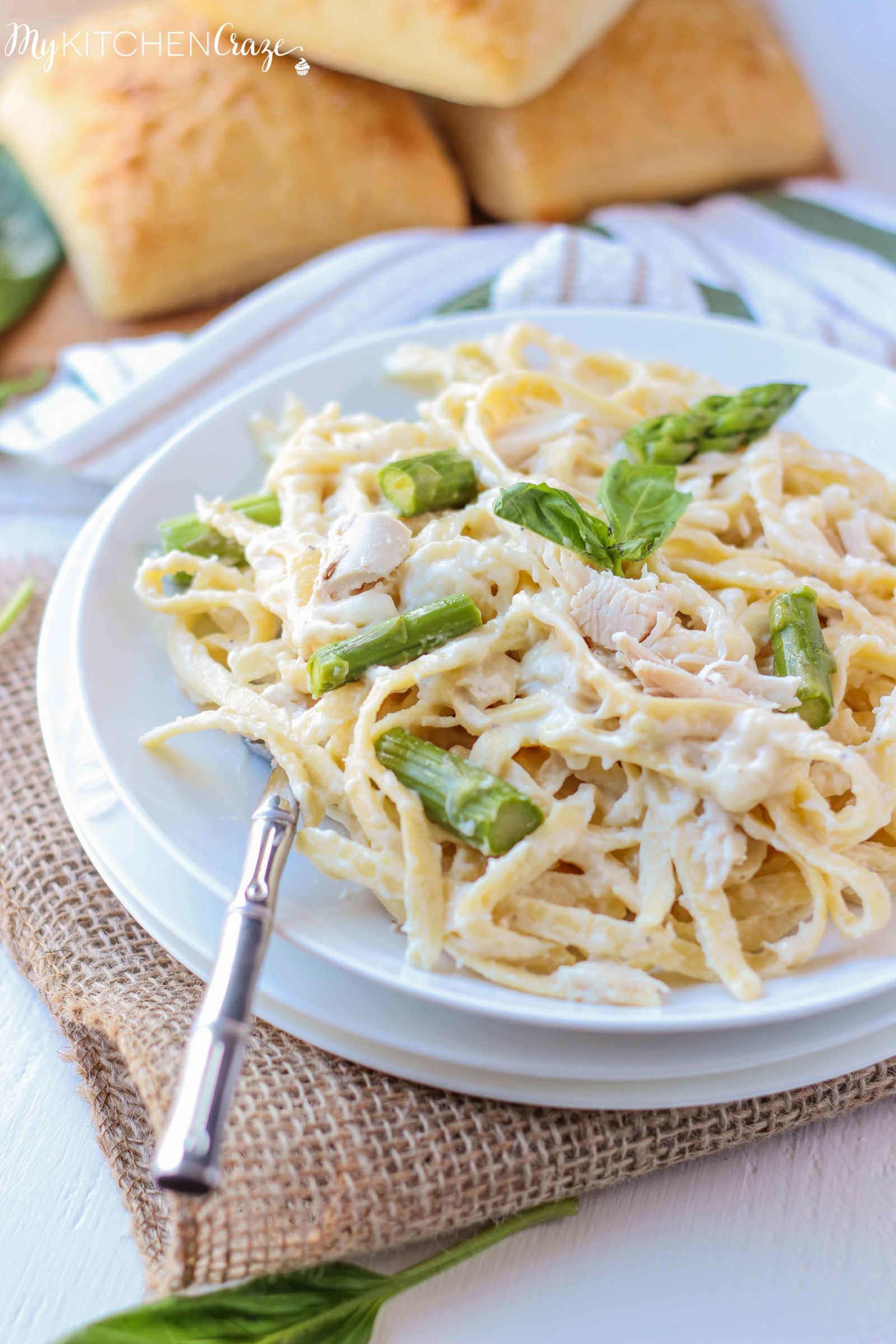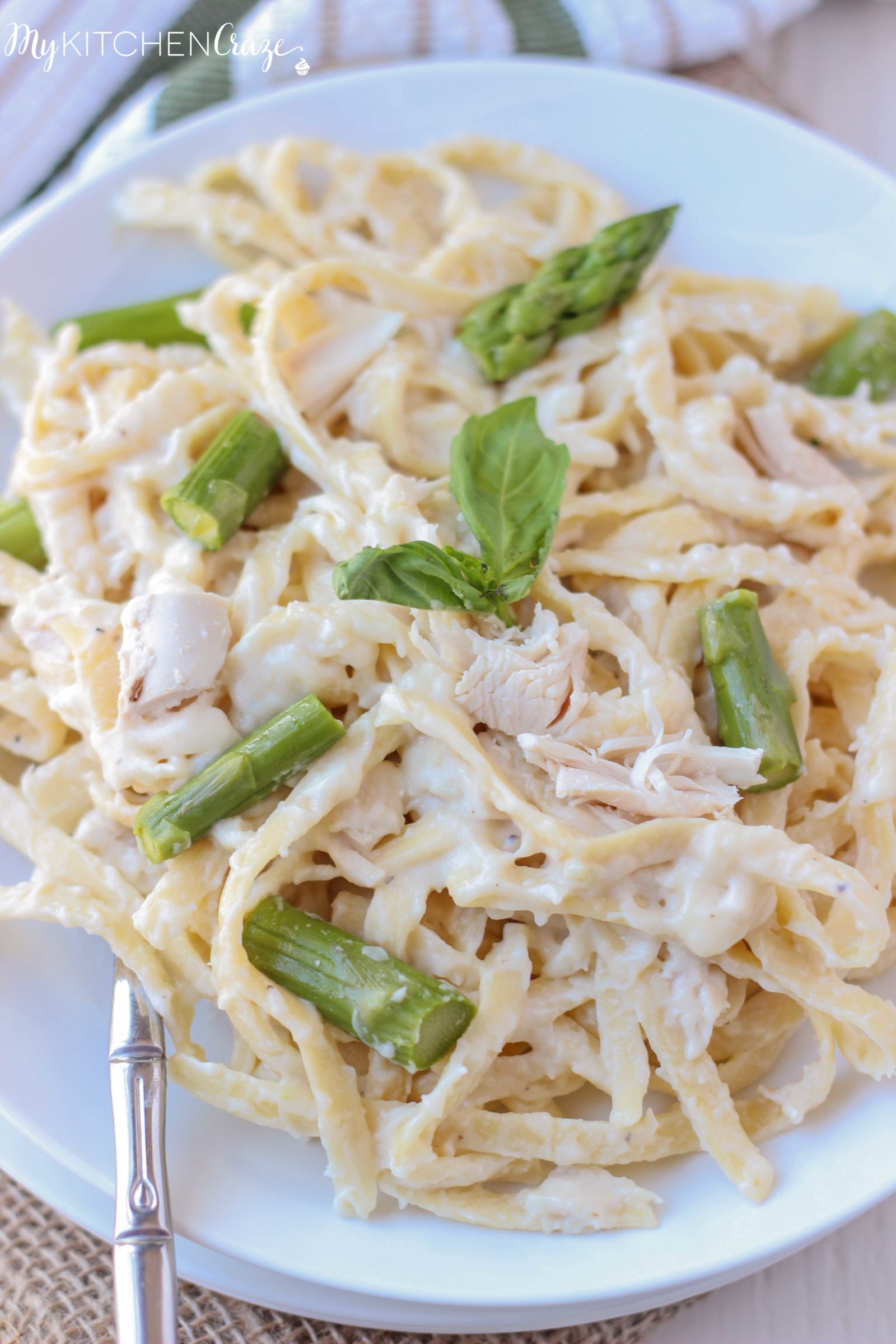 Whatever it is, I don't like it. Sorry if you do. No hurt feelings? I prefer homemade Alfredo sauce. Some sauces can take all day to make. Would I give you a sauce that takes all day though? Okay maybe I would, but this sauce only takes minutes to make.
In fact you can have this Alfredo pasta on your table with in 30 minutes. Yes I said 30 minutes. Can you believe it? There's nothing like a homemade Alfredo sauce and on the table quickly. This sauce is cheesy and creamy. Perfect with some chicken and steamed asparagus. You change up the vegetable if you want, but we're obsessed with asparagus in this house, so that's what we use.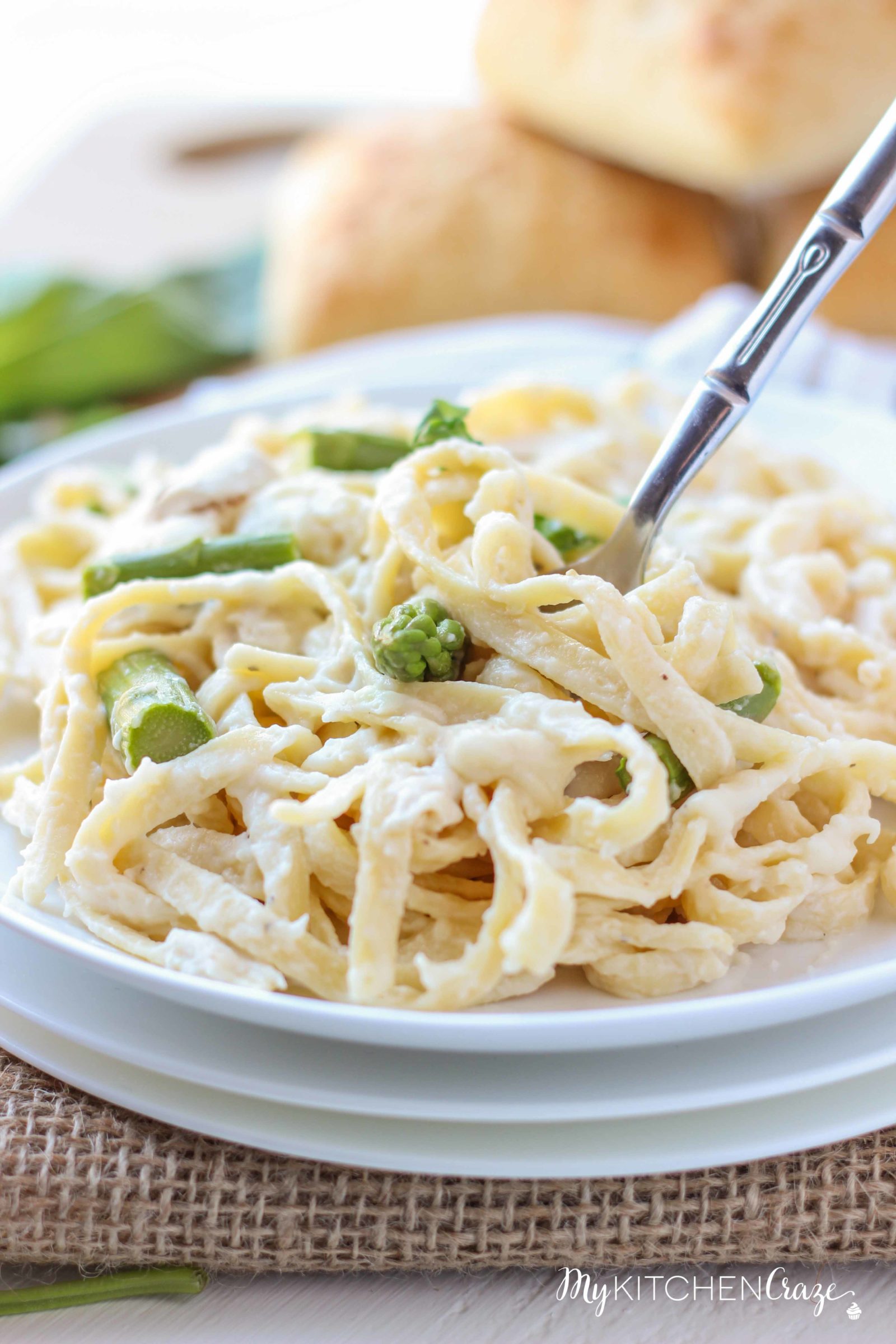 I got this trusty recipe from an awesome lady and food blogger, Mel at Mel's Kitchen Cafe. I added and took away a few ingredients and doubled the sauce (We love a ton of sauce. Who doesn't?). This recipe is by far the best Alfredo recipe I've ever had.
Next time your craving Chicken Alfredo, please don't go to the store and buy a pre-made jar. Make this easy 30 minute Chicken & Asparagus Fettuccine Alfredo recipe. You'll be happy you did. Please let me know what you think. I'd love to hear your comments.
Remember to hashtag #MyKitchenCraze so I can see your recipes! Enjoy!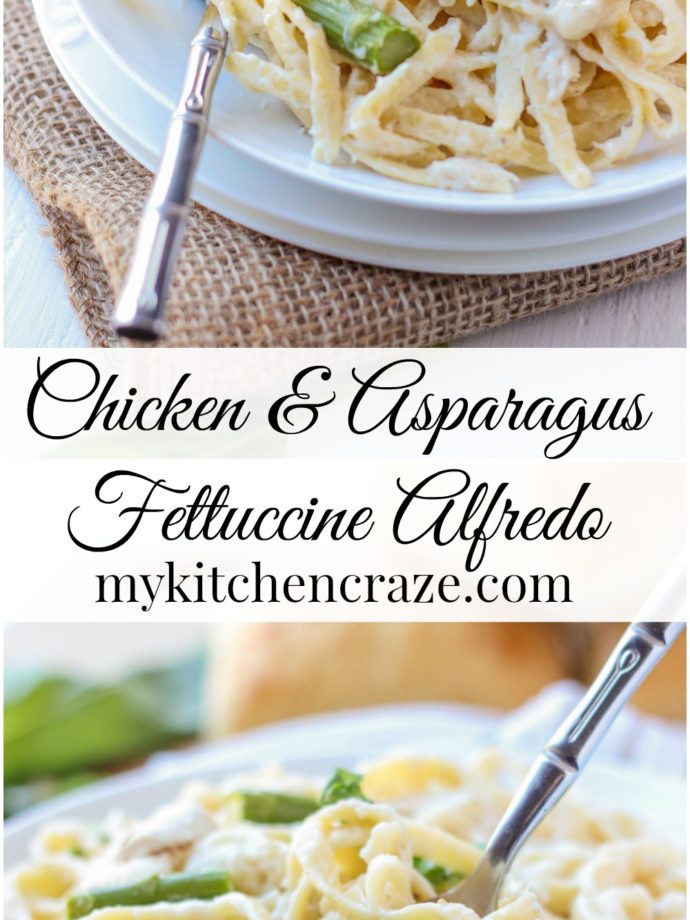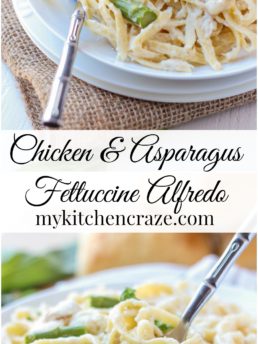 Get the Recipe:
Chicken and Asparagus Fettuccine Alfredo
Ingredients
3

cups

cooked rotisserie chicken

,

cubed

1

pound

asparagus

,

cut into 1/2 inch pieces

1

pound

fettuccine pasta

4

tablespoons

butter

5

garlic cloves

,

minced

6

tablespoons

all-purpose flour

3

cups

half and half

1 1/2

cups

low-sodium chicken broth

1

teaspoon

salt

1/2

teaspoon

pepper

2

cups

grated Parmesan cheese
Instructions
In a large soup pot, cook noodles according to package. Add the asparagus to the boiling noodles once there is 3 minutes left to cook. Drain noodles and asparagus. Rinse with cool water. This will stop the noodles and asparagus from cooking.

While the noodles are cooking take a large skillet and warm to medium heat. Add the butter and melt. Once butter is melted, add the garlic and sauté, about 30 seconds. Sprinkle flour over garlic, making sure to stir constantly until it becomes a light golden color, about 2 minutes.

Slowly add the half and half and chicken broth. Make sure to only add 1 cup at a time and make sure to stir constantly. This will avoid any lumps in your sauce.

Bring the sauce to a simmer and cook until slightly thickened, about 4-5 minutes. Stir in the Parmesan cheese, salt and pepper.

Pour sauce over noodles, asparagus and cubed chicken. You might have some extra sauce. That's ok. You can save it and use it on the leftover pasta, or freeze it for a later time. Toss the pasta lightly to combine.

Serve immediately and enjoy.

Need some more pasta ideas? Here you go: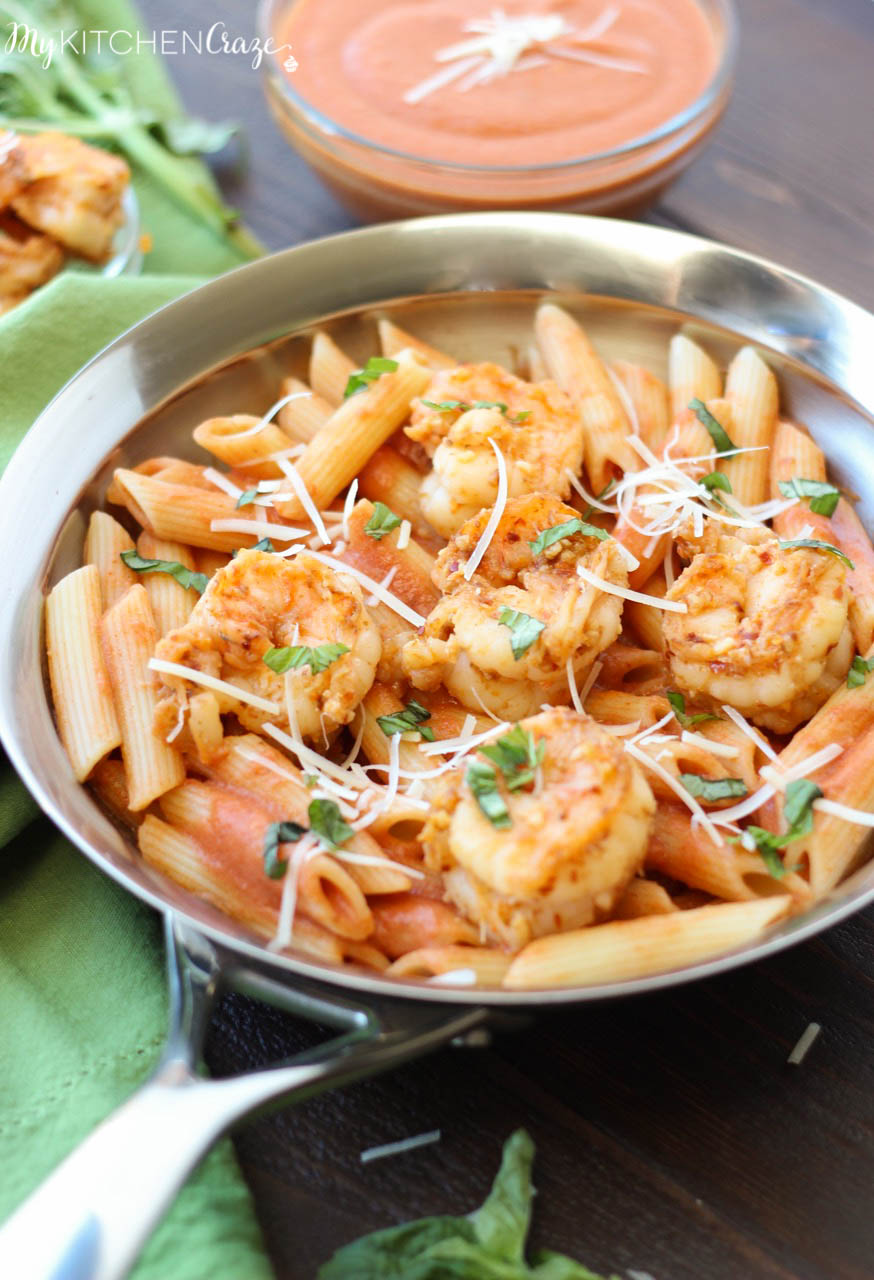 Shrimp & Vodka Penne Pasta
Pasta Pizza Casserole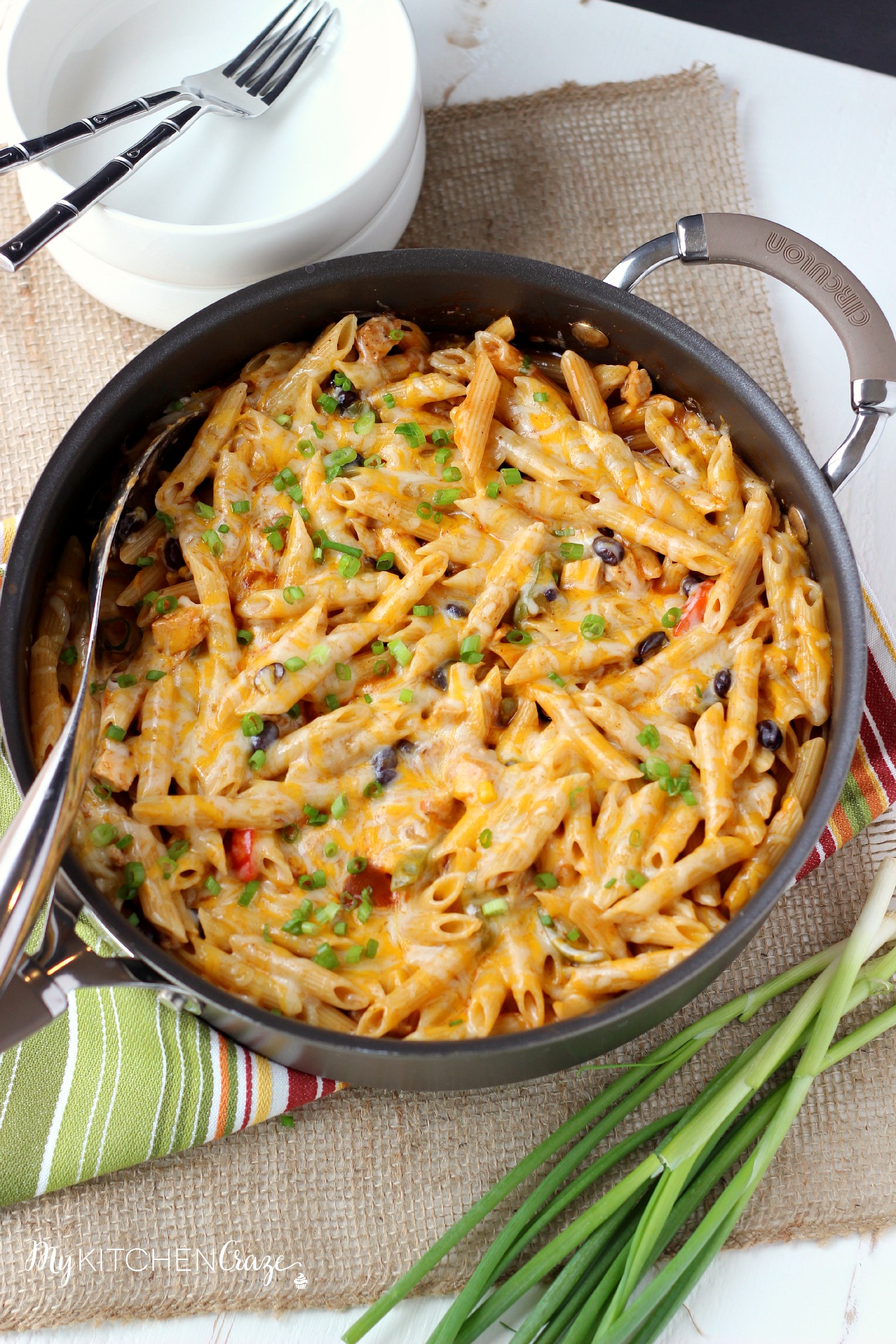 Four Cheese Chicken Enchilada Pasta 
Here are some more Alfredo recipes from my food blogger friends:
Cashew Alfredo Pasta with Broccoli – She Likes Food
Skinny Buffalo Chicken Alfredo Pasta – My Sequined Life
Easy Creamy Cauliflower Alfredo Pasta – Whole & Heavenly Oven
Pesto Spinach Alfredo Sauce – The Recipe Rebel