Four Cheese Chicken Enchilada Pasta
Quick, easy and flavorful Four Cheese Chicken Enchilada Pasta is a great weeknight meal for the whole family. This dish only takes one pan and is made within 10 minutes.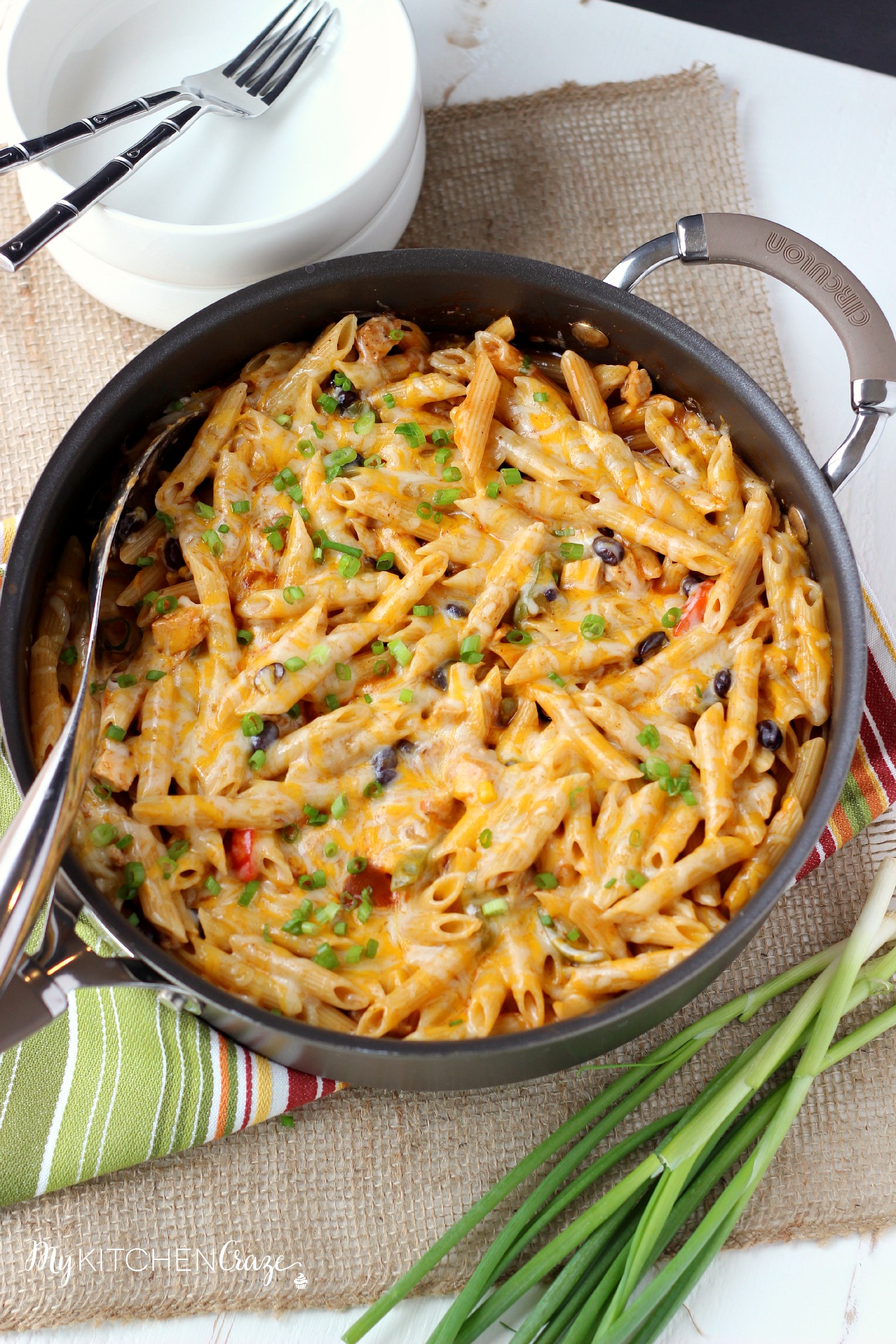 I still can't believe that we're living in Las Vegas. Not just because it's Las Vegas, because I honestly never thought I'd move out of California. I was supposed to be a Cali girl forever. But I guess you never know where life will take you. This thing we call life is a rollercoaster ride and we should throw our hands up in the air and enjoy it.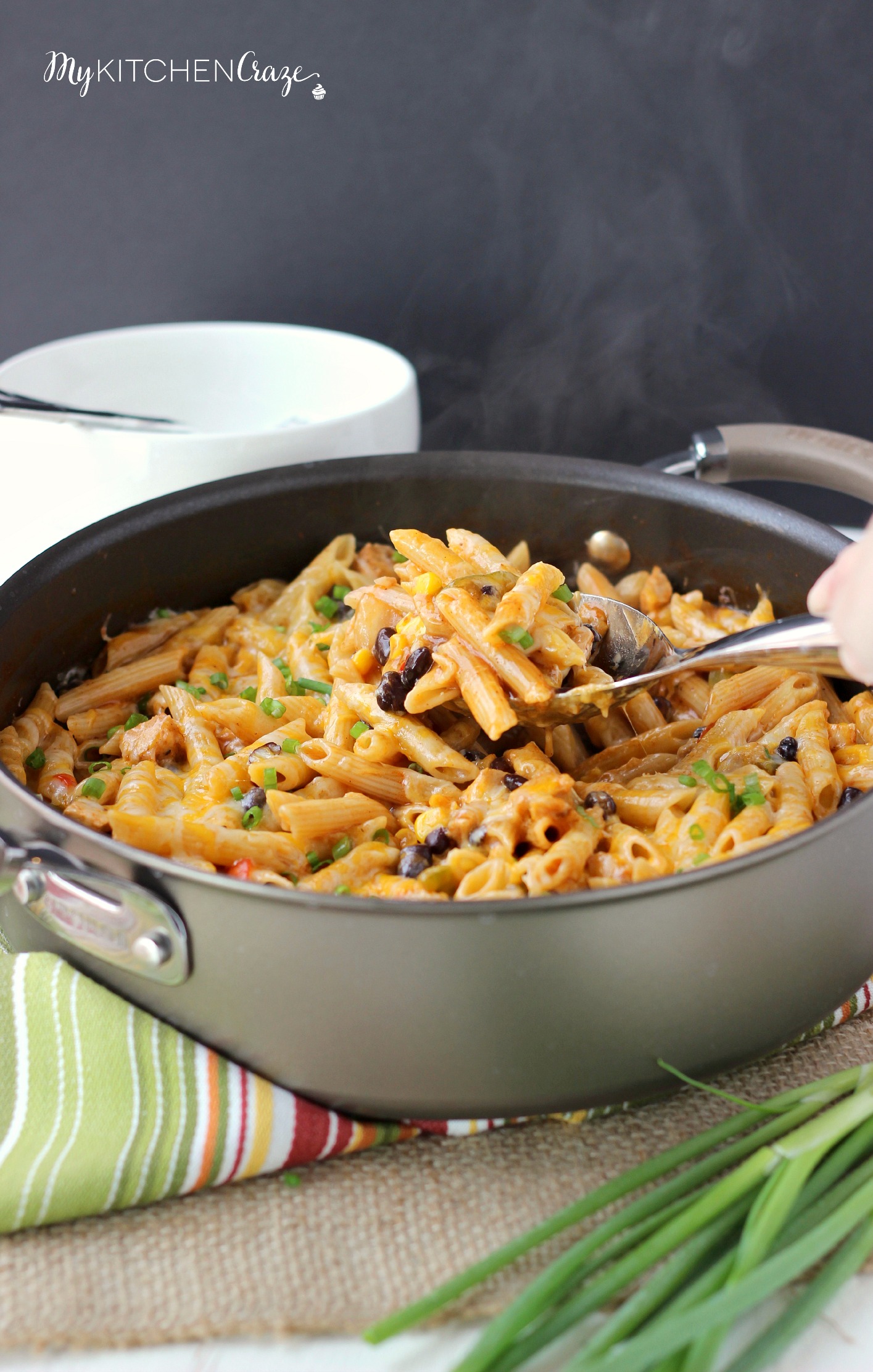 My family and I aren't on a routine yet and I hate it. I'm one of those that needs structure and balance. We're into the second week and I'm still unpacking boxes and getting used to the area. I'm in serious need of making some quick and easy meals.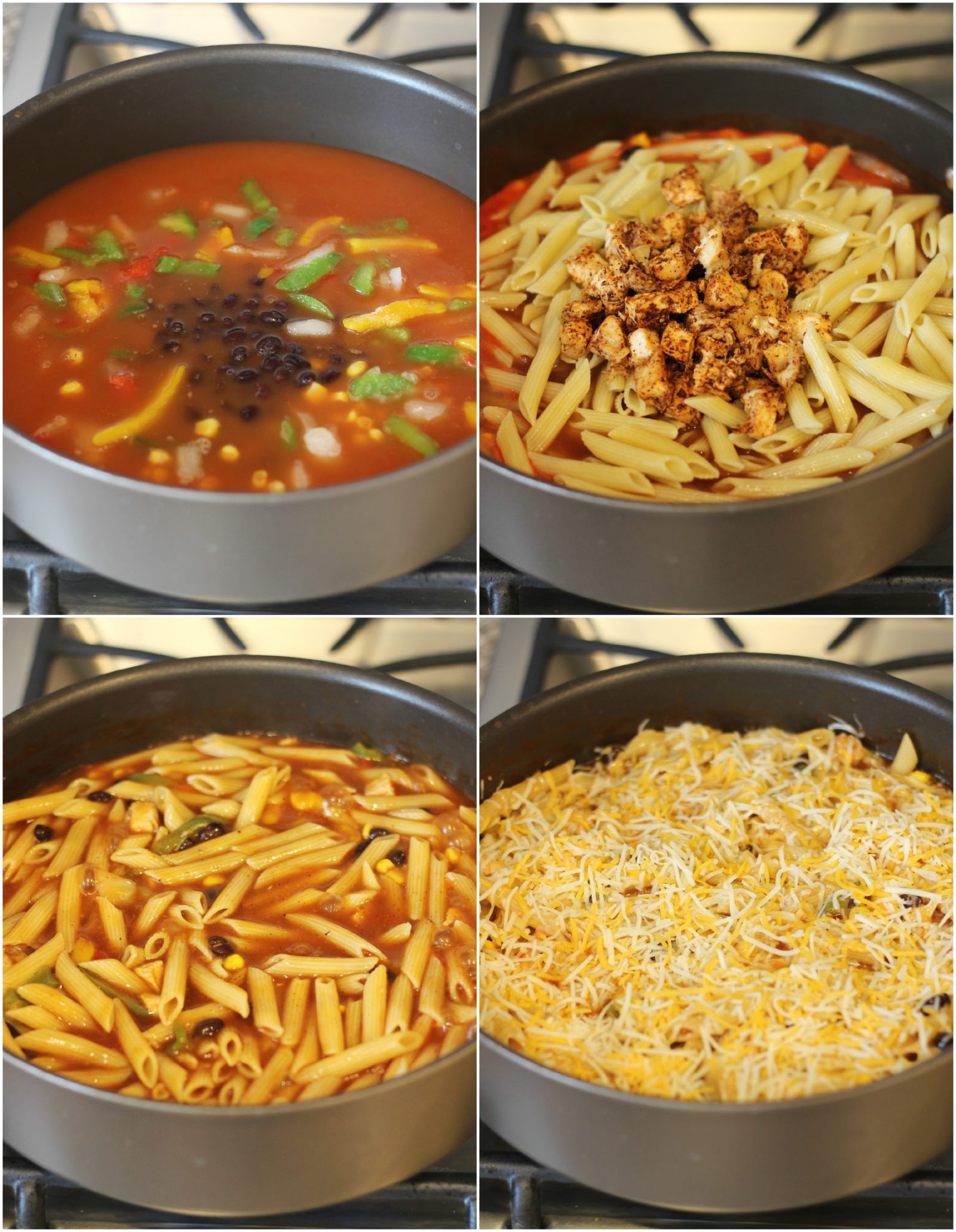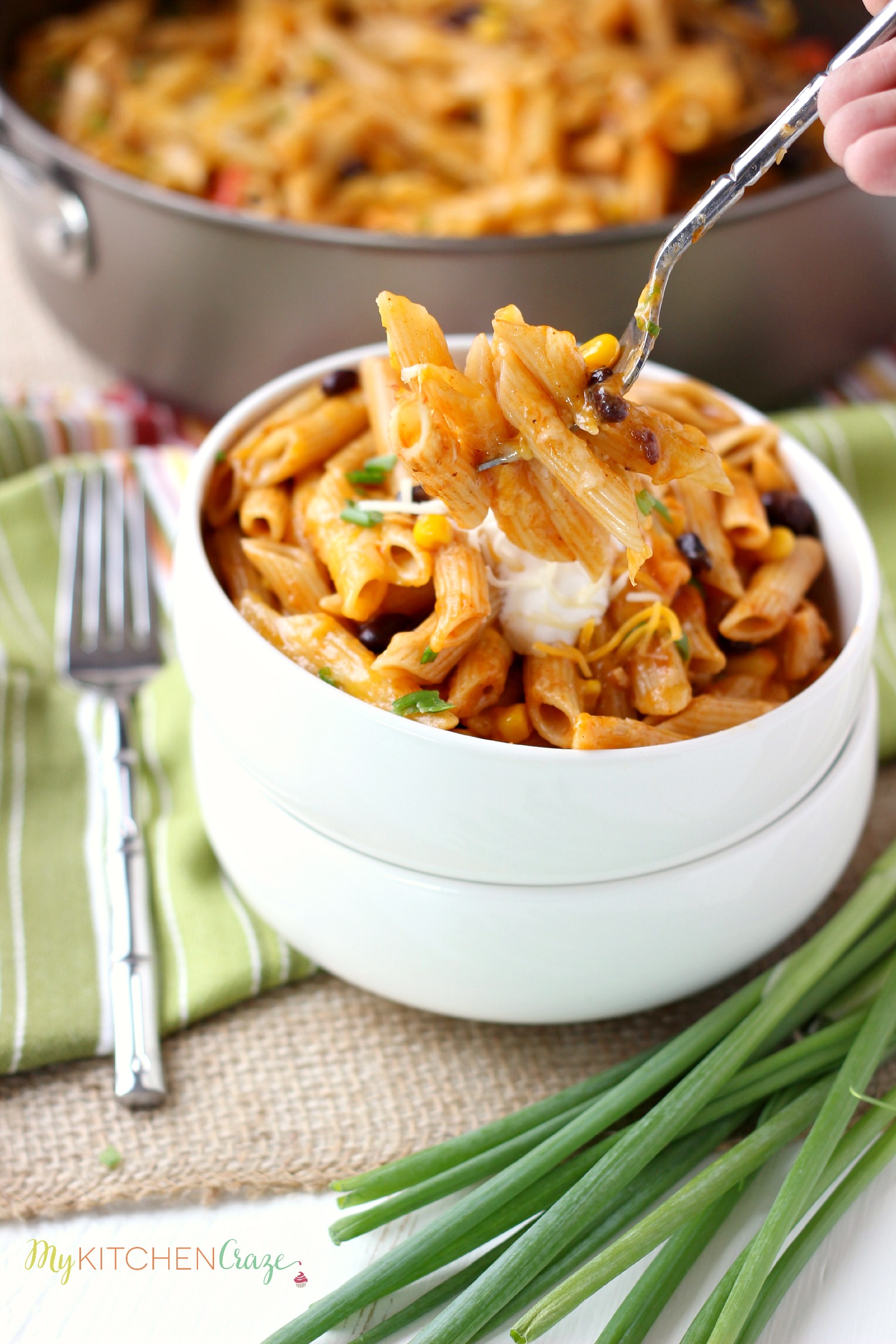 We've eaten out so much in the past few weeks, that if I had to eat out one more time I was going to pull my hair out. But the problem is I don't have the time to be in the kitchen for more than 10 minutes. I'm one busy busy girl!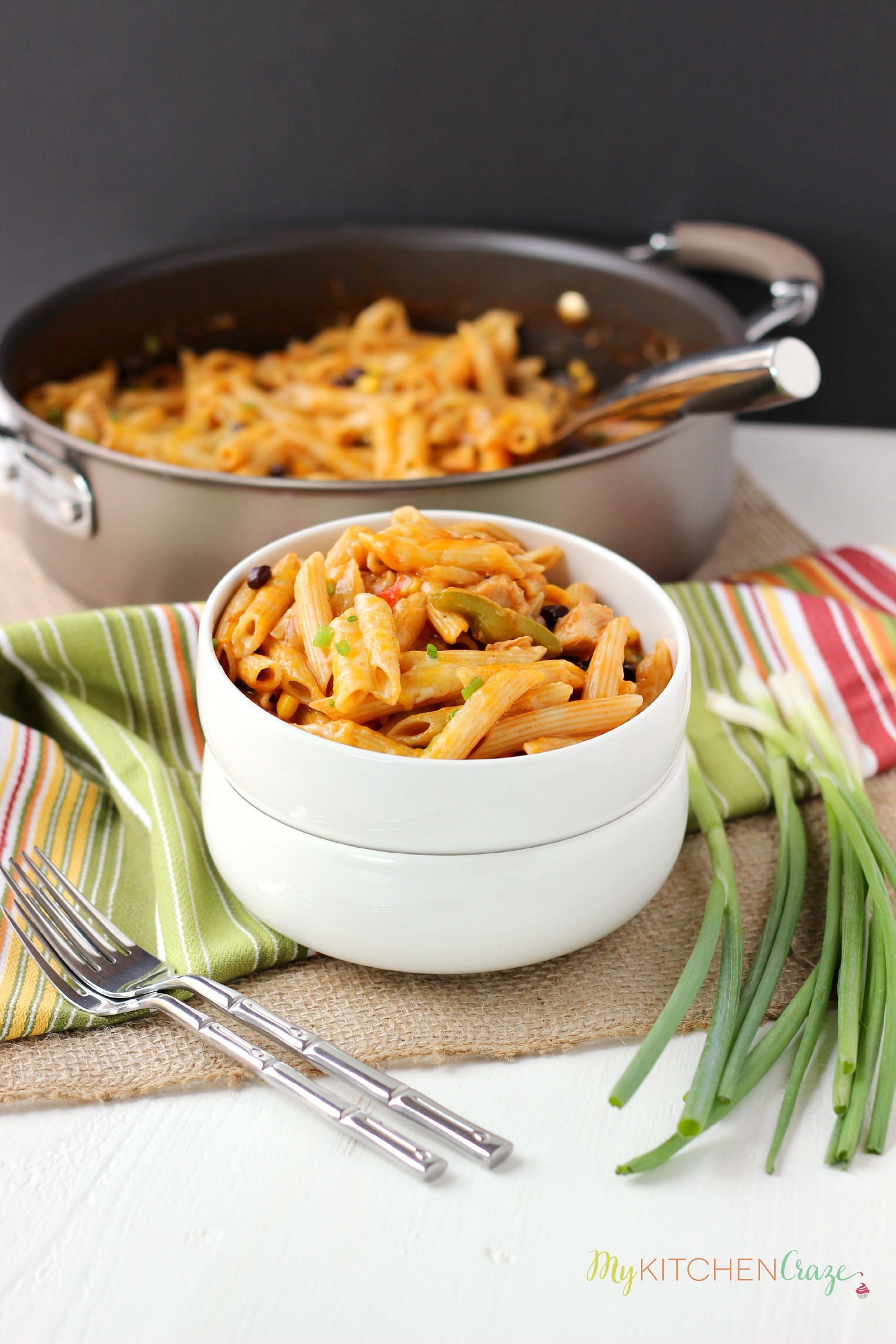 I created this quick and easy (10 minute meal, yes it's only 10 minutes) Four Cheese Chicken Enchilada Pasta using Barilla Pronto Pasta and Tyson's Grilled and Ready Chicken Strips. Barilla Pronto Pasta is a no boil pasta, that's done within 10 minutes. I was really pleased with how easy and delicious this pasta is. Also, Tyson's Grilled and Ready Chicken Strips are 98% fat-free, no preservatives and heat up in the microwave quickly. Both items are what make this recipe ready to eat within 10 minutes. I got both products at Wal-Mart while I was grocery shopping last week too. Score!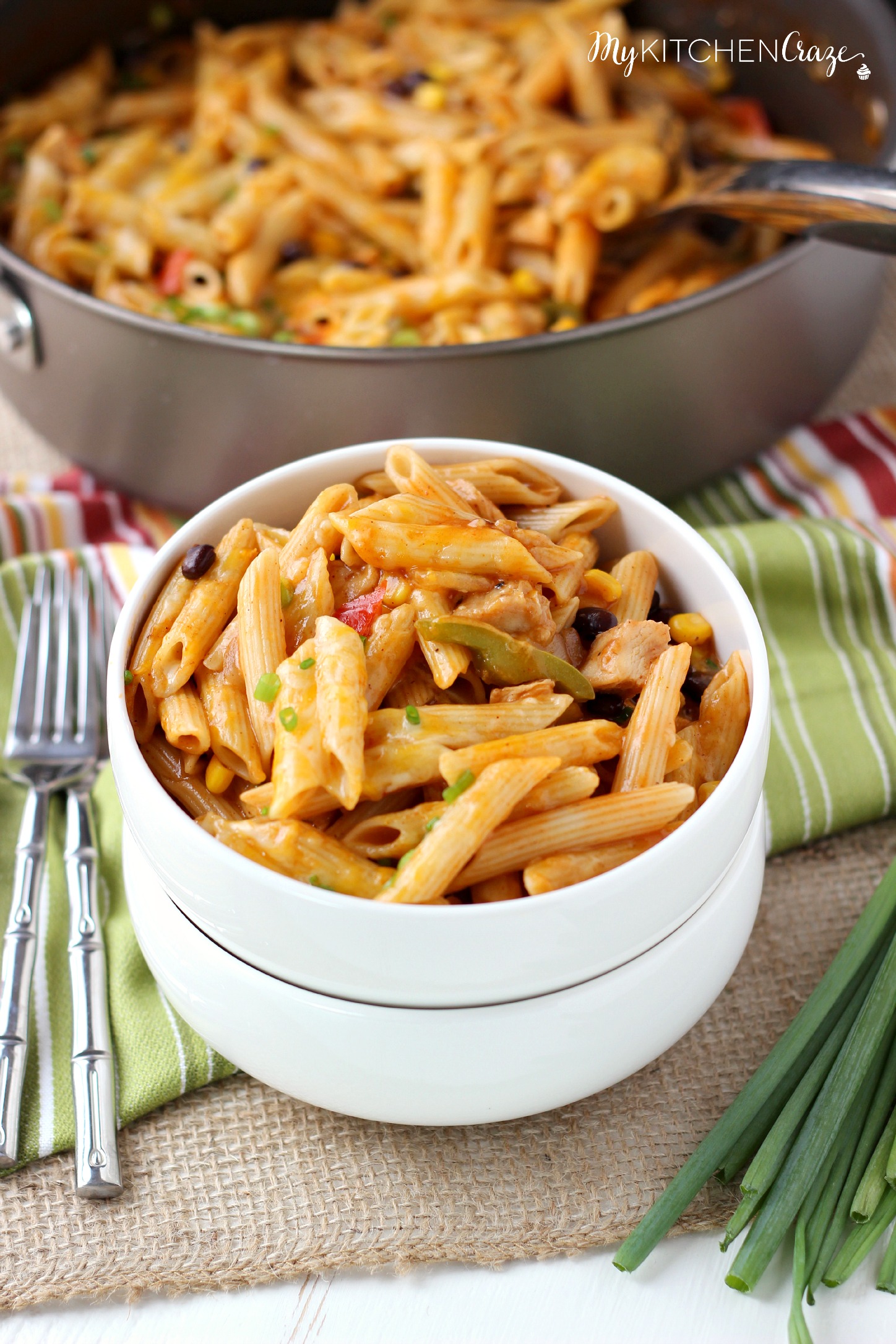 It's no secret that I have love for Mexican food. I'm actually obsessed with it. I wanted to make a dish that had great flavor, so I combined pasta and Mexican together. Oh man this dish is out of this world. But there are a few tricks I need to share with you before you begin.
In order to cook this meal within 10 minutes you'll need to:
Make sure you have all of your ingredients measured and waiting on the counter.
Be ready to move quickly. Since this meal is only 10 minutes, you'll need to multitask.
It's okay if it takes you a few extra minutes. You want this meal to taste delicious!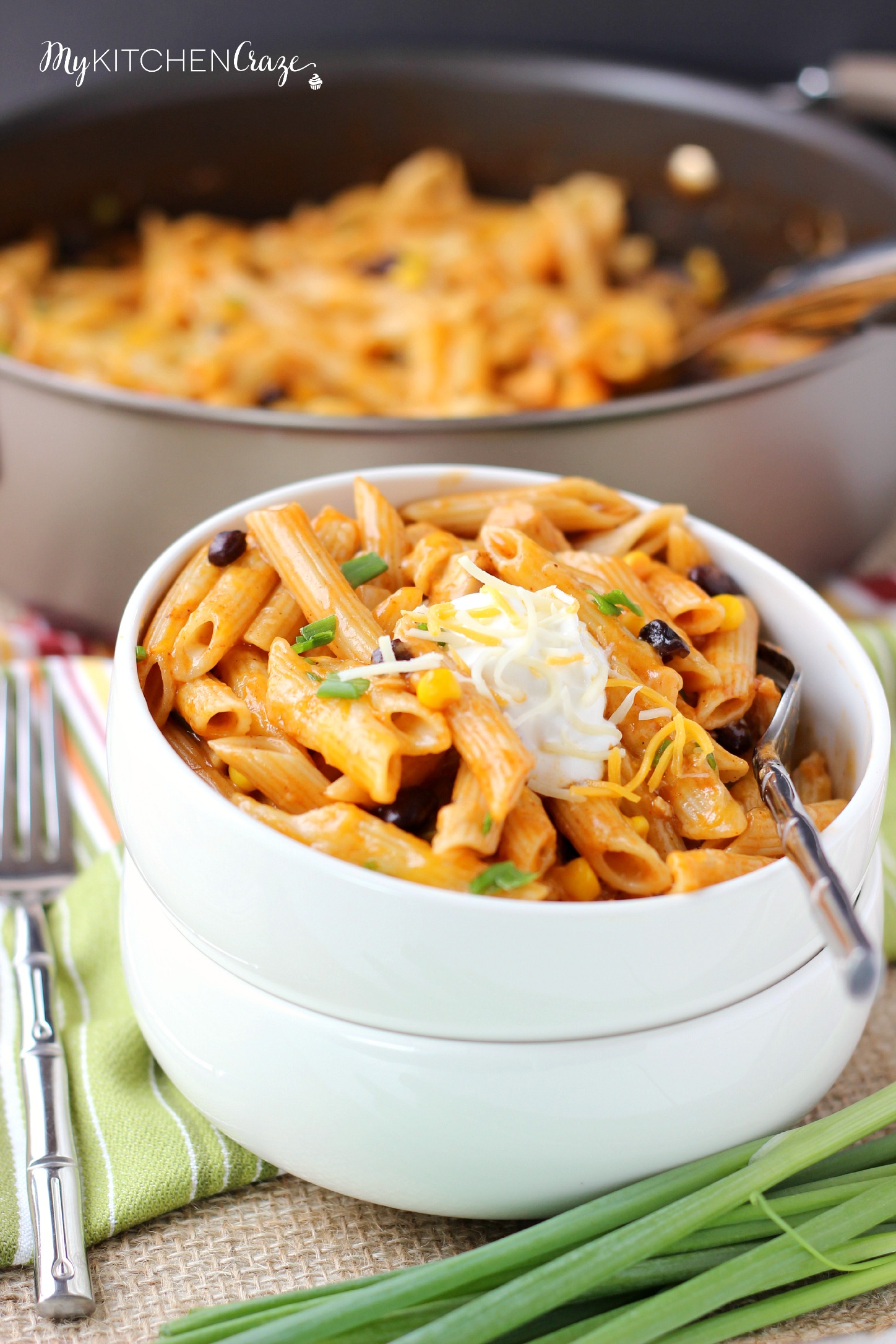 When ever you're strapped on time or just need something quick, then you need to make this recipe. It's so full of flavor and literally takes 10 minutes to whip up. What could be better? Check out more inspiration for #EverydayEffortless here.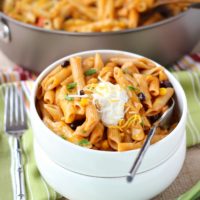 Get the Recipe:
Four Cheese Chicken Enchilada Pasta
Ingredients
1

12 oz box Barilla Pronto Penne Pasta

1

cup

Tyson Grilled and Ready Chicken Strips

,

cut into small pieces

1/2

tablespoon

taco seasoning

2 1/2

cups

red enchilada sauce

2

cups

low-sodium chicken stock

3/4

cups

black beans

,

rinsed

3/4

cups

frozen corn

1

cup

frozen faijta bell pepper mix

2

cups

Mexican four cheese blend

garnish: green onions

,

shredded cheese, sour cream
Instructions
In a large skillet, cook the penne pasta according to the package instructions.

In a medium skillet over high heat, add the enchilada sauce, chicken stock, black beans, corn and fajita bell pepper mix. Bring to a boil, about 5-6 minutes.

While the skillet is coming to a boil, heat the chicken breast strips in the microwave for 1-2 minutes. Cut into small pieces. Toss the warmed chicken with the 1/2 tablespoon taco seasoning.

Add the chicken and pasta to the enchilada sauce.

Turn off the heat. Sprinkle with four cheese blend and cover for a few minutes, allowing the cheese to melt.

Garnish, serve and enjoy!