Raspberry Chocolate Crunch Parfaits
Raspberry Chocolate Crunch Parfaits are a fun twist on a healthy quick breakfast. Raspberry greek yogurt layered with Honey Bunch Oats Chocolate Cereal and fresh raspberries. This makes one breakfast you won't want to miss. 
This post was sponsored by Honey Bunches of Oats Chocolate as part of an Influencer Activation for Influence Central. I received complimentary products to facilitate my review.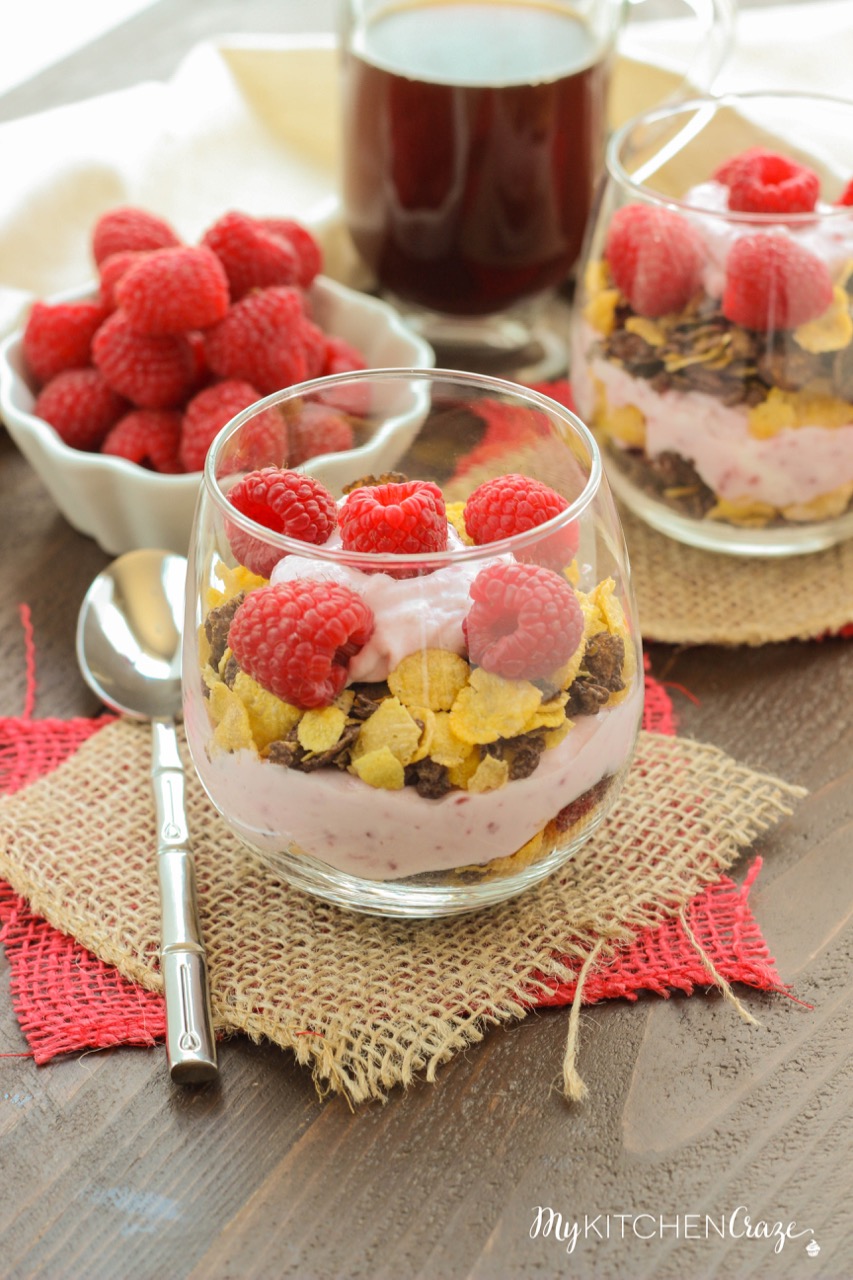 Do you ever get tired of the same old boring breakfast every morning? I sure do. I always eat the same three things over and over. Toast, cereal and a granola bar. Over and over and over. Of course on the weekends we do the whole shebang, with eggs and pancakes. But who has time for that during the week?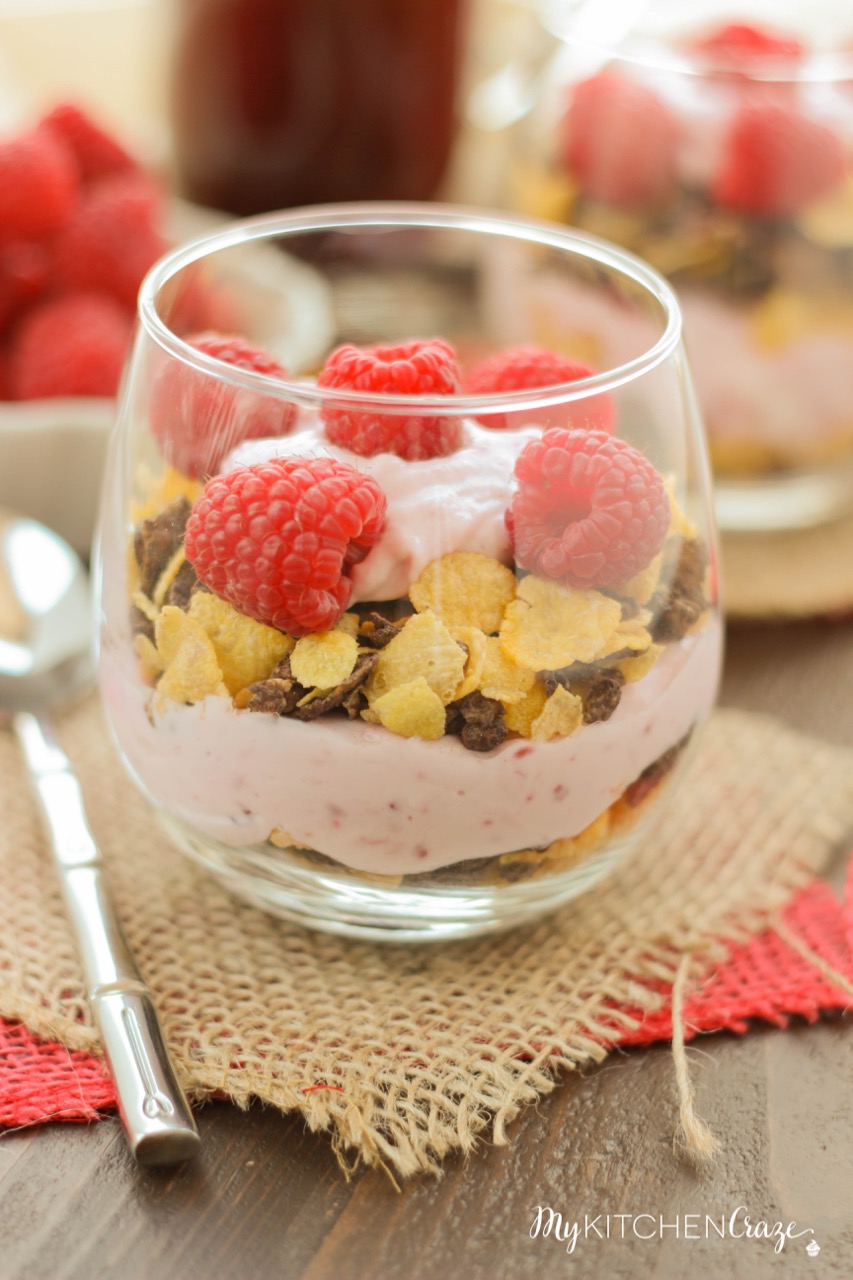 I wanted to create a recipe that I could whip up quickly for the kids, but also be nutritious. When I think of a nutritious breakfast, I instantly think of greek yogurt. Since my family loves cereal, I thought what better way to get them to eat a healthier breakfast then add cereal and yogurt together, making a yummy parfait.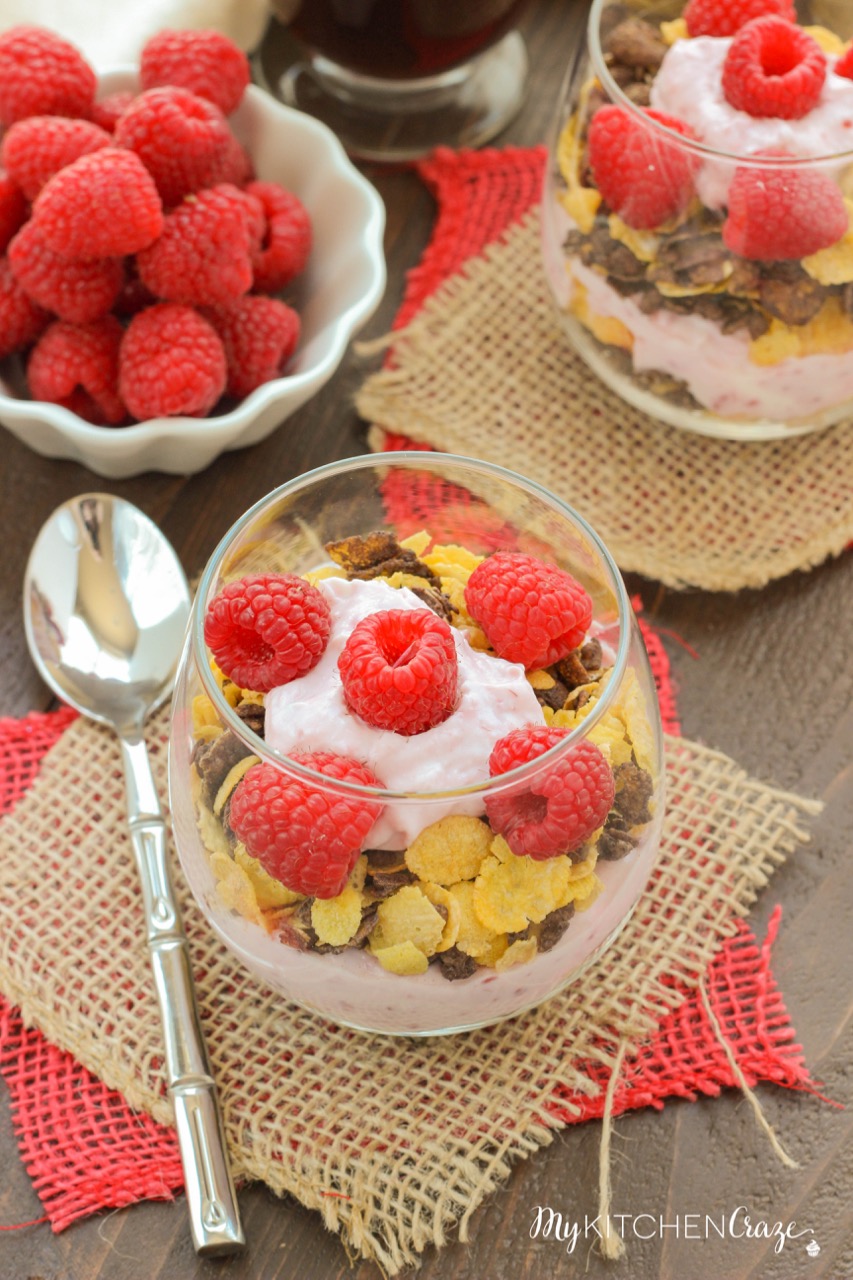 I needed a cereal that had great flavor but was also great taste. Honey Bunches of Oats Chocolate  is packed with a combination of crispy flakes, crunchy bunches and real cocoa. Can't get a better cereal than that. I normally don't follow a gluten free diet, but if I can get a product that's gluten free and tastes amazing then why not? We put so much other non-healthy items in our body, if I can make a recipe with nutritious and healthy ingredients you better believe I will. These Honey Bunches of Oats Chocolate are not only gluten free, but taste yummy. Delicious as cereal, a snack or you can add it in a ton of different recipes. You'll find some recipes and different brands of cereals here.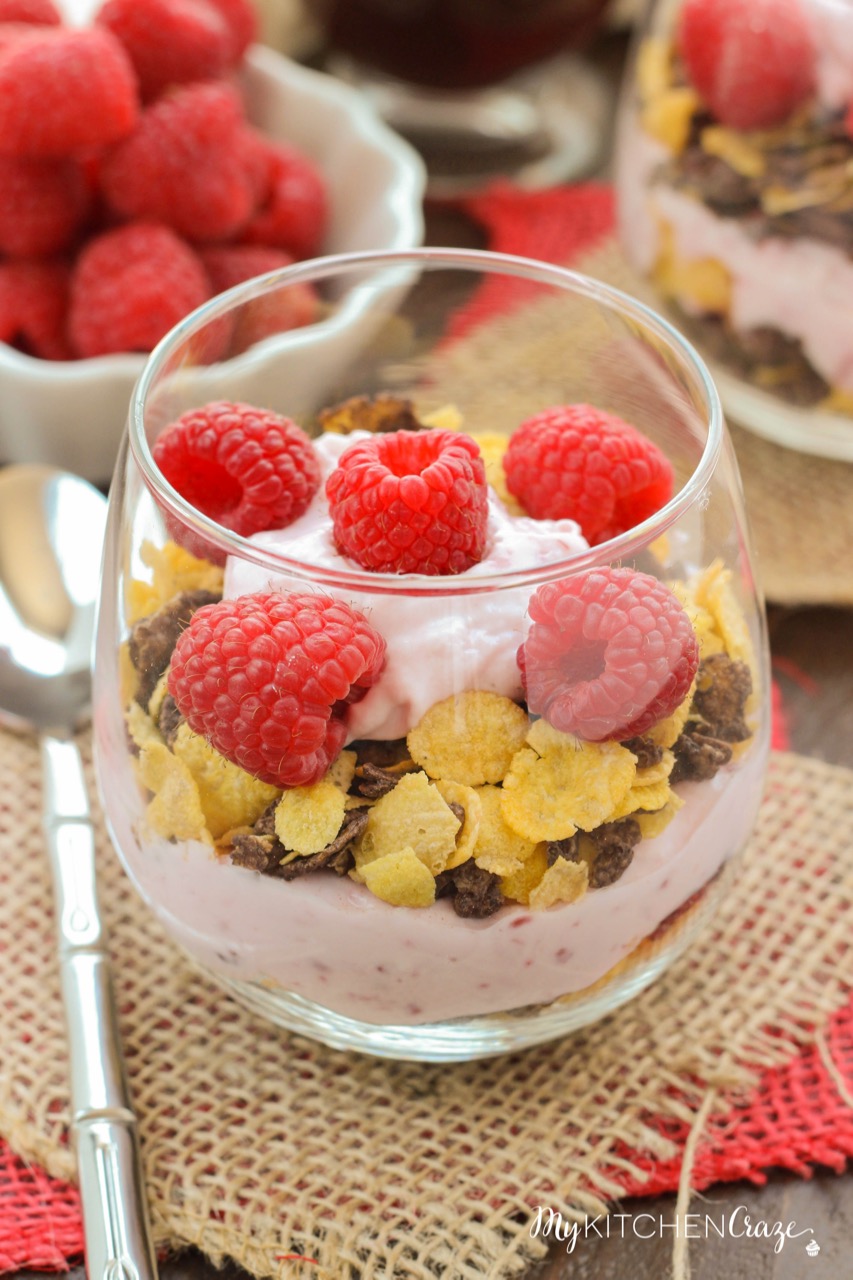 Since everyone is pretty busy in the morning, I wanted to make this a quick and easy recipe. You all know the saying, "Breakfast is the most important meal of the day." I also realize that we're all getting ready for work, taking the kids to school, making lunches and etc. You need something that you can whip up and take with you or have on the table within minutes.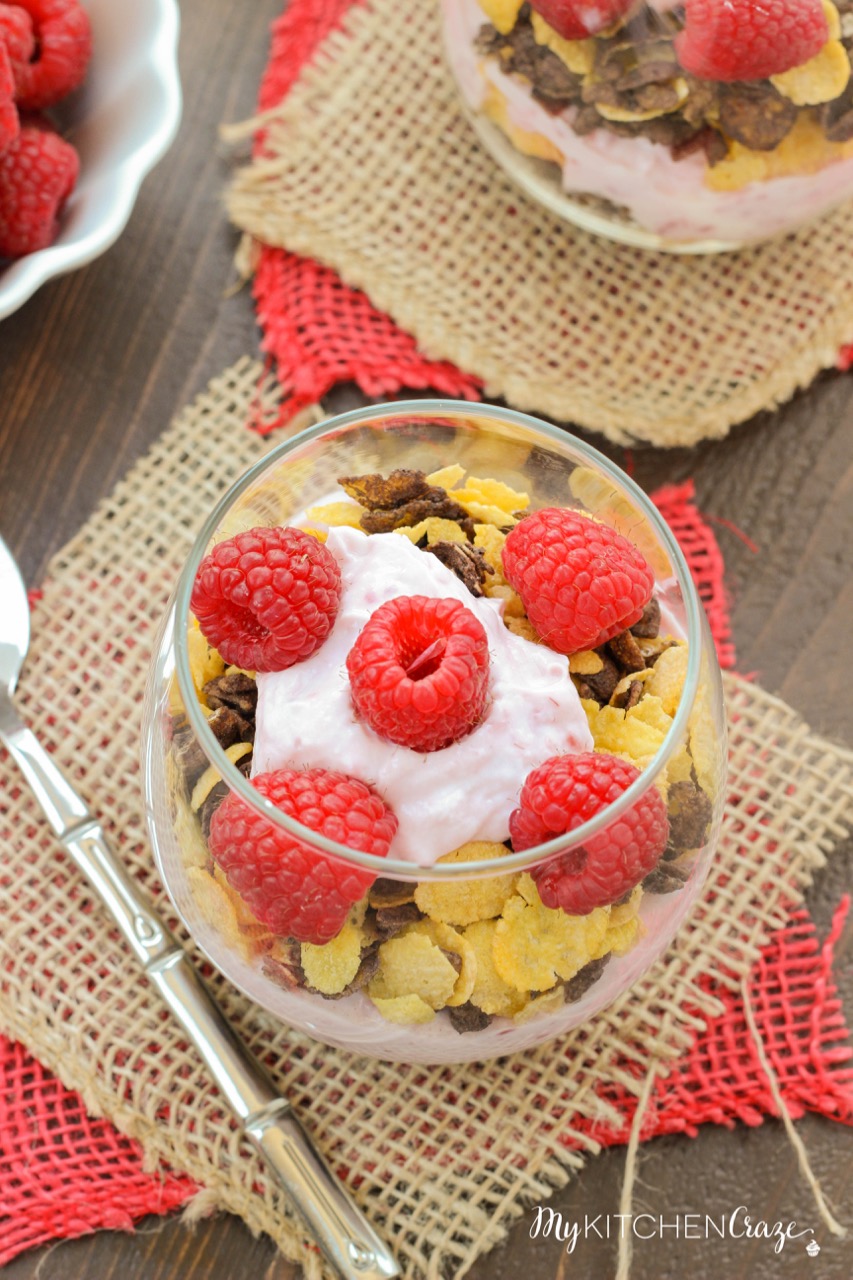 This parait is it! I love the crunch this cereal gives this parfait and the greek yogurt gives it this creaminess that will leave you full until lunch time. Next time you're in a breakfast rut or need something different, make this Raspberry Chocolate Crunch Parfait. You'll love it!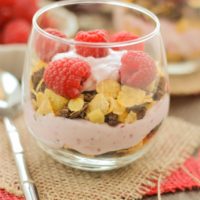 Get the Recipe:
Raspberry Chocolate Crunch Parfaits
Ingredients
5

tablespoons

of a 5.3 ounce raspberry greek yogurt

1

cup

Honey Bunches of Oats Chocolate cereal

5

fresh raspberries
Instructions
In a large glass or container, add 1/2 cup cereal.

Add 4 tablespoons yogurt over cereal.

Add remaining 1/2 cup cereal then dollop 1 tablespoon on top.

Place fresh raspberries on top.

Enjoy!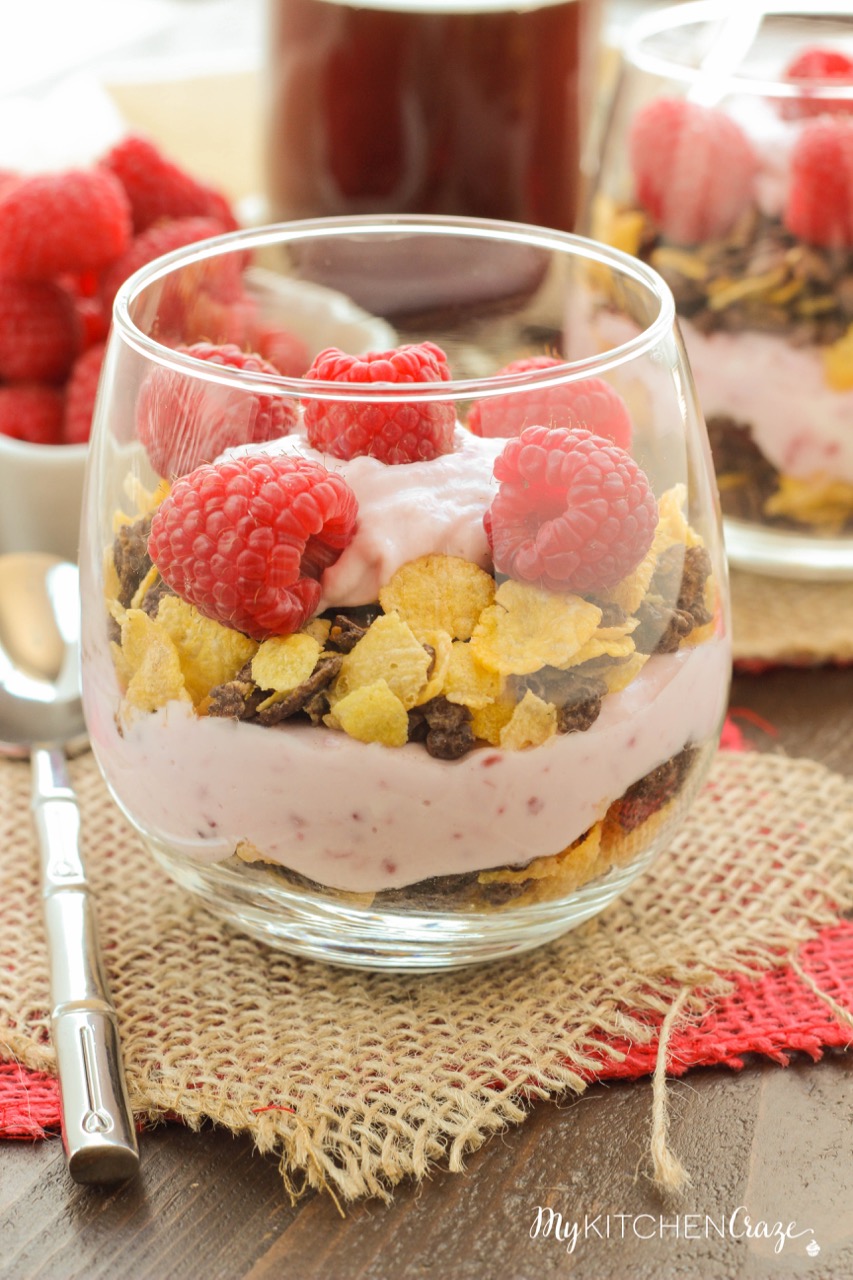 Disclaimer: While Honey Bunches of Oats Chocolate complies with FDA Gluten Free labeling requirements, it is not manufactured in a dedicated facility. All ingredients, ingredient suppliers and production lines are thoroughly tested at multiple levels of production and evaluated to assure there is no risk of cross-contact contamination. As gluten intolerances and sensitivities vary from person to person, we encourage you to use your best discretion when choosing foods safe for you. Honey Bunches of Oats Chocolate aims to provide a delicious cereal for all members of the family to enjoy, including those with gluten sensitivities or allergies. Enjoy!