Pizza Pasta Casserole
Pizza Pasta Casserole ~ Two of your favorites come together in this delicious casserole! This is one dish you don't want to miss out on. Made within 30 minutes, this dinner is a winner!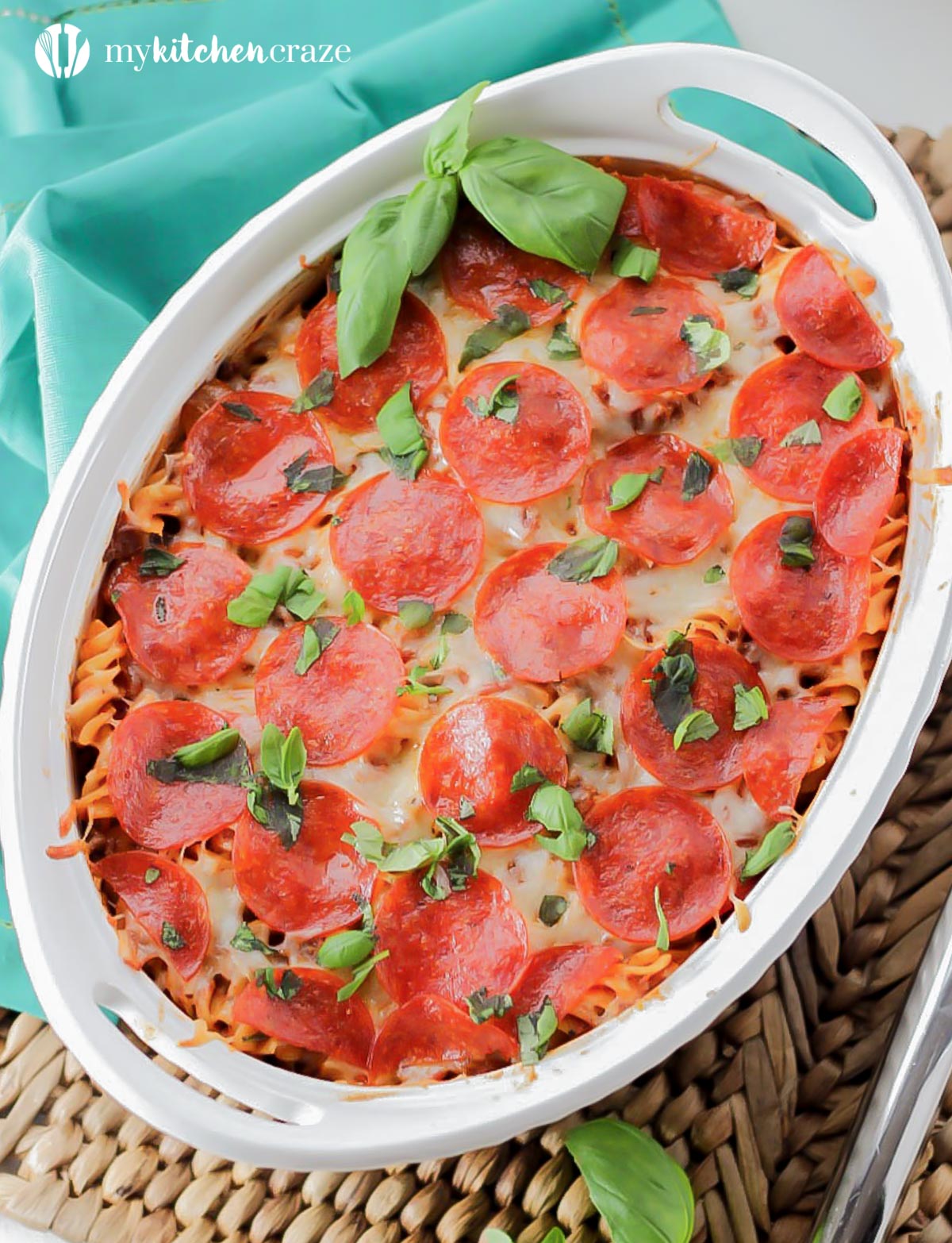 I love pizza just like anyone else, but I get tired of the same old toppings and greasy feeling after I eat pizza. Since we're a pasta or enchilada eating family, I knew this would be a hit in our house. I've seen numerous pizza pasta recipes around the web, but I wanted to make mine the way I like my pizza.
Pepperoni, bell peppers and onions…Yum! Nothing more, nothing less. Sean and I have tried other toppings, but we always go back to those three. I guess you could say we are a creature of habit.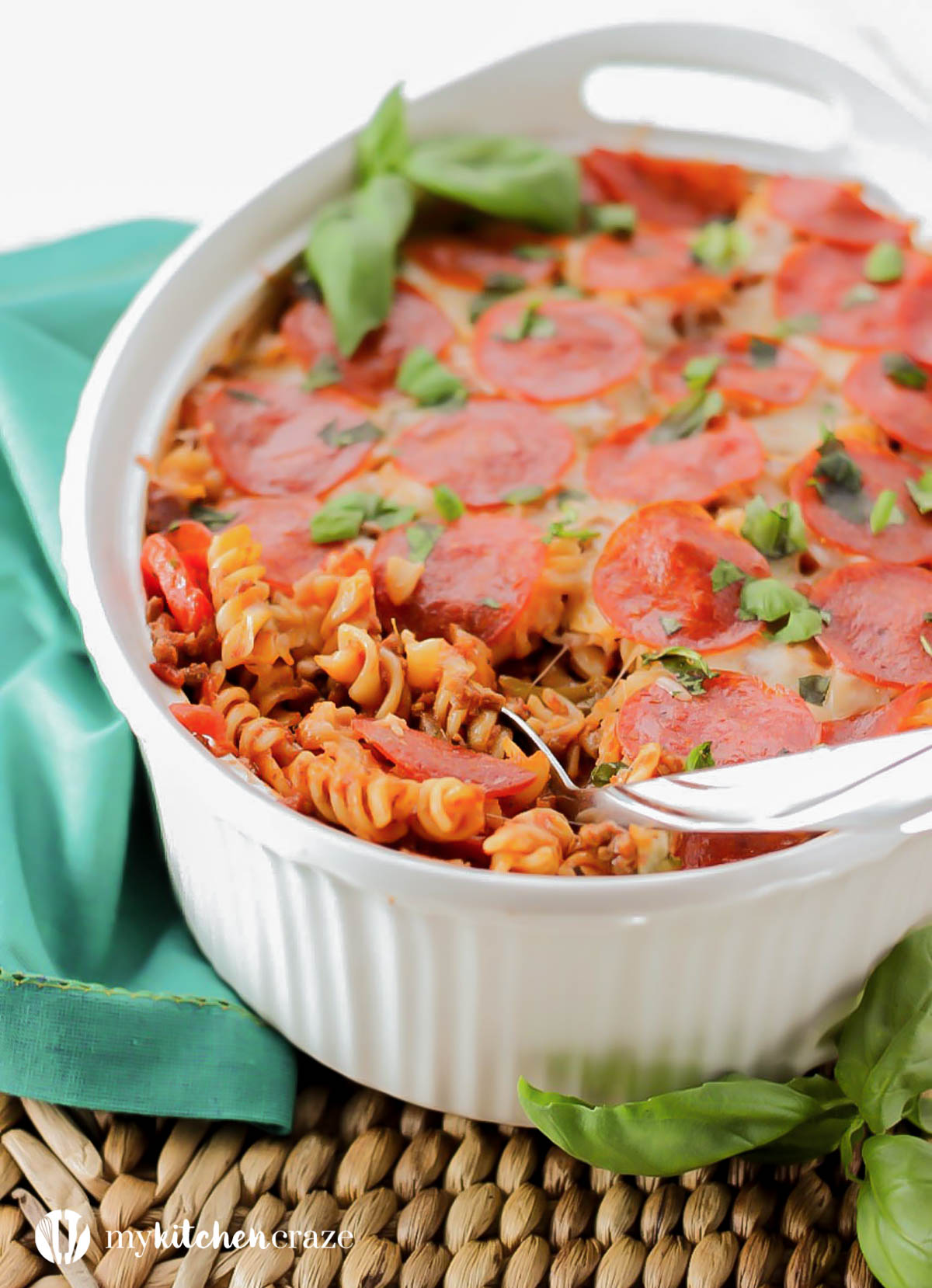 Since we can't eat pizza every night of the week (well I guess you could, but that's not very healthy) I wanted to make something that reminded us of our favorite pizza, but wasn't as greasy. It does have carbs, so I guess I'm swapping out oil for carbs. But hey wait one sec. Pizza has carbs too, so I'm still up in the pasta vs pizza category.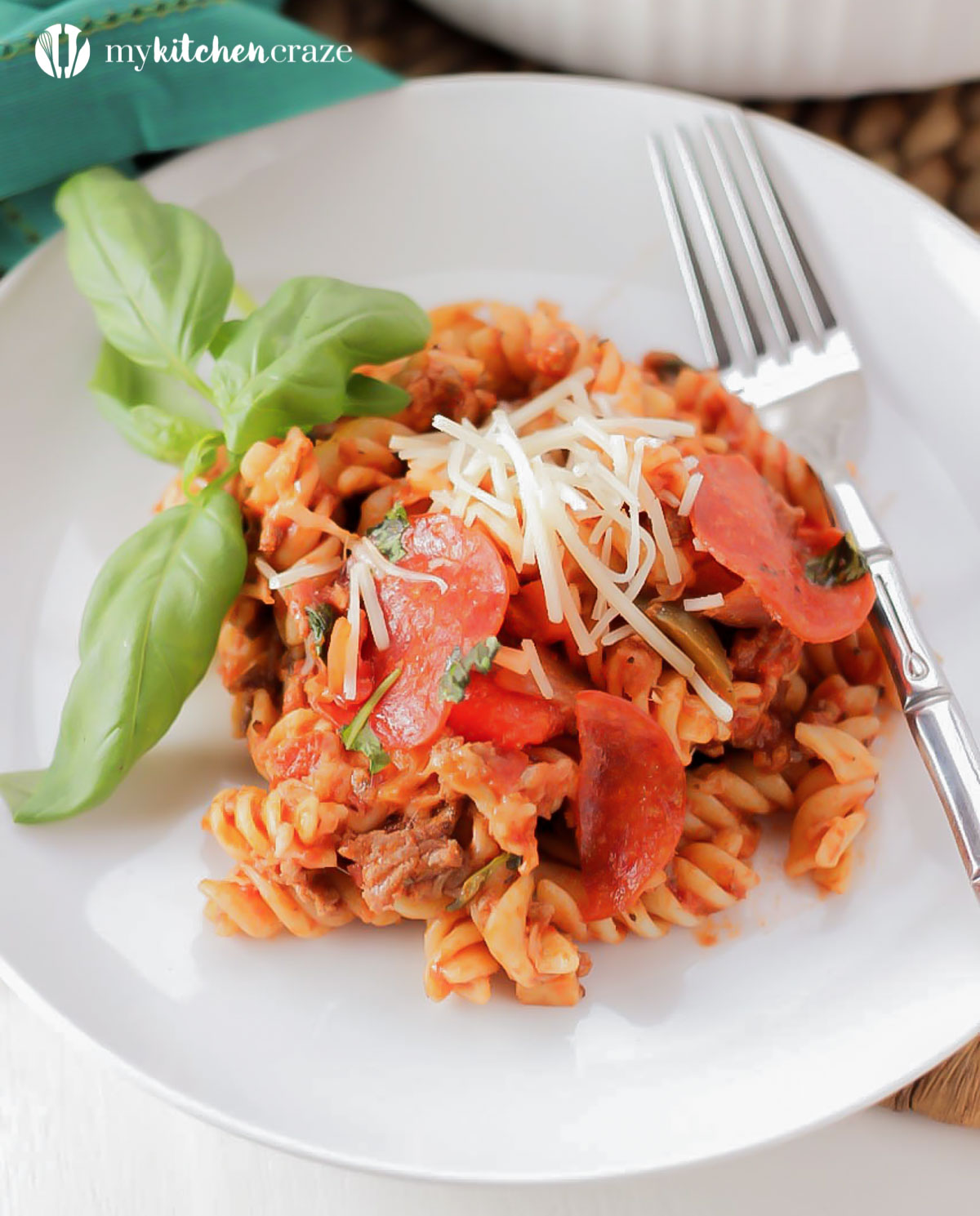 This pasta is perfect for a quick weeknight meal. It comes together within 30 minutes and tastes amazing as leftovers. When we're having a particular long week, I'll make this pasta and we'll eat it two to three times within the week. It's just that good.
I did add a little basil for color and because basil is really growing on me lately. Oh man have you guys ever had a caprese salad with heirloom tomatoes? Oh my goodness it's divine. I could live off caprese salad some days. Just throw some wine into the mix and I'm set. Sorry I went off on a little tangent there. Let's get back to this recipe.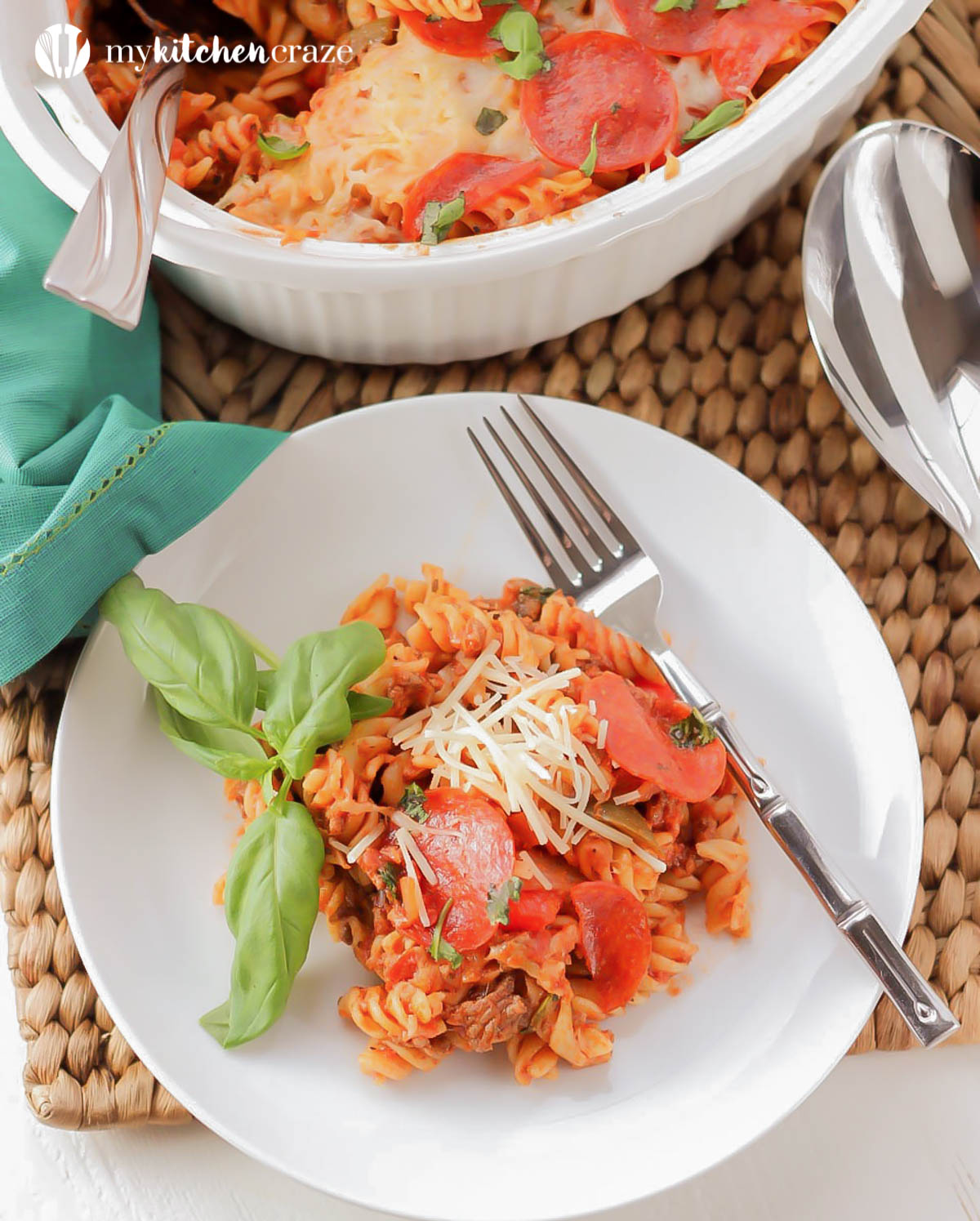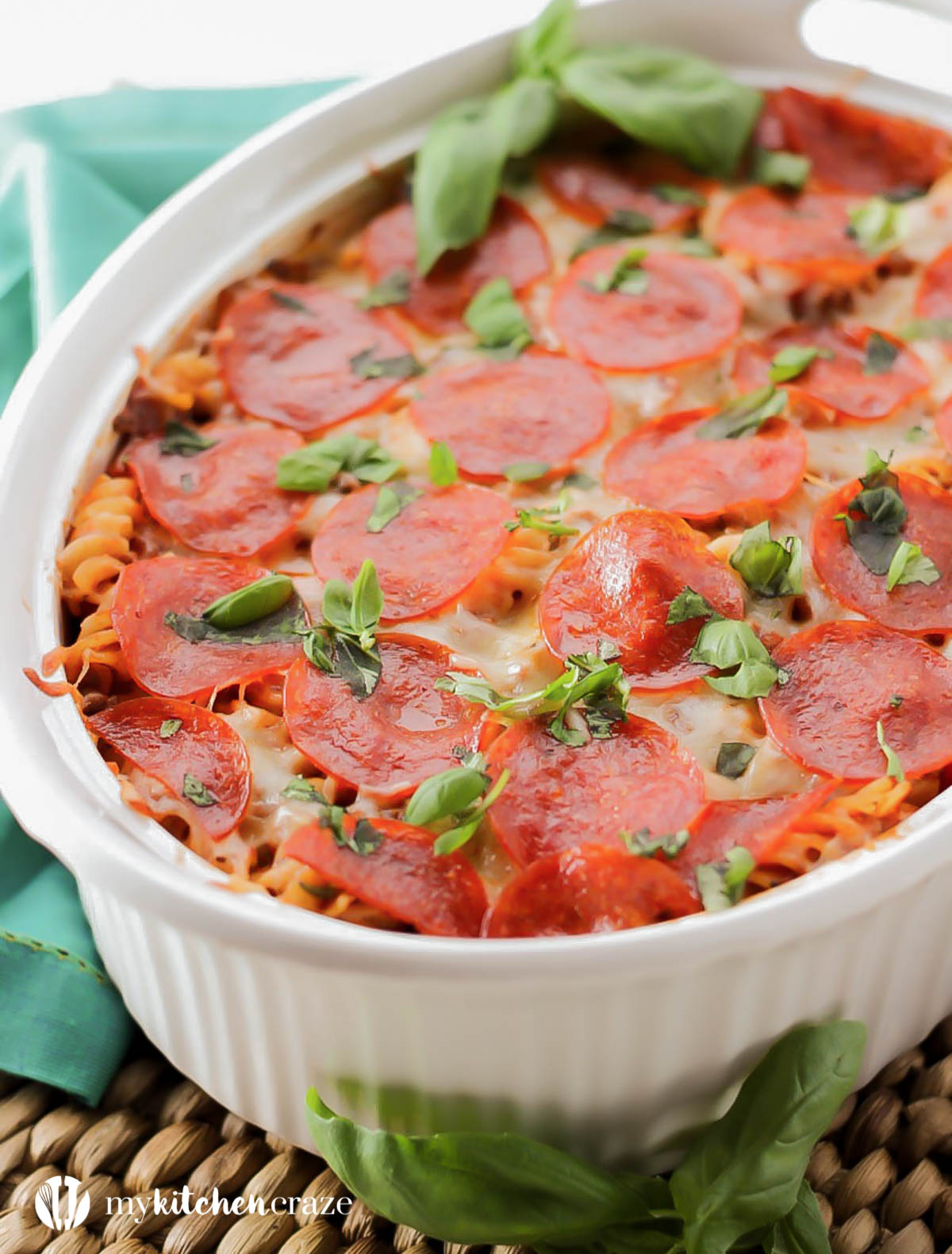 You can make this with your favorite toppings, but I can't promise it will be done within the 30 minutes. But give it a try my way, then try it with your favs.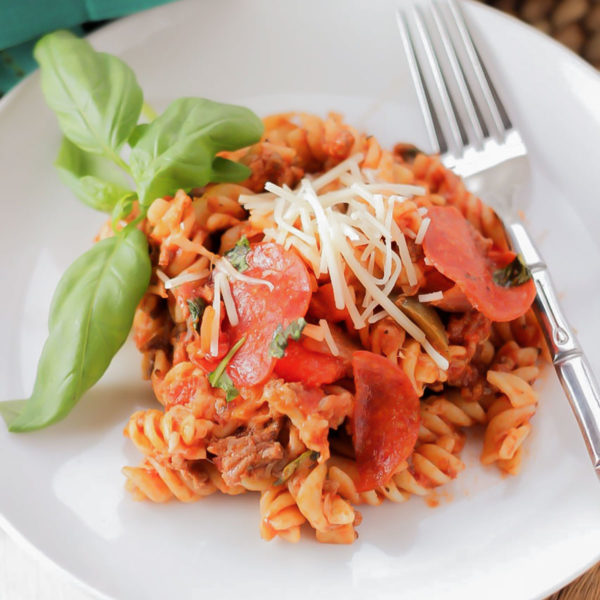 Get the Recipe:
Pasta Pizza Casserole
Ingredients
14

ounce

small pasta shells

1

pound

italian turkey meat

1 1/4

teaspoon

Italian seasoning

1

small onion

,

diced

1/2

red and green bell pepper

,

diced

1

tablespoon

garlic

2/3

cup

canned petite diced italian tomatoes

28

ounce

jar spaghetti sauce

4-6

oz

basil

1 1/2

cups

shredded mozzarella

4 - 6

oz

pepperoni

garnish: basil
Instructions
Preheat oven to 400 degrees. Lightly spray a 9x13 baking dish with non-stick cooking spray; set aside.

Cook pasta according to package directions. Drain, run under cold water for a few seconds to stop the cooking process. Set aside.

In a large skillet, add the ground turkey, Italian seasoning, onions and bell peppers. Cook for 8-10 minutes, stirring and breaking up meat as you go. Add garlic and cook 1 more minute. Drain any excess oil and return to skillet.

Stir in tomatoes, spaghetti sauce and basil (you could stir in some extra pepperoni if you'd like). Mix in cooled pasta.

Spoon mixture into prepared baking dish.

Sprinkle with mozzarella then layer pepperoni on top.

Bake 10 minutes, or until cheese is melted and bubbly.

Serve and enjoy!