Taco Cups and Cheese Dip {Game Day Food}
This shop has been compensated by Collective Bias, Inc. and its advertiser. All opinions are mine alone. #MakeGameTimeSaucy #CollectiveBias
Do you love to have snacks and appetizers on game day? Then you need to make these delicious Taco Cups and creamy Cheese Dip. Perfect snack foods to cheer on your favorite team. Go team!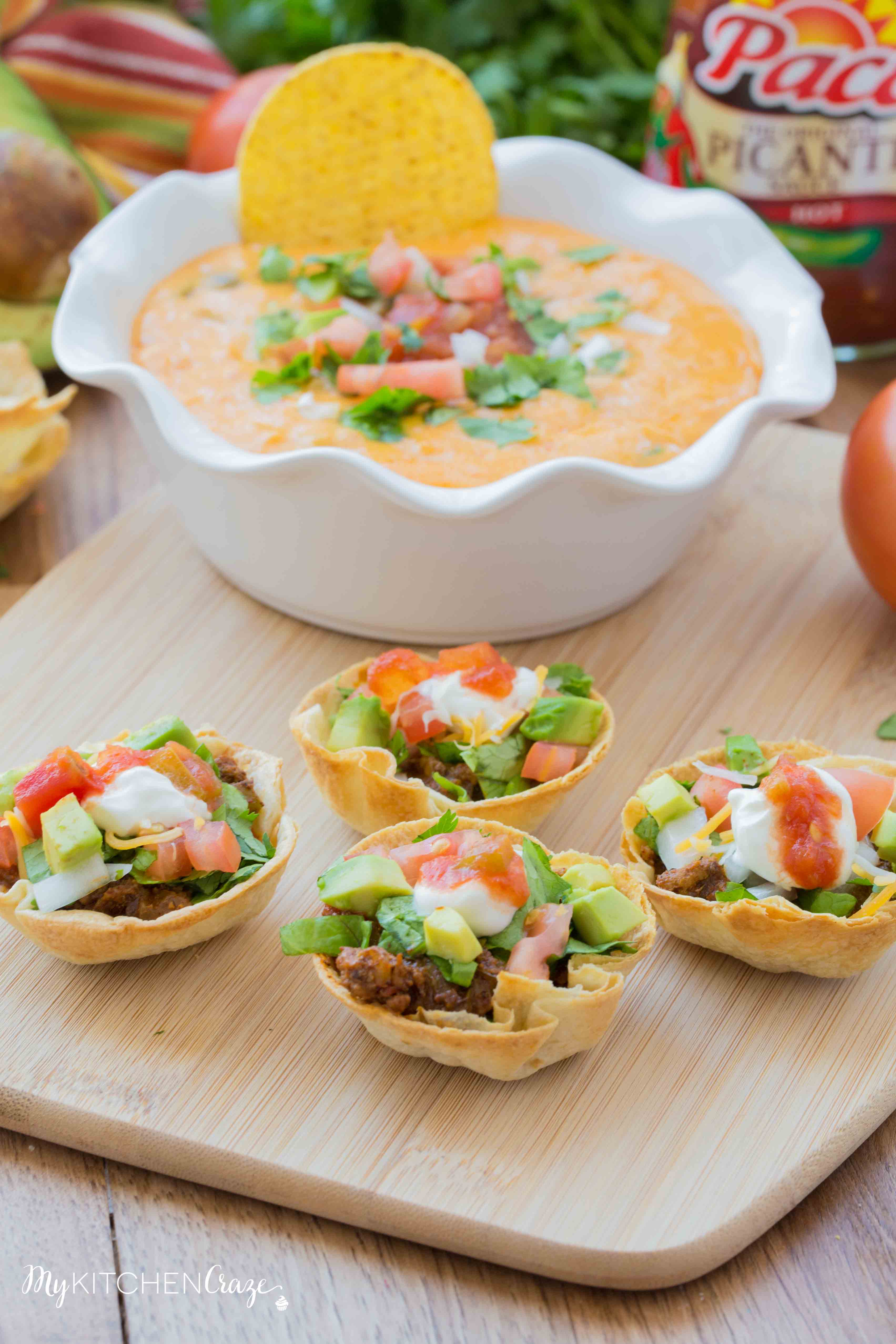 I'm sharing some fun game day recipes with you guys today. I love game day snacks and appetizers! The only problem is I'm not a huge sports fan. I blame my dad for this. I blame my dad because every weekend I would wake up to him yelling and screaming at the t.v. He would be yelling at his team to score or run the ball.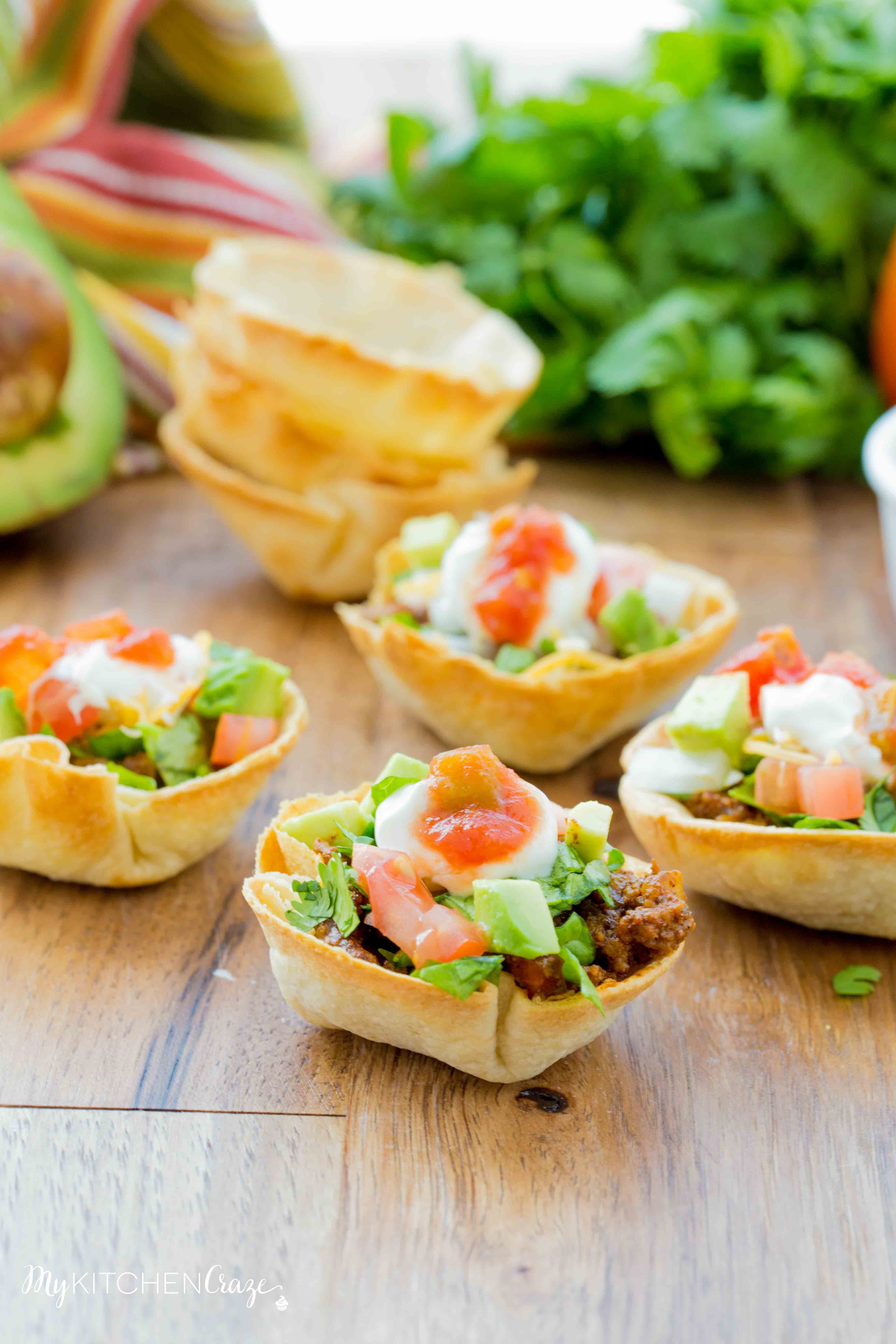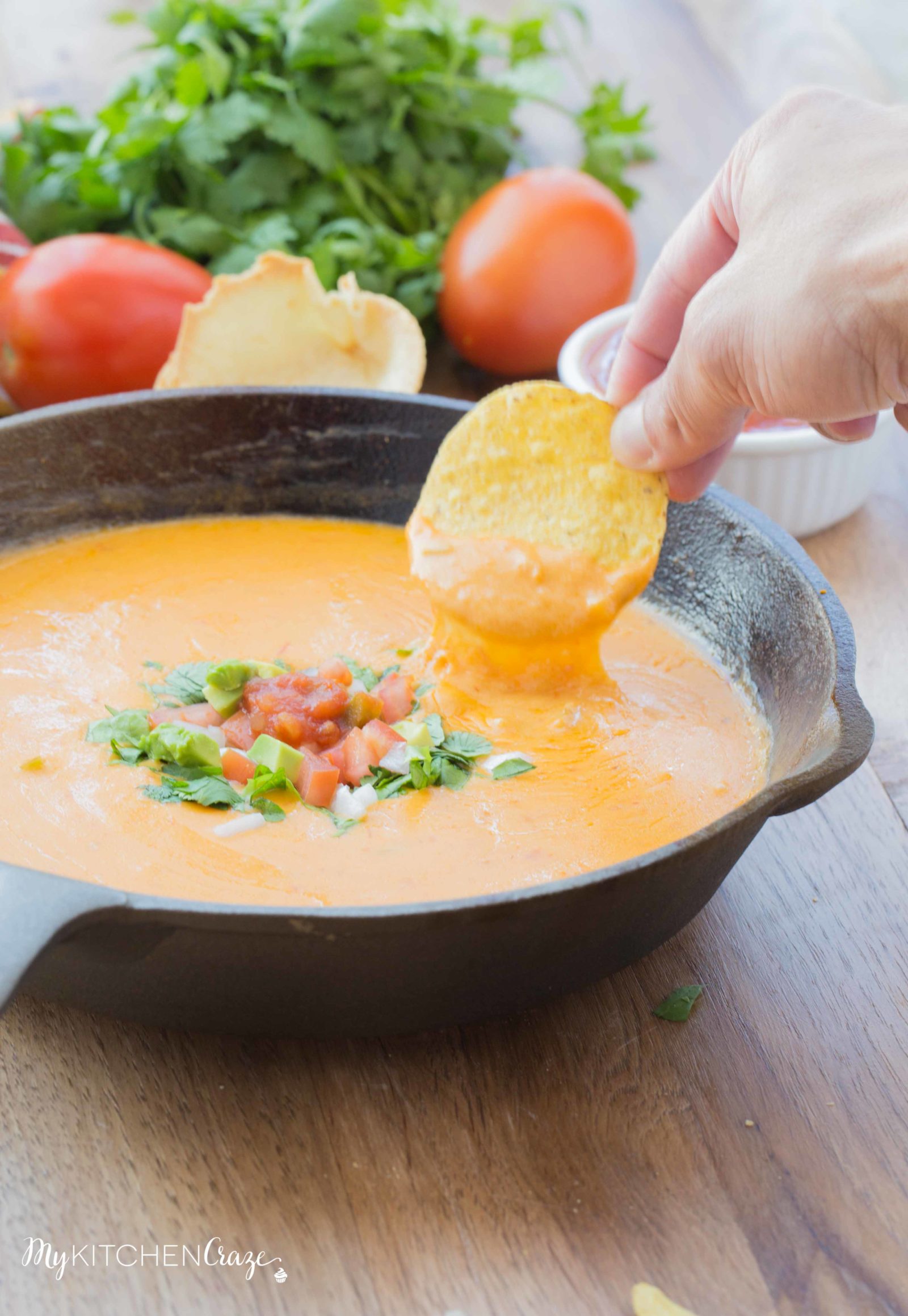 Can you image being a teenager and your dad screaming at the t.v. at 10am in the morning? It's way to early for a teenager. I can say that I love going to football, soccer and even horse racing games. Football games are actually super fun and exciting.
The tailgating and food eating are my favorite. I never knew how much food you could make while hanging outside a football stadium! I remember my dad making ribs, BBQ chicken and so many more yummy recipes.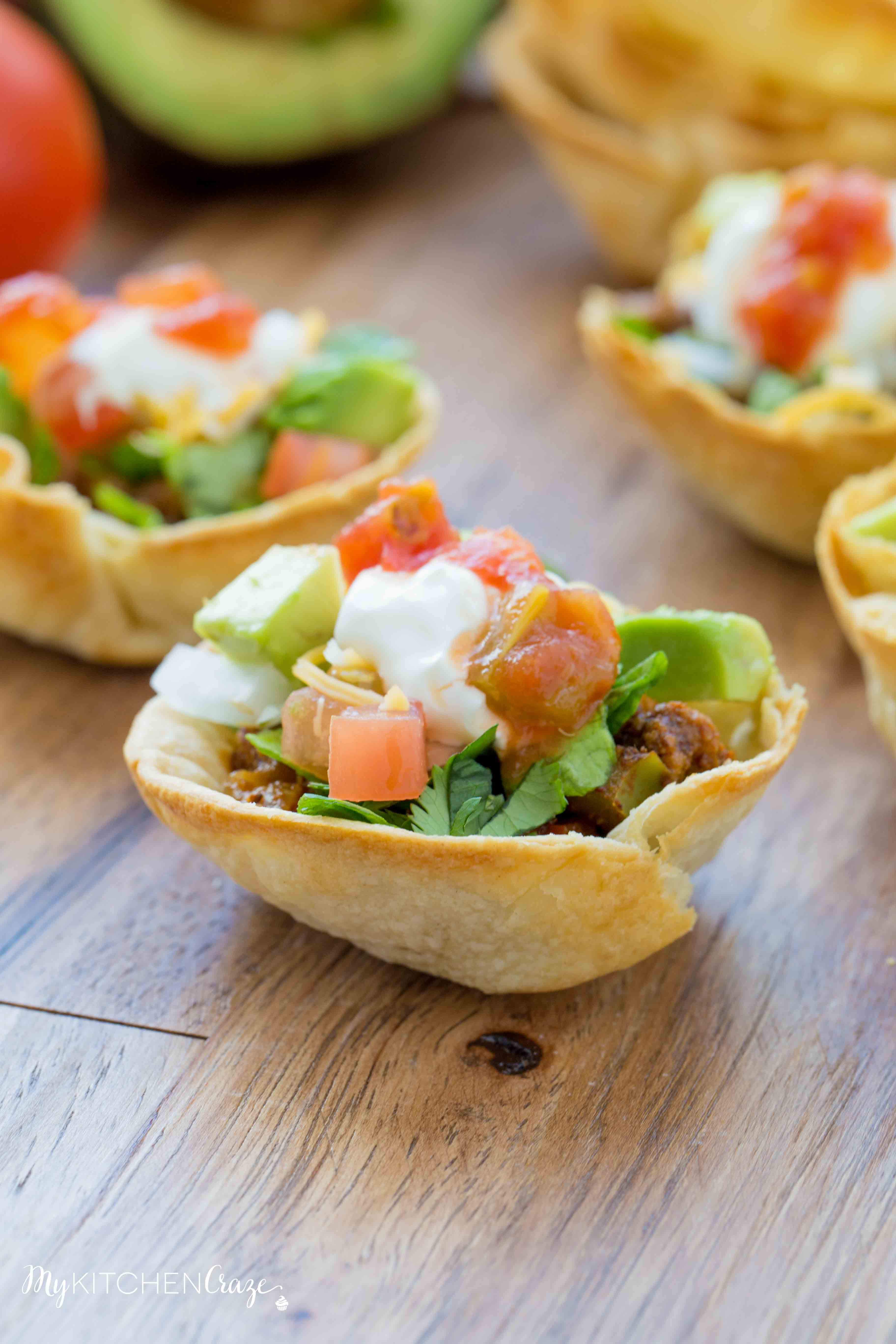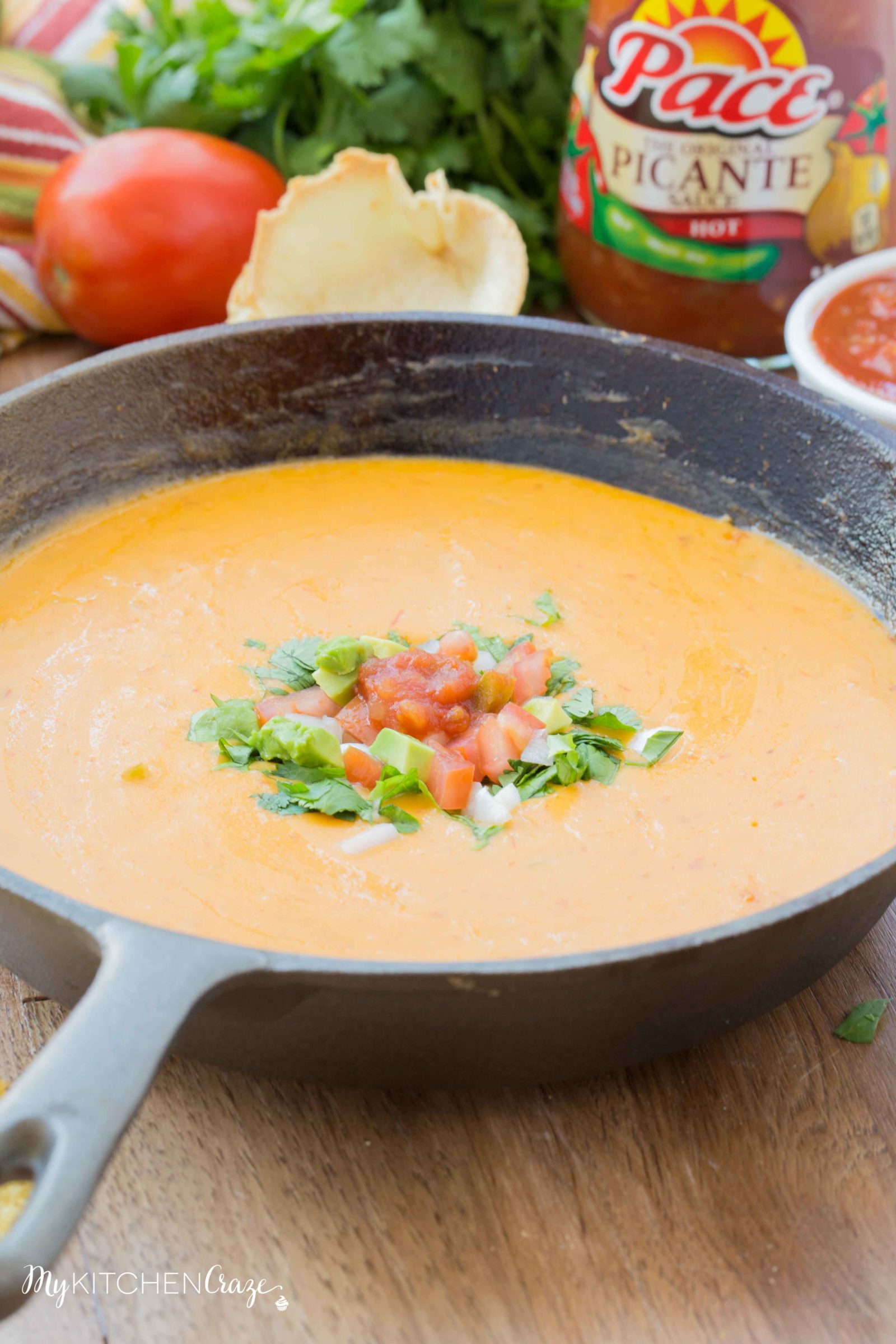 I've always loved having the foods at football games! I'm a huge snacker by heart, so appetizers and snack foods always win my heart. Do you think a person can be obsessed with game day food and not really care about the game? Well…that's me. But shhh, don't tell my dad that ok. I think I'll break his heart. He loves his Kansas City football team and knowing that his daughter loves the food more then the game would bum him out.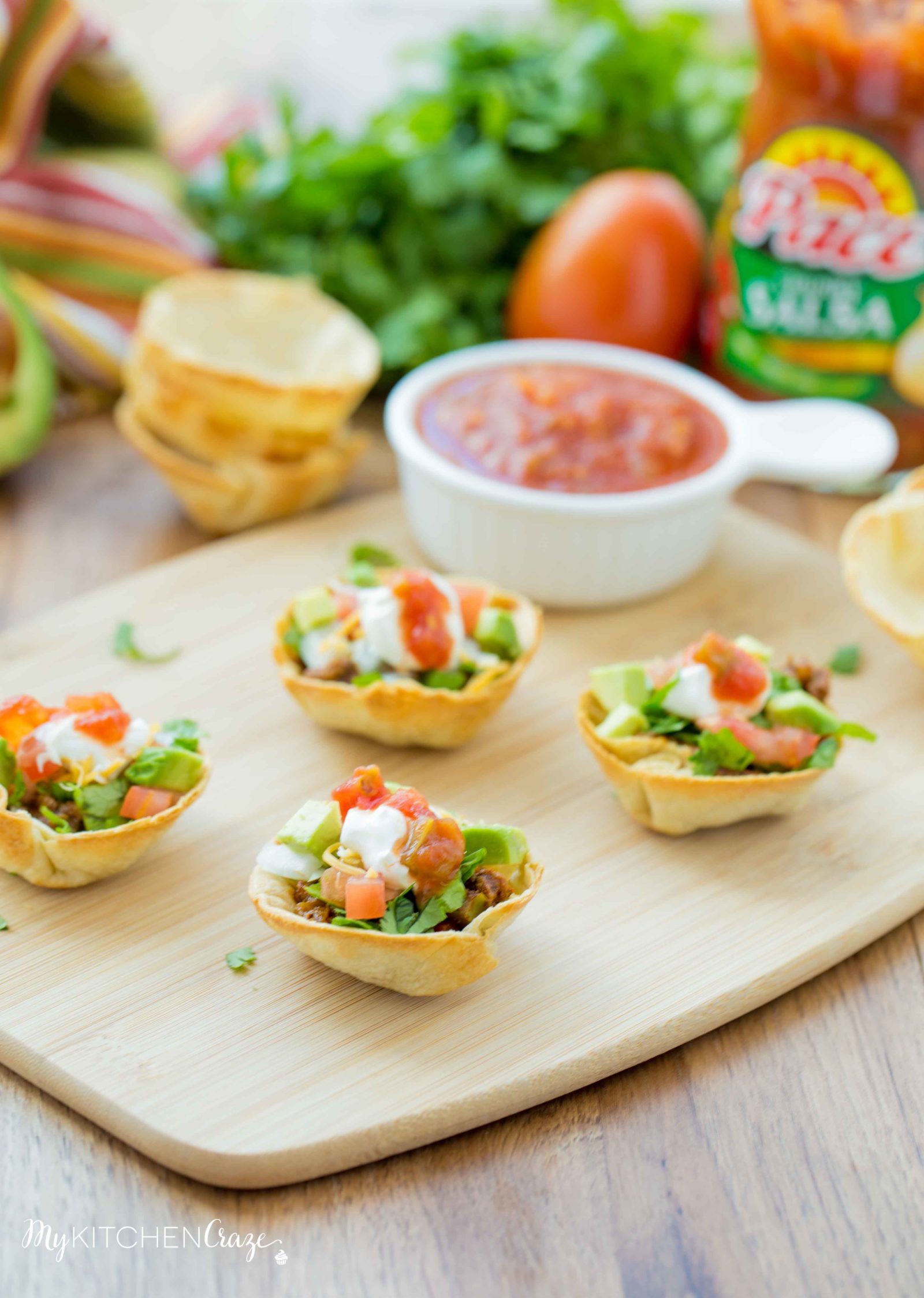 When ever he comes over for the weekend I always plan on having some yummy snack or appetizers ready. Normally I always have chips, salsa and guacamole and some other snack. This weekend I wanted to make something that would fill us up, but also something we could snack on all day. I'm not sure about you but when I'm hanging out, watching a football game chips and Pace® Picante Sauce are my go to snack.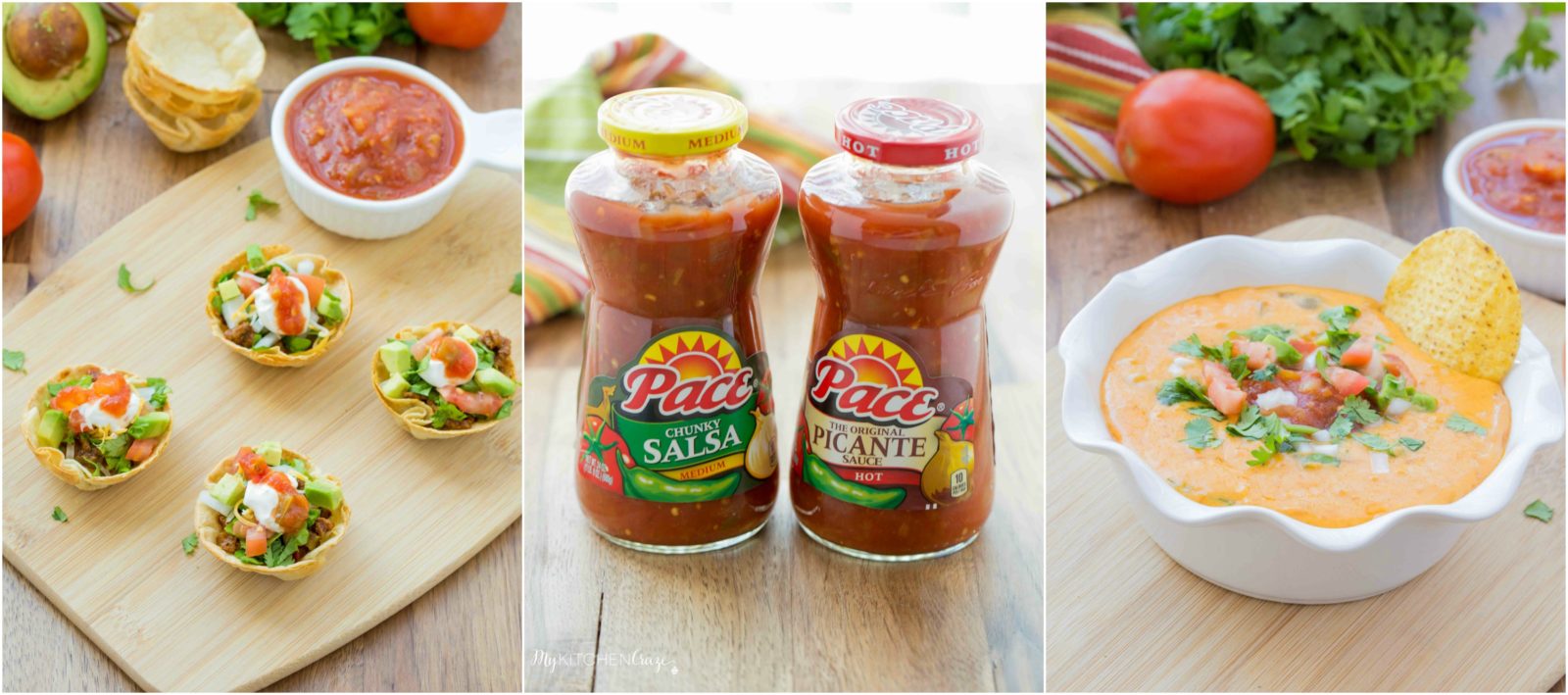 It's actually funny how much Pace® Picante Sauce we use in our home. We use this salsa for everything! No joke. We love to make our recipes saucy with Pace® Picante Sauce. We use it for our omelets in the morning, we add it to any and all foods that we need a little kick and we love having chips and salsa with it almost daily. My favorite is the medium Pace® Chunky Salsa, but sometimes (okay most of the time) I want the Pace® Picante Hot Sauce. I like things spicy. 🙂
Every time I do my weekly shopping at Walmart, I always make sure to buy more salsa. Gotta make sure we have some on hand at all times or Sean will kill me, hehe. But this past weekend I wanted to make two recipes using this salsa. Reason being my dad loves spicy foods, but my mom can't handle the heat, so he never gets it.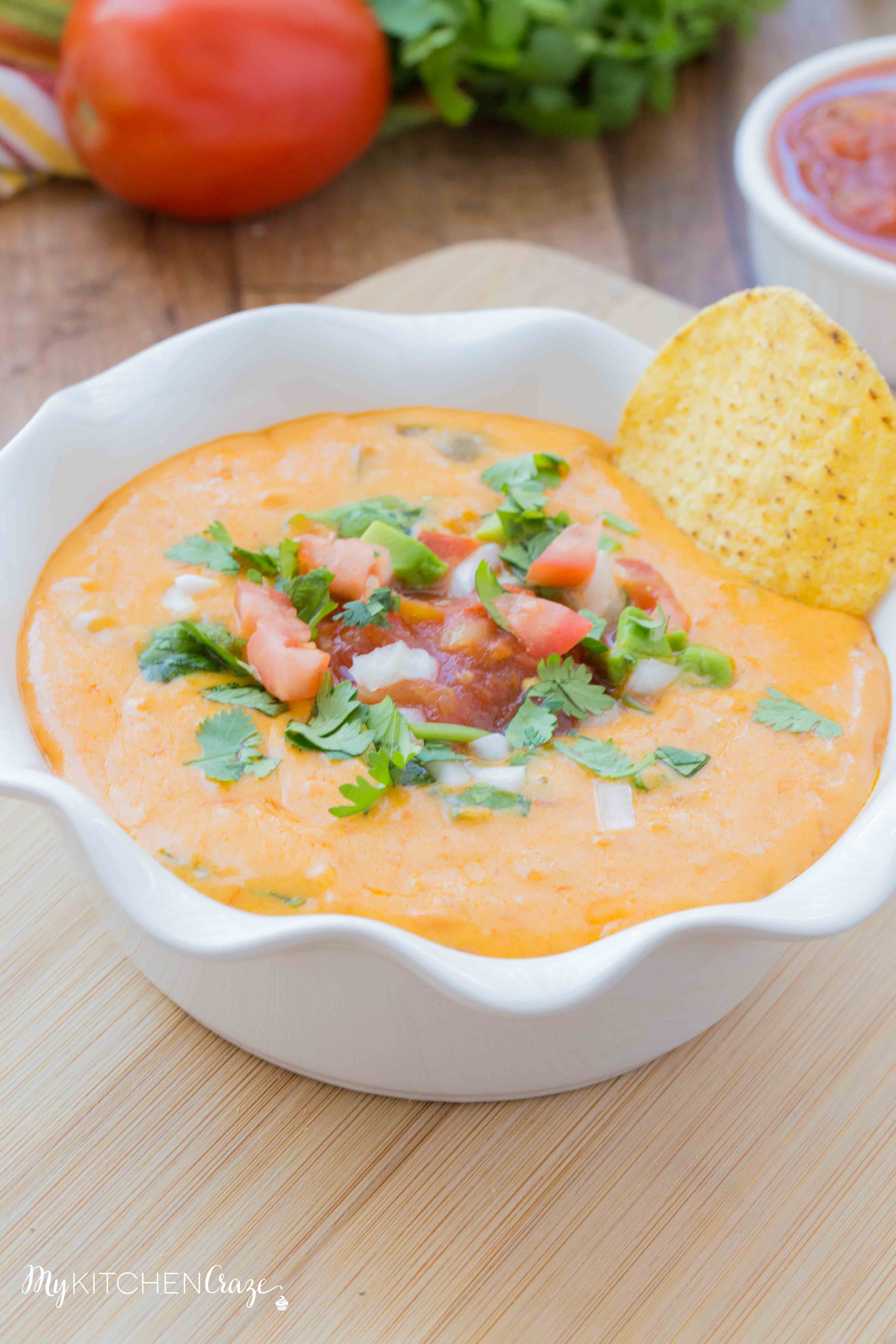 I wanted to make a snack that I knew my mom could handle and them something spicy that my dad could enjoy too. Hence the reason for the Taco Cups and the Cheese Dip. I used Pace® Chunky Medium Salsa for the Taco Cups. Then I used the Pace® Picante Hot Sauce to make the Cheese Dip.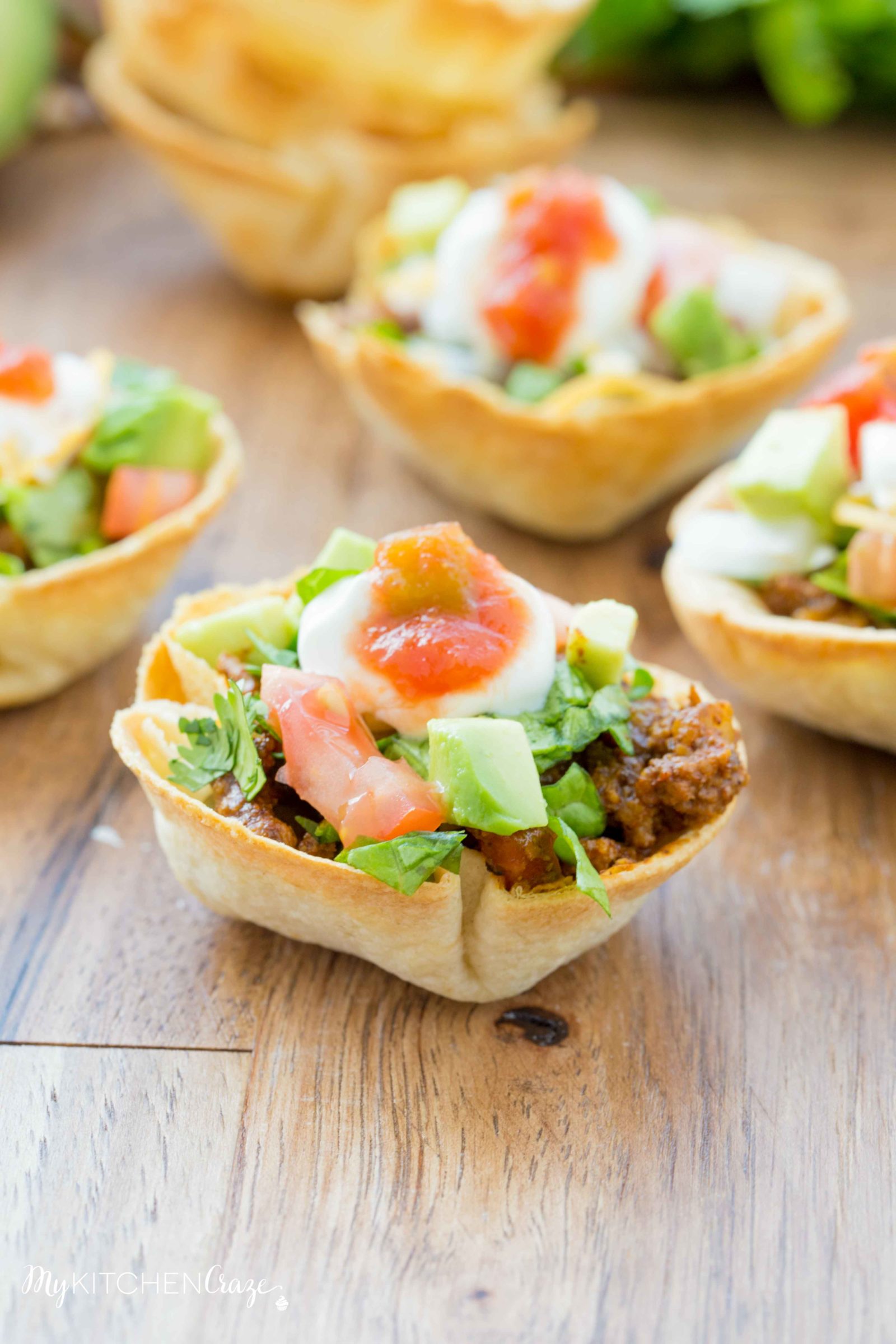 I topped the Taco Cups with the medium salsa and even added a little salsa to the taco meat to give it that extra oomph. When I made the Cheese Dip, I added the hot salsa to the mixture. I wanted the cheese dip to have a nice and spicy flavor. Both of these recipes are easy to make and perfect for game day!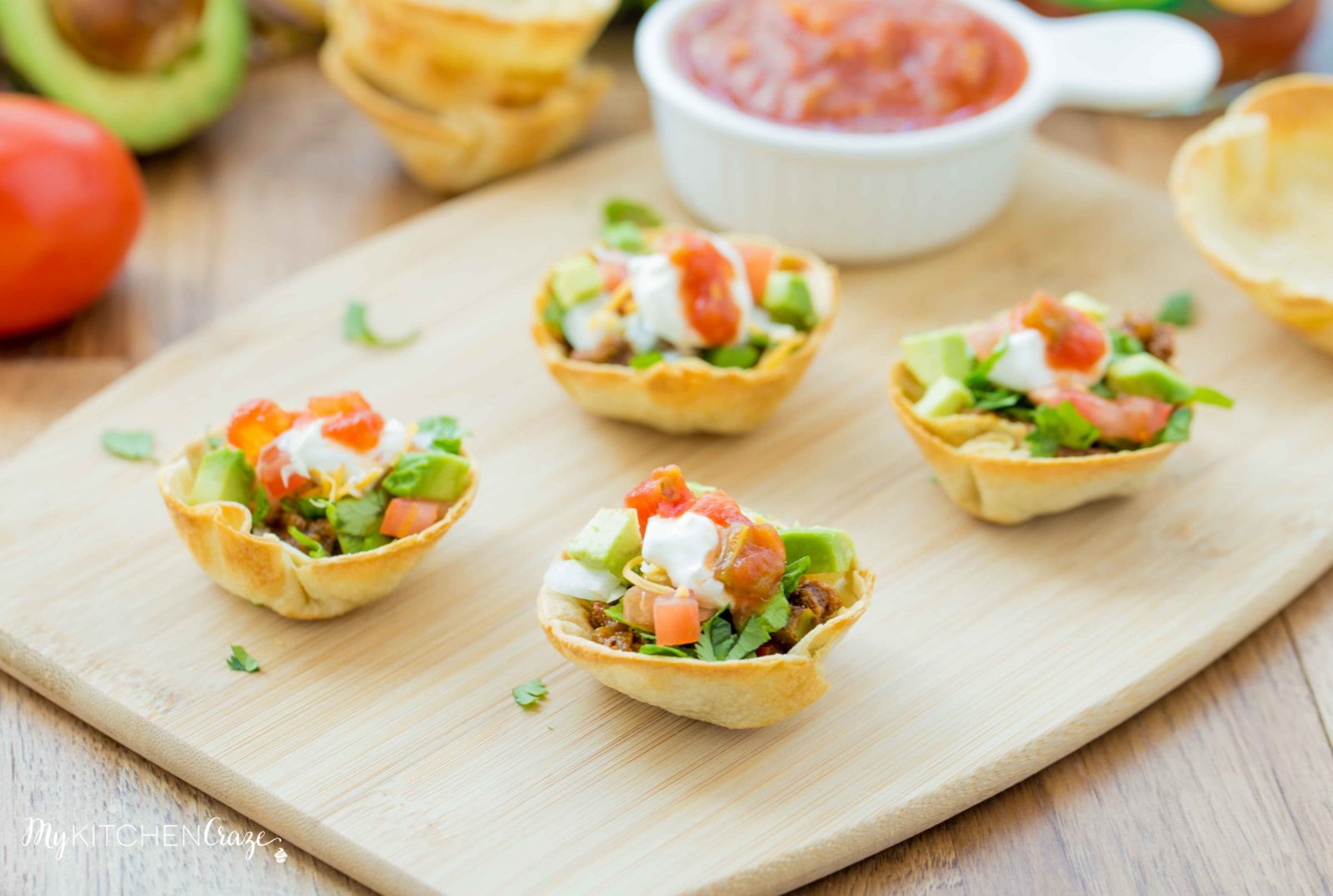 Notes to remember:
You can make the Taco Cups ahead of time. Make the meat the day before and cut the veggies. The day you serve the taco cups put the taco meat and beans on the stove to warm up before you serve. You can pre-make the taco cups or make them fresh. Whatever you decide is fine.
I highly recommend keeping the cheese dip hot. Sine I use fresh cheese it will harden and become yucky if you let it cool. Keep it warm so it stays delicious. You can also make it ahead of time and place back on the stove over medium-low heat again. It'll be perfect and delicious.
Next time you have a get together for game day or just want some yummy snacks you have to get saucy with these Taco Cups and Cheese Dip. They really are the perfect appetizers for your game. Good luck to your team. Hope they win!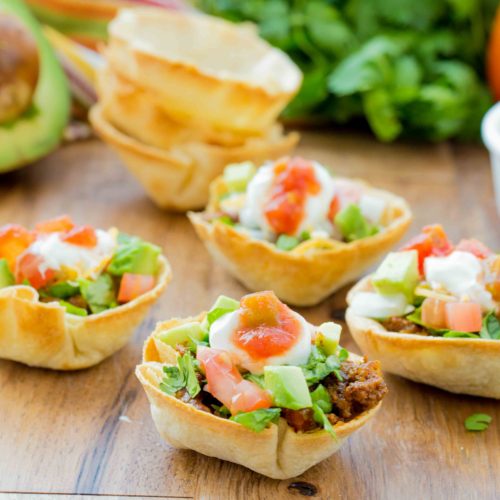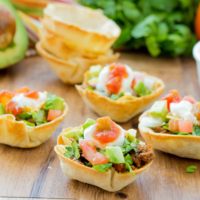 Get the Recipe:
Taco Cups
Ingredients
4-5

large flour tortillas

1

tablespoon

canola oil

1/2

small onion

,

chopped

1/2

green bell pepper

,

chopped

1

pound

ground beef

1/4

cup

homemade taco seasoning or 1 envelope taco seasoning

2/3

cups

water

1

cups

shredded Mexican blend shredded cheese

1

can refried beans

1/2

cup

tomatoes

,

diced

1/2

cup

onions

,

chopped

Handful lettuce

,

chopped

4

tablespoons

Pace® Chunky Medium Salsa

,

divided

garnish: sour cream

,

avocados
Instructions
Preheat oven to 375 degrees F

Lightly grease two muffins tins with cooking spray. Cut 4 inch circles from the tortillas. You'll need about 16. Microwave the tortillas for about 10 seconds, until the tortillas are pliable. Place one tortilla into each muffin tin. Pressing the tortilla down on the bottom and around the sides. Bake for 10-12 minutes until the tortillas are lightly browned around the edges. Remove and set aside.

While the cups are baking, heat a large skillet to a medium-high heat and add oil. Add the onion and bell pepper. Cook until onions are translucent, about 5 minutes. Add ground beef. Crumble the meat as it cooks, about 5-8 minutes. Drain grease and add back to skillet. Sprinkle the taco seasoning over the cooked ground beef. Add water and bring to a low boil. Lower heat and cook 5-10 minutes, or until water is absorbed and meat is seasoned well.

Scoop a spoonful of meat mixture into each tortilla cup. Add about a tablespoon of beans and sprinkle with cheese. Add tomatoes, onions, lettuce, salsa and a dallop of sour cream.

Serve immediately and enjoy!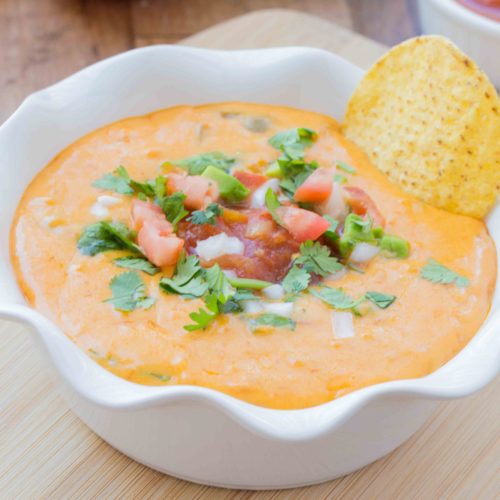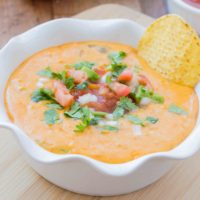 Get the Recipe:
Cheese Dip
Ingredients
1

tablespoon

butter

1

tablespoon

all-purpose flour

3/4

cup

Pace® Picante Hot Sauce

1

tablespoon

canned green chillies

1/4

cup

sour cream

8

ounces

extra sharp cheddar cheese

,

grated

toppings: cilantro

,

onions, tomatoes, avocado, sour cream

1

bag Tortilla chips
Instructions
Warm a medium sauce pan over medium heat. Add butter and melt. Once the butter us melted add flour and stir for about 30 seconds to cook.

Stir in salsa, green chillies and cook, stirring, until mixture is simmering.

Stir in sour cream.

Add grated cheese and continue stirring until cheese is completely melted.

Return mixture to a simmer, then lower heat to the lowest setting.

Garnish with toppings.

Transfer to a bowl if eating immediately or leave in the sauce pan over low heat until ready to serve.

Serve hot, surrounded with chips.

Enjoy!