Mini Butterfinger Cheesecakes
Grab those candies and make some delicious desserts! Having a party for the kids or do you have a ton of left over candy use up? These Mini Butterfinger Cheesecakes are perfect to use up those candies and they taste amazing! 
This shop has been compensated by Collective Bias, Inc. and its advertiser. All opinions are mine alone. #ReinventSweet #CollectiveBias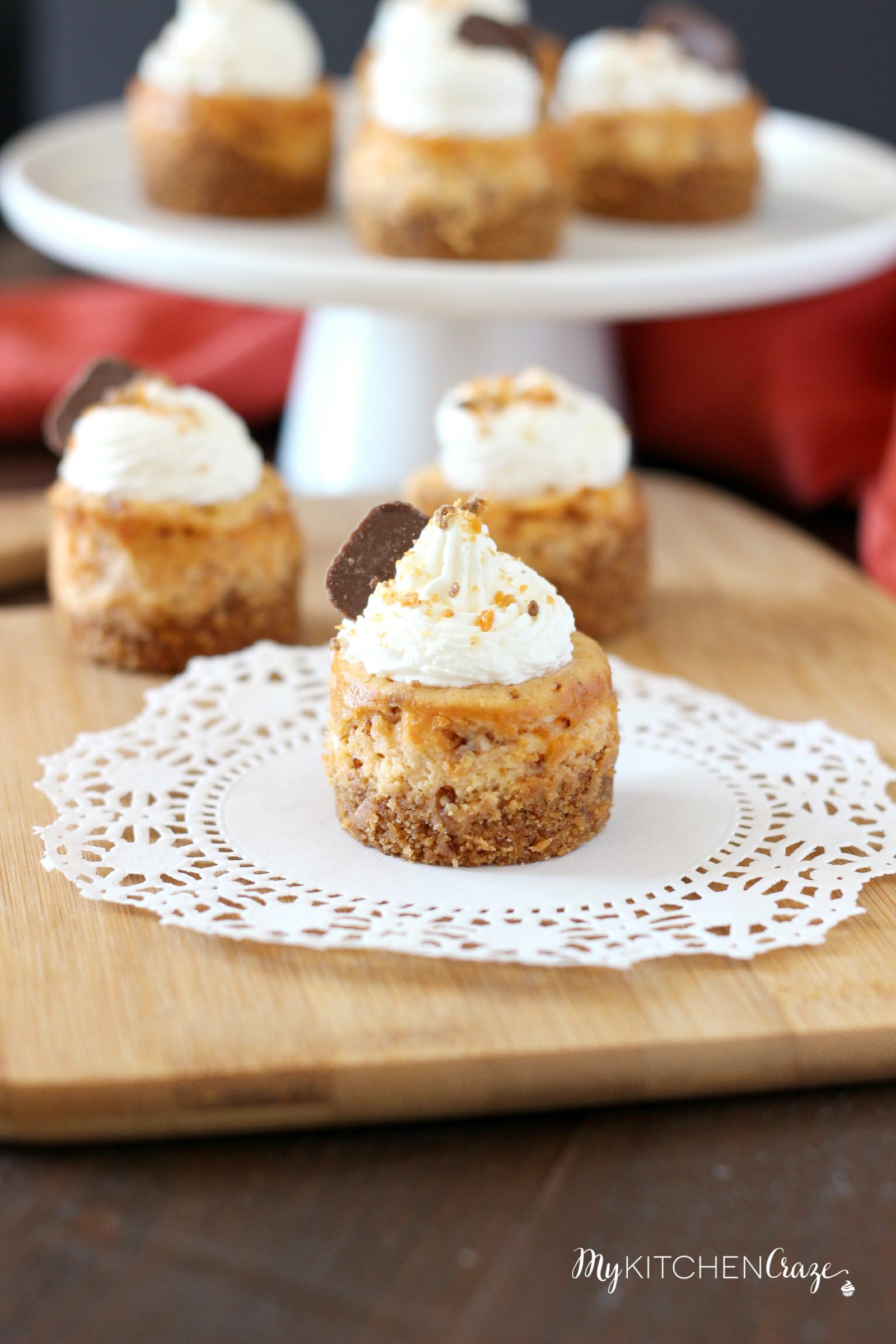 Can you believe that we're right smack dab in the middle of fall? How crazy is that? Time has been zooming on by. I feel like we just celebrated New Years and here we are in October. It just seems to amaze me how fast time goes.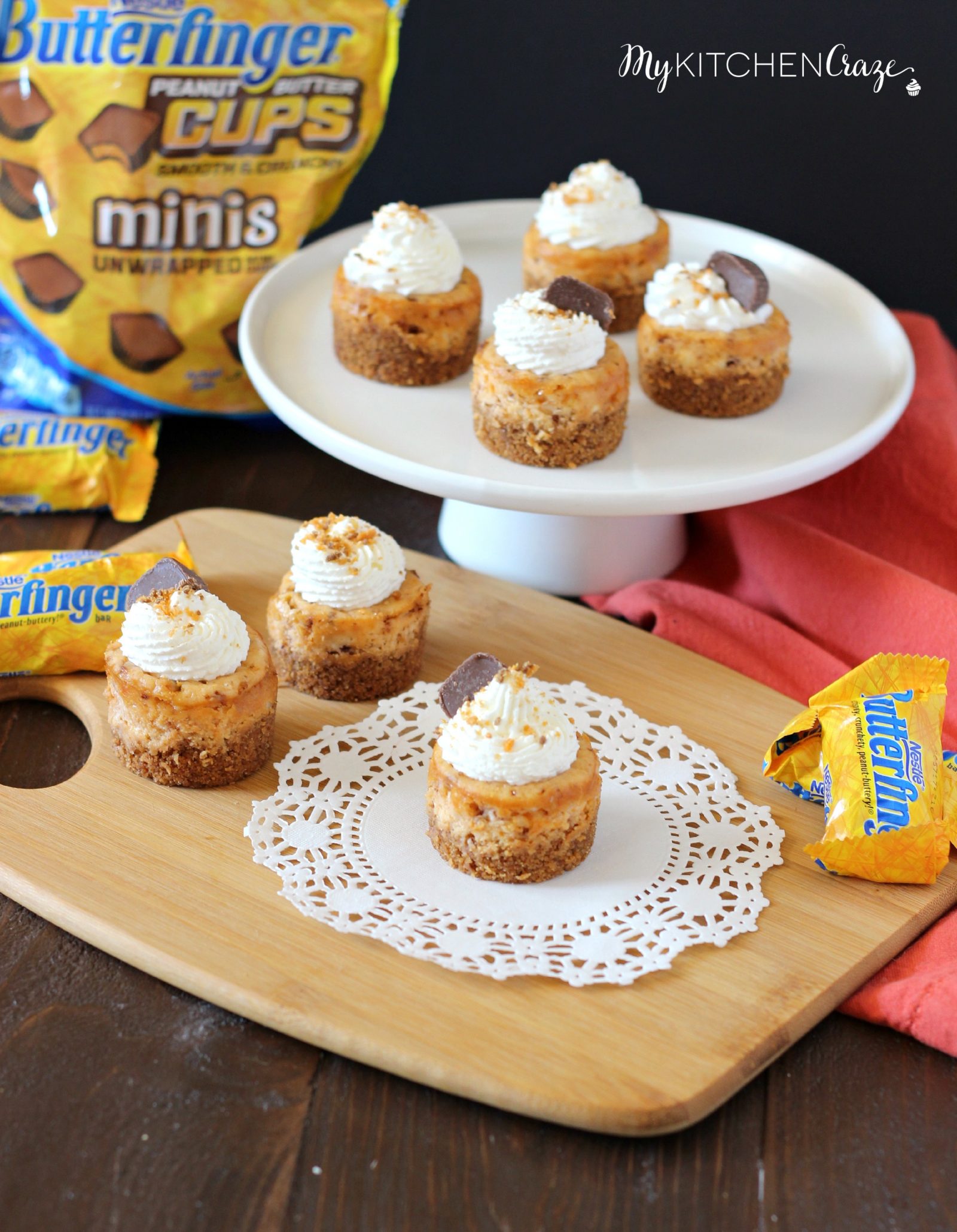 With the holidays and fall weather coming up, I'm always trying to get my mind to think of ways to bake with all the left over candy from halloween. I remember being a kid and just loving the fact that I would get tons and tons of candy. But being a parent I can honestly say I kinda of dread it. Some kids aren't into sweets that much, but my kids love sweets.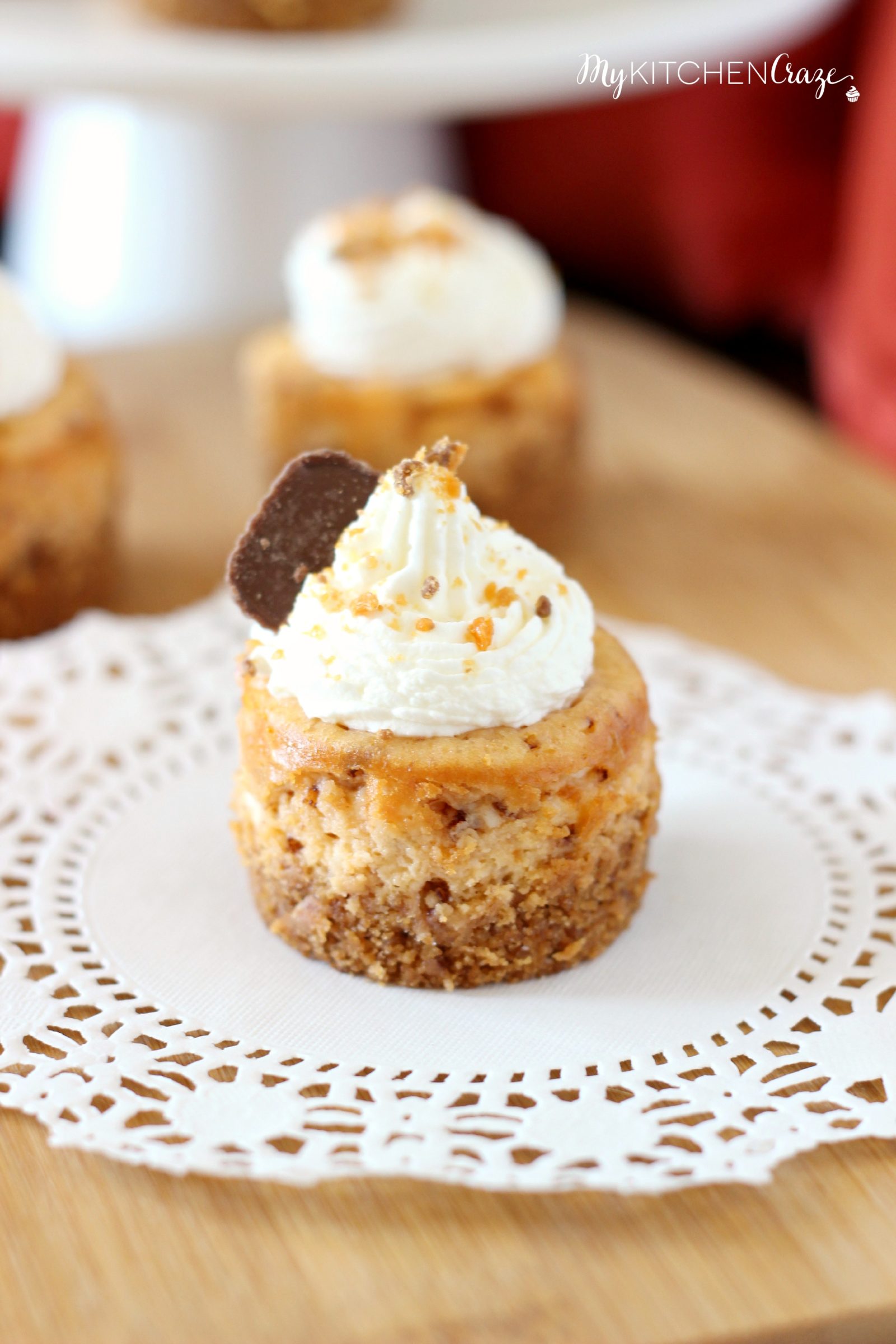 My kids love to grab their Halloween bags and munch away. They have to ask of course. It just feels like a never ending supply of candy though. I feel like we have candy for months and months. And come on, that much candy is not healthy, ha! So last year I started grabbing all the good chocolates and I would bake something yummy.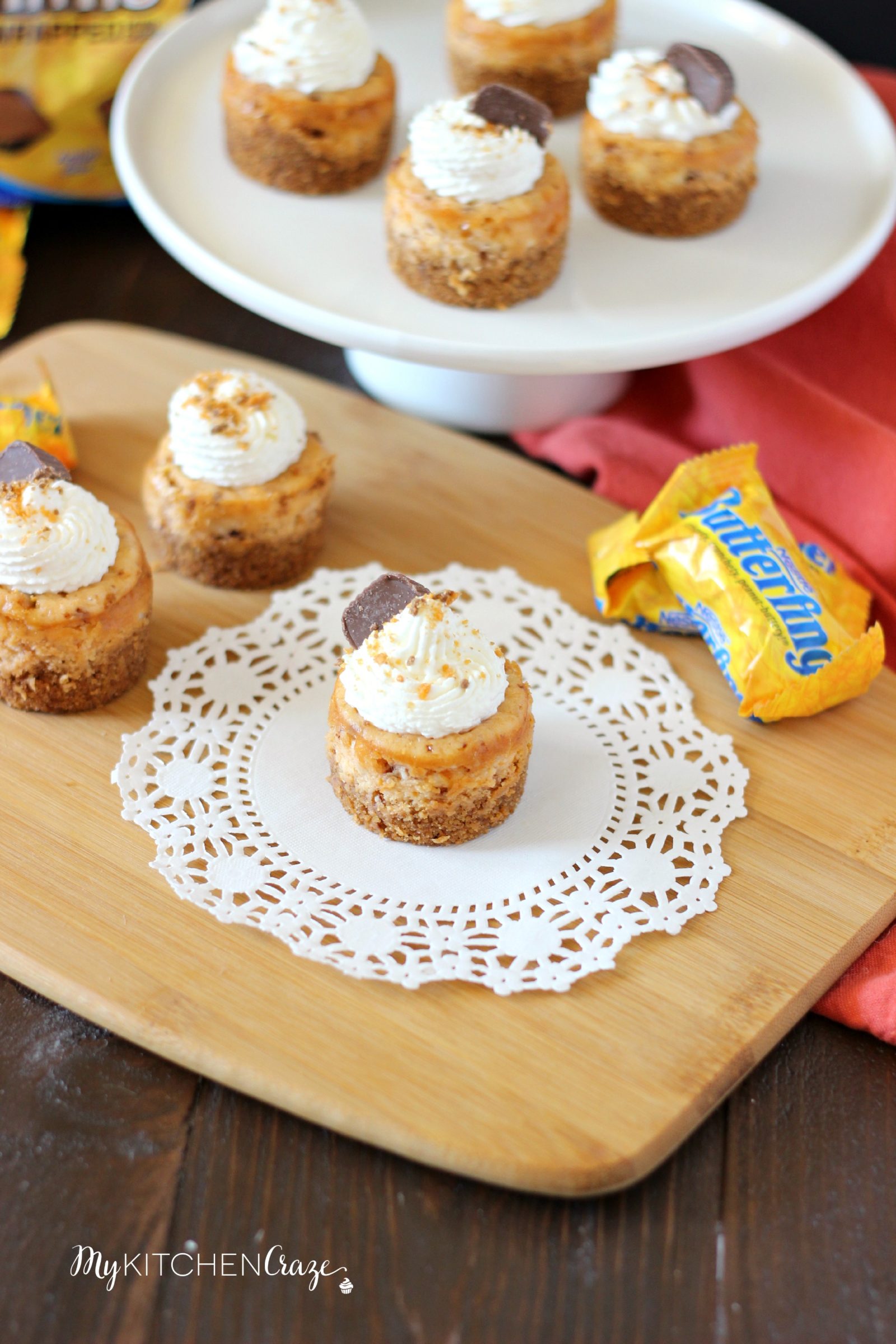 While I was at the store this past weekend, I saw these Butterfinger Fun-Size and Butterfinger Peanut Butter Cup Minis and knew that I needed to share a recipe that I made last Halloween. I took all of the Butterfinger Fun-Size candies out of the kids baskets and made these delicious Mini Butterfinger Cheesecakes.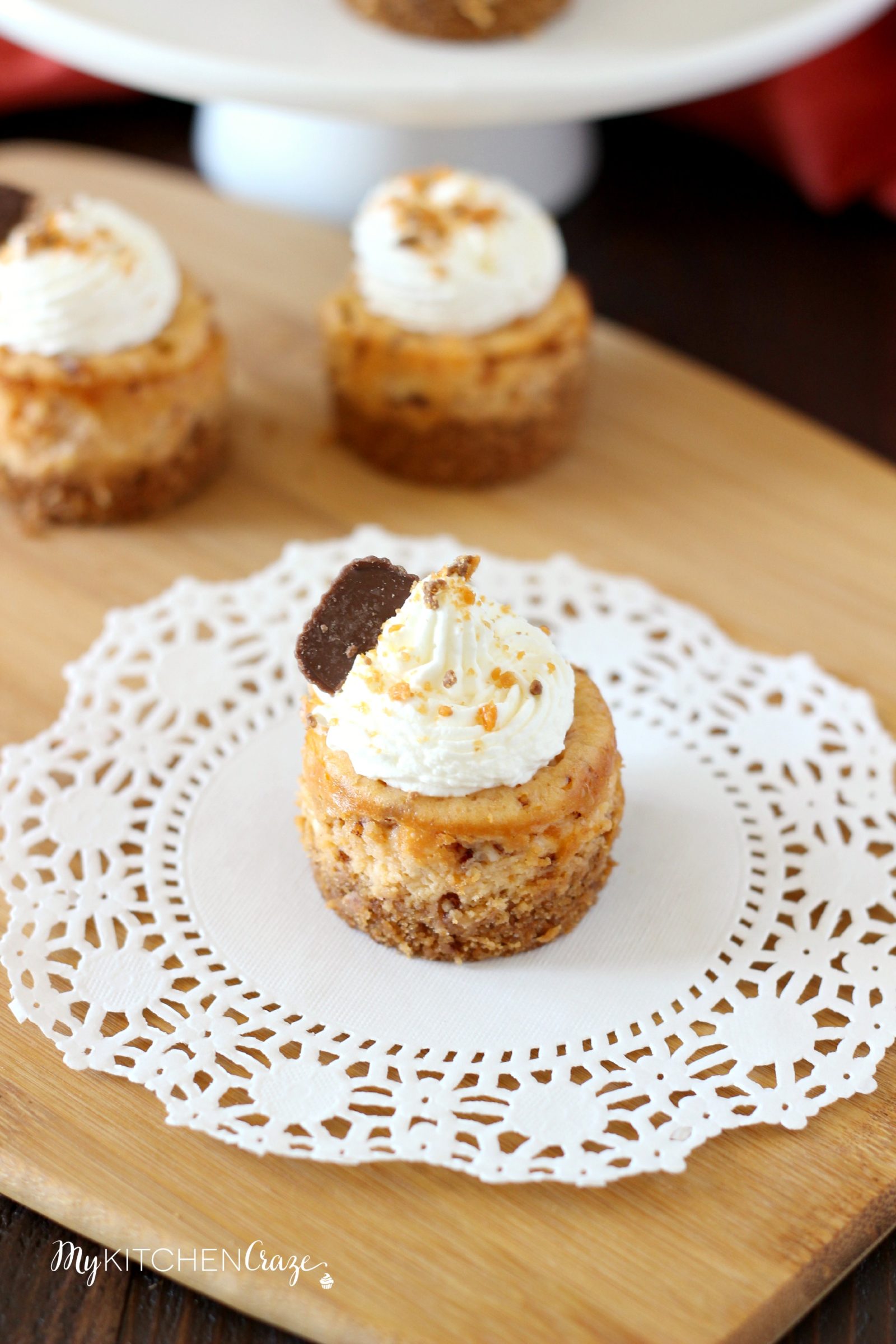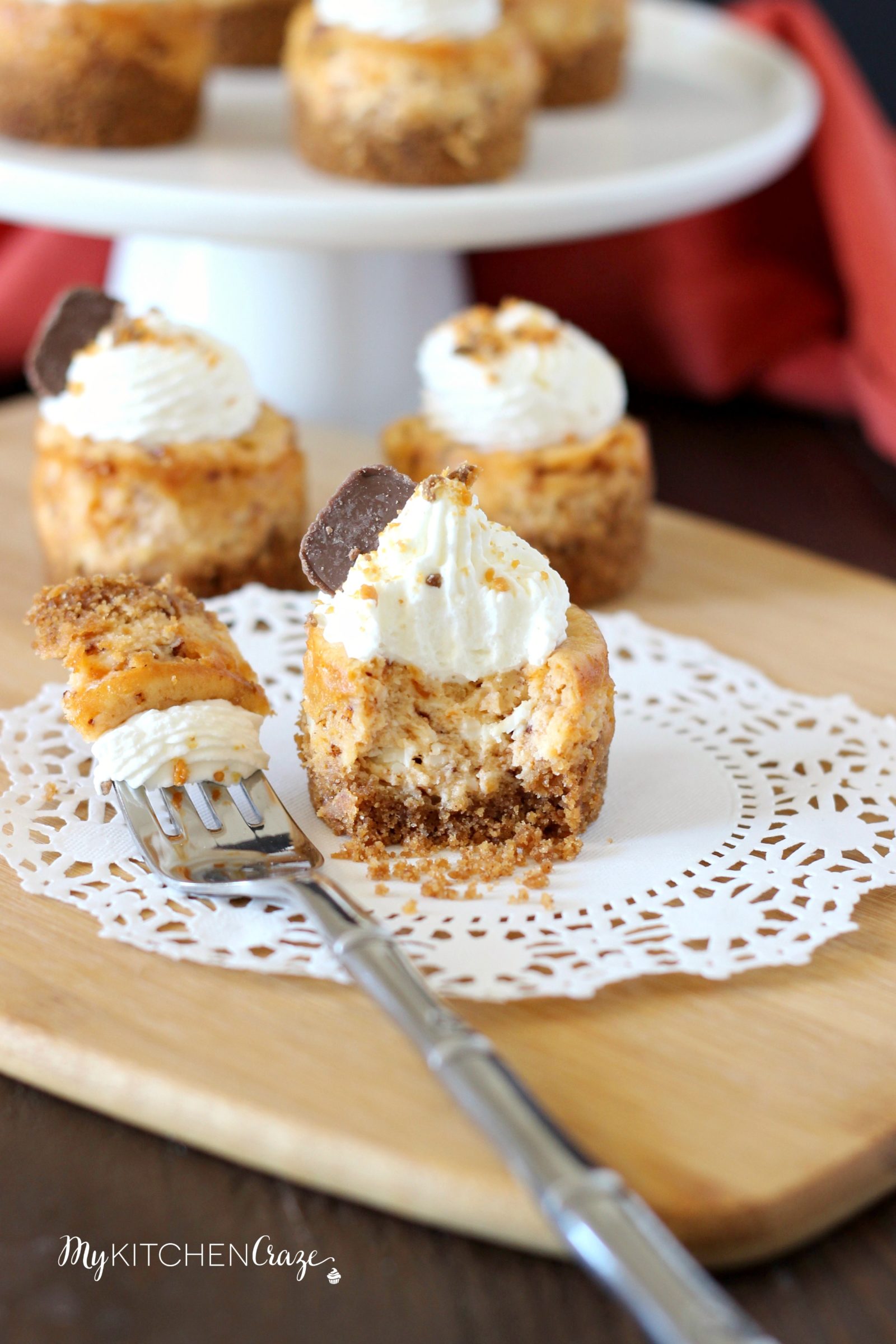 I used my go to mini cheesecake recipe, then processed some of the Fun-Size Butterfinger candies. Added those to the cheesecake mixture, baked them, let'em cool, added some homemade whip cream, sprinkled some more Butterfingers on top and added a Butterfinger Peanut Butter Cup Mini. Wha-la you have yourself some very cute mini cheesecake and trust me when I say they're delicious! Plus they're great for any parties too.
Be sure to stock up on some candies this year so you can bake these yummy mini cheesecakes. You can get some delicious Butterfinger recipes on the Butterfinger Pinterest page too. What's your favorite way to enjoy Butterfingers in a recipe? I'd love to hear your ideas!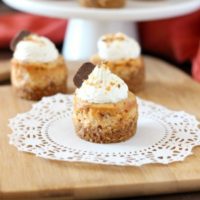 Get the Recipe:
Mini Butterfinger Cheesecakes
Ingredients
Crust:

1

cup

graham cracker crumbs

,

about 1 sleeve

2

tablespoon

sugar

1

teaspoon

cinnamon

4

tablespoon

butter

,

melted

Cheesecake:

2

packages cream cheese

,

softened

½

cup

sugar

½

teaspoon

vanilla

2

eggs

4

Butterfinger Fun-Size candies

Whipped Cream:

1

cup

heavy whipping cream

3

tablespoons

powered sugar

garnish: crumbled Butterfinger Fun-Size candies and Butterfinger Peanut Butter Cup Minis
Instructions
Preheat oven to 350 degrees F. Lightly spray cheesecake tray with non-stick cooking spray or line 18 muffins slots with cupcake liners; set aside.

In a food processor pulse crackers into fine crumbs. Add to a medium bowl. Add in sugar and cinnamon, mix throughly. Add melted butter and mix until crumbs resemble fine sand mixture.

Add a heaping tablespoon to mini cheesecake trays or lined muffin trays. Press mixture down with the back of the tablespoon. Bake 5 minutes; set aside until ready to use.

Lower your oven temperature to 325 degrees F.

Place Butterfingers Fun-Size in the food processor and pulse until the candies are small chunks. You don't want them to big or the cheesecake won't hold together.

Using a stand mixer, add the cream cheese and mix until smooth. Ladle sides as you go along. With the mixer on a slow speed, add the sugar and the eggs one at a time, making sure each egg is incorporated. Lastly add the vanilla extract and ladle in the crushed Butterfingers.

Spoon cream cheese mixture onto the graham cracker crust and bake 15-18 minutes, or until set.

Let mini cheesecakes cool completely on a wire rack, then add them to the refrigerator. Keep them in the fridge for a minimum of 4 hours or overnight.This will let them set up nicely.

Once set, remove them from the cheesecake tray or muffin tray. Remove the wrappers also.

Pipe the whipped cream on top of each cheesecake and garnish.

Serve and enjoy!
Notes
** Make sure to keep these cheesecakes refrigerated when not eating. They will keep in an air tight container for 3 days.**