Pasta E Fagioli Soup
Pasta E Fagioli Soup is a traditional Italian recipe that means pasta and beans. This dish is a heartwarming Italian soup filled with beans, tomatoes, pasta and spicy black bean burgers chopped into pieces. Perfect for meatless Monday's and a chilly night.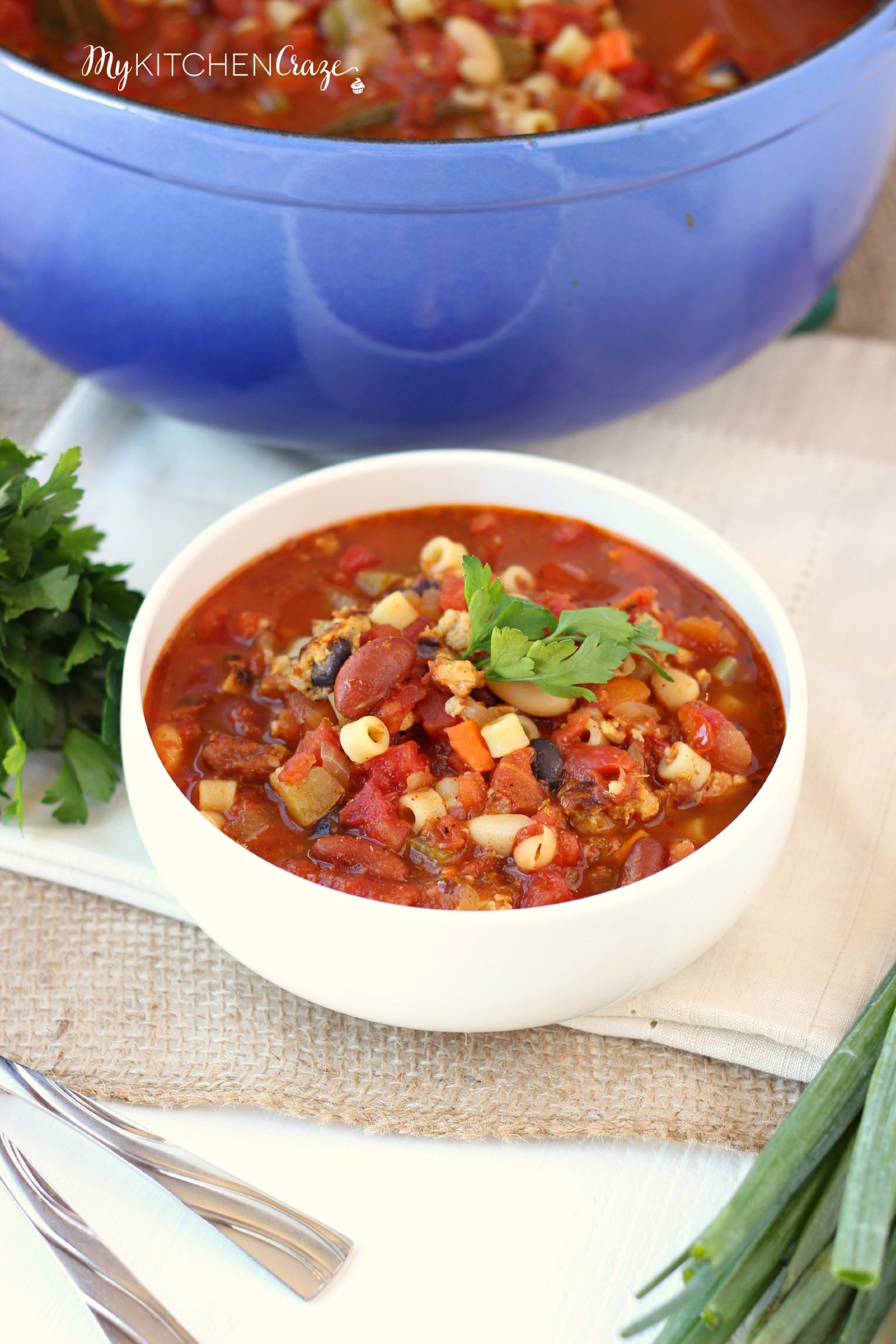 Holy moly guys it's cold in Las Vegas. I knew that it would get chilly, but I wasn't planning on it getting this chilly this early. First off I should apologize. I'm one of those girls that will complain about the weather, then when we actually get the weather I've wanted for months on months, I complain about that as well. I want to say it's a girl thing, but I'm not sure other girls do this.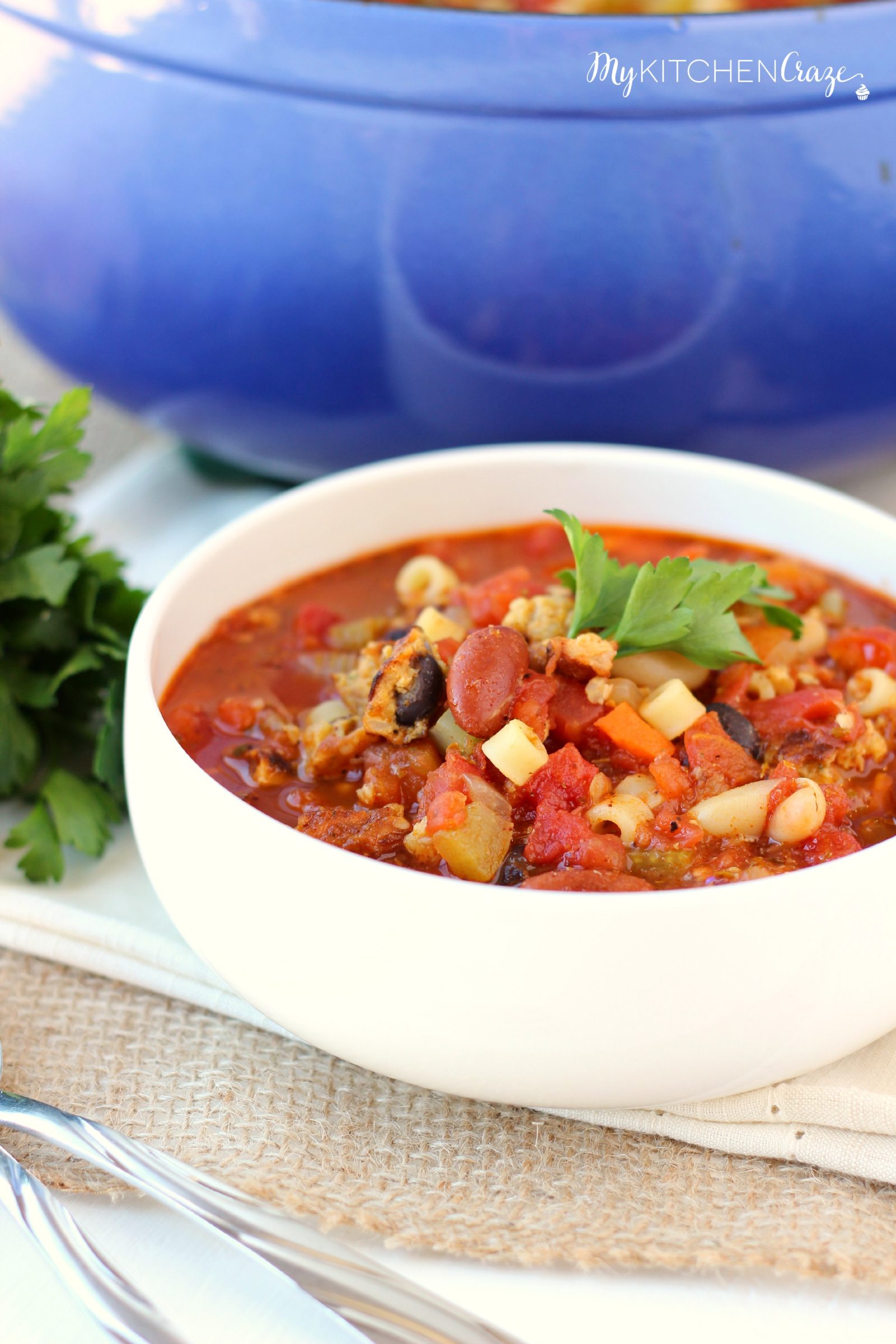 One of the reasons I hate the weather dropping so quickly is because it's inevitable that someone in the house will get sick. Enter my 7-year-old daughter. She then drinks out of my water cup, cuddle with me in bed and shares my food. Can you guess who gets sick then?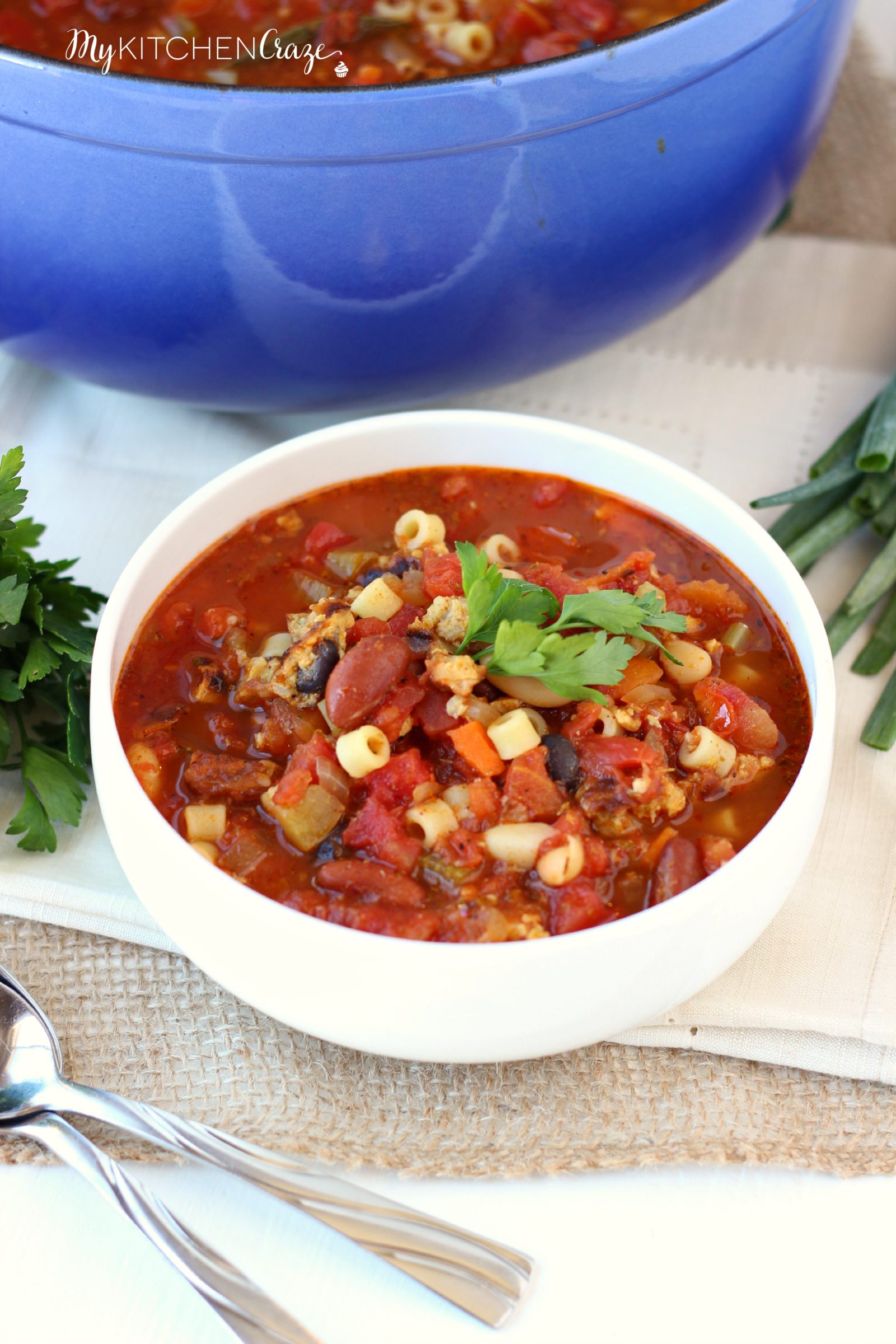 Yep you guessed right. ME. Ugh I hate being sick. Not only does it suck, but how in the world can the family function. My husband is the first to say that the house is ran and controlled by me. I make sure  the daily tasks get done and I try to make sure we have some sort of meal on the table by 5pm, then we go to bed and start all over the next day.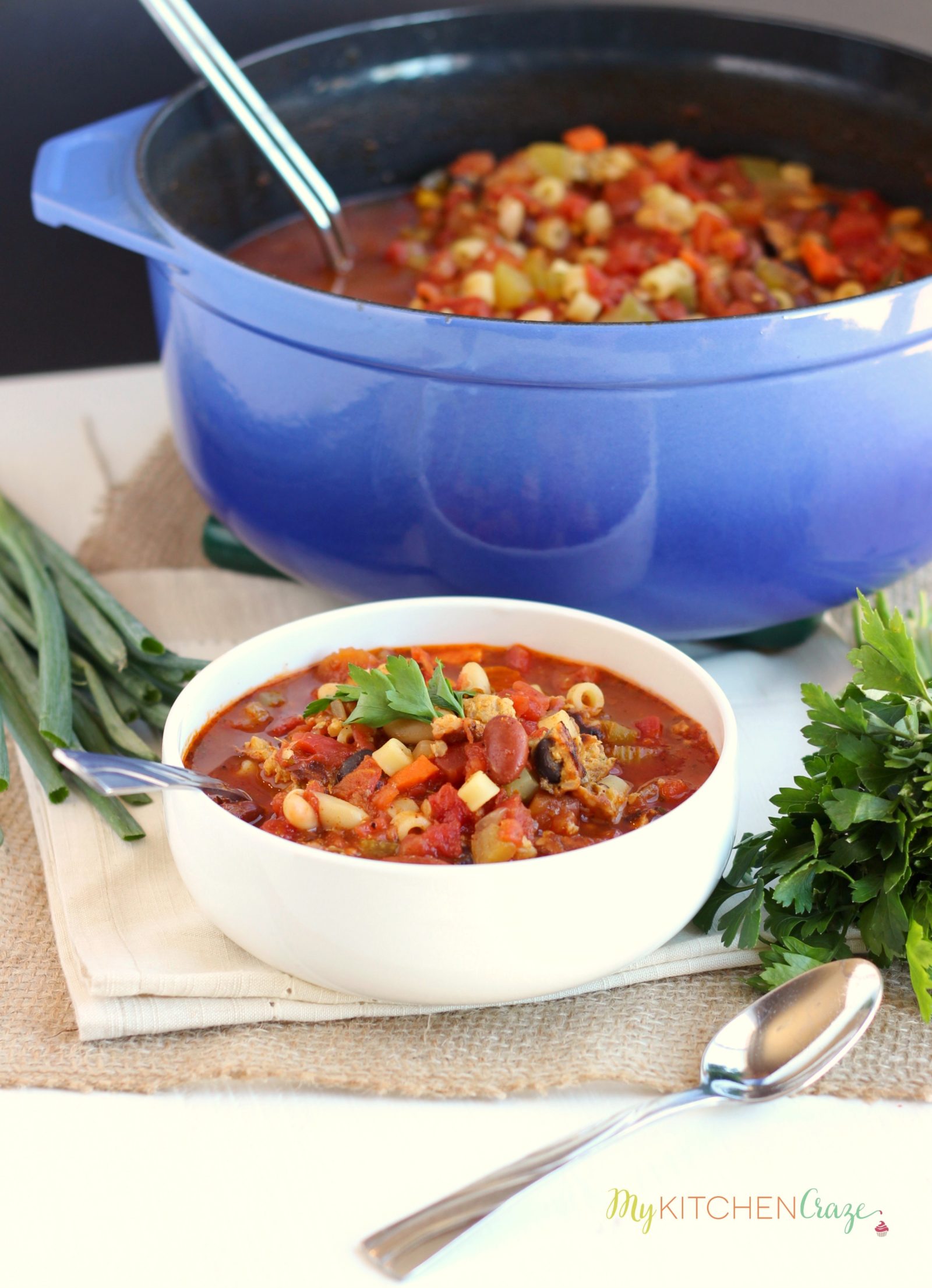 One day last week while running a fever, I told myself that I was going to drop the kids off to school, then run to Target and get my shopping done. I wanted to rest while every one was out of the house.
While I was in the freezer isle at Target, I saw Morning Star Farms huge assortment of foods. They have a ton of meatless meal. Their meals can make your dinner prep so much easier and quicker. Plus it taste amazing!
My hubby's a huge meat eater, but there are times that I just don't feel like dealing with meat. Sometimes I want quick and easy, especially when you're under the weather. That day at Target I grabbed the Spicy Black Bean Burgers. I instantly knew I needed to make a soup recipe because duh, everyone needs soup when they aren't feeling well. But I also wanted to have that deep rich flavor of an Italian soup and these burgers were the perfect addition. The taste is out of this world. The burgers can be used in so many different recipes.
When we were sitting down for dinner that night, I said something to my husband after the fact about the Morning Star Farms Spicy Black Bean Burgers. He just looked at me and thought I was lying. Ha! Once I told him what I did, he was shocked how good the soup tasted and said we need to try out more Morning Star Farms items. YES!! This was a huge win in my book. Plus the soup turned out delicious and made me feel so much better!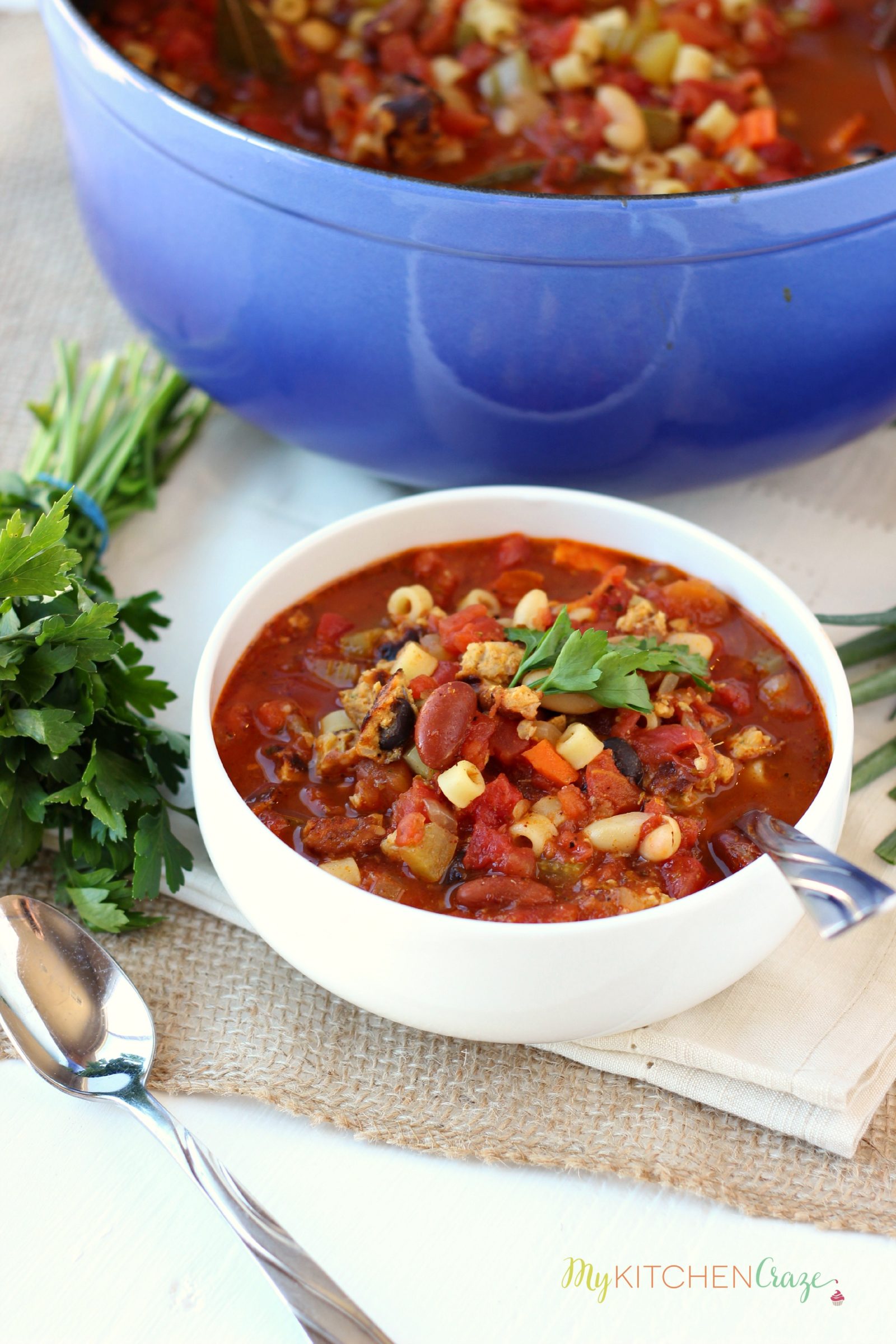 So if you're under the weather, or it's chilly outside, or you just want a quick easy supper, then you need to make this. This recipes is literally a throw in the pot and walk away kind of meal. Be sure to check out more delicious recipes at Morning Star Farms. I'd love to hear about your favorite Morning Star Farms recipe!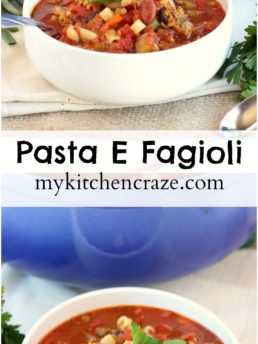 Get the Recipe:
Pasta E Fagioli Soup
Ingredients
1

tablespoon

olive oil

1

medium onion

,

chopped

2

bay leaves

1

teaspoon

cumin

2

tablespoons

oregano

1

tablespoon

salt

2

stalks celery

,

chopped

1/2

cups

carrots

,

chopped

1

green bell pepper

,

chopped

3

cloves

garlic

,

minced

2

28 ounce cans diced tomatoes, undrained

4

cups

low-sodium chicken stock

1

tablespoon

chili powder

1/2

tablespoon

black pepper

1

15 ounce light kidney beans

1

15 ounce cannellini beans

1/2

cup

dry small pasta

5-6

Morning Star Farms Spicy Black Bean Burgers

,

chopped into pieces
Instructions
In a large dutch oven or stock pot, add olive oil and warm to medium high heat. Once oil is hot, add onion, bay leaves, cumin, oregano and salt. Cook until onion is translucent and tender.

Add celery, carrots and bell pepper and cook until tender. Add garlic and cook an additional 30 seconds.

Mix the tomatoes, chicken stock, chili powder, black pepper, kidney beans and cannellini beans. Bring to a simmer. Cover and cook at medium-low heat for 20 minutes.

While the soup is simmering, cook pasta according to the pasta package. Also cook the Morning Star Spicy Black Bean Burgers according to their box directions. Once the burgers are warmed, cut into small pieces.

Add the pasta and burger pieces to the soup and mix.

Serve and Enjoy!