Pecan Pie Bars
Pecan Pie Bars are easier to make and serve than traditional pecan pie. Perfect for holidays or an any time treat!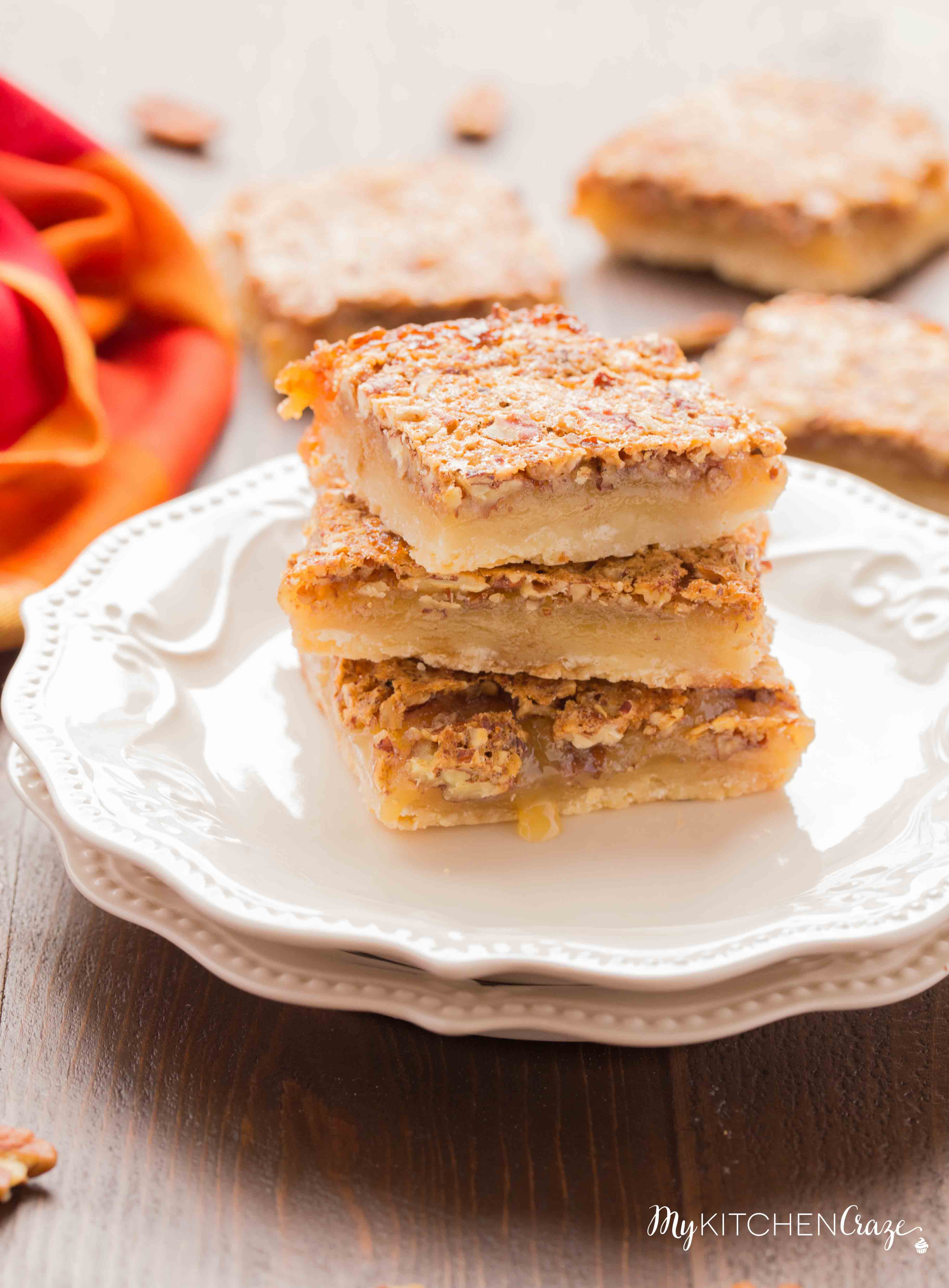 Can you believe we're in the midst of November already? Time's flying by. When I was growing up there was always a pecan pie and pumpkin pie. I'm not sure who'd make them, but they were always there. I just assumed that grandma or one of my aunts made them. My mom always said she was horrible at making pies, so she left it to others. Mom's the master of fudge. She makes the best fudge ever!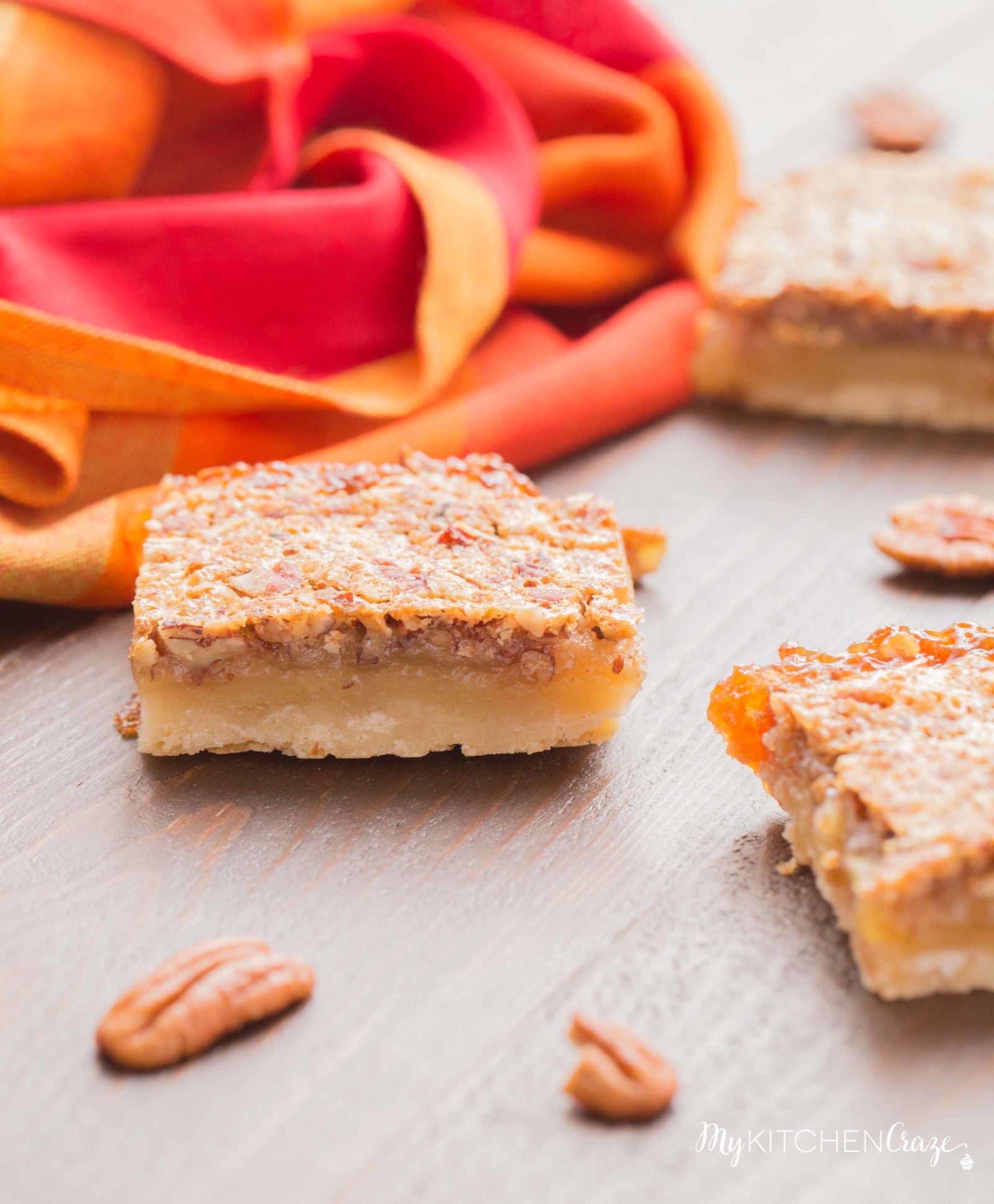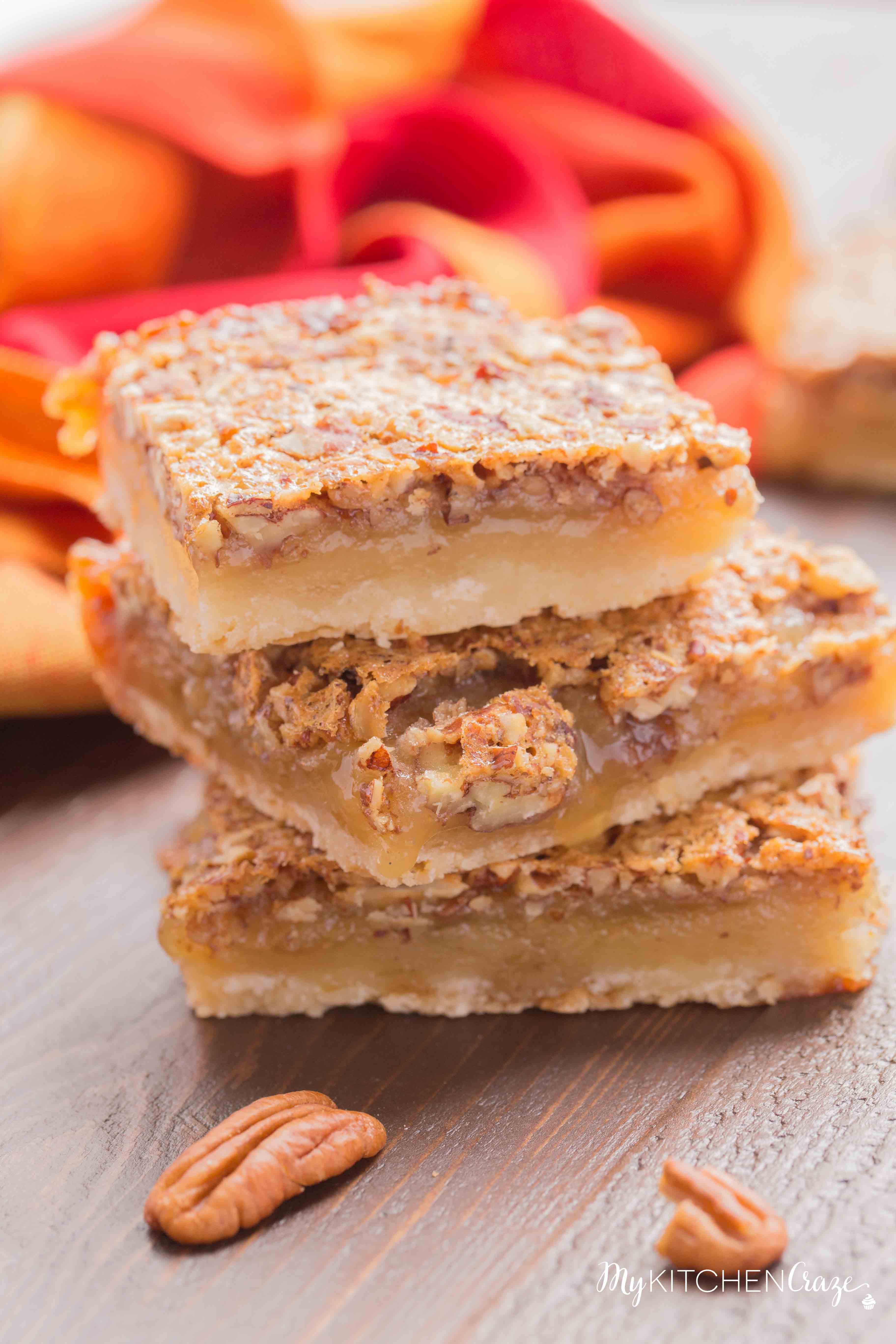 With her not making any of the yearly pies, no one ever taught me how to make one. Fast forward 20 something years and I still don't make pies. It's not from the lack of trying. I've tried numerous times and sometimes they turn out amazing and sometimes they flop. I feel like they're never perfect. J
You know that saying, "If at first you don't succeed, try and try again!" Well, when comes comes to pies, I have and I'm still get frustrated! So when it comes to pies and me making them, put a fork in me….I'm done! Pun totally intended! So what comes next you ask, let's talk bars.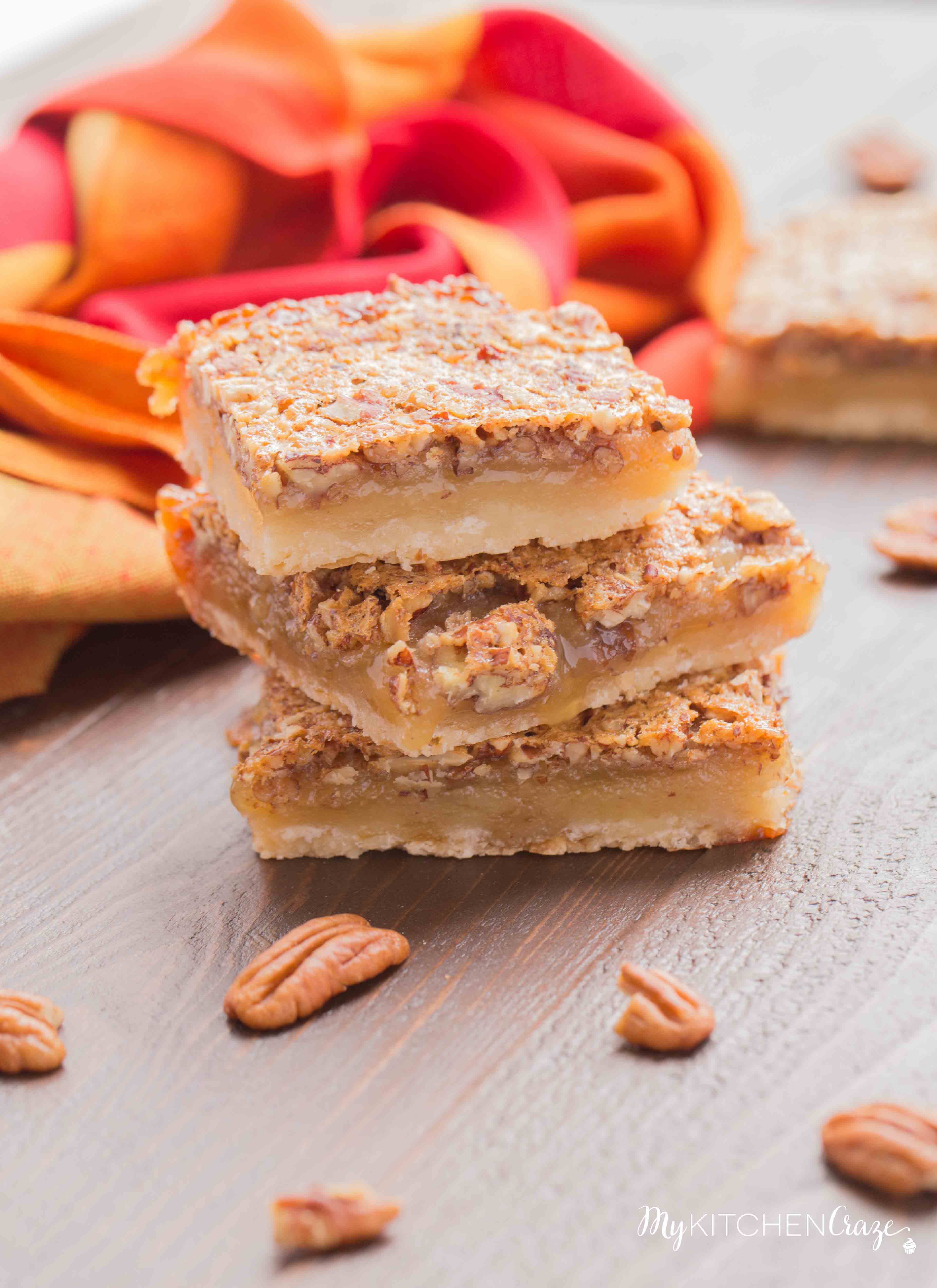 Since I felt like I couldn't make a pecan pie and pecan pies are my favorite pie of all times. I knew I needed to make some pecan pie bars. Now bars are my thing. I can make those no problem. Dare I say I like bars more than cookies?
I played around with a few recipes and came up with bars that tastes just like a pecan pie. Sean told me that he would prefer these then a regular pecan pie and I completely agree with him. They are so delicious!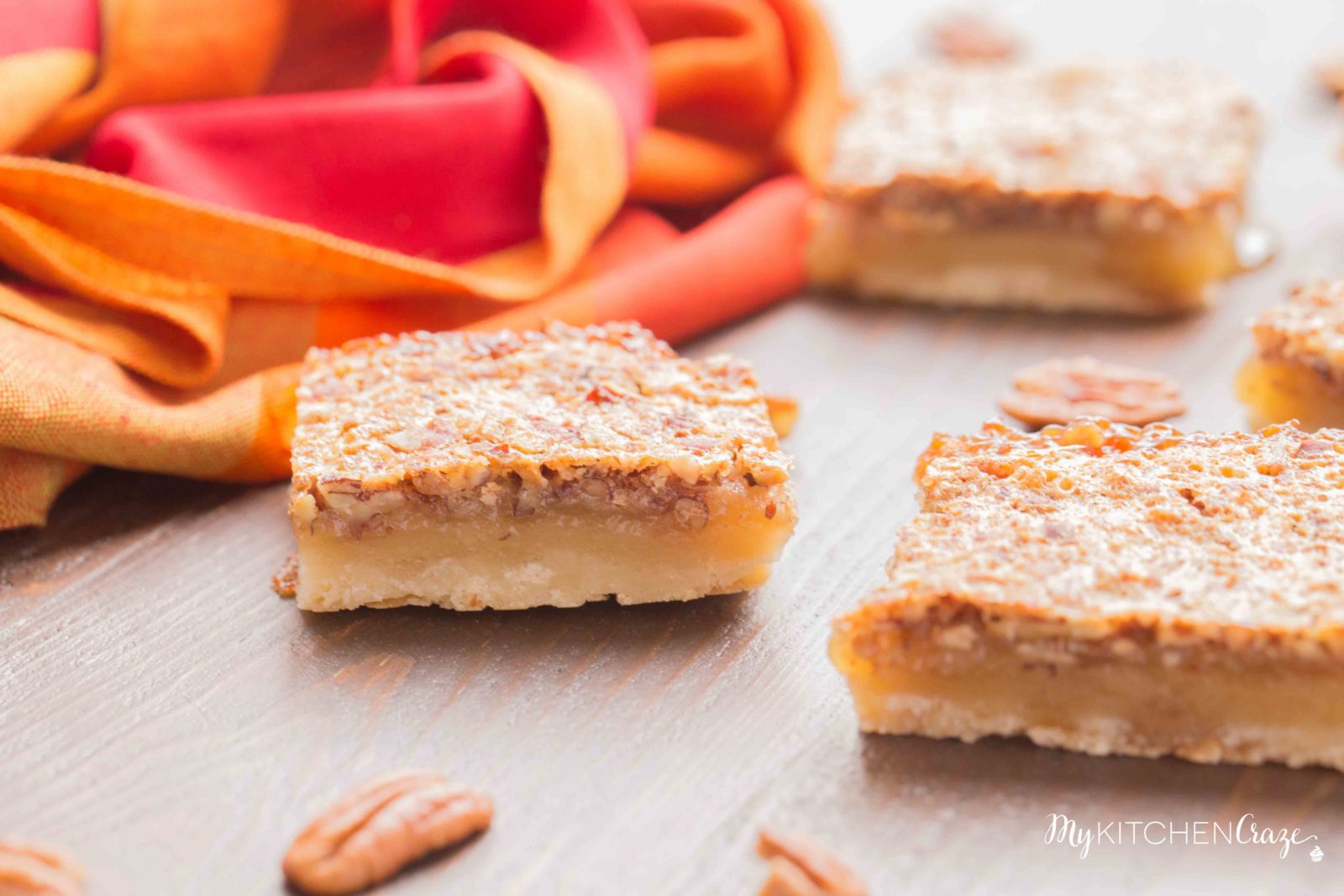 You guys, these bars are so good! They have a ooey gooey center just like pecan pie and a crust that's crumbly and buttery. YUM! This recipe makes a big batch, so it's perfect for Thanksgiving day, a potluck or any time you want to feed a crowd.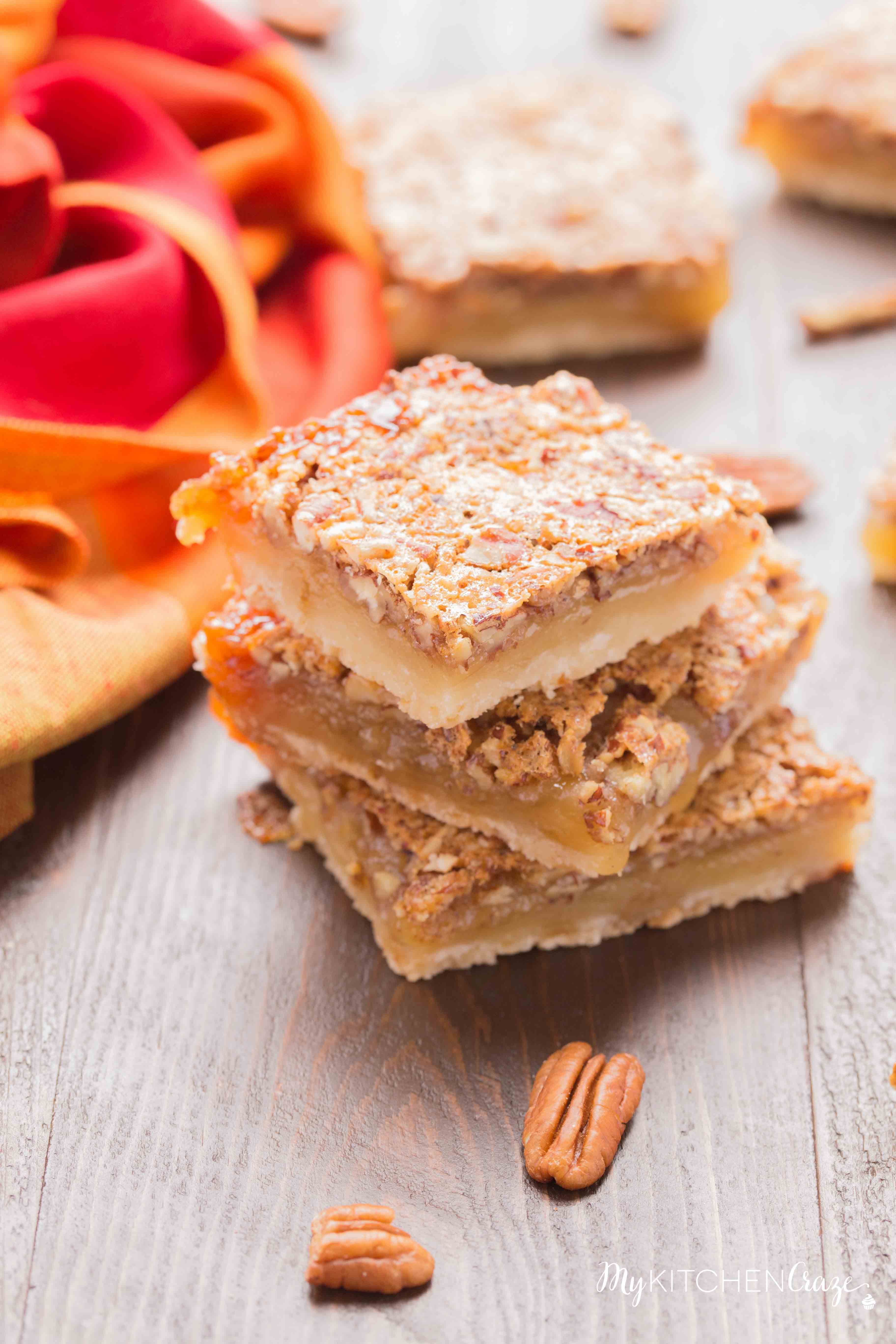 I do wish I would have made some homemade whipped cream for these bars. A nice size dollop on each square would have been great. Don't get me wrong, they taste perfect without it, but who can beat homemade whipped cream. I hope you make these soon. You're going to love them and have a stress-free pie eating day!
THIS POST FIRST APPEARED OVER AT THE WEARY CHEF WHERE I'M A CONTRIBUTOR! HEAD OVER TO SEE WHAT ANDI'S COOKIN UP!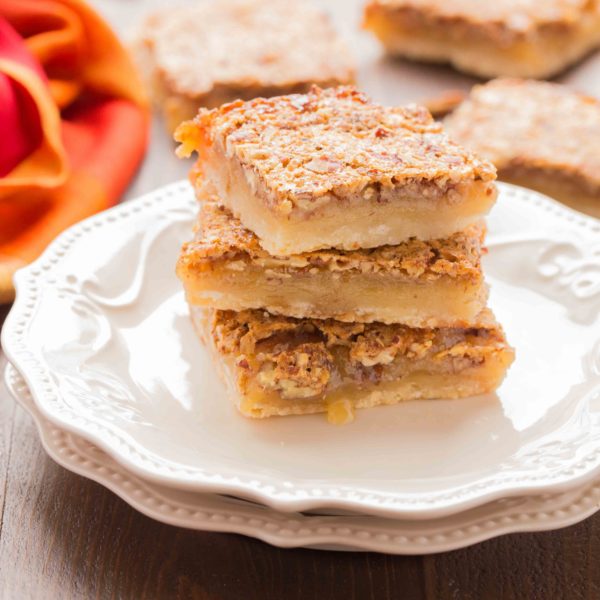 Get the Recipe:
Pecan Pie Bars
Ingredients
Crust:
2

cups

all-purpose flour

1/3

cup

sugar

1/4

teaspoon

salt

¼

teaspoon

cinnamon

3/4

cup

cold butter

,

cubed
Pecan Filling:
4

eggs

1-1/2

cups

corn syrup

1-1/2

cups

sugar

3

tablespoons

butter

,

melted

1-1/2

teaspoons

vanilla extract

2-1/2

cups

chopped pecans
Instructions
Preheat oven to 350 degrees F. Grease 10x15 jelly roll pan with non-stick cooking spray; set aside.

In a large bowl, mix flour, sugar and salt. Cut in cold butter until mixture resembles pea sized crumbs. Press into a prepared jelly roll pan.

Bake 20 minutes, until the edges are lightly golden brown.

For the pecan filling, whisk the eggs in a large bowl. Once whisked add the corn syrup, sugar, melted butter and vanilla. Stir in pecans.

Spread filling over the hot crust.

Bake 25-30 minutes longer or until filling is set (you might want to place another pan under your bars in case some of the liquid spills over).

Cool completely in pan on a wire rack. Cut into bars.

Serve & enjoy!