Cranberry Magic Bars
Enjoy these delicious crumbly Cranberry Magic Bars for any occasion. A classic twist on magic bars, these bars have a crumbly crust, are filled with fresh cranberries, condensed milk, white chocolates and of course some flaked coconut. These bars will knock your socks off. They are that yummy!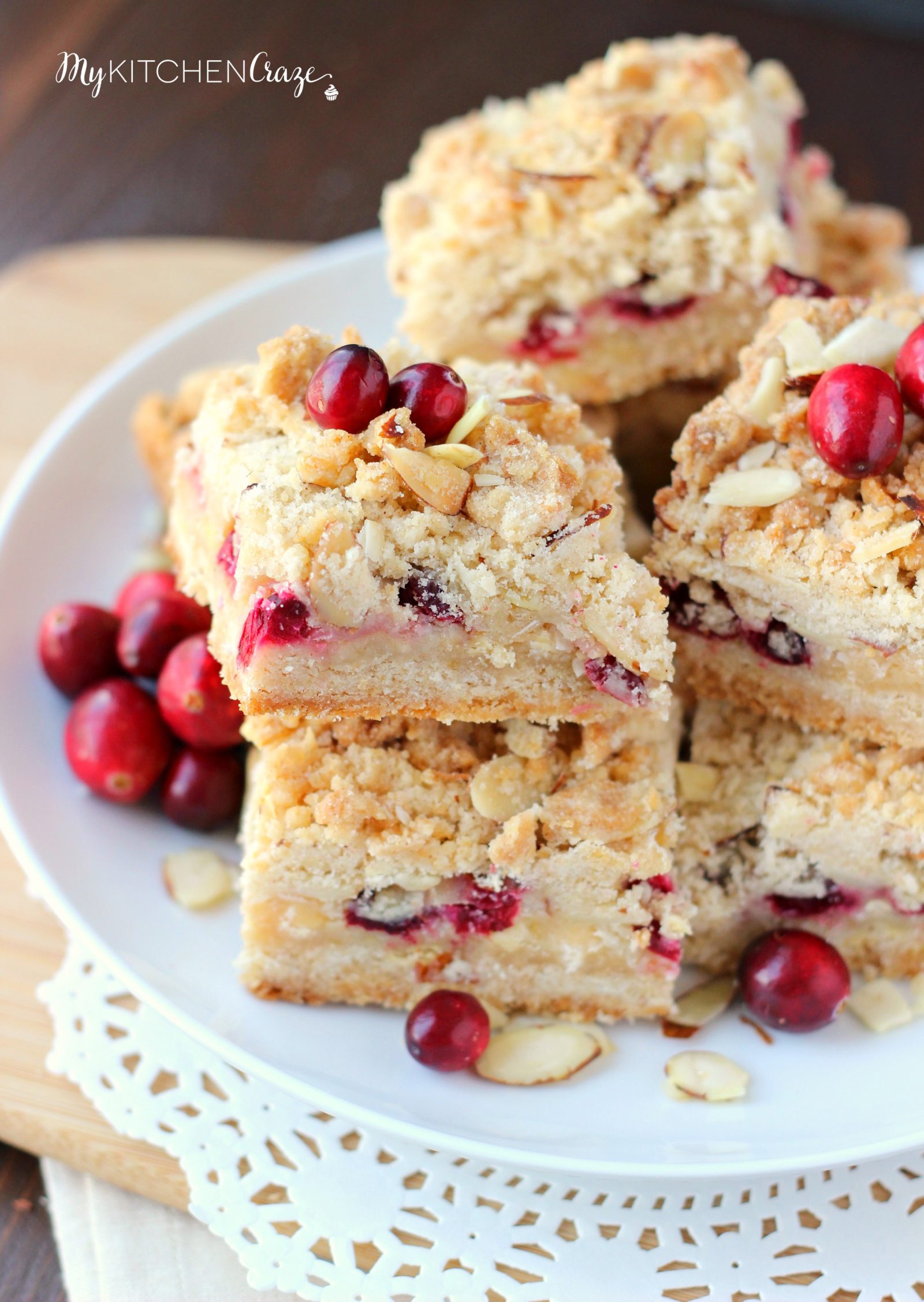 Just because the holidays are over doesn't mean we can eat cranberry. Right? Why are cranberries only available during the holidays? I know that they are a seasonal fruit, but why do we feel like they're only for Thanksgiving and Christmas? Well I'm living out of the box and making cranberries desserts during the non-holiday time.
Ooooh I feel like such a dare-devil. I actually made these delicious crumbly bars for my hubby's boss's birthday. Since we just moved and he started working for a new company, no one at his new office knows about the blog yet. They have no clue how many desserts they will be getting in the coming months.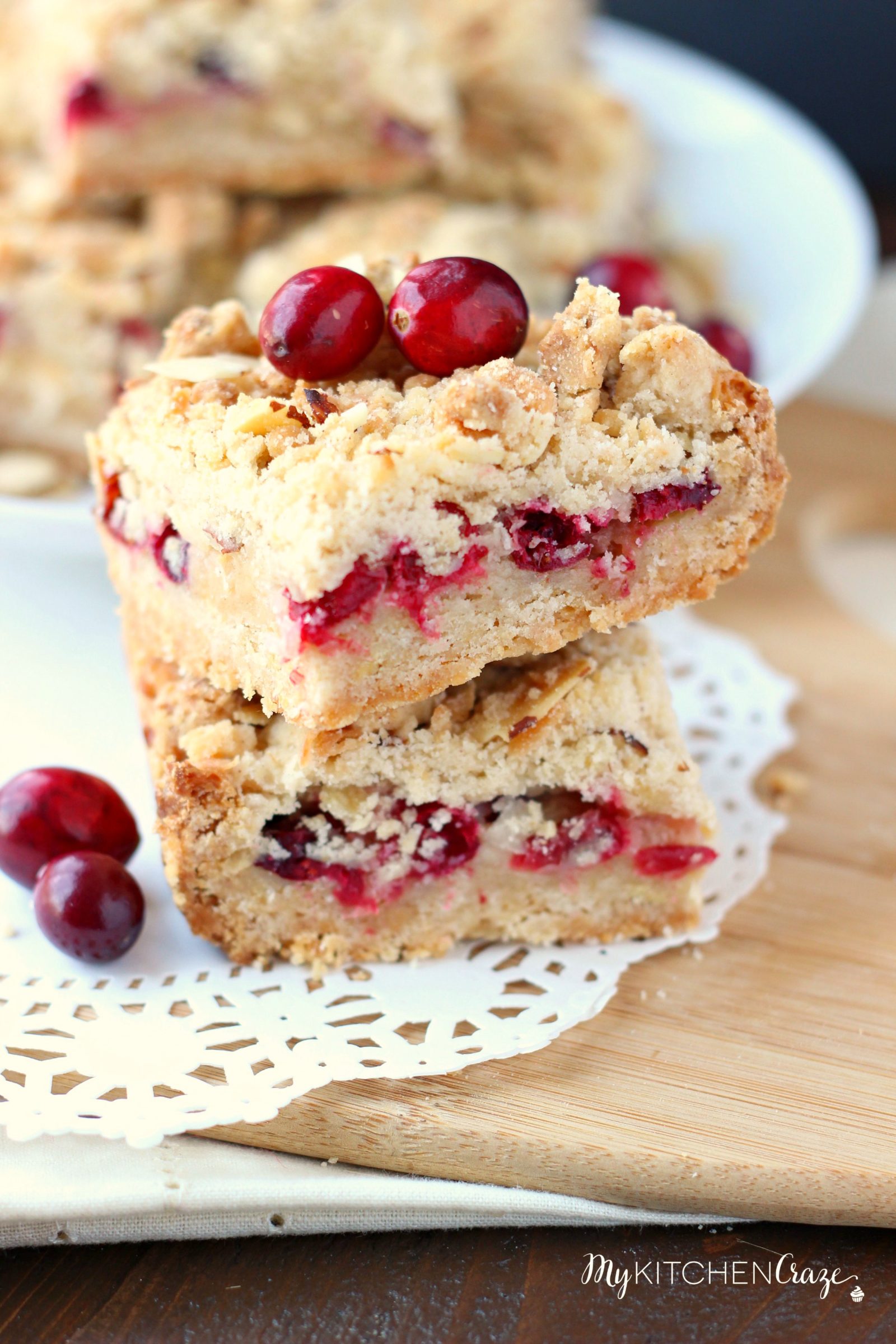 It was actually really cute this past Christmas because Sean's old boss ended up texting him that they really were missing my holiday goodies this year. Awww!! Totally melted my heart and made me want to go out there and make some desserts for them. To bad I'm 4.5 hours away. But when Sean told me that it was his boss's birthday, I knew I needed to make something for her.
I needed to show this work what was up with My Kitchen Craze's desserts. Hehe. Just kidding. I just really wanted to do something nice for his office. I had recently just bought three bags of cranberries and knew that I needed to make some sort of bar recipe.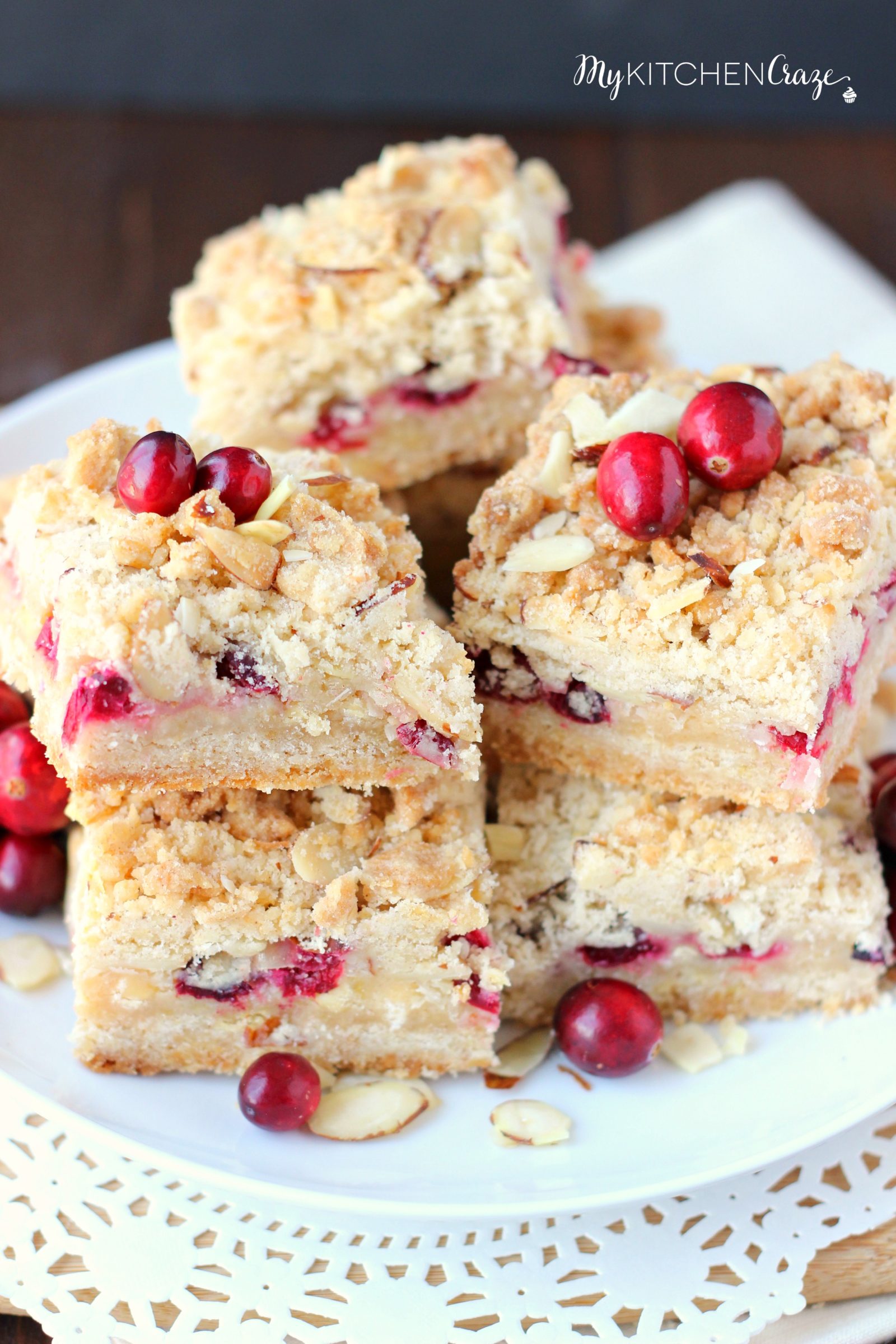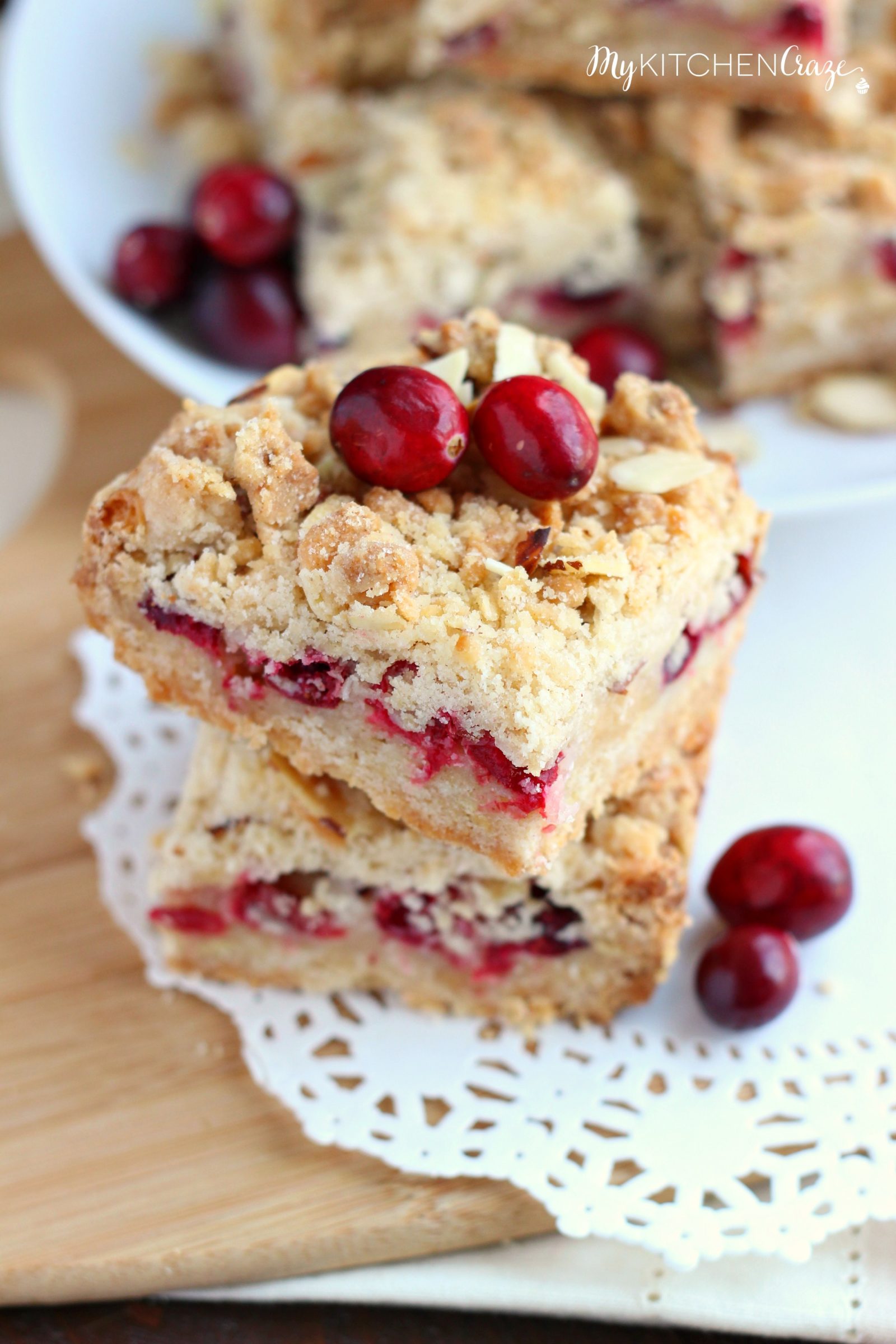 Bars are such an easy dessert and are perfect for Sean's work. You don't need forks or plates and they aren't to messy. I knew that I wanted some sort of magic bars, but I wanted to incorporate some fresh cranberries.
You guys these bars turned out so good, I can't even tell you. Sean's boss thought they were so good that she ate 5 pieces all by her self. She even texted Sean that night saying she was wishing she saved a couple for the next day. The white chocolate chips and coconut give these bars a sweet texture that mixes well with the tarty cranberries.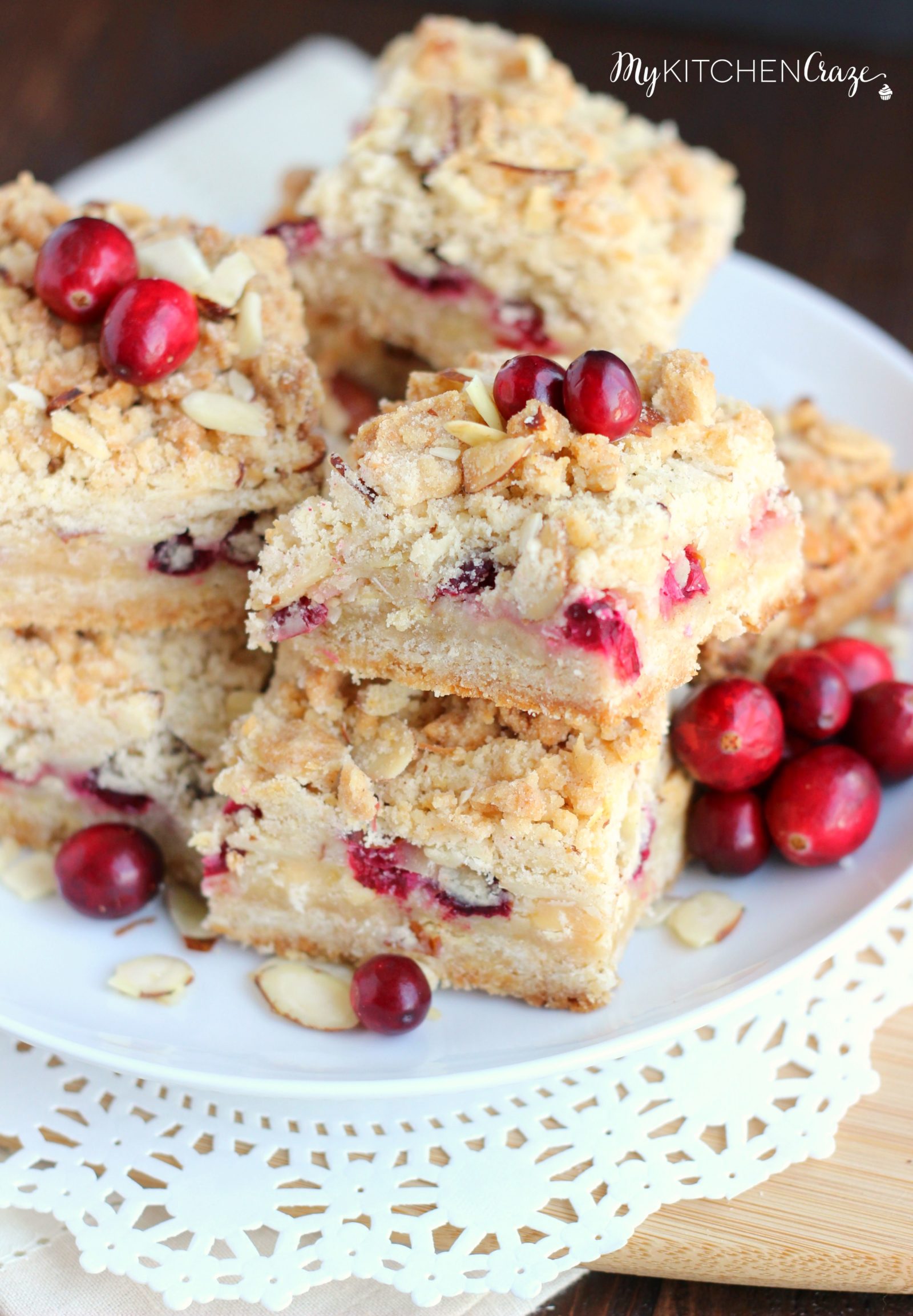 These bars are just so good that you won't want to wait until next holiday season to make them. I suggest you get to your local grocery store soon and buy some fresh cranberries. Not sure if you know, but cranberries freeze very well. I actually always buy 3 bags and normally freeze one or two. I'm sure you could use frozen cranberries, but I would recommend thawing them out and draining any excess liquid. You don't want soggy bars. Not fun.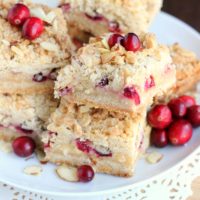 Get the Recipe:
Cranberry Magic Bars
Ingredients
Crust:
1

cup

sugar

1

teaspoon

baking powder

3

cups

all-purpose flour

3/4

teaspoon

cinnamon

1

egg

,

lightly whisked

1/4

cup

sliced almonds

1

cup

2 sticks butter, cold and cubed
Filling:
3/4

cups

white chocolate chips

1

cup

fresh cranberries

1/2

cup

sweetened condensed milk

1/2

cup

sliced almonds

1/2

cup

shredded coconut
Instructions
Preheat oven to 350 degrees. Line a 9x9 baking dish with parchment paper. If your parchment paper isn't sticking, you can lightly spray some non-stick cooking spray between the baking dish and parchment paper and that will help it stick.

In a large bowl add the first six ingredients and mix well. Using your hands or a fork, add the cold butter and mix until crumbly and coarse. Pour and press half of the crust mixture into the prepared baking dish. Bake for 10 minutes, or until set.

Once the crust is done setting gently spread the filling ingredients over the crust. Crumble the remaining crust mixture over the top.

Bake 40-50 minutes, or until set and lightly browned.