Bruschetta Chicken
Bruschetta Chicken is one of those meals you'll be glad to have on hand. You can eat it weekly and never tire of it. Made within minutes and bursting with flavor, you'll be glad that you made this delicious recipe.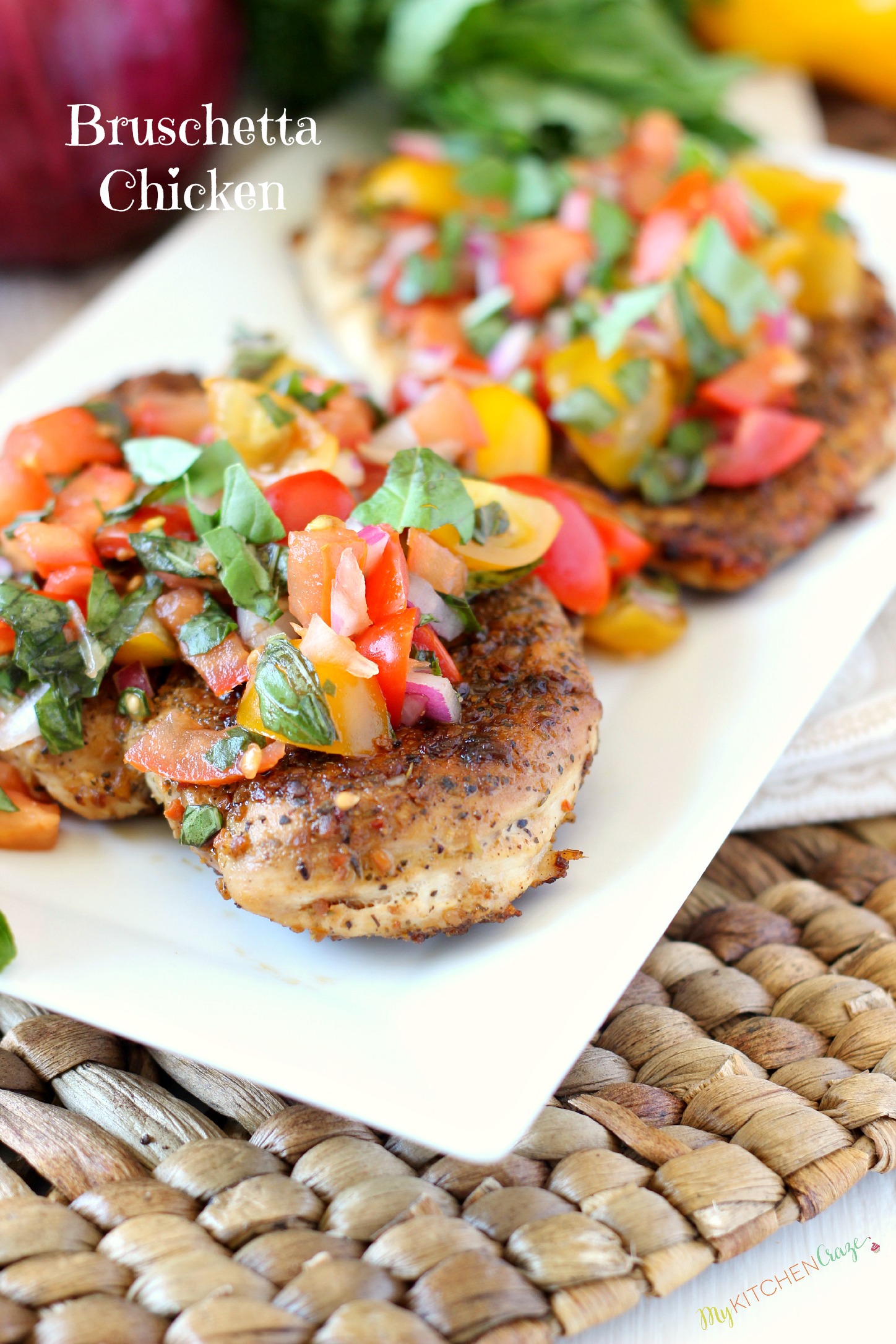 I love chicken. What's there not to like, right?
It's easy to prepare and you can use it in a million different recipes. You can shred chicken, cube it, grill it, boil it and the list keeps going and going. I think you get the point.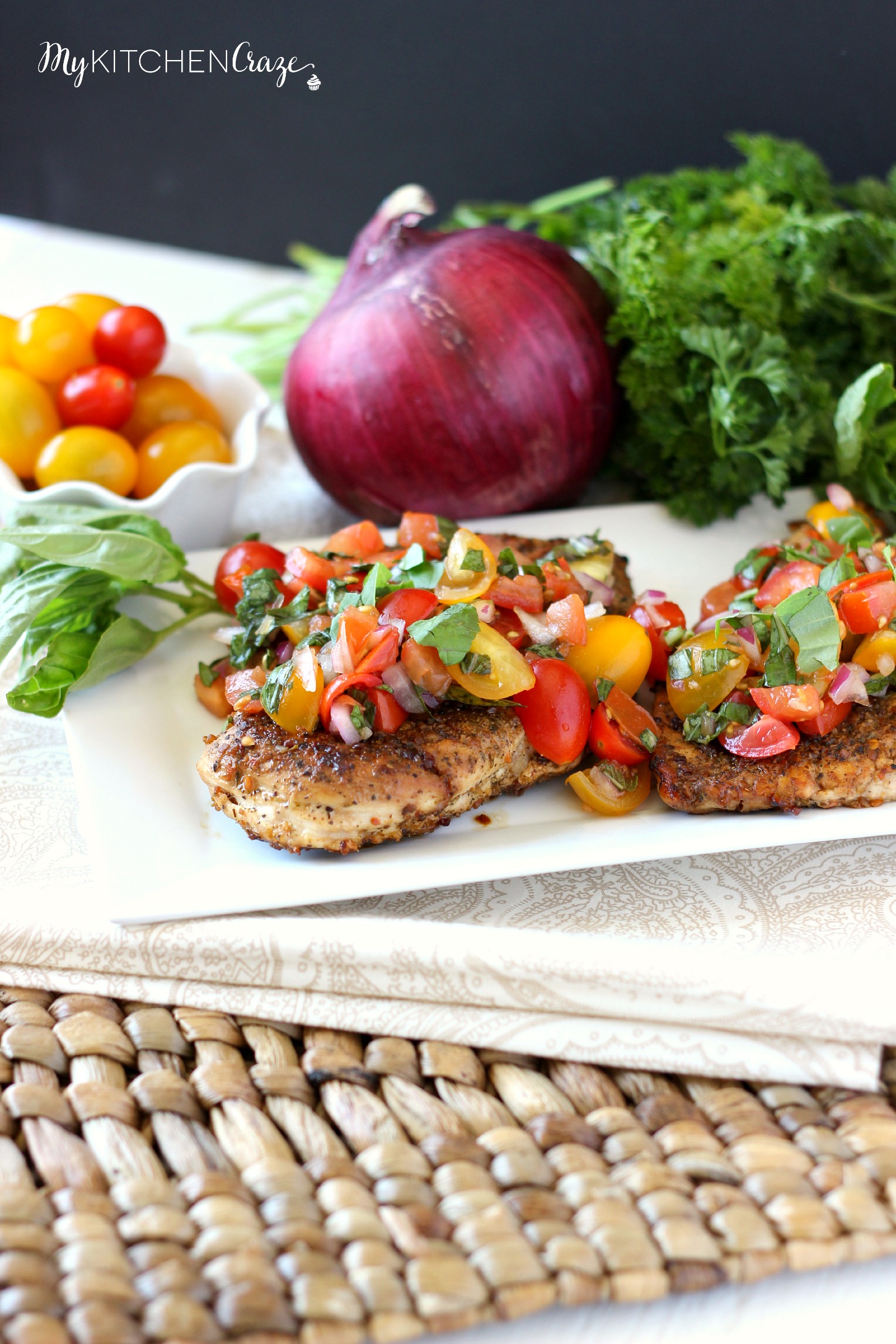 But, I also get very sick of eating the same ole' boring chicken recipes. When I was preparing my grocery list last week, I knew I needed to come up with something yummy to satisfy my dinner cravings. Yes, ever since I started this dreadful diet, I crave, dream and think about food 100% of the time. The struggle is real my friends. Hehe.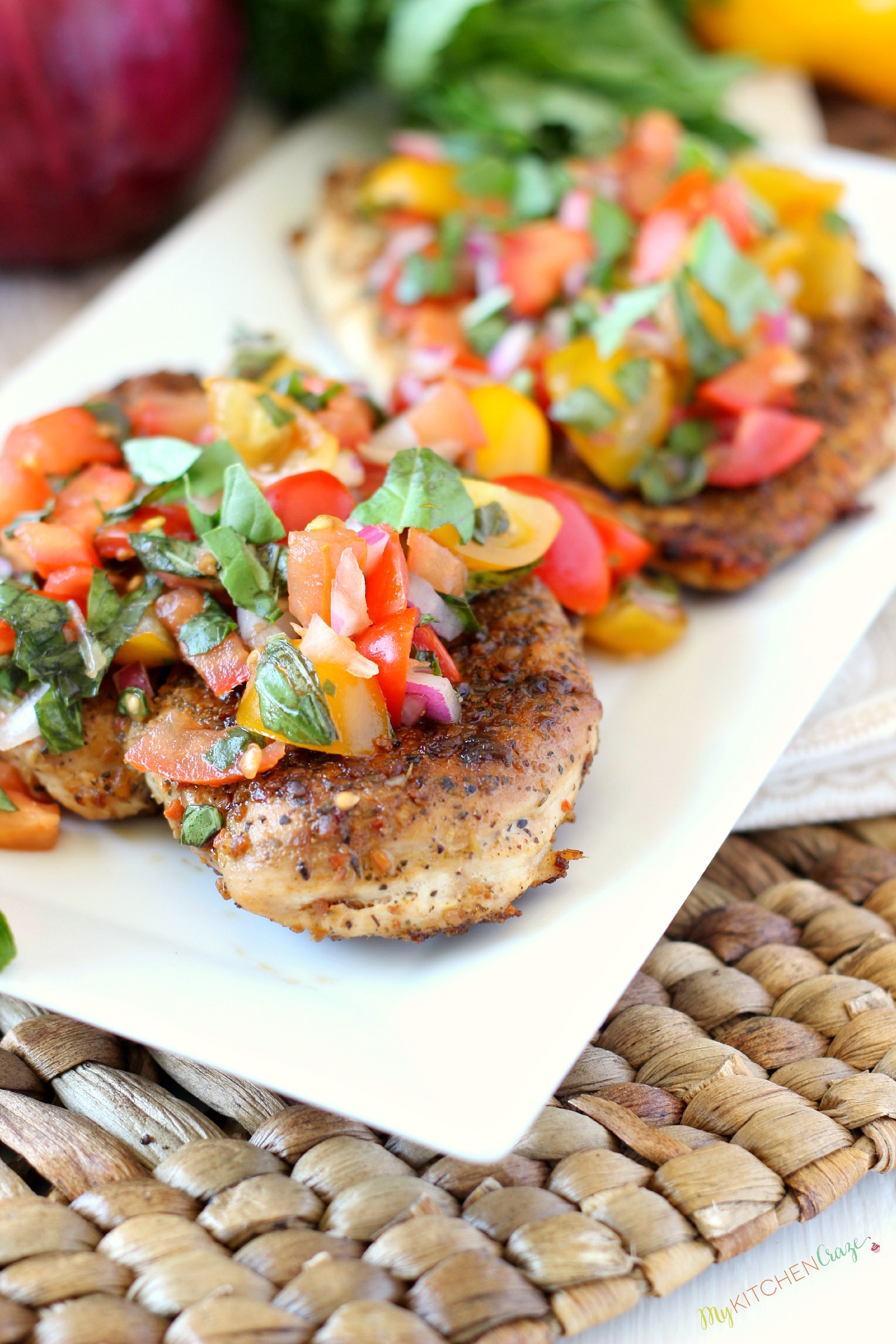 I wanted something flavorful, but also very low-calorie. I wanted to save my calories for the pasta salad I made (recipe coming soon), so I knew I had to stay away from heavy sauces. The problem with chicken is, unless you marinated it in a sauce or you slather BBQ sauce on it, it can be very bland. In my opinion anyway.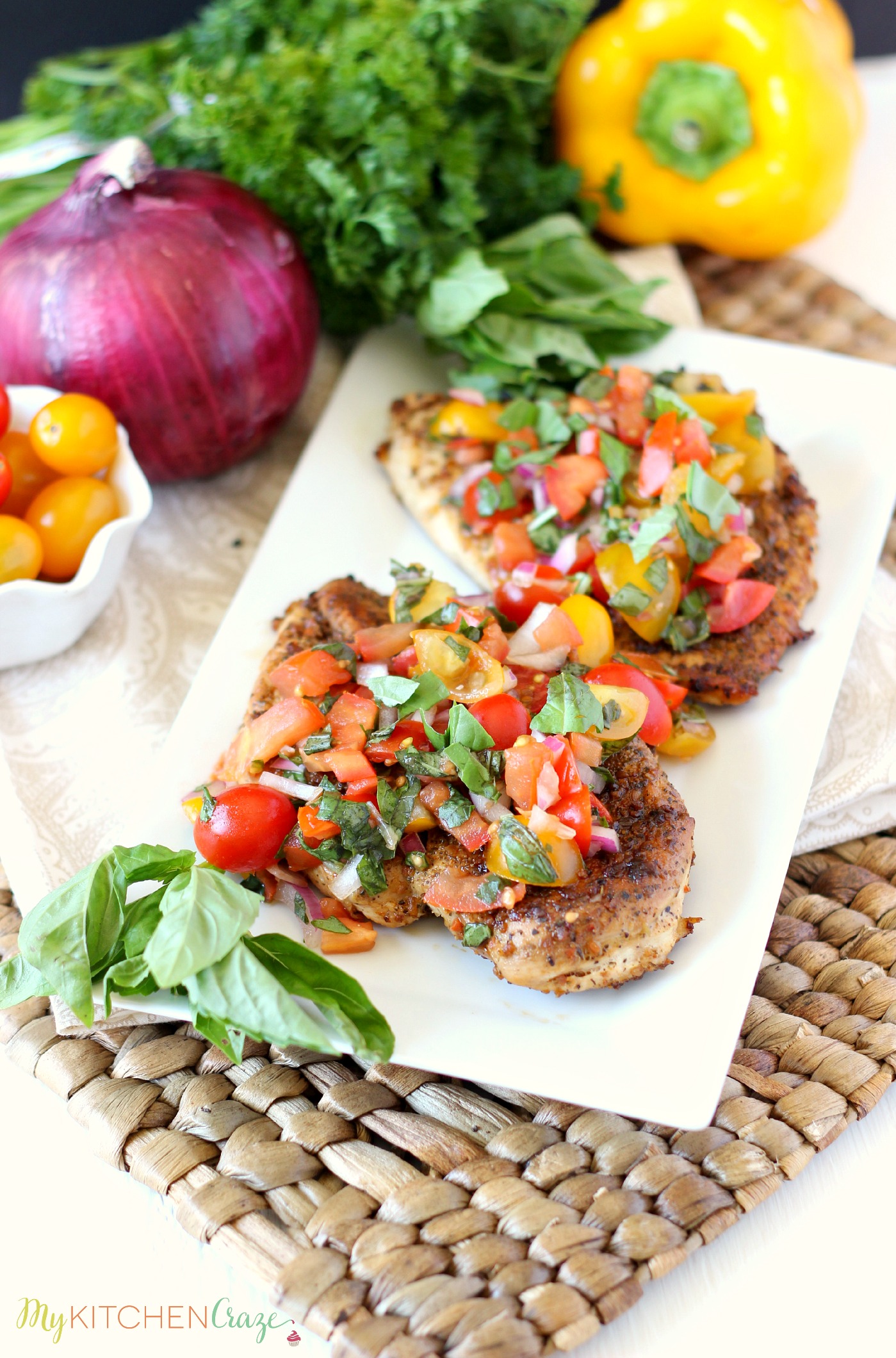 I wanted a salsa of sorts. Something you could top the chicken with. Something fresh, but also darn tasty too. Well, I got my answer when I was at the grocery store that day. I saw these cute little baguette slices and thought ooooh bruschetta.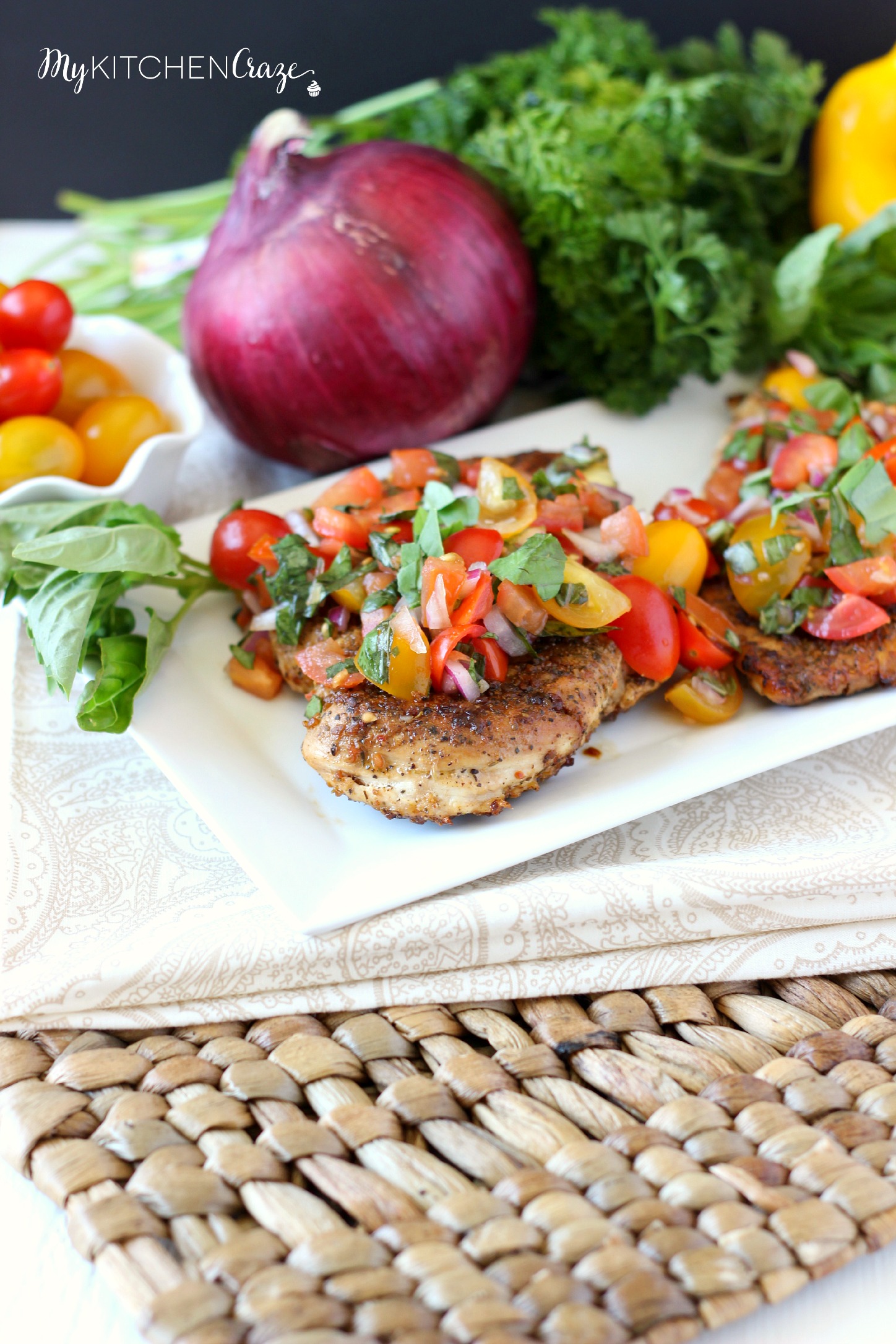 My internal lightbulb went off and I knew I needed to make Bruschetta Chicken. You guys. This chicken is pretty awesome if I say so myself. It's super quick to throw together. And the juicy tomatoes, crispy red onions, garlic and basil make this one fantastic topper. You'll be happy and thanking me that you made this for dinner.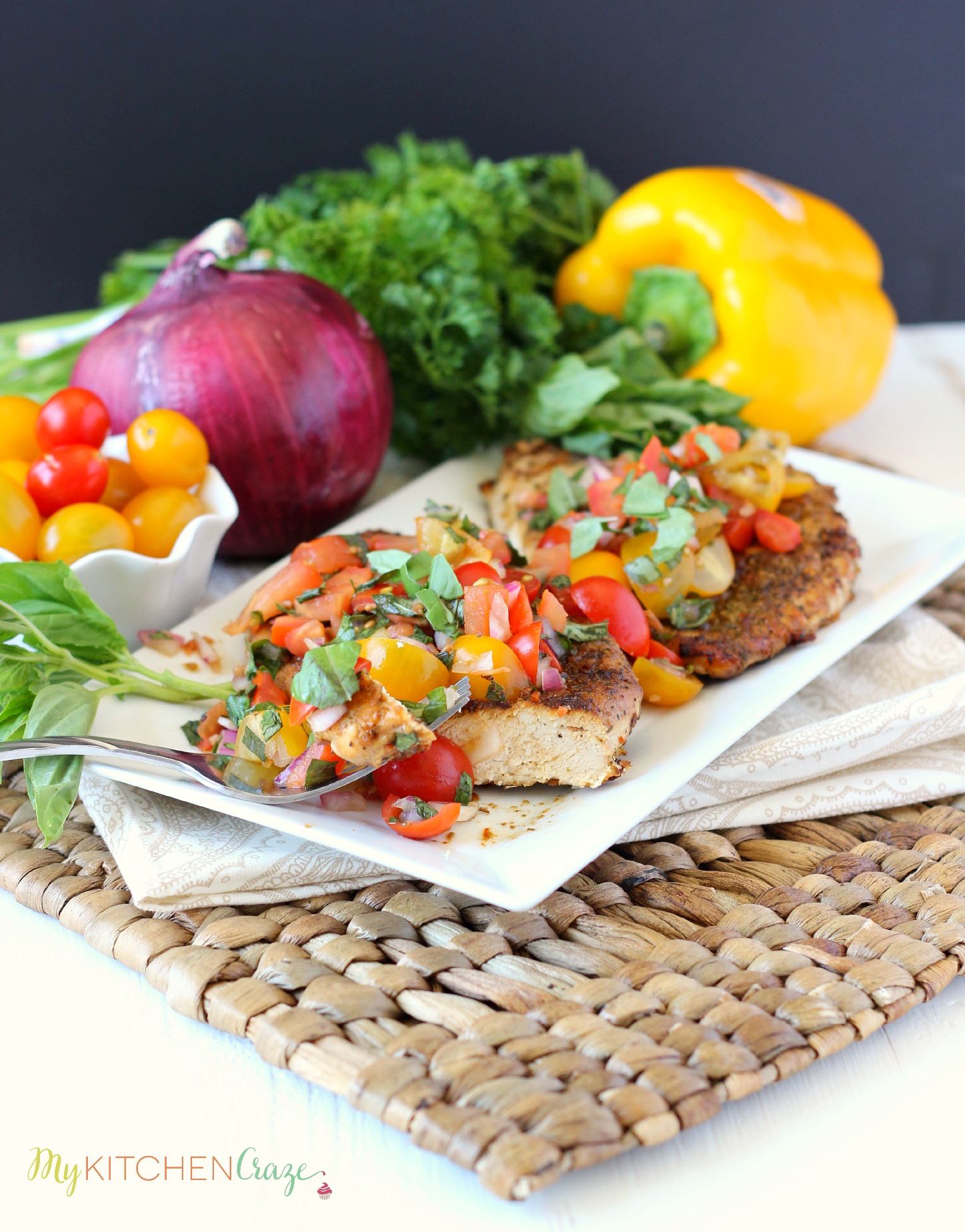 Bruschetta Chicken
Author:
Prep time:
Cook time:
Total time:
Ingredients
[b]Chicken:[/b]
2 chicken breasts, cut or pounded into a thin breast
1-2 tablespoon butter
salt and pepper, to taste
any type of no salt seasoning, to taste (I get mine at Costco)
[b]Bruschetta:[/b]
5 roma tomatoes, chopped
1 garlic clove, minced
1/2 small red onion, diced
1 teaspoon olive oil
1 teaspoon balsamic vinegar
1/4 teaspoon salt
3-4 heaping tablespoons basil, chopped
1/2 teaspoon grated Parmesan cheese
Instructions
In a small bowl, add all ingredients for bruschetta and mix well. Refrigerate until chicken is ready.
Season chicken generously with salt, pepper and no salt seasoning.
In a large skillet, add butter and melt over medium-high heat. Add chicken breasts and sear. Try not to move the chicken breast until your ready to flip it, about 5-7 minutes. Flip and cook another 5-7 minutes, or until chicken is cooked through. Try not to move the chicken around to much. You want that nice crust.
Plate chicken and spoon bruschetta over top of the chicken.
Serve & enjoy!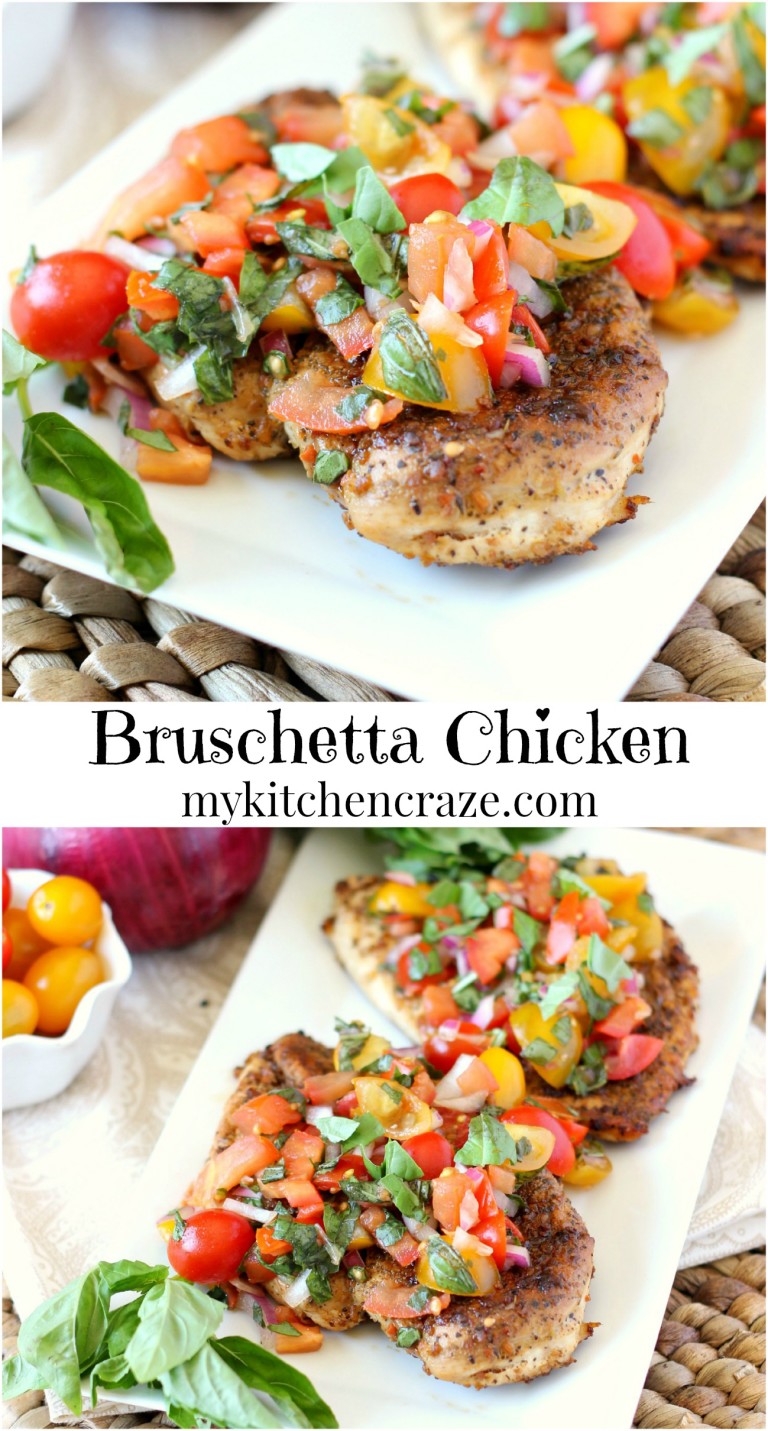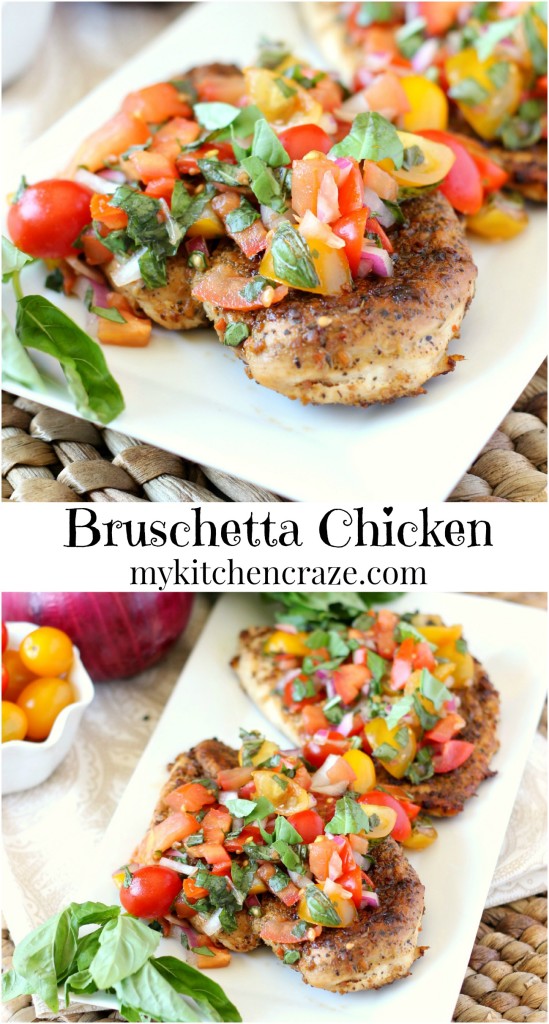 Here are some more yummy chicken recipes:
Caprese Chicken by The Novice Chef
Chicken Parmesan by Chef in Training
Stir Fry Chicken and Rice by Mandy's Recipe Box