Raspberry Cream Cheese Coffee Cake
A moist and delicious coffee cake filled with a cream cheese layer and a raspberry preserve layer. Yummy! Perfect with a nice cup of hot coffee or honestly its delicious all by its self!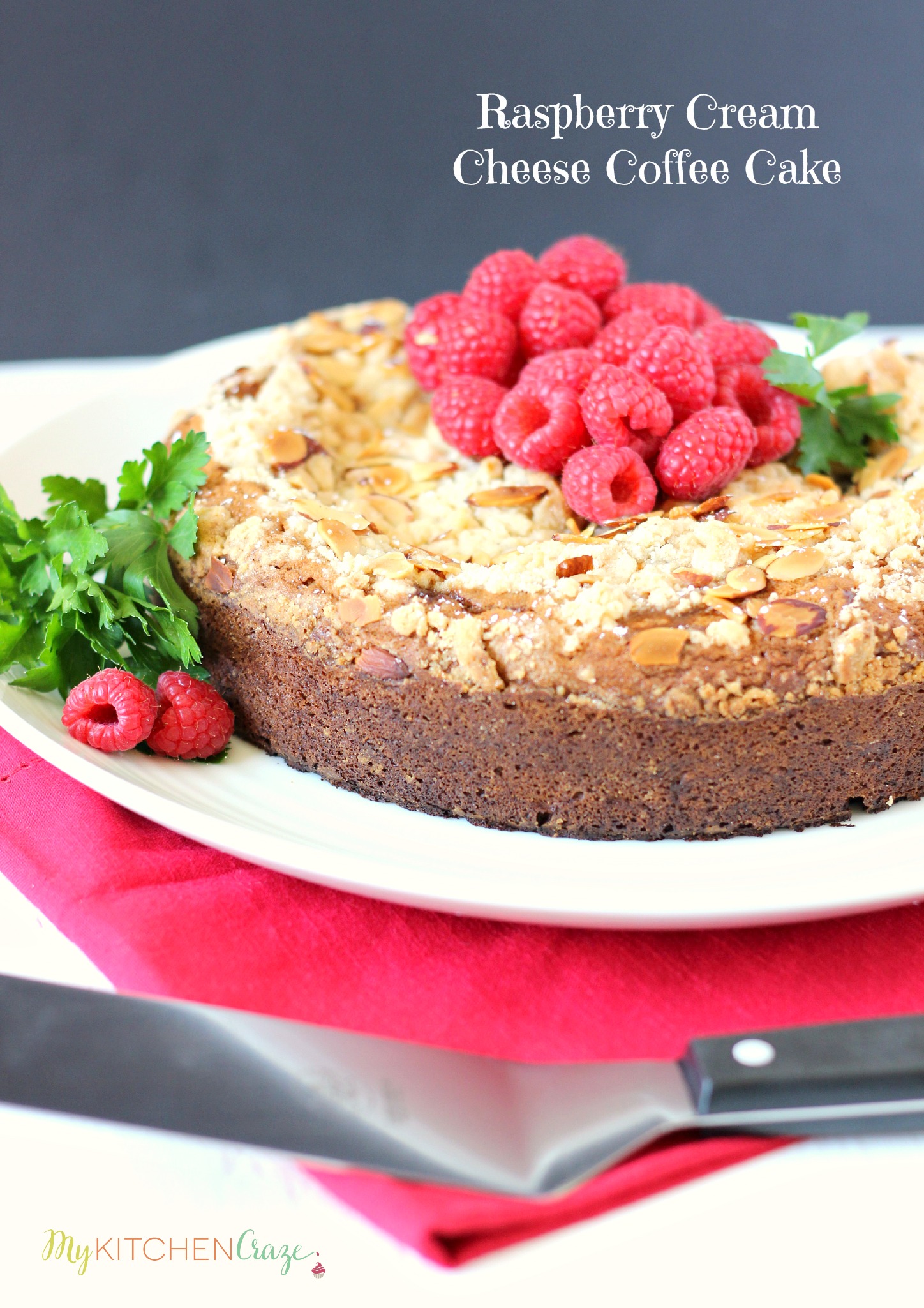 I debated posting this recipe guys. Not because it wasn't delicious, but because there are quite a bit of steps involved and the hubby wasn't very fond of this cake recipe. But my son and I loved it, so I decided that you'll needed to make you're own opinions.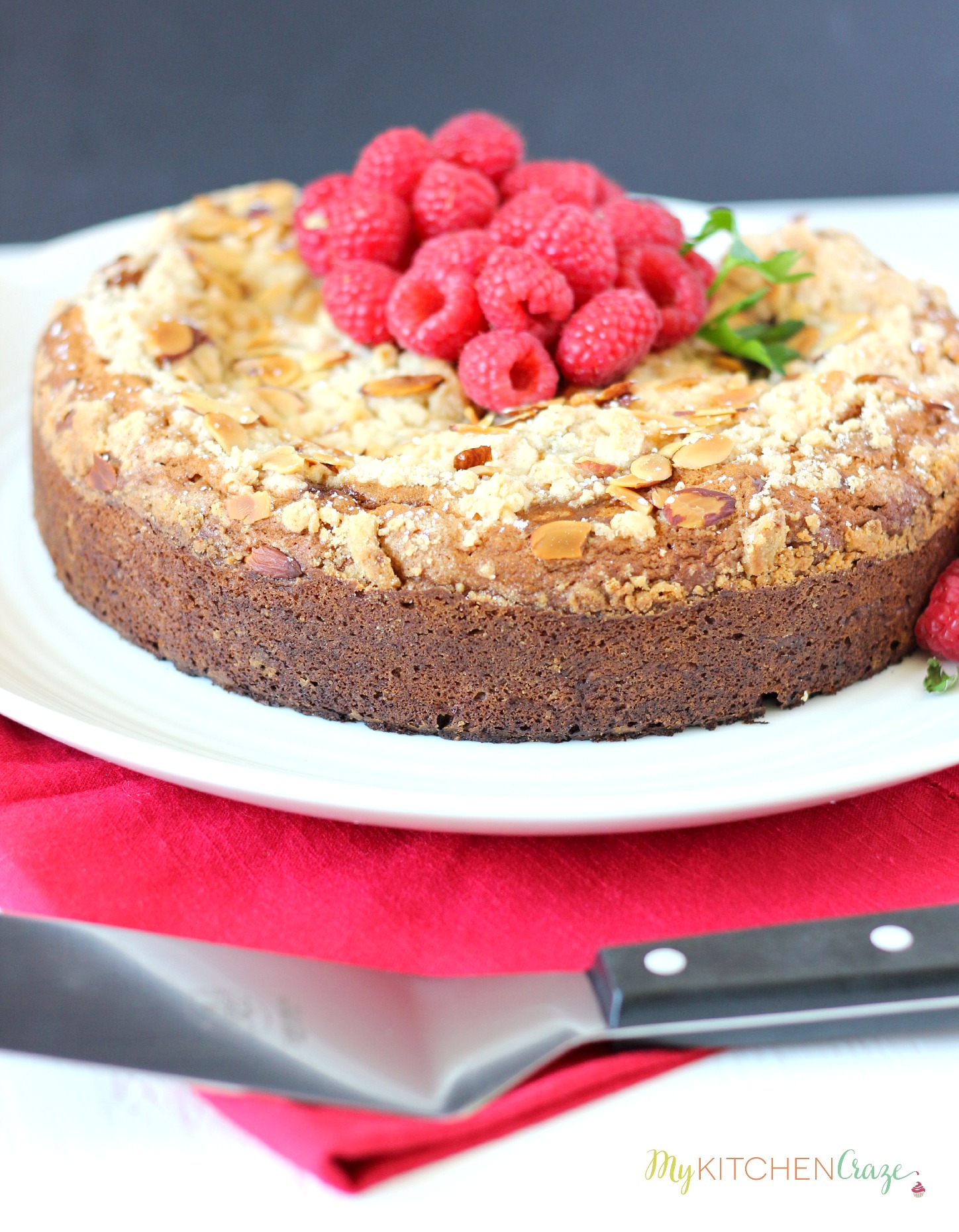 Normally my hubby, Sean and I's taste buds are in sync, but this dessert was an exception. He didn't like all the flavors going on, but I loved them. When he told me he wasn't crazy about it, I said I wasn't going to post the recipe. Then my son had a slice and said, "ahhh mom this cake is so delicious."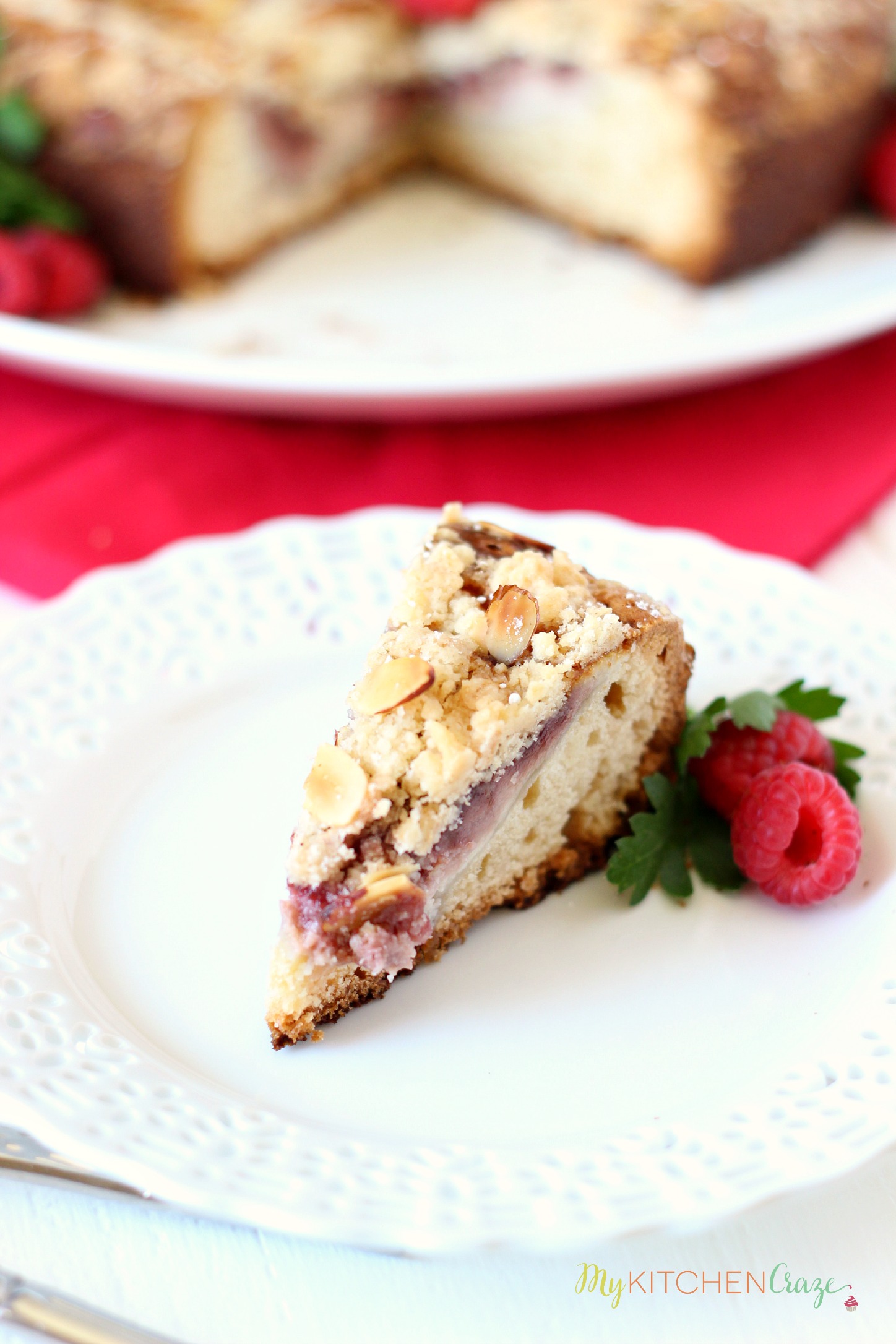 It's okay that the hubby didn't care for it, but my son and I did. That shows me that everyone has different tastes and I felt that if I didn't post this recipe, then there were going to be people out there that would be missing out on a delicious piece of cake. And we can't have that can we?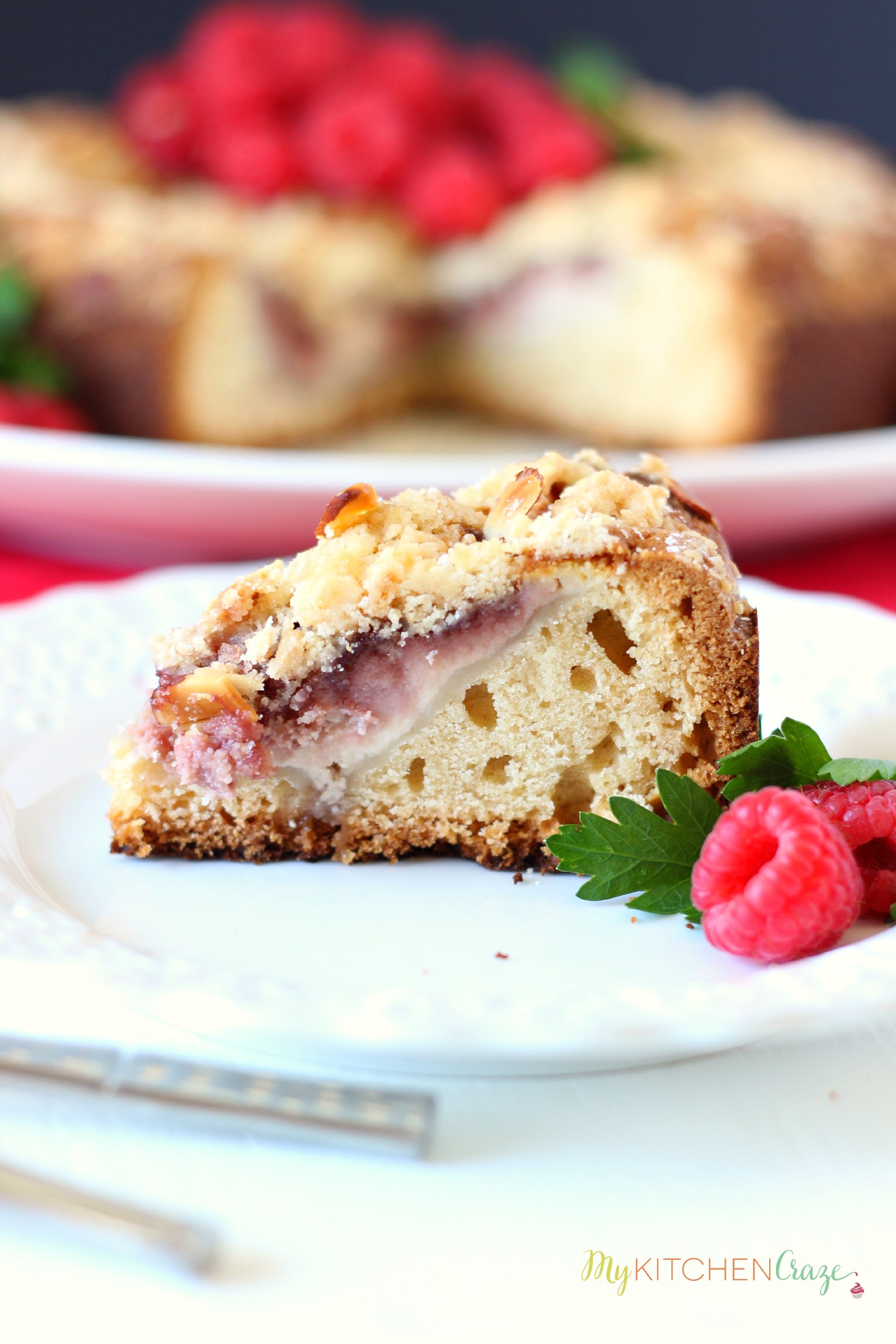 When you make this cake, I recommend you have all the ingredients sitting on your kitchen counter. It makes the process easier. Also think of this cake as 3 different layers,
coffee cake layer (bottom and top)
cream cheese layer
raspberry preserves layer
I like to know that I have different layers to work with. It makes it easier to make, in my opinion. I used a 9-inch spring foam pan, but you could use a 9-inch round baking dish, if you want. You just won't be able to take the whole cake out of the pan. I also suggest that you refrigerate the cake due to the cream cheese layer. Take it out 30 minutes before serving, so the cake can come to room temperature.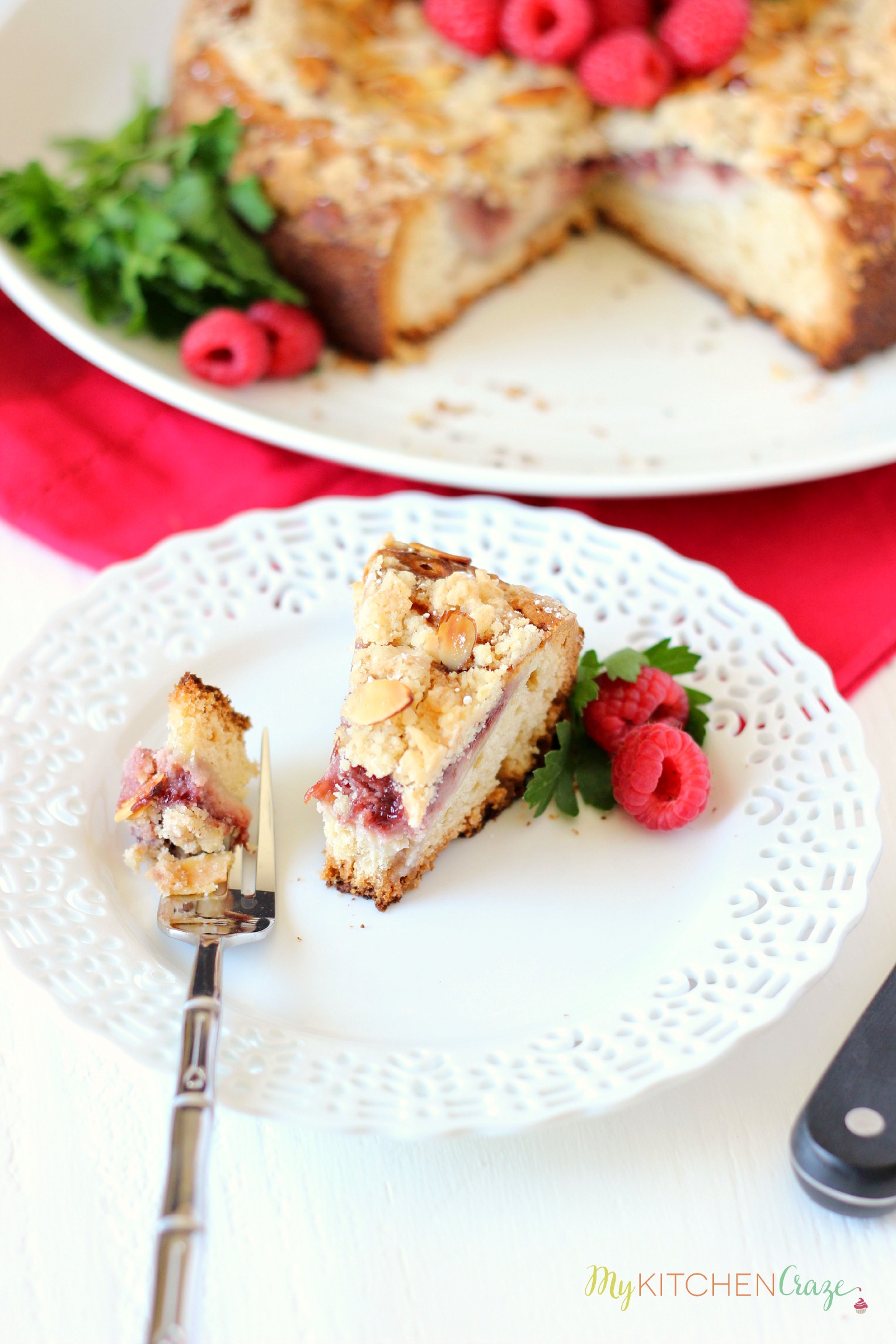 When baking this cake, make sure you watch the time after the 45 minute mark. I actually baked mine about 10 minutes to long and wish I would have taken it out at the 1 hour mark. The bottom of my cake was a little to dark in my opinion. It didn't affect the taste or anything, so no worries.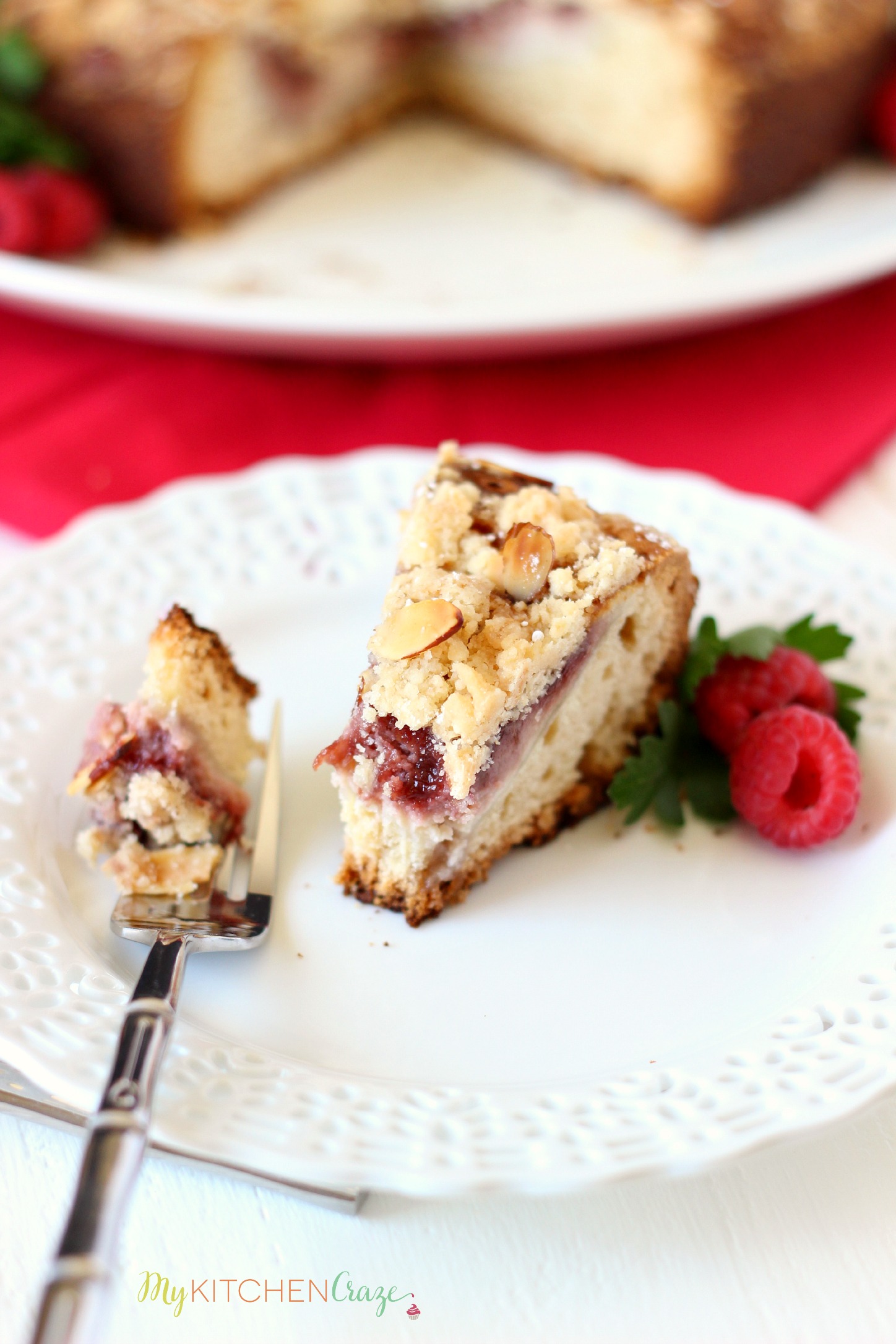 If you love coffee cake, raspberries, and cream cheese, then you're going to love this Raspberry Cream Cheese Coffee Cake!! Hope you all love it as much as my son and I did! 🙂
Raspberry Cream Cheese Coffee Cake
Author:
Prep time:
Cook time:
Total time:
Ingredients
[b]Coffee Cake Layer: [/b]
2 1/4 cups all-purpose flour
3/4 cups granulated sugar
3/4 cups unsalted butter, cut into 1-inch pieces
1/2 teaspoon baking soda
1/2 teaspoon baking powder
1/4 teaspoon salt
3/4 cups sour cream
1 teaspoon almond extract
1 egg
[b]Cream Cheese Layer: [/b]
1 (8 ounce) package cream cheese, softened
1/4 cup granulated sugar
1 egg
[b]Raspberry Layer: [/b]
1/2 cup raspberry preserves
1/2 cup sliced almonds
Instructions
Preheat oven to 350 degrees. Grease and flour a 9-inch spring foam pan and set aside.
[b]Coffee Cake:[/b] Using a food processor, combine the flour, sugar and butter. Pulse until mixture resembles coarse crumbs. Remove 1 cup of mixture to a bowl and set aside.
Add baking soda, baking powder, salt, sour cream, almond extract and egg to remaining mixture in the food processor. Mix until combined and smooth.
Spread batter evenly in the prepared baking dish and make sure batter comes up 2 inches on the sides. Set aside.
[b]Cream Cheese: [/b] Using your food processor, cream together the cream cheese, sugar, and egg. Mix until smooth. Pour over top of coffee cake batter and spread evenly.
[b]Raspberry: [/b] Spread raspberry preserves carefully over cream cheese filling. Spread the reserved 1 cup crumb mixture over the top of raspberry preserves. Sprinkle almonds on top of crumb mixture.
Bake for 45 minutes to 1 hour. Make sure filling is set and crust is a golden brown.
Cool 15 minutes before removing from spring foam pan. Chill completely before serving, about 1 hour.
Store in the refrigerator and cake will keep for 3 days.
Serve & Enjoy!!
Notes
Recipe Source: All Recipes