Bacon Ranch Pasta Salad
Bacon Ranch Pasta Salad is a delicious pasta dish tossed with crispy bacon, tomatoes, olives and a creamy ranch dip. Perfect for a holidays and special occasions. Plus it's enough to feed a crowd.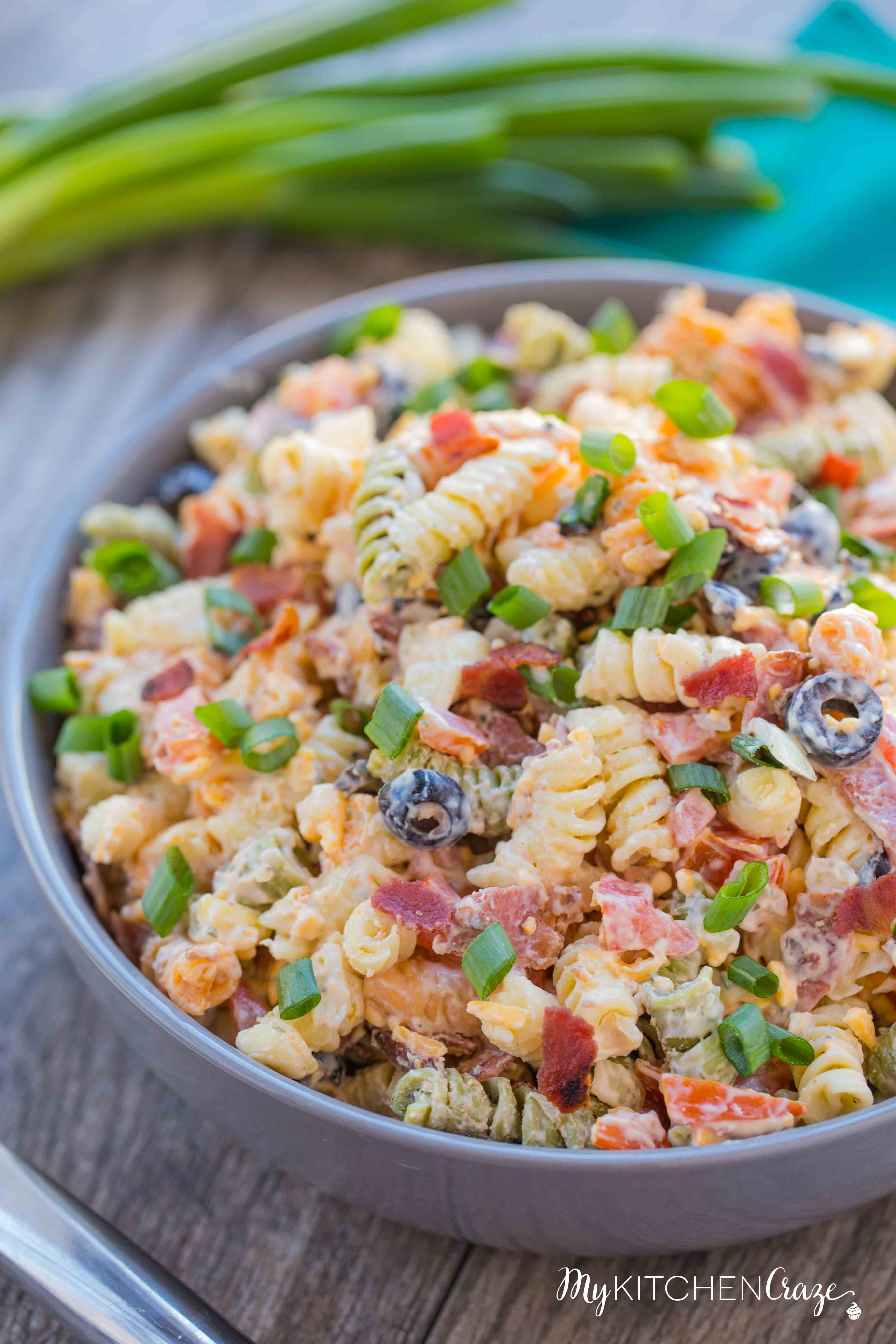 Well…it's Easter time and here I am still eating Valentines candy. I just can not seem to keep up with these holidays. Being a food blogger I should be more up to date, but I just can't seem to get my gears in motion. I feel like I'm constantly playing catch up.
I made this Bacon Ranch Pasta Salad a few weeks ago and when I tasted it, I knew it would be perfect for Easter. Did you know that pasta salads are pretty easy to make? I never knew that until I started my food blog. The only thing you need to make sure to do with any pasta salad is let it sit in the fridge for at least an hour. That way the flavors can gel together and you'll get a tasty pasta salad.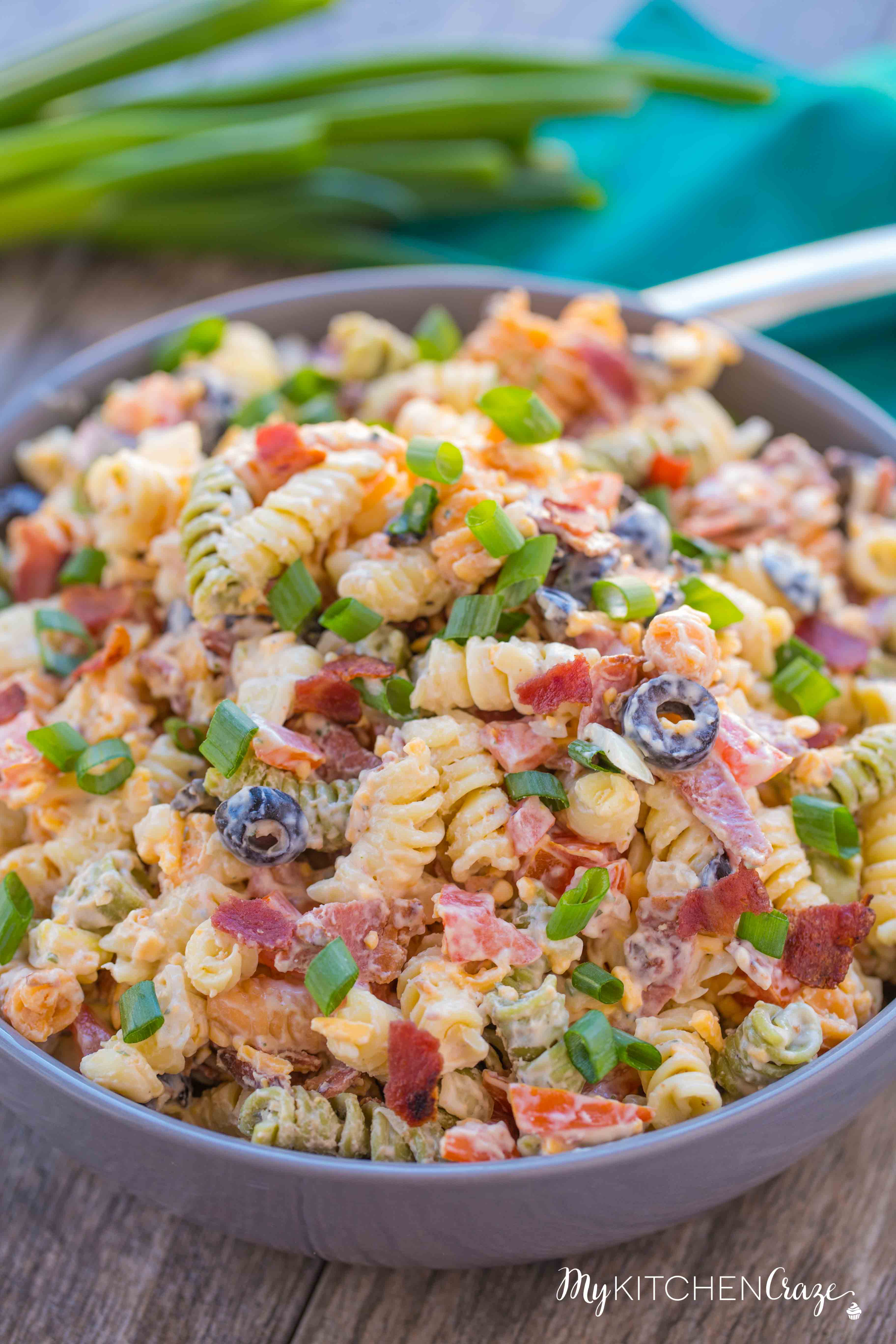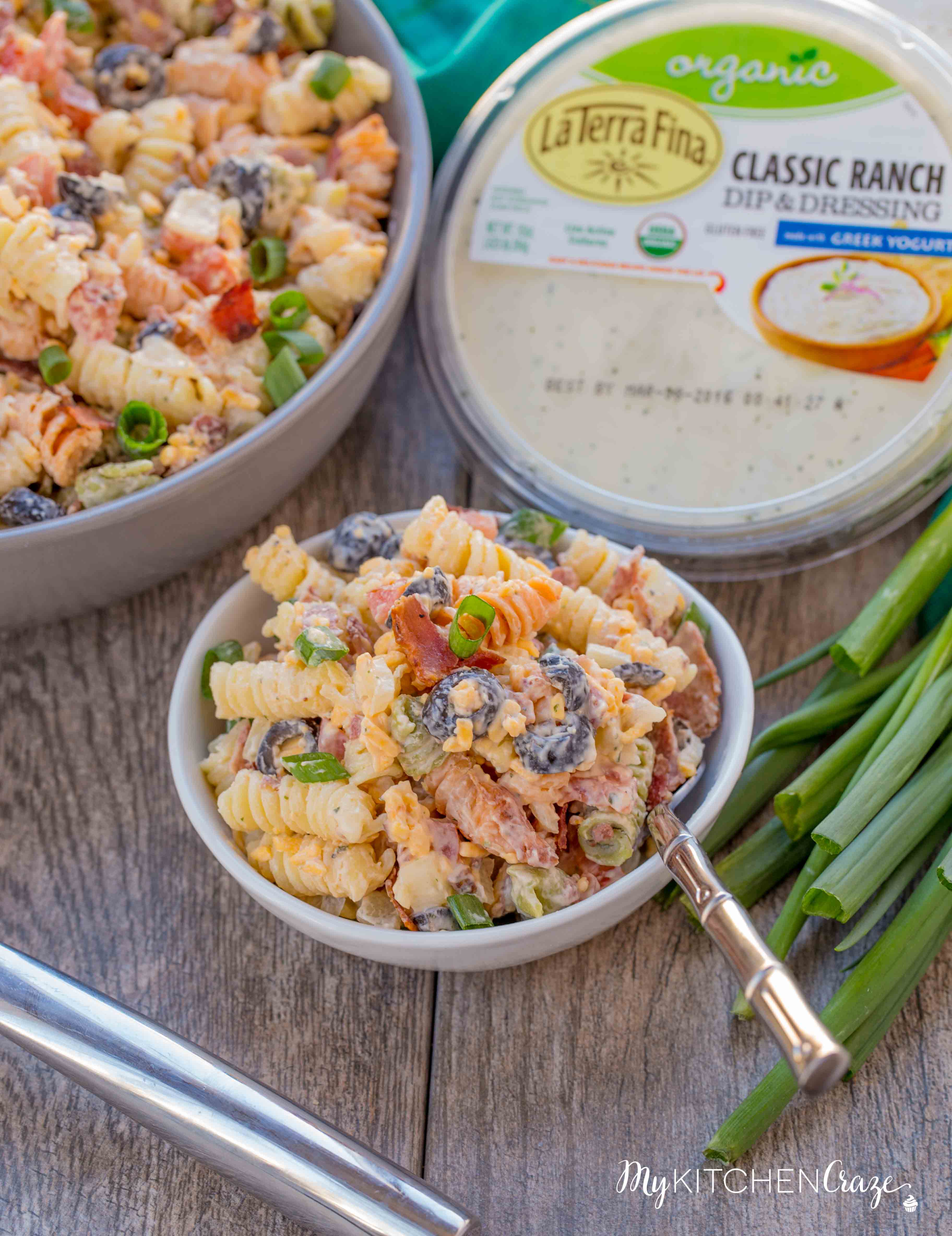 Since My Kitchen Craze is all about easy throw together meals, I wanted to use easy throw together ingredients. I had some La Terra Fina organic Ranch dip on hand and knew I had to use this dip. La Terra Fina launched their Organic Ranch Dip & Dressing (made with organic Greek yogurt) last year.
If you're lucky enough to live in Northern California, you can pick up a tub (or two!) at your local Safeway, as the dips are exclusively sold there right now. If you aren't in the area, check out La Terra Fina's handy product locator to see what other, great La Terra Fina products are available near you.
If you aren't in the area to pick up a tub, you can use ranch dressing mixed with some greek yogurt. That would work in the time being. But make sure you try this La Terra Fina organic ranch dip too. It's delicious and made with fresh organic ingredients. You can really taste the freshness and ranch flavor. I loved it.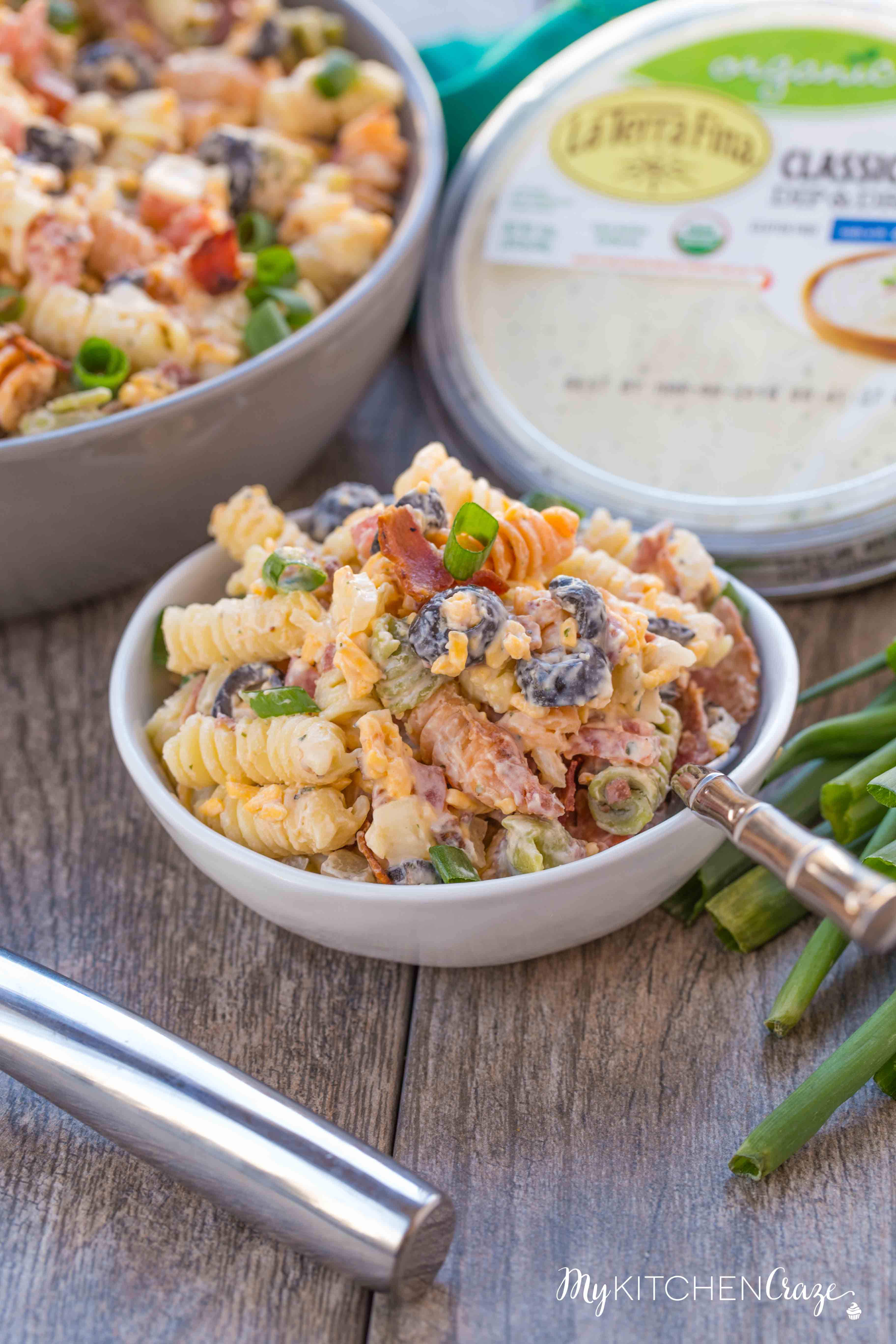 If you're short on time you can make this pasta salad the night before. The only recommendation I have is to have some extra ranch sauce on hand. That way you won't have a dry pasta salad. Also I used turkey bacon. It turned out perfect, but you could totally use regular bacon if you want. It would taste just as good. Make sure to make the bacon extra crispy. You don't want soggy bacon bits. It's pretty sad because I'm really addicted to the bacon in this dish. It makes it so much better. Bacon always makes things better. Don't you agree?
I hope you'll give this Bacon Ranch Pasta Salad a try for Easter or your next potluck. It's perfect to feed a crowd or as a side for that grilled chicken you just made. Either way you're going to love this pasta salad.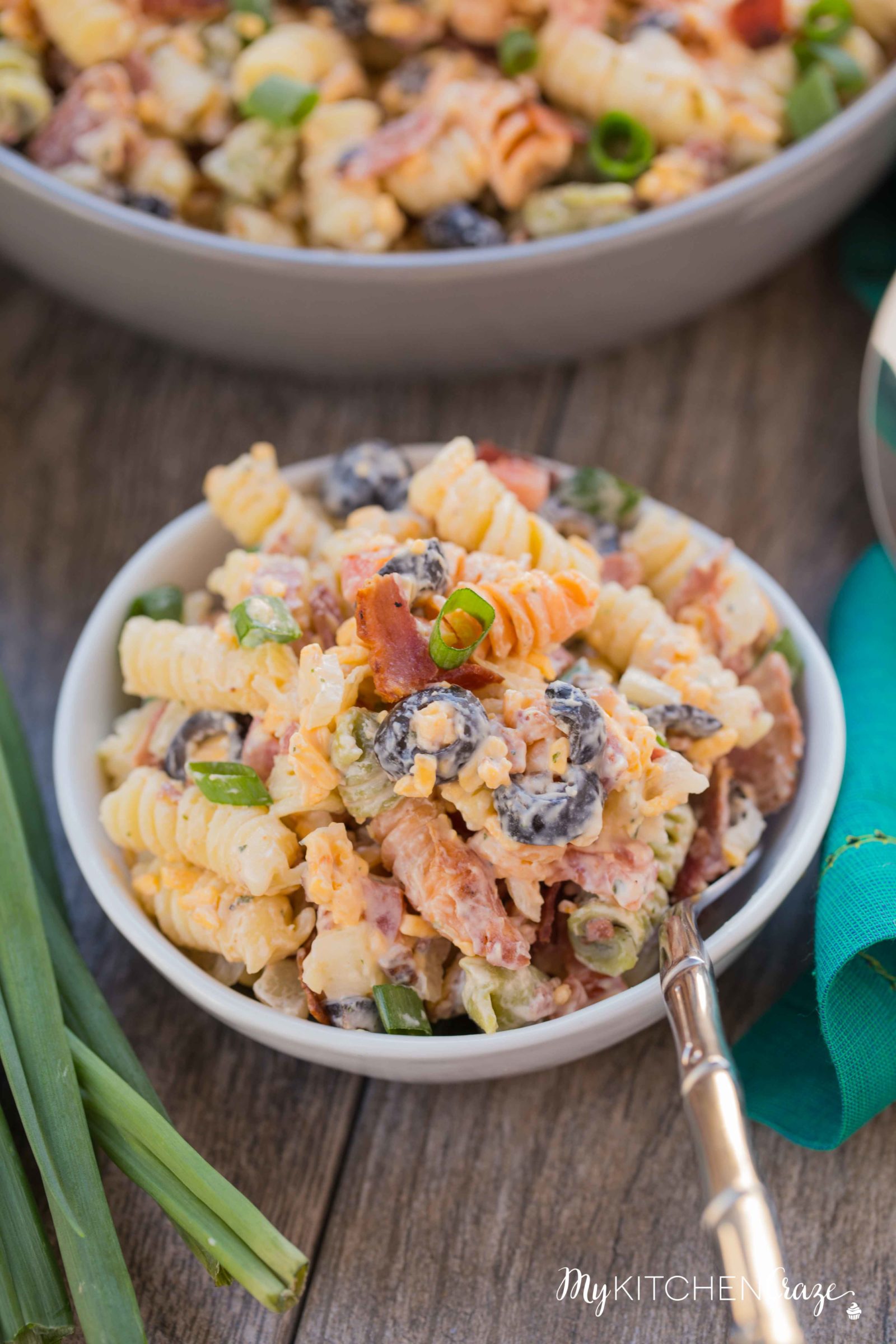 This post is sponsored by the good people at La Terra Fina. All words and opinions expressed here are my own. Thank you for supporting brands that help make My Kitchen Craze possible!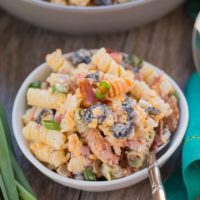 Get the Recipe:
Bacon Ranch Pasta Salad
Ingredients
1

12 ounce package uncooked twi-color rotini pasta

12

slices

turkey bacon

1/2

small onion

,

diced

1/2

teaspoon

garlic powder

14

teaspoon

pepper

1

10 ounce container La Terra Fina organic Ranch dip, about 1 cup

1/4

cup

milk

2

medium tomatoes

,

about 1 cup

1

4.25 ounce can sliced black olives

1

cup

shredded sharp cheddar cheese
Instructions
Cook pasta according to al dente directions, about 8 minutes. Once done, drain and run cold water over the noodles. This will stop the noodles from cooking.

While the noodles are cooking, cook bacon until crispy, but not burnt. Chop into small pieces.

In a large bowl, add the noodles, bacon, onion, tomatoes, olives and shredded cheese.

Using a glass measuring cup or small bowl, add the ranch dip, garlic powder, pepper and mix. Mix until creamy.

Pour over pasta and mix well to combine. Cover and refrigerate minimum 1 hour or overnight.

Enjoy!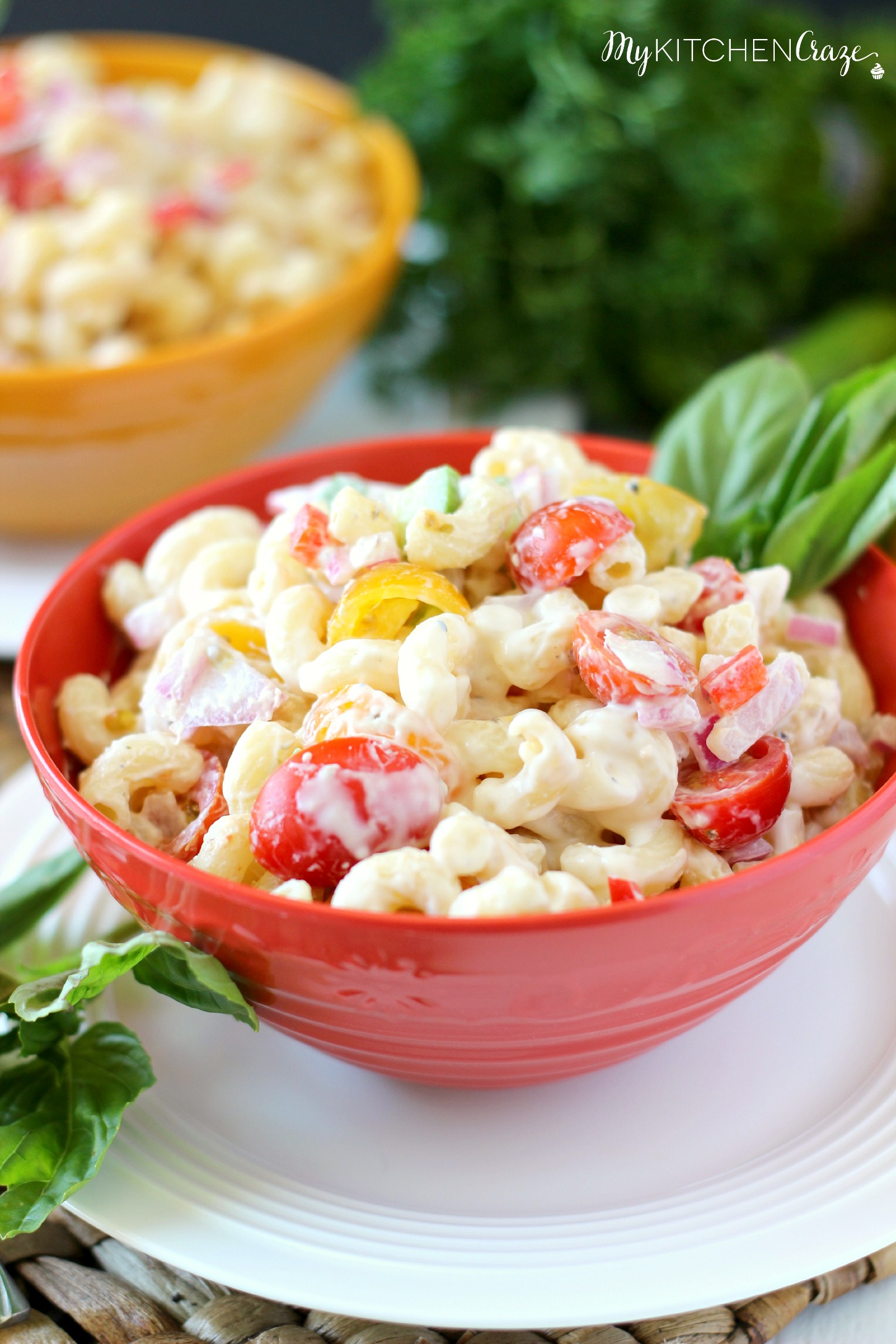 Pasta Salad {Lite & Healthy}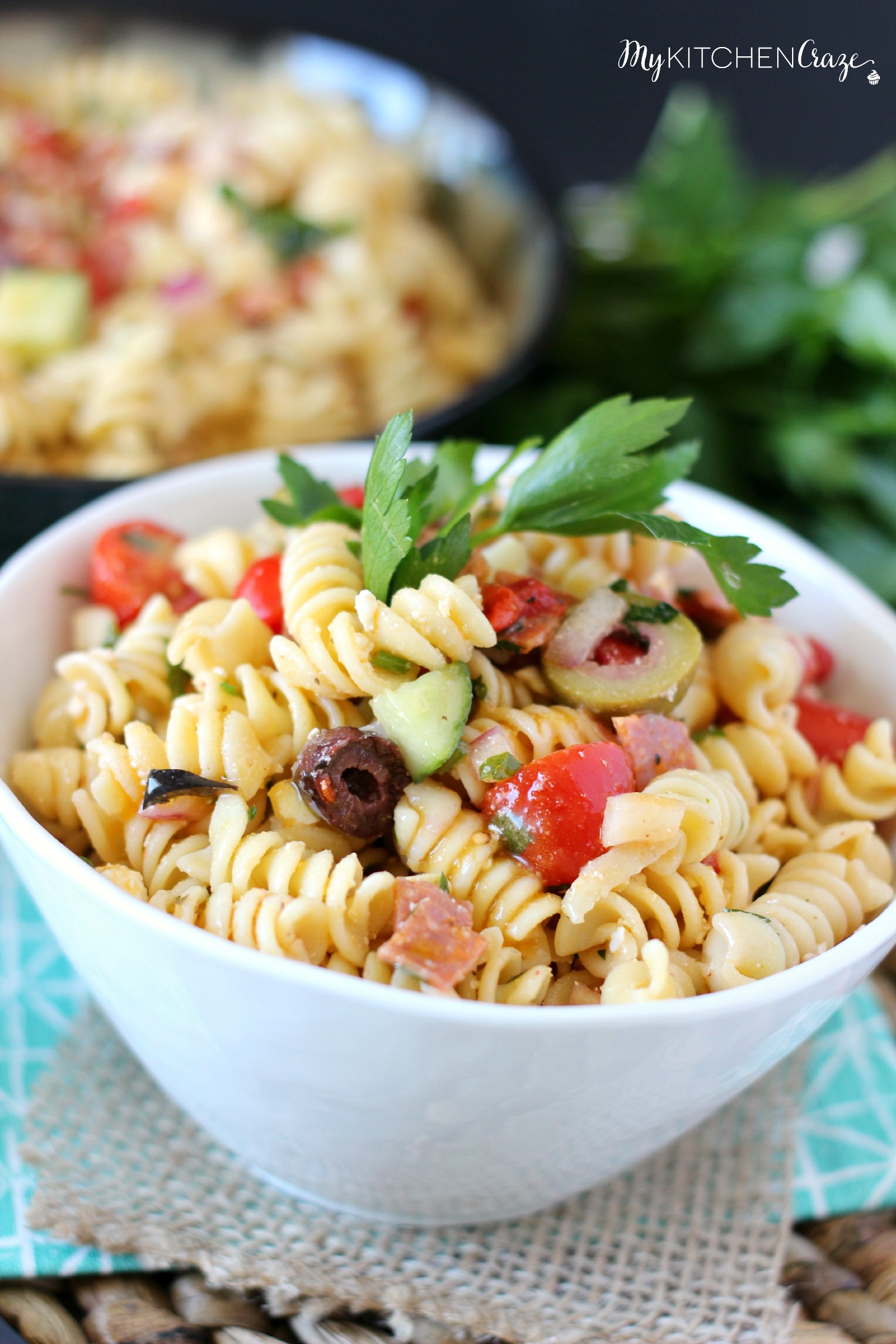 Italian Pasta Salad
Here are some more pasta salad recipes from around the globe: 
Lighter Chicken Caesar Pasta Salad by Savory Nothings
Greek Avocado Pasta Salad by Whole & Heavenly Oven
Mixed Berry Spinach Pasta Salad by Life Made Sweeter
Herbed Orzo Pasta Salad with Tomatoes and Feta by Sweet Peas & Saffron