Vegetable and Cheesy Chicken Rice Casserole
Vegetable and Cheesy Chicken Rice Casserole ~ Easy, no fuss casserole for dinner! Loaded with all sorts of delicious ingredients and the leftovers are even better the next day.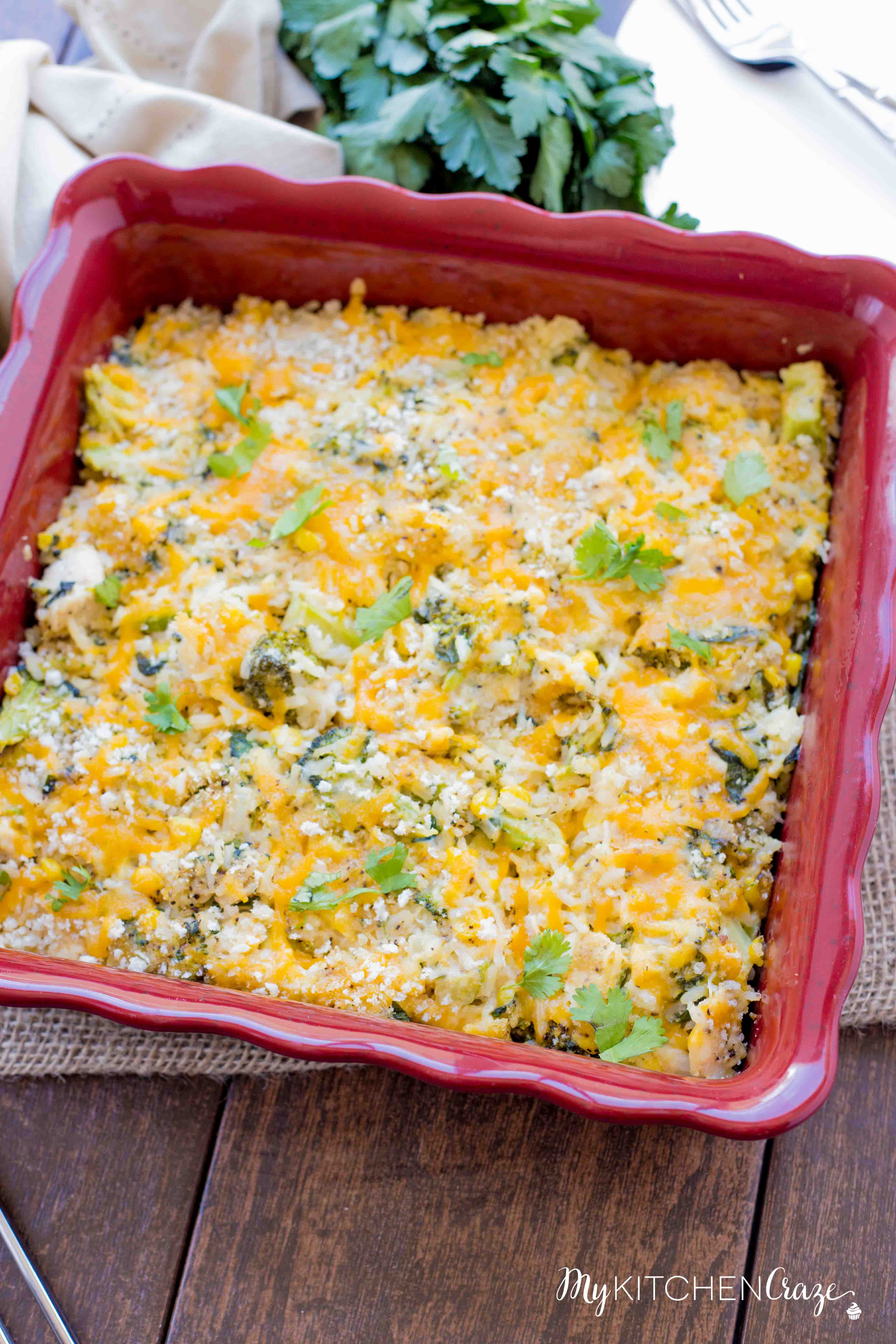 You guys…this casserole has to be the easiest and tastiest casserole I've ever made. Sean and I were super busy one night and didn't feel like cooking, so it ended up being a throw everything into a casserole dish night. Do you have those night?
I always know when it's going to be a casserole night. It's the nights where you don't want to be in the kitchen for any length of time and need something quick and easy for dinner. Honestly I have those nights a lot these days with the kids constantly doing something after school and me being in the kitchen all day.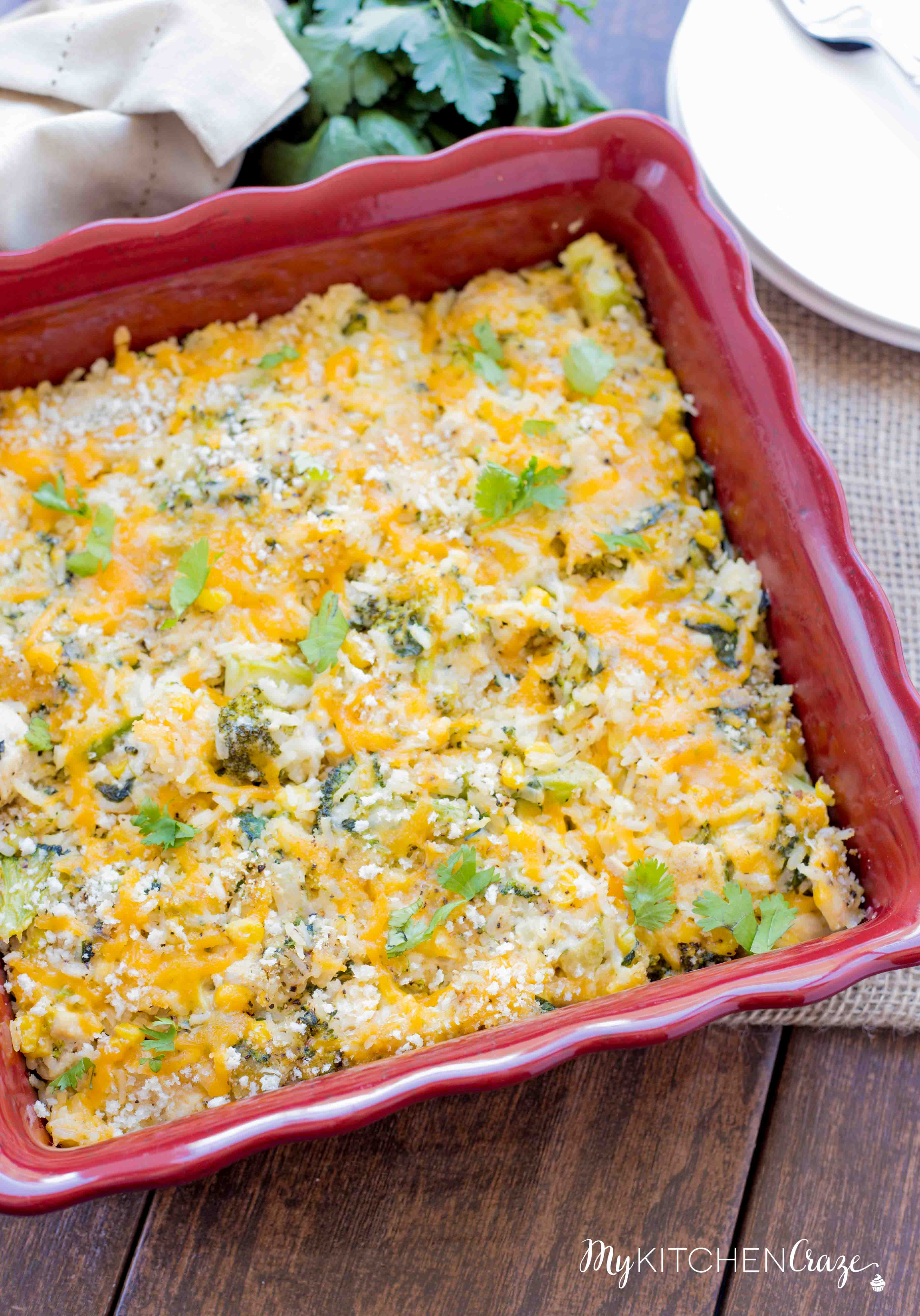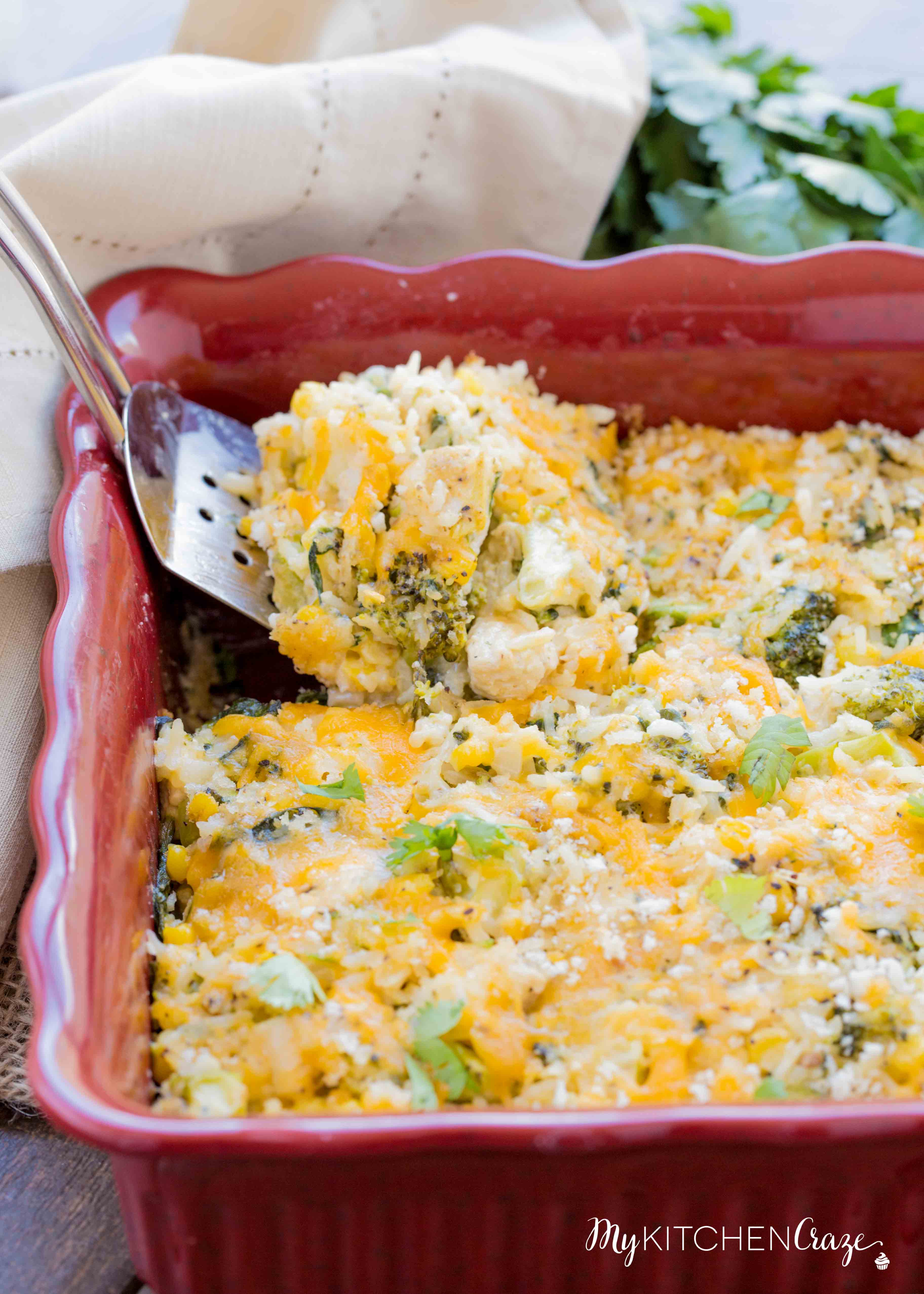 I love when you can throw things together and it ends up being the best recipe you've ever made. This casserole is one of those dishes. I told Sean what I wanted to make and he starting adding a little of this and a little of that.
Sean's super good about improvising where as me not so much. I'm one of those girls that likes to follow the plan. Whereas Sean is totally go with the flow. Funny because he's not that way outside of the kitchen, but maybe that's why he's so daring in the kitchen. I gotta say that I was glad he was my helper this day because this casserole wouldn't have tasted as good without his help.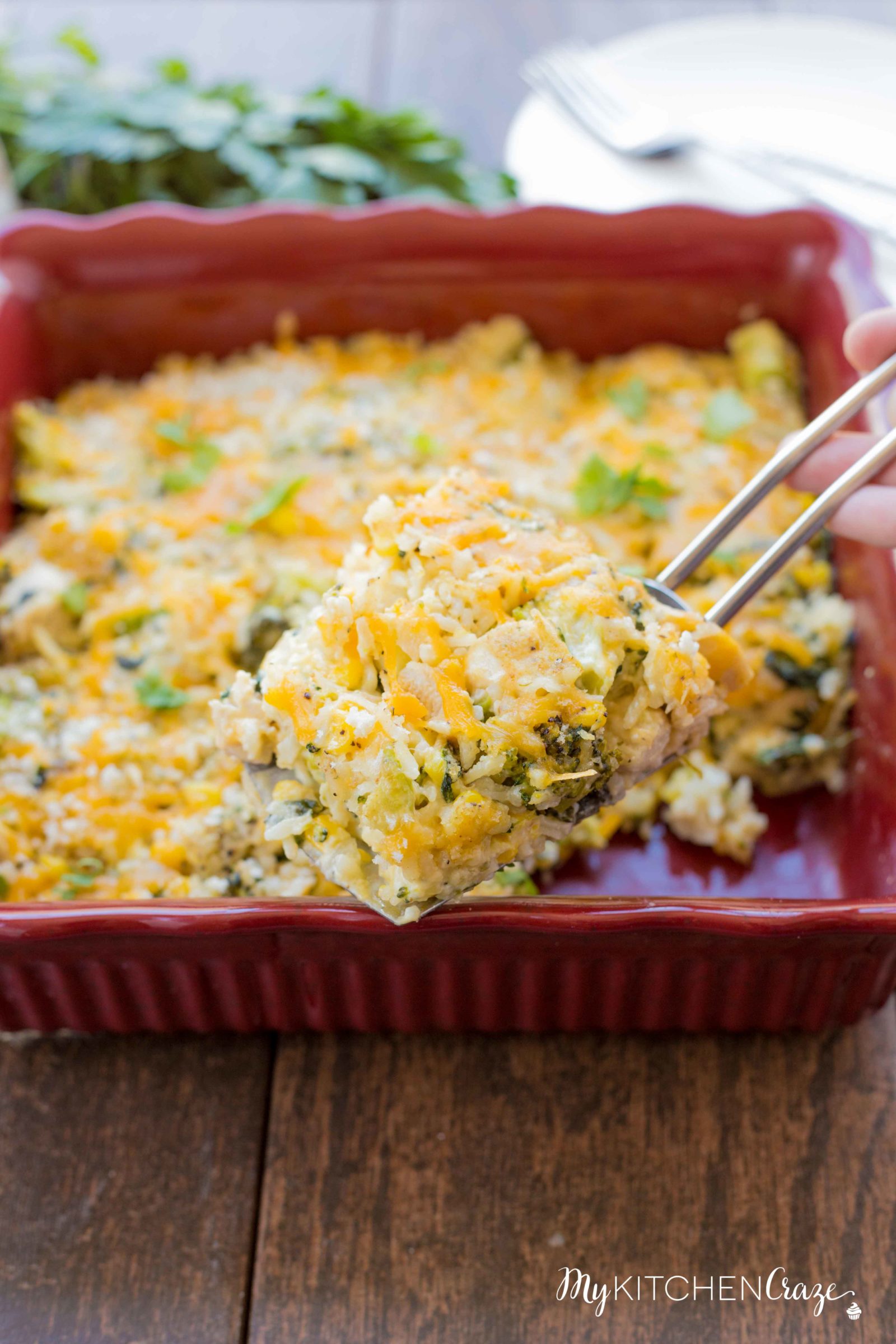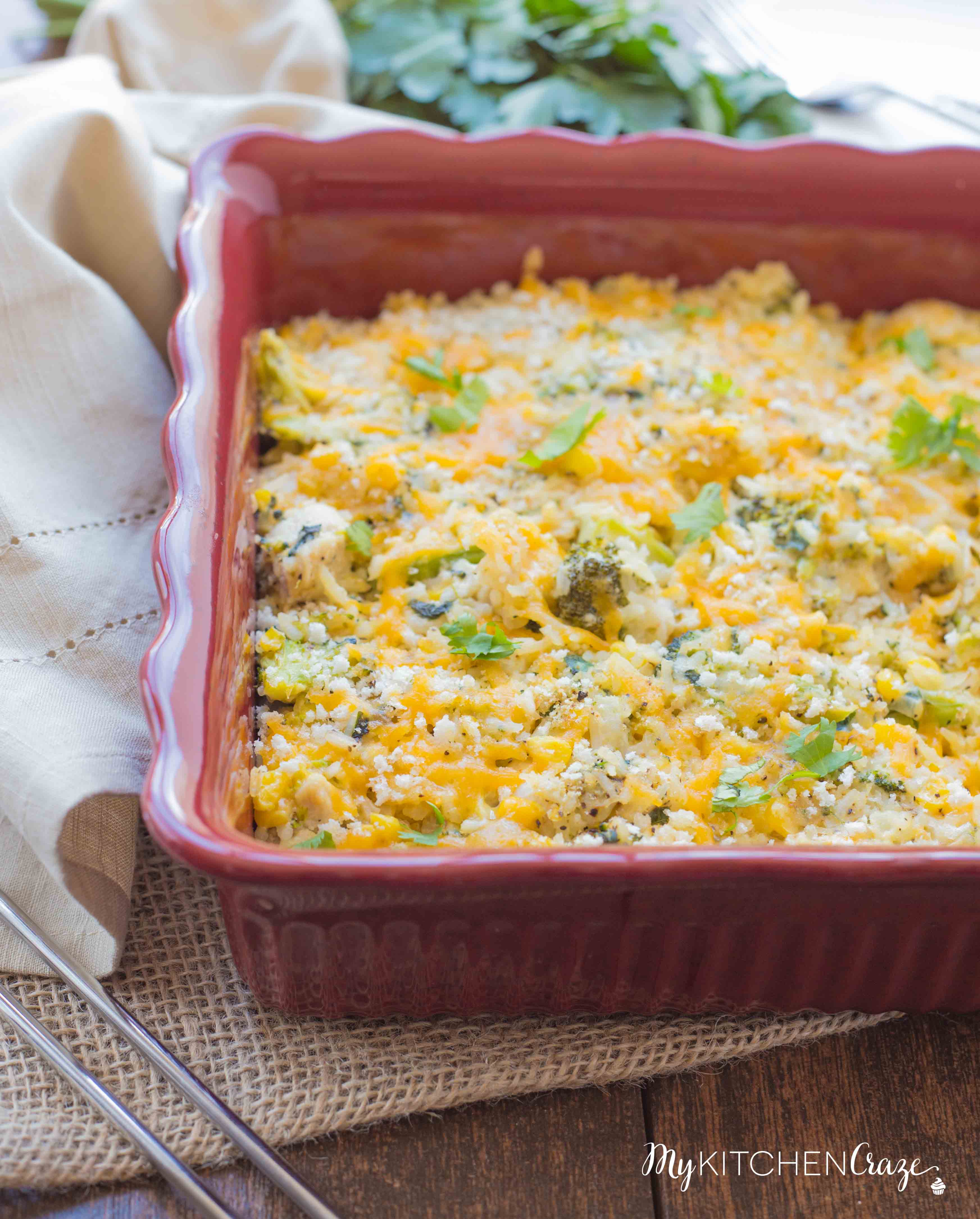 This Cheesy Chicken and Vegetable Rice Casserole is loaded with all sorts of veggies, seasoned chicken and gooey cheese. While you're cooking the rice, you cook the chicken, then add all the ingredients to one large casserole dish, mix, sprinkle with cheese then bake for roughly 15-20 minutes.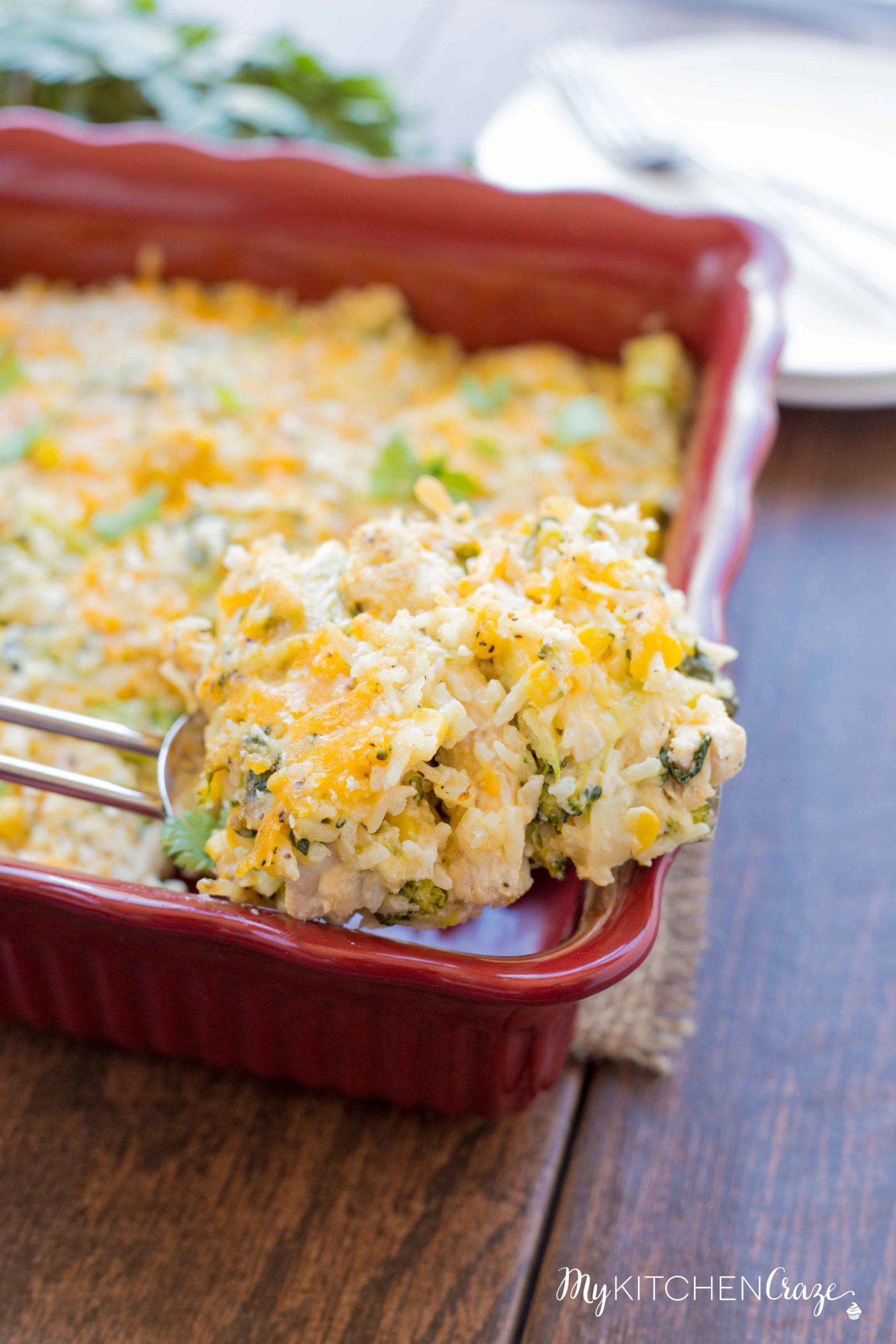 If you like your food spicy like we do, add some hot sauce or red pepper chili flakes and this casserole will go to a whole new level of deliciousness. Also pairs well with a nice glass of white wine. At least ours did. Ha! I hope you all enjoy this casserole as much as we did. Remember it the next time your swamped with life and just want something quick. Enjoy!
THIS POST FIRST APPEARED OVER AT JULIE'S EATS & TREATS WHERE I'M A CONTRIBUTOR!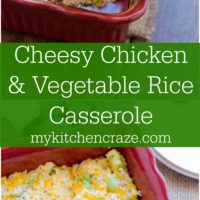 Get the Recipe:
Vegetable and Cheesy Chicken Rice Casserole
Ingredients
Chicken & Vegetable:

2 -3

teaspoon

olive oil

3

chicken breast

,

diced into small pieces

2

teaspoon

Ms. Dash seasoning

1/2

teaspoon

garlic salt

1

cup

onion

,

chopped

2

cups

fresh broccoli

,

chopped

1/2

cup

frozen corn

1

cup

spinach

,

chopped

2 1/2

cups

cooked white rice

Sauce:

1

tablespoon

butter

1

tablespoon

all-purpose flour

1/4

teaspoon

salt

1

cup

half and half

1/2

cup

sour cream

1

cup

shredded Cheddar cheese

1/3

cup

Parmesan cheese

Toppings:

1/2

cup

bread crumbs or panko crumbs

1/4

cup

Cheddar cheese

1/2

tablespoon

butter
Instructions
Preheat oven to 350 degrees F. Spray a 8 inch square baking dish with non-stick cooking spray; set aside. If you don't have cooked rice, start your rice now.

Using a large skillet, heat olive oil over medium-high heat. Add chicken, Ms Dash seasoning, garlic salt and sauté until done, about 10 minutes. Place chicken in a large bowl or casserole dish.

Using the same skillet, add more olive oil if needed and let warm to medium-high heat. Add onion and cook 4 minutes, until translucent. Add broccoli and cook for an additional minute. Add in spinach and corn, cooking 30 seconds to 1 minute, until spinach is wilted and corn is heated. Transfer vegetable to the same bowl with the chicken. Stir to combine.

Melt butter over medium-high heat in a medium saucepan. Whisk in flour and salt. Cook 1 to 2 minutes or until the flour turns to a light brown.

Slowly whisk in the half and half, only 1/4 cup at a time until smooth and no lumps remain. Bring to a boil, making sure to stir constantly. Cook and stir one minute while lightly boiling. Remove from heat, cool 3 minutes.

Slowly whisk in the sour cream, Cheddar cheese and Parmesan cheese. Stir in with the chicken and vegetables. Pour mixture into prepared baking dish.

Bake in preheated oven for 15 minutes. Add toppings and bake additional 5 minutes, or until cheese is melted and bubbly.

Serve immediately, sprinkle with hot sauce and enjoy!