Banana Cookies with Browned Butter Frosting
Banana Cookies with Browned Butter Frosting have to be one of the best cookies I've ever made. Crispy edges with a moist center, topped with a creamy delicious frosting. These are cookies you need to make asap! Everyone will love them!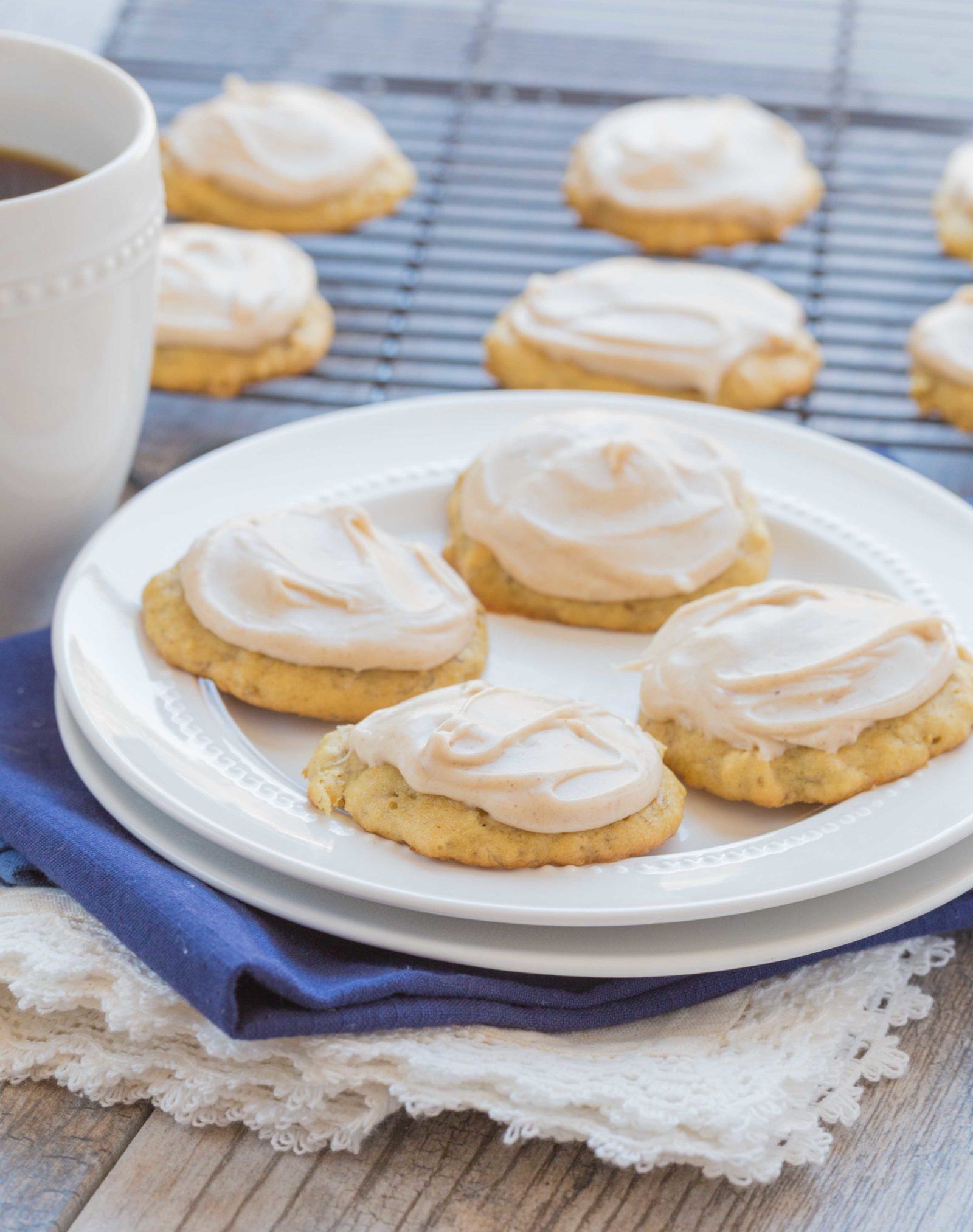 Well…week one of summer break has come and gone. Not sure what to do with the remaining 10 weeks, but we need to figure something out. I honestly thought once the kids were done with school that life would become easy and I could catch up with the blog.
That has not been the case. It's actually been the opposite in fact. I can't blame it on the kids. I have the best kids ever. They don't require much parenting unless I'm breaking up an argument, but other than that, they're pretty self-sufficient. It's been me being lazy. It's so nice to get up when ever I want, read one, two or three books. Catch up on my favorite shows and maybe make dinner.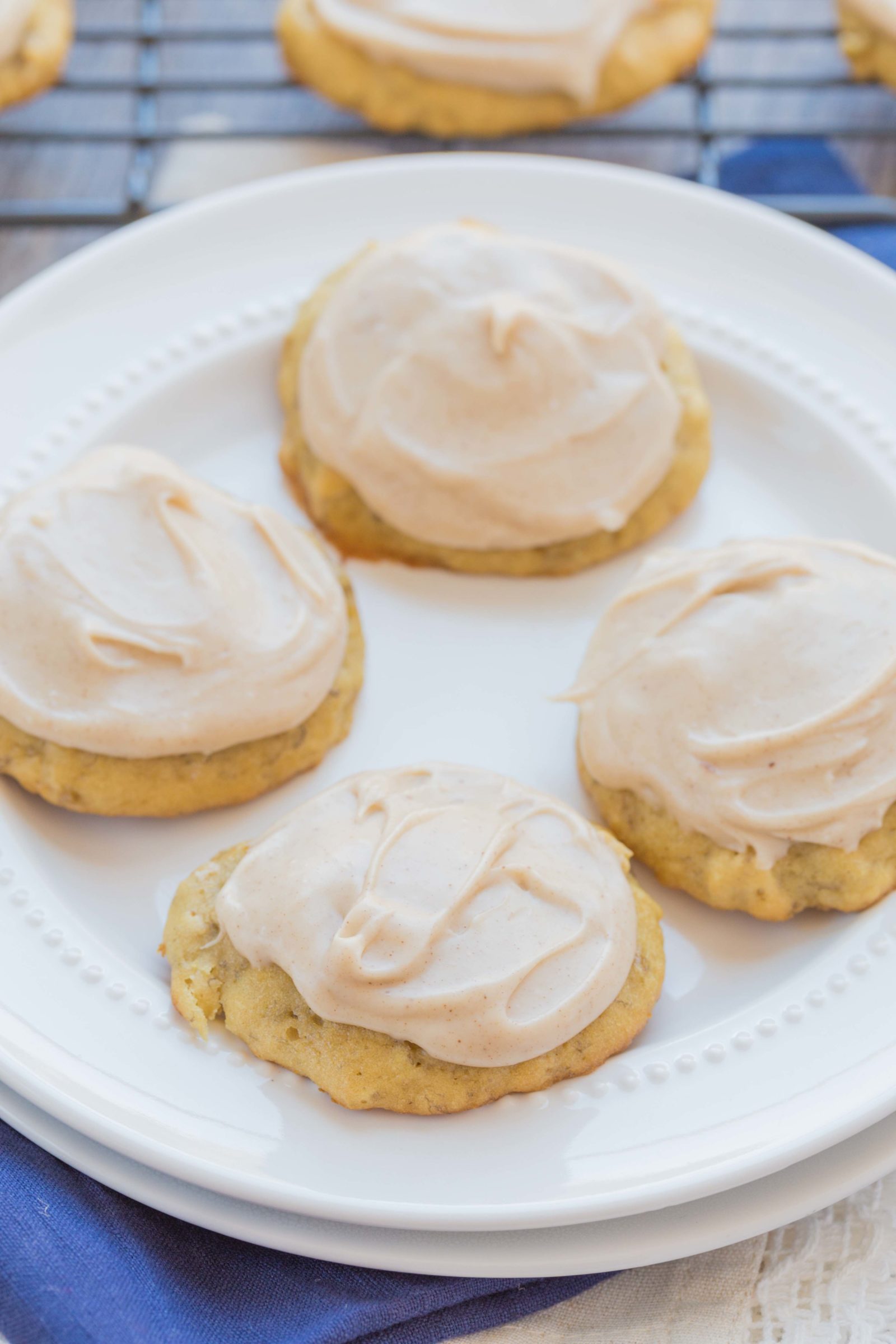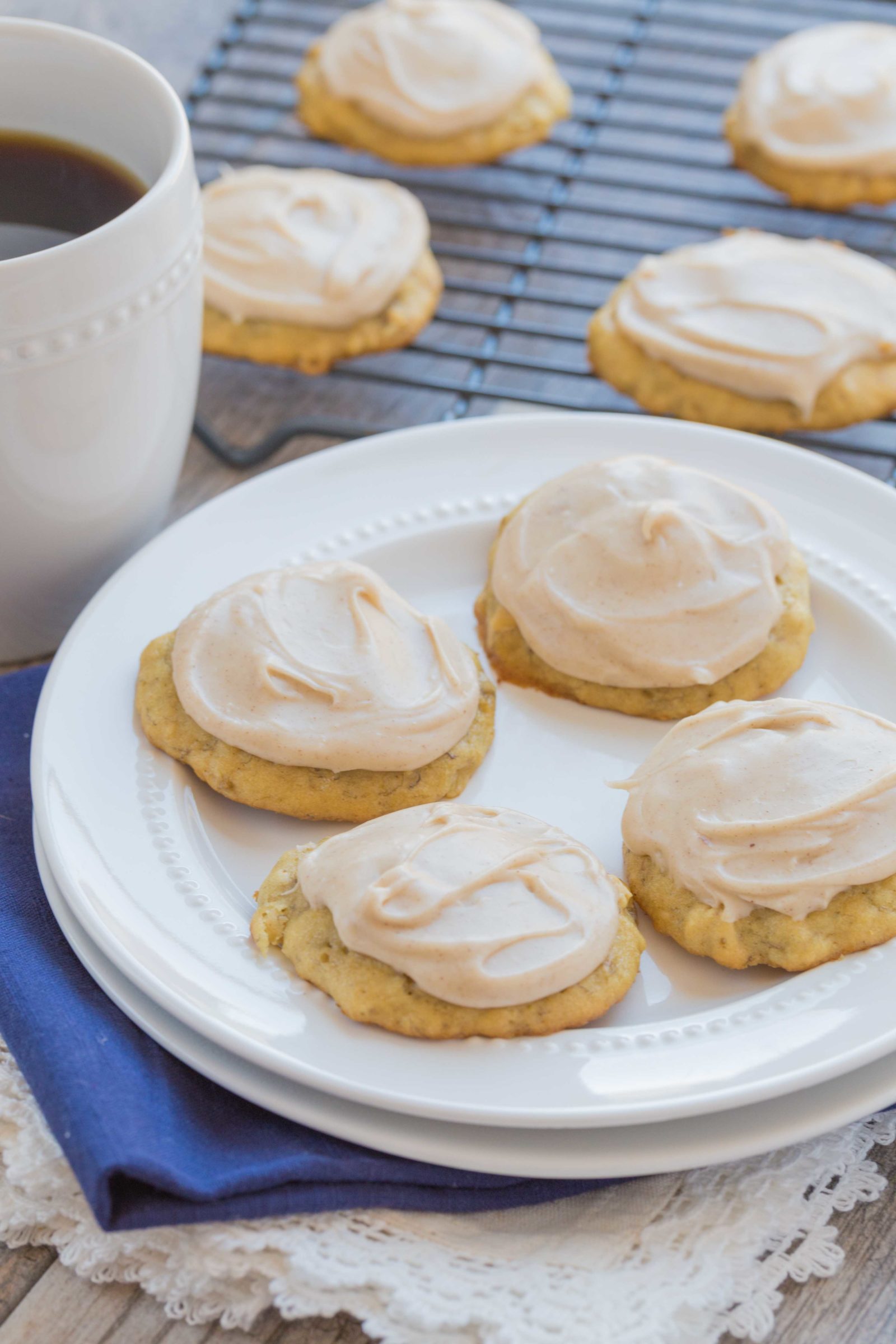 We're actually going to Palm Springs this weekend for the first time since we moved last September. I told myself that I could enjoy this weekend, but once we get home I need to make a routine. I can't be lying around all summer. I need to start working out, catching up with this amazing blog and doing everything in between. While trying to get the kids out of the house, so they don't go stir crazy.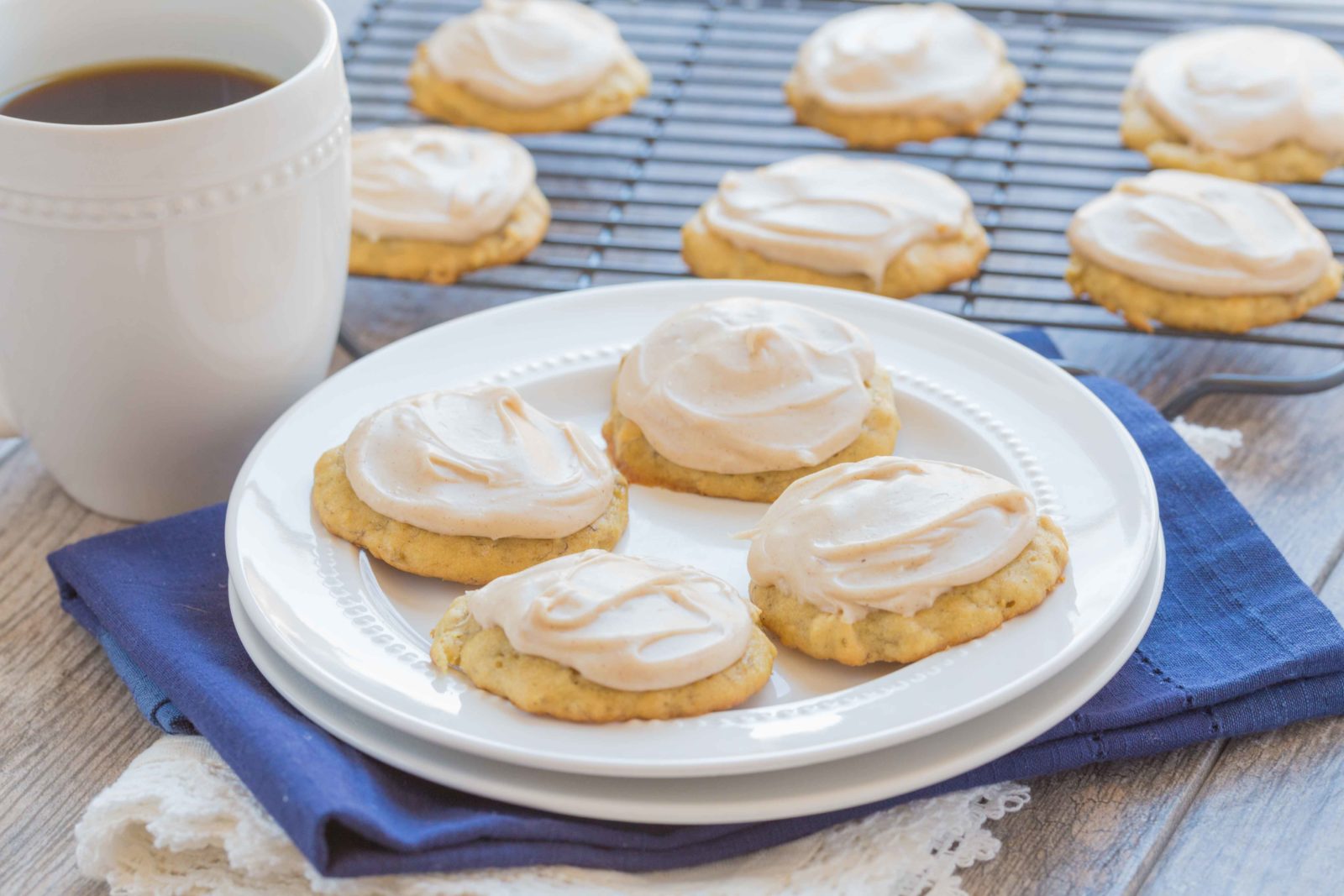 Since we're leaving this weekend and I had some bananas that were starting to brown, I knew I needed to use them up. When we leave we crank the a/c up to 80 degrees in the house and since its suppose to be 100 this weekend those bananas would not of made it til Monday.
I've always wanted to make banana cookies, but knew I need to have a frosting that sent them over the top. Banana breads, muffins and even cookies are dime a dozen. I needed to make these cookies stand out in the large crowd of banana desserts. This Browned Butter Frosting is the bomb.com. Yes I said bomb.com. 🙂 How else are you suppose to know that I'm being serious?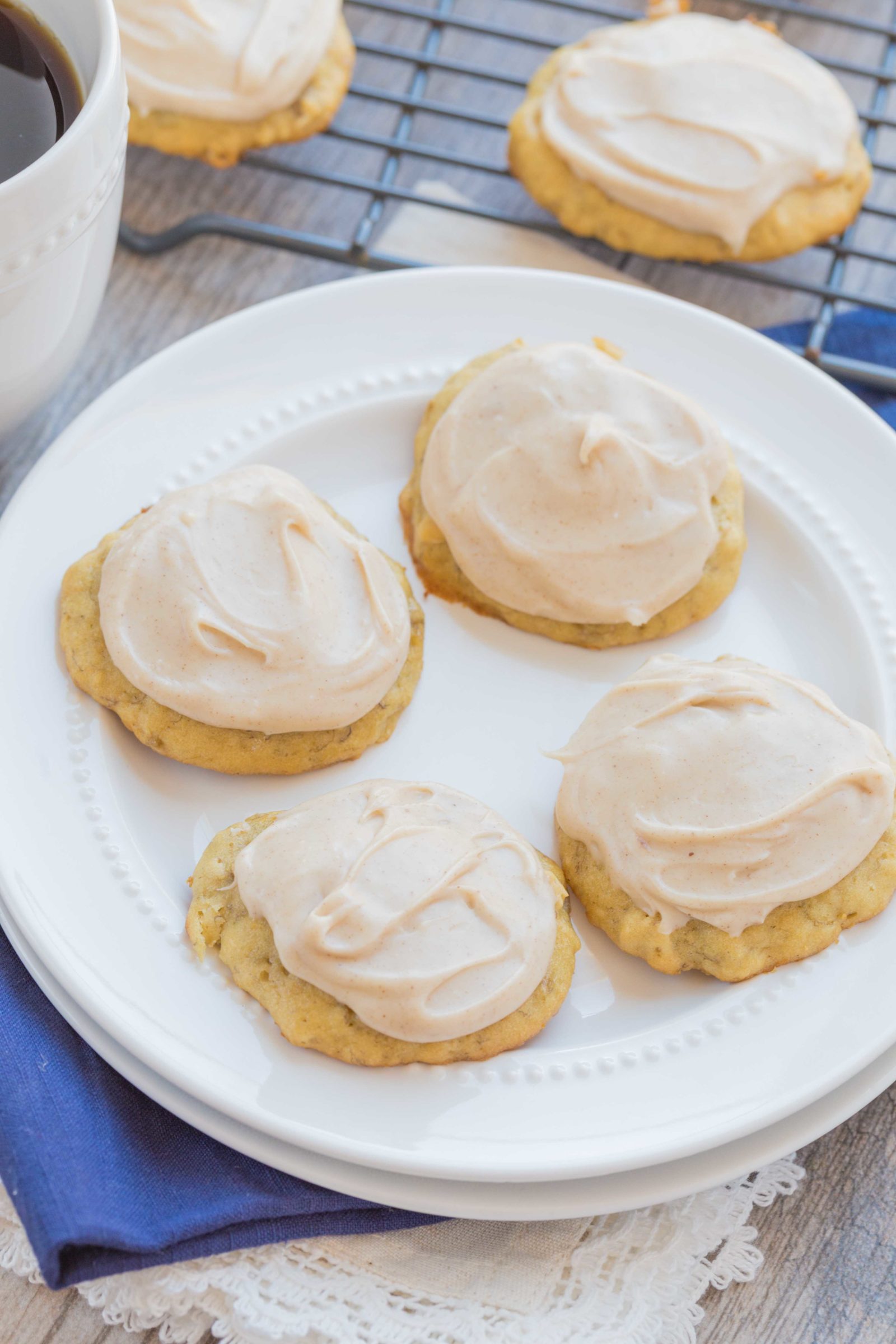 These cookies are crunchy around the edges with a soft center and the frosting is this delicious creamy frosting that just adds a huge punch to the cookies.
Next time your bananas are starting to brown remember these yummy cookies. I could say that they are healthy for you since they have bananas in them, but they have their fair share of sugary sweetness to them too. They're delicious and you're going to love them! Promise. 🙂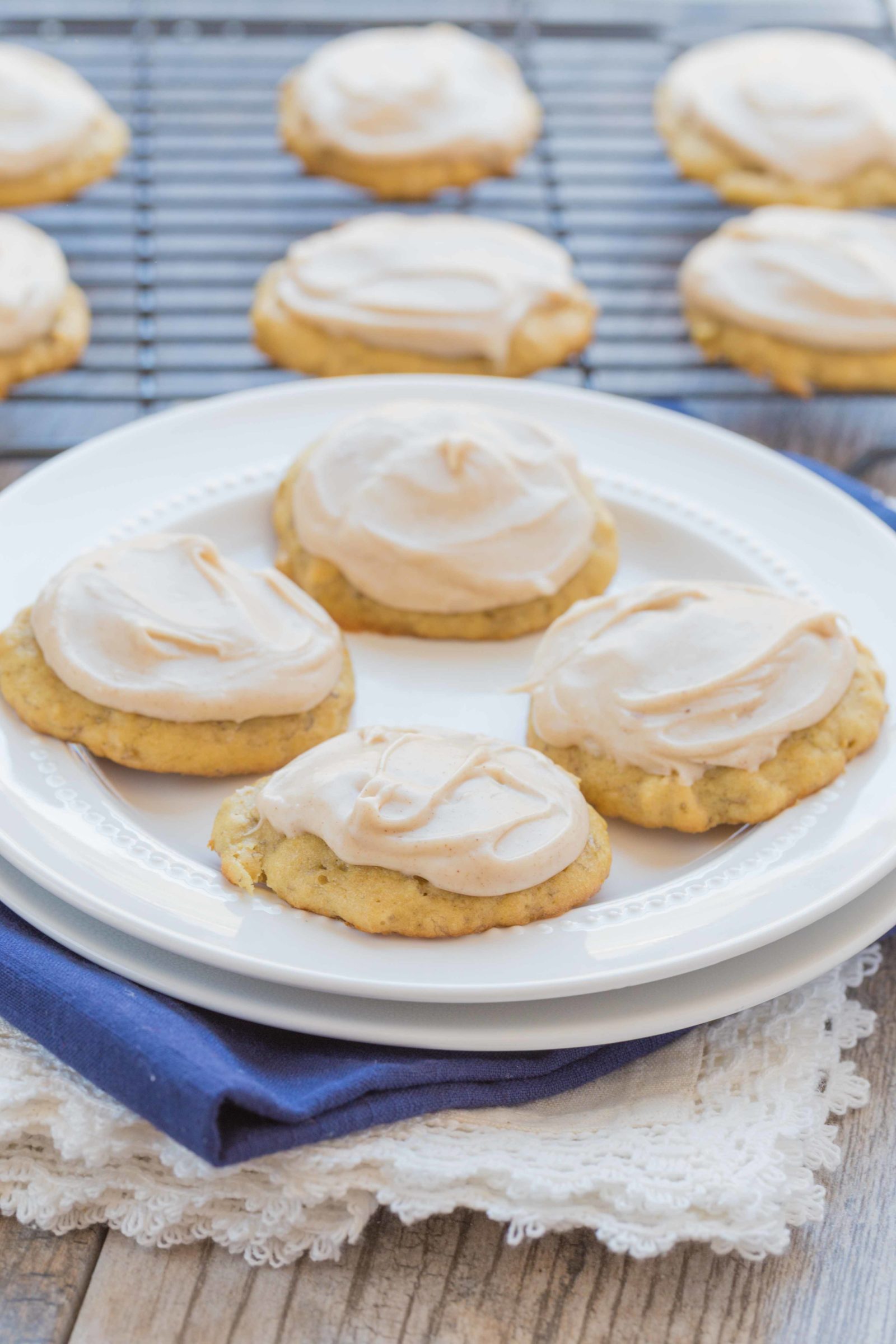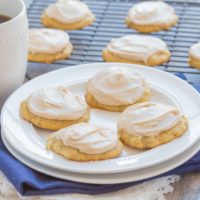 Get the Recipe:
Banana Cookies with Browned Butter Frosting
Ingredients
Cookies:

1/2

cup

1 stick unsalted butter, softened

1/2

cup

brown sugar

,

packed

1/4

cup

sugar

1/2

teaspoon

salt

1

teaspoon

vanilla extract

3

medium mashed bananas

,

about 1 1/2 cups

2

eggs

1 3/4

cups

all purpose flour

1/2

cups

old fashion oats

1

teaspoon

baking soda
Brown Butter Frosting:
1/3

cup

butter

3

cups

powdered sugar

1

teaspoon

vanilla extract

3-4

tablespoons

milk
Instructions
Preheat oven to 350 degrees F. Line two baking sheets with parchment paper or silat; set aside.

For the cookies: Using your stand or hand mixer, mix together the butter, sugars and salt until light and fluffy. Add in the vanilla and bananas.

Mix in the eggs, one at a time, making sure that each egg is incorporated before adding the next.

Whisk together the flour, oats and baking soda, then with the mixer on slowly add until everything is combined. Ladle the sides and bottom of the bowl.

Scoop roughly 2 tablespoons on prepared baking sheet. Bake 12 to 14 minutes, or until tops spring back and edges are lightly golden brown. Let sit on the baking sheet for 5-10 minutes then transfer to a cooling rack.

Let cookies cool completely before frosting.

For the Frosting: Using a small saucepan, add butter over medium heat. Brown butter, making sure to stir constantly for about 3- 5 minutes. Make sure you watch your butter because it can go from golden brown to burnt in seconds. Let cool 5 minutes before making the frosting.

Add the powdered sugar, browned butter and vanilla extract to a bowl. Whisking together, add 1-2 tablespoons of milk, until frosting is smooth and creamy. You want the frosting to be thick. If you need to add more milk, add until desired constancy.

Spread frosting on top of cookies and let sit 10 minutes, so the frosting can harden.

Serve and enjoy!