Thin Mint Blondies
I heart Girls Scout cookies. I don't know if it's because I was a girl scout for 10 years (troop 111 baby) or if it's because the cookies are darn addicting.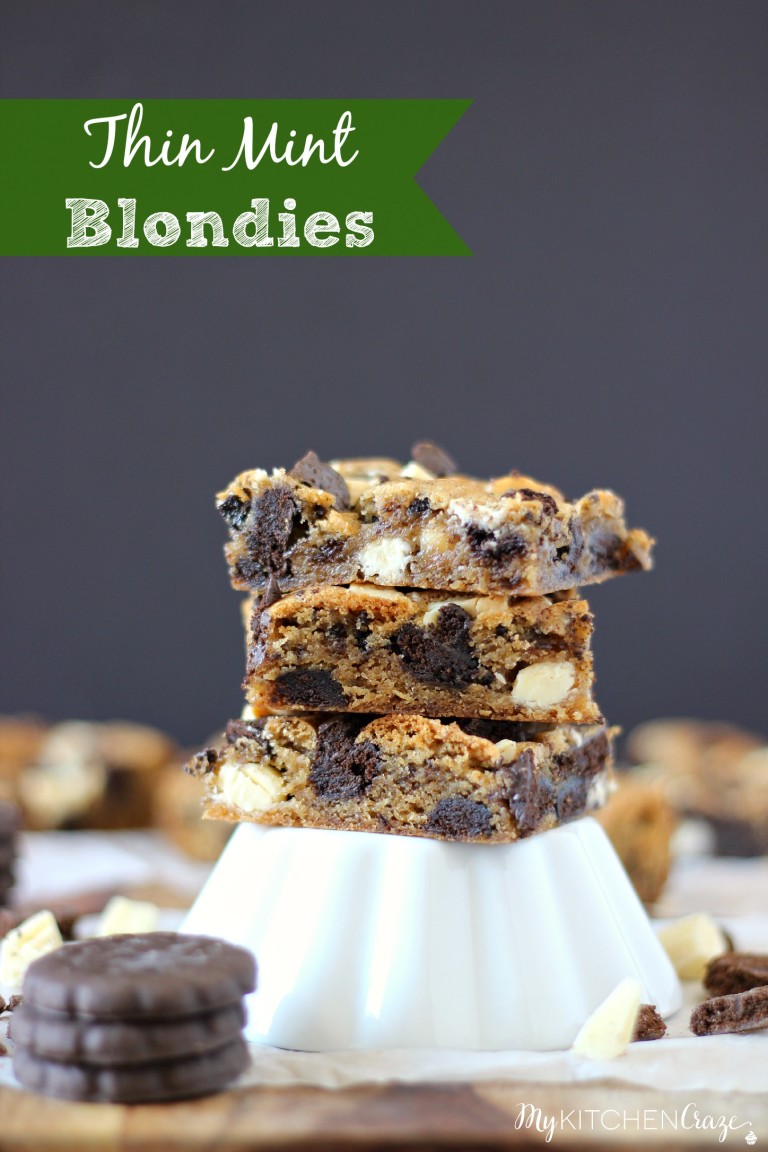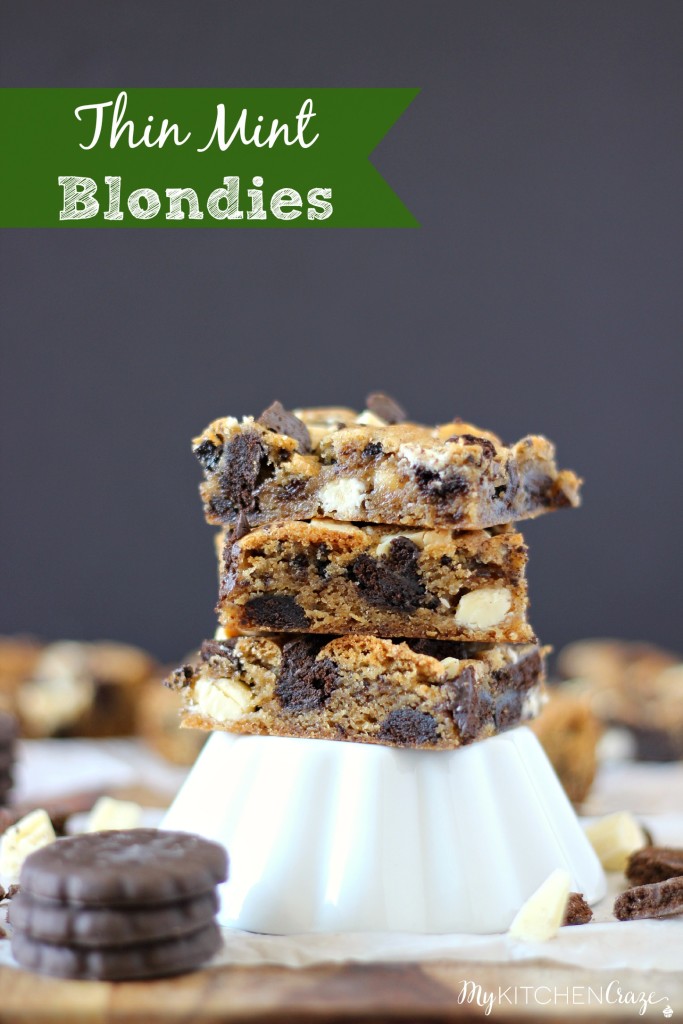 I remember going door to door asking people if they would like to buy some girl scout cookies. I also remember staying outside all day, okay it was probably only 4 hours, but for a 7-year-old it seemed like all day. Any way we would stand outside for about 4 hours at a grocery store selling cookies. I was always nervous to ask complete strangers to buy cookies, but everyone was so nice and bought the cookies.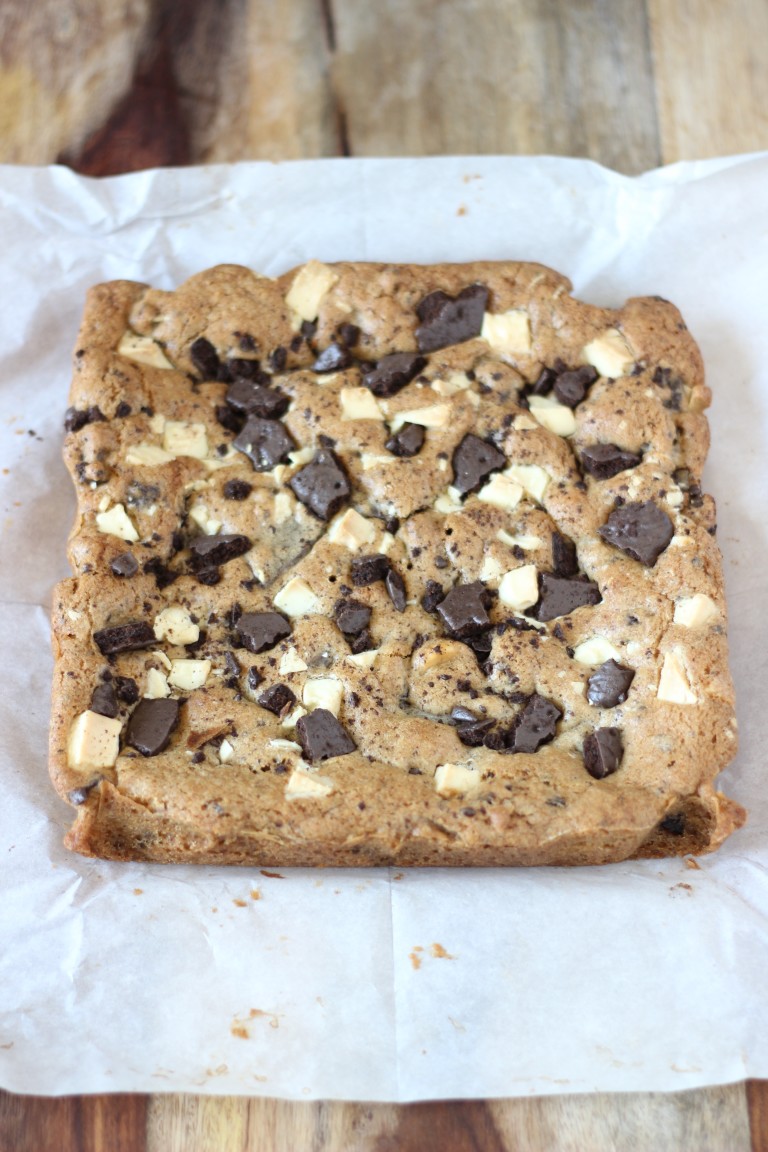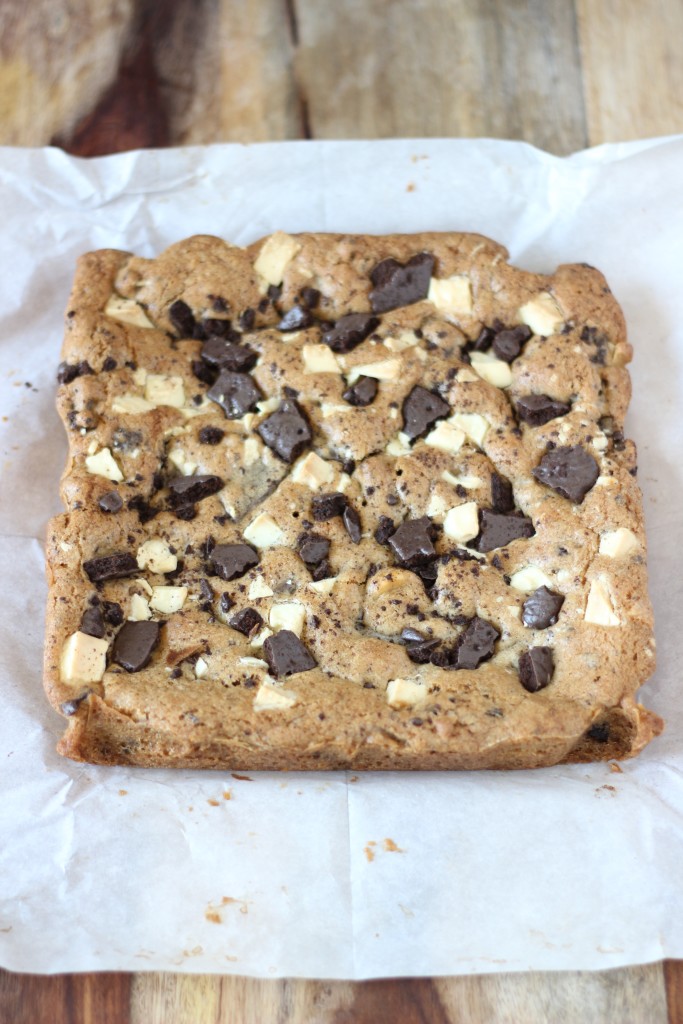 Girl Scouts taught me so much in life. I used to go to a camp every year for about 4 or 5 years. I learned how to sew buttons onto clothes, learned how to fold an american flag, leaned how to make ice cream and last but not least learned how to be kind and helpful to others. It's a great organization and I would love to get my daughter into girl scouts one day as well.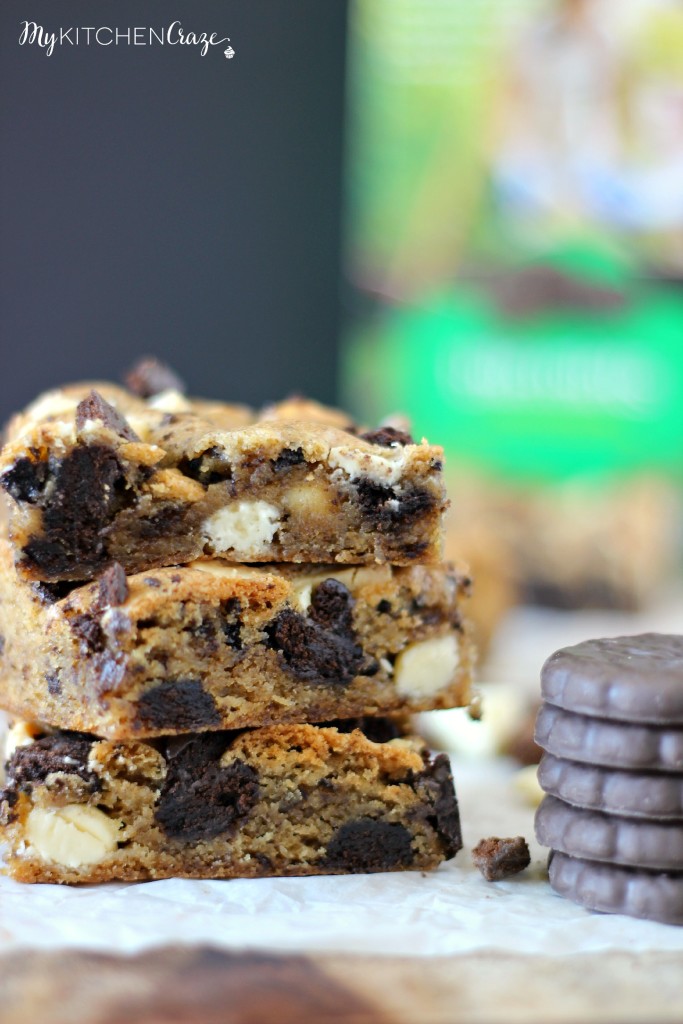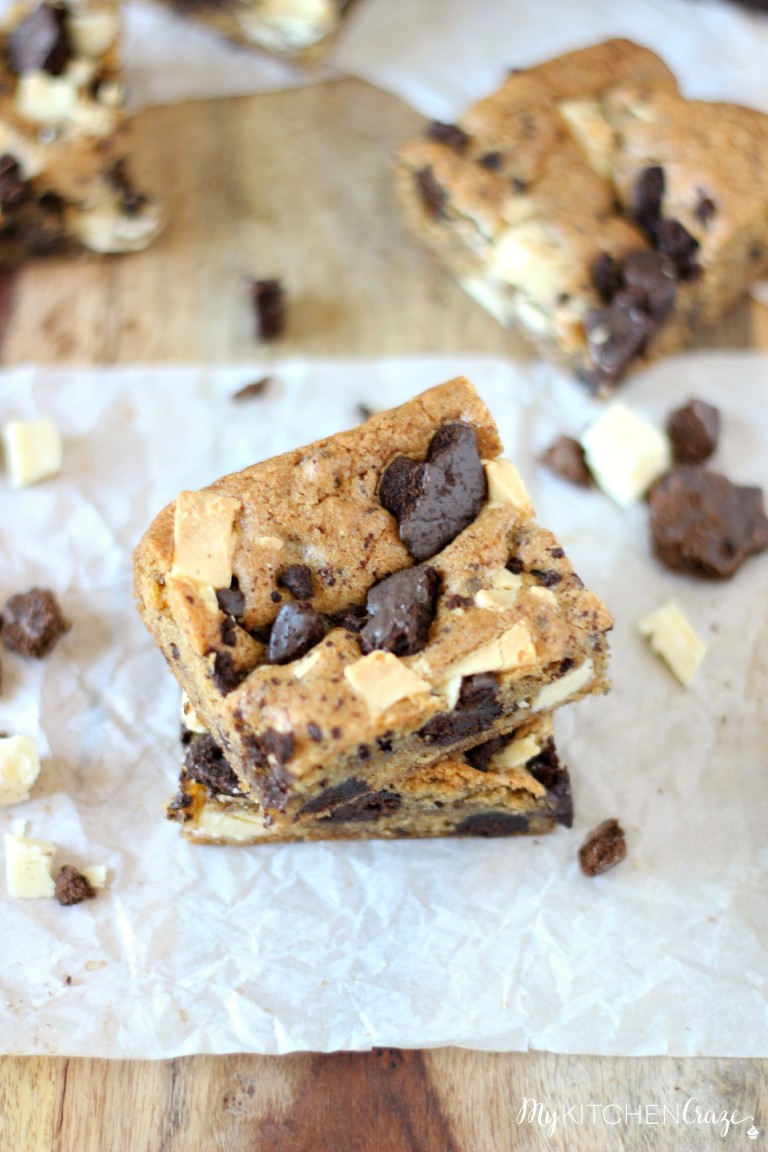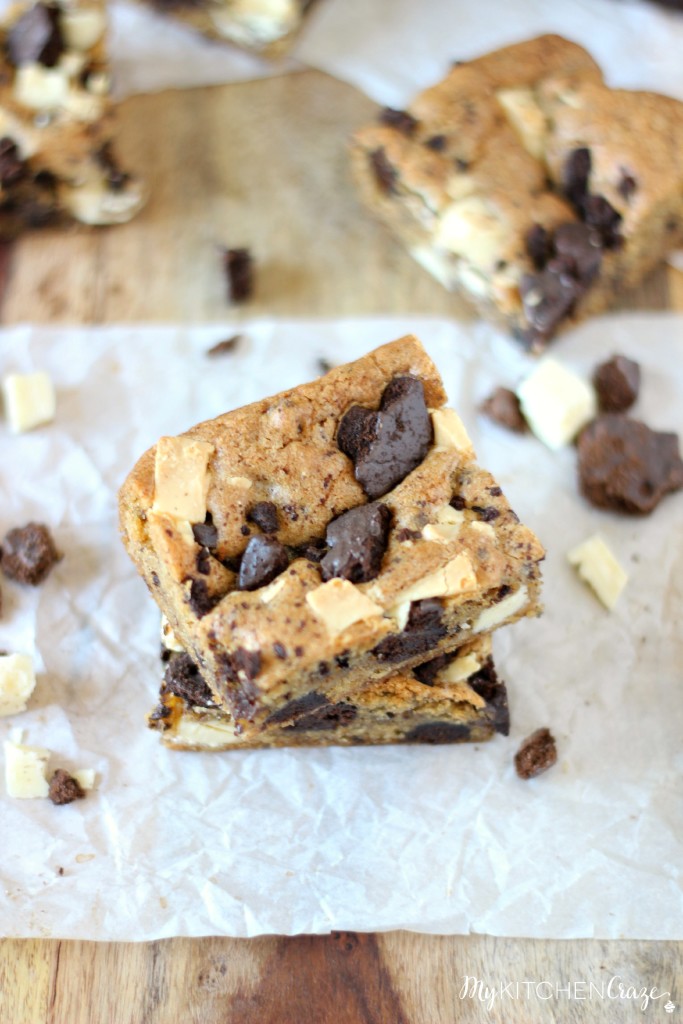 Now fast forward 10 years and me being a food blogger, it was a no brainer that I needed to bake something that incorporated Girl Scout Cookies. Originally I couldn't decide if I wanted use Thin Mint Cookies or Peanut Butter Sandwich Cookies. It was a toss-up for me, so I made the hubby decide. We both thought that the Thin Mints would be a new and yummy twist on a regular blondie bar.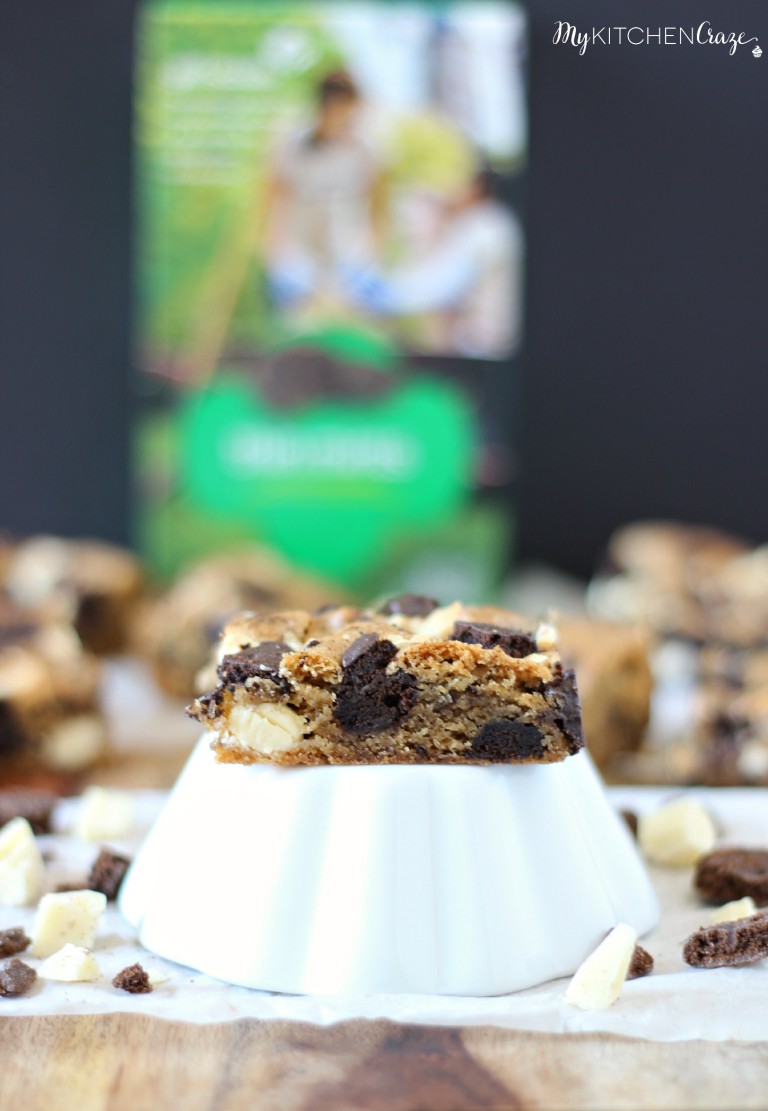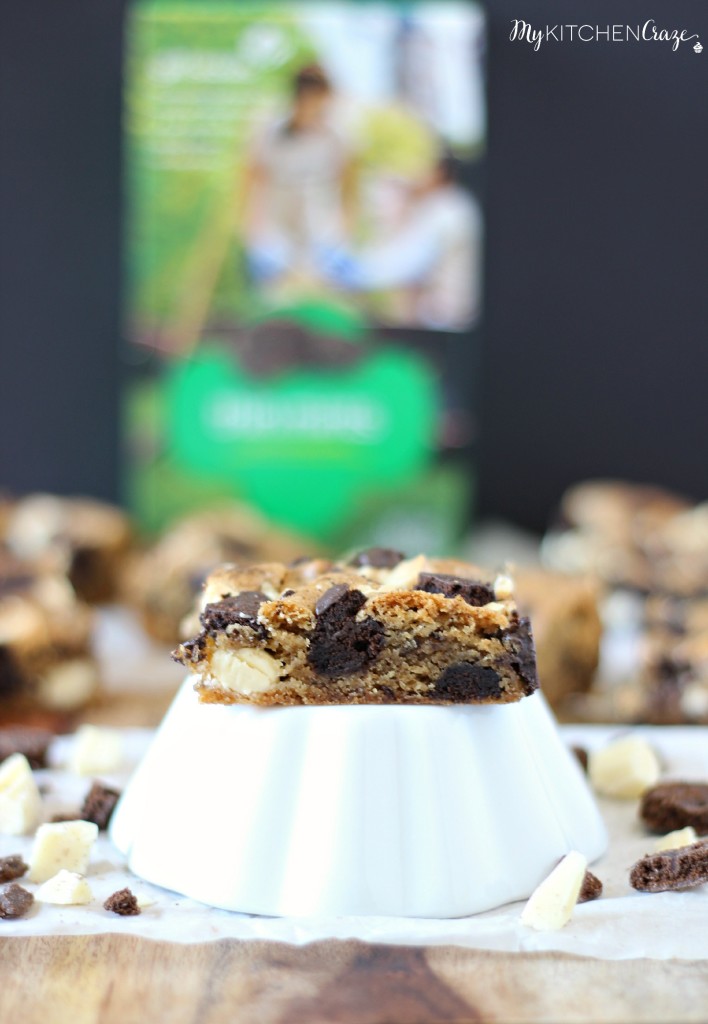 This is a standard blondie bar added with Thin Mints and white chocolate chunks. These bars are soft and chewy. Just the way a blondie bar should be. The Thin Mints give it a great crunch and peppermint-y taste. Don't worry if you don't have girl scouts in your area. You can get these grasshopper cookies at almost every grocery store and they taste just as great!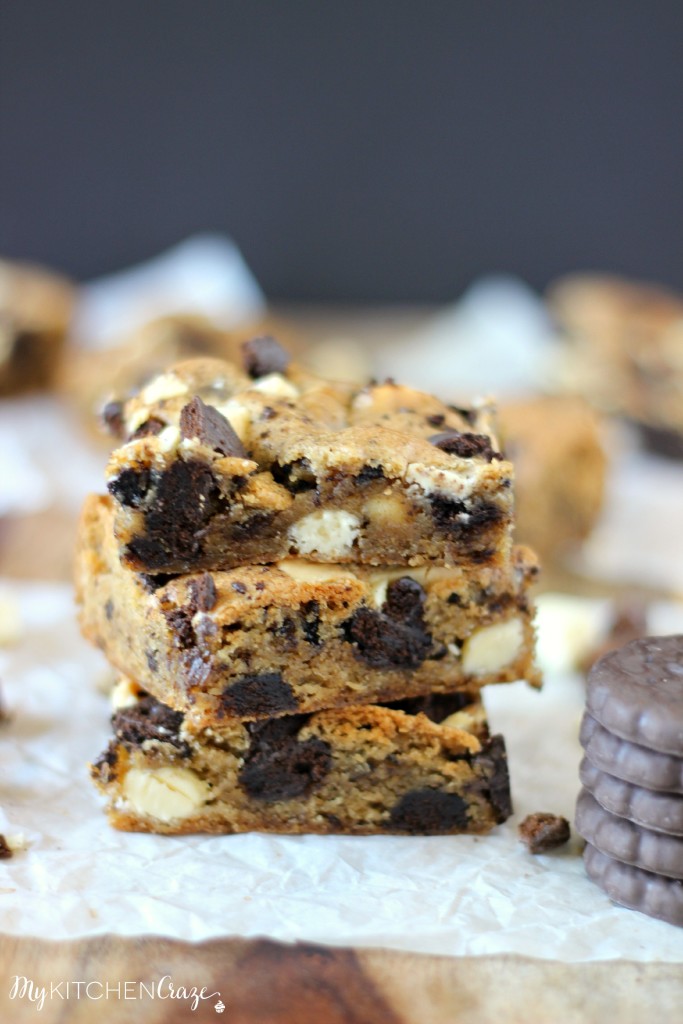 So if your obsessed with girl scout cookies like I am ( I did just buy 10 boxes. Oh my.) then you need to make these. They are soft, chewy and peppermint-y with a nice crunch from the cookies and white chocolate chunks. I love these Thin Mint Blondie Bars!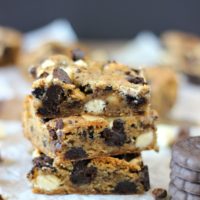 Get the Recipe:
Thin Mint Blondies
Ingredients
1

cup

all-purpose flour

1/2

teaspoon

baking soda

1/2

teaspoon

salt

1

stick

,

1/2 cup unsalted butter, softened

1/2

cup

brown sugar

,

packed

1/4

cup

granulated sugar

1

large egg

1

teaspoon

vanilla extract

1

cup

Thin Mints

,

crushed and divided

1/2

cup

1/2 bar Bakers white chocolate bar, coarsely chopped
Instructions
Preheat oven to 350 degrees F. Line an 8x8 baking dish with parchment paper. Leave an over hang on two sides of baking dish for easy removal. Lightly spray parchment paper with non-stick cooking spray. Set aside.

In a medium bowl, add the flour, baking soda and salt. Whisk together and set aside for later.

In a stand mixer with the paddle attachment, cream together the butter, brown sugar and granulated sugar, until light and fluffy, about 2 minutes. Ladle sides of mixing bowl.

Add egg and vanilla extract, making sure both are incorporated well.

With the stand mixer on low, add the flour mixture slowly. Mix until just incorporated.

Fold in 3/4 cups Thin Mints and 1/4 cup white chocolate chunks.

Spread batter into prepared baking dish. Wet your fingertips just a little with water and spread batter evenly in baking dish.

Sprinkle remaining Thin Mints and white chocolate over top of the dough.

Bake for 25-30 minutes or until tooth pick inserted comes out with little crumbs. Place on top of the stove until cooled. Remove from pan and peel off parchment paper. Cut into squares and serve.

Enjoy!