You've never had a more amazingly delicious cake until you've had this Caramel Apple Bundt Cake. No joke! I'm totally drop dead serious.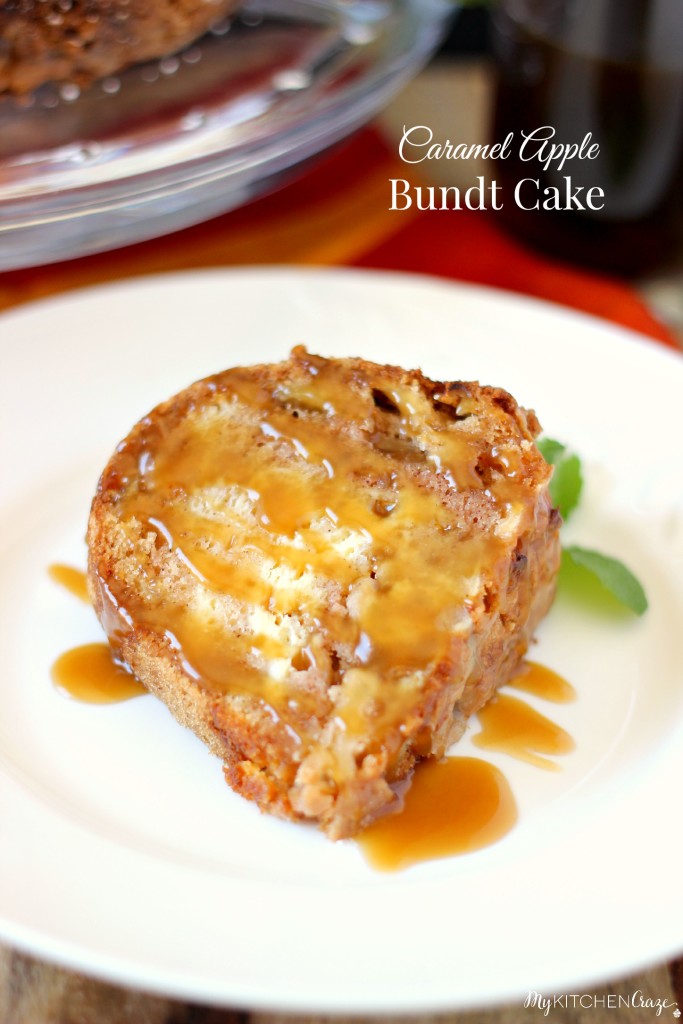 I know I tell you all that this dish is fabulous and this recipe is amazing, which they totally are, but this cake is just a whole new level of deliciousness. I can't tell type it to you enough. If you've read my last post, you'd know that my motto is: quick and easy recipes.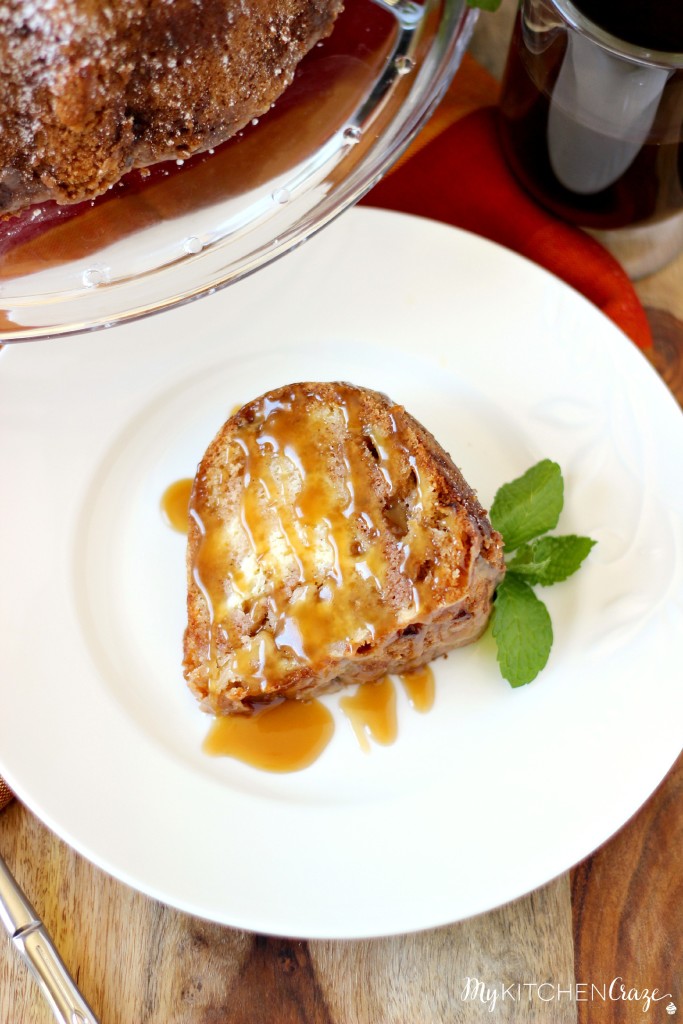 But I've also told you that if I post a recipe thats on the lengthy side, then it's well worth it. If I'm posting a recipe with numerous steps and ingredients, it's because this cake is simply that good and you need to make it.
Like, RIGHT now!!! 😉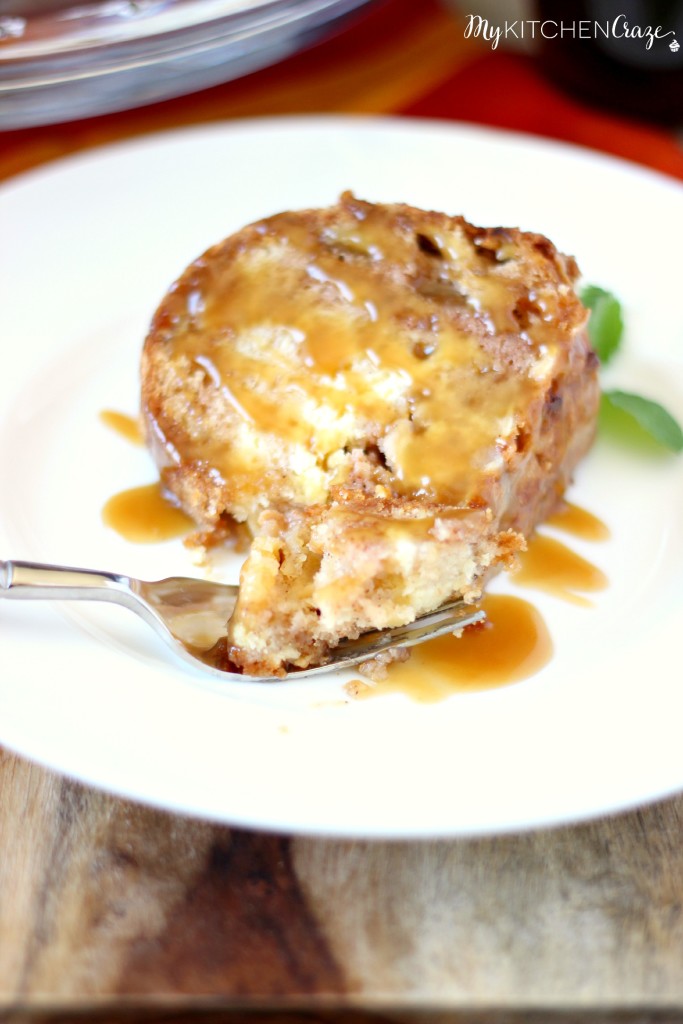 We were having some friends over for dinner last week and me being the food blogger and all, had to make dessert. Normally I would make a new recipe. I love trying new desserts especially when we have people over. Which is kinda of dumb of me, if you think about it.
There are so many things that can go wrong with a recipe I've never made. Like what if it turns out yuckie. I'd have nothing to go off of because I've never made it before. But I got lucky with this dessert because I've made it before. Yay! 😉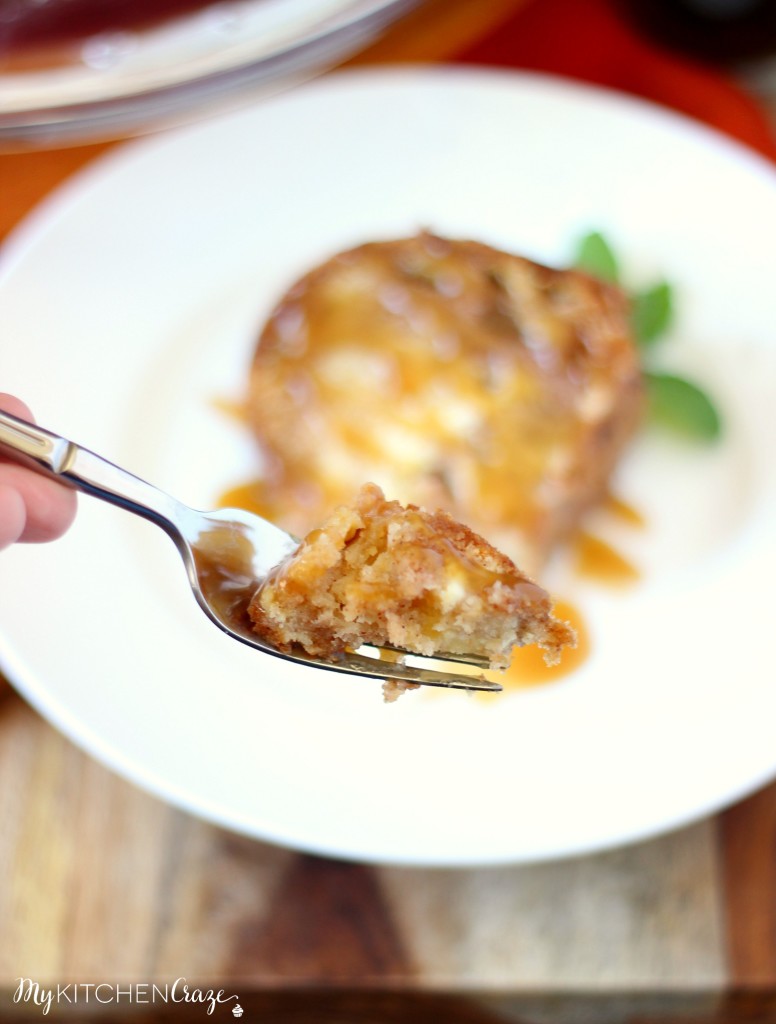 Now I know the ingredient list looks over whelming, but I promise once you start you'll get into a pace and it will be in the oven before you know it. This cake's so moist and the apple pieces are soft with hints of brown sugar and nutmeg. Then there's a creamy cream cheese swirled through out, topped with a glaze and then smothered with homemade caramel sauce. Yummm!! All you need is a nice glass of coffee or tea and you're set.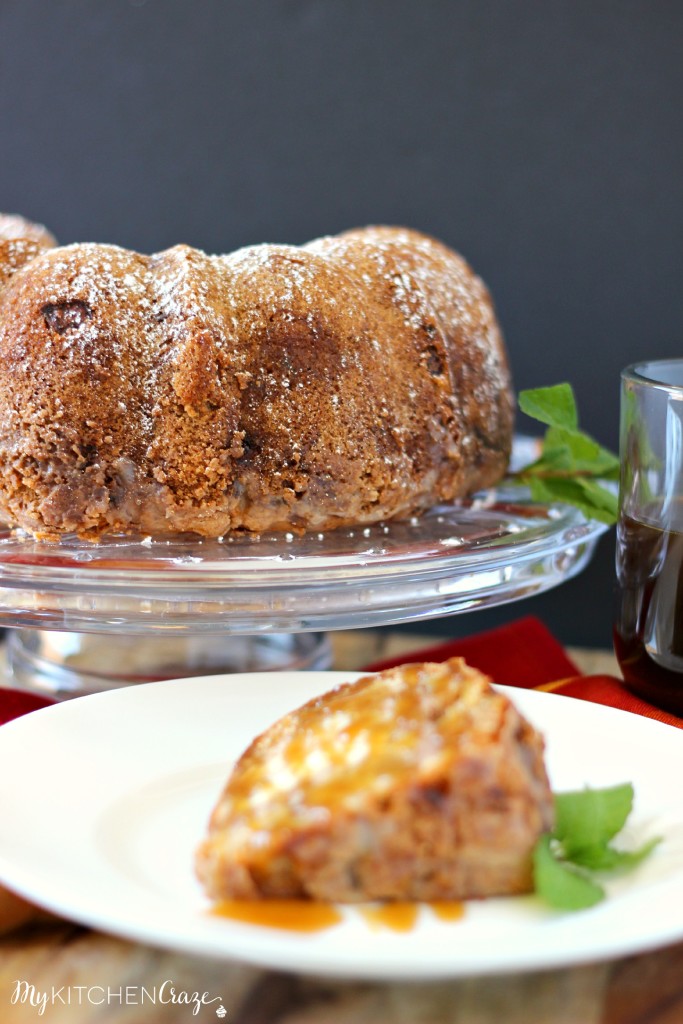 Another bonus is it tastes great the next few days, so all the work is well worth it for this recipe! If you have a special occasion coming up or just want a delicious dessert, then I suggest you make this Caramel Apple Bundt Cake!
Servings: 8
Carmel Apple Bundt Cake
You've never had a more amazingly delicious cake until you've had this Caramel Apple Bundt Cake. No joke! I'm totally drop dead serious.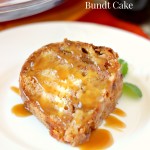 Print
Ingredients
Cake:
3 cups all-purpose flour
1 teaspoon baking soda
2 teaspoons cinnamon
1/2 teaspoon nutmeg
1/2 teaspoon salt
3 medium apples, for about 3 cups chopped
1 tablespoon lemon juice
3 tablespoons brown sugar
2 teaspoons vanilla, divided
1 1/4 cups vegetable or canola oil
2 cups granulated sugar
3 large eggs
Cream Cheese Layer:
8 ounces cream cheese, room temperature
1/3 cup granulated sugar
1/2 teaspoon vanilla
1 large egg
Glaze:
2 tablespoons butter
2 tablespoons brown sugar
2 tablespoons white sugar
2 tablespoons heavy cream
1/2 to 1 tsp vanilla
Caramel Sauce:
4 tablespoons butter
1 cup firmly packed light brown sugar
1/2 cup half-and-half or whipping cream, I used heavy cream since I had it on hand and it turned out fine
Pinch of salt
1 tablespoon vanilla
Instructions
Generously grease and flour a 9 or 10-inch bundt pan. Set aside. Preheat oven to 350 degrees F.
Cake:
In a medium bowl, whisk together the flour, soda, cinnamon, nutmeg and salt. Set aside. Peel, core and dice 3 cups of apples.

Toss the apples with the tablespoon of lemon juice to keep from browning. Add the dark brown sugar and 1 teaspoon vanilla and toss to combine. Set aside.

Using a handheld electric mixer or in the bowl of a stand mixer, blend the oil, sugar, and vanilla until well mixed. Add the eggs one at a time, mixing well after each addition. Stir in the dry ingredients until just incorporated. The batter will be quite thick. Drain any excess liquid from the apples (if any) and stir the apple mixture into the batter. Don't overmix! Pour the batter evenly into the prepared pan.
Cream Cheese Layer:
Add the cream cheese to the stand mixer and mix just until smooth. Add the 1/3 cup sugar, vanilla and egg and beat on medium speed until creamy and smooth.

Using a spoon or butter knife, make a trench in the center of the cake batter (going around in the circular shape of the bundt pan) about 1-inch deep (just scoop the excess batter to either side). Spoon the cream cheese mixture into the trench. Try and keep the cream cheese mixture in a ring in the center of the cake so it has cake batter on either side around the circle. Once the cream cheese mixture is in place, use a butter knife to swirl the cream cheese mixture into the surrounding cake batter.

Bake the cake for 1 hour and 15 minutes (checking often as you may need to decrease or increase time based on your pan and exact oven temperature). Bake until a toothpick inserted in the center comes out with only a few moist crumbs.
Glaze:
While the cake is cooling, mix the ingredients for the glaze in a small pan over medium high heat. Allow the ingredients to come to a boil and boil for one minute, stirring constantly. Pour the glaze over the cake while the cake is still in the pan. Let the cake cool in the pan before removing. Turn the cake out onto a serving plate and store covered in the refrigerator for up to 2 days. Serve chilled or at room temperature, drizzling caramel sauce over each piece.
Caramel Sauce:
Mix the butter, brown sugar, half-and-half or cream, and salt in a saucepan over medium-low heat. Bring the mixture to a simmer and cook while whisking gently for 5 to 7 minutes, until thickened slightly. Add the vanilla and cook another minute to thicken further. Turn off the heat and pour the sauce into a jar. Refrigerate until cold (or use slightly warm but not hot). If the caramel sauce has cooled in the fridge long enough to harden, warm slightly before drizzling on cake.