Texas Ranch Chicken Casserole
Need a quick meal to throw together for the holiday pot luck or just something quick for dinner tonight? This Texas Ranch Chicken Casserole is the prefect meal for you. 
Be sure to follow me on Facebook, Instagram & Pinterest to stay up to date on all of my recipes!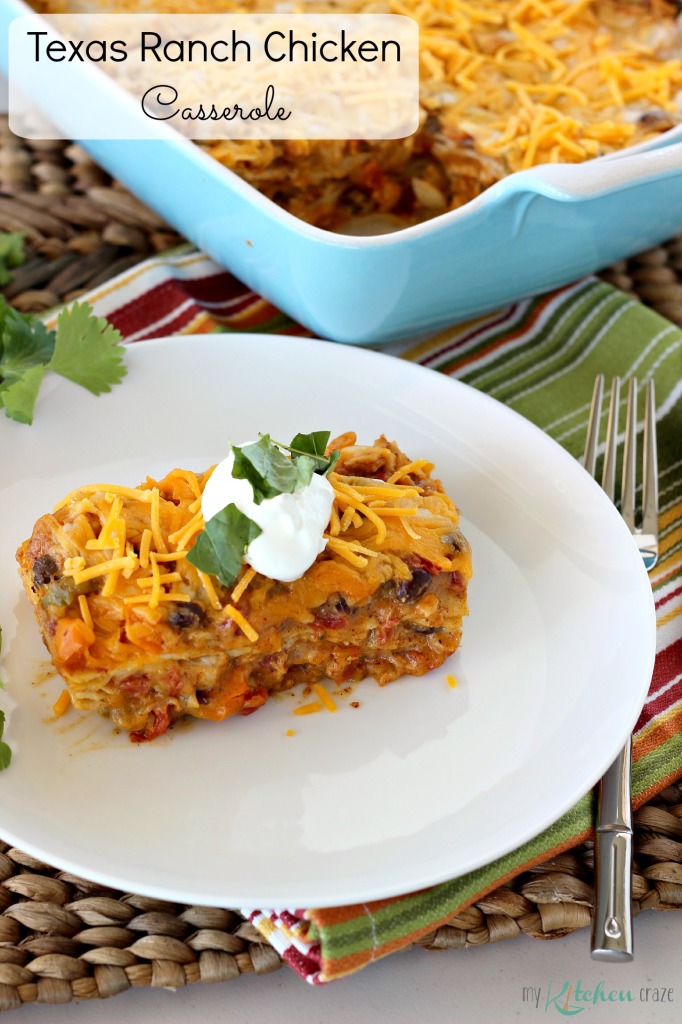 Its back to life for us. Thanksgiving break is officially over and life starts getting hectic once again. I really enjoyed our 9 days of nothingness. No soccer, no gymnastics, no school and no crazy taxi mom service. Now that we're back to "real" life I need to get back on track. Cooking and preparing meals ahead of time because I just don't have that extra few hours to think about such things. I need to be on top of my game and make sure I am prepared and organized or life just seems even more crazy. We officially have 15 school days until Christmas break starts. We are already counting down here. Hehe
This casserole is the perfect dinner to get back into the groove of things. It comes together very quickly and is delicious! As you can tell from looking around my blog, I am a little obsessed with casseroles and any type of mexican food. So this casserole was just down my ally. I ate if for leftovers for 3 days and I do not do leftovers. I just don't do them. I normally don't like them, but this casserole was perfect as leftovers. Just warm it up a few seconds and wha-la you have a tasty meal.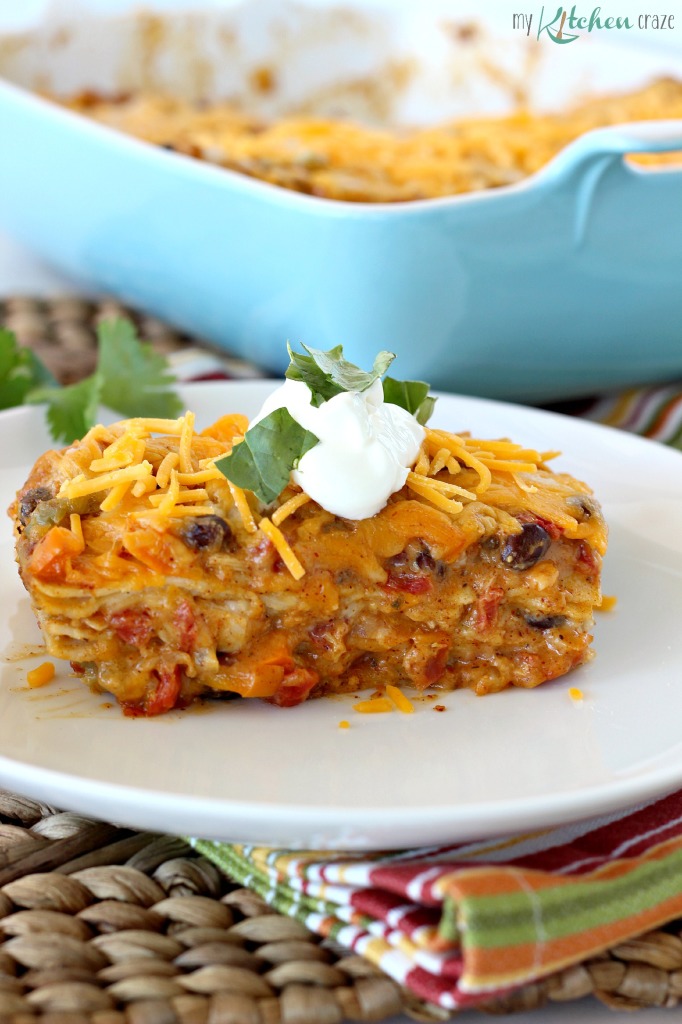 I like dishes that don't require a lot of time. I don't know about you guys, but once my hubby is home from work, I don't want to do anything else. I just want to hang out with the family and relax. This Texas Ranch Casserole is the perfect meal that you can make ahead of time and just throw it in the oven again to warm up. It is fail proof and doesn't require a ton of labor. Like I said it's a perfect, quick and delicious casserole! Give it a try, you're gonna love it!
Servings: 8 -10
Texas Ranch Chicken Casserole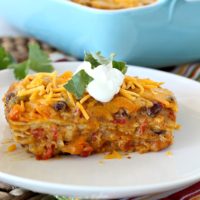 Print
Ingredients
1 medium onion, chopped
1 green pepper, chopped
1 red pepper, chopped
1 tablespoon canola oil
3-4 cloves garlic, minced
3 cups cubed cooked chicken, roughly 2 chicken breasts
1 cup black beans, rinsed
1 10 3/4 oz can cream of celery soup
1 10 3/4 oz can cream of chicken soup
1 10 oz can Rotel tomatoes with chiles
1/2 teaspoon cumin
1 tablespoon chili powder
1/2 teaspoon salt
1/4 teaspoon pepper
15 corn tortillas
1 cup shredded cheddar cheese
1 cup shredded Monterey jack cheese
garnish; sour cream, cilantro, avocado
Instructions
Preheat oven to 350 degrees F. Spay a 9x13 baking dish with cooking spray; set aside.

In a large skillet, sauce onion, green and red pepper in oil over medium high heat, until translucent and tender; about 5-7 minutes.

Add garlic and cook for another minute.

Add in chicken, soups, hotel tomatoes, chili powder, cumin, salt and pepper. Stir well to combine.

Line half the baking dish with 1/3 of the tortillas, top with 2/3 cup of the chicken mixture, sprinkle 1/3 up cheese. Repeat layers until cheese is the last layer. Use remaining cheese to top casserole.

Bake 30 minutes, uncovered; until cheese is melted and bubbly.

Serve with a big dollop of sour cream!