Oatmeal Chocolate Chip Cookies
 Are you an Oatmeal lover like me? Do you also love chocolate chips? Add those together and you get some awesome Oatmeal Chocolate Chip Cookies!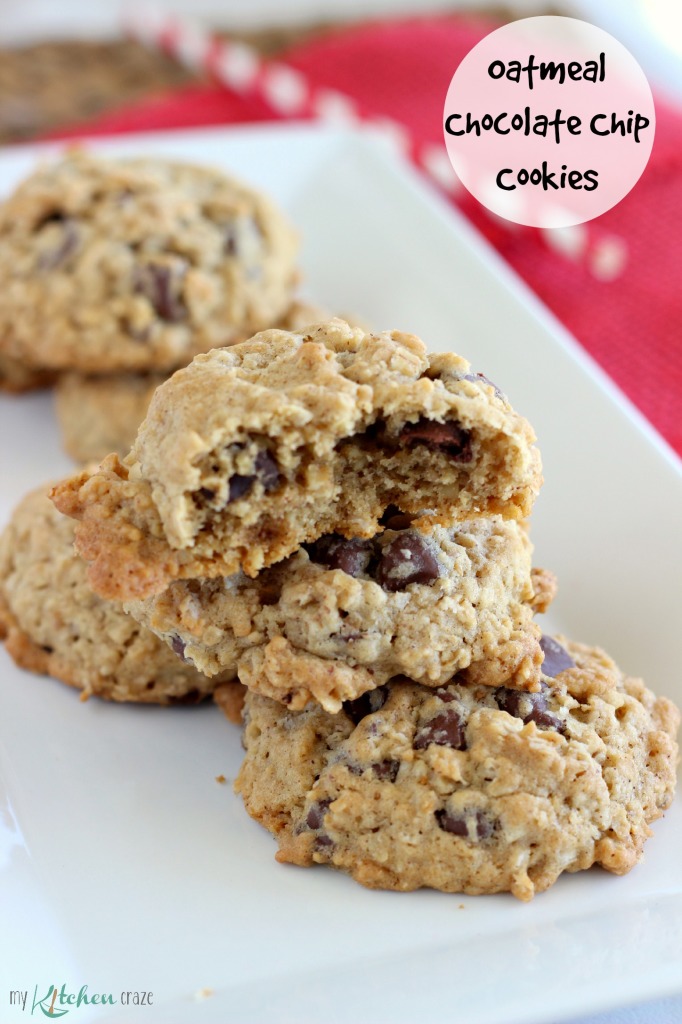 I heart cookies!! I really do. I can eat any type of cookie imaginable. But sometimes its the simple cookies that get to my heart. The easy, throw together cookies that I keep making over and over again. Ever since I was young I have always loved oatmeal in my cookies. But the only type of oatmeal cookies are Raisin Oatmeal Cookies. I am not a fan of Raisins. Not sure why, but I just don't care for them. It's not that I hate them. It's just a texture thing for me. Are you a texture eater? Have you ever heard of a texture eater. Ok, if you have never heard of this, then let me, Cyndi explain this to you. But you can't think I am a weirdo. Ok, you can, but keep it to yourself or you're gonna hurt my feelings.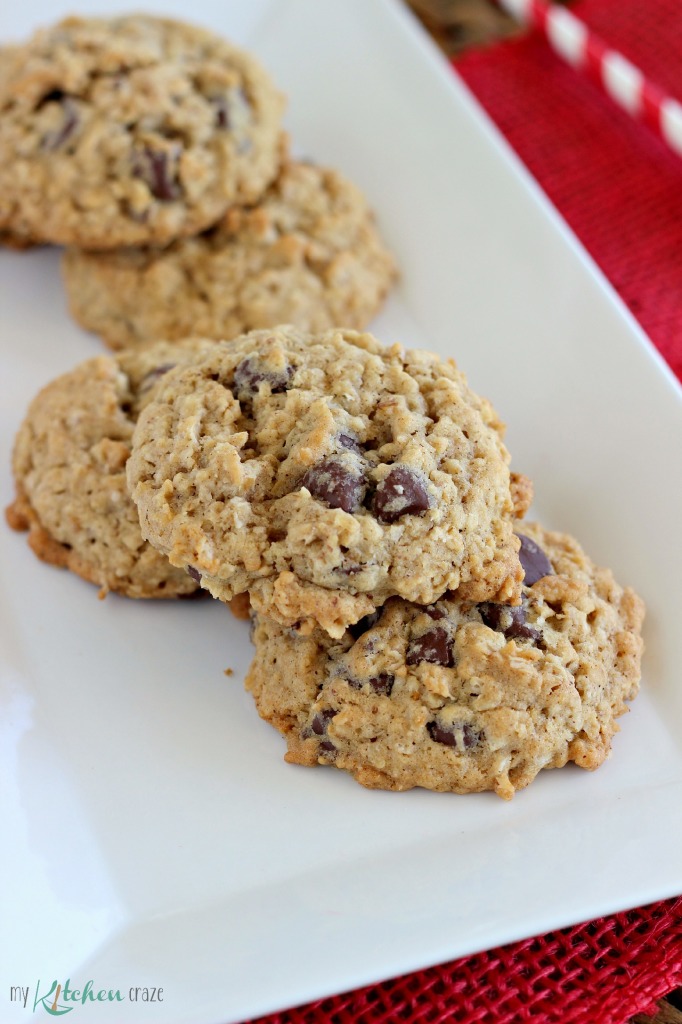 So, I'm a total texture eater. Such as gummy bears. They are chewy, gummy and just a weird texture. Another food that I can't eat because of texture is raw tuna. My hubby and son get spicy tuna on their sushi's and I just can't eat it. It tastes so different to me that I can't swallow it. I know, I know weirdo right? But that brings me back to Raisins. They are another texture thing for me. So I was in a pickle because I loved Oatmeal cookies but minus the Raisins.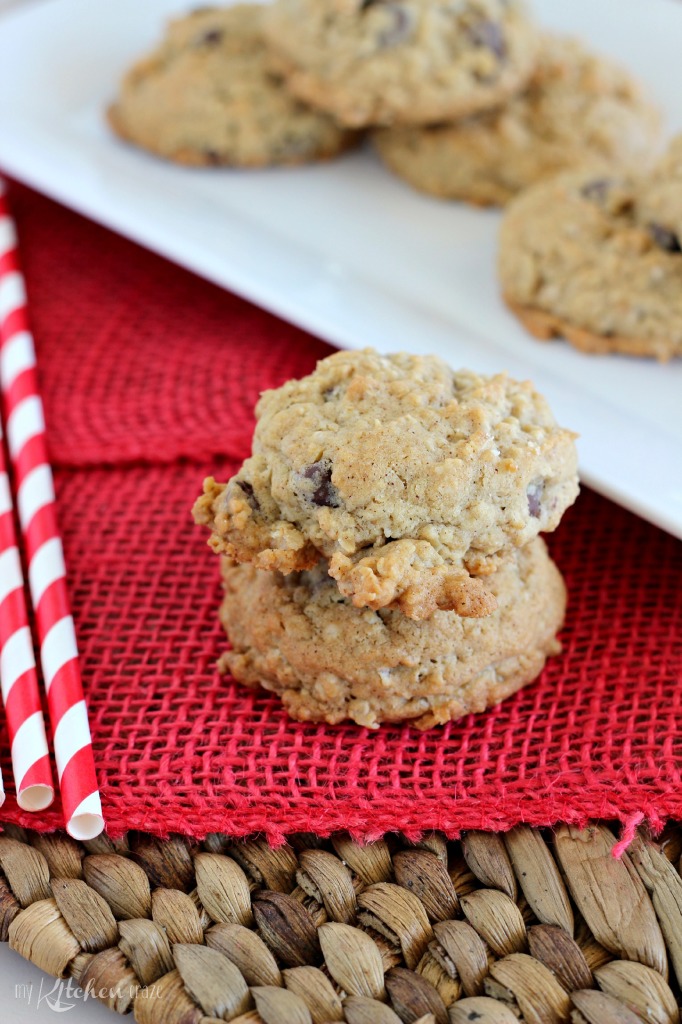 ENTER: Chocolate Chips.
HELLO, my friend the chocolate chip!
Now I am sure almost every one has had Oatmeal Chocolate Chip Cookies before. But these little guys happen to be the best cookie ever. I think so at least. I've made this recipe at least a thousand times and it comes out amazing every single time. I love the added cinnamon to the cookies. They are so soft, but also have that perfect crunch from the oatmeal. Then added with the chocolate chips and cinnamon, it makes these cookies packed with some pretty great flavors, if I say so myself.
If you have never made Oatmeal Chocolate Chip Cookies, or maybe you haven't had them in a while, make these. Promise you're gonna love them! Happy Saturday Friends!
Oatmeal Chocolate Chip Cookies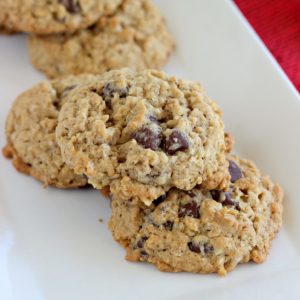 Ingredients:
1 stick (1/2 cup) plus 6 tablespoon butter, softened
3/4 cup brown sugar, firmly packed
1/2 cup granulated sugar
2 eggs
1 teaspoon vanilla extract
1 1/2 cups all-purpose flour
1 teaspoon baking soda
1 teaspoon cinnamon
1/2 teaspoon salt
2 1/2 to 3 cups Quaker quick oats
1 cup chocolate chips
Directions:
Preheat oven to 350 degrees F.
In a small bowl add flour, baking soda, cinnamon and salt; mix well and set aside. In a stand mixer, mix butter, granulated sugar and brown sugar on medium, until creamy. Add eggs, one at a time. Making sure each egg is incorporated before adding the other egg.
Add vanilla and mix. Add flour mixture to stand mixer. Mix well, but making sure not to over mix.
Add oats and chocolate chip and mix.
Drop dough by rounded tablespoonfuls onto ungreased cookie sheet. Bake 8-10 minutes or until light golden brown. Cool 1 minute, then transfer to wire rack.
Cool completely and then ENJOY!