Turkey Salad
 Do you have turkey in your refrigerator and have no clue what you're going to do with it? I have the perfect recipe for you today!
Be sure to follow me on Facebook, Instagram & Pinterest to stay up to date on all of my recipes!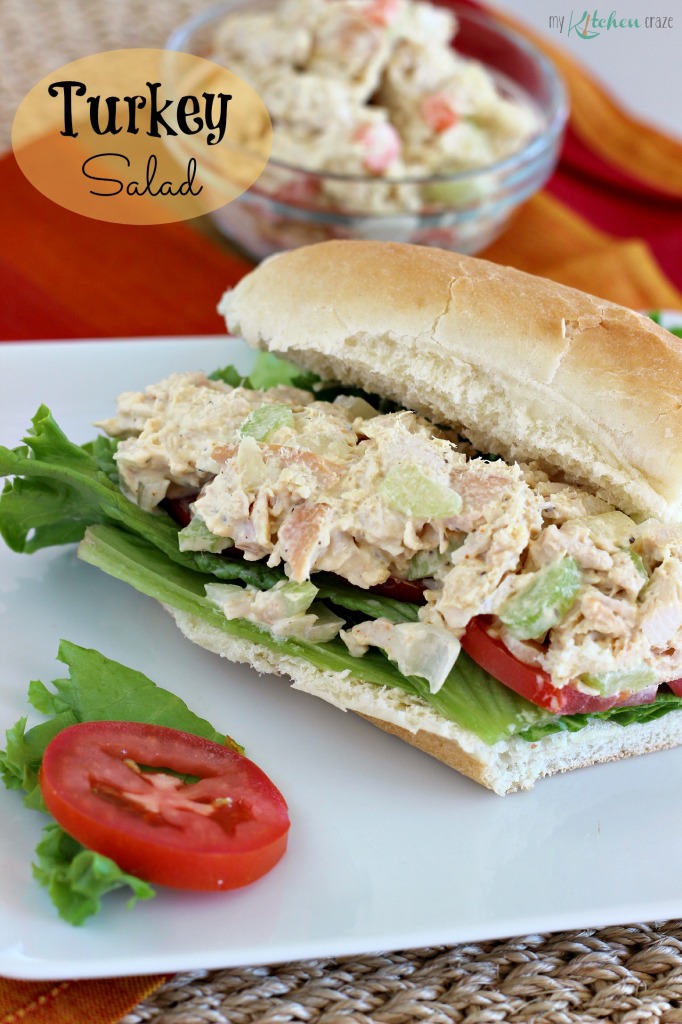 Hi everyone! How was your Thanksgiving? Mine was amazing! Even though we didn't have a huge family gathering this year, it was really nice. My parents came over and hung out with us all day. It was so peaceful and relaxing. My niece and nephews stopped by to say hello also.
Since we weren't doing a "big" Thanksgiving this year, I told my mom that I wasn't going to cook as much food.
Well, that didn't work out very well.
We. had. so. much. food! Oh my! 
What was I thinking? We had turkey, mashed potatoes and gravy, stuffing, corn soufflé, Brussel Sprouts, sweet potato casserole, cranberry sauce and rolls. My gosh that is a lot. Seriously, I did not think this through, did I?
Obviously, I didn't.
Since I have leftovers galore, I will be making some thanksgiving inspired dinners. I do like some of the leftovers, but I am known to be picky here and there, so I'll be creating some recipes (like this Turkey Vegetable Soup. Did you see it? Yum!) to use up all this food.
Every year, my mom say: "honey, make turkey sandwiches." Well I don't like plain, cold turkey sandwiches, so I wanted to come up with a jazzed up version.
Enter: Turkey Salad!
You guys, this turkey salad is the bomb.com! Oh yea I just went there. But I had to, to emphasis how amazing this turkey salad is. Make this! You will not be disappointed. You can add it on some french rolls, with some lettuce and tomatoes then eat like queens and kings. Or if you're having some more gatherings this weekend, you could put this in a bowl with some crackers and cheese. It would be a delicious appetizer too.
I love this salad and will be making it years to come! PS How was your thanksgiving? What was your favorite dish and did you make it yourself? Thanks to you all for trying my recipes and reading this blog. You are all awesome! Happy Weekend!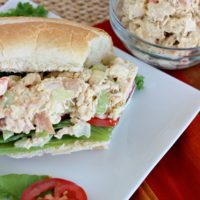 Get the Recipe:
Turkey Salad
Ingredients
2-3

cups

turkey

,

chopped into small pieces

1

teaspoon

old bay seasoning

1/2

medium onion

,

diced

2

celery ribs

,

cut in half; then chopped

2

carrots

,

cut in half, then chopped

1/2

cup

mayonnaise

2

tablespoons

mustard

4

tablespoons

ranch dressing

1/4

teaspoon

salt

1/4

teaspoon

pepper
Instructions
Place turkey pieces in a large mixing bowl. Add old bay seasoning and mix well.

Add remaining 8 ingredients and mix well. ([i]If your turkey salad is looking a little dry, add some more mayonnaise.)[/i]

Refrigerate in a closed container for 3 days.

Enjoy!