Tex-Mex Enchilada Casserole
This Tex-Mex Enchilada Casserole is filled with corn, black beans, peppers and a delicious homemade enchilada sauce. Perfect for a family dinner and great as leftovers. This is one casserole you're going to love!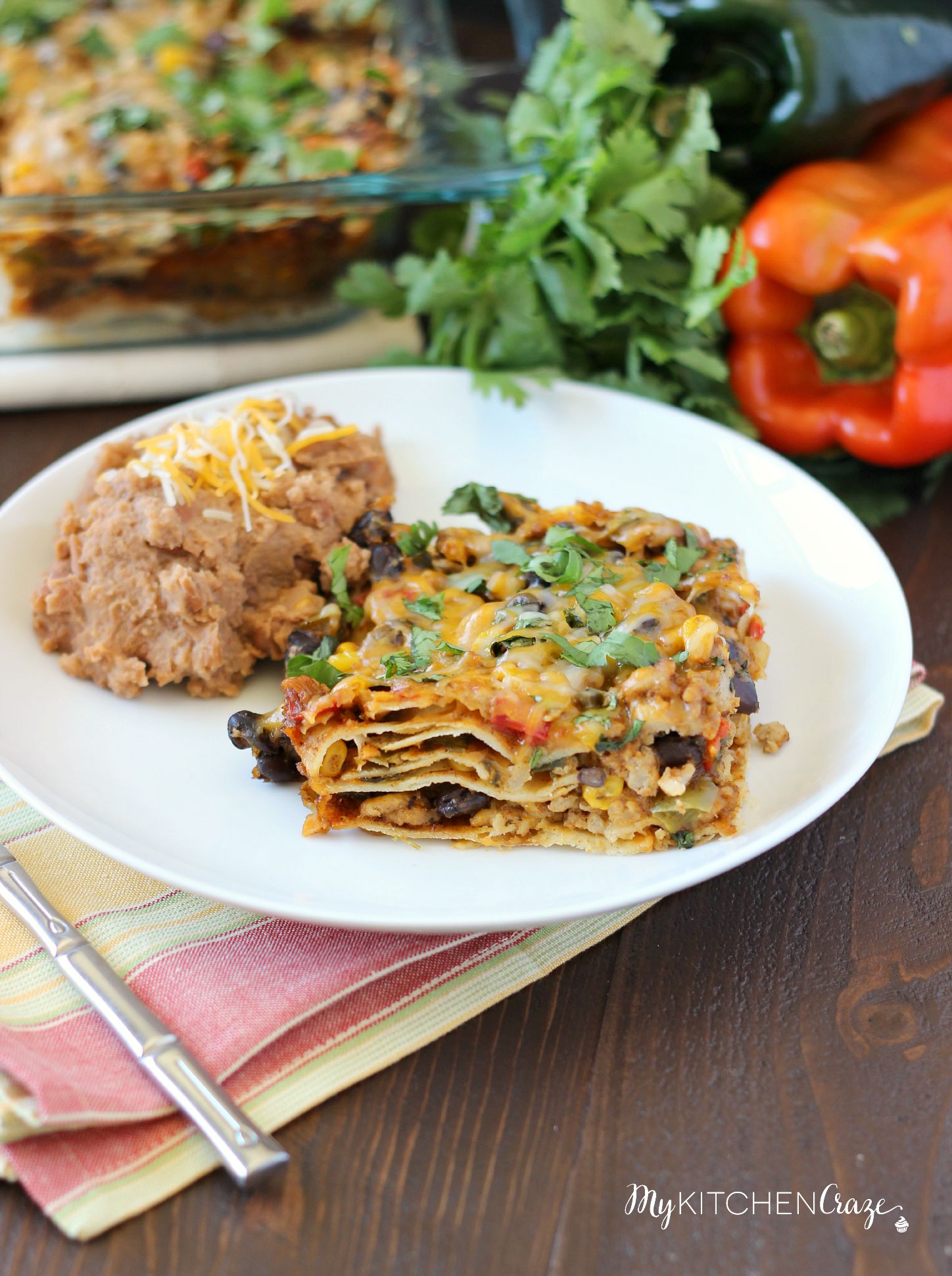 Happy Wednesday guys! This week has been a crazy week. And we're only halfway through. I don't know where the weeks and days are going, but life is just strolling on by and doesn't seem to slow down even for a second. School starts in 2 weeks from today and we have one last mini vacation planned. We're going to Las Vegas and the kids have never been before, so they're super excited. And this mama needs to get out of town for a few days. Vegas get ready for us cause here we come!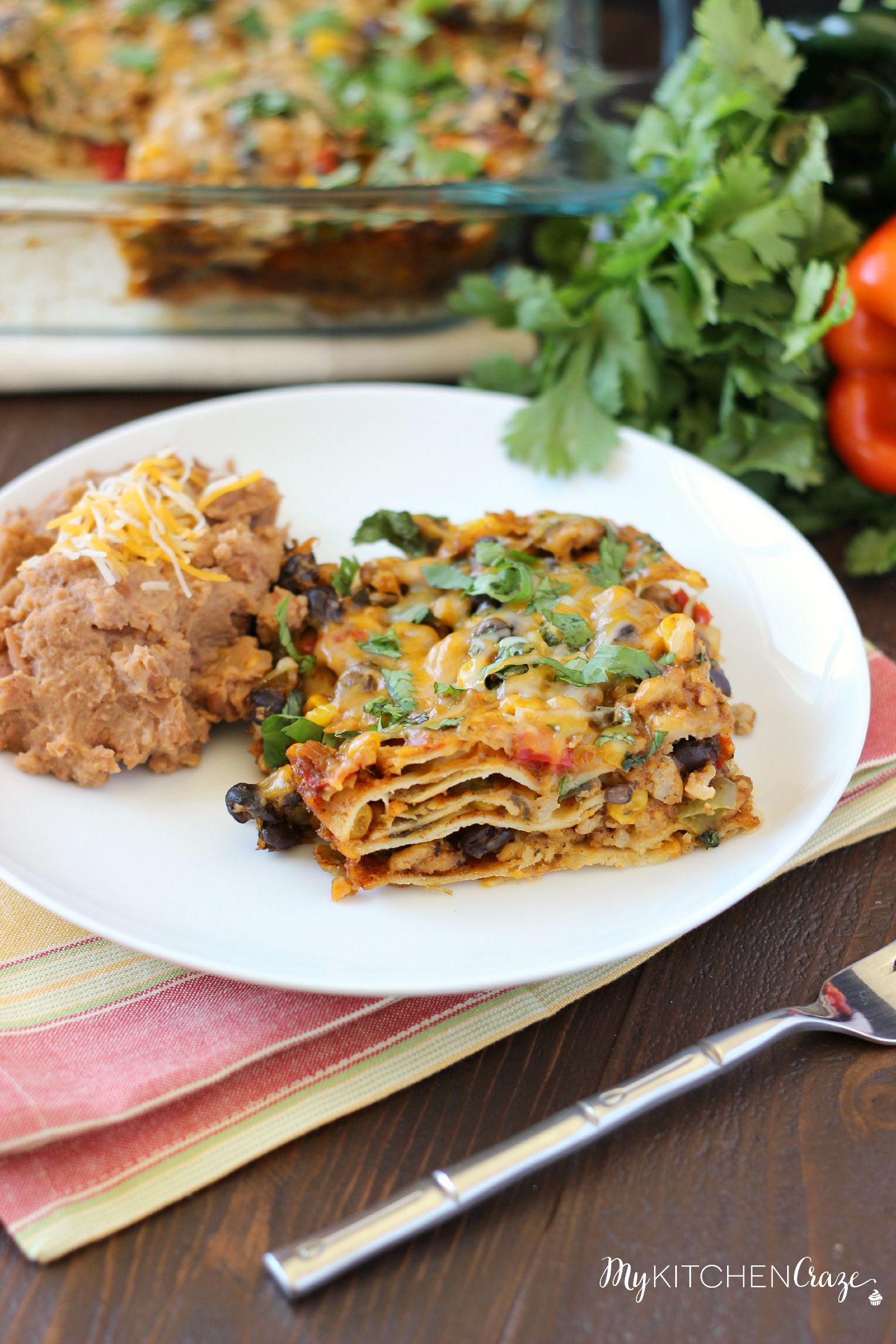 We only live 4 hours away from Las Vegas and thought what's better than lazy pool days, refreshing drinks and endless food buffets. I'm so excited to eat at the breakfast buffets. My favorite meal time is breakfast and I can't wait to eat! But there has to be some good coffee. Coffee is key to a good day for me! What about you?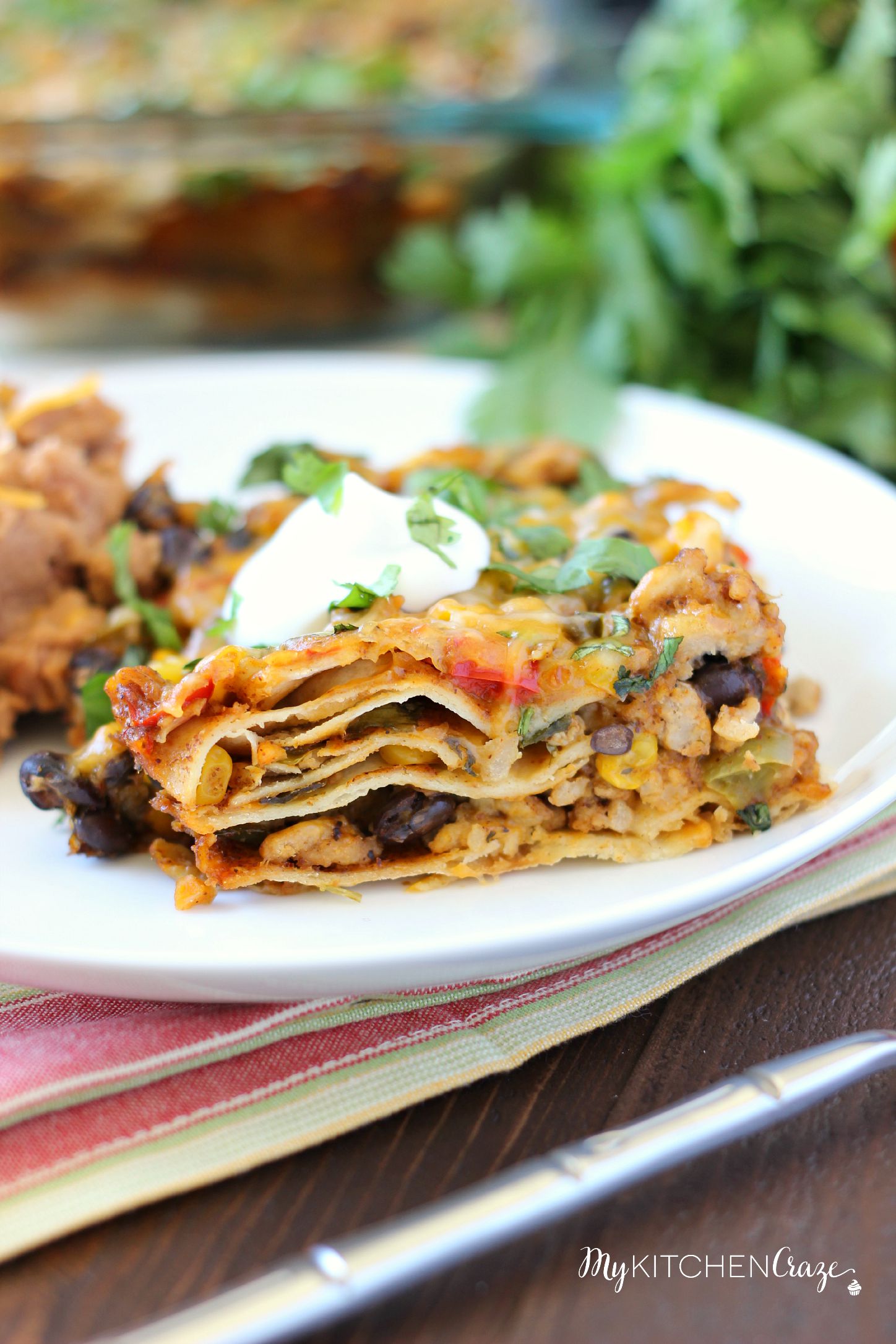 I know once we get back from our mini vacay, I'll be burnt out on food and will need some good ole' home cookin. This casserole will be the perfect dish. The flavors are amazing. It's loaded with corn, black beans and a bunch of yummy peppers and the enchilada sauce is homemade. You'll want to drink it, it's that yummy!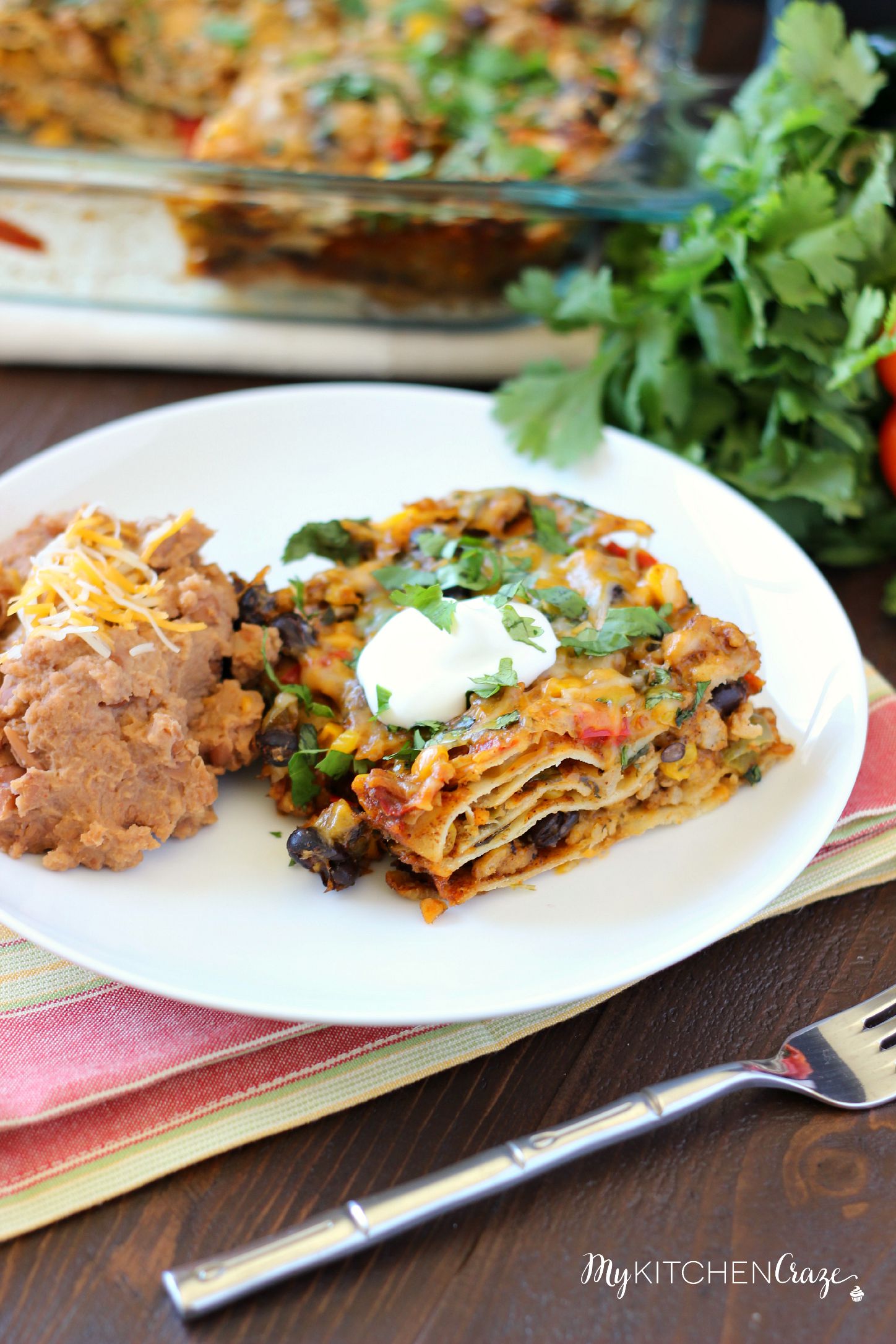 One of the many things I love about this casserole are the fresh ingredients. The ingredient list seems long, but I promise once you get going it's a breeze to make. My one suggestion I have for you guys, is have all of your ingredients ready and easy to grab. Cut those veggies, and measure those liquids. This will cut down your time significantly.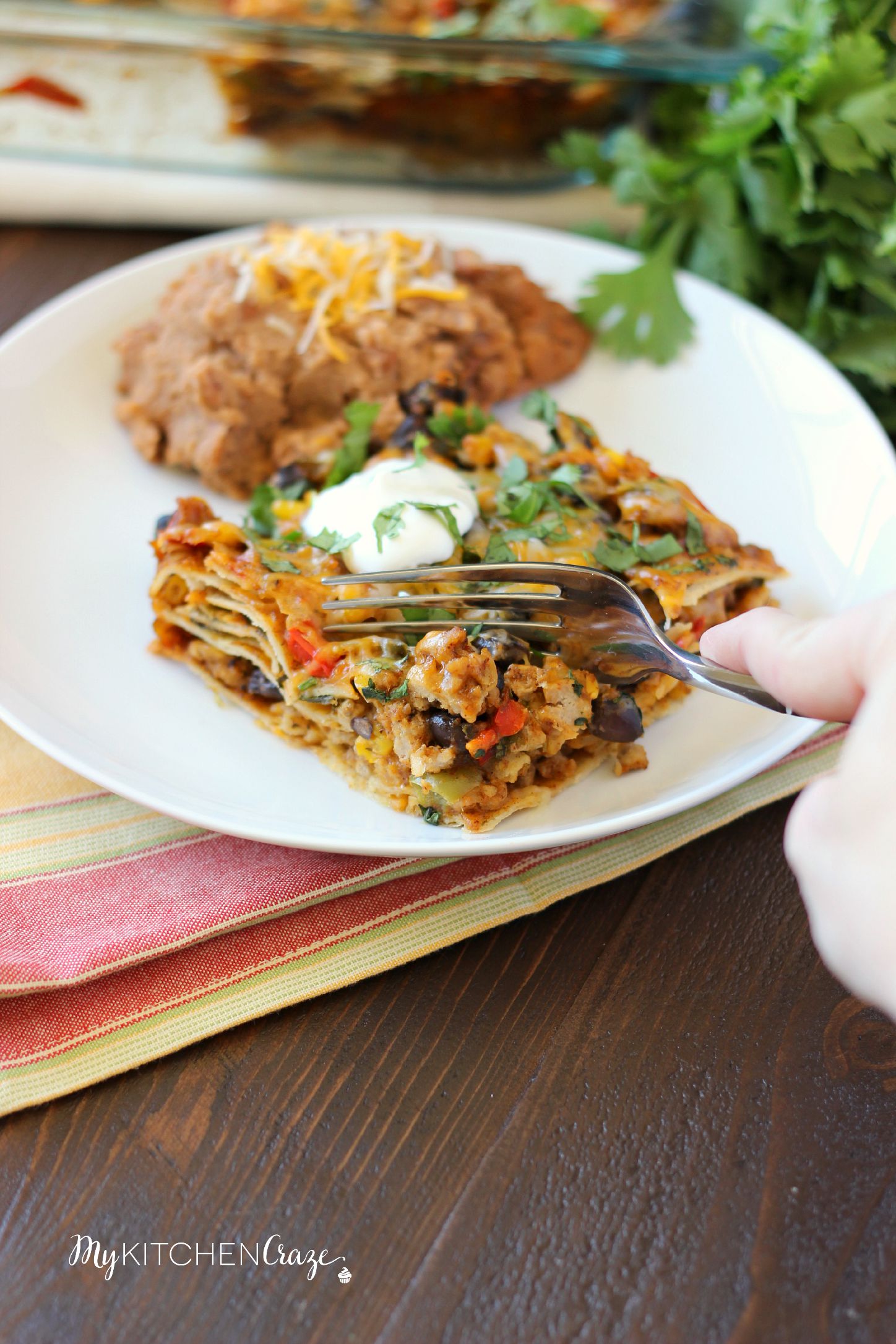 As summer comes to an end, I hope you all enjoy your loved ones and make some great family memories. And of course have some awesome food too! Maybe a glass of wine here and there too.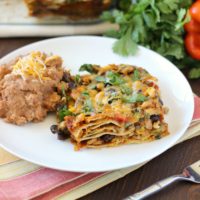 Get the Recipe:
Tex-Mex Enchilada Casserole
Ingredients
15

corn tortillas

,

cut in half

1 1/2

pounds

ground turkey

1

tablespoon

butter

1

tablespoon

olive oil

1

medium onion

,

chopped

1

medium green bell pepper

,

seeded, cored and diced

1

large poblano chile

,

seeded and diced

1

cup

frozen corn kernels

2

garlic cloves

,

finely minced

1/4

cup

all-purpose flour

2

tablespoons

chile powder

2

teaspoons

ground cumin

1

teaspoon

ground coriander

2 1/2

cups

low-sodium chicken broth

1

15 ounce can black beans, rinsed and drained

1

tablespoon

fresh lime juice

salt and pepper to taste

1

cup

shredded cheddar cheese

1

cup

shredded monterey jack cheese

garnish

,

cilantro and sour cream
Instructions
Preheat oven to 350 degrees F. Light spray a 9x13 baking dish with non-stick cooking spray. Set aside until ready to use.

Arrange tortillas on two baking sheets in a single layer and bake until slightly crispy, about 15 minutes. Set aside and cool until ready to use.

Heat a large skillet over medium-high heat and cook ground turkey until meat is crumbled and bite size pieces. Season meat with 1 teaspoon of salt and pepper. Drain meat and set aside.

Wipe the skillet clean and return to medium heat. Add the butter and olive oil. Once the butter is melted and the onion, bell pepper, poblano pepper, corn and garlic. Saute until the vegetables are softened, 3-5 minutes.

Stir in the flour, chile powder, cumin and coriander. Cook for another 1-2 minutes, stirring constantly.

Gradually whisk in the chicken broth, whisking constantly. Bring the mixture to a boil and cook until thickened, about 10 minutes. Stir mixture occasionally so the vegetables don't stick to the bottom. Take off heat and add the beans, lime juice and season with salt and pepper, if needed.

Line the bottom of the greased baking dish with 1/3 of the tortillas. Layer with 1/3 of the meat mixture, then 1/3 of the veggie/sauce mixture and then sprinkle with 1/3 of the shredded cheese. Repeat process two more times, ending with shredded cheeses.

Bake 30-35 minutes, or until cheese is bubbly and hot. Remove from oven and let sit 10 minutes before serving.

Garnish and serve!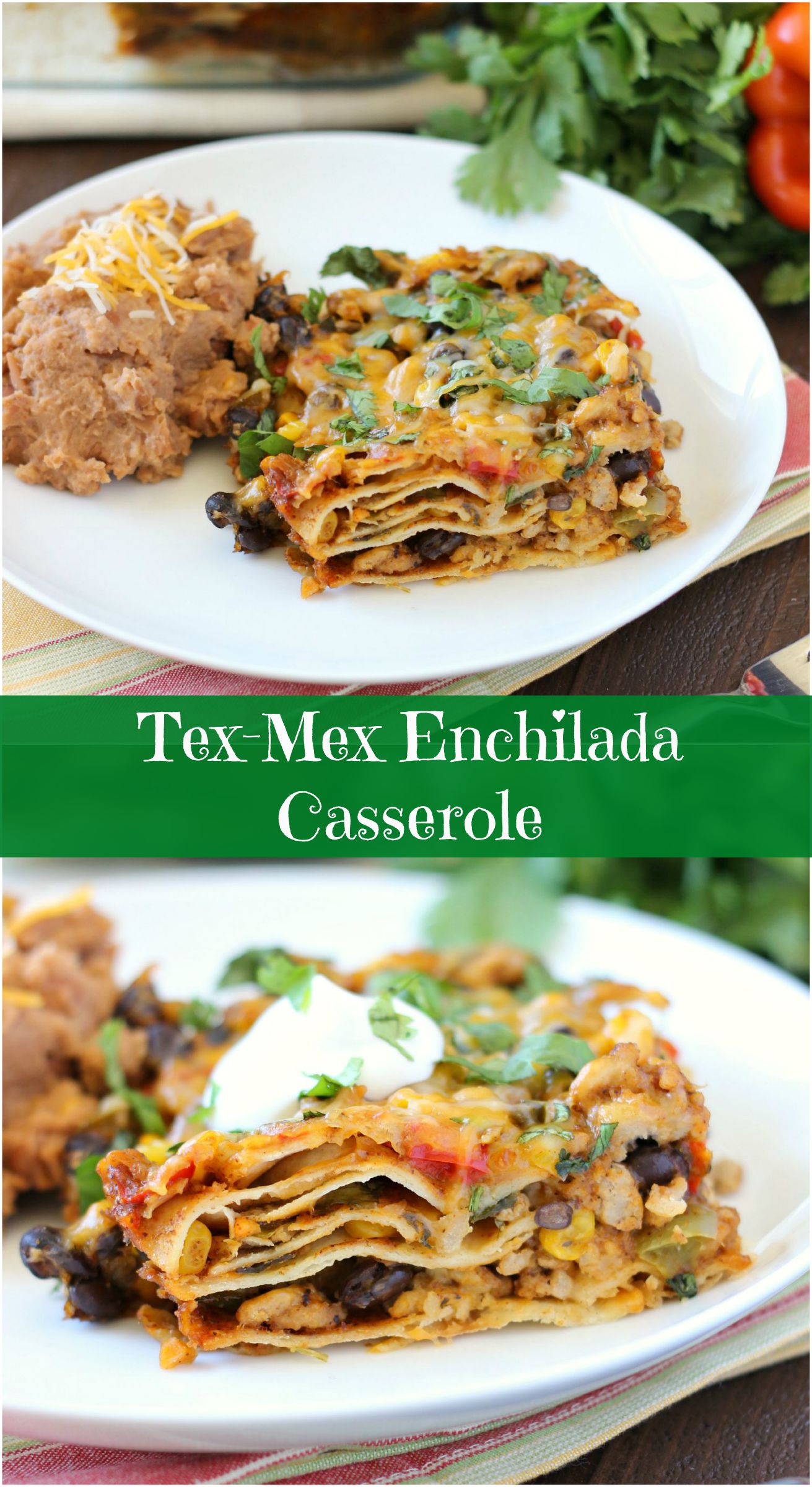 Here are some of my favorite casserole recipes: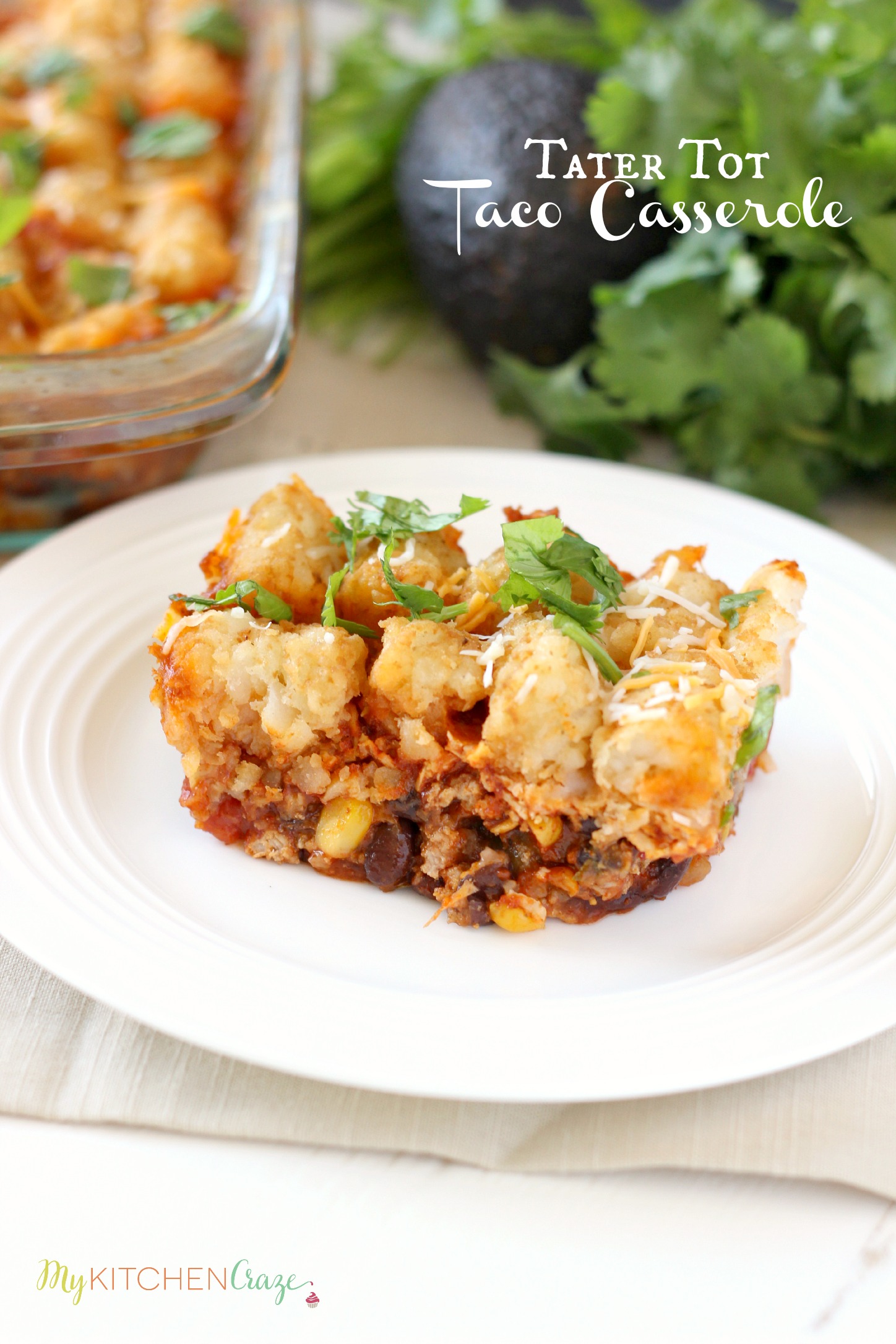 Tater Tot Casserole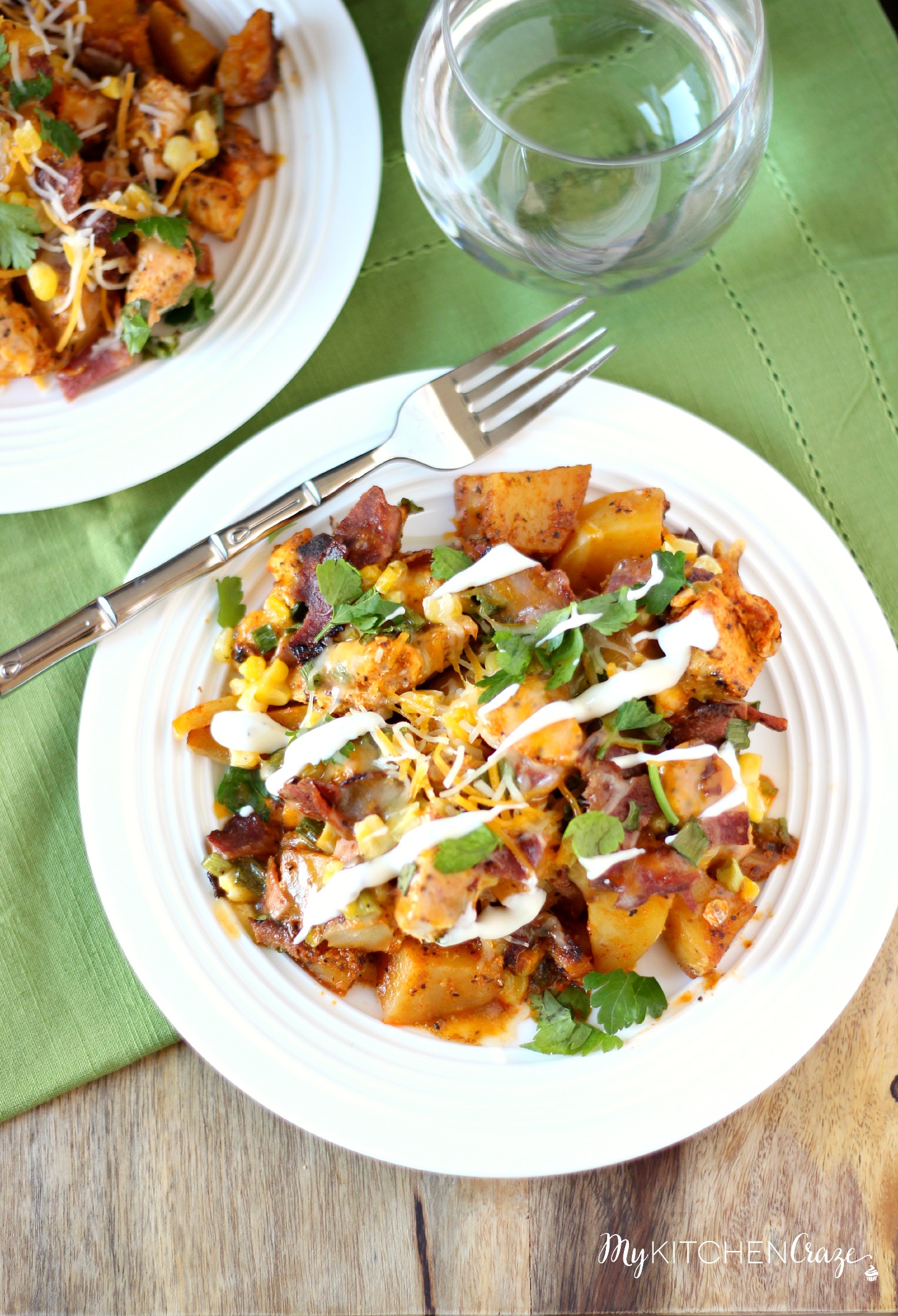 Buffalo Chicken and Potato Casserole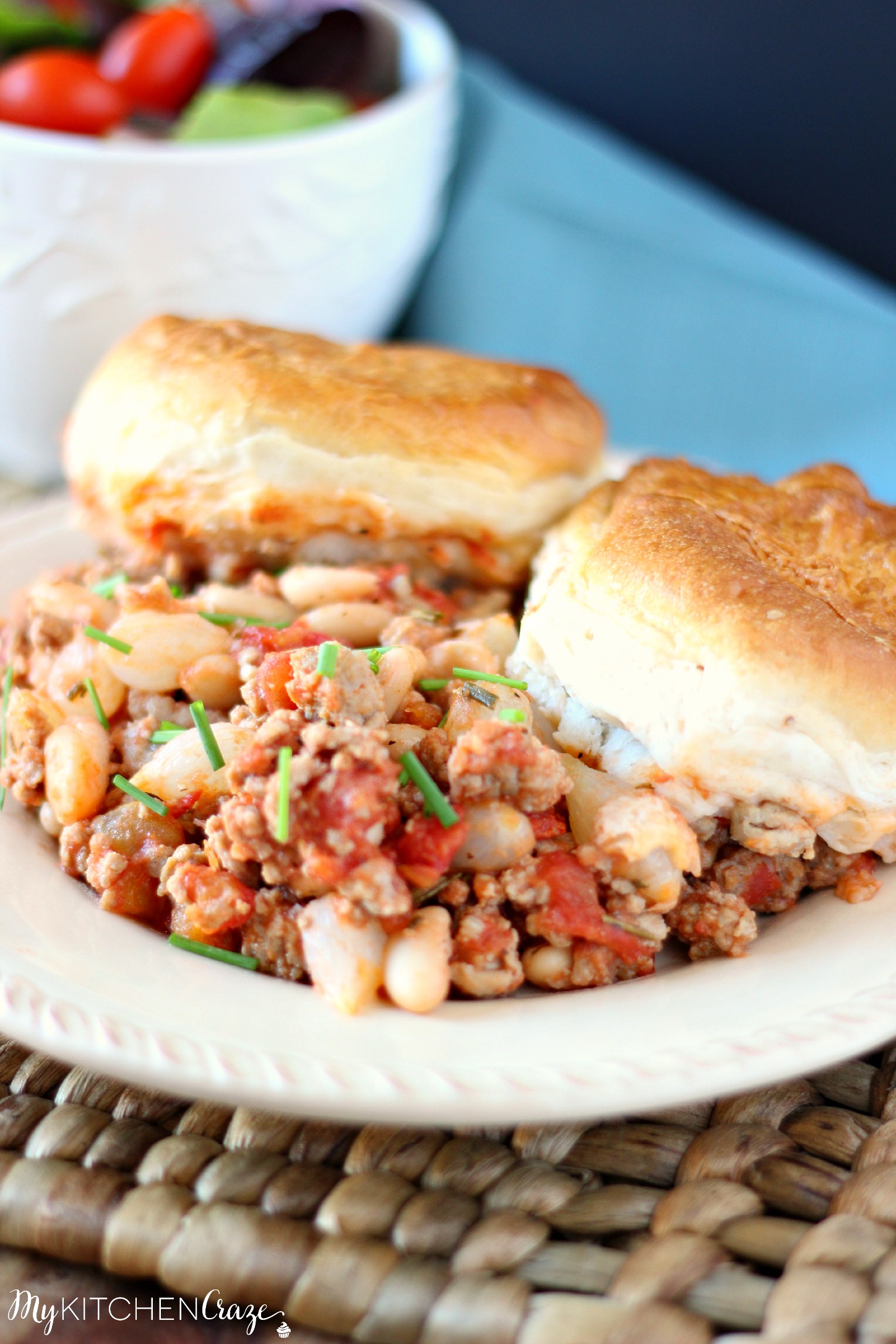 Sausage & White Bean Casserole 
Here are some more casserole recipes around the web:
Tomato and Basil Bake by Taste and Tell
Creamy Parmesan Garlic Broccoli Casserole by Recipe Tin Eats
Doritos Chicken Casserole by Buns In My Oven
Baked Cream Cheese Spaghetti Casserole by The Recipe Critic