Tater Tot Taco Casserole
Tater Tot Taco Casserole is a sure crowd pleaser!! Everything you would put in a taco, then layered with crispy Tater Tots. Delicious and perfect for dinner!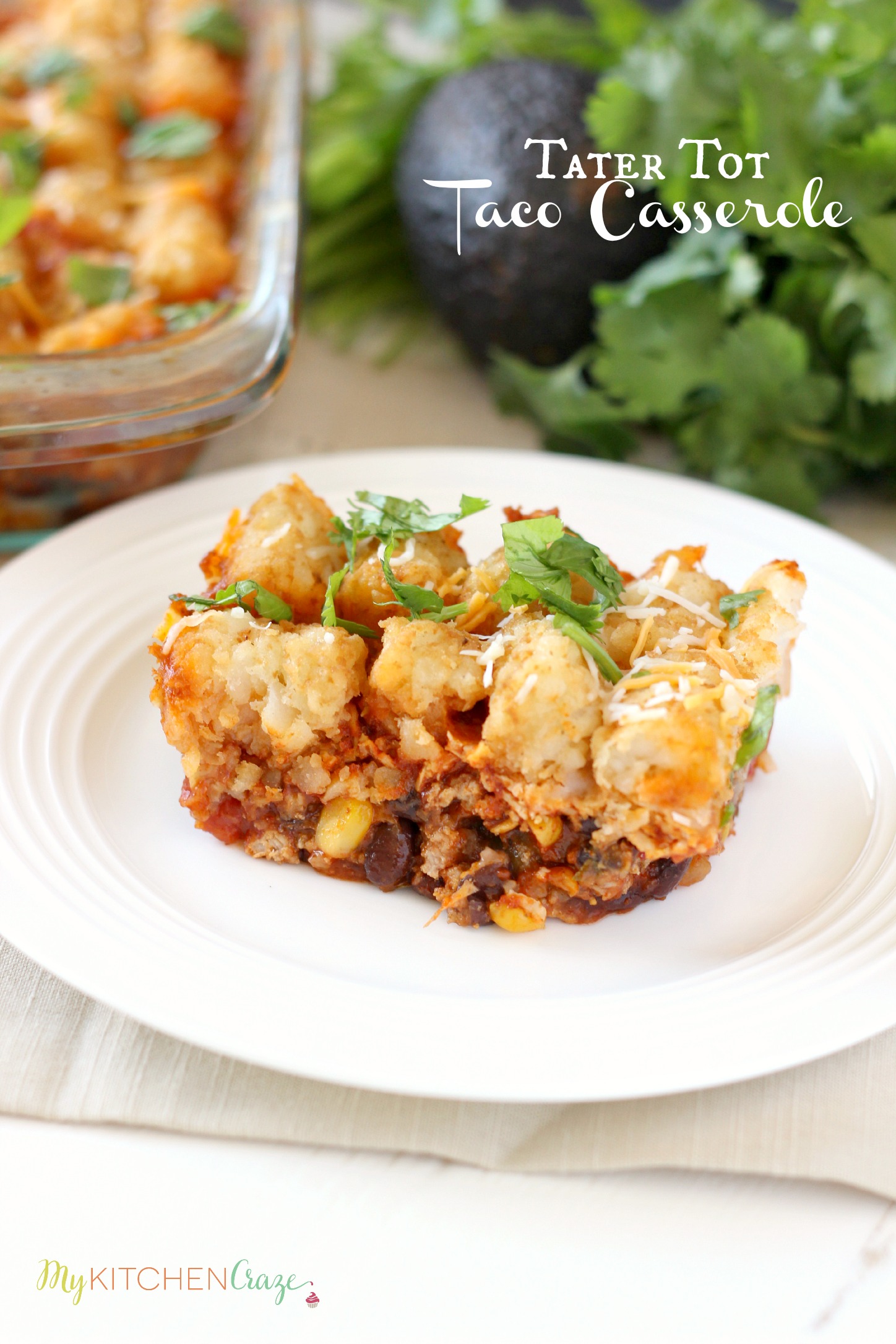 Yay it's Friday, Yay it's Friday!! Don't mind me singing over here. I'm just so looking forward to the weekend. Have no real plans, but just excited that we're done with this week. How was your week? Did it drag or go quickly?
This week was all about laying low and getting the family healthy again. We didn't do much beside the usual school (kids), work (hubby) and blogging (me). But the nights were calm and quiet. I love nights like that and I got to have them every night this week.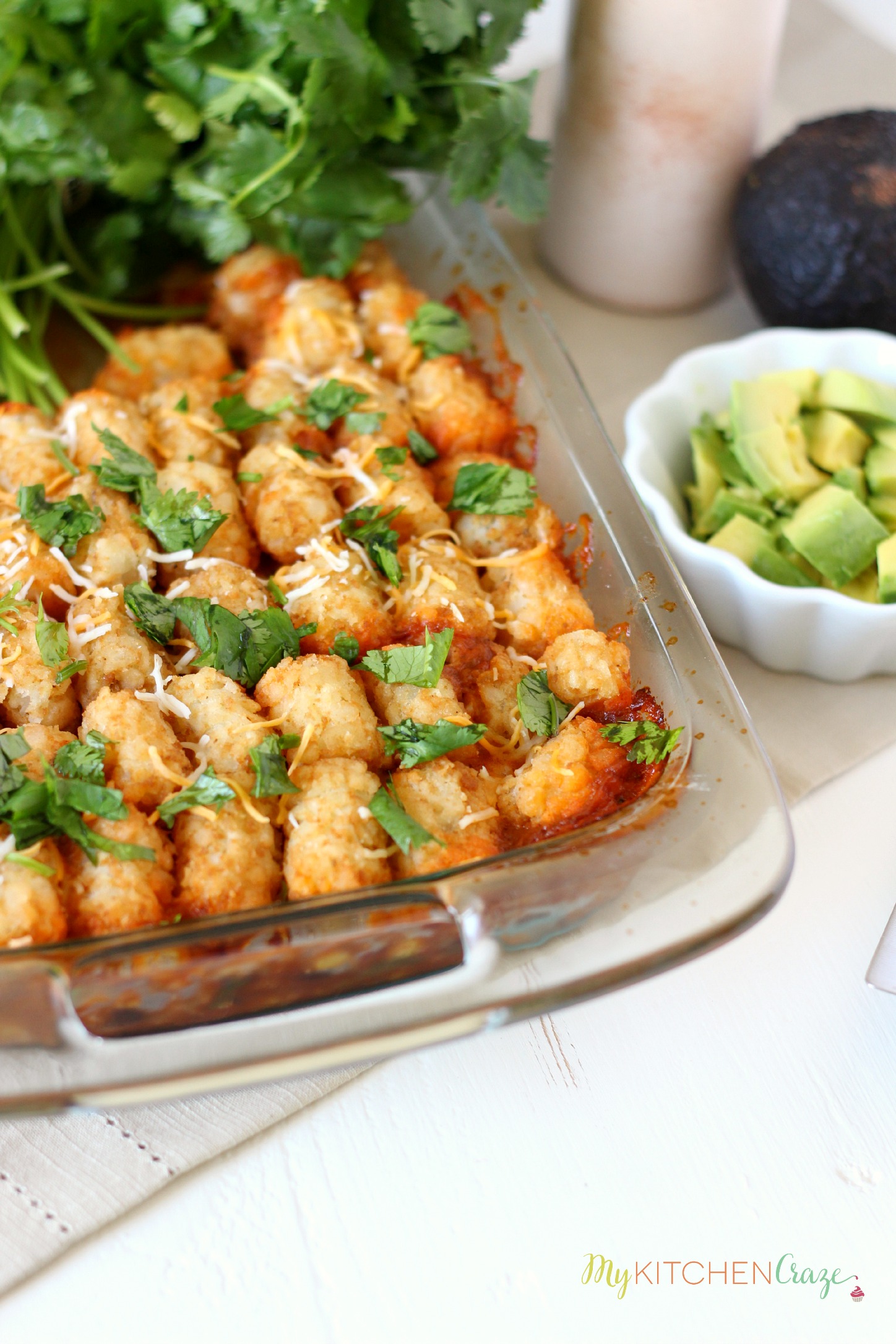 You never really know how busy you truly are until you get a little peace and quiet. Then you think, "huh, I really do run around everyone and have plans every night of the week." Now I'm not nearly as busy as some folks, but I do feel like I'm a taxi driver most days. Ever since my son started playing club soccer it's been crazy.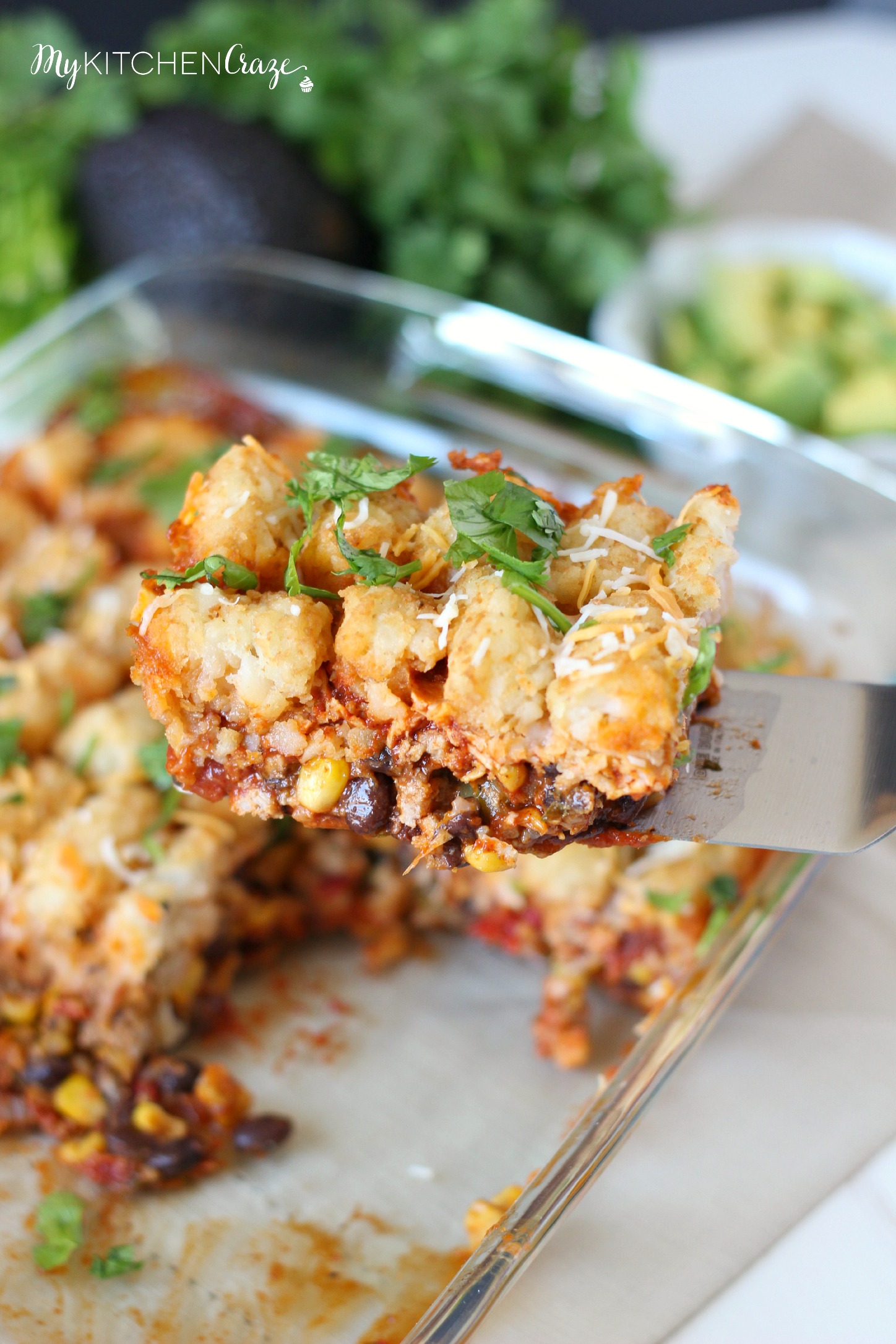 Two nights a week practices, which I know don't sound to bad, but when you can't come home for 3 hours because you live to far away and it would be a waste of a trip, three hours seem forever. Then weekends are game days. Not all games are local. In fact most of them are at least an hour drive away. With the hubby working weekends, I'm always the parent that's taking the boy to the games.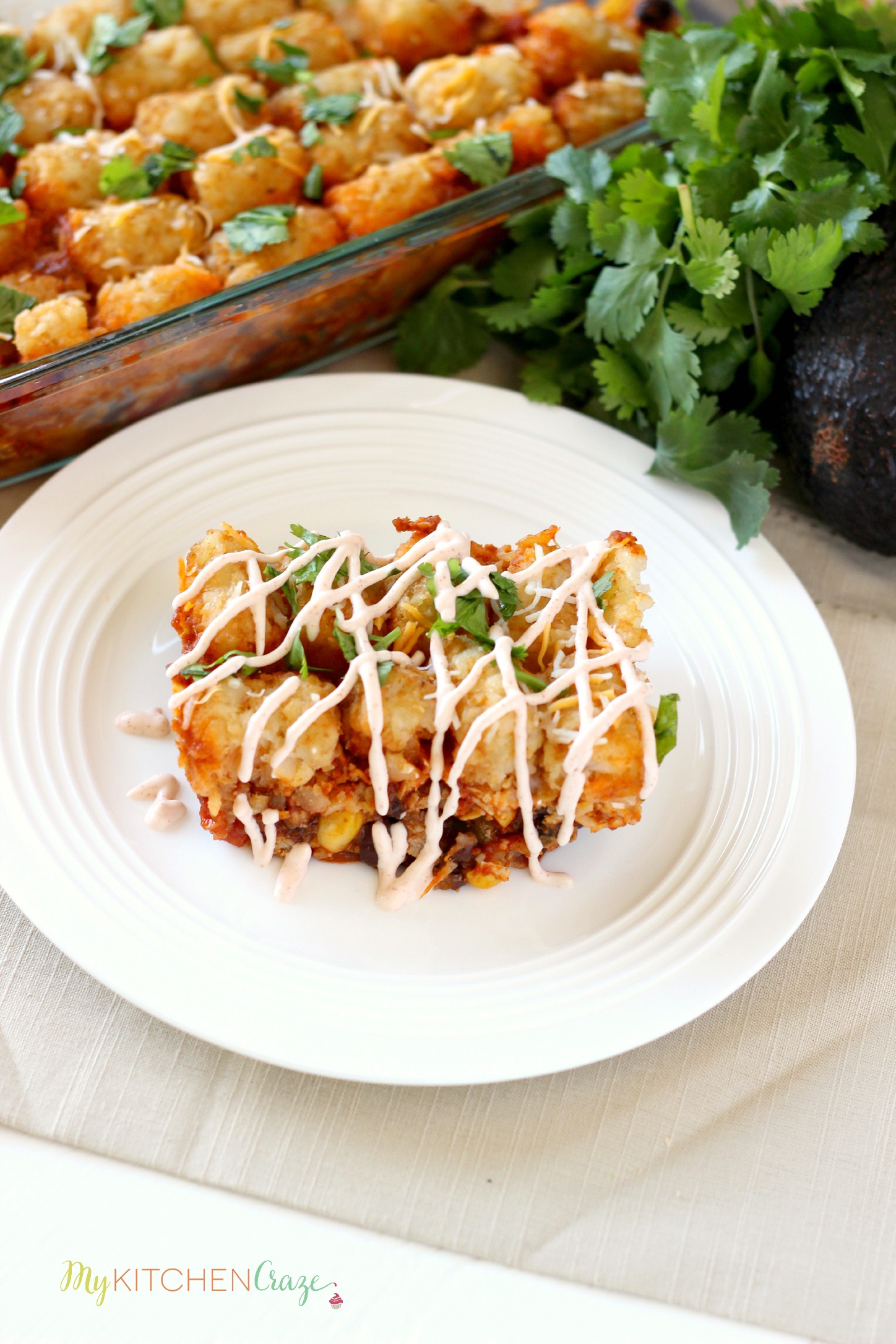 But I love every second and would do it every day for the rest of my life, just so I can see his face light up when he makes a goal. 😉 Now you all know my little blog here is all about quick and easy recipes. I don't got time for those long-winded ingredient lists and hours in the kitchen. Nope. I need something quick or I'll be taking the kids to chipotle again. What…it's good!!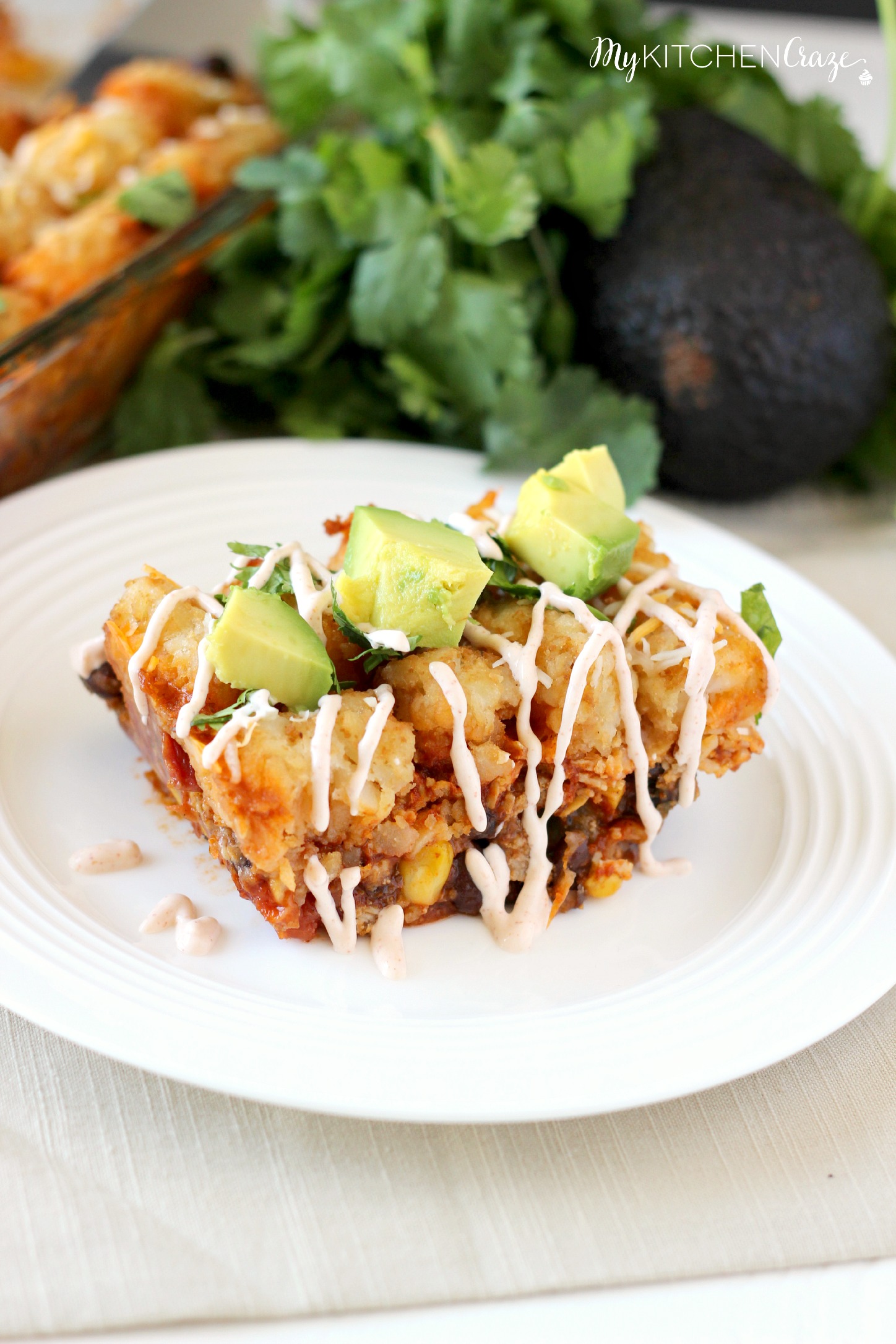 I remember having fish sticks and tater tots as a kid. It was always a weekend meal and I loved it. I knew the kids would love tater tots too, but I wanted to do something different. I decided to have the tater tots join in with my love for Mexican food. Enter the Tater Tot Taco Casserole! Ta-Dah!!!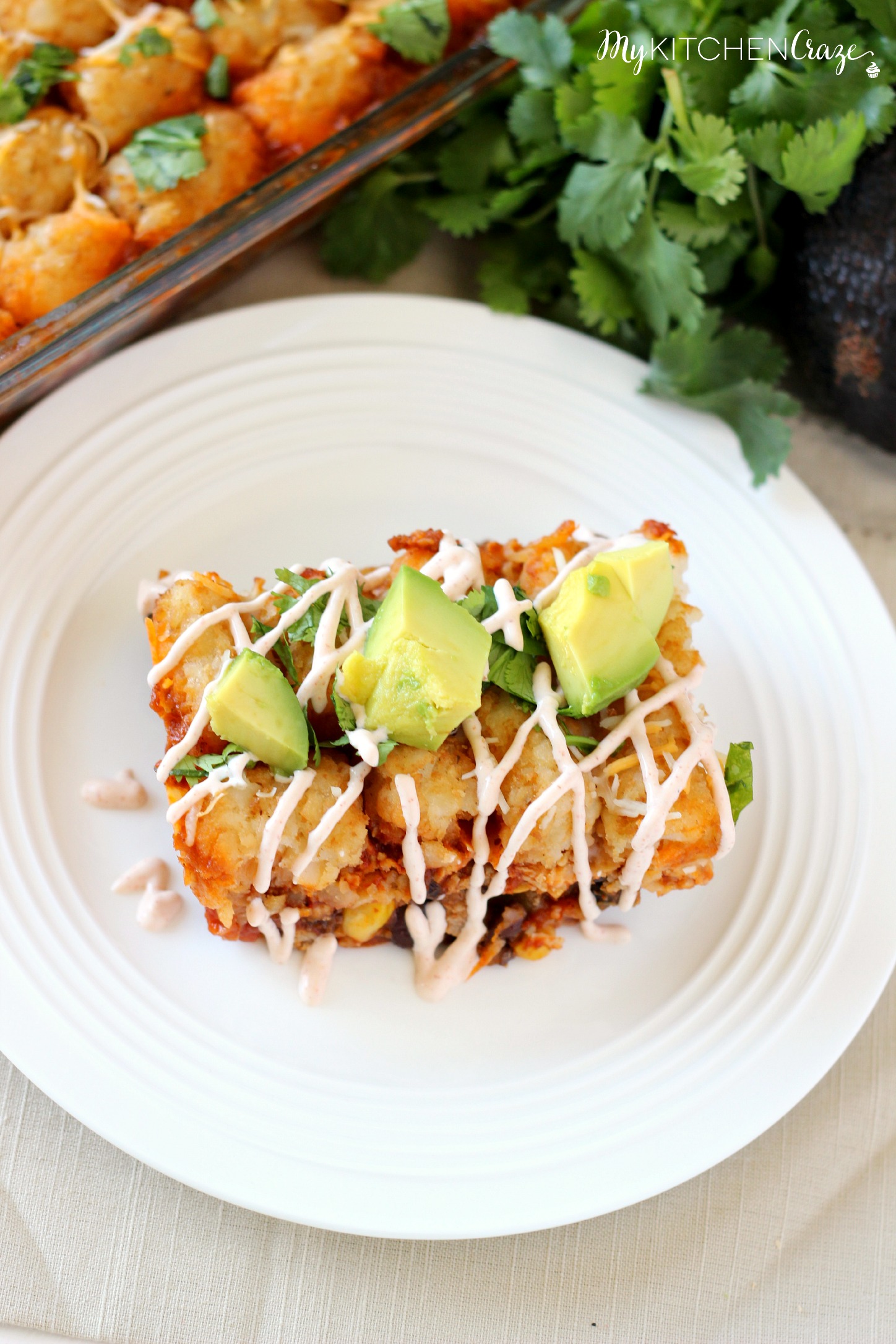 This casserole is a breeze to throw together and the flavors…you guys. The taco/Mexican favor is out of this world! This dish is so so good!! Me, who normally never does leftovers ate this for three days in a row. It warms up beautifully and the tater tots add such a fun, delicious flavor. Isn't it a cute dish? It's a total crowd pleaser and conversation starter, thats for sure. I just know you're going to love it, plus you'll be in and out of the kitchen in no time.
Happy weekend! Enjoy your loved ones and have a fabulous weekend!!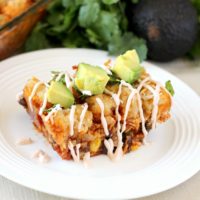 Get the Recipe:
Tater Tot Taco Casserole
Ingredients
1

pound

ground turkey

1/2

red onion

,

chopped

1

garlic clove. minced

3

heaping tablespoons taco seasoning or 1 packet

1

cup

frozen corn

1

cup

frozen fajita mix

,

I used a three bell pepper mixture

1

can Rotel Tomatoes

,

drained

1

can black beans

,

drained and rinsed

2

cups

shredded cheese

1

32 ounce tater tots, approx. 80 tots

2

cups

red enchilada sauce

1/4

cup

cilantro

,

chopped

garnish

,

sour cream, avocados
Instructions
Preheat the oven to 375 degrees F. Spray a 9x13 baking dish with non-stick cooking spray; set aside.

In a large skillet, add ground turkey, onion and garlic. Cook until browned and crumbly, about 5-7 minutes. Drain and place back in skillet.

Add taco seasoning and mix well. Then add the corn, fajita mixture, drained Rotel tomatoes and black beans. Mix well and cook over medium heat for 10 minutes. Stir in 1 cup of shredded cheese.

Add 1 cup of enchilada sauce to the bottom of the prepared baking dish. Spoon the meat mixture over enchilada sauce, then add remaining cup of shredded cheese and enchilada sauce.

Cover with tater tots. You can throw them on top or line them up nicely, like I do.

Bake for 40 - 45 minutes, or until tater tots are cooked through and browned.

Sprinkle cilantro on top and garnish.

Serve & enjoy!