Spaghetti Cups
Spaghetti Cups are a delicious way to use up that leftover spaghetti you have in your refrigerator. Perfect as an appetizer or for lunch. These Spaghetti Cups are the perfect combo of meat, sauce, noodles and bread.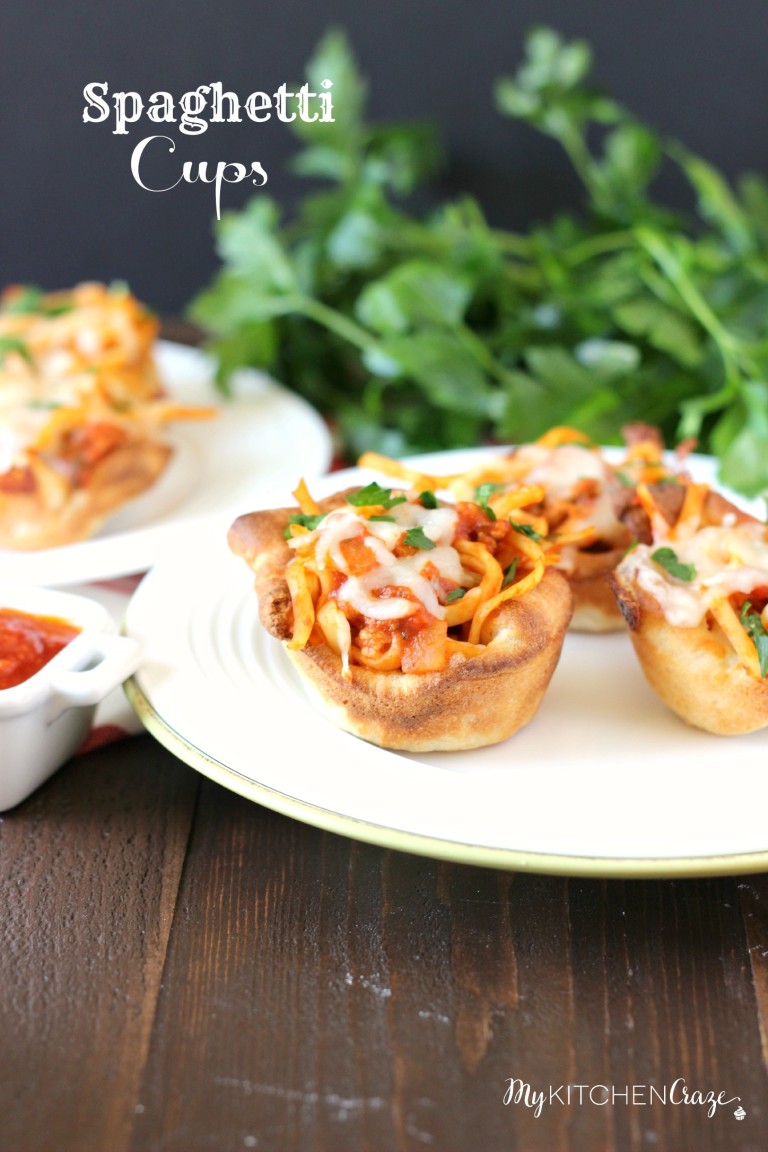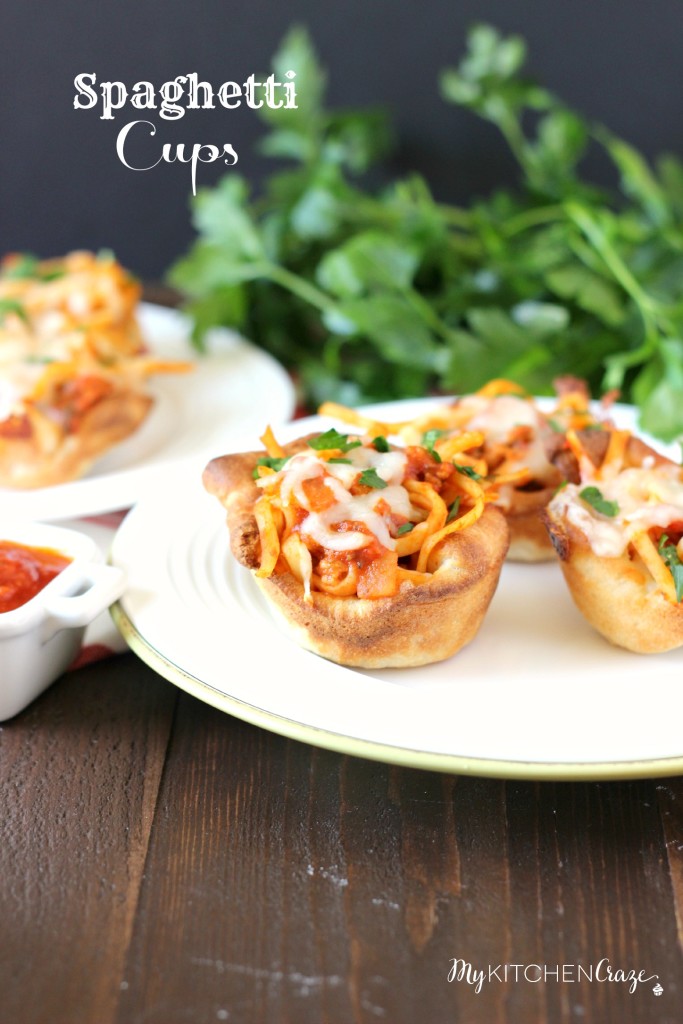 Do you eat Spaghetti at least once a week like my family does? There's something so simple and easy about spaghetti. My family can't get enough of it. It's perfect leftovers for lunch or dinner and even taste good cold. Yes, I like my spaghetti cold.
Come on all you cold spaghetti lovers. I know you're out there.
But…I always make too much and have a ton of leftovers. Why do I always have to make the whole box of pasta?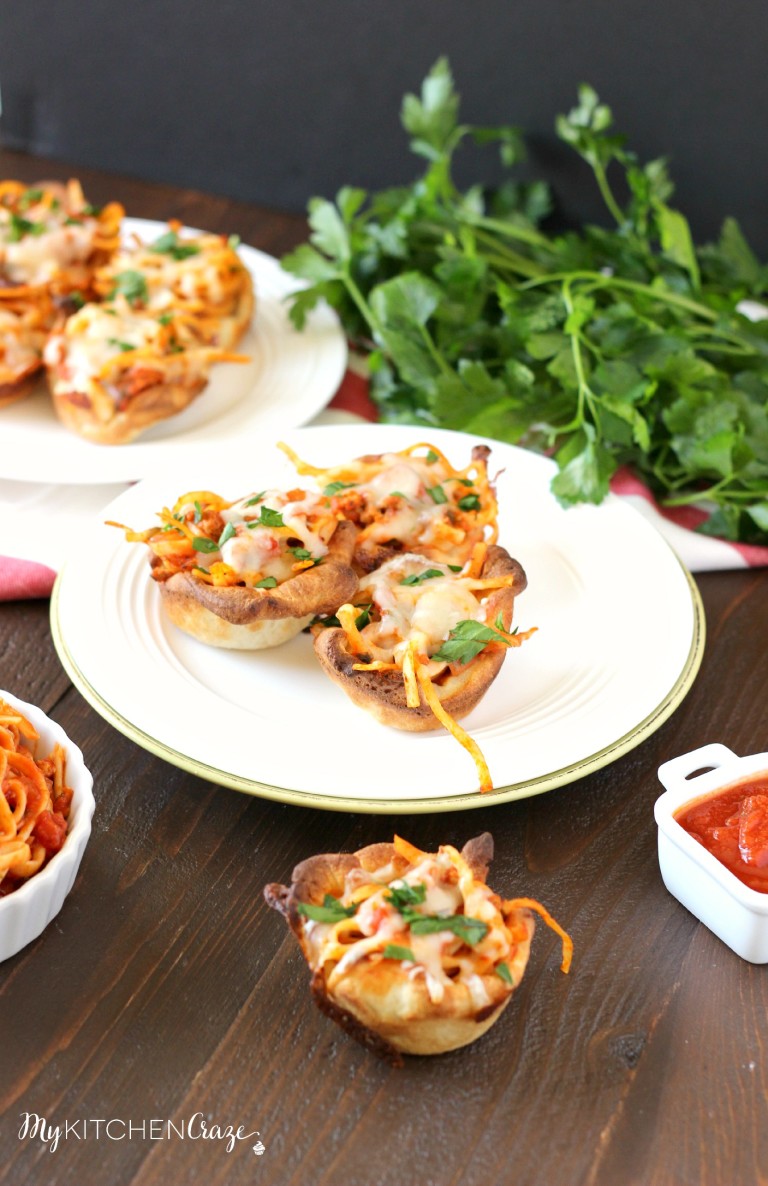 I tell myself every single time that I'm going to make enough just for the meal and one night of leftovers. Nothing more, nothing less.
It never works out that way? Never fails that we're eating spaghetti for days and days. So many leftovers that we get tired of it and my husband swears he'll never eat a plate of spaghetti again.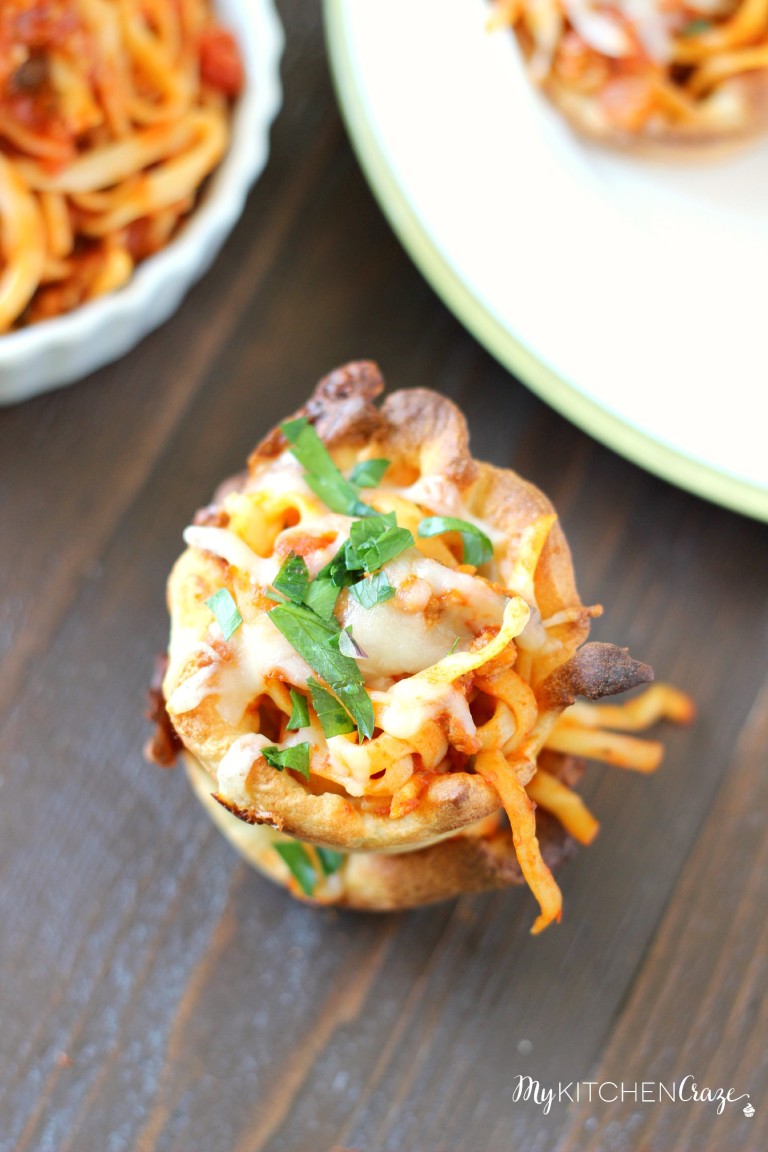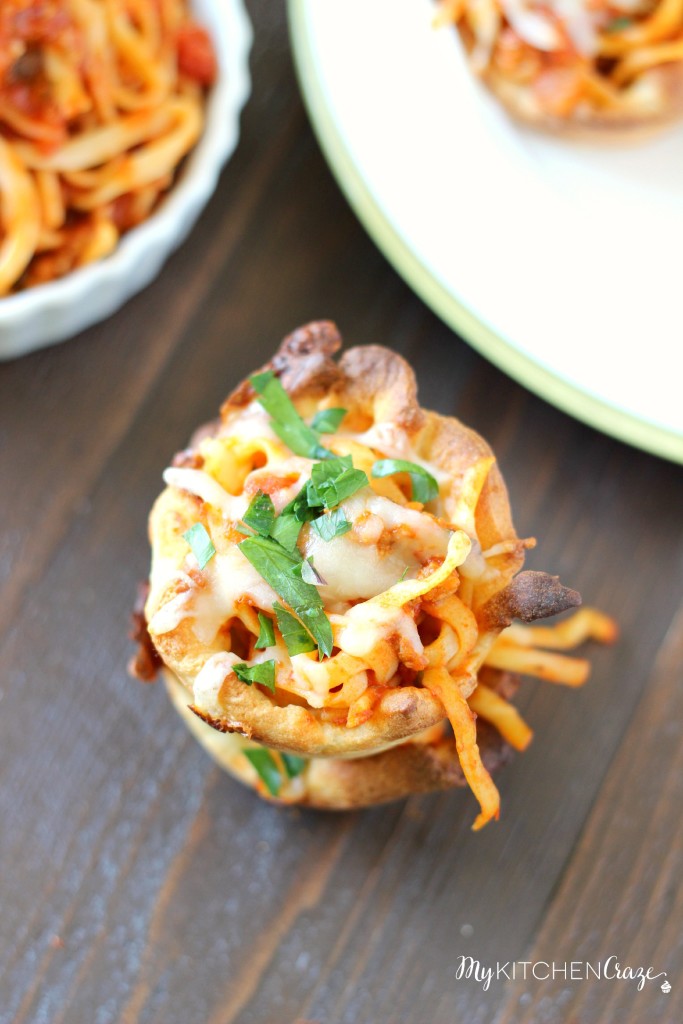 Last week I made spaghetti again and of course I made to much. I had a ton of leftovers and didn't know what to do with it. I needed to come up with an idea or my husband was going to kill me. My poor family is so good, always dealing with me and my food blogger ways. Sean will request some sort of meal and I'll tell him, "sorry honey, but that's not on the menu this week. I really need to get xyz recipe done for the blog."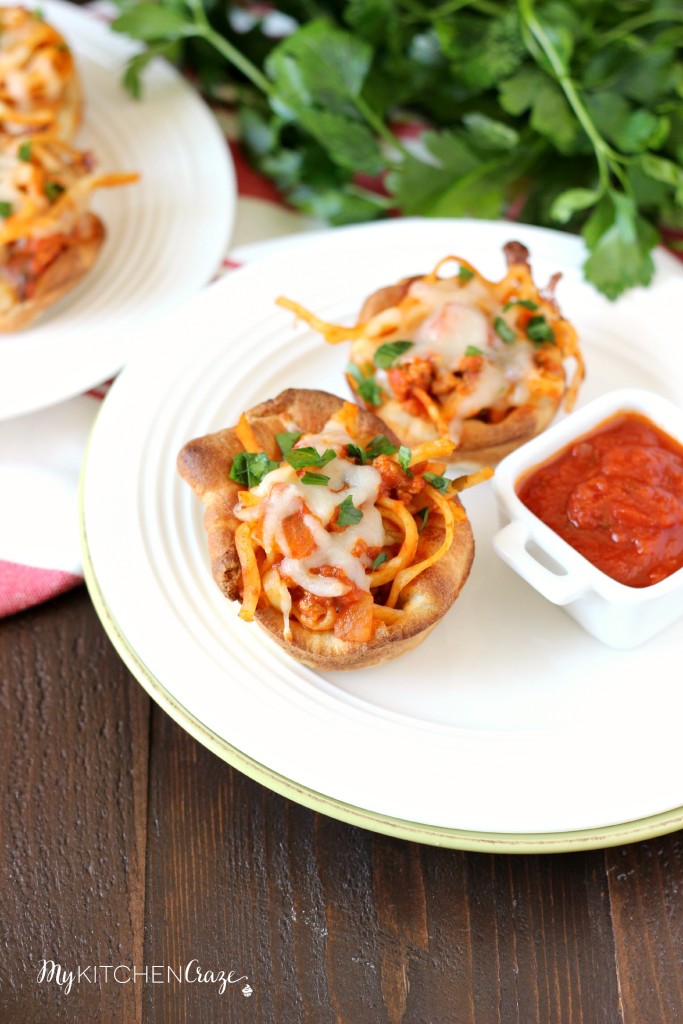 It's always about the blog babe. But I love you and thank you for dealing with me and my ways!!
Back to the Spaghetti Cups. I had a ton of spaghetti made and kept thinking what others ways I could use up these leftovers. Then my mind went to the lunches I try really really hard to make every day, but normally fail. I wanted them to be able to eat the leftover spaghetti and a slice of bread in one bite. Something easy peazy, that they didn't need utensils or extra containers.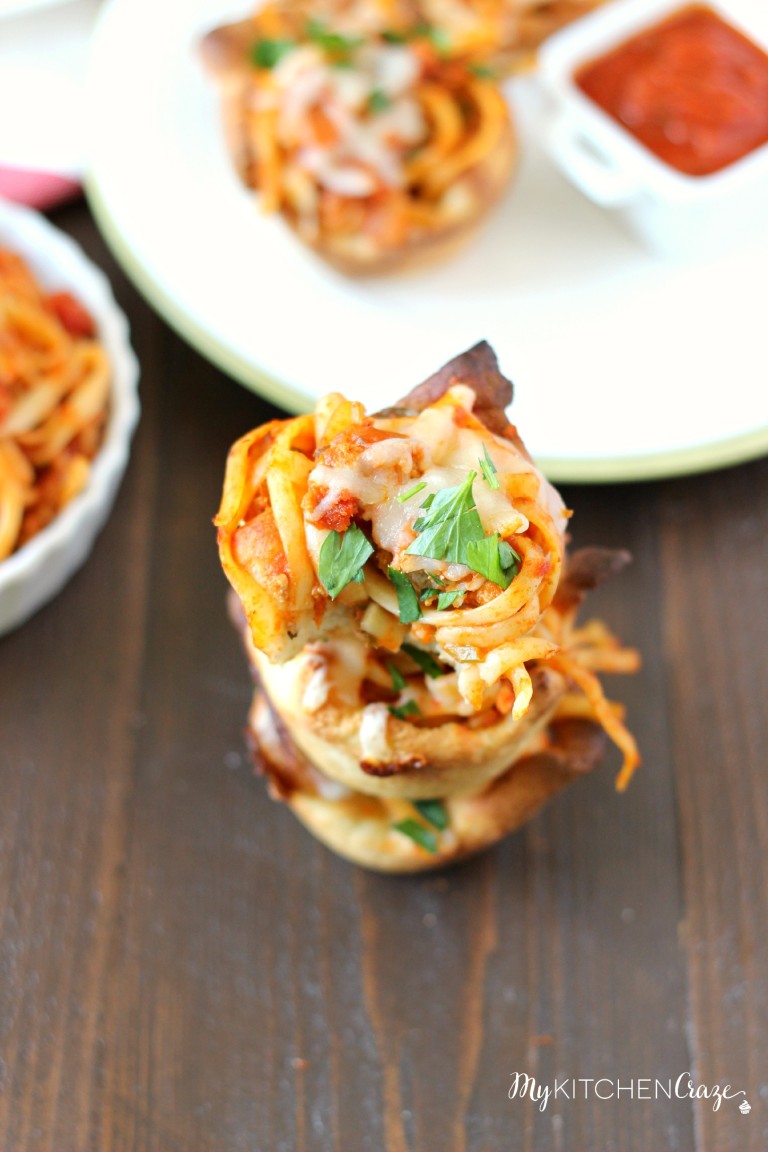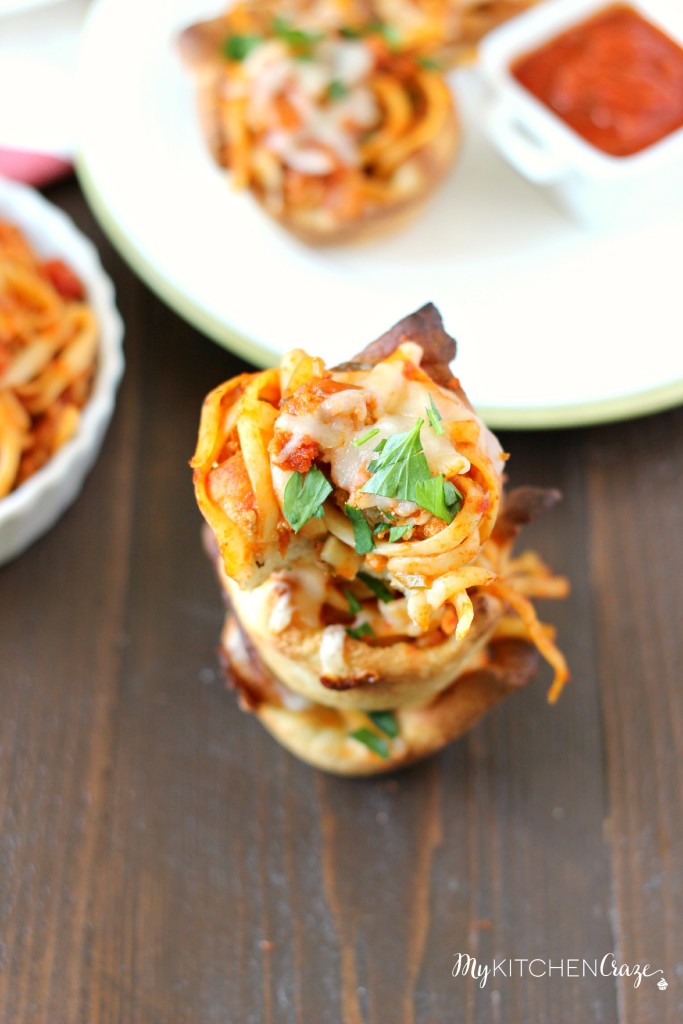 That's when I came up with these cute spaghetti cups. They're really simple to throw together and take no time at all. They bake up well and taste great. You can pack them for the kids lunches or even have them as an appetizer. It's like have a mini treat in your mouth. You have your protein, carb and vegetables all in one bite. What more can you ask for?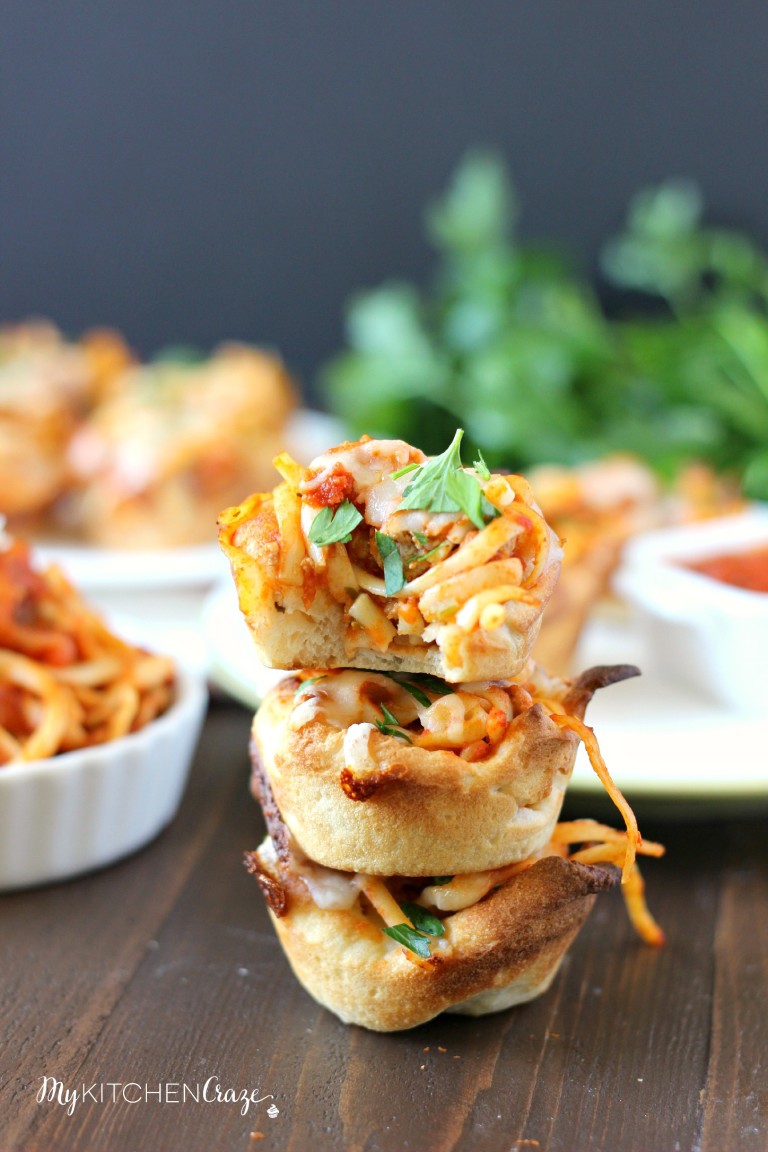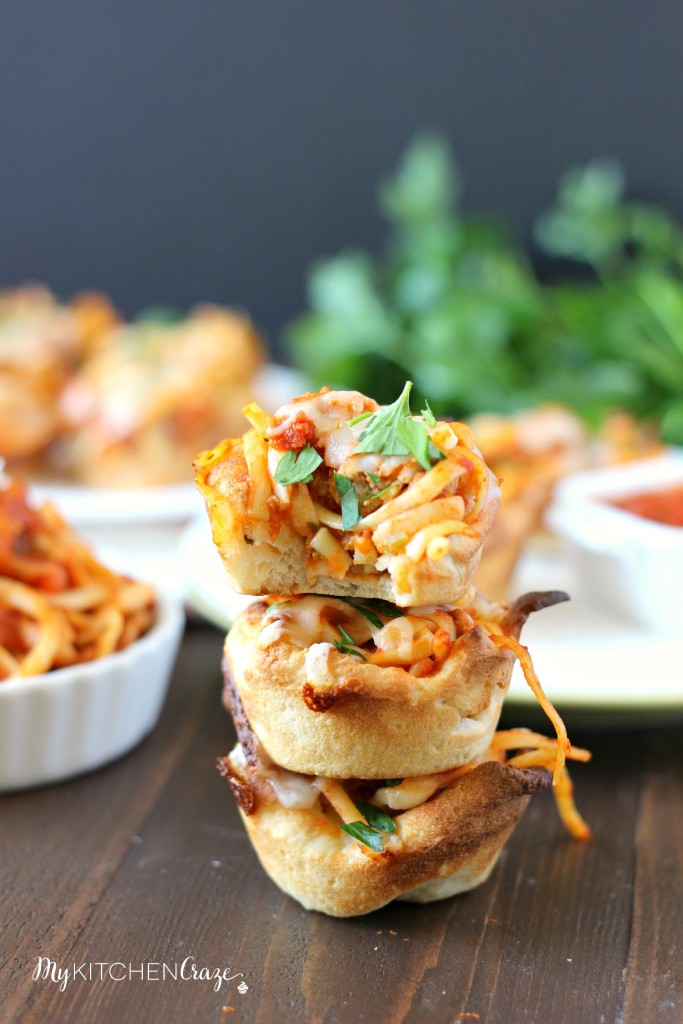 The next time you have leftovers, remember these cute little guys! You'll be thanking me. I promise!!
Spaghetti Cups
Author:
Prep time:
Cook time:
Total time:
Ingredients
1 can prepackaged pizza crust
3 cups, approximately [url href="https://mykitchencraze.com/2013/05/08/spaghetti/" target="_blank"]spaghetti leftovers[/url]
1/4 cup shredded mozzarella
garnish, parsley, extra marinara sauce and grated Parmesan cheese
Instructions
Preheat oven to 400 degrees F. Take two muffins trays and set aside, until ready to use.
Roll out pizza dough on a silpat or floured work surface. Cut out 3 inch circles using a biscuit cutter or back of a large glass. Pull apart a little and place into muffin tin. Repeat until you get approximately 12-18 cups.
Bake for 7 minutes or until dough is set.
Scoop some leftover spaghetti into each cup. Top with shredded cheese.
Bake for another 7 minutes or until set and browned.
Remove to a wire rack and garnish.
Serve and Enjoy!
Notes
**If you want to make fresh Spaghetti: cook half of a noodle box until soft. Then add some pre-made spaghetti sauce and mix to combine.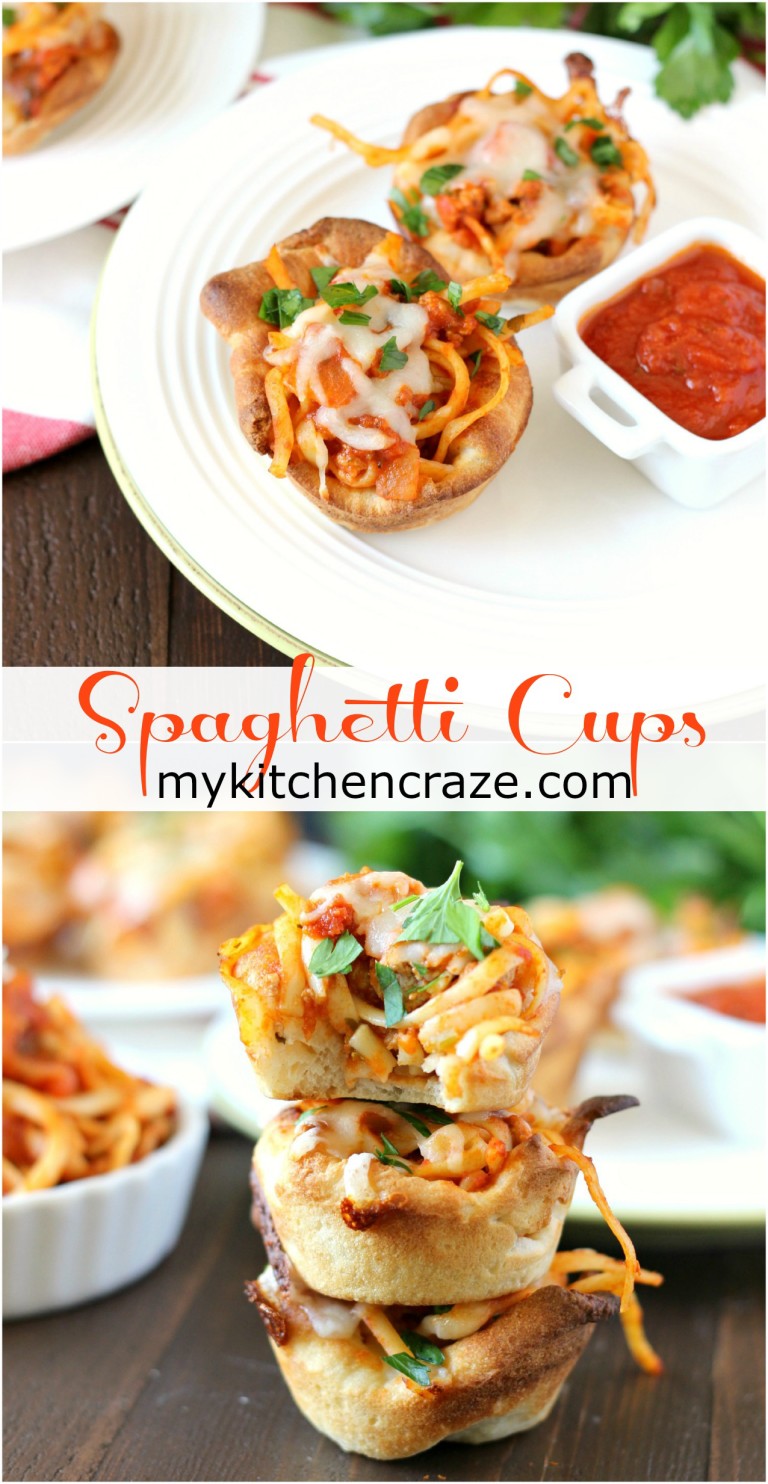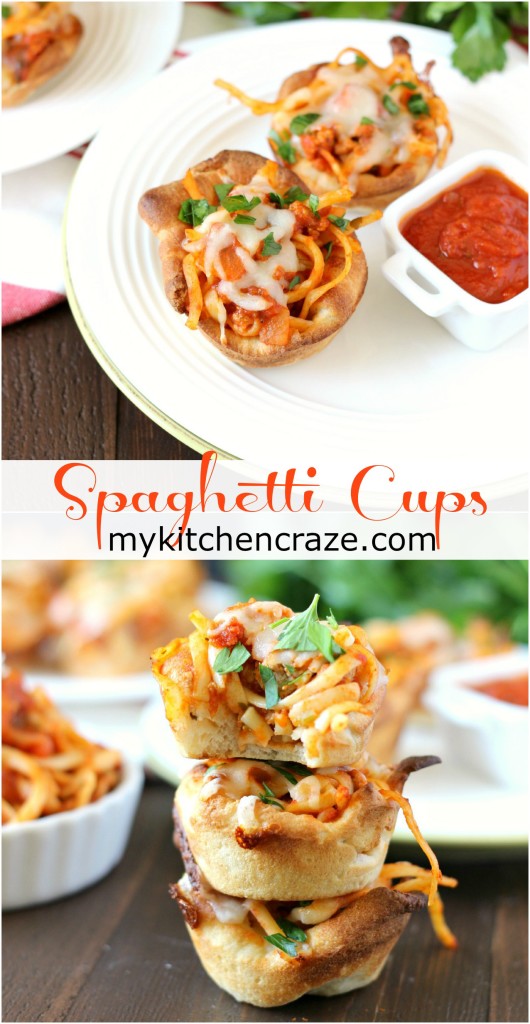 Need some more pasta ideas? Here you go: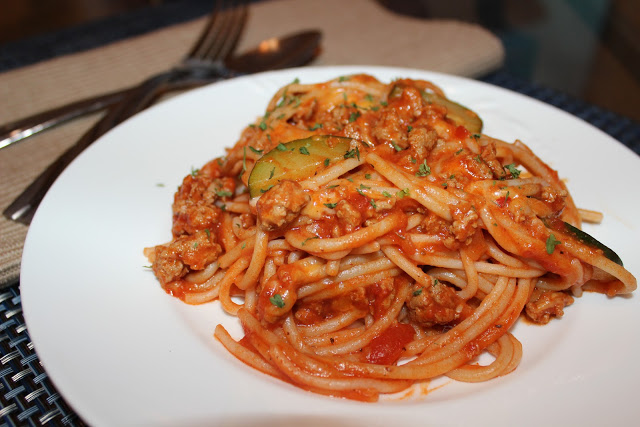 Spaghetti 
Turkey and Cheese Manicotti
Lasagna Rolls
More Pasta recipes from Food Blogger Friends:
Mexican Baked Pasta by Bake. Eat. Repeat.
Zucchini Ribbon Lasagna by What the Fork Food Blog
Cajun Chicken Pasta by Shugary Sweets