Smoked Salmon Alfredo Casserole
Smoked Salmon Alfredo Casserole ~ Homemade creamy Alfredo sauce layered with smoked salmon, broccoli and cheese. Then topped with bread crumbs and Parmesan cheese. Yum! This is one casserole dinner everyone will love!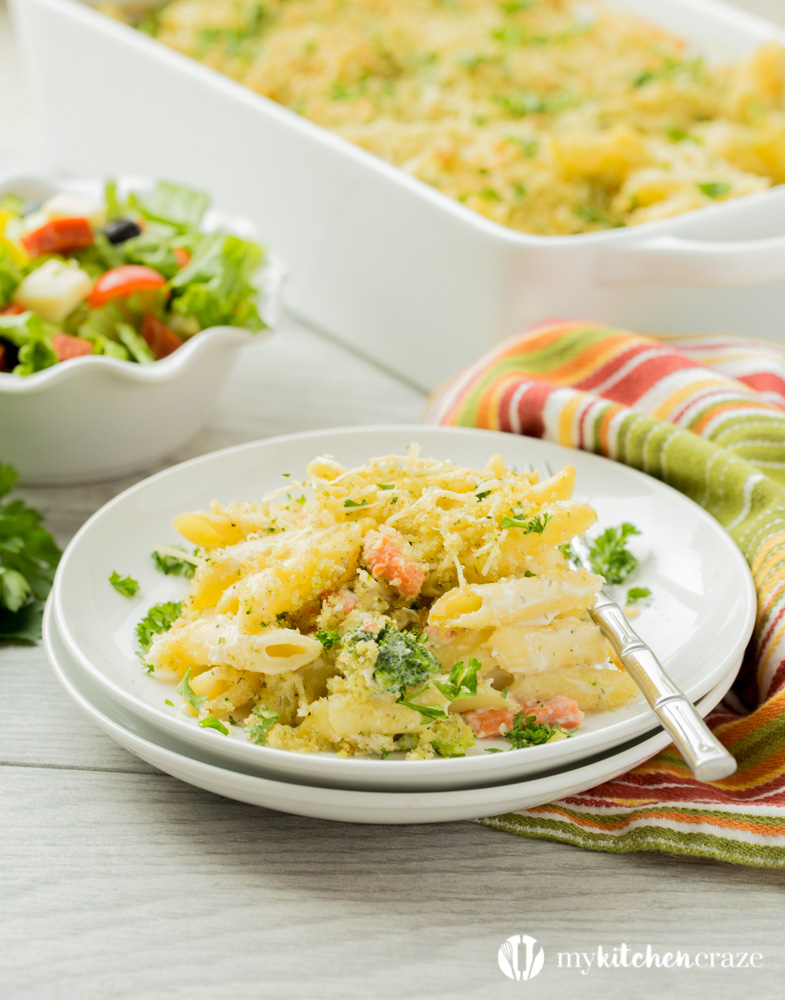 How's everyone? I'm doing great except the fact that I broke my pinkie toe. Yes, you heard me right. I broke my pinkie toe. It's been a ridiculous week. I wish I could tell you that I broke it doing something exciting, but in reality it's really silly and dumb.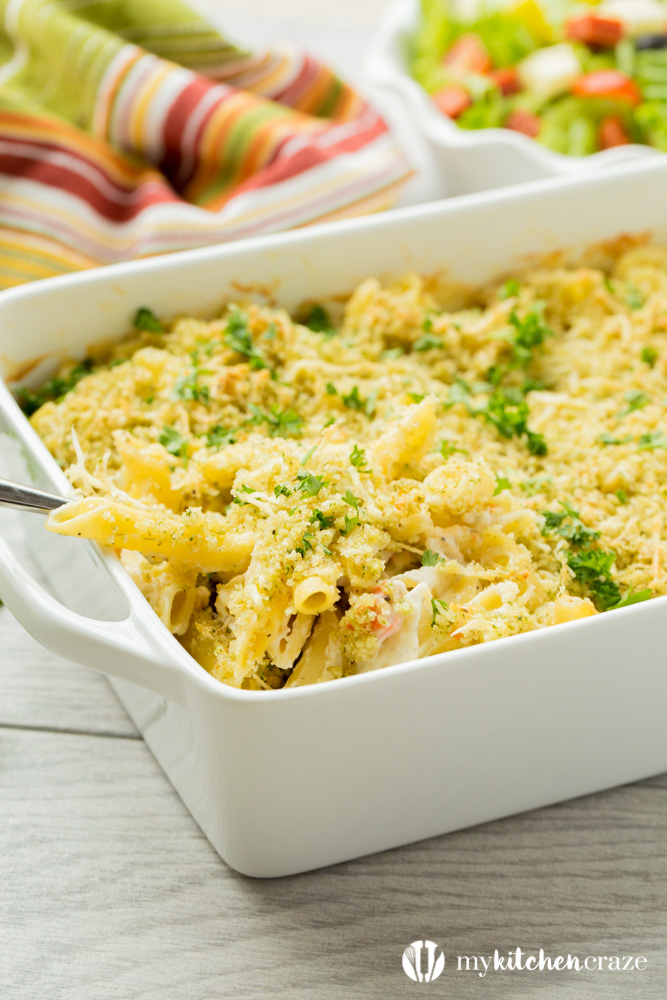 I was chit chatting with Sean while I was preparing dinner one night. I walked over to him sitting on the couch, so I could finish my story.  When I went to walk back to the kitchen, I ran into the ottoman. Bam! Sean said he heard such a loud bang that he thought my toe nail ripped off. I instantly feel to the ground and started crying.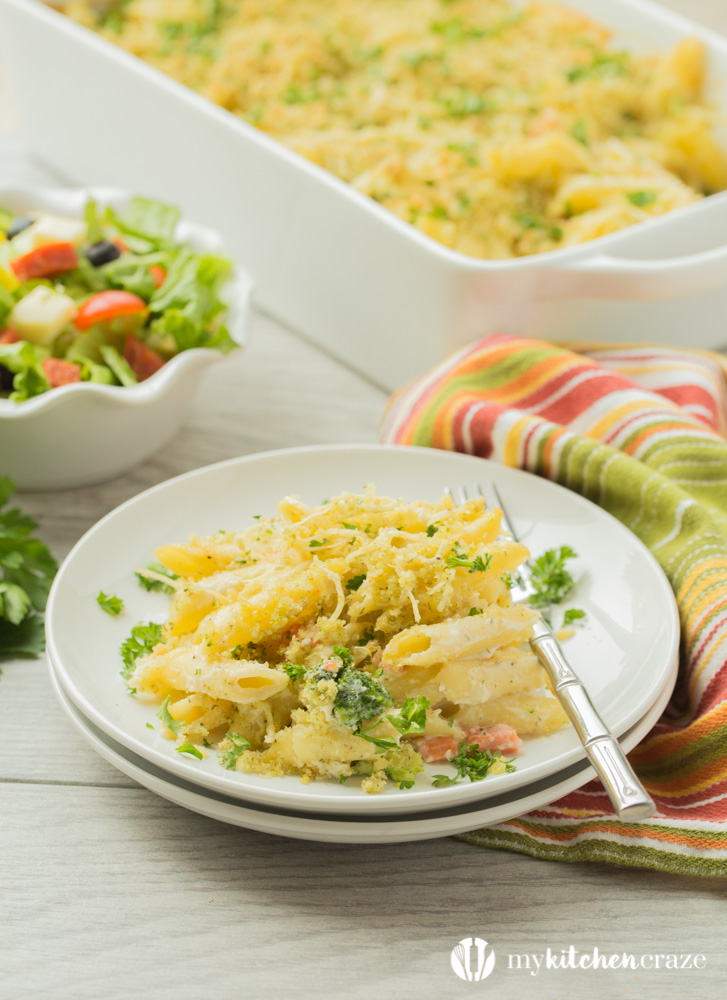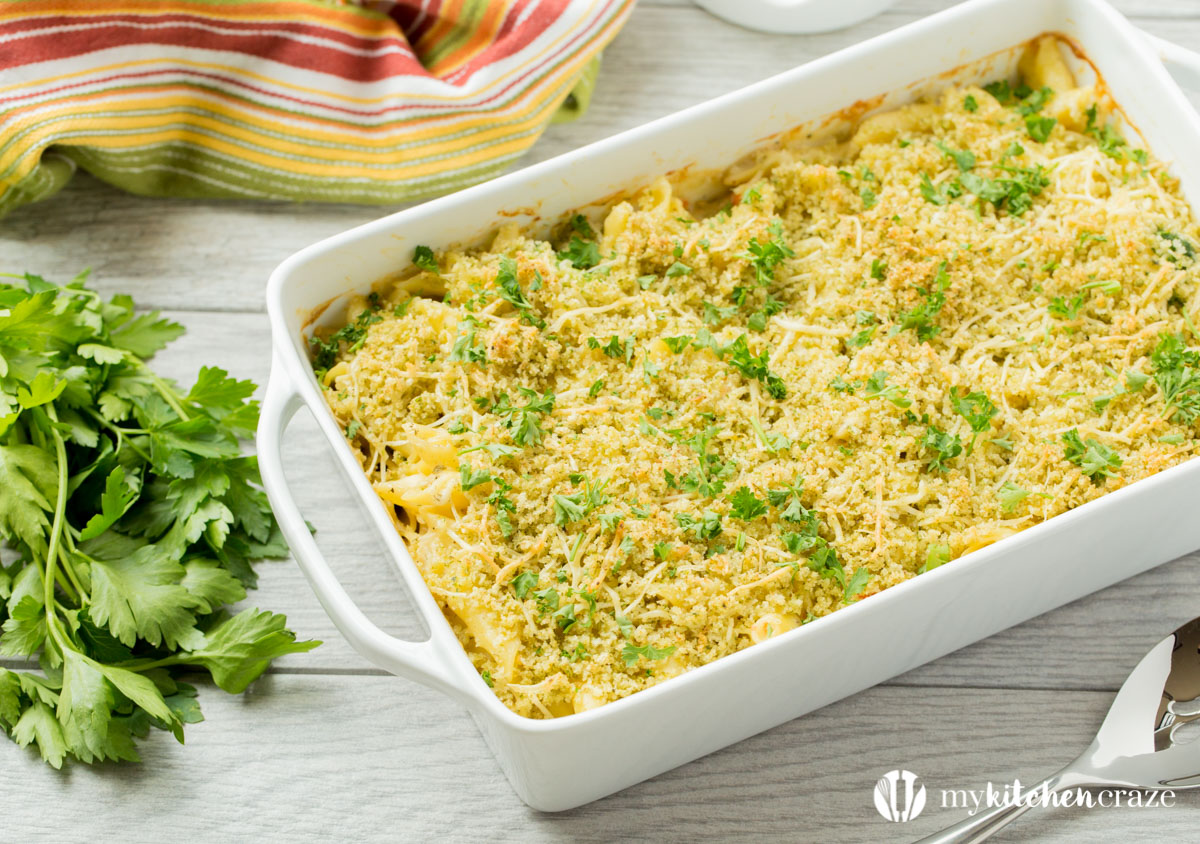 I knew I broke it. I've had my fair share of stubbing toes, but this was a whole new feeling. Sean ended up helping me to the couch so I could start icing it. While I was sitting on the couch I thought maybe I just stubbed it and everything was going to be ok. Well…I was wrong. When I went to walk upstairs I could barely walk. The next morning my whole foot was black and blue. Fast forward a week and I'm still dealing with this and now it's plain old annoying.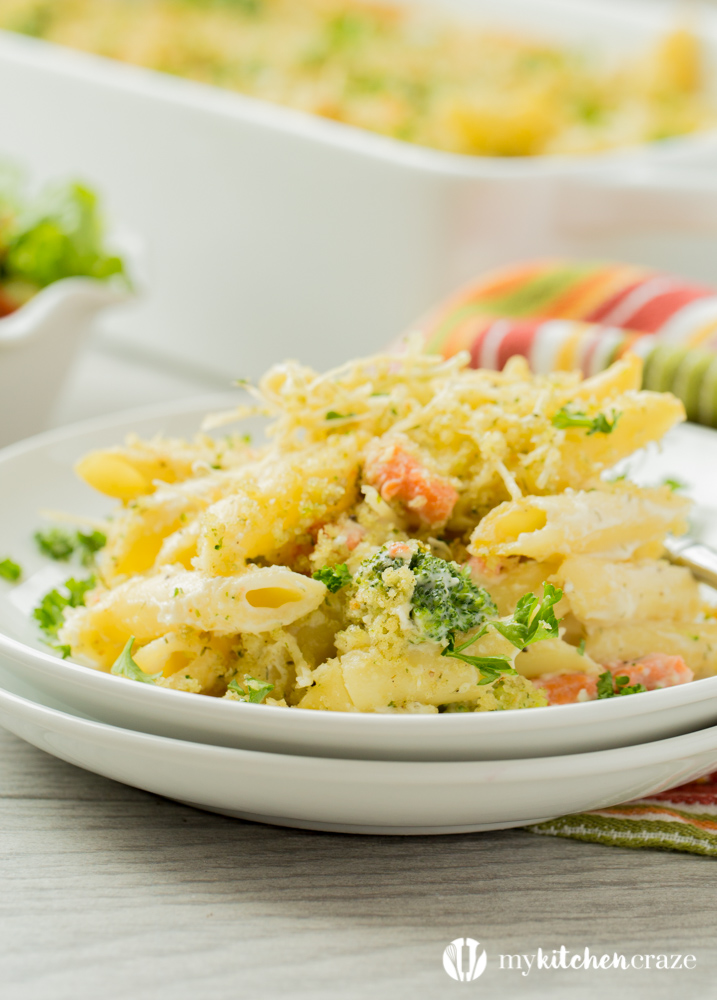 Now I'm in a boot and not able to be on my feet for a long period of time. I needed something easy for dinner. We've eaten out a lot this past week, but I was getting sick of it and needed something hearty and comforting. I knew I wanted pasta, but I was also craving some seafood.
I created this casserole on a whim and I'm so glad that I did. I ended up buying the smoked salmon at Trader Joes and used my go to creamy alfredo sauce. I also wanted a little bit of crunch so I added some panko crumbs and parmesan cheese on top. You guys…this casserole turned out so good! It's easy to whip up on a busy night or fancy enough to have when people are coming over.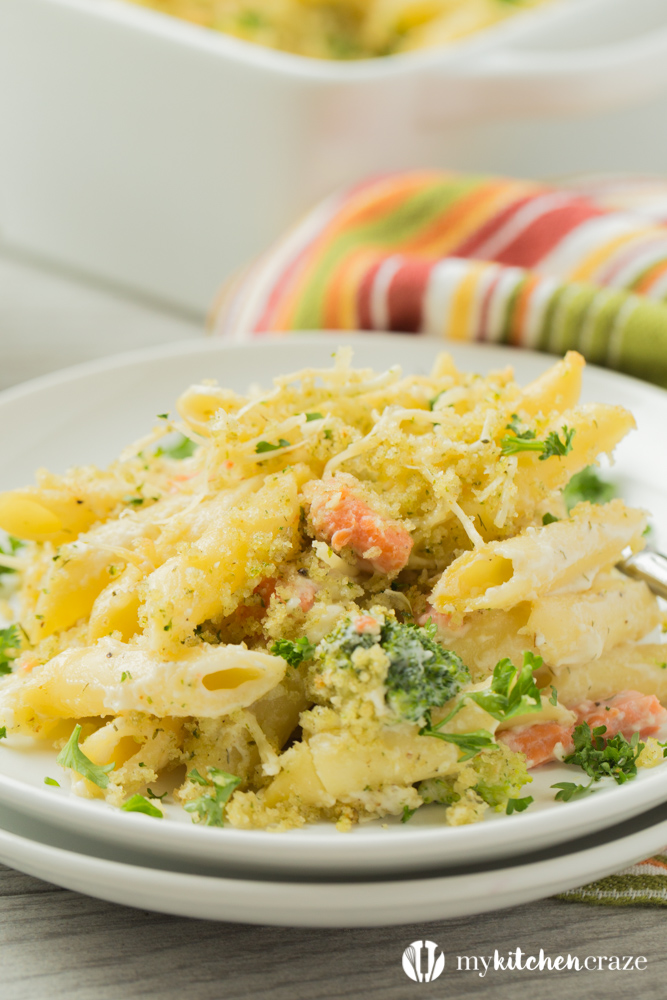 I do have one recommendation. Eat it hot from the oven and that day. Once the sauce cools it gets a little oily, like most alfredo sauces do. This casserole tastes great right out of the oven. Pair it with a salad and you have one yummy meal! Enjoy and let's hope your making this with no broken toes.
THIS POST FIRST APPEARED OVER AT THE WEARY CHEF WHERE I'M A CONTRIBUTOR! HEAD OVER TO SEE WHAT ANDI'S COOKIN UP!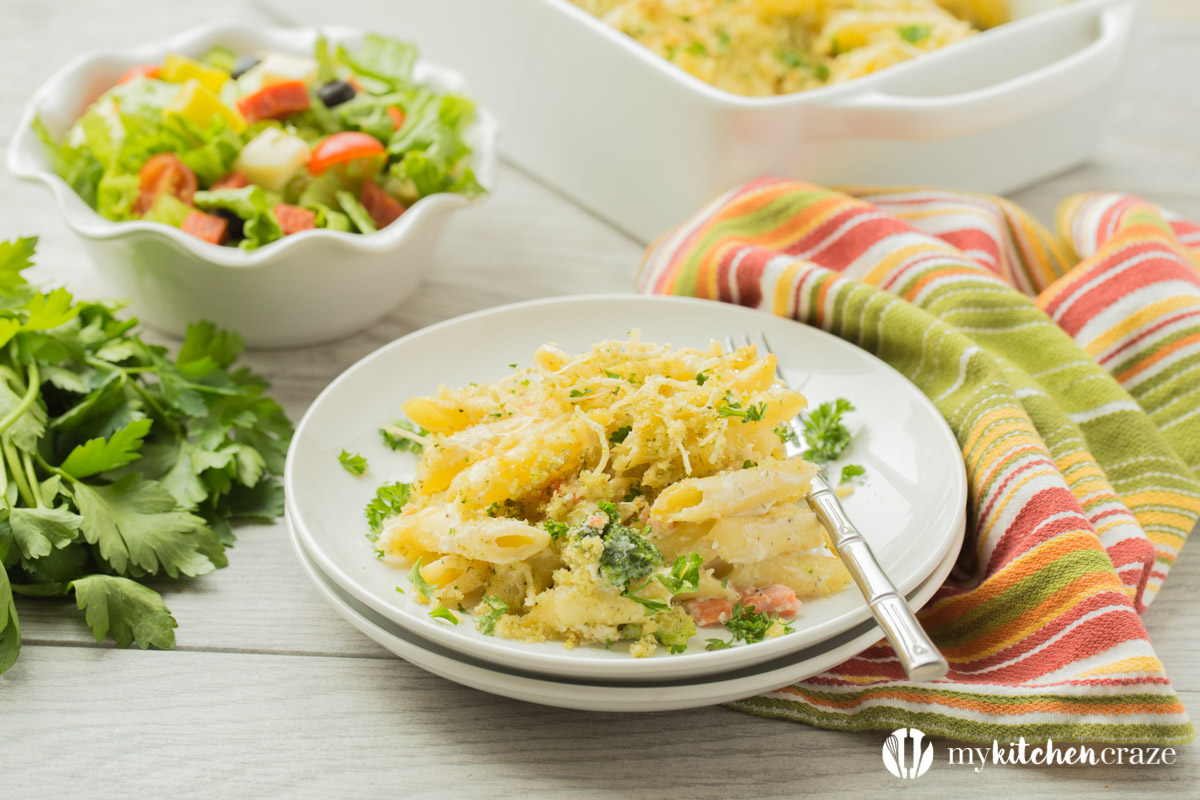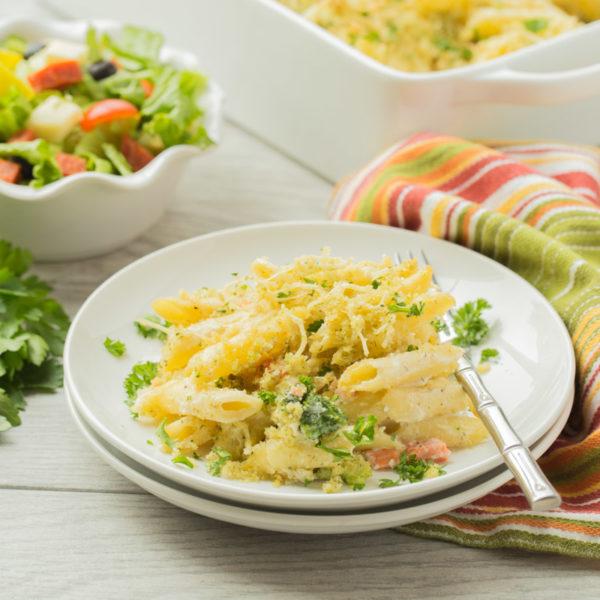 Get the Recipe:
Smoked Salmon Alfredo Casserole
Ingredients
Pasta:
1-

pound

box penne pasta

1

cup

broccoli floret

1

8 ounces package of smoked salmon, cut into pieces
Alfredo Sauce:
4

tablespoon

butter

5

cloves

garlic

,

minced

6

tablespoons

flour

1 ¾

cups

half & half

1 ½

cups

chicken broth

1

teaspoon

salt

½

teaspoon

pepper

1 ¾

cups

Parmesan cheese

1

teaspoon

dried dill weed
Topping:
½

cups

panko crumbs

½

cup

Parmesan cheese

4

teaspoon

butter

,

melted
Instructions
Preheat oven 350 degrees F. Spray a 9x13 baking dish with non-stick spray; set aside.

Cook pasta according to al dente package details. Add the broccoli the last 3 minutes, drain and run cold water over pasta.

While the noodles are cooking, make the sauce. Add the butter to a sauce pan over medium heat. Once melted, add garlic and cook for 30 seconds. Add flour and cook for 3 minutes.

Slowly add the half and half and chicken broth. Make sure to only add 1 cup at a time and make sure to stir constantly. This will avoid any lumps in your sauce.

Bring the sauce to a simmer and cook until slightly thickened, about 4-5 minutes. Stir in the Parmesan cheese, salt, pepper and dill weed.

In a large bowl, mix together the pasta, broccoli, salmon and sauce until well combined. Pour into prepared baking dish.

In a small bowl, stir together the topping ingredients and sprinkle over pasta.

Bake 20-25 minutes, or until topping is lightly golden.

Serve immediately & enjoy!