Italian Antipasto Salad ~ loaded with all sorts of flavorful vegetables then topped with a homemade red wine vinaigrette. Perfect as a side dish or grill some chicken, steak or seafood and have it as a main!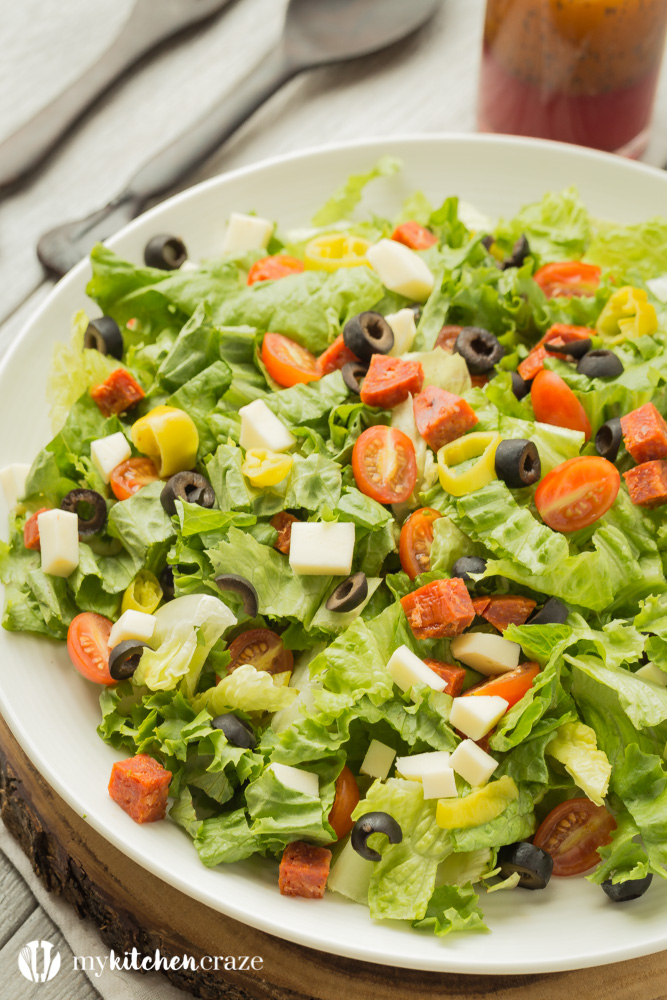 Can I complain for a few seconds to you guys. I try not to be a complaining person, but man oh man I'm over it. If you read my
last post
 you all know I broke my toe a few weeks ago. That is finally on the mend, but now I'm sick.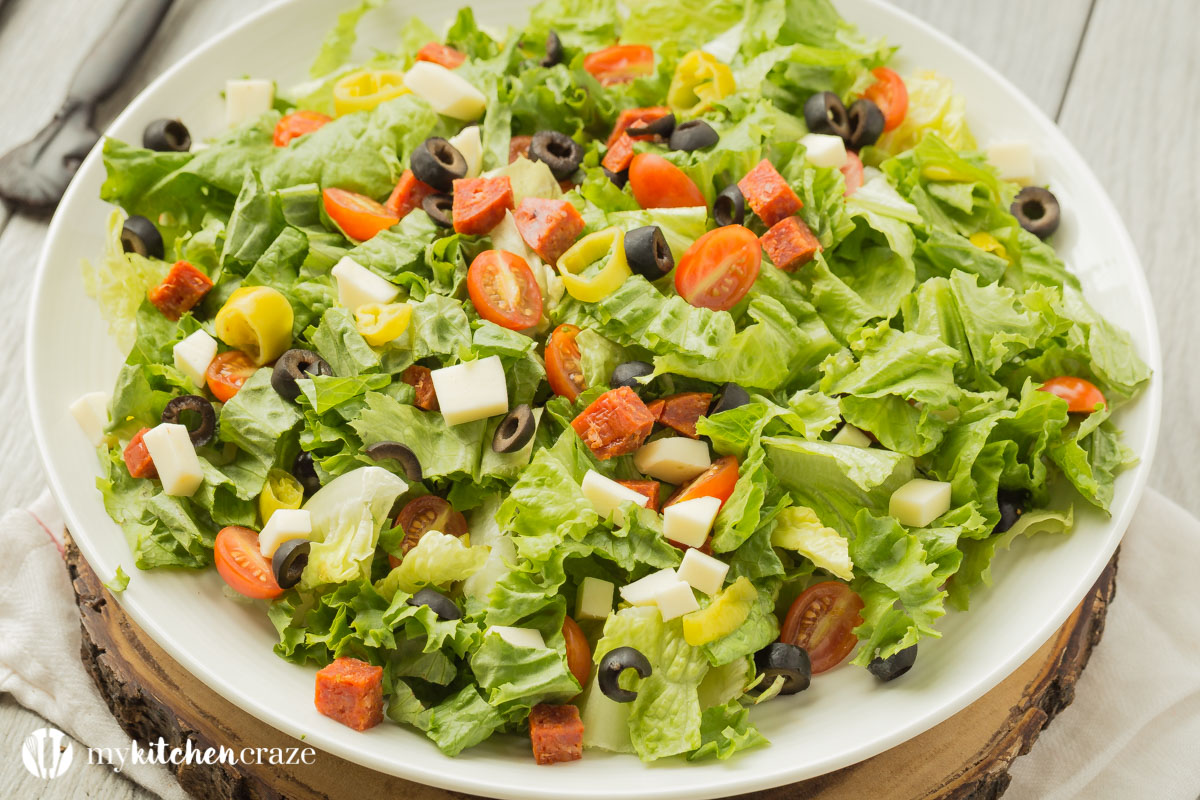 And I don't mean a little cold sick. No….this is a full blown cold/flu. Body aches, fever, cough and a runny nose. The whole 9 yards. I'm so over it all. I just need a little break. Ok rant over. Let's move on to salads now.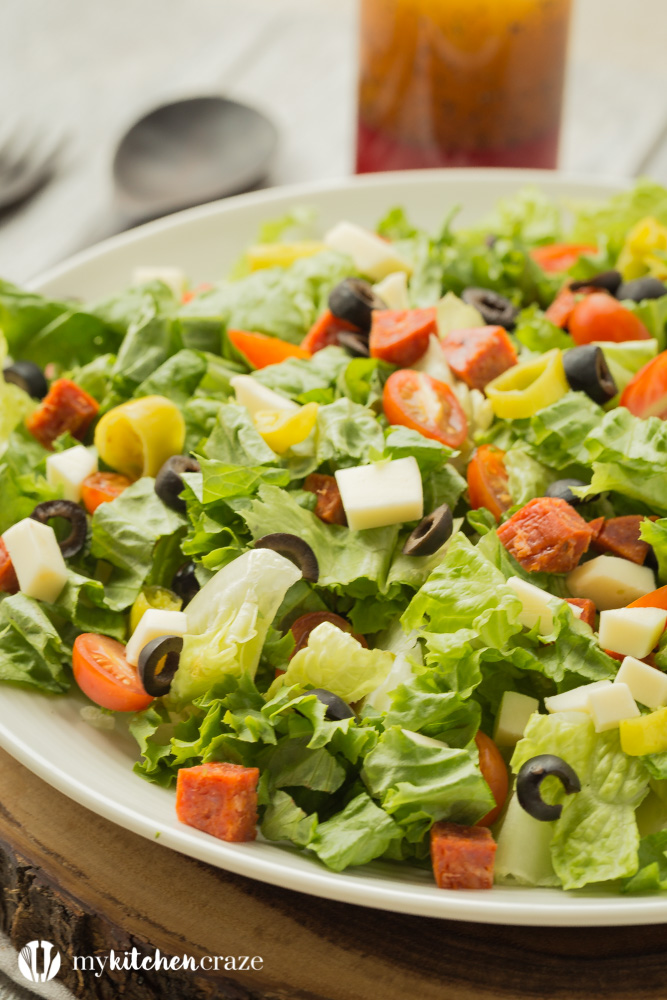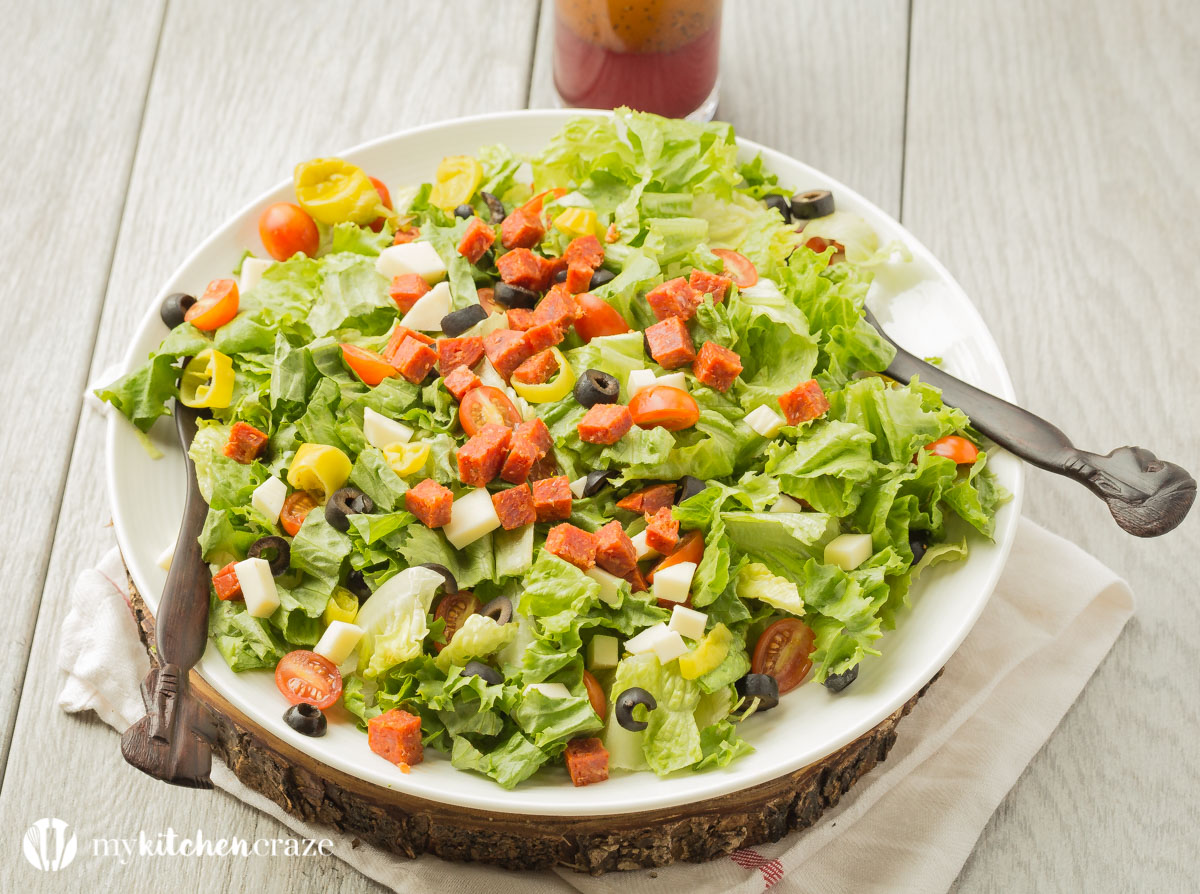 In full disclosure, I'm not a homemade salad type of person. I love to have salads when we're eating out. But these last few weeks, I really wanted to have at least a few go to salad recipes on hand. When guests came over I want to whip out something that looks nice, but also taste good.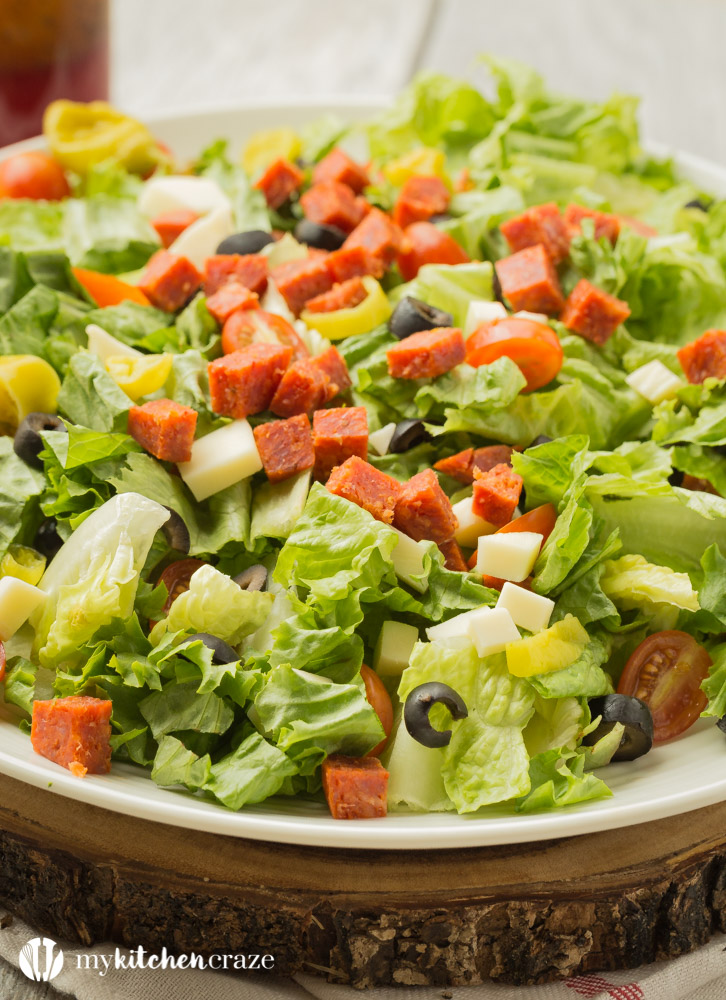 I found this recipe on food network many years ago. It was an instant hit with my hubby and I have to say that it wasn't bad either. I ended up adding and taking away numerous ingredients to make it my own. For instance I went and added some black olives and peppercini's.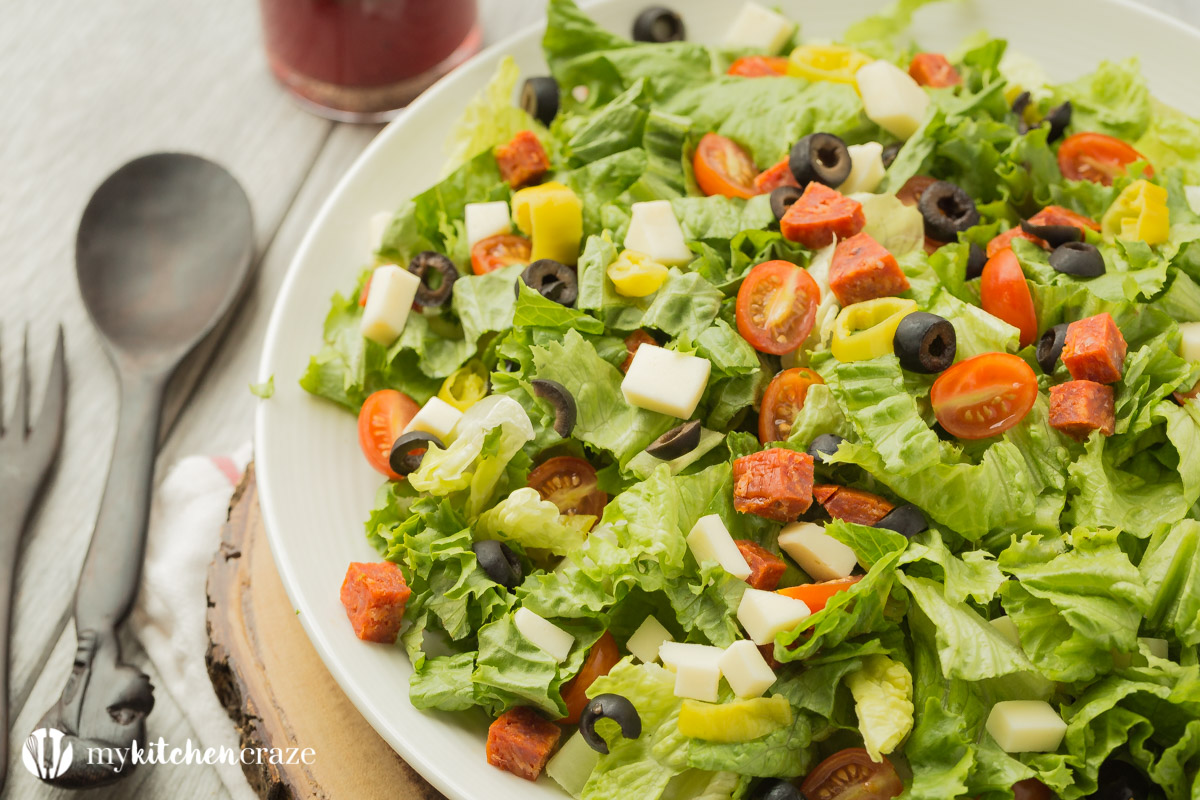 Then there the salad dressing! It's so easy to whip up and so flavorful. It pairs perfectly with the salad. You could have this salad as a side or grill up some chicken and have it as your main. Either way you need to give this salad a try. You won't be disappointed!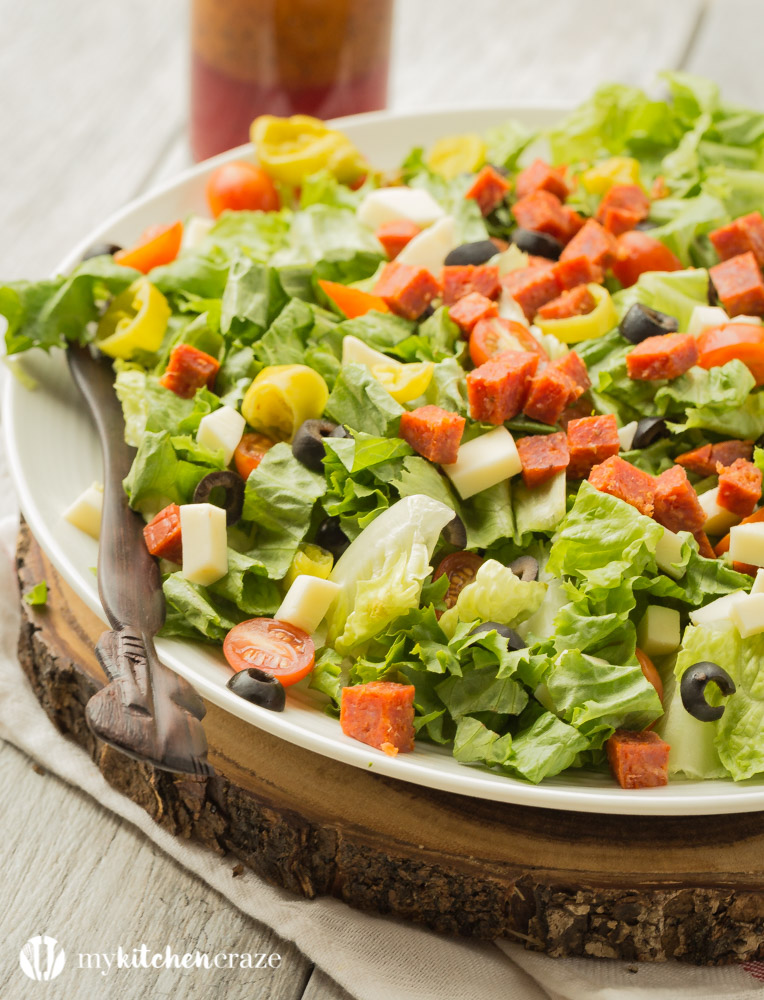 Servings: 6 -8
Italian Antipasto Salad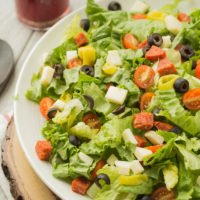 Print
Ingredients
Salad:
1/2 head romaine lettuce, chopped into bite size pieces
1/2 head red leaf lettuce, chopped into bite size pieces
1/2 head iceberg lettuce, chopped into bite size pieces (I didn't use iceberg. I used extra of the other lettuces)
1 cup canned garbanzo beans, rinsed and patted dry, (optional)
8 ounces pepperoni pieces
3  ounces Provolone, cubed
1/2 cup black olives
3-4 pepperonchinis
1/3 cup cucumbers, optional
cherry tomatoes, 6-10 or as much as you'd like, cut in half lengthwise
salt & pepper to your liking
Red Wine Vinaigrette:
1/2 cup red wine vinegar
3 tablespoons lemon juice
1 teaspoon honey
2 teaspoons salt
1 cup olive oil
Salt and freshly ground black pepper
Instructions
Add lettuces to a large serving bowl. Top with garbanzo beans, pepperoni, provolone cheese, black olives, pepperonchinis, cucumbers and tomatoes.

Season with salt and pepper.

Add all red wine vinaigrette ingredients to a salad shaker. Shake to incorporate all ingredients.

Toss salad and drizzle with dressing.

Serve immediately and enjoy!