Roasted Herb Potato Medley
Do you get into a side rut? Well look no further. This Roasted Herb Potato Medley will brighten up your plate. Tender roasted potatoes taste delicious and have an amazing flavor. Perfect with any main entree.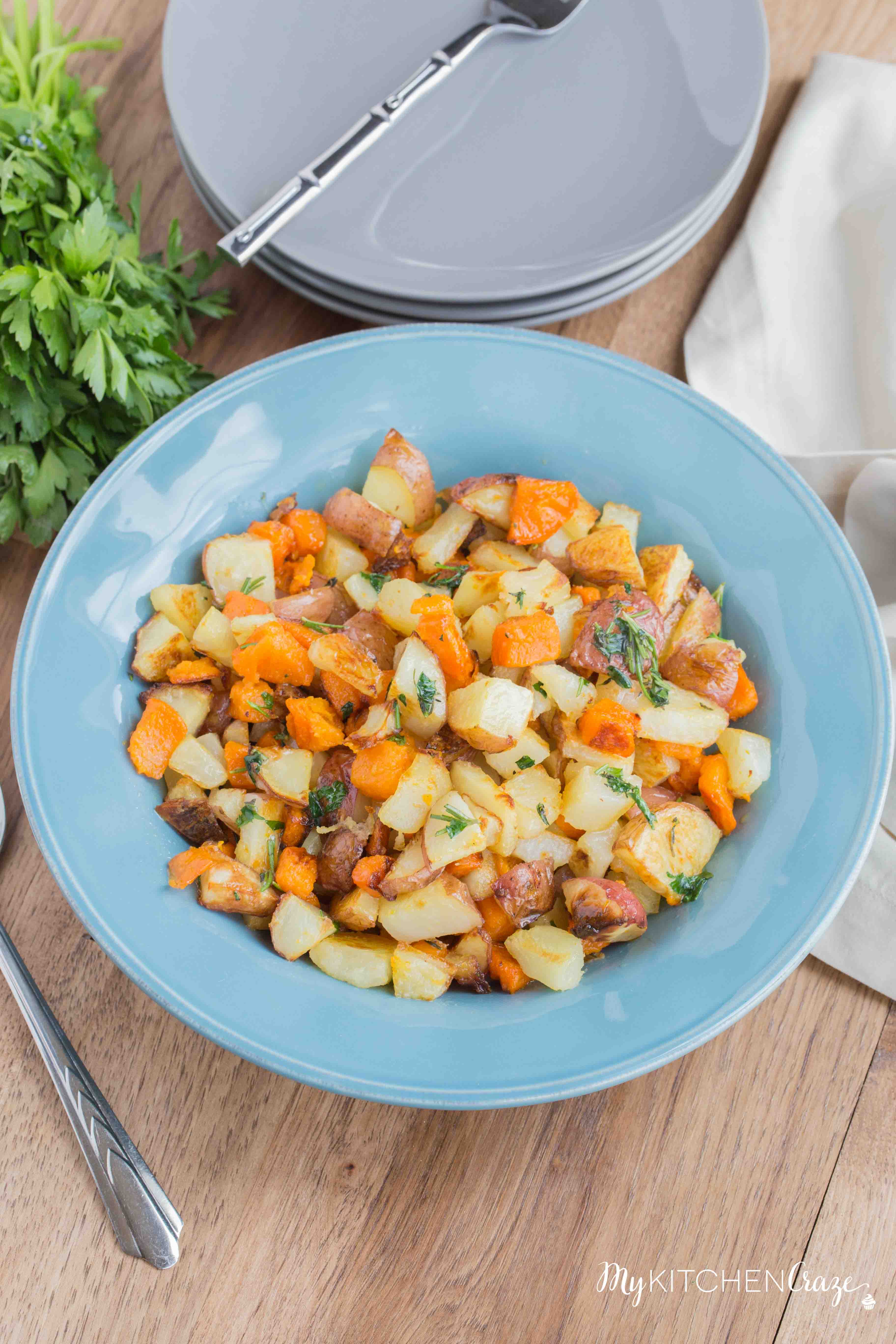 There are two types of people in my opinion. Ok ok, maybe there are a few more than two. But as far as sides go, there are people who have to have sides and people who don't. I can honestly say that I don't need a side, but my hubby always needs a side. I remember when we first got together I'd make dinner, serve it without a side of course and Sean would give me that look. You know the look that says, "Cyndi where's the side?"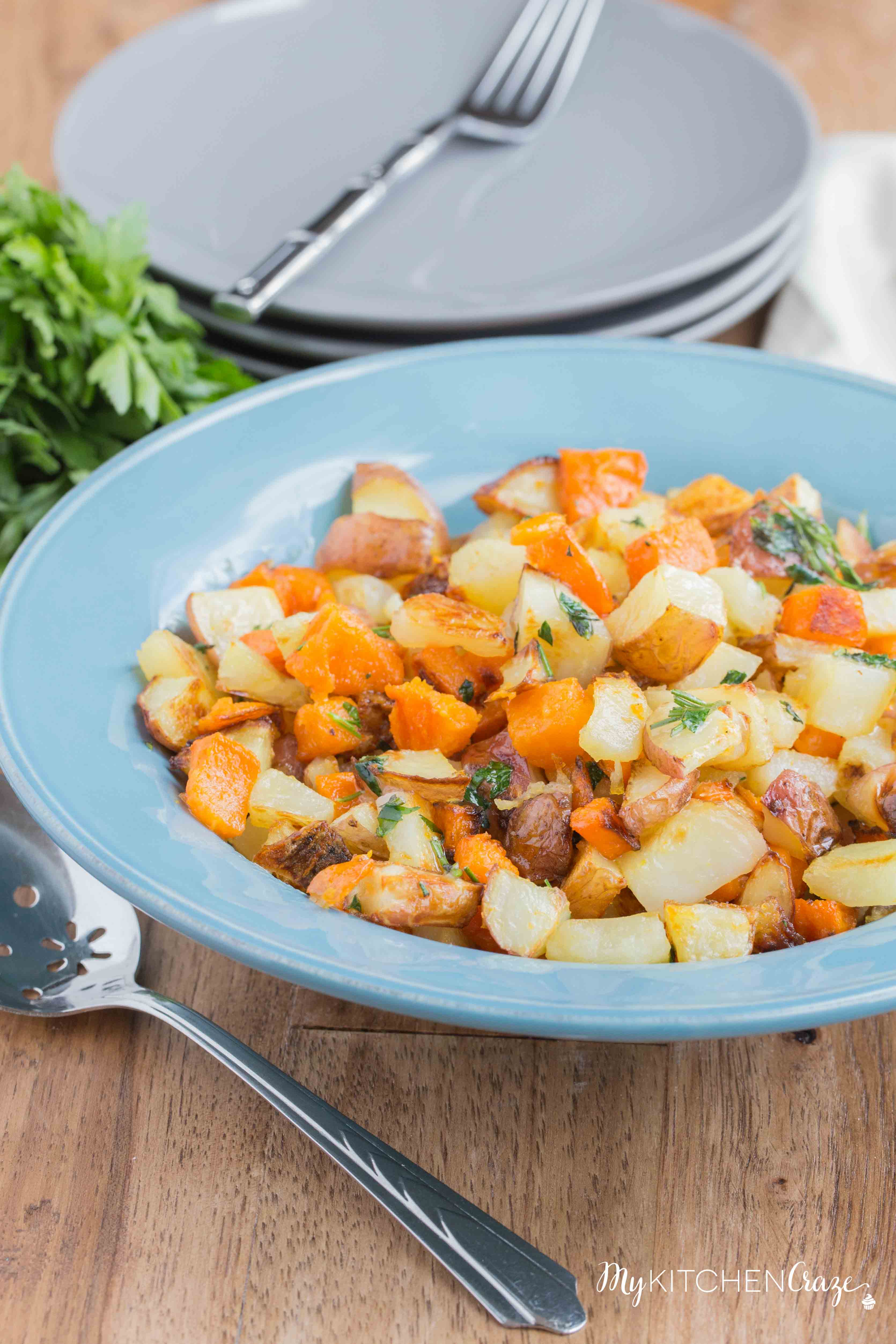 I'd proceed to tell him that this recipe doesn't need a side. He'd totally disagreed with me. After 16 years I've learned to have some sort of veggie and starch. The veggie part is always the easiest for me.
You can't go wrong with salads, steamed veggies or roasted veggies.  Sometimes I can get creative and make a veggie salad. Watch out! Ha!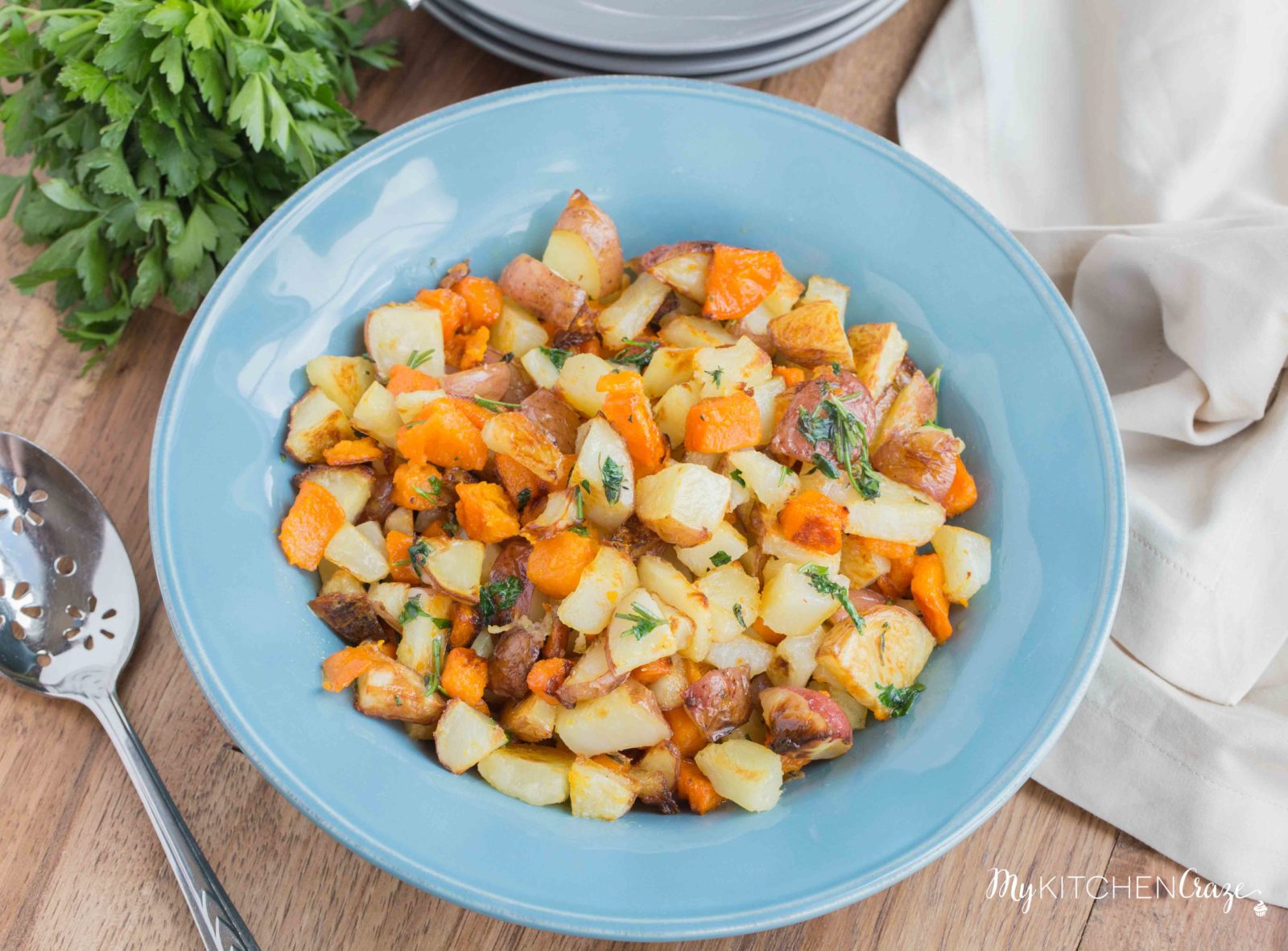 The starch is my problem. There's only so much potatoes and rice you can make before you start to get bored and burnt out. Sean's a huge fan of garlic mashed potatoes, but they get so blah after a while. That's where this Roasted Herb Potato Medley comes in.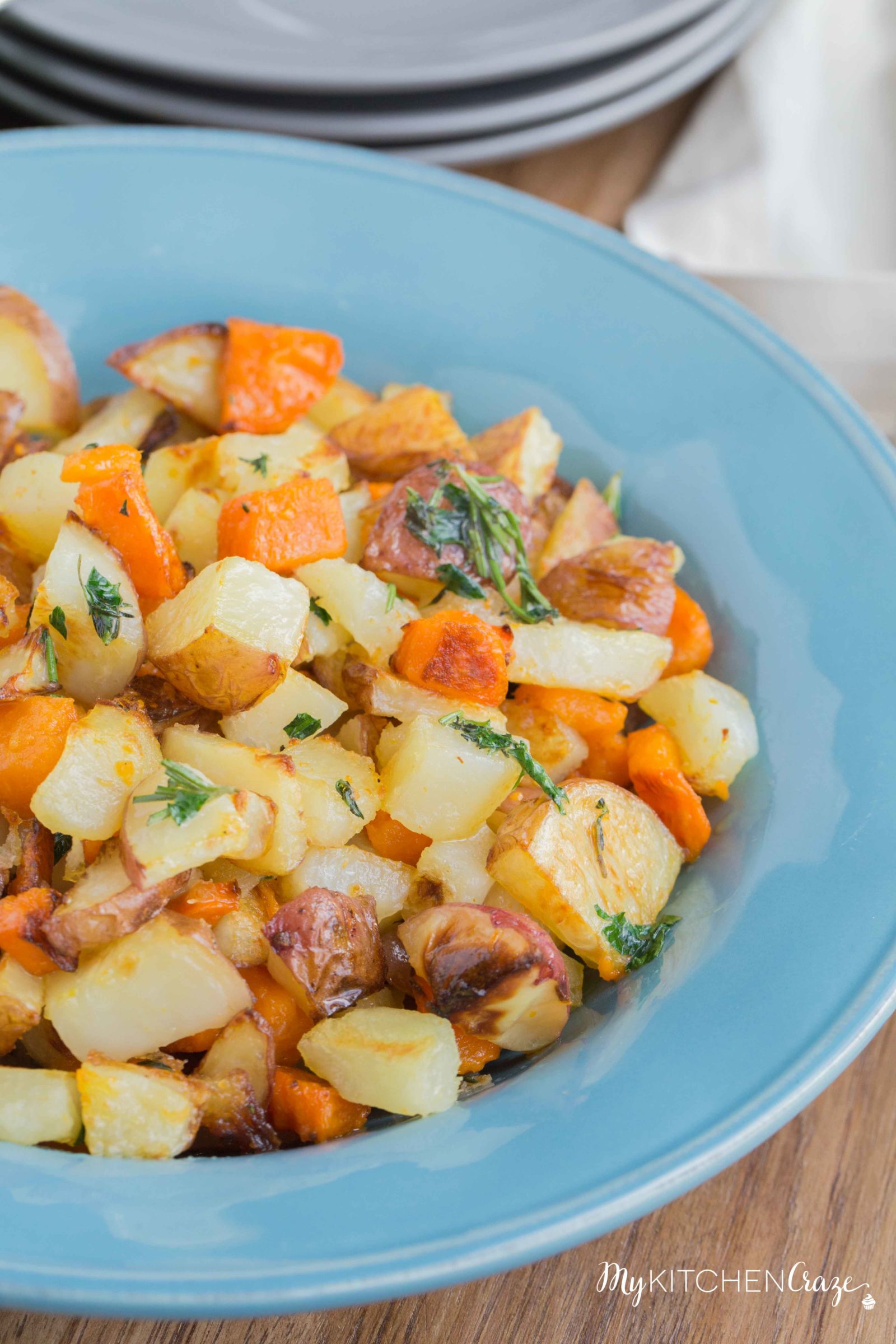 I had all three potatoes on hand for some reason, so I thought why not mix them together. I love sweet potatoes, but I love yukon and red potatoes so much more. I knew if I added all three together that Sean, the kids and I would love it. I can't even remember what I made for dinner the night I made this medley because this side totally stole the show.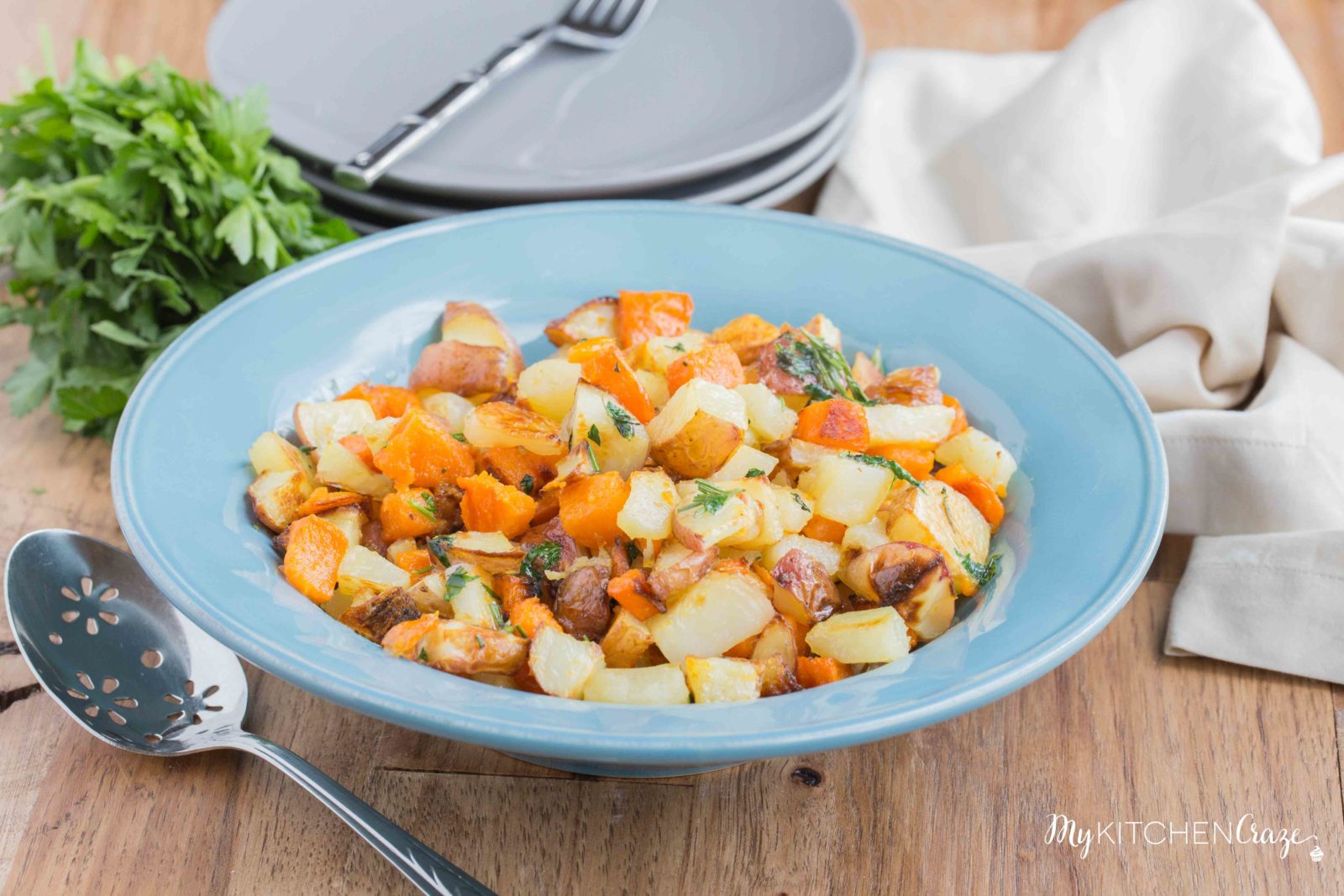 Don't you just love the texture and caramelization when you roast something? I sure do. I love that crunchy soft texture. Yum!
This is an easy recipe that will go with any entree. You can even change it up a little and add in some other type of veggies or try it with some bacon sprinkled on top. The list is endless. No matter what you won't have to have boring garlic mashed potatoes again. A new side has come into town. Enjoy!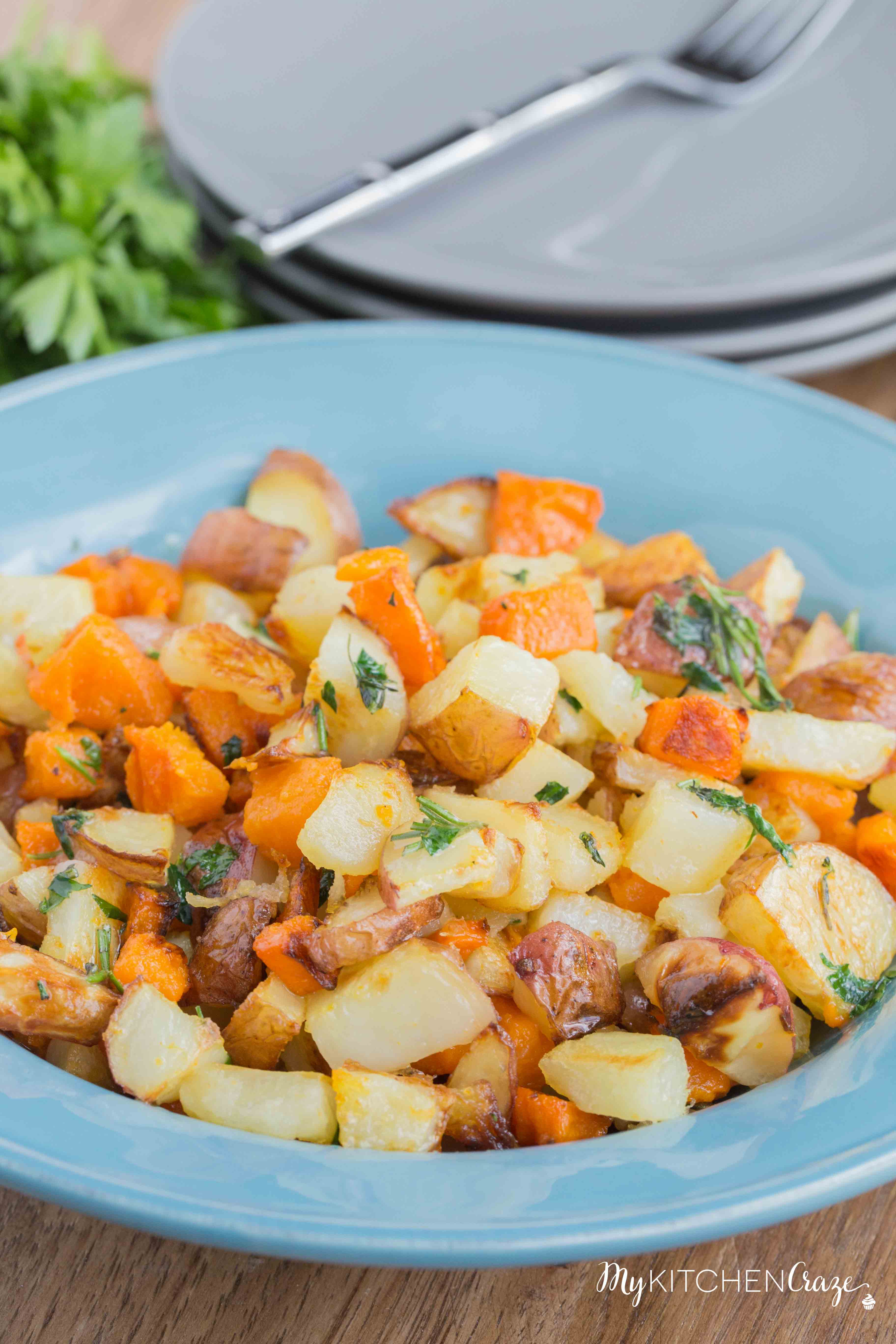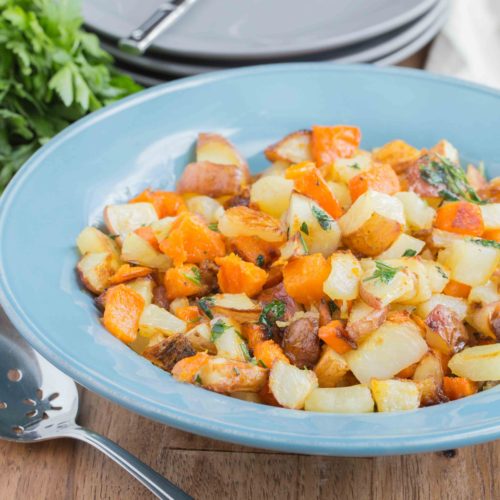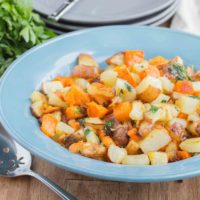 Get the Recipe:
Roasted Herb Potato Medley
Ingredients
1 1/2

pounds

russet potatoes

1 1/2

pounds

red-skinned potatoes

2

pounds

sweet potatoes

Kosher salt

1

tablespoon

canola oil

4

tablespoons

unsalted butter

,

at room temperature

1

tablespoon

chopped fresh parsley

1

tablespoon

chopped fresh thyme

1/2

tablespoon

chopped fresh rosemary

Freshly ground pepper
Instructions
Cut the potatoes into 2-inch cubes. Add them to a large pot, cover them with water and add salt to taste. Bring them to a boil, cook for 10 minutes, drain and cool. The potatoes will only be partially cooked and should be completely dry before you roast them.

Preheat the oven to 400 degrees F. Toss the potatoes with the canola oil and spread them in one layer on a baking sheet. Roast until crispy and cooked through, about 45 minutes.

While the potatoes are roasting, make the herb butter: Mix the softened butter with the parsley, thyme and rosemary and add salt and pepper to taste.

When the potatoes are done, put them into a large bowl, toss with the herb butter and serve immediately.