Chocolate Peanut Butter Smoothie Bowl
This shop has been compensated by Collective Bias, Inc. and its advertiser. All opinions are mine alone. #StirImagination #CollectiveBias
Enjoy this delicious, creamy Chocolate Peanut Butter Smoothie Bowl for breakfast! Who doesn't love chocolate breakfast? This healthy smoothie bowl will leave you feeling fueled and energized for your day ahead!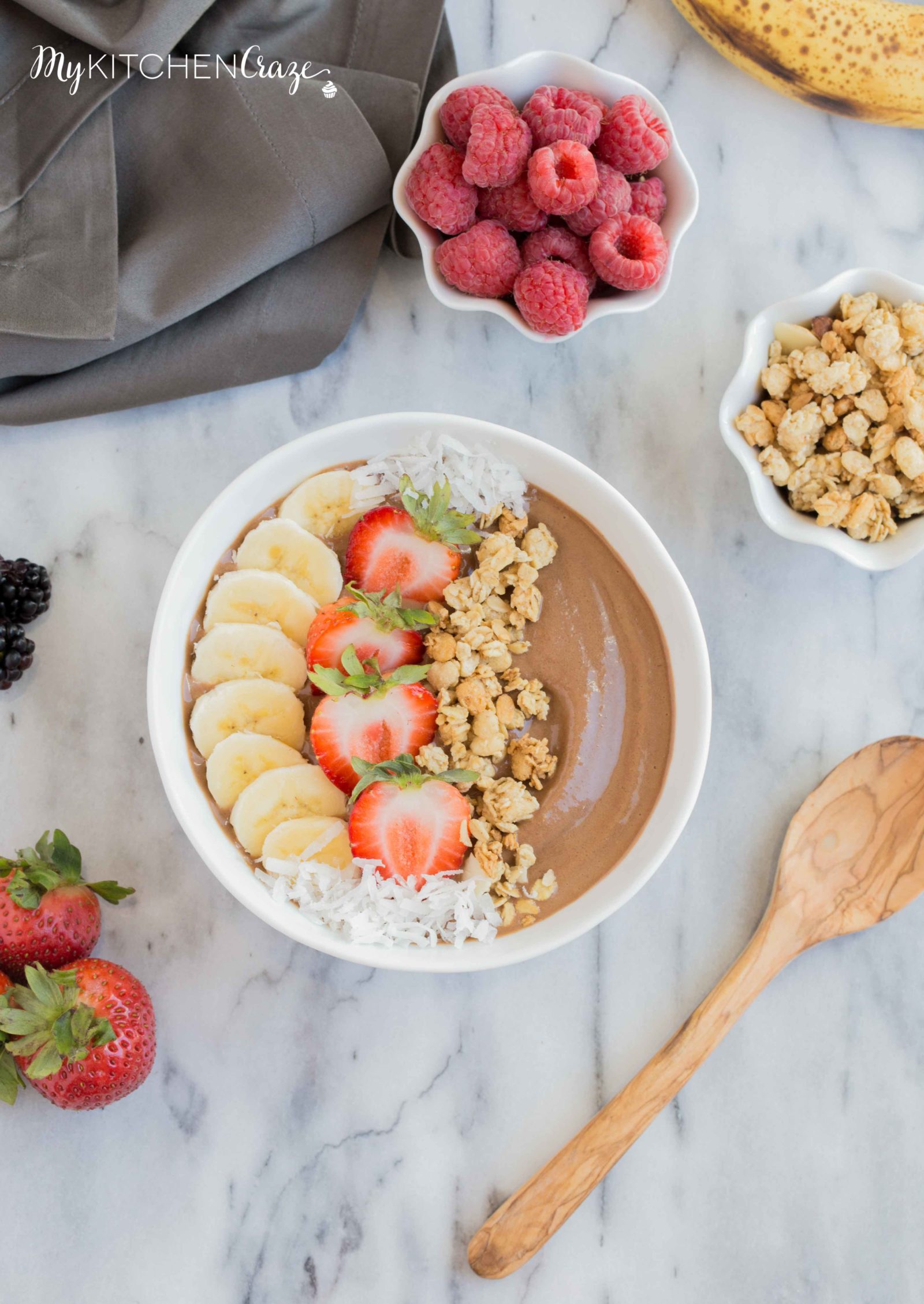 You all know I'm late jumping on the smoothie bowl ban wagon. Now that I've made one, I want to keep making them all the time. Since the kiddos had a three day weekend this past weekend, I knew I needed to make them something they'd not only like, but actually eat. I swear since starting school this past week, these kids have come home hungrier than when they left that morning.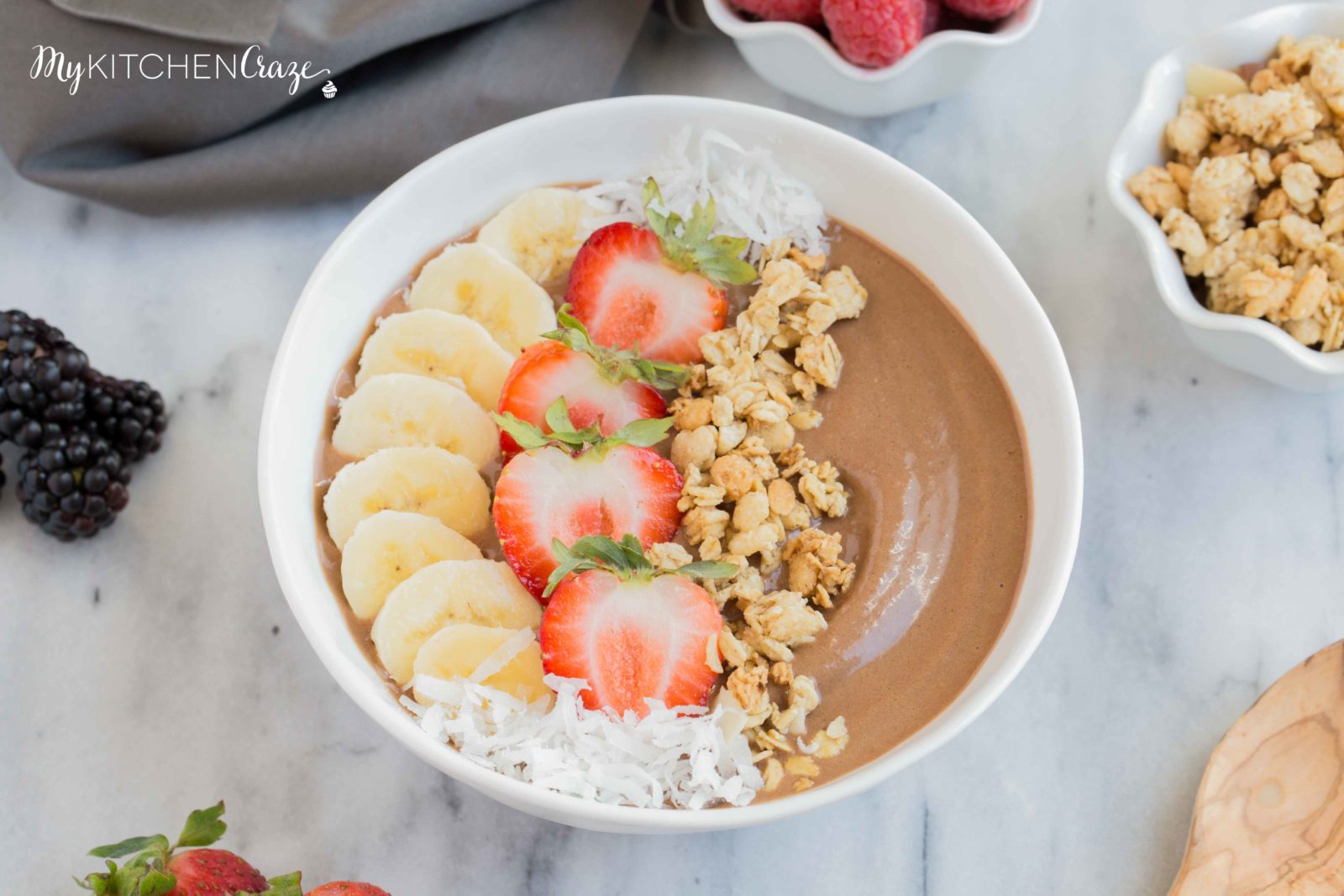 My kids are used to drinking their smoothies, not eating them. I knew they would love this idea and be fun to eat. Who wouldn't have fun eating this bowl? Since we always have NESTLÉ® NESQUIK® Powder on hand, I knew it would be a great idea to add it to our smoothie bowl. What I did't realize was how good it would turn out. 🙂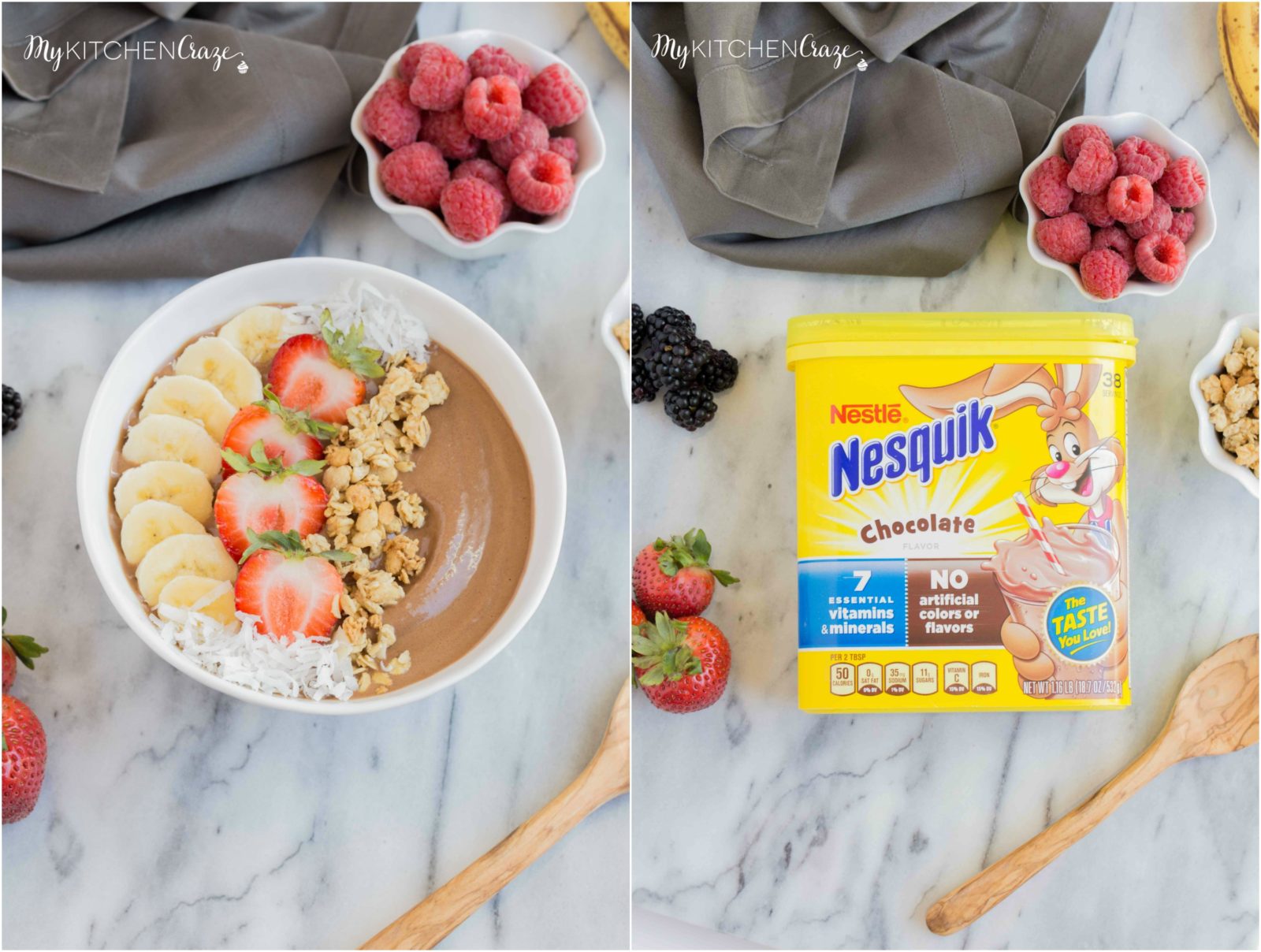 Did you know that NESTLÉ® NESQUIK® Powder contains 45% less sugar than a leading chocolate syrup brand? There are no artificial flavors and contains 7 essential vitamins and minerals. That's a mom's drink dream come true. Perfect for breakfast or an afternoon snack! They also have a NESTLÉ® NESQUIK® Powder Strawberry that my kids love too! I get my Nesquik Powder at Target. You can head over there for the Cartwheel Offer; offer title: Nesquik Powder that's 30% off a 10.9 ounce small canister, that runs from 9/11/16 thru 9/24/16.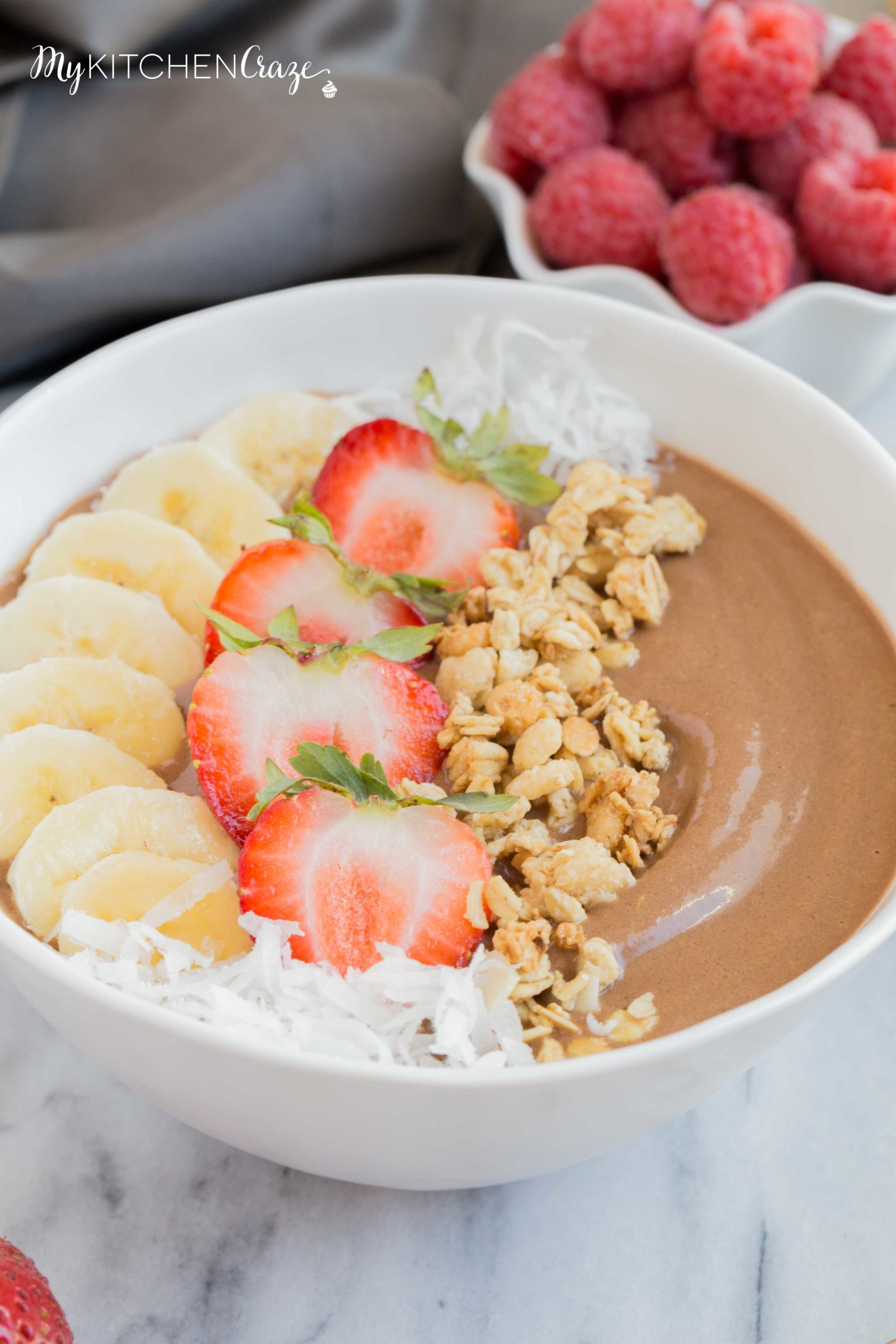 Once you get your hands on a container of Nesquik Powder, make sure you make this smoothie bowl. Once I got the idea to make this for the kids everything came together pretty fast. The first time I made it the kids said it needed a little more oomph.
Since I used a frozen banana and the powder, I knew adding peanut butter would taste amazing. But I also wanted to keep it as healthy as possible. Hence the almond milk and vanilla yogurt.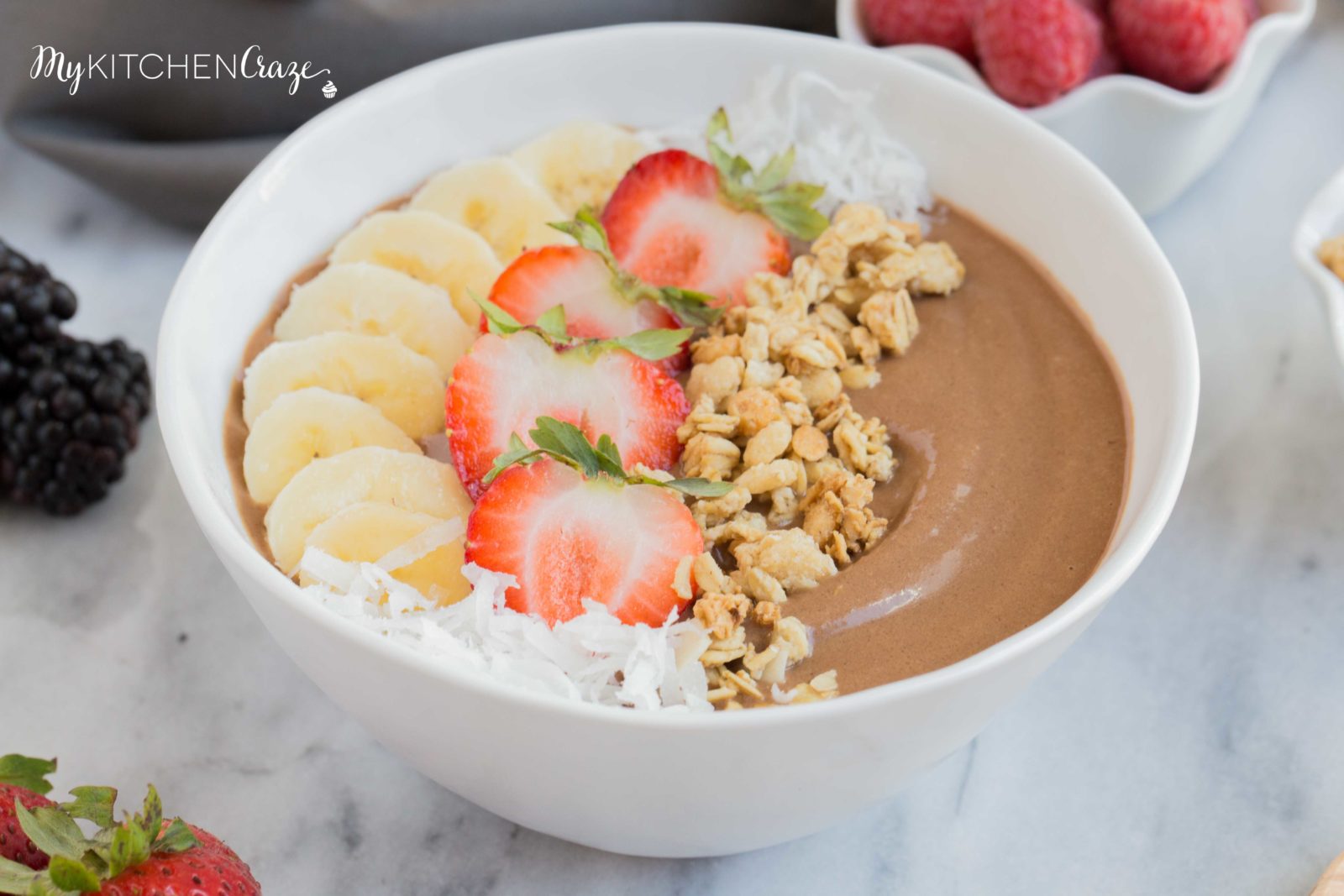 When the kids first started eating, they said that they weren't to sure about it. But then I came back 10 minutes later and their bowls were clean. Guess they liked it huh?
Like I said about the last smoothie bowl, it's all about the toppings.Now this particular one doesn't need to much, but you must have fresh bananas and granola. Okay and strawberries or raspberries. That's it.
If you have coconut, that would be great too. I know, I know I keep going on and on with the toppings. I can't help my self. I love them too much. But I do think that you must have fresh bananas. The chocolate peanut butter flavor with the bananas give it such a yummy taste. Then the granola gives it that crunch you're looking for.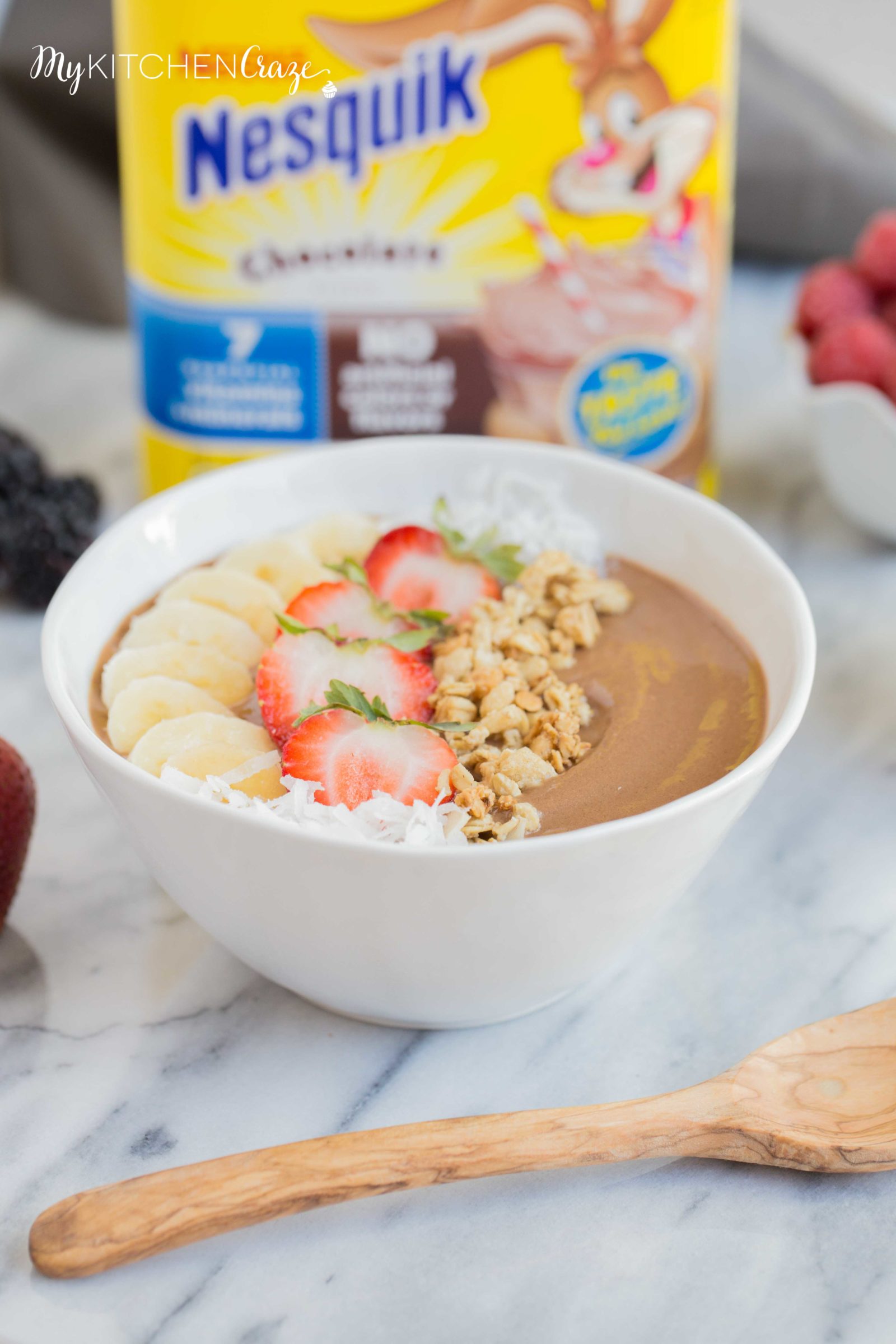 I whipped this up within 10 minutes. This particular recipe made two medium/small bowls for my two kids, but you could make it one large bowl for yourself. It really depends on who your feeding.
One more thing before I let you go. I recommend making this smoothie bowl as thick as you can. That's one of the biggest tricks I've learned along the way. You want it thick and creamy, so once you add in those toppings, you have a delicious bowl of yumminess. If you let the smoothie get to liquid-y than you might as well drink it. You want to eat it, not drink it. Enjoy!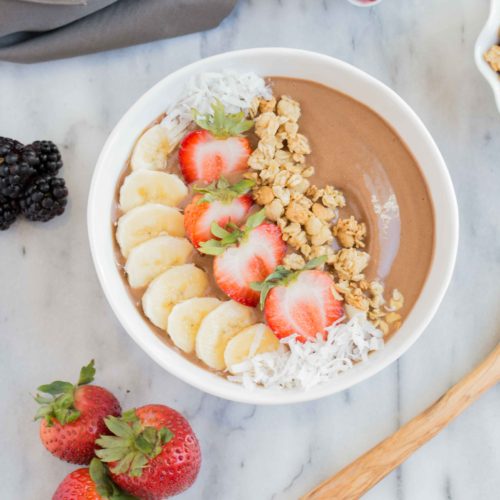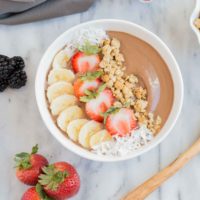 Get the Recipe:
Chocolate Peanut Butter Smoothie Bowl
Ingredients
1/2

cup

vanilla yogurt

1/2

cup

NESTLÉ® NESQUIK® Powder

1

tablespoon

peanut butter

1

frozen banana

1/4

cup

almond milk

10

ice cubes

garnish: bananas

,

granola, coconut, strawberries
Instructions
Place all ingredients into the blender. Blend until creamy and smooth.

Pour into one or two bowls, garnish with toppings.

Serve immediately and enjoy!