Roasted Brussel Sprouts with Bacon and Cauliflower
 Roasted Brussel Sprouts with Bacon and Cauliflower ~ Are you a vegetable lover or hater? No matter what you think about veggies, you're going to love this dish. Loaded with roasted veggies, crispy bacon and a delicious balsamic vinaigrette, this is one side dish you don't want to miss.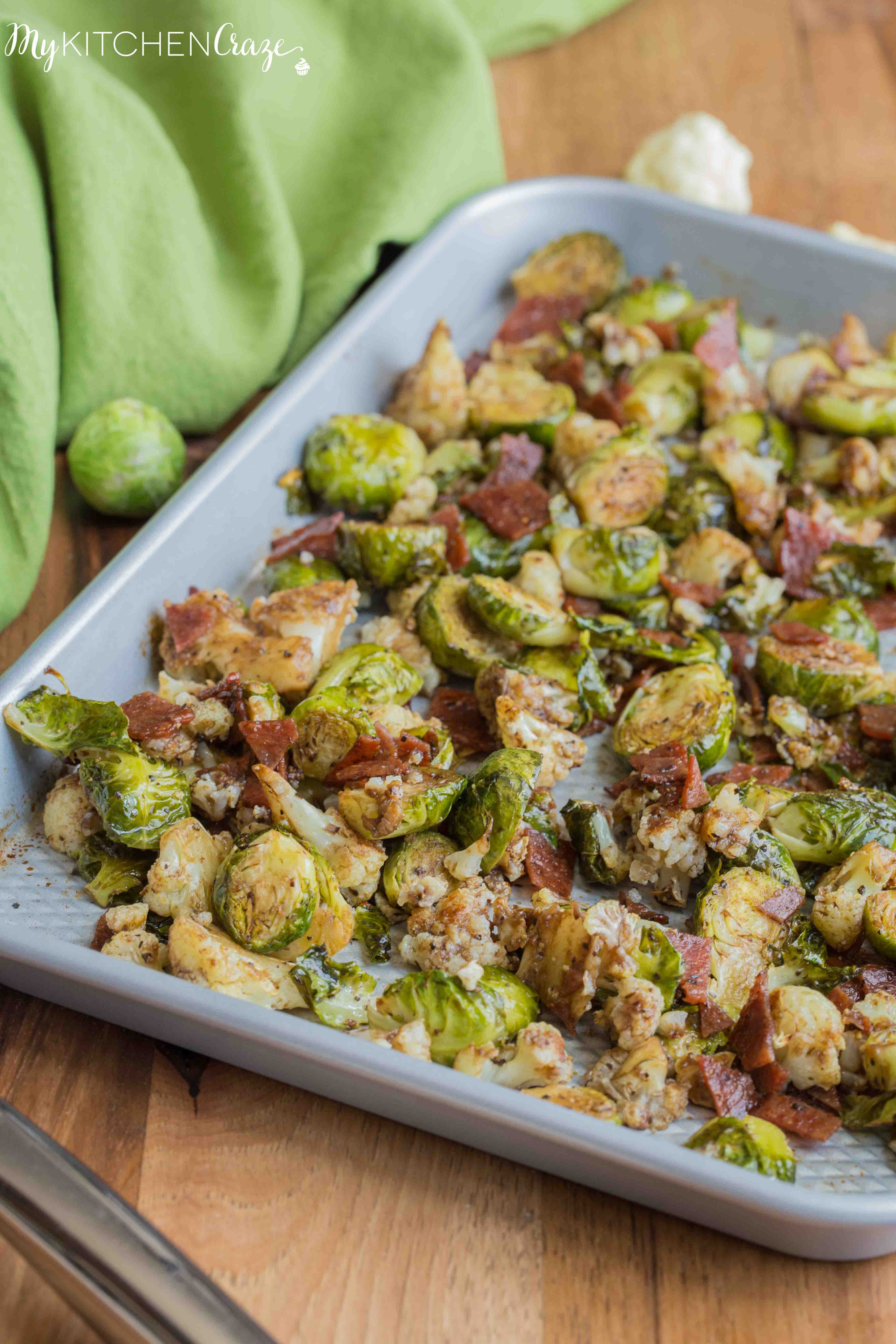 I've been trying to go out of my comfort zone with veggies lately. I'm not a big vegetable person, but realize that they're good for you and I should be eating them. I'm not getting any younger and my body needs the greens.
My friend, Jessica was the one that told me about Brussels sprouts. She swore that they're good. Since she's not a veggie person either, I thought if she liked them than I knew I would to0. When I found this recipe, I'd never cooked Brussels sprouts or cauliflower before. I didn't even know what to do with them. Both of them looked funky to me, but I believed in my friend and made the recipe anyway.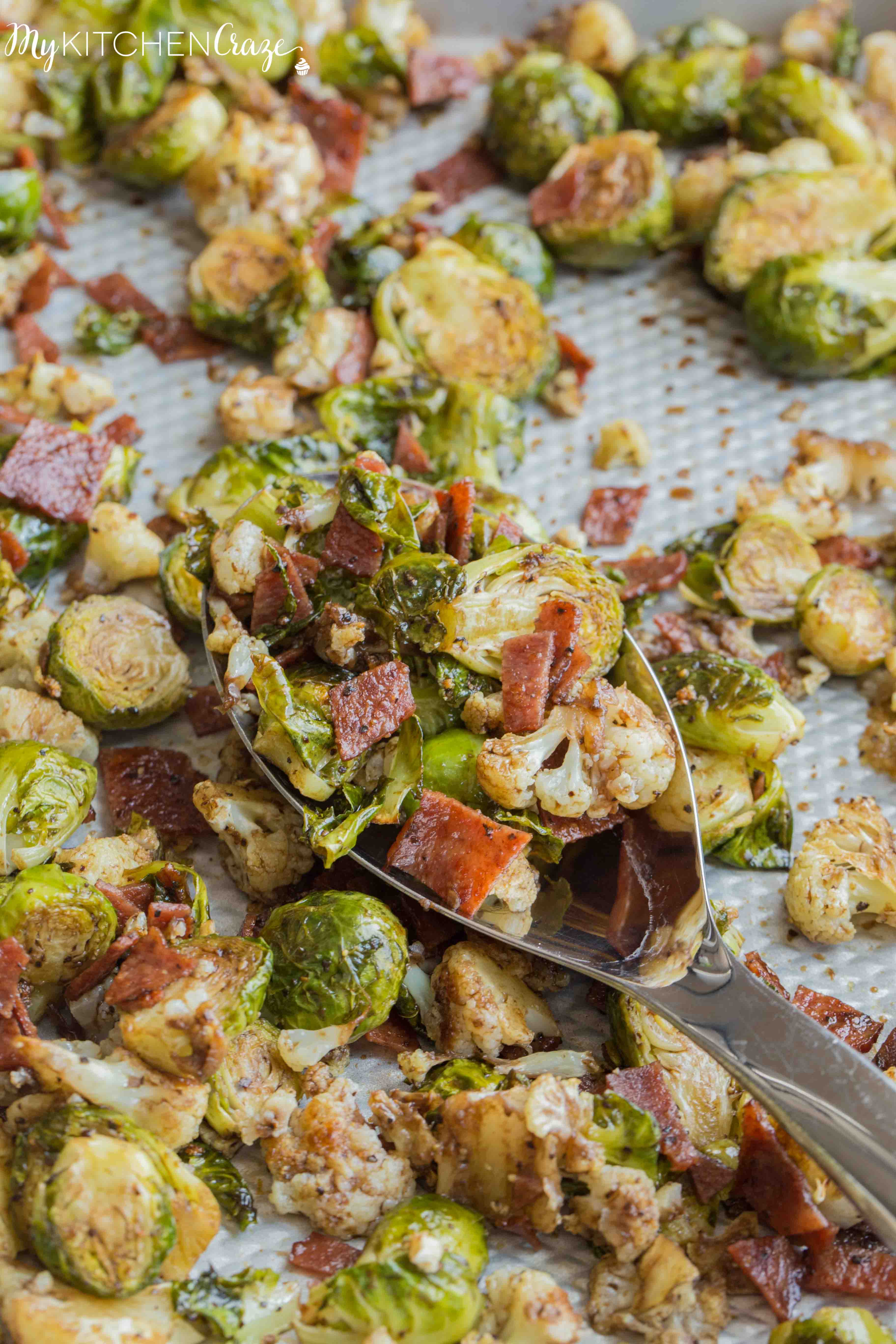 I didn't realize that you have to trim the brussel sprouts and cauliflower. I think that took the longest out of this entire recipe. Well that and  cooking the bacon. 🙂
After you prepare the veggies all you need to do is sprinkle with oil, salt and pepper. Place them on a baking sheet, roast for 20 minutes and BAM you have some gorgeous vegetables. You could eat them this way if you wanted to, but who doesn't love bacon with their veggies?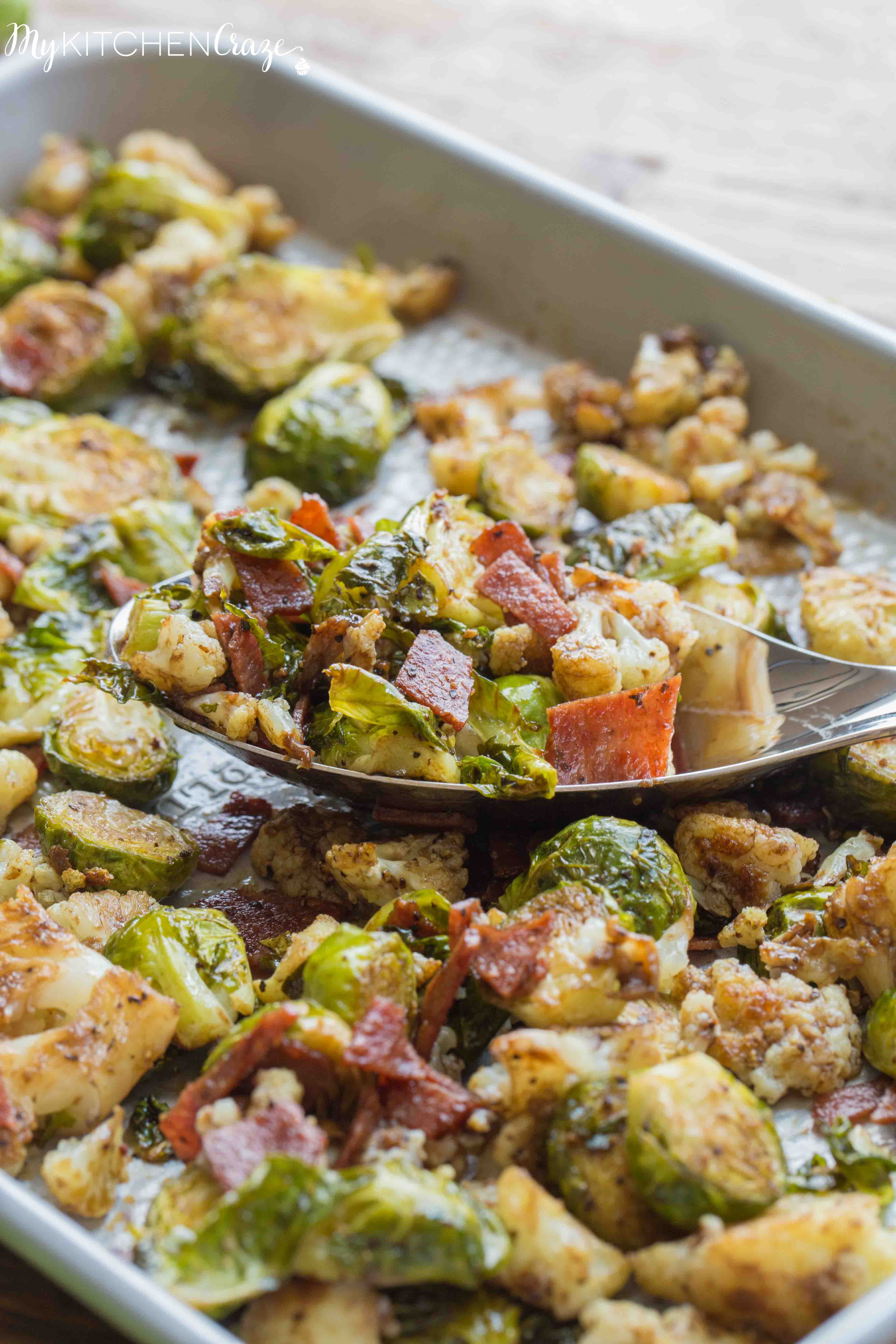 All I can say is wow! I couldn't believe all this time I would walk by these little guys in the grocery store and think eww, those aren't for me. If you have a Trader Joes in your area, they sell Brussel sprouts and cauliflower already trimmed and chopped too. Makes life much easier.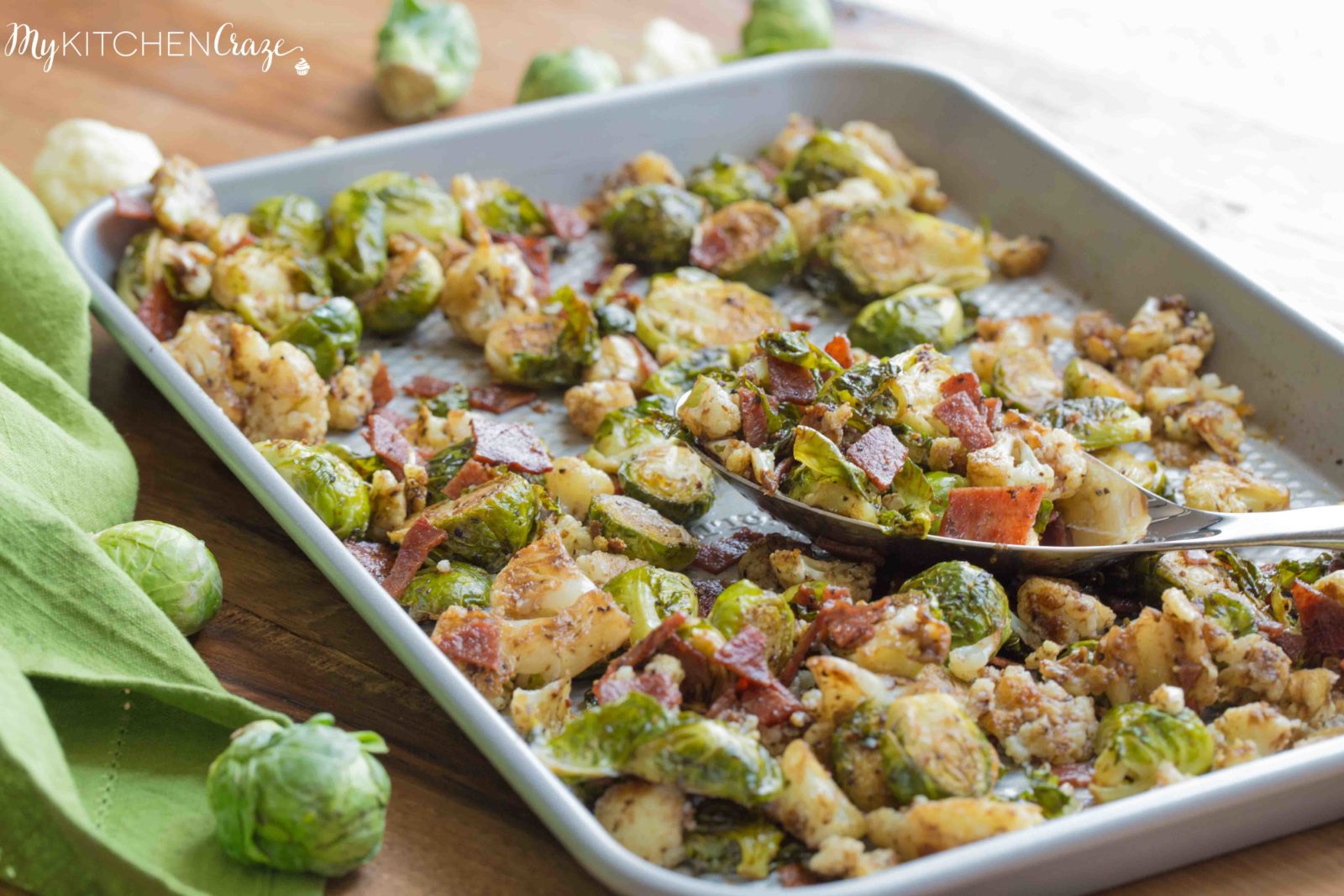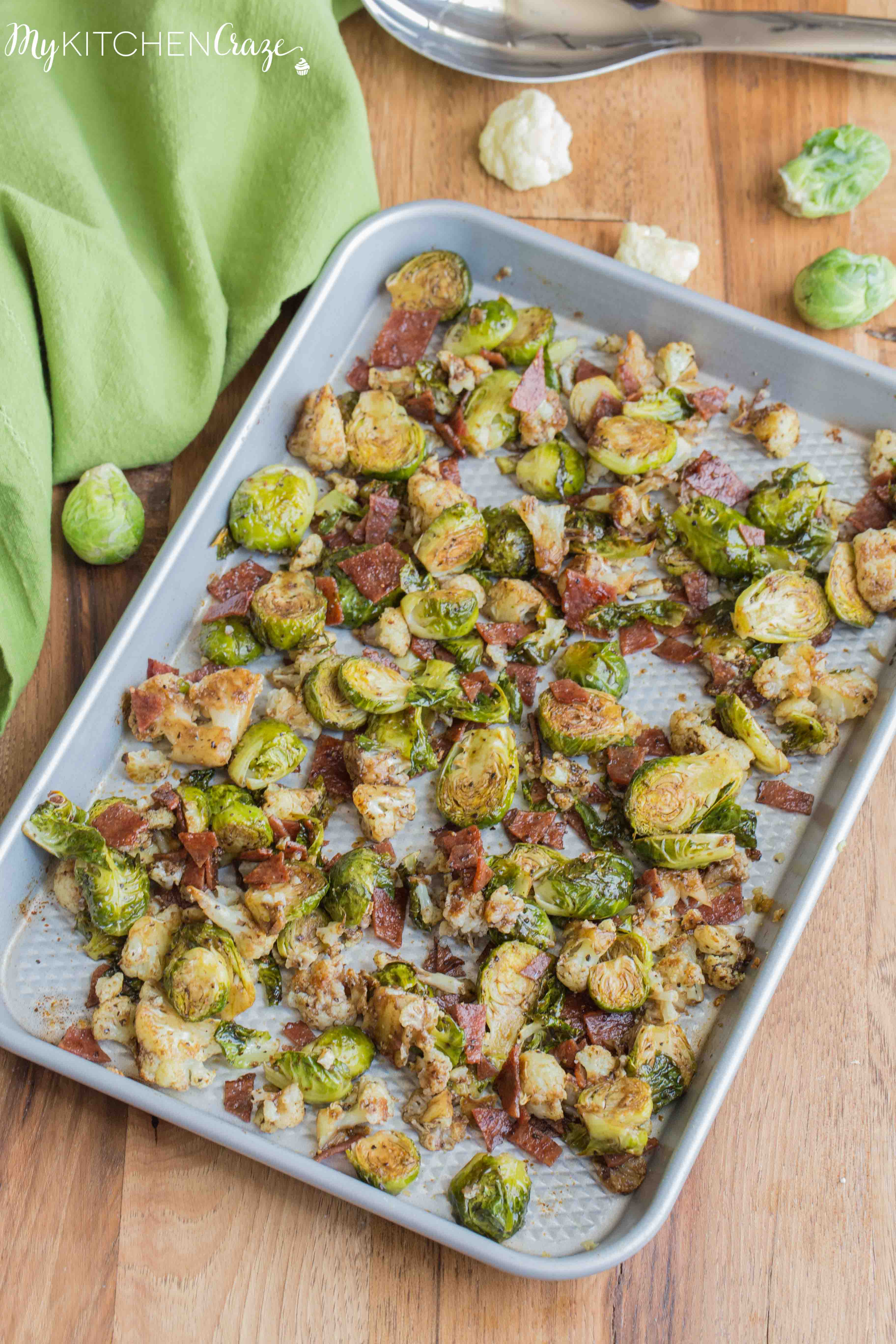 Now I know that I really need to get out of my comfort zone more often when it comes to vegetables? Wonder how many other vegetable recipes are out there that I need to try! Thanks Jess, love ya for opening my eyes to Brussels sprouts and cauliflower. Next time you need a good side dish, give this Roasted Brussels Sprouts with Bacon and Cauliflower a try! And if you're like me and don't like vegetables just give it a try anyway. I bet you'll love it!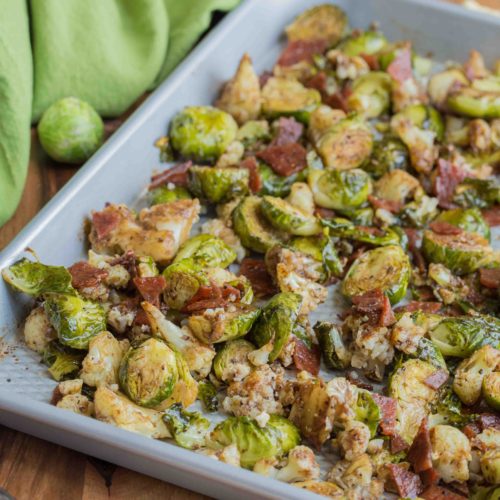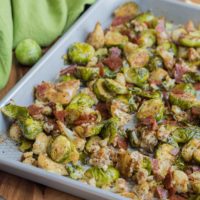 Get the Recipe:
Brussels Sprouts with Bacon and Cauliflower
Ingredients
16

ounces

fresh Brussels sprouts

,

thinly sliced

14

ounces

fresh cauliflowerets

,

thinly sliced

1/4

cup

olive oil

1

teaspoon

freshly ground pepper

1/2

teaspoon

salt

5

turkey bacon strips

,

cooked and crumbled

2

tablespoons

balsamic vinaigrette
Instructions
Preheat oven to 400 degrees F.

Place Brussels sprouts, Cauliflower, salt and pepper in a large bowl. Drizzle with oil and sprinkle salt and pepper.

Mix well. Pour mixture on a baking dish.

Roast for about 20-25 minutes, or until vegetables are tender.

Transfer to a serving dish. Stir in cooked bacon and balsamic vinaigrette.

Serve immediately and enjoy!