Roasted Broccoli Risotto plus a Video
Roasted Broccoli Risotto is the perfect side dish to accompany fish and chicken entrees. This rice is easy to throw together, creamy and has the perfect flavors.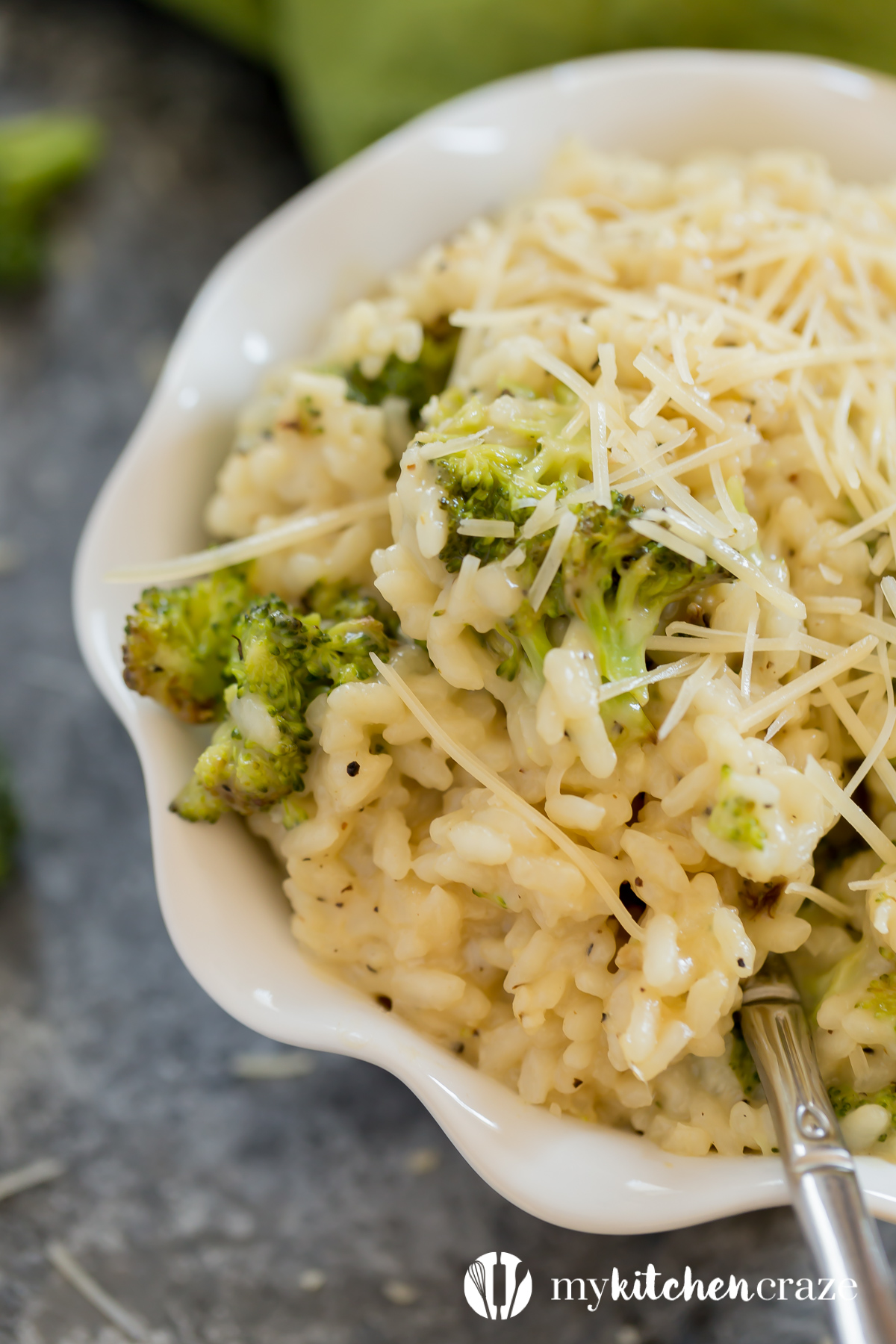 Hi everyone! I know I haven't really been around much this summer. I honestly decided to take a mini break and enjoy the summer with my family. I have also started a new workout and eating regime, so basically I took some time to just concentrate one me.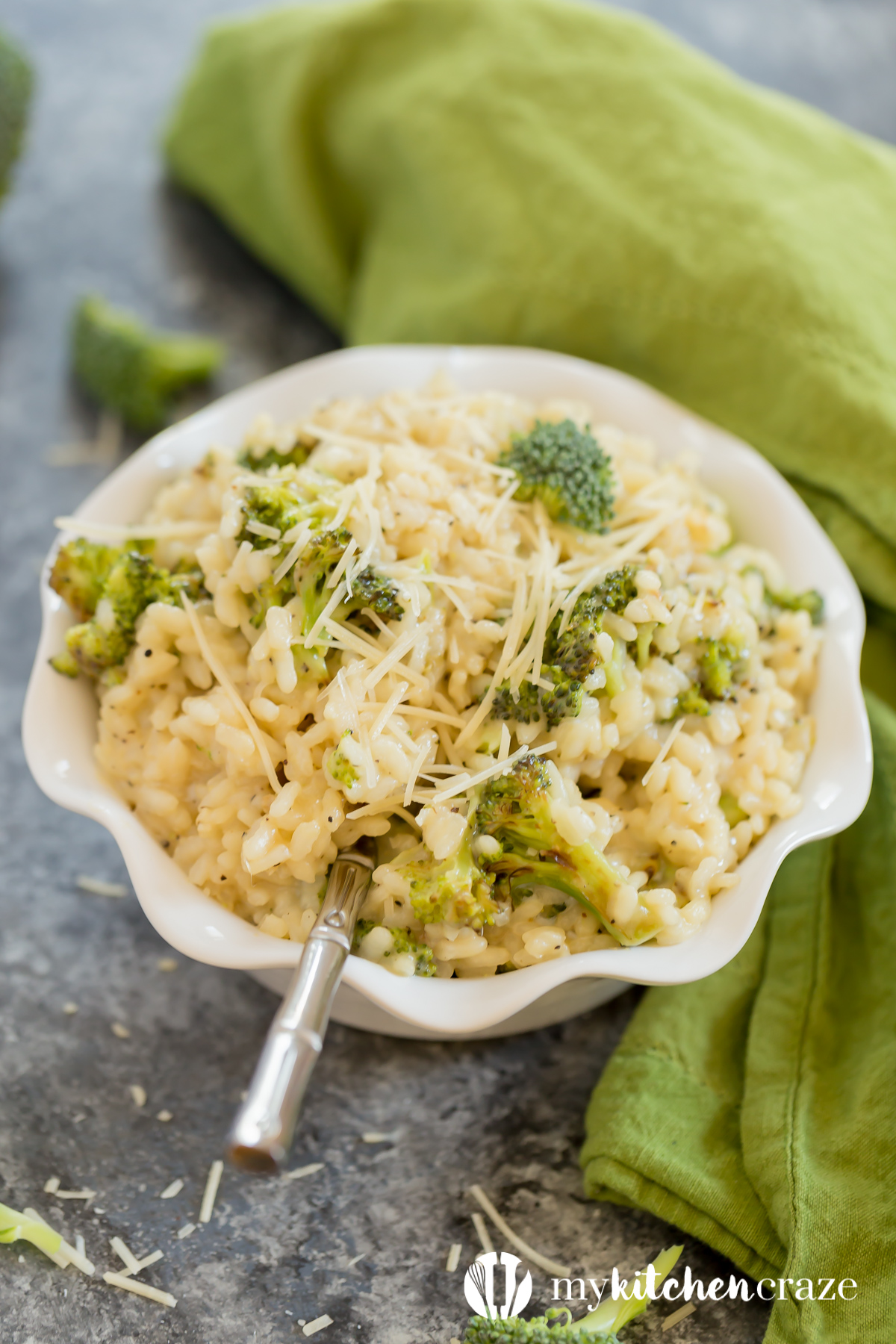 Do you ever do that? I find that I don't do that nearly as often as I should. But this summer I decided that I needed to change some things, enjoy my family and the time we spend together.
With that being said, I promised myself once the kiddos went back to school, it would be back to the blog for me. They started school August 14, so I'm currently working on some new recipes and getting everything together so I can start posting twice a week again.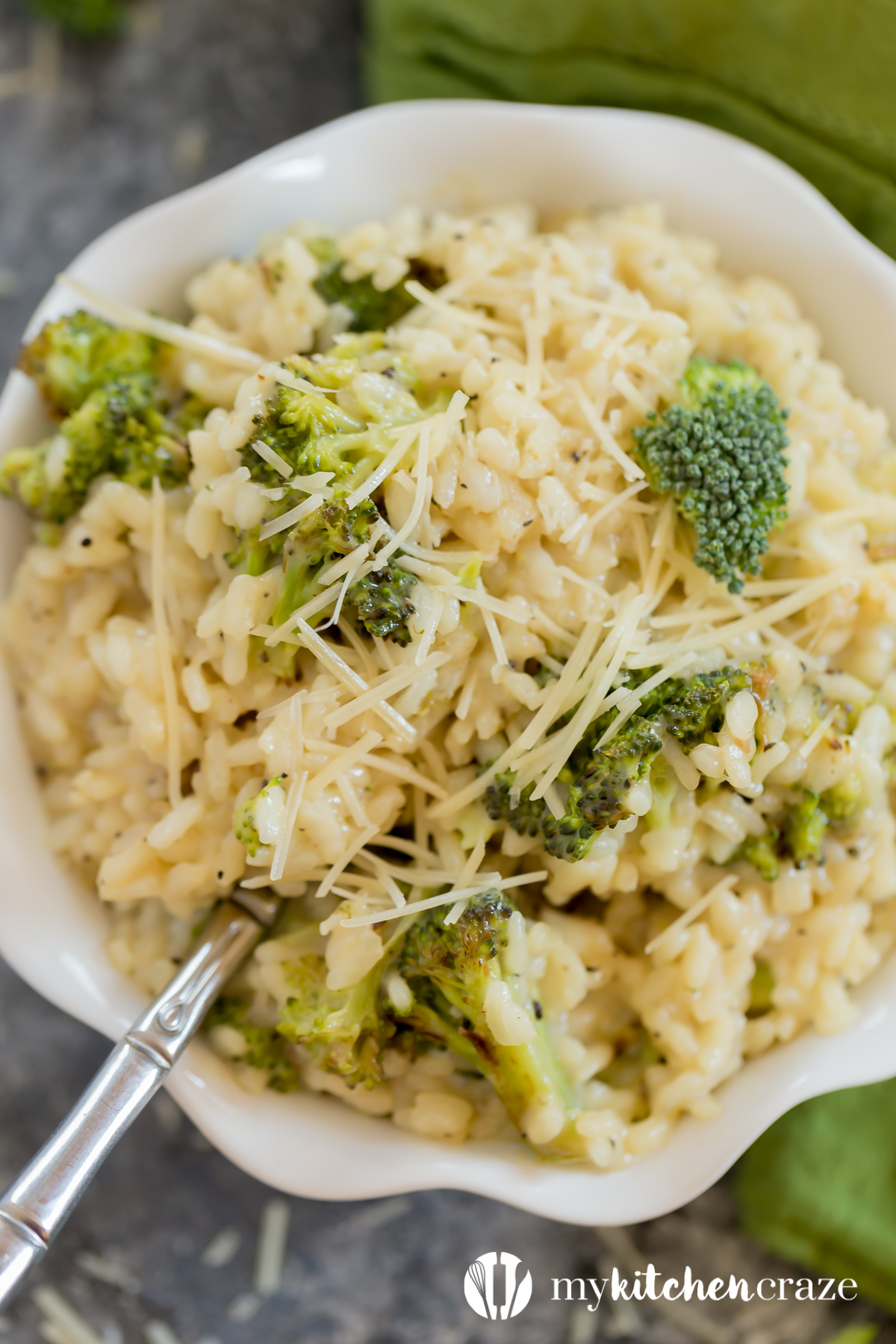 I wanted to share this risotto with you all ages ago, but never got around to it. Everytime Sean grills fish or chicken I whip up this risotto. I love how creamy and delicious it tastes. I used to be queen bee of boxed rice (nothing wrong with a quick boxed rice, right?), but lately I've wanted to make homemade rice. It's really easy and so yummy.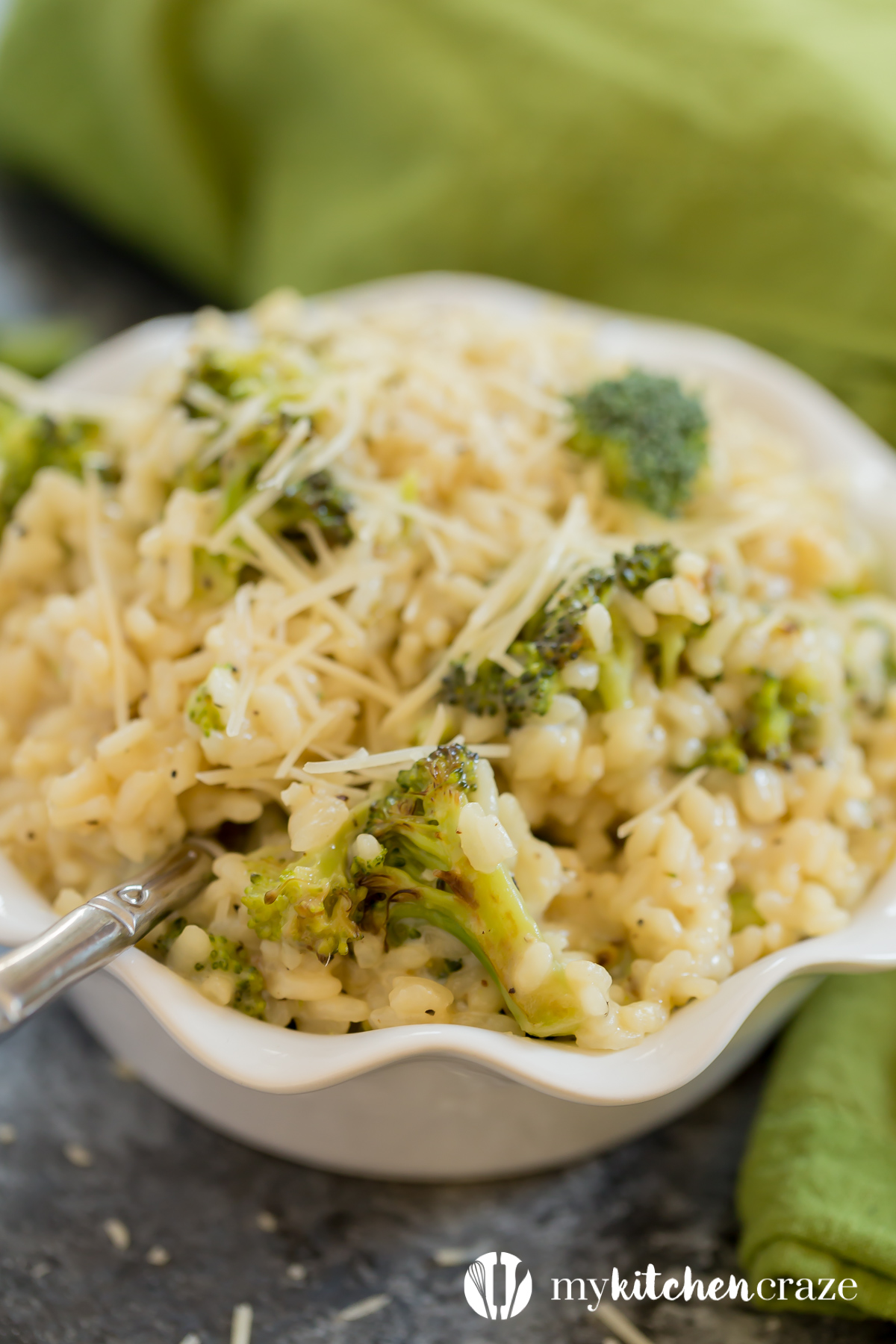 Once you start making your own rice, you realize how simple it is and will do it all the time. The longest part of this recipe is letting the chicken stock cook down. You have to remember to only pour a little at a time and let it evaporate and cook into the rice. If you are patient with that step, you'll be set.
Few Steps to making Risotto: 
Pour only a little chicken broth at a time.
Let the chicken broth in the pan cook down until you add in more.
Roast the broccoli so it gives it a nice crunchy flavor.
Add in cheese, cheese and more cheese. Make that rice creamy.
Next time you're in the mood for some good risotto, make this one. I promise it's super easy and very delicious! Chat to you all later!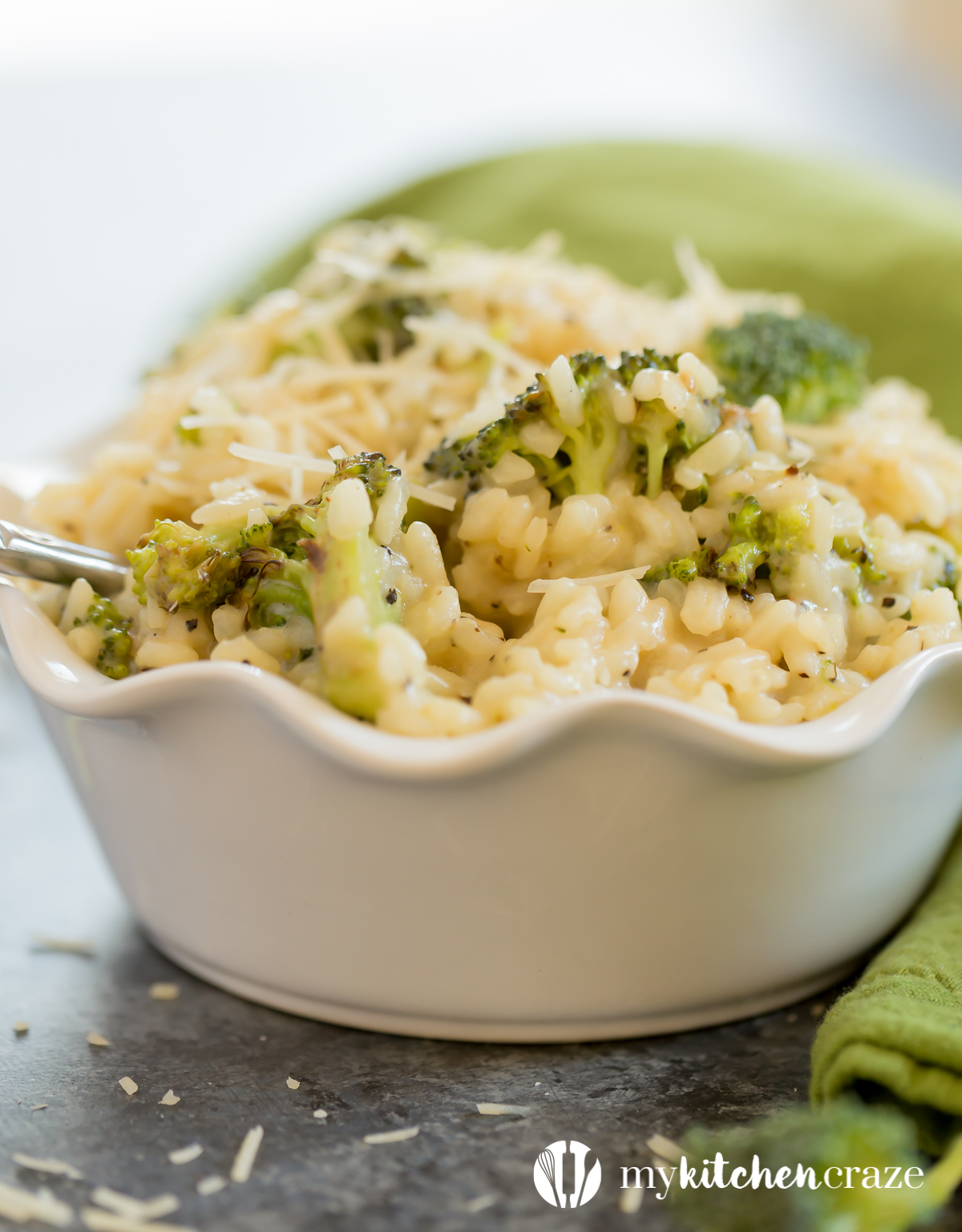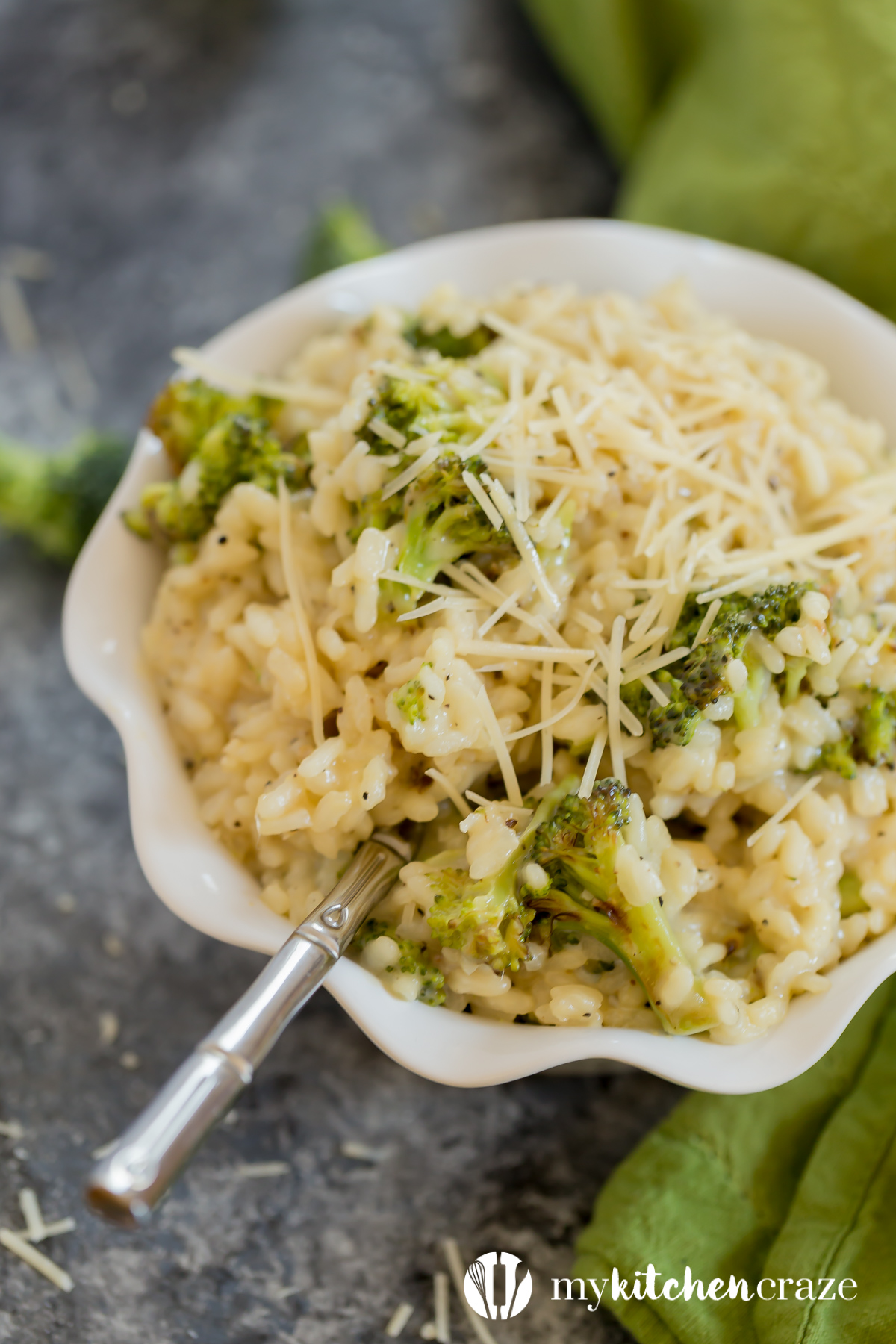 Servings: 5 -7
Roasted Broccoli Risotto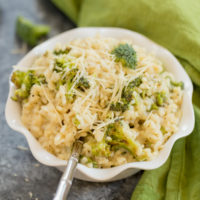 Print
Ingredients
1 1/2  cups broccoli florets
1 tablespoon olive oil
salt and pepper to taste
3 cloves garlic, minced
3 tablespoons butter
1/2 cup dry wine
1 1/2 cups aborio rice
4 cups hot chicken broth
1 cup fresh Parmesan cheese
1/4 cup half and half
Instructions
Preheat oven to 400°. Toss broccoli with olive oil, salt, pepper and garlic. Roast for 10-15 minutes in preheated oven, until tender. Set aside for later use.

In a medium skillet over medium high heat, add the butter and melt. Once melted add in the wine and bring to a simmer.

Add rice and cook until the wine is absorbed. Add 1/2 cup broth to the rice, and stir until the broth is absorbed. Continue adding broth 1/2 cup at a time, stirring continuously, until the liquid is absorbed and the rice is al dente, about 15 to 20 minutes.

Add in half and half, salt and pepper. Stir to combine. Stir in Parmesan cheese and roasted broccoli.

Serve immediately and enjoy!