Buffalo Chicken and Potato Casserole
This flavorful Buffalo Chicken and Potato Casserole comes together easily and is always a family favorite dinner recipe!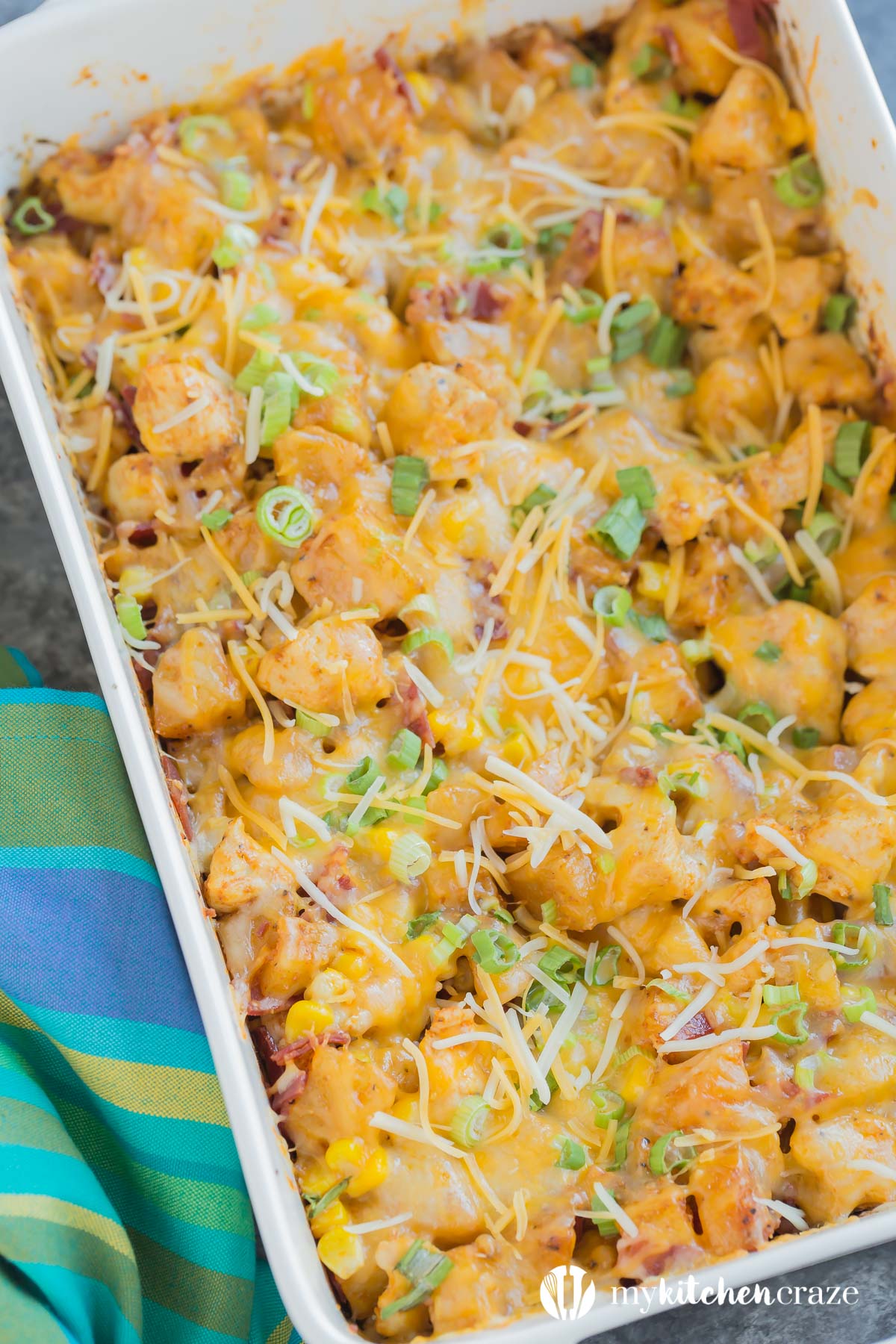 I have a confession to you? I have a hard time making dinner every night. In fact, I think I only make dinner maybe 3 nights a week. Don't judge me ok.
I love to cook and bake but it's a known fact if my hubby comes home before I've started dinner, I won't cook dinner. I don't know why, but once he steps through that door, I have to hang out with him and chat about his day. It's like a timer goes off and says "Okay your time in the kitchen is over Cyndi". Silly huh?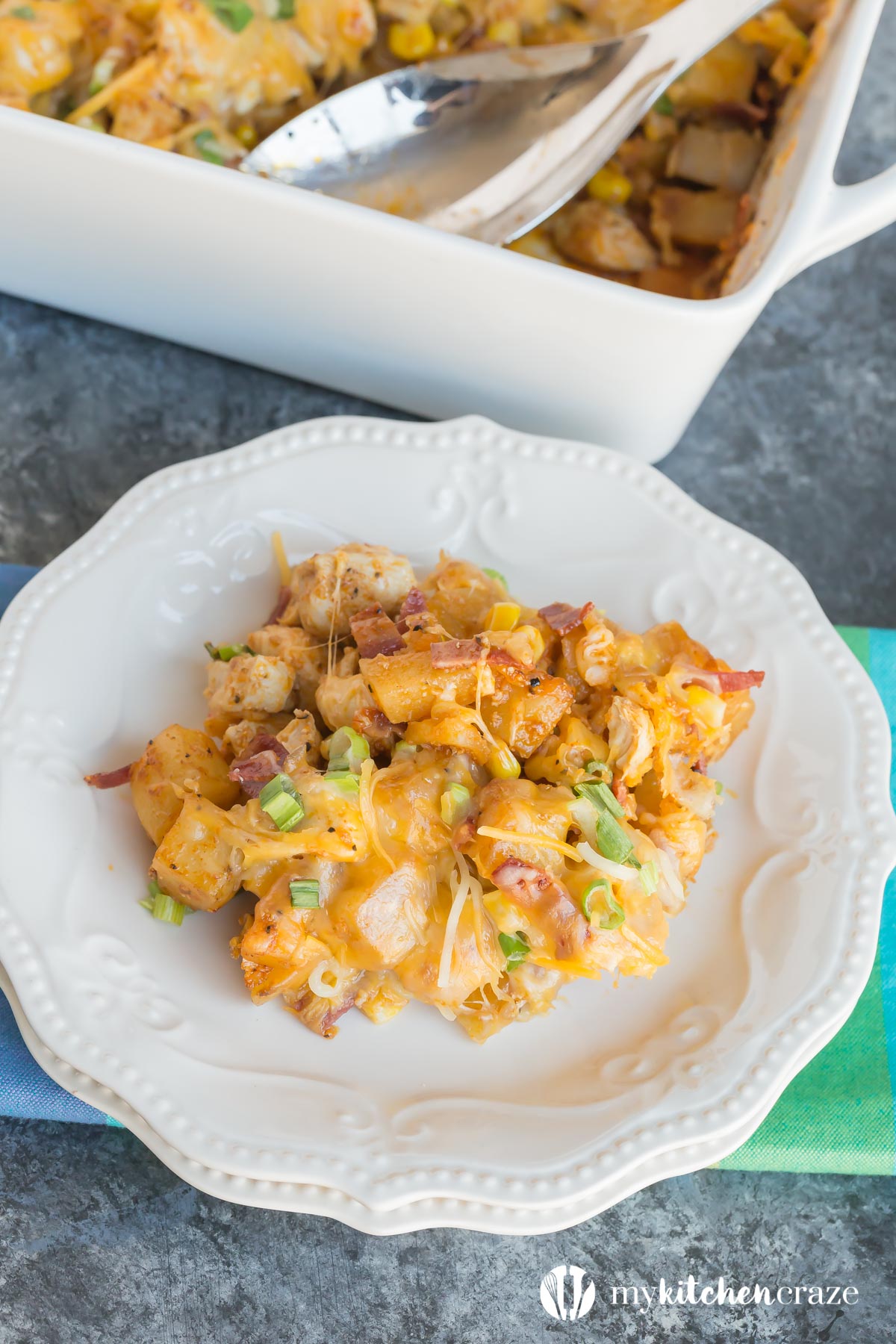 This is why I like to have quick recipes on the week nights. It's actually funny how busy I am and I don't work out of the house. I look up to women that work out of the home and manage a home. You're seriously my idol.
Let me give you a little glimpse into one of my days when the kids are in school. Let's pick Monday for instance:
7am- Drop my son off to school
9am – Drop my daughter off to school
9:30-1:30 – Eat breakfast, work on creating recipes, cooking/baking other recipes, taking pictures and/or videos of said food, social media, preparing for the next post/recipe and then odds and ends for the blog.
1:30-2:30 – I try to workout, have a smoothie or lunch
2:30-3:30 – Pick up the kiddos from school
3:30-5:30 – This is the time I need to utilize to make dinner. But something always gets in the way like grocery shopping, baths, homework and or finishing up editing pictures for the next blog post. Also this is normally the time the hubsters starts walking through that door.
5:30-8:00 – Son has soccer practice, so I try to get other grocery shopping done or just hang out with hubby and daughter while we wait.
8:00-10:00 – Coffee/dessert and unwinding time. Then it's time to go to bed and do it all over again in the am.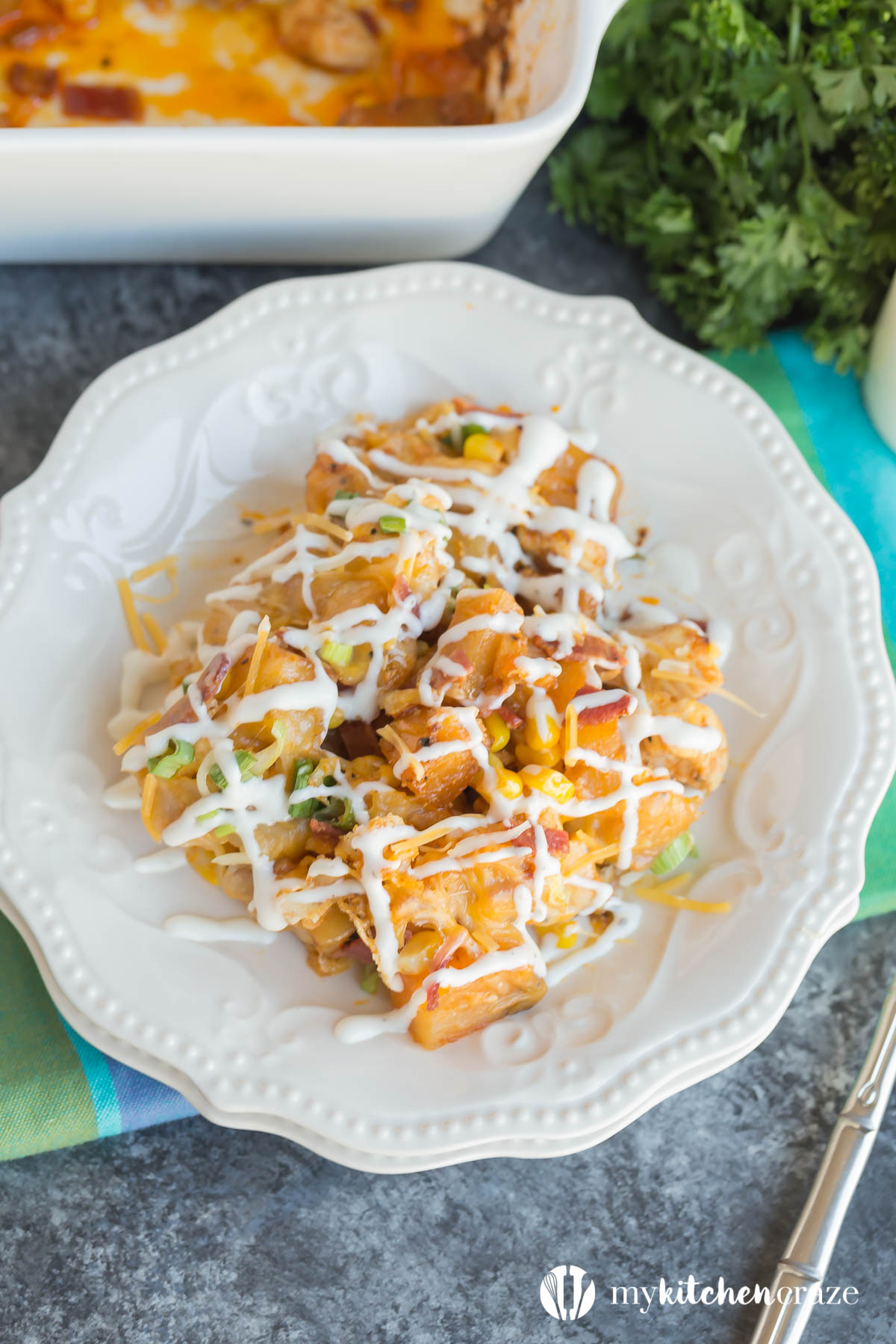 There you have it. That's my day in a nut shell. It's not that crazy every day, but I got to tell you it sure feels like it. If we want to eat in Monday thru Friday, then I HAVE to make something quick and easy. I love casseroles because you literally throw everything in a pan and bake it. 30 minutes later, Wha-la you have this gorgeous delicious meal.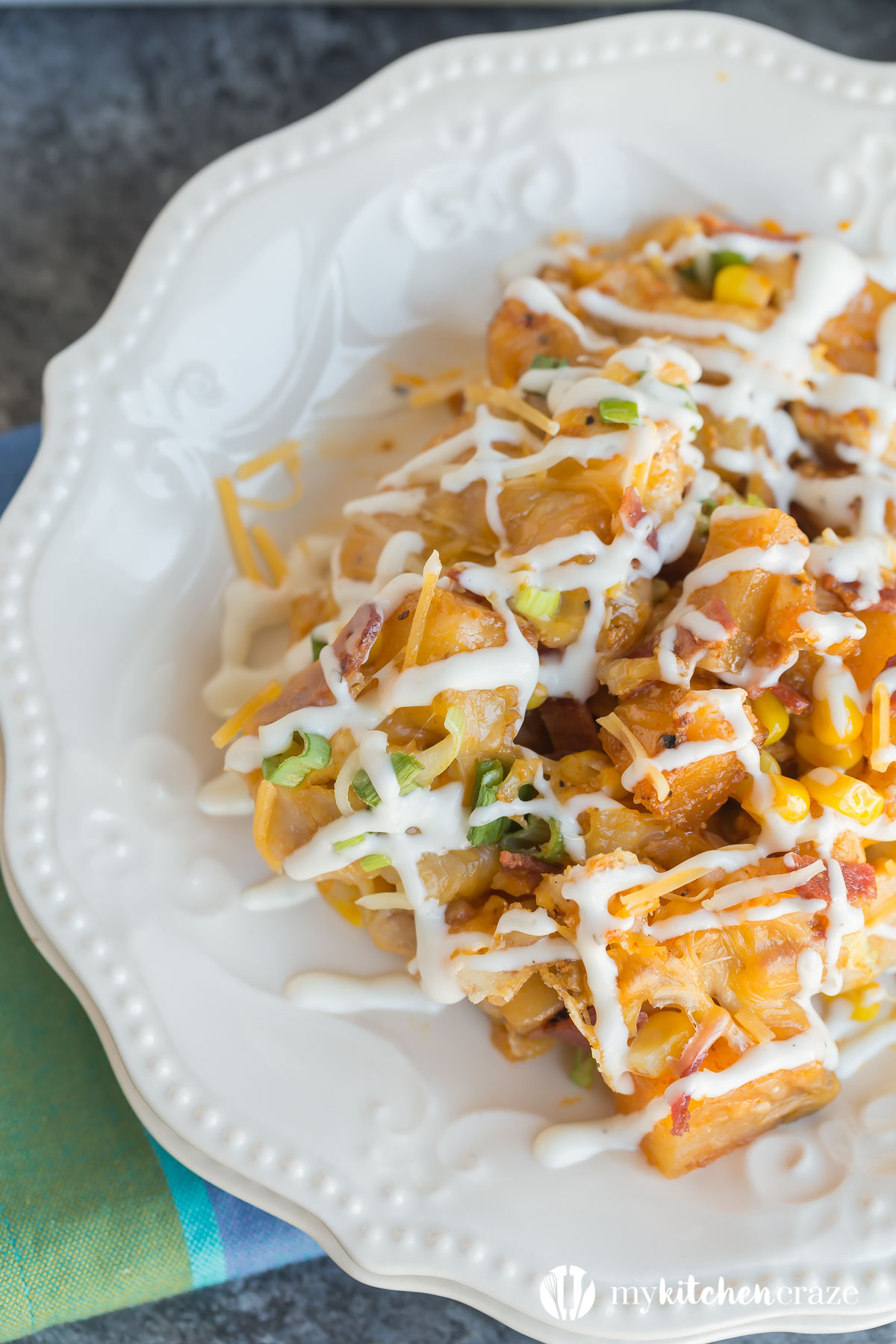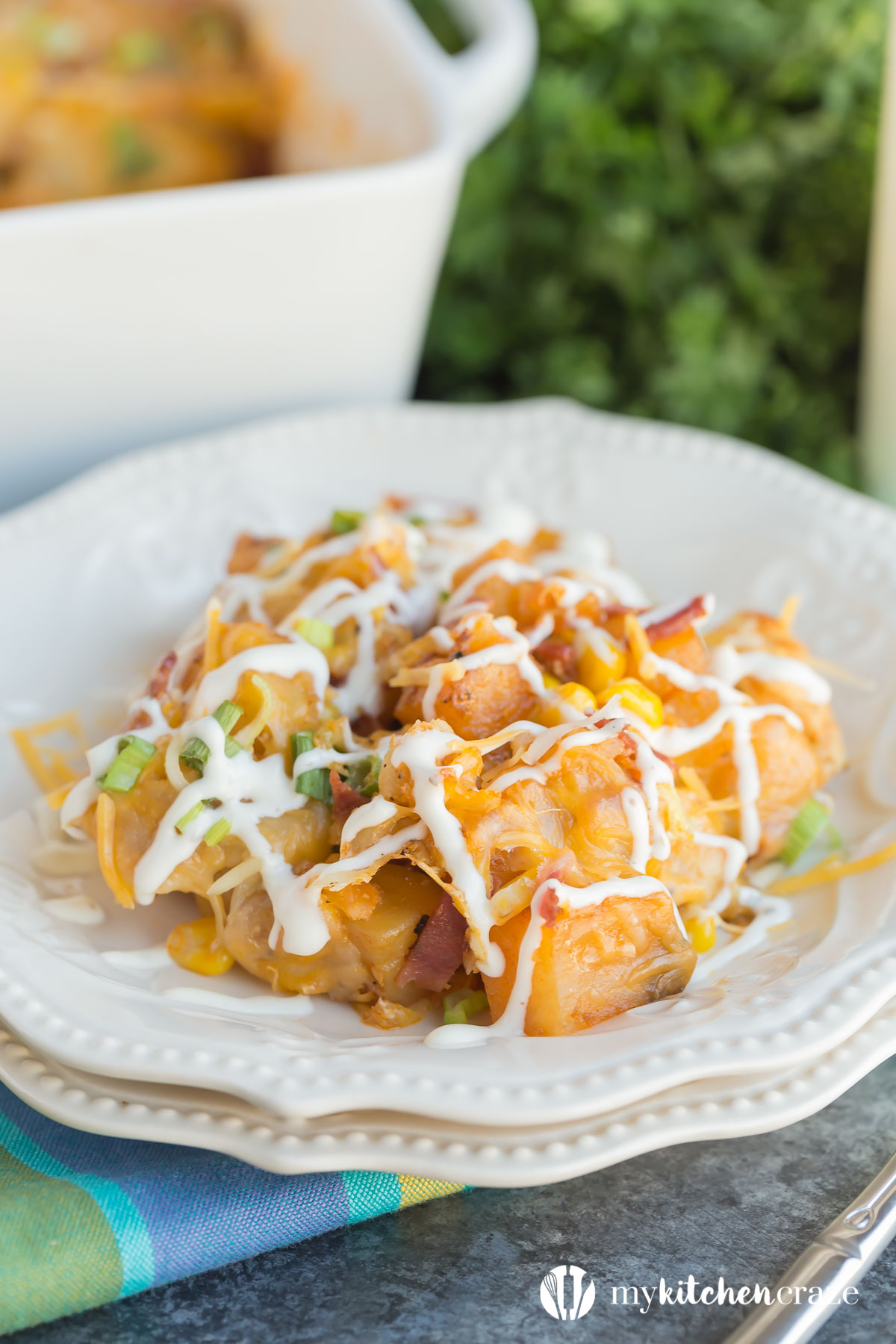 This casserole is one of those meals. Super simple and delicious! Enjoy!
THIS POST FIRST APPEARED OVER AT THE WEARY CHEF WHERE I'M A CONTRIBUTOR! HEAD OVER TO SEE WHAT ANDI'S COOKIN UP!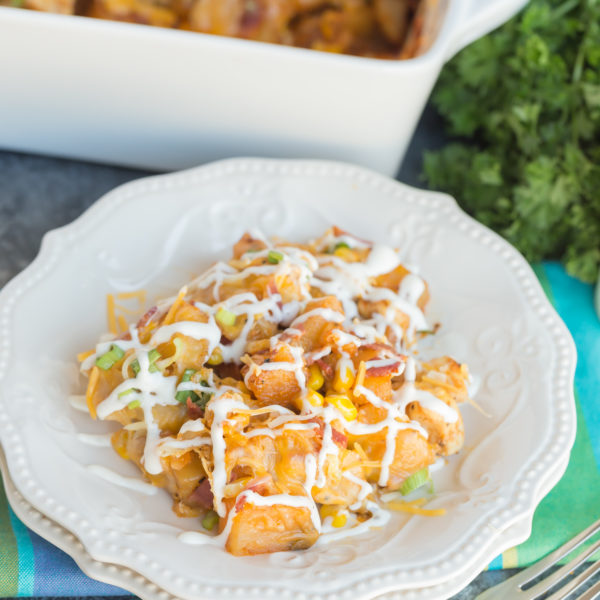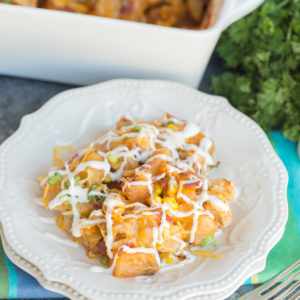 Get the Recipe:
Buffalo Chicken and Potato Casserole
Ingredients
Casserole:
3-4

boneless skinless chicken breasts

,

cut into 1/2 inch or smaller cubes

7

medium potatoes

,

peeled and cut into 1/2 inch cubes

1/3

cup

olive oil

1 1/2

teaspoon

salt

1

tablespoon

ground pepper

1

tablespoon

paprika

2

tablespoon

garlic powder

6

tablespoons

hot sauce

,

I used 3 tbsp Tapatio, 2 tbsp Cholula, 1 tbsp Tabasco
Topping:
2

cups

shredded cheddar cheese

5-6

slices

turkey bacon

,

cooked & crumbled

1

cup

green onions

,

sliced

1

cup

frozen corn

,

thawed a little bit

garnish: ranch or blue cheese dressing
Instructions
Preheat oven to 500 degrees F.

In a large bowl, add olive oil, hot sauces, salt, pepper, garlic powder and paprika. Mix well. Add potatoes and coat evenly.

Spread potatoes on a greased 9x13 baking dish. Scoop potatoes into the baking dish with a slotted spoon, leaving some of the olive oil mixture in the large bowl.

Bake potatoes 20-25 minutes, stirring halfway through.

While the potatoes are cooking, add diced chicken to the large bowl with the leftover olive oil mixture. Let chicken marinate while the potatoes are roasting.

Once the potatoes are crispy, remove from oven and place on the stove. Lower the oven temperature to 400 degrees F.

Place uncooked chicken on top of roasted potatoes and cook for 20 minutes, or until the chicken is cooked through.

A few minutes before the chicken is done, add the topping ingredients to a bowl and mix well.

Once the chicken is cooked through, sprinkle the topping mixture on top and bake for an additional 5-10 minutes, or until cheese is melted and bubbly.

Drizzle dressing over casserole and serve.

Enjoy!