Red Velvet Cupcakes
These Red Velvet Cupcakes are the yummiest cupcakes. So moist, tasty and deliciousness all in one bite. 
Follow me on Facebook, Instagram & Pinterest to stay up to date on all of my recipes!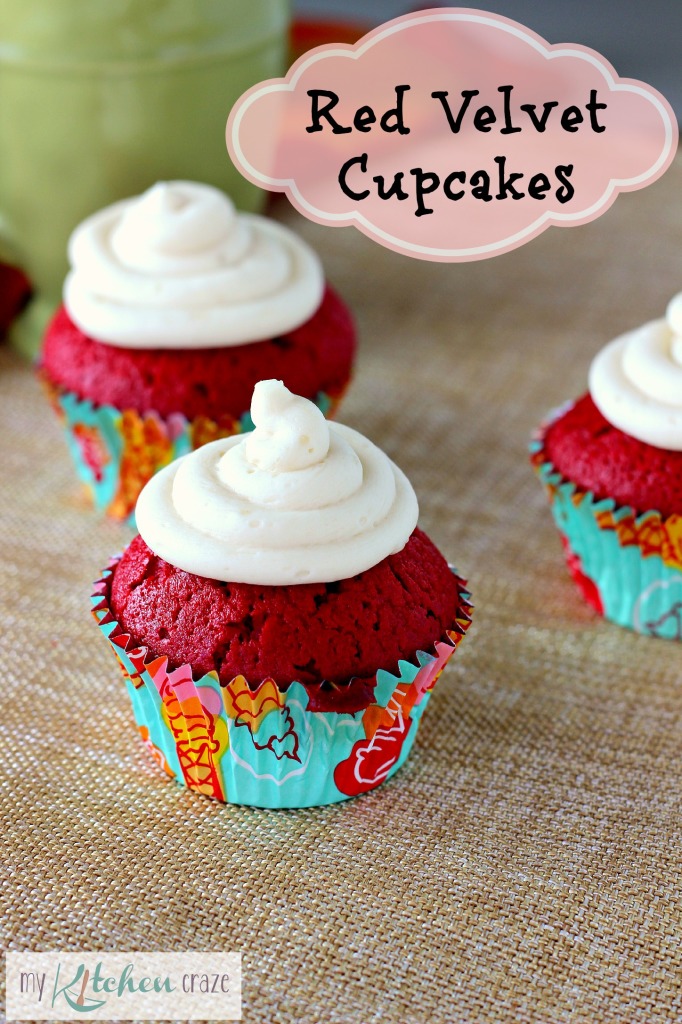 Happy Birthday to My Kitchen Craze!! What a wonderful year this has been. Today I am sharing some great cupcakes and because it is My Kitchen Craze's birthday I wanted to have a giveaway. I am giving a $25 Gift Card for Amazon. YAY!! This is my first giveaway and I wish I could have everyone win, but unfortunately only one person can win. All you need to do is enter below.
It's because of you, that My Kitchen Craze is around. I started this blog because I wanted to show women and men that cooking and baking delicious things are easy and fun to do. Instead of eating processed junk that this world is making these days, I want to make recipes that use fresh, healthy ingredients.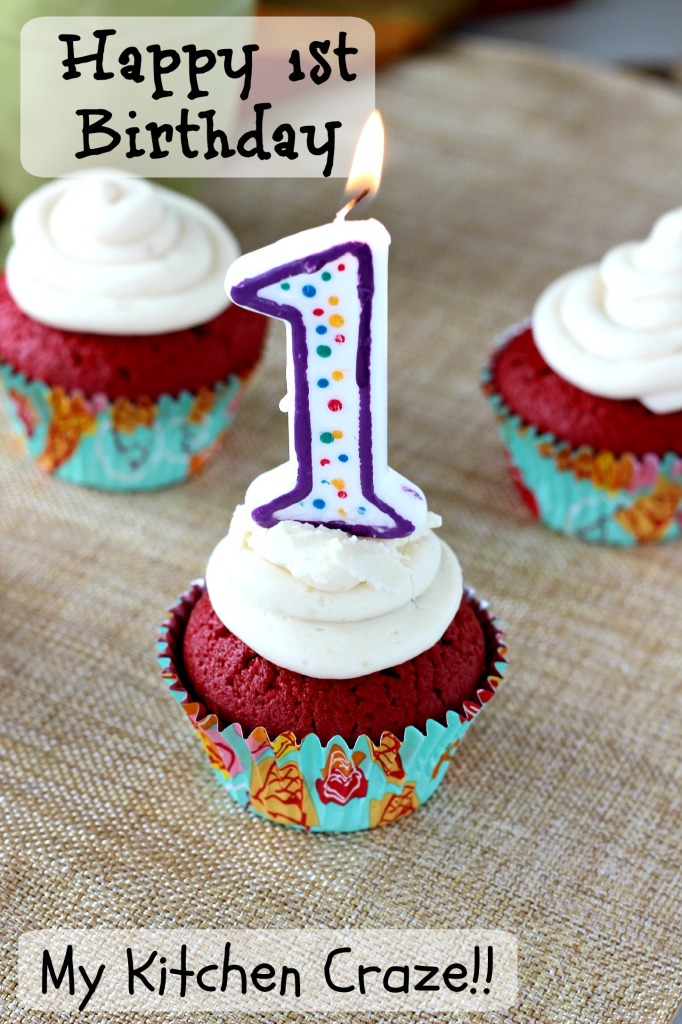 When I was trying to decide what to share with you today, I needed something fancy and pretty. It's My Kitchen Craze's birthday. I couldn't just give you a cookie or pasta dish. I needed to give you that "WOW" factor. I also wanted to give you something that I never made before and was totally intimidated to make. I wanted to go out of my comfort zone. Introducing: Red Velvet Cupcakes!!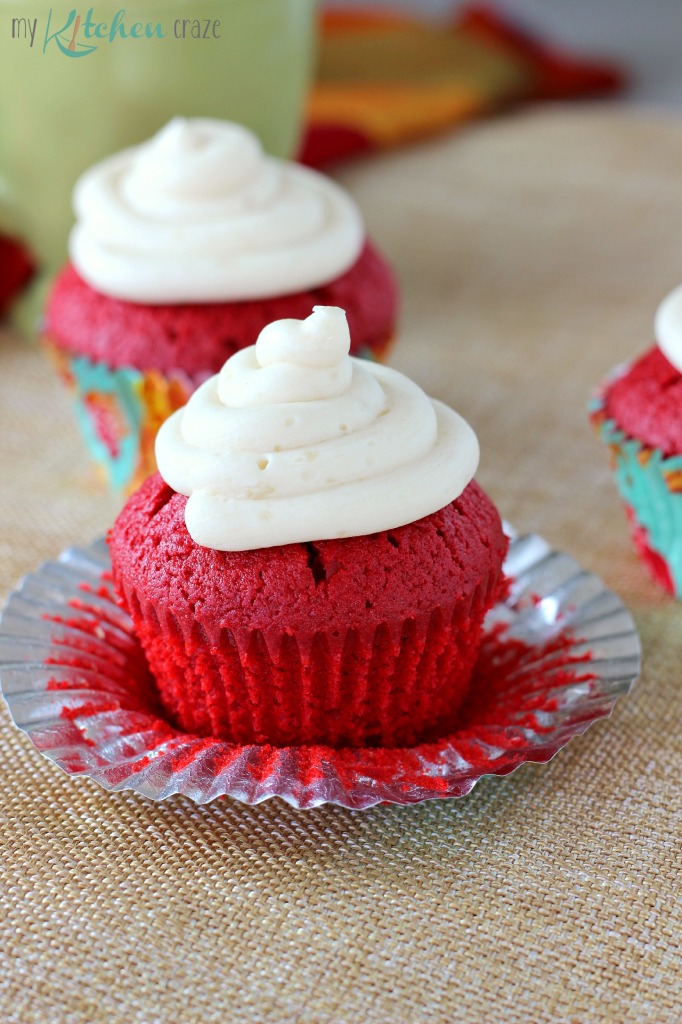 You guys…these cupcakes are so goood. And guess what? They are easy to make. I don't know what I was thinking not making these sooner. Let me tell you that they come together very quickly. The only difficult part of these cupcakes, is you have to let them cool completely before adding the frosting. That's it people! Easy peasy, lemon squeeze-y. Okay maybe a little excited, but join in with me. It's a birthday celebration and a giveaway all in one day! How awesome is that.
Give these cupcakes a try! They are moist, soft and unbelievably tasty. Also don't forget to enter the giveaway and win that $25 Amazon Gift Card!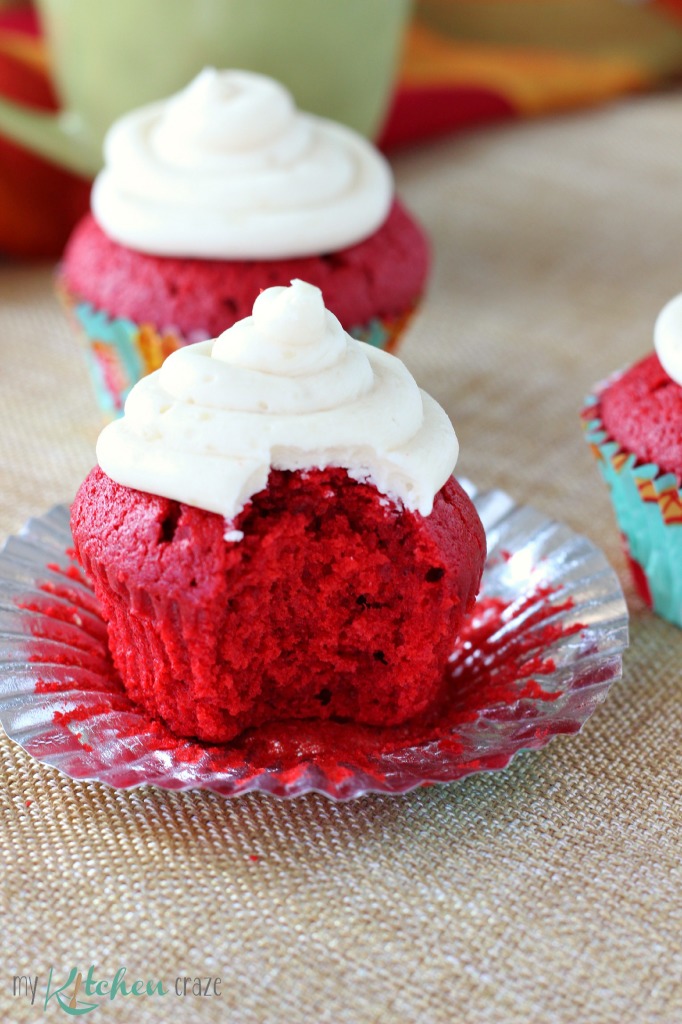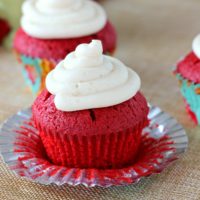 Get the Recipe:
Red Velvet Cupcakes
Ingredients
Cupcakes:
1 1/2

cups

vegetable oil

1

cup

buttermilk

1

teaspoon

vanilla extract

1

bottle

,

1 fl oz red food coloring

2

eggs

2 1/2

cups

all-purpose flour

1 1/2

cups

sugar

2

tablespoons

unsweetened baking cocoa

1

tablespoon

baking powder

1

teaspoon

salt
Frosting:
1/2

cup

all-purpose flour

1 1/2

cups

milk

1 1/2

cups

granulated sugar

1 1/2

cups

butter

,

softened

1

tablespoon

vanilla extract
Instructions
 Preheat oven to 350 degrees F. Place 18-20 paper baking cups into cupcake pan. Set aside.

In a stand mixer with the paddle attachment attached, mix vegetable oil, buttermilk, vanilla extract, food coloring, and 2 eggs until combined.

Add in flour, sugar, unsweetened baking cocoa, baking powder, and salt. Mix on low speed for 30 seconds, scrapping bowl as needed. Beat 2 minutes on medium speed, scraping bowl occasionally.

Spoon batter evenly into muffin cups, filing about 2/3 full.

Bake 17-20 minutes, or until a toothpick inserted in center comes out clean. Move cupcakes to a cooling rack. Let cupcakes cool completely, about 30 minutes.

While cupcakes are cooling, let's make the frosting. In a medium saucepan, mix the flour and milk. Cook over medium heat, whisk constantly until the mixture is VERY thick. Make sure to keep whisking. You don't want to burn the bottom. Remove from heat; let cool 10 minutes.

With your stand mixer, beat the sugar and butter on medium speed; until light and fluffy. Slowly add the milk mixture while the mixer is on a slow speed. Once all the milk mixture is added, add vanilla extract and beat on high until smooth.

Fill pastry bag and frost cupcakes.

Enjoy! Store covered in refrigerator.