Chicken and Beef Kielbasa Gumbo
 Chicken and Beef Kielbasa Gumbo is a delicious and amazing meal. Serve it over rice and you've got a meal packed with great flavor.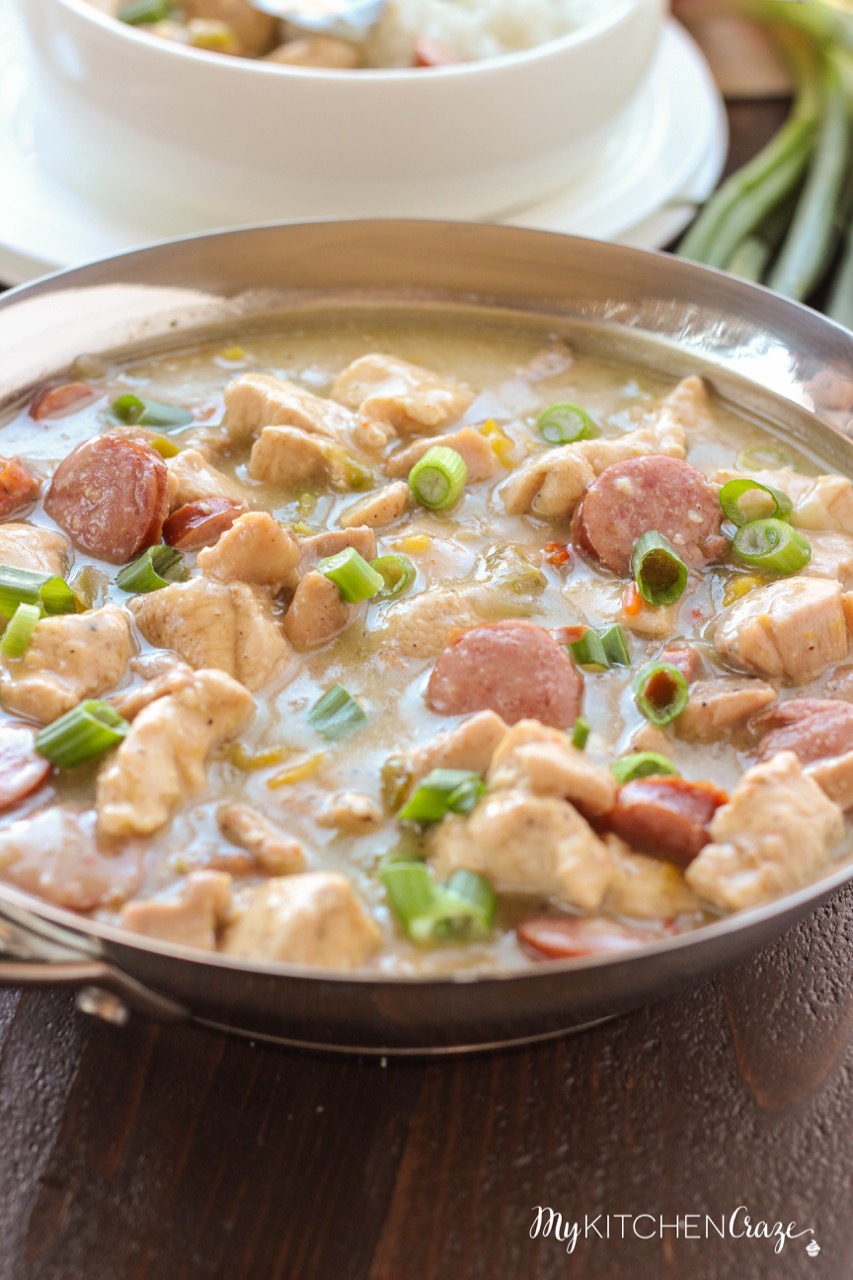 Are you guys like me and get into a food rut? I try not to I really do, but it just happens.
I try to sit down at least once a week and work out a meal plan. I've noticed that if I plan meals in advance it makes my life so much easier. If we're being honest here I've been in a funk lately.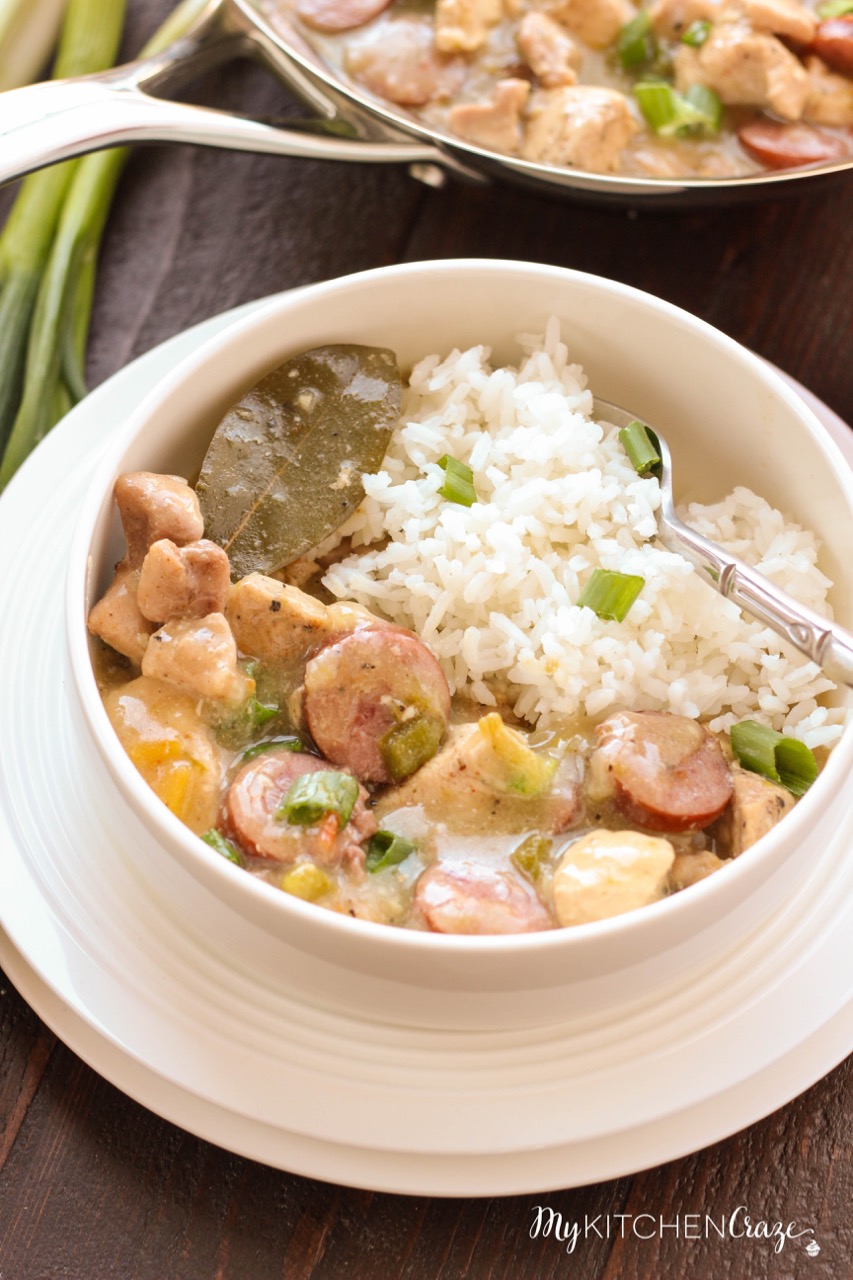 I think it's because everyone's been sick for the past month, then on top of that we've been busy busy. Between school, soccer, work, blogging and everything in between, this family has been go-go-go. I'm the kind of person that wants to shut down if I get to busy for to long. I can deal with some crazy days here or there, but when it's on going I just need a break. I need a day or two to decompress and relax.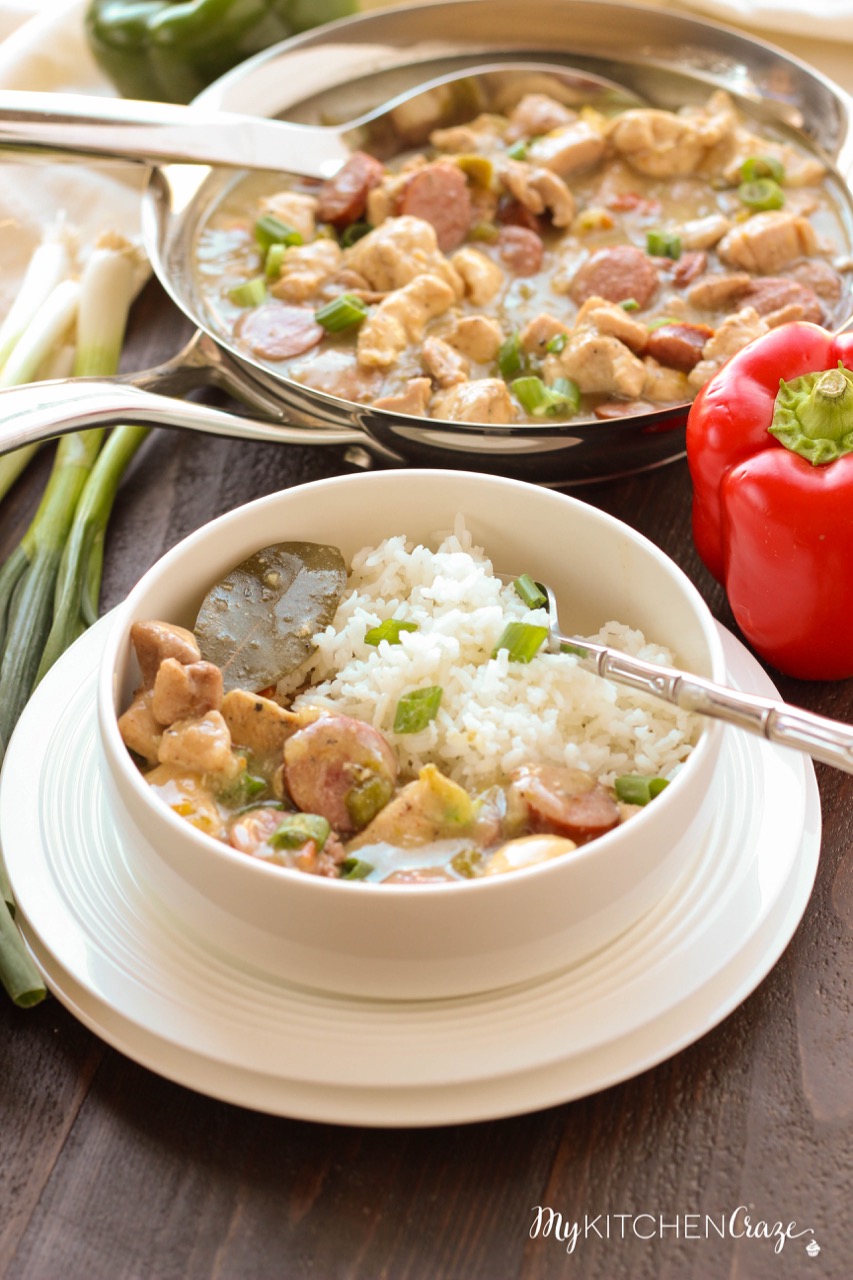 Once I got back into the groove of things I decided the way to get back on track was to empty out the meats in the freezer. Why go grocery shopping when you have a freezer stocked with items. For some odd reason I had a ton of chicken breast and thighs on hand. I knew I needed to use up some of this chicken, so chicken recipe it was. Since my hubby loves dishes with rice (he's seriously obsessed with rice), I thought I could make a curry or gumbo recipe. As you can see the gumbo won this time around.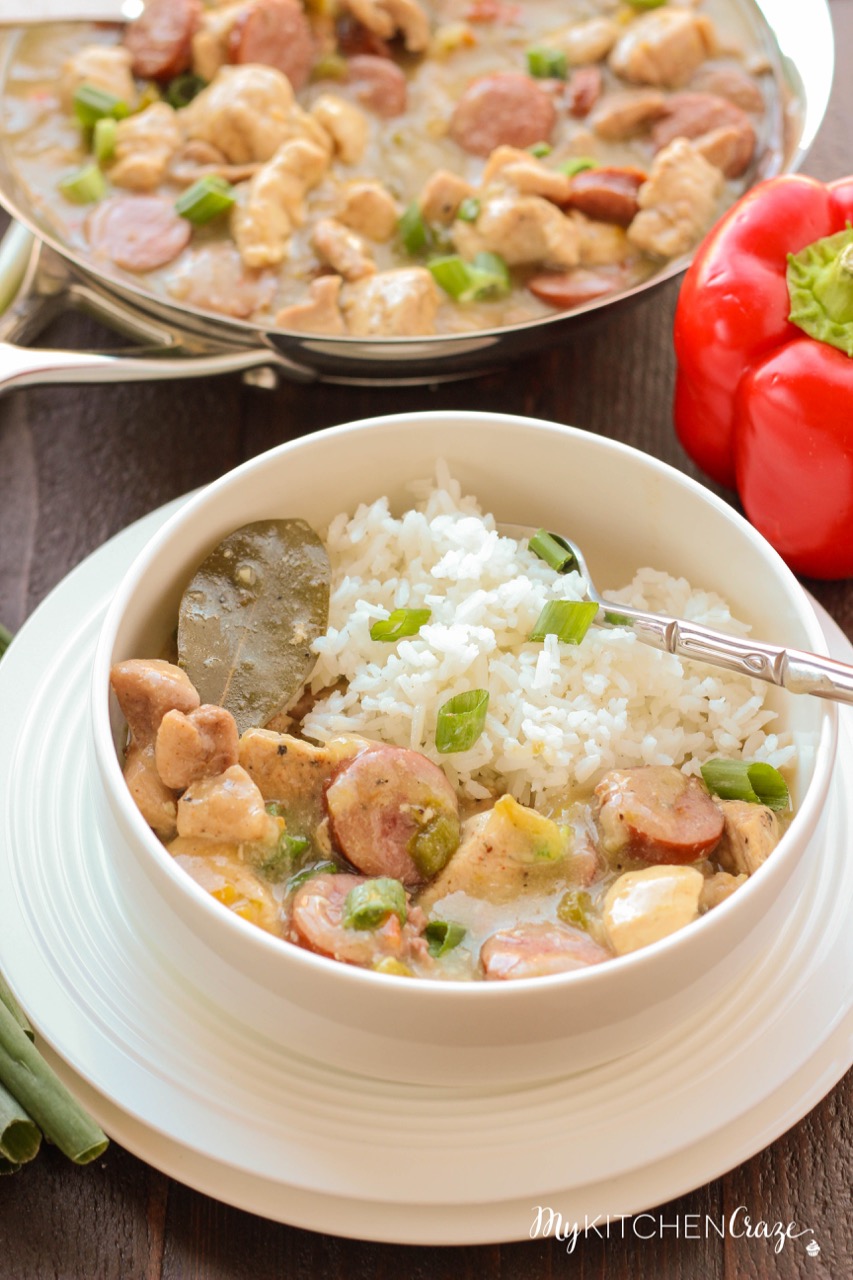 This Chicken & Beef Kielbasa turned out amazing. I loosely followed some recipes I saw around Pinterest. A ton of the recipes I found online used sausage and since we're not fans of sausage, I decided to use beef kielbasa. I love the smokey flavor the kielbasa gives this dish. It just adds to the dish.
Now you could change easily change it up and use sausage or maybe some spicy sausage. Or maybe you're feeling a little adventurous and add some shrimp. This gumbo is really versatile. Add a little bit of this or a little bit of that. Maybe some other types of vegetables. You can go any way with this meal.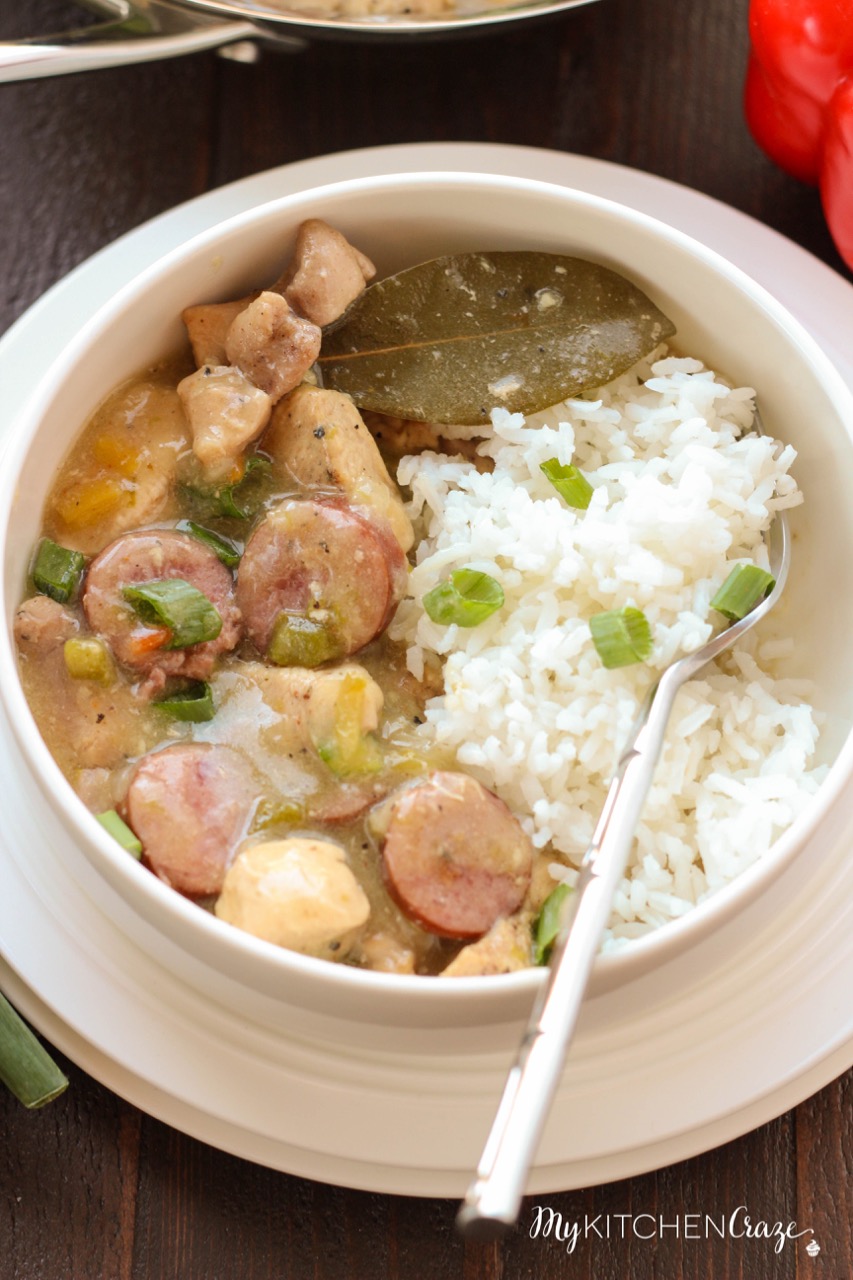 You could also make this meal gluten free and healthy if needed. It's just about the ingredients you choose to use. You could also omit the flour if you wanted to, but you won't get that gravy. And to be honest the gravy is my favorite part. It tastes so good mixed with the rice. But whatever you choose, I hope you enjoy this dish!
Here's to weekly menu planning and staying on track. I hope this recipe can help you, just like it did me. 🙂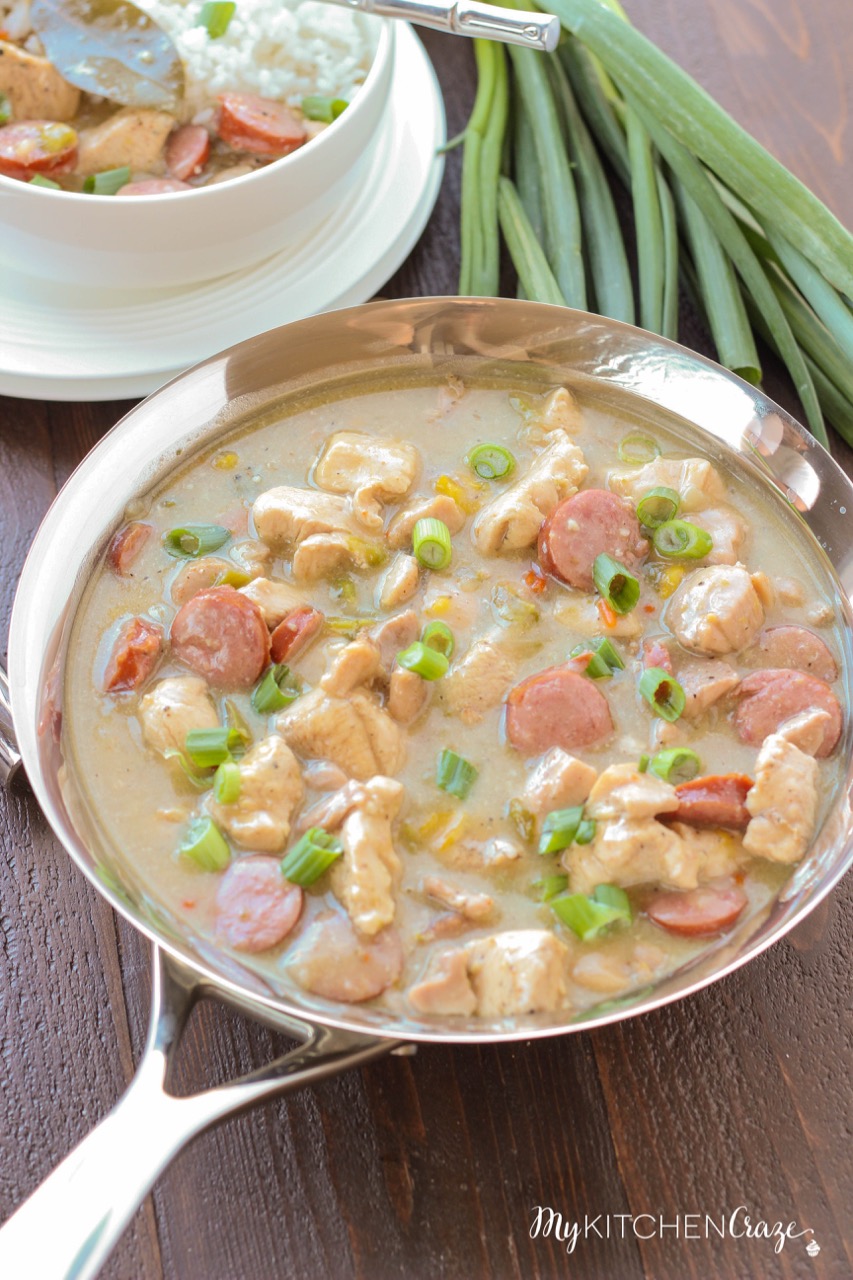 **Pictures and recipe updated**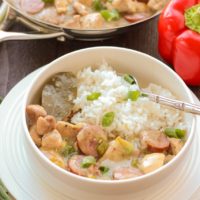 Get the Recipe:
Chicken and Beef Kielbasa Gumbo
Ingredients
2

teaspoon

oil

3

cloves

garlic

,

minced

1

small onion

,

chopped

1/4

cup

green bell pepper

,

chopped

1/4

cup

red bell pepper

,

chopped

4

boneless chicken thighs

3-3

boneless chicken breasts

1/2

teaspoon

salt and fresh pepper

1

teaspoon

Mrs. Dash table blend seasoning

,

to taste

1 1/2

tablespoon

all-purpose flour

2

cups

chicken broth

10

ounce

beef kielbasa

,

cut into pieces

2-3

bay leaves

1/4

cup

green onions

,

chopped

corn starch

,

to thicken up gravy

cooked rice
Instructions
In a large skillet heat oil on medium heat. Once oil is hot, add garlic, onion and peppers. Cook 4-5 minutes, until onions become translucent.

Push the vegetables to the sides and add chicken. Season with salt, pepper and Mrs. Dash seasoning.

Cook 2-4 minutes on each side, then sprinkle the flour over the chicken and vegetables.

Add chicken broth, kielbasa, and bay leaves. Stir to combine, cover and reduce heat.

Simmer on low for 30 minutes. If the gravy is to thin, take some of the liquid out of the pan and mix in 1/2 tablespoon of corn starch. Stir the corn starch mixture with the gumbo and bring to a low boil. The sauce should thicken up pretty quickly. If the gravy gets to thick, add some more chicken stock to thin it out. Remove bay leaves and top with scallions.

Serve with white rice.

Enjoy!