Mini Easter Cheesecakes
Easter is one week away. One week! Can you believe it?
Today is the first day of my kiddos spring break and we are doing nothing. Yay! This is exactly what I wanted to do. Just hang out, not drive to the kid's school 3 times a day, make sack lunches, but just relax and watch some movies. Life is good.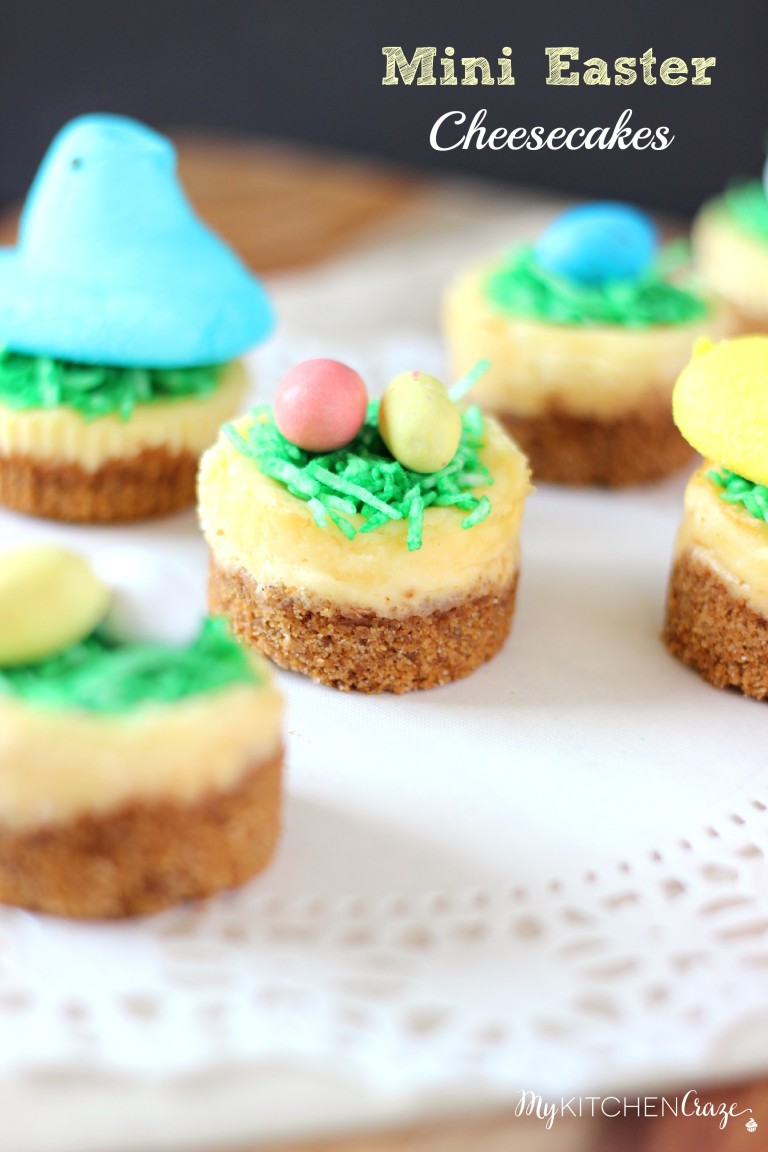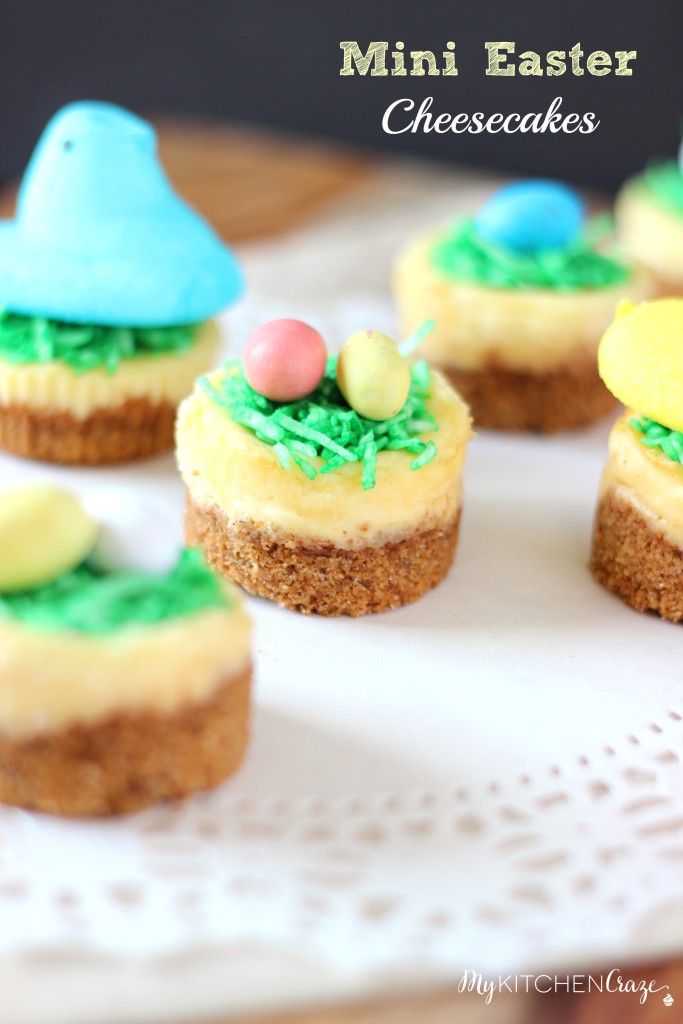 The only plans I have are Easter Sunday. But even that's pretty laid back.
For the past two Easters my parents have taken the kids camping for the weekend. They come home the morning of Easter Sunday. I'll usually make dinner, then we have our egg hunt and of course dessert. It's a simple family day. Just what I love.
I'm super excited about having a few days to myself too, but since I'm a planner I have already thought about my Easter menu.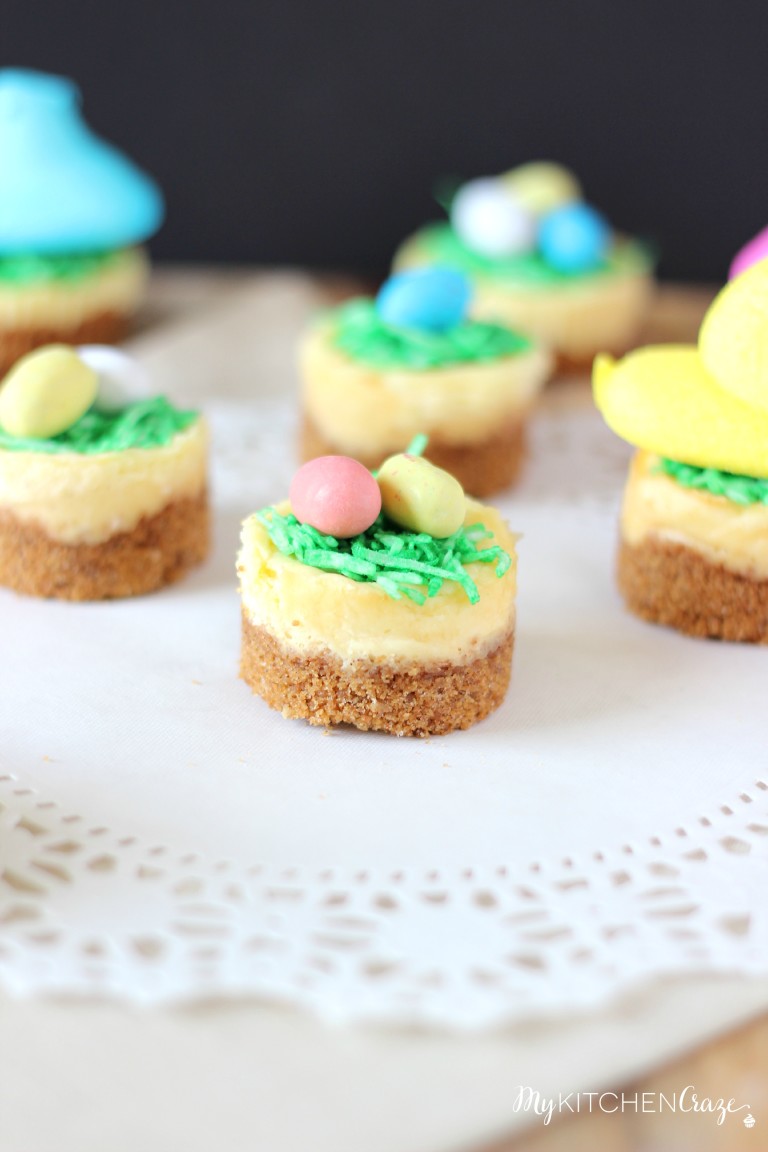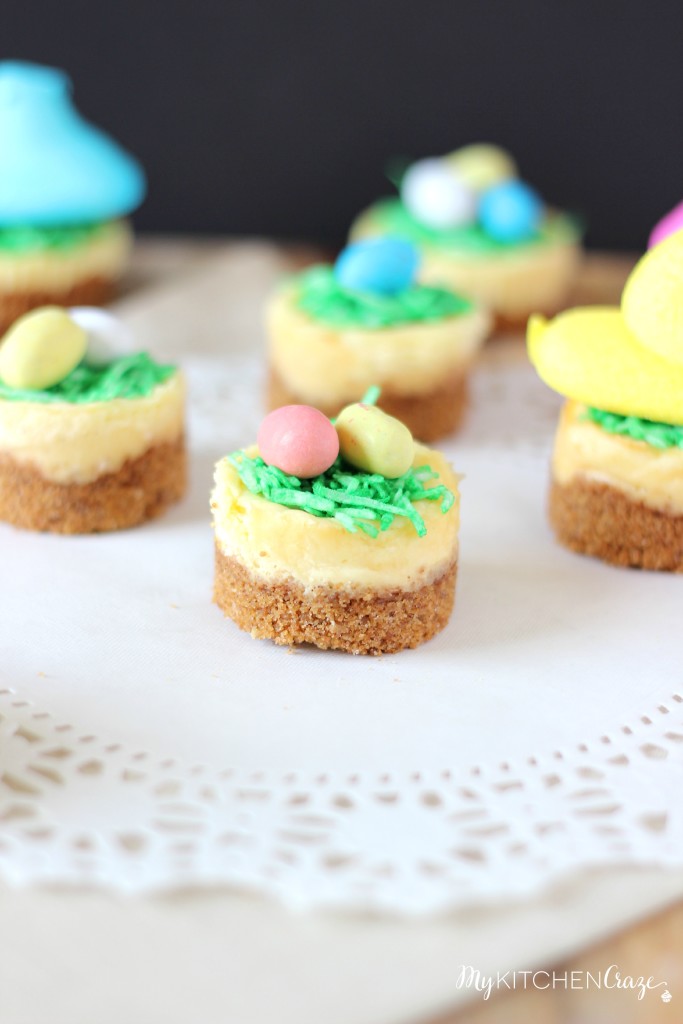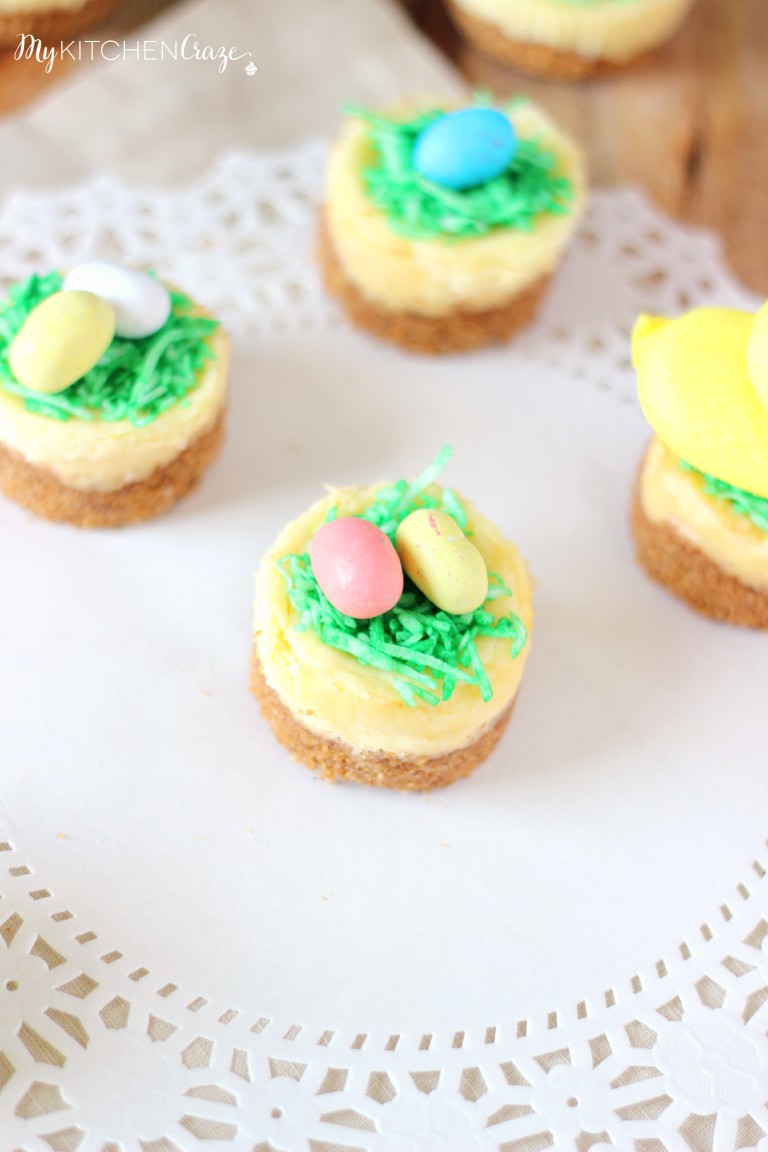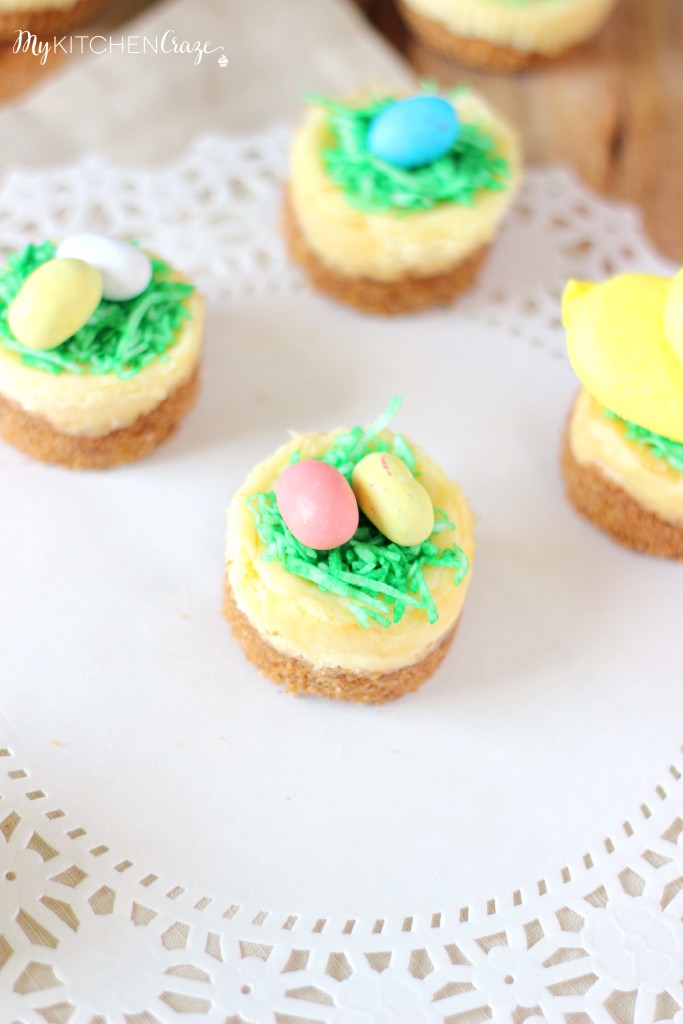 Of course the first thing I decided on for Easter is dessert. And since my new obsession for dessert is cheesecake. I thought why not make some mini cheesecakes.
I've posted a few mini cheesecake recipes on the blog, but haven't made traditional mini cheesecakes. So what better way then to start now for Easter.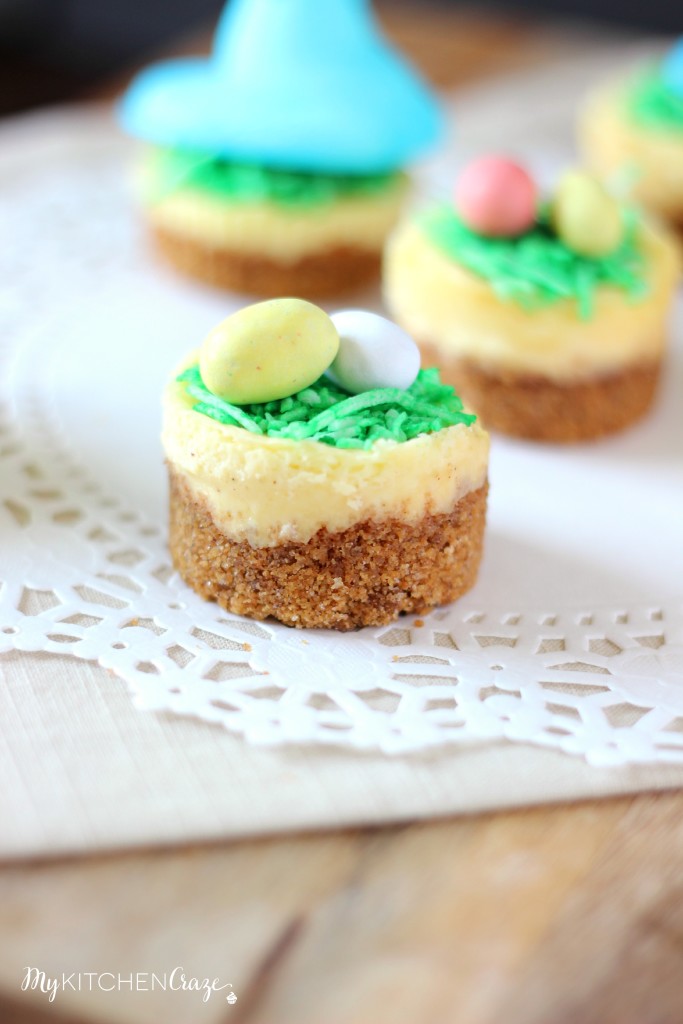 I just love how perfect these cheesecakes are for dessert and they take away the need for messy cheesecake slicing. No utensil are needed! Another plus is their simple to make and look elegant on your dessert table.
You can decorate these cheesecakes however you wish. I loved adding the green coconut "grass" and some chocolate eggs. I also added some marshmallows peeps and left some alone. You could even use some jelly beans and then grab some licorice and form an upside U shape.
Stick the ends into the cheesecakes and now you have your very own Easter egg baskets. There are so many cute possibilities for these cheesecake.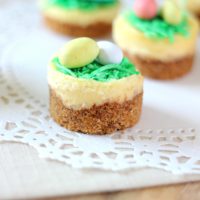 Get the Recipe:
Mini Easter Cheesecakes
Ingredients
Crust:
1

cup

graham cracker crumbs

,

about 1 sleeve

2

tablespoon

sugar

1

teaspoon

cinnamon

3

tablespoon

butter

,

melted
Cheesecake:
2

8 ounces packages cream cheese, softened

1/2

cup

sugar

1/2

teaspoon

vanilla

2

eggs
Toppings:
1/2

cup

flake coconut

,

tinted green with food coloring

marshmallow peeps

egg chocolate candies
Instructions
Preheat oven to 350 degrees F. Lightly spray cheesecake tray with non-stick cooking spray or line 18 muffins slots with cupcake liners; set aside.

In a food processor pulse crackers into fine crumbs. Add to a medium bowl. Add in sugar and cinnamon, mix throughly. Add melted butter and mix until crumbs resemble fine sand mixture.

Add a heaping tablespoon to mini cheesecake trays or lined muffin trays. Press mixture down with the back of the tablespoon. Bake 5 minutes; set aside until ready to use.

Lower your oven temperature to 325 degrees F.

In a stand mixer, cream cream cheese until smooth. With the mixer on slow, add the sugar then the eggs one at a time, making sure each egg is incorprated. Lastly add the vanilla extract.

Spoon cream cheese mixture onto the graham cracker crust and bake 15-18 minutes, or until set.

Let mini cheesecakes cool completely on a wire rack, then add them to the refrigerator. Keep them in the fridge for a minimum of 4 hours or overnight.This will let them set up nicely.

Once cooled and set, remove them from the cheesecake tray or muffin tray. Remove the wrappers if you used a muffin tray.

Garnish each cheesecake with tinted coconut grass, then a marshmallow peep and/or egg candies.

Enjoy & Happy Easter!