Mediterranean Chicken Pasta Bake
Mediterranean Chicken Pasta Bake is filled with all of your favorite mediterranean foods. California Ripe Olives, artichoke hearts, sun-dried tomatoes, basil and much more. It's delicious and has great flavor. You'll be glad you made this!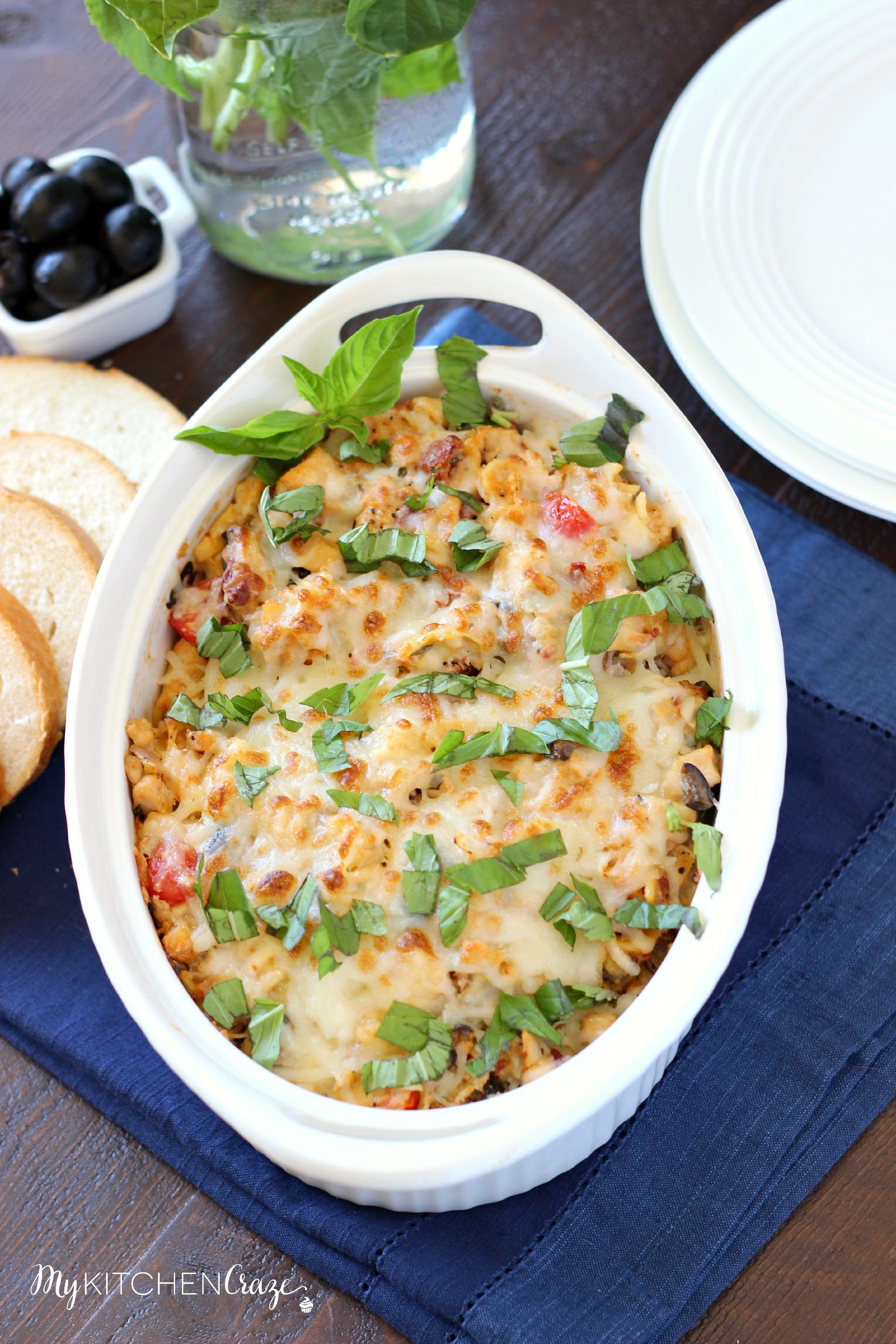 I have a confession to make. I used to be a picky eater. WHAT?!? I know how can a food blogger be a picky eater? But it's true. There were times where I would never touch artichoke hearts, sun-dried tomatoes and even olives. I was raised in a house where we ate very simple foods. Mom and Dad are simple eaters and don't like to stray from the foods they like.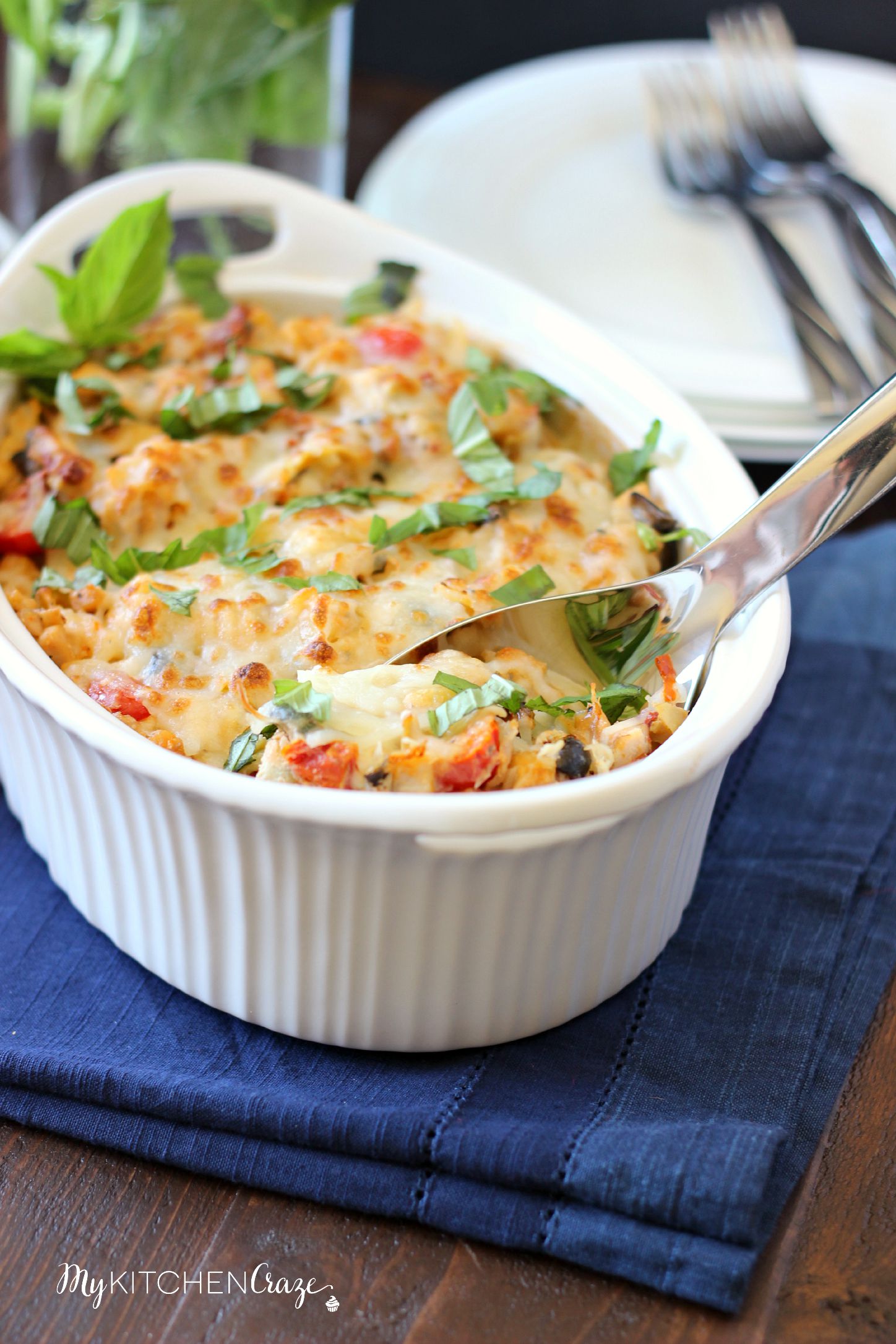 There is nothing wrong with that, but enter the year I met my husband and my whole life changed. Not only did I meet the man of my dreams, but I met someone who would push my limits and get me to try new foods. He knew me better than I did and knew that I would love these foods.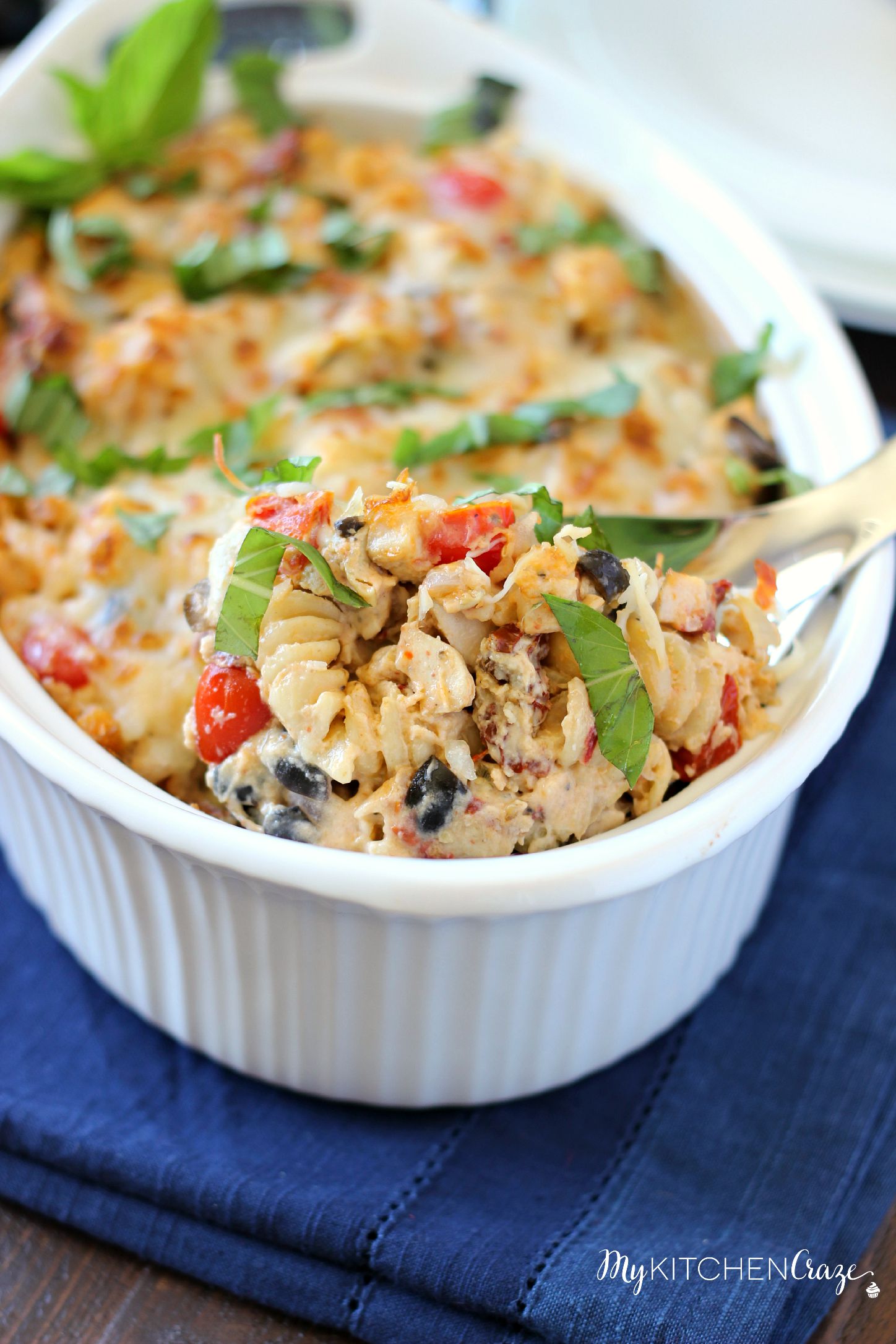 I couldn't imagine not liking olives, artichoke hearts and sun-dried tomatoes now. It's so weird to think that I just didn't like those type of foods 15 years ago and now I love them. I love all types of Mediterranean foods and can't get enough of them. I have a healthy and delicious Bruschetta Chicken recipe that my whole family loves. Be sure to check it out.
Did you know that California Ripe Olives are not only delicious, but contain vitamin E, iron, vitamin A, and fiber. They're packaged at their peak to preserve nutrients for year-round enjoyment. You can learn more about a Mediterranean Diet here. Also, take a look at this nutrition label. Not only are California Ripe Olives yummy. They're healthy for you too!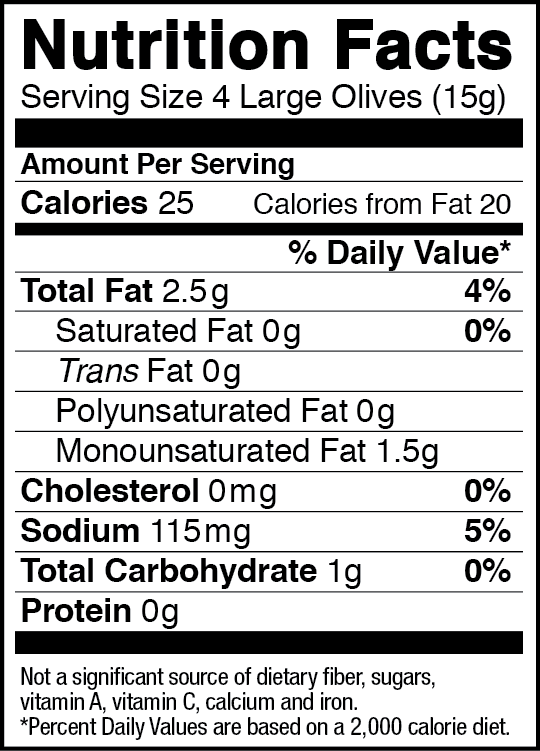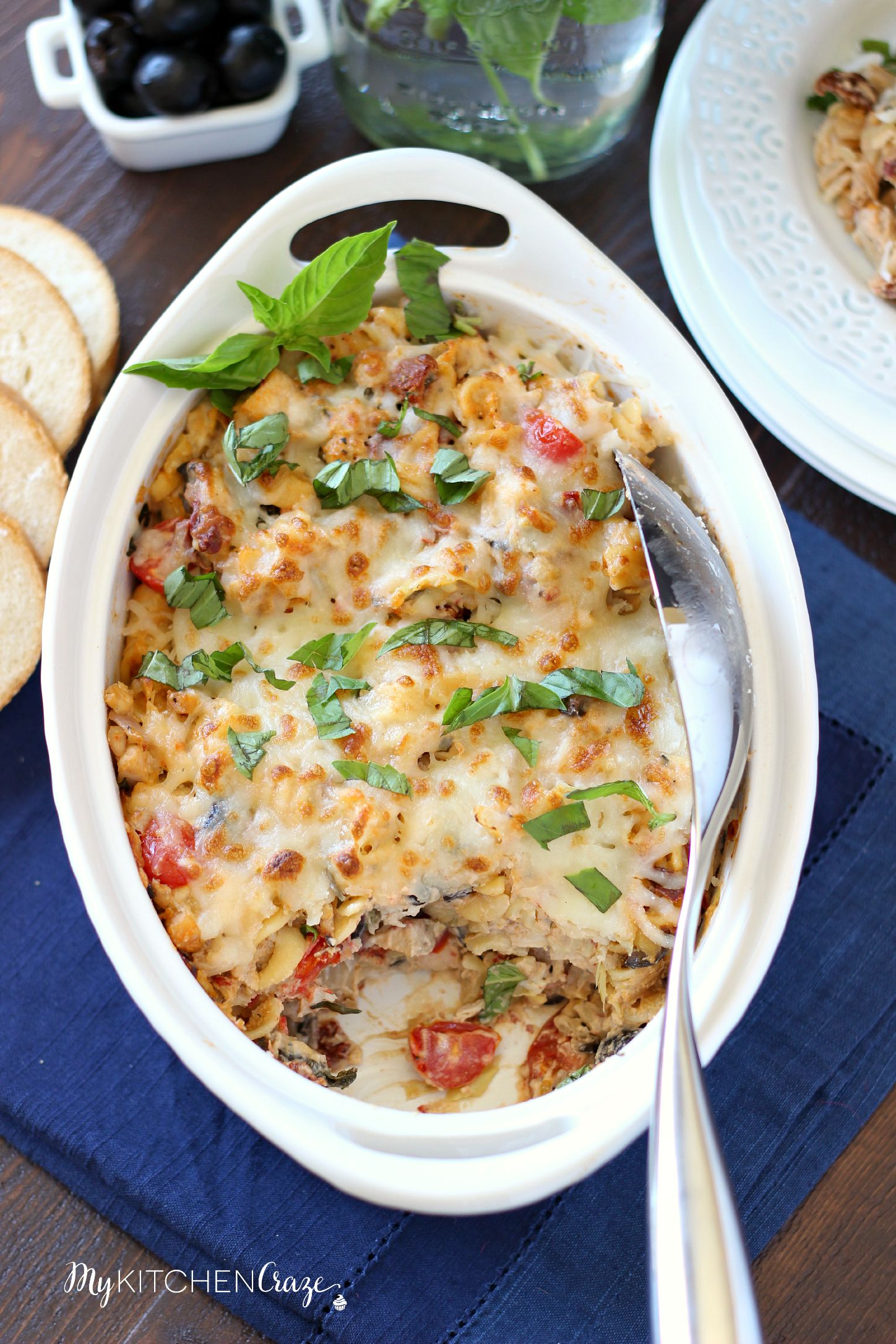 This pasta bake punches great flavor, tons of delicious vegetables and a creamy sauce. I wanted to make sure this bake wasn't dry. No one likes a dry pasta bake. I wanted a creamy sauce that has sun-dried tomatoes and basil. Yum! The sauce turned out amazingly delicious, that I could have drank just the sauce alone. I also added all sorts of Mediterranean veggies, such as red onions, olives, grape tomatoes, artichoke hearts and of course some cheese.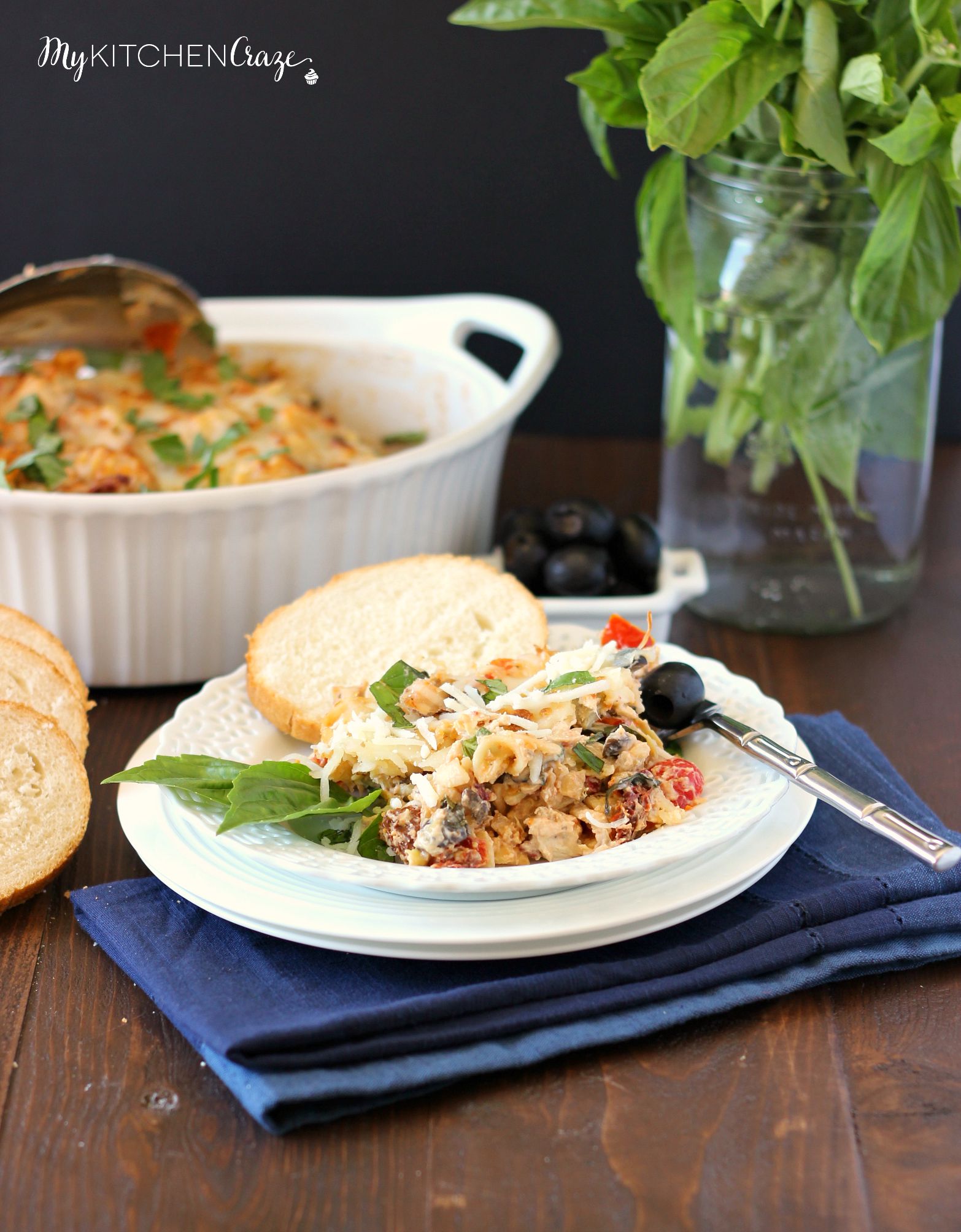 Mediterranean Chicken Pasta Bake is such a comfort meal, you'll be glad you made it. I used all fresh ingredients and everything is made from scratch. This pasta bakes feeds roughly 8 servings and leftovers are even better the next day. Your family and friends will love this pasta bake!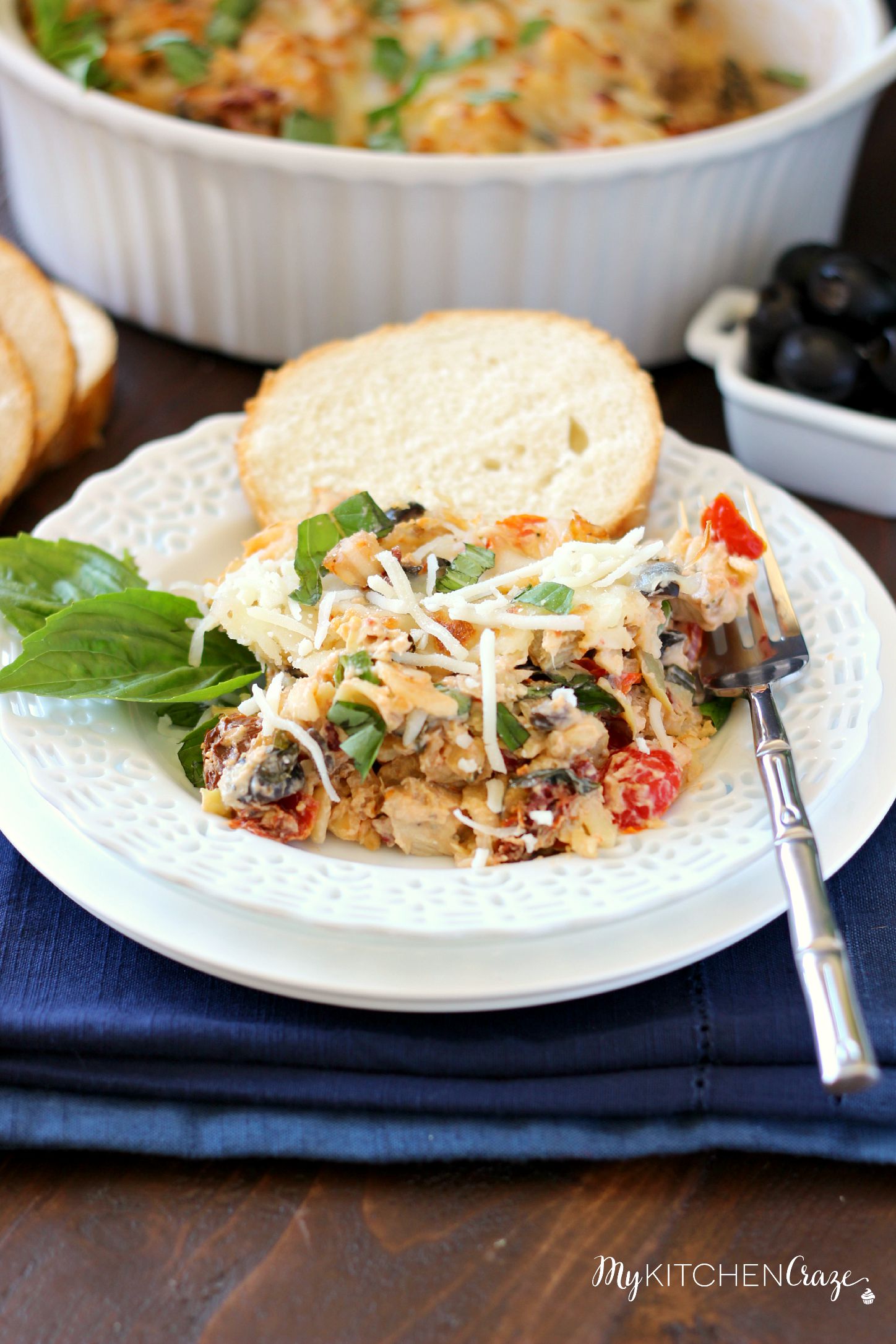 Be sure to check out the California Ripe Olives Midsummer Mediterranean Giveaway. One lucky winner will receive a great prize package so you can enjoy your own Mediterranean feast at home! Check out California Ripe Olives website for some yummy recipes too!
Mediterranean Chicken Pasta Bake
Author:
Prep time:
Cook time:
Total time:
Serves: 8-10
Ingredients
3 cups uncooked penne pasta
1-2 large chicken breasts, cooked and diced into chunks (I used [url href="https://mykitchencraze.com/2015/07/31/buffalo-ranch-chicken-wrap/" target="_blank"]this recipe[/url] and it was amazing)
3/4 cups whole, large California ripe olives, diced
1/2 cup red onions, chopped
1 cup marinated artichoke hearts, diced
1 cup grape tomatoes, cut into fourths
1 cup shredded mozzarella
1/2 cup shredded Parmesan cheese
[b]Sauce:[/b]
1 tablespoon olive oil
6 cloves garlic, minced
4 tablespoons flour
2 cups half & half
1 cup heavy whipping cream
1/2 cup shredded Parmesan cheese
1/2 teaspoon salt
1/2 teaspoon pepper
1/2 teaspoon red chili flakes
1/2 cup sun-dried tomatoes, drained and chopped
2 tablespoons fresh basil, chopped
Instructions
In a large stock pot, make pasta according to package. Drain pasta and place back in the stock pot. Cover with a lid and set aside.
Sauce: In a large saucepan, add olive oil and bring to a medium heat. Once oil is hot, add garlic and cook 1-2 minutes. Making sure to stir constantly so you don't burn the garlic. Add flour and cook another minute. Whisking, slowly add the half & half and heavy whipping cream. Whisk to incorporate the flour and keep whisking until smooth. Continue cooking until mixture starts to simmer and thickens. Once mixture starts to thicken, reduce heat to low. Add the Parmesan cheese, salt, pepper, red chili flakes, sun-dried tomatoes and basil. Cook another 5 minutes on low heat, then cover, take off heat and set aside until ready to assemble.
Preheat oven to 350 degrees F. Spray a 9×13 baking dish or a 2 quart casserole dish with non-stick cooking spray; set aside.
In a large bowl, add cooked pasta, chicken breast pieces, olives, onions, artichoke hearts and tomatoes. Mix until combined. Reserve 1/2 cup of sauce mixture and set aside. Pour remaining sauce into the large bowl and mix well.
Pour pasta mixture into prepared baking dish. Sprinkle with mozzarella and Parmesan cheese. Place dish in the oven and bake 25-30 minutes, or until cheese is melted and bubbly. Remove from oven and let sit 3-5 minutes.
Serve and Enjoy!
Notes
Recipe Source: My Kitchen Craze [br]*The reserved 1/2 cup sauce is for leftovers or if the pasta bake dries out in the oven. Pasta bake and sauce will keep in the fridge for 3-5 days.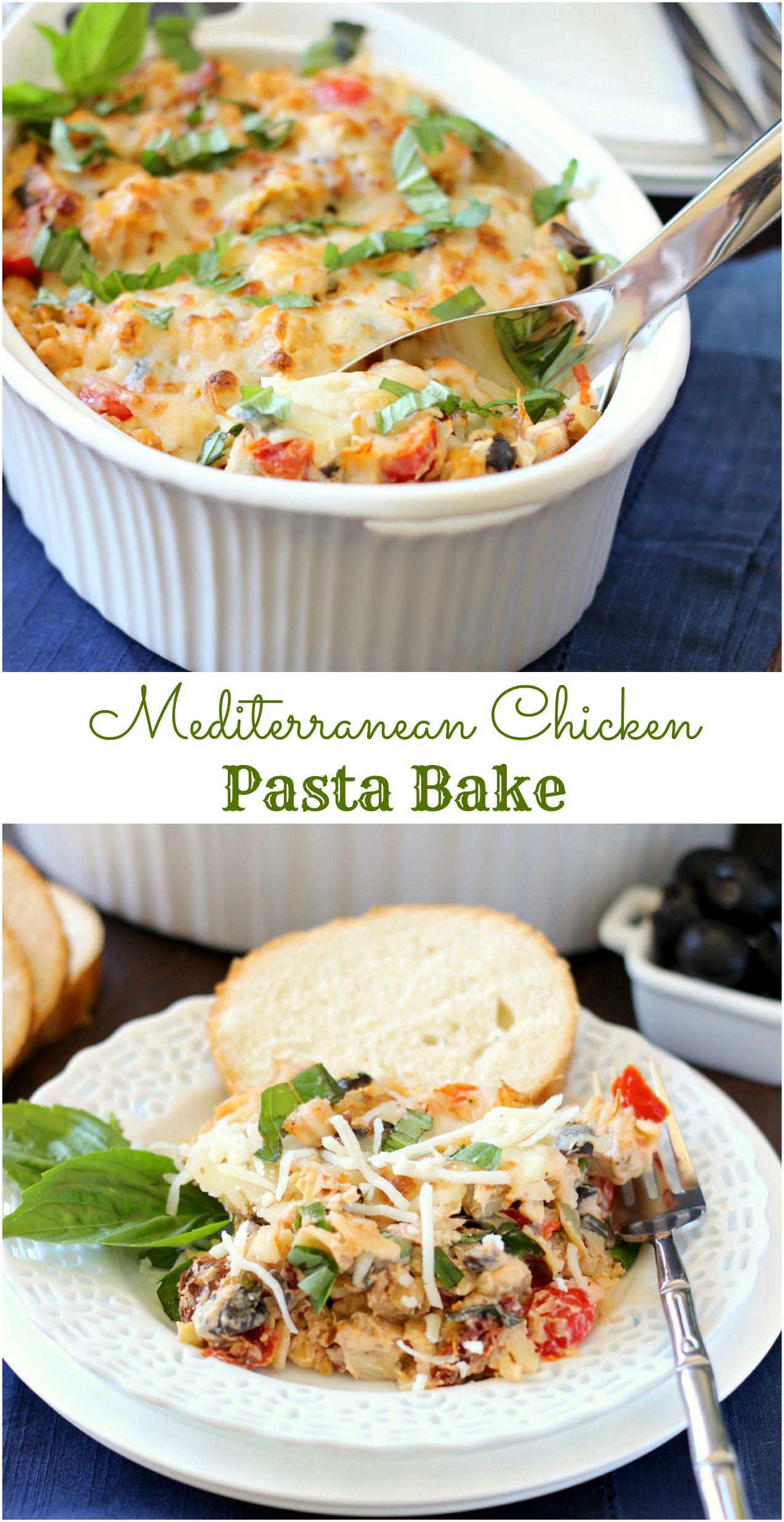 Want some more California Ripe Olive recipes: Here you go!
Sausage Stuffed Fried Olives with Garlic Thyme Aioli by What the Fork Food Blog
One Skillet Mediterranean Chicken by Tastes of Lizzy T's
Vegetarian Pesto & Olive Pizza Roll-Ups by Cookin' Canuck
Mediterranean Pita Bites by The Seasoned Mom
Vegetarian Puff Pastry Tart by Cook With Manali
I was selected for this opportunity as a member of Clever Girls and the content and opinions expressed here are all my own.