Lemon Velvet Squares and a Video
Lemon Velvet Squares are moist and packed with lemon flavor. Topped with a lemon glaze to make it the perfect treat this Spring season!  Includes a how to make video too.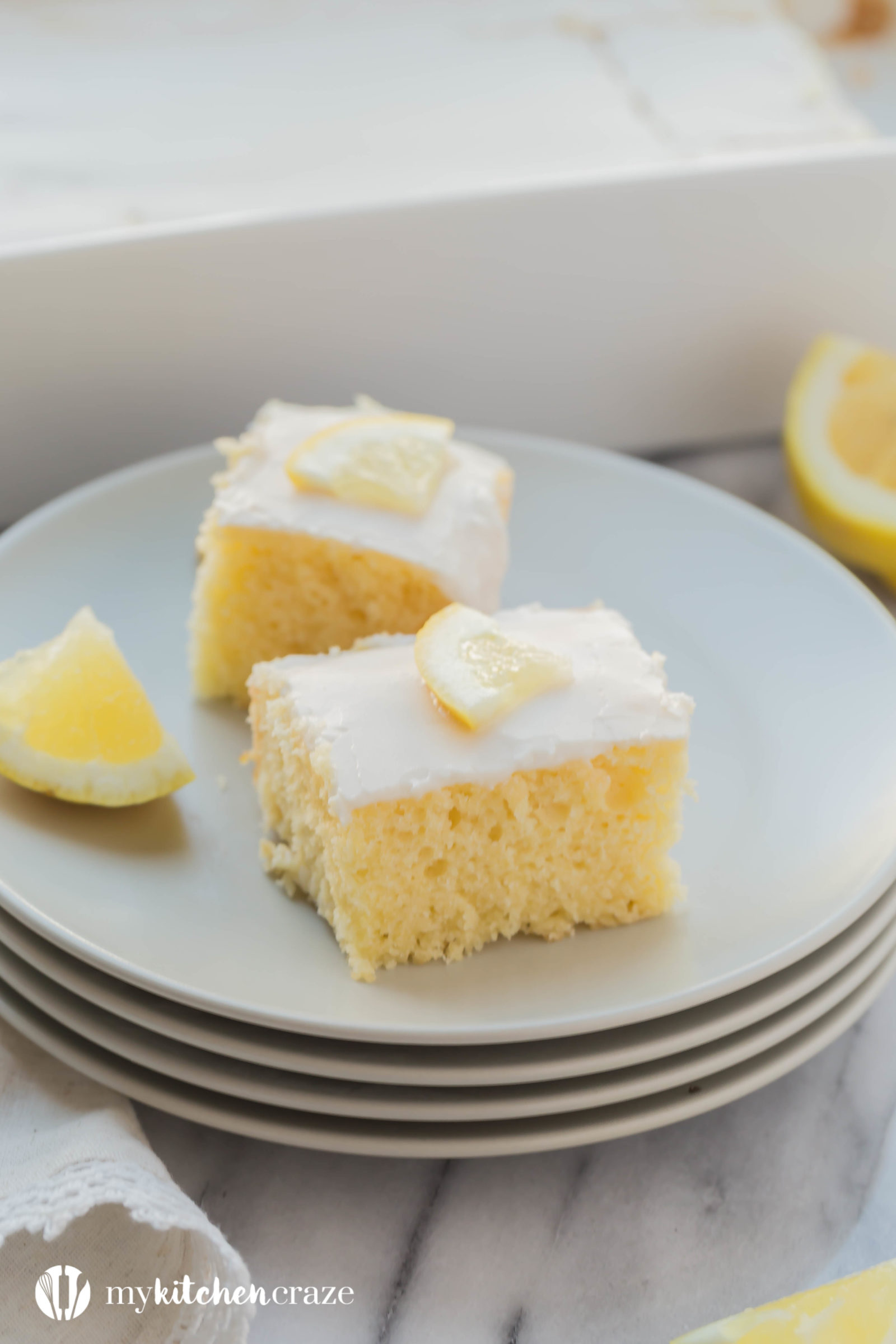 I've shared numerous lemon recipes on the blog, but I think this might top them all.
What is it about Spring that screams lemon and strawberries to me? I could eat everything lemon during spring season and I'd be one happy girl.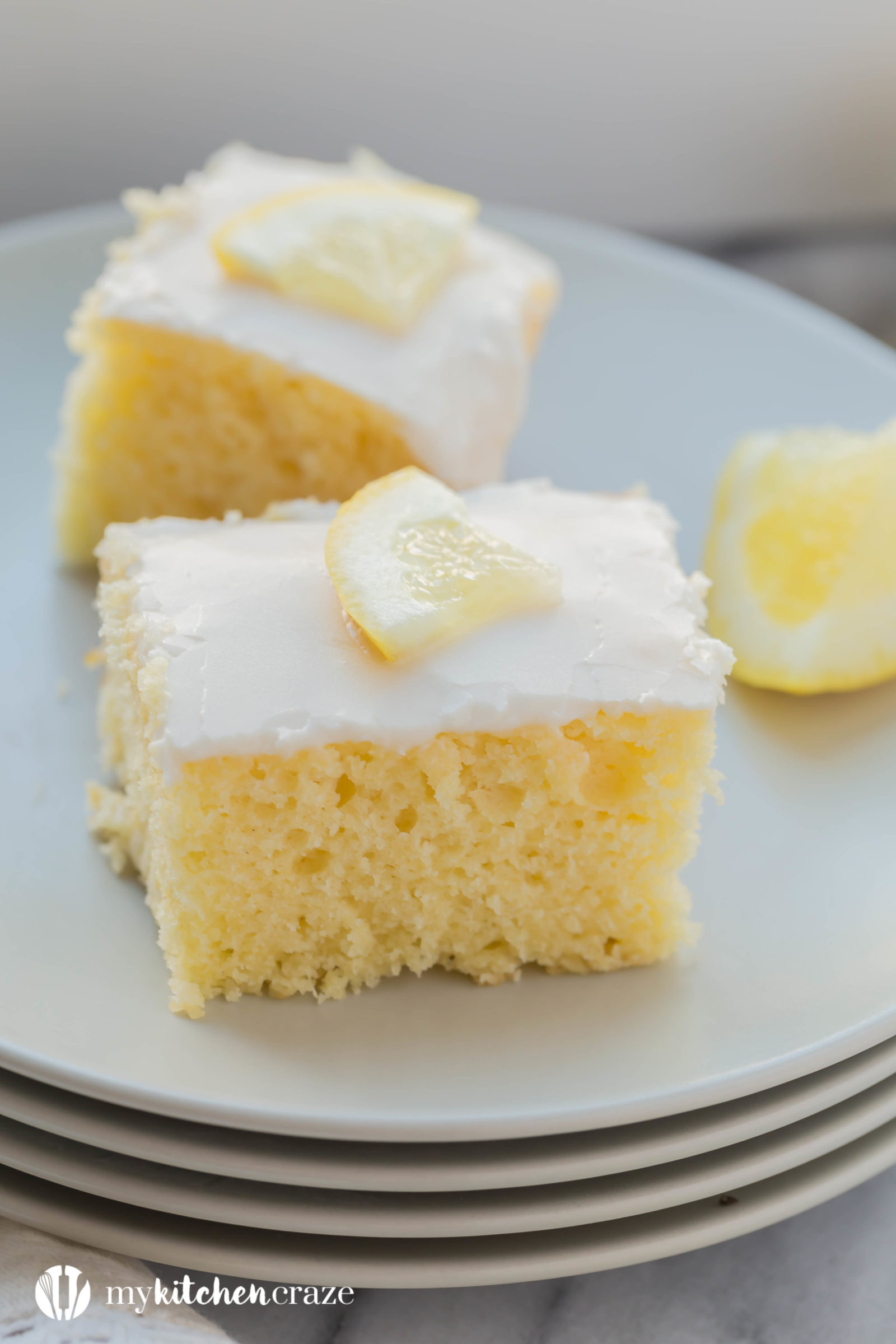 I made this cake a long time ago. In fact it's been on the blog for years, but it was stuck in the archives and wasn't getting any love. I decided it was time to take some new photos and make a video. I wanted to show you all how simple and delicious this cake really is to make.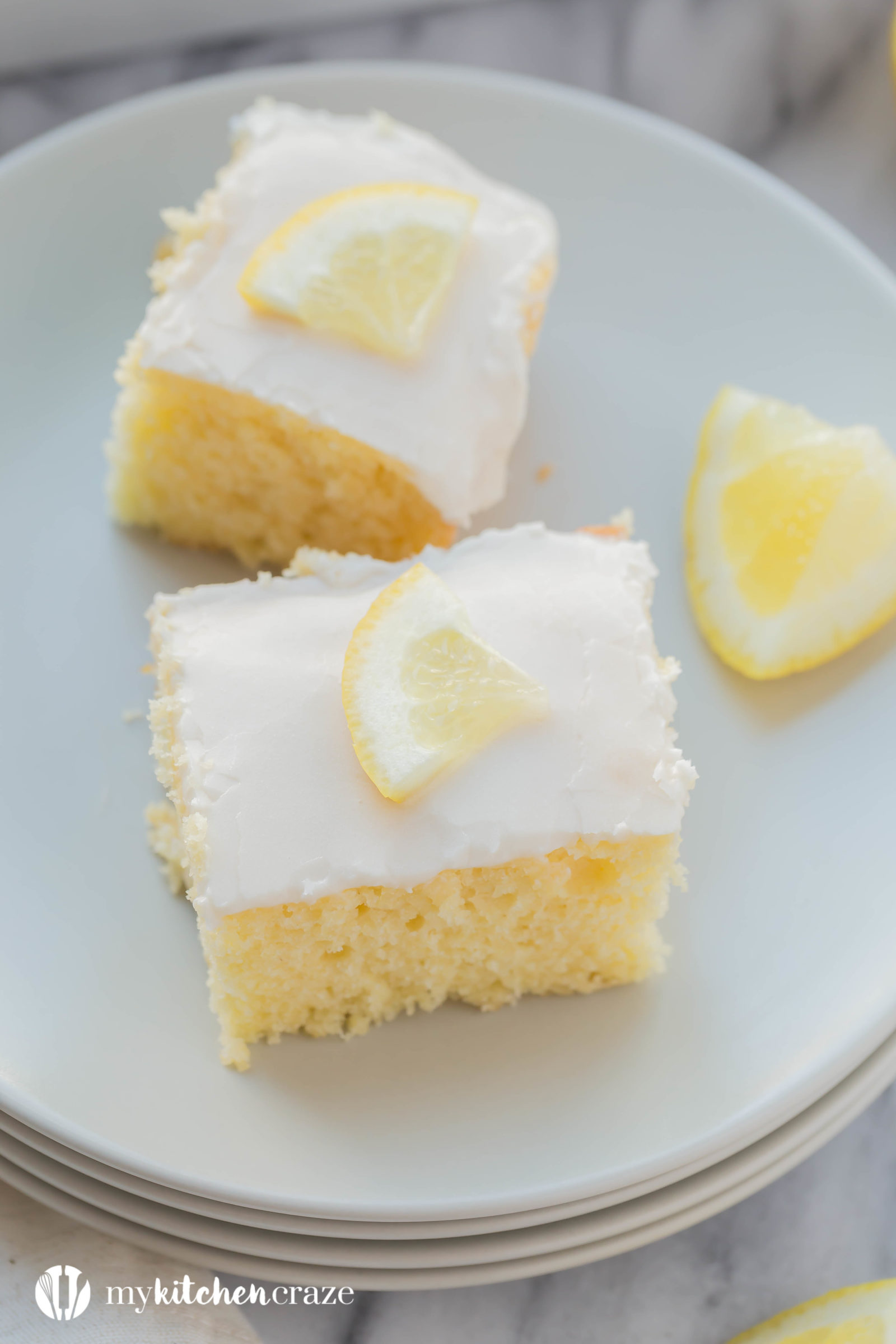 Now I'm not sure why it's called Lemon Velvet Squares, but it is. My aunt told me about this recipe a while ago, then I was in a baking book club and we made the same cake, so I decided to keep the name authentic. Do you like it? I was thinking about adding cake in there somewhere, but then went with the original.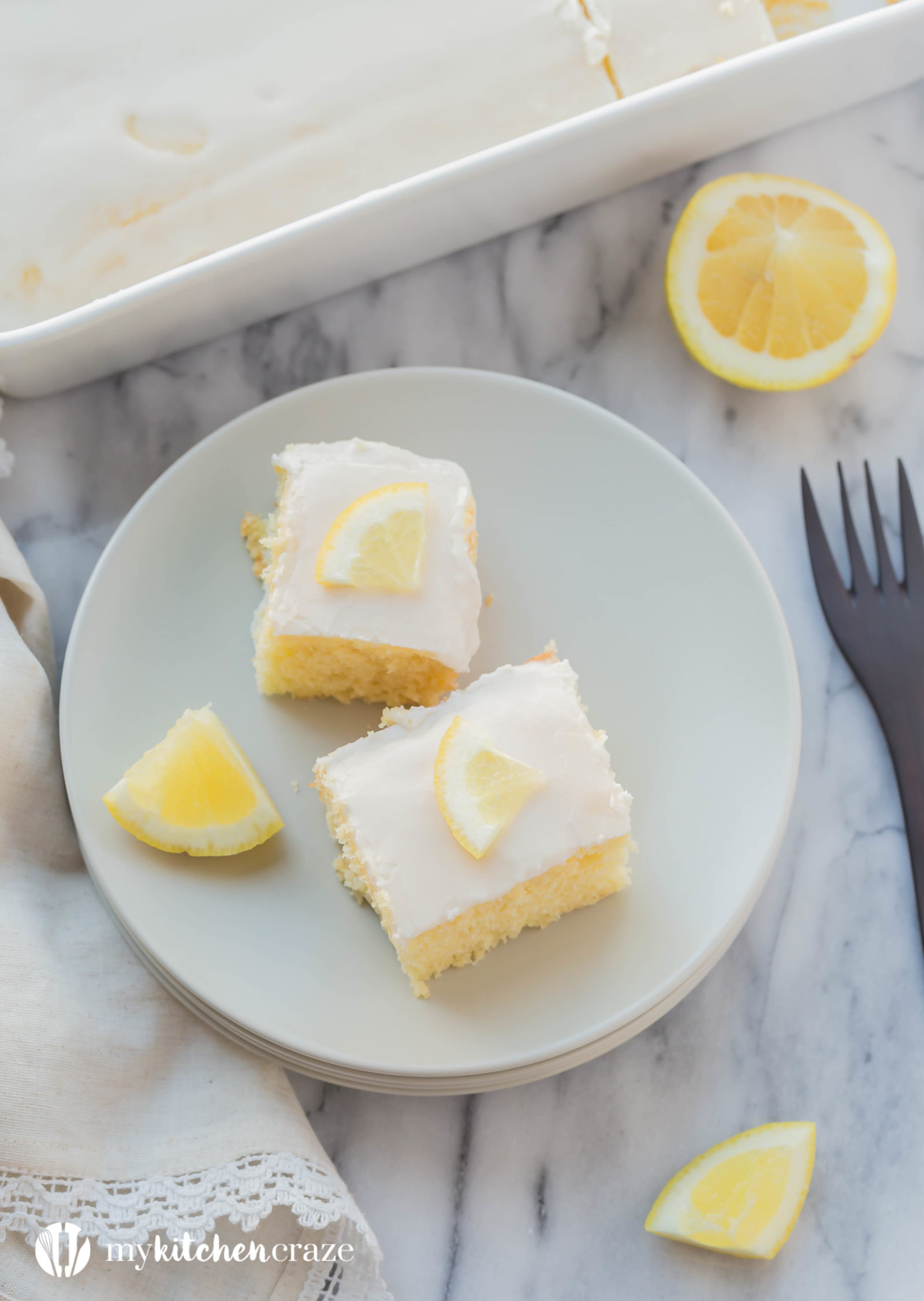 Some of my favorite family recipes have weird or unique names and I always love it. So Lemon Velvet Squares is what these babies are called. But seriously you guys, these cake squares are so moist and flavorful that I've made this recipe twice last month. When I was editing the video to post for you all, the hubby looked over my shoulder and said, "Hey when are you making those?" Haha! See what I mean.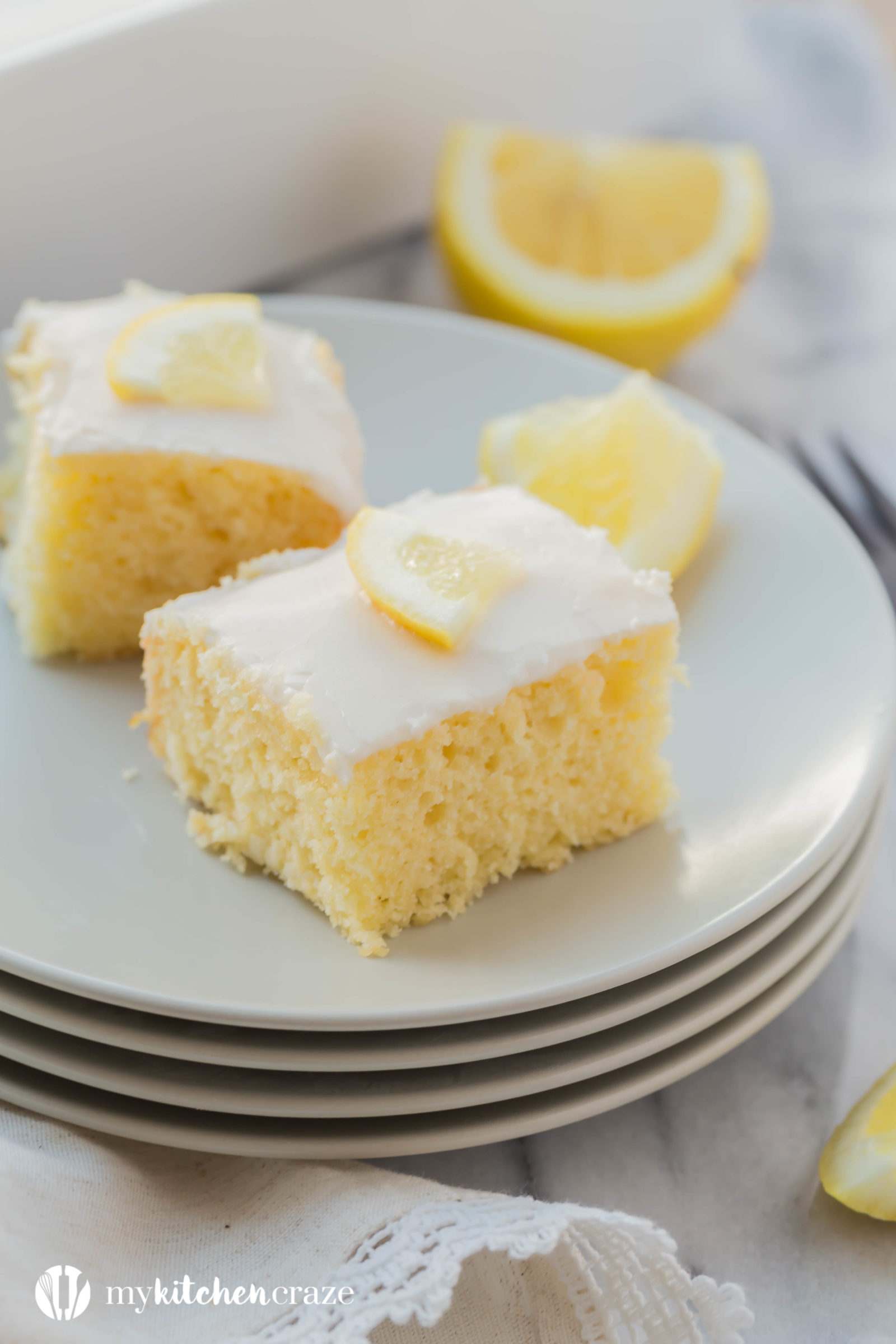 Whether your a lemon lover like me or you're looking for a fresh cake, you need to add this to your menu! You're going to love everything about this.
Watch the video to see how delicious and easy this cake is to make!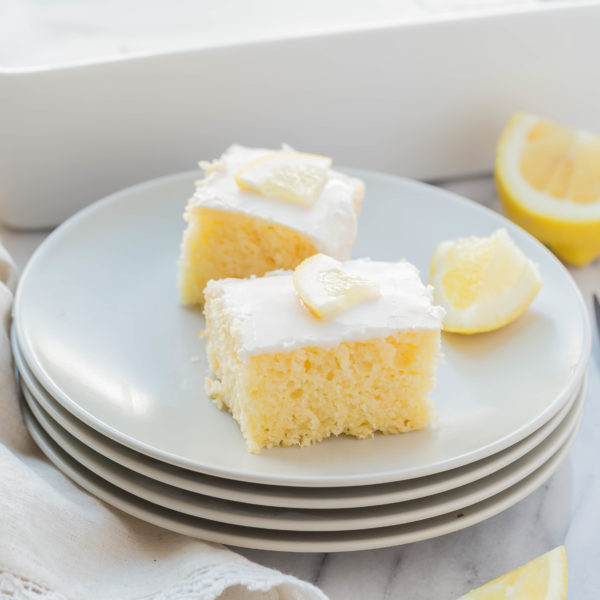 Get the Recipe:
Lemon Velvet Squares
Ingredients
Cake:
2 1/4

cups

all-purpose flour

2 1/2

teaspoons

baking powder

1/2

teaspoon

salt

1/2

cup

unsalted butter

,

softened

1

teaspoon

lemon zest

,

freshly grated

1 1/3

cups

sugar

3

large eggs

1/3

cup

water

3

tablespoon

fresh lemon juice

1/4

cup

fresh orange juice
Glaze:
2

tablespoons

unsalted butter

,

softened

1

cup

powder sugar

2

teaspoons

fresh lemon juice

1

teaspoon

hot water

1/2

teaspoon

vanilla extract

milk

,

as needed
Instructions
Preheat oven to 350 degrees. Butter a 9x13 baking pan.

Sift together the cake flour, baking powder and salt; set aside.

In a stand mixer, cut butter into 1 inch pieces and mix on low speed until fluffy. Add lemon and orange zest and mix into butter. Increase speed to medium and cream until light in color, about 1-2 minutes.

Add sugar about 1/2 cup at a time, until all sugar is incorporated. Scrape the sides of the bowl occasionally; if needed.

Add in eggs, one at a time. Making sure that each egg is incorporated before adding another egg. Scrape the sides of the bowl as needed.

In a small bowl; combine the water, lemon juice and orange juice.

Add the dry ingredients; alternating with the liquids. Making sure to start and end with the dry ingredients. Once everything is incorporated mix for another 10 seconds. Spoon batter into prepared pan. Smooth batter with the back of a spoon to even out.

Place pan in oven and bake for 30-35 minutes, or until cake is golden and toothpick comes out clean when inserted into center of cake. Remove pan from oven and set on a cooling rack.

While cake is cooling make glaze. In a small bowl add all ingredients until you have a smooth consistency. If you need to add milk to thin it out, make sure to add 1 teaspoon at a time.