Guinness Beef Pot Pie
It's St. Patrick's Week at My Kitchen Craze and today I am giving you a delicious and scrumptious Guinness Beef Pot Pie recipe that you're going to fall in love with! I promise!!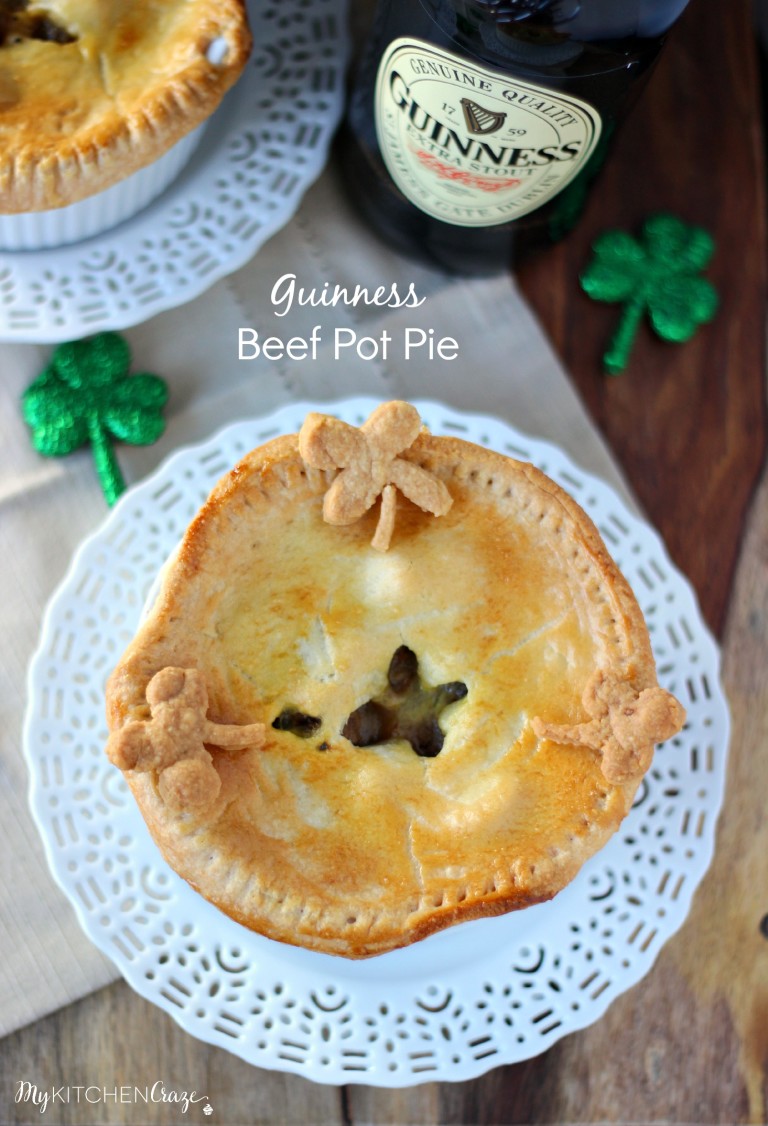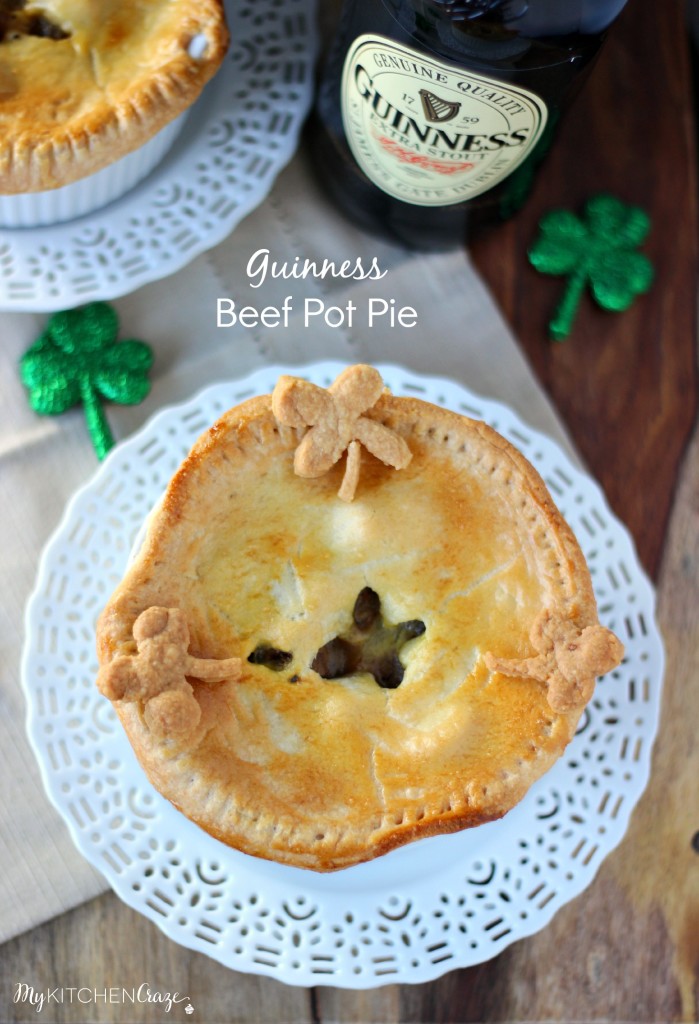 I don't really celebrate St. Patrick's Day. I have memories of being young and if you didn't wear green on that day, you were in some big trouble. Not just from the girls, but even those darn smelly boys. They would chase you around and around just trying to pinch you.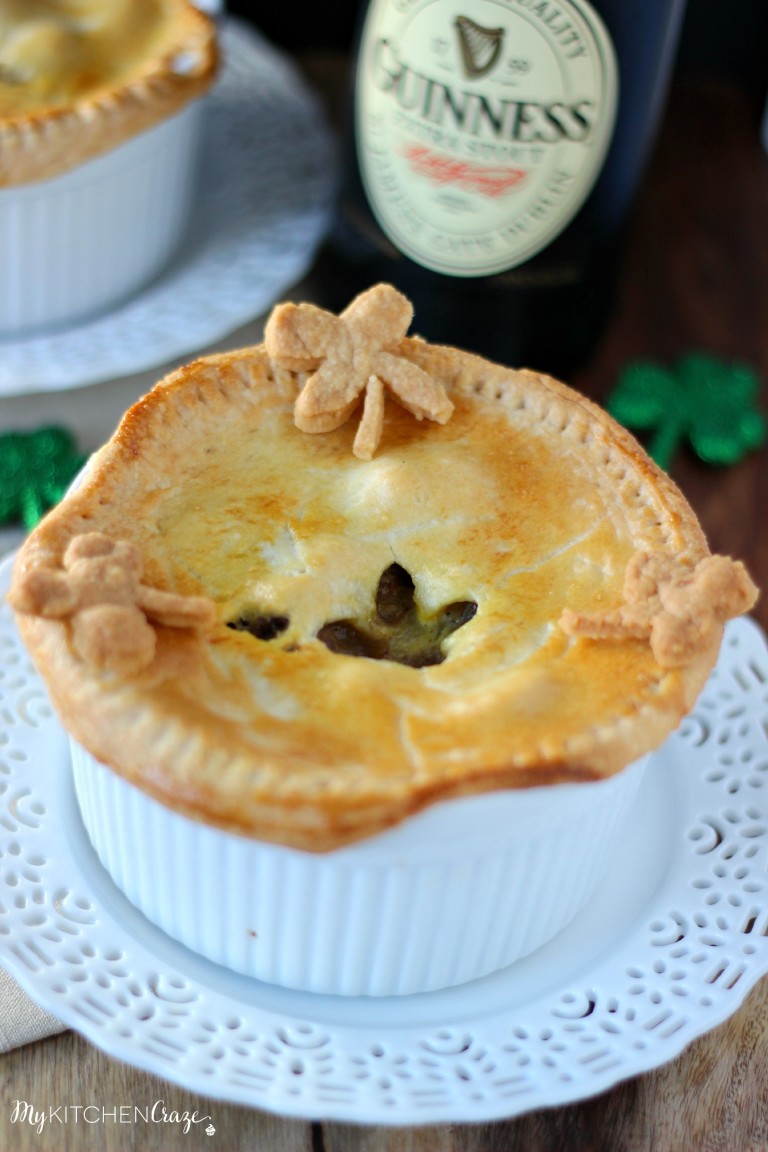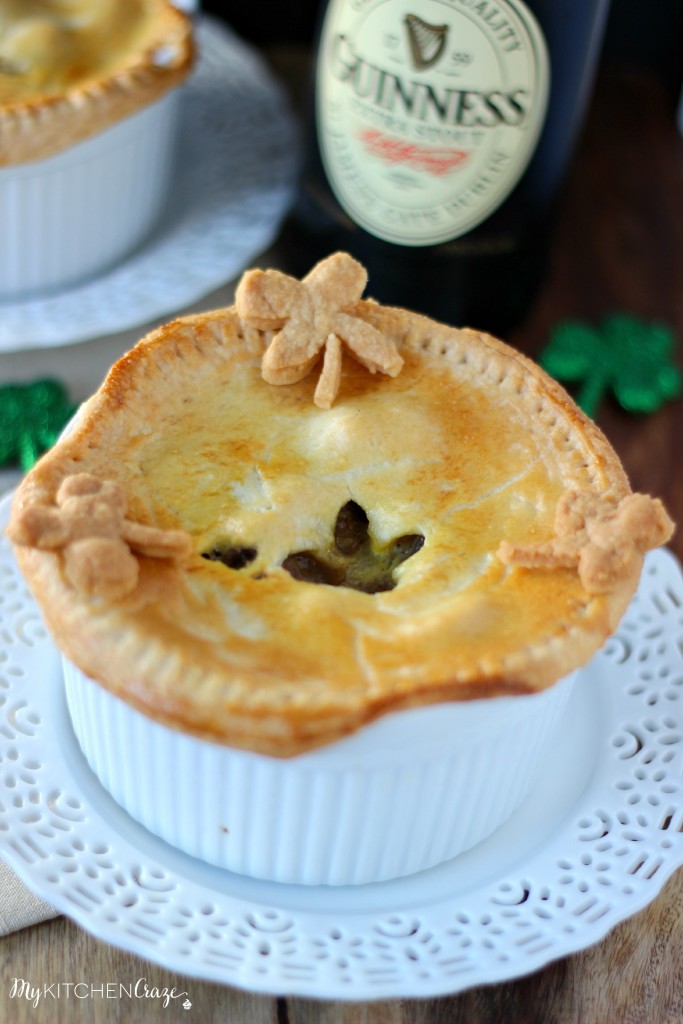 I wanted to bring a dish to you that screamed St. Patrick's Day, but also something that would not only be delicious, but something you would want to make year round. Something that wasn't just for the occasion. And this Guinness Beef Pot Pie is the best pot pie I've made to date.
Now I've made this Chicken Pot Pie and it's pretty tasty, but there is something about this Guinness Beef Pot Pie that sets it higher than all the others. I'm not sure if it's the Guinness or braising the beef for 30 minutes, but my gosh this dish is to die for.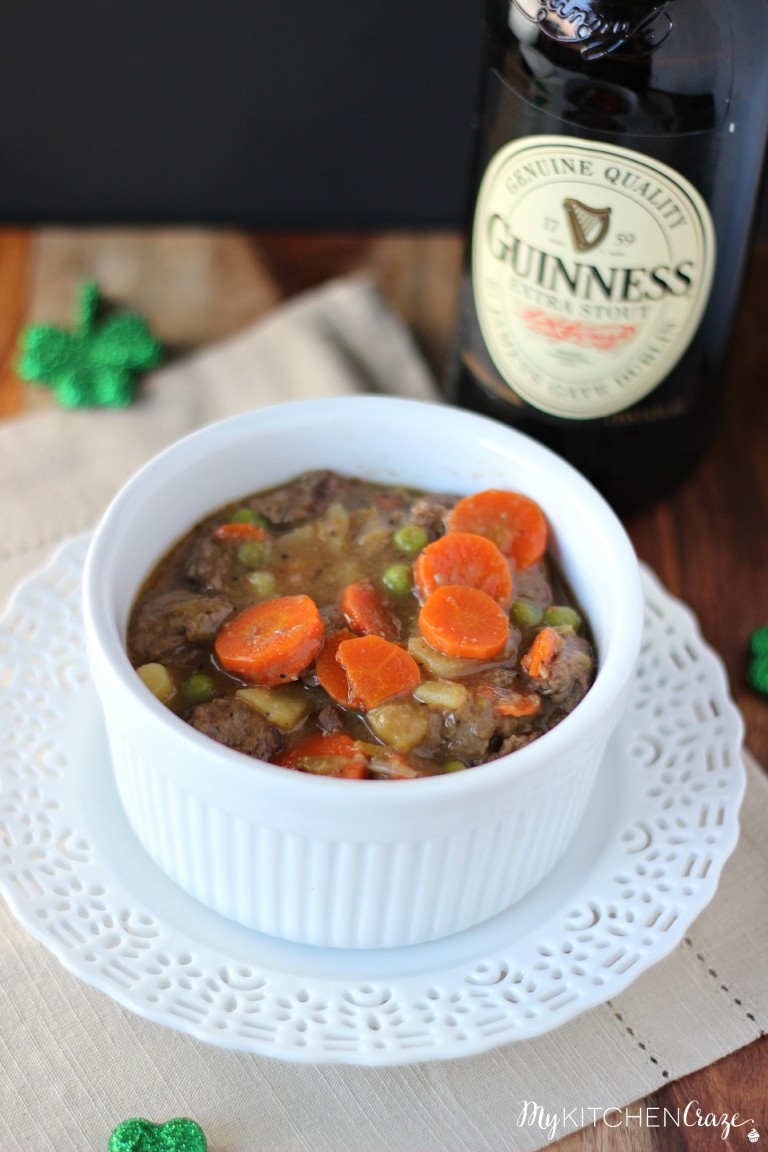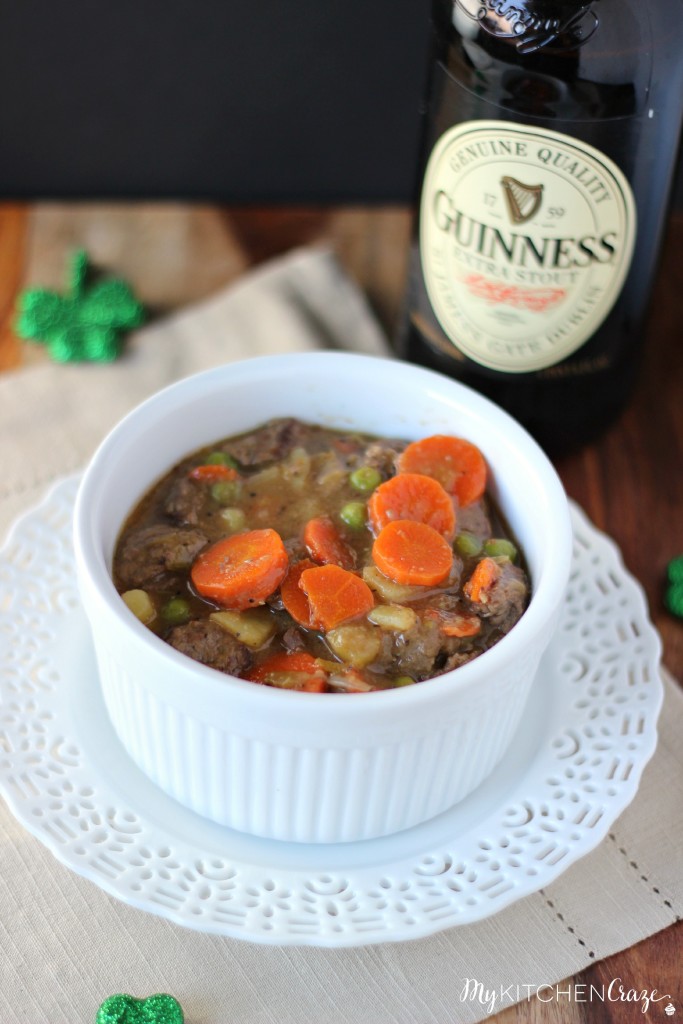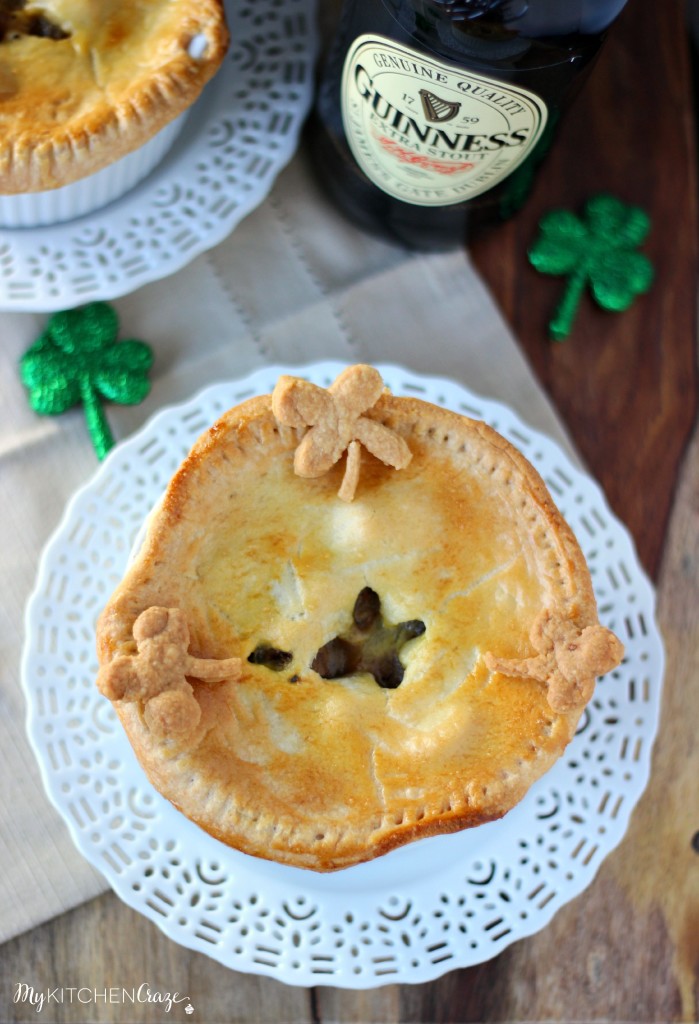 I'm not joking. Do you make dinner, but then realize that you just don't want to eat your own food? Well I'm that way. All the time. I don't know why, but I am. Well this pot pie was different. I'm normally not a beef type of girl, but when I took a bite of this dish, I looked at my son and said, "Oh my gosh, Cameron this is gooood."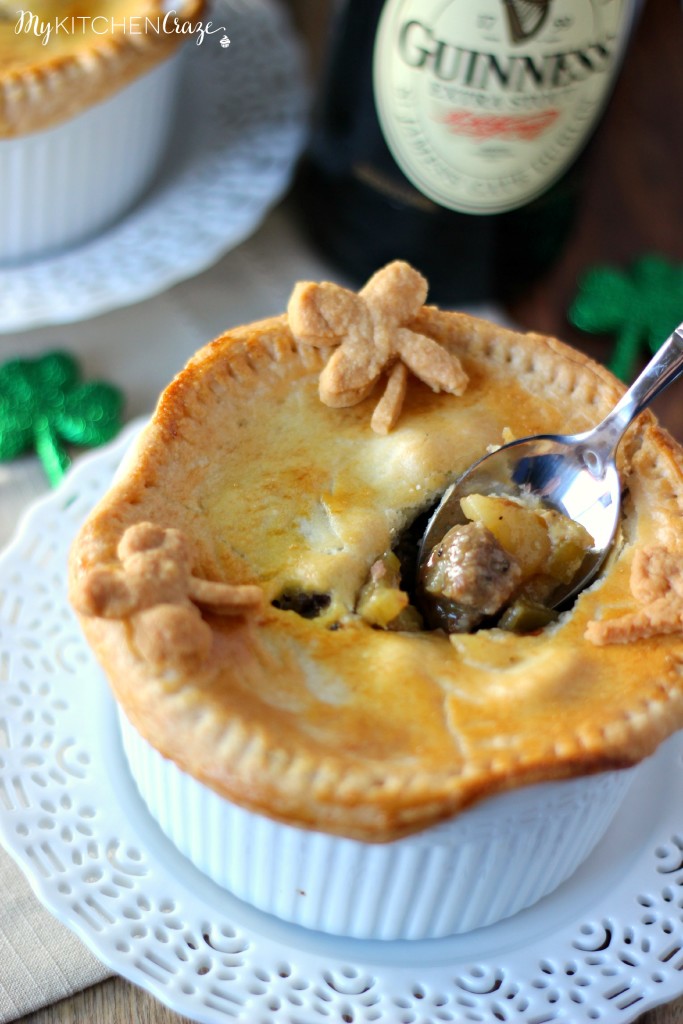 So, I urge you to give this recipe a try. You're going to love it, which means you'll love me too and keep coming back. Hehe. Enjoy and Happy St. Patty's Day.
PS~ Come back Wednesday for another special St. Patrick's Day treat!!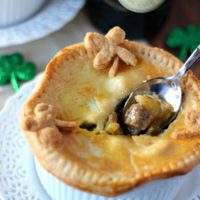 Get the Recipe:
Guinness Beef Pot Pie
Ingredients
1

package store bought pie crust

2 1/4

pounds

beef chuck roast

,

cut into 1 inch pieces

1/4

cup

all-purpose flour

salt and pepper

3

tablespoons

unsalted butter

1/3

cup

Guinness beer

2

cups

water

2

medium leeks

,

white and light green parts only, halved lengthwise and cut into small pieces.

4-5

carrots

,

peeled and cut into 1/2 inch pieces

2 1/2

celery stalks

,

cut into 1/2 inch pieces

2

medium potatoes

,

peeled and cut into small pieces, about 1 1/2 cups

3/4

cup

frozen peas

1

egg

,

beaten for egg wash
Instructions
Preheat oven to 325 degrees F.

In a large bowl, add beef, flour, 1 1/4 teaspoons salt and 1/2 teaspoon pepper. Toss everything together, making sure to coat beef pieces.

In a Dutch oven or large oven proof pot, melt butter over medium high heat. Add the beef and sear all sides, until well browned, about 7 minutes.

Add the Guinness beer and water to the pot. Bring to a simmer, cover and place in the preheated oven for 30 minutes.

Add the leek, carrots, celery, and potatoes to the pot. Cover and return to oven for 1 more hour. Remove from oven and stir in frozen peas. Cover until your ready to assemble the pot pies.

Place 4 -5 (10 to 12 inch) ramekins on a baking sheet.

Roll out 1 of the pre-made pie doughs. Using a rolling pin, roll the dough out a little bit. Place one of the ramekins onto the dough to cut out the tops for the pot pie. I got all four of my ramekins covered with one pie crust. You'll have to roll it into a ball, then roll it out with a rolling pin a few times. Or you could use both pre-made pie crusts if you don't want to worry about rolling.

Increase the oven temperature to 375 degrees F.

Season the meat filling with more salt and pepper if needed. Divide the meat filling between the ramekins. You might have extra meat filing. That's ok. Top each ramekin with the cut out dough. Press the dough around the sides. Take a fork and press down around the top of the rim. This will help the dough stay on properly. If the dough shrinks and goes into the ramekin, that is ok as well. It will taste just as good.

Brush tops with beaten egg. Bake until the crust is crisp and golden brown, about 20-25 minutes, give or take. Let rest 5-10 minutes before serving.

Enjoy!