Chocolate Stout Cupcakes with Irish Cream Buttercream
Since it's St. Patrick's Week at My Kitchen Craze, I wanted to give you an adult cupcake? These Chocolate Stout Cupcakes with Irish Cream Buttercream are calling your name. They're perfect for your upcoming St. Patty's Day party. Hope you enjoy these babies as much as we do!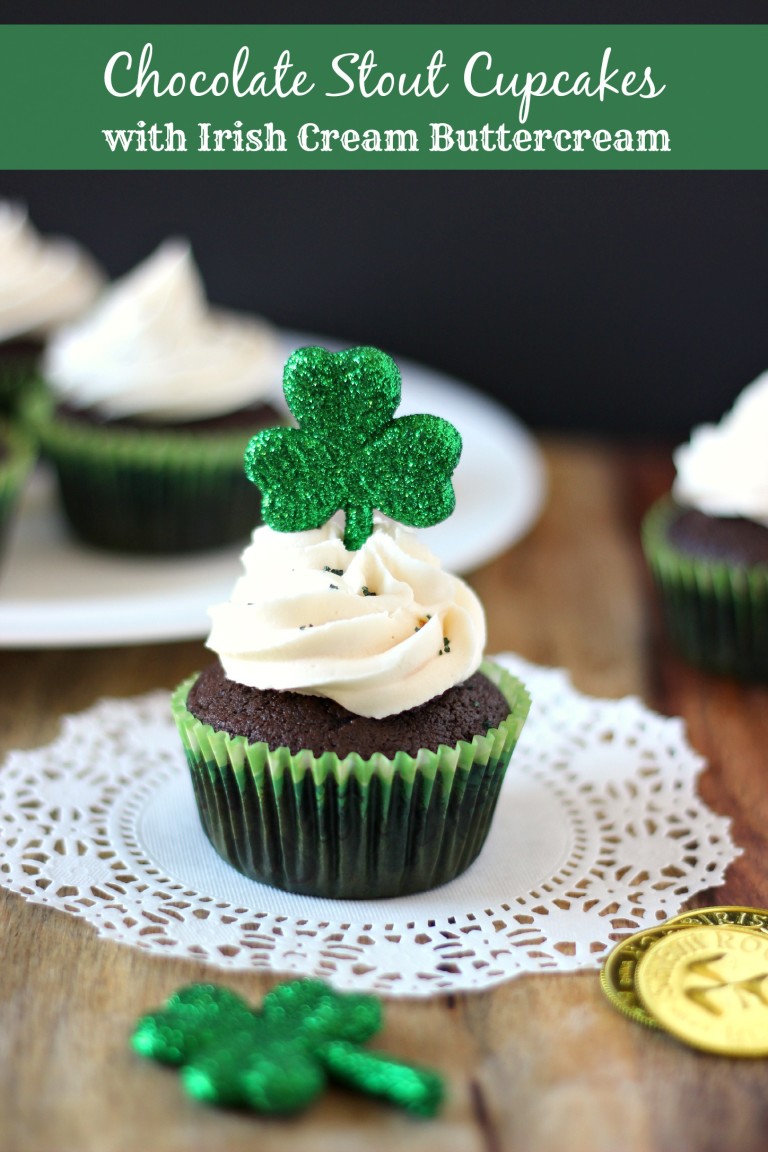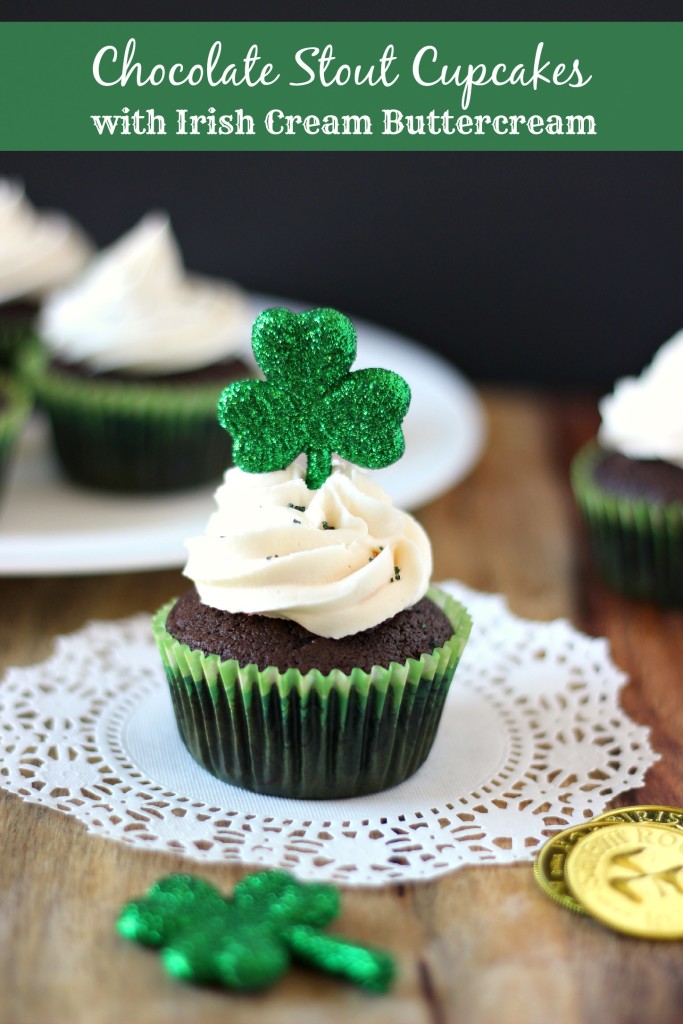 I wanted to make a recipe for you all that would be the perfect St. Patrick's Day treat. Something that was the epitome of St. Patty's Day. When I looked around Pinterest I saw 1,967 recipes for stout cupcakes.
Well great. How was my little ole' site going to stand out against all of those 1,967 recipes?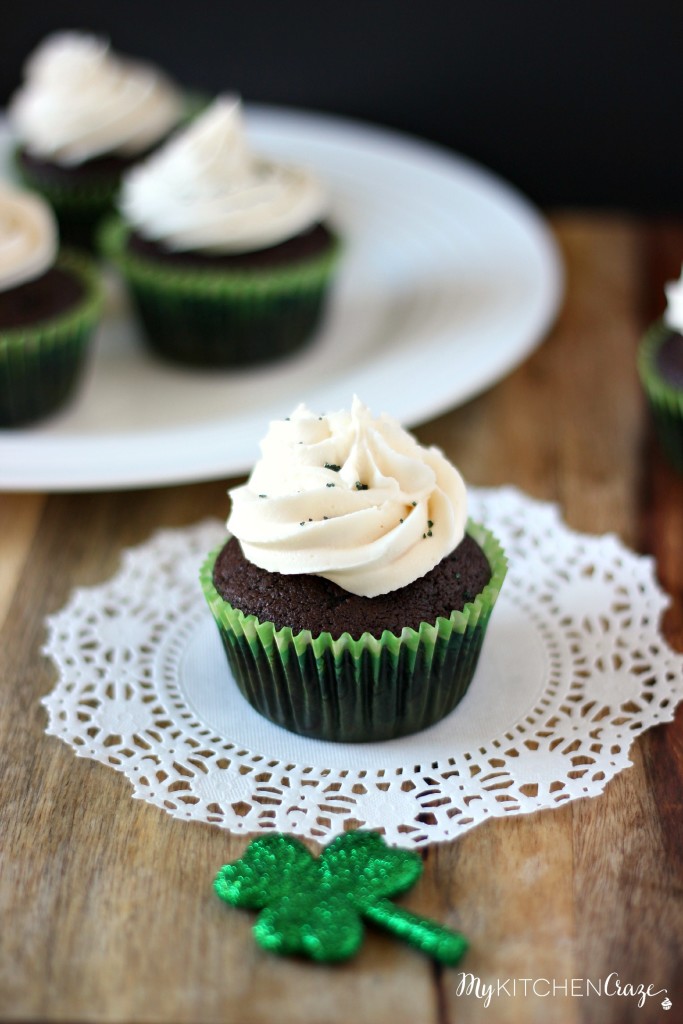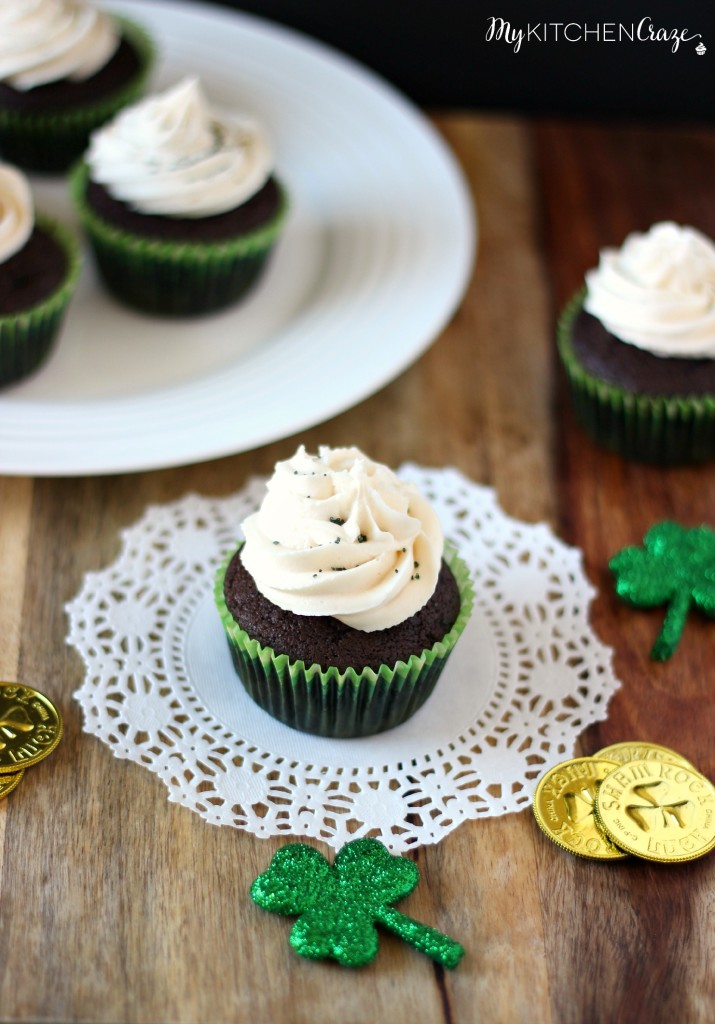 One thing that I noticed was all those recipes used box cake mix. Now I'm all for simple and easy, but there is something about making your own chocolate cake. Then add some Guinness beer to the mix and this gives you a moist and crumbly adult cupcake. 😉
I found a similar recipe to help me out so I could come up with a homemade version. I added some beer and coffee to give it a nice moist flavor, which gave it a great texture. I knew I wanted to use some Irish Cream in the buttercream topping too. Like I said, these cupcakes are for the adults.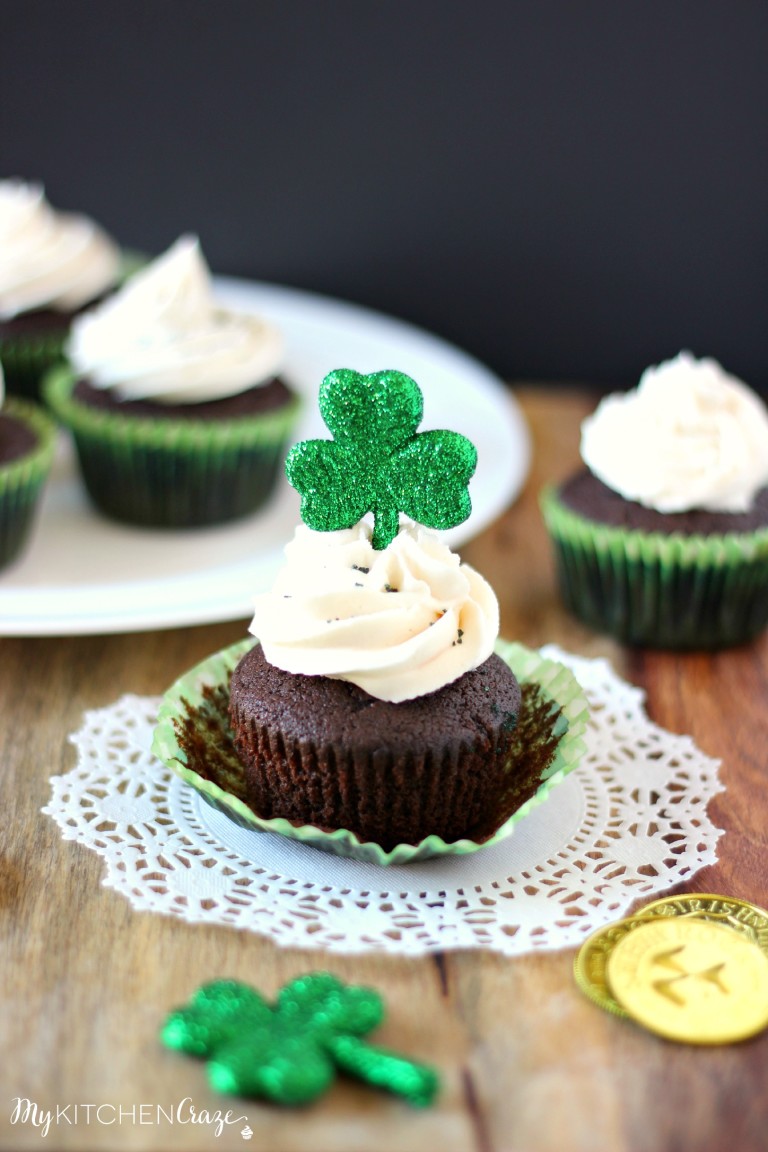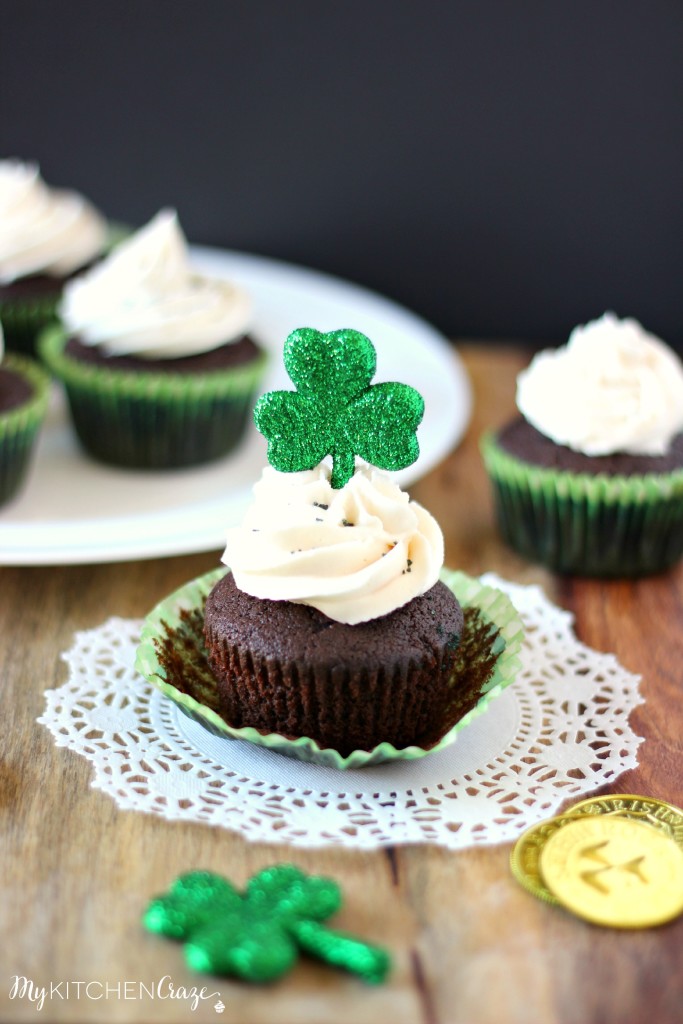 I made a traditional buttercream and instead of adding heavy whipping cream I used some Irish Cream liqueur instead. The results turned out delicious and ah-mazing!! These cupcakes were gobbled up by my hubby's co-workers within minutes. I would say they loved them.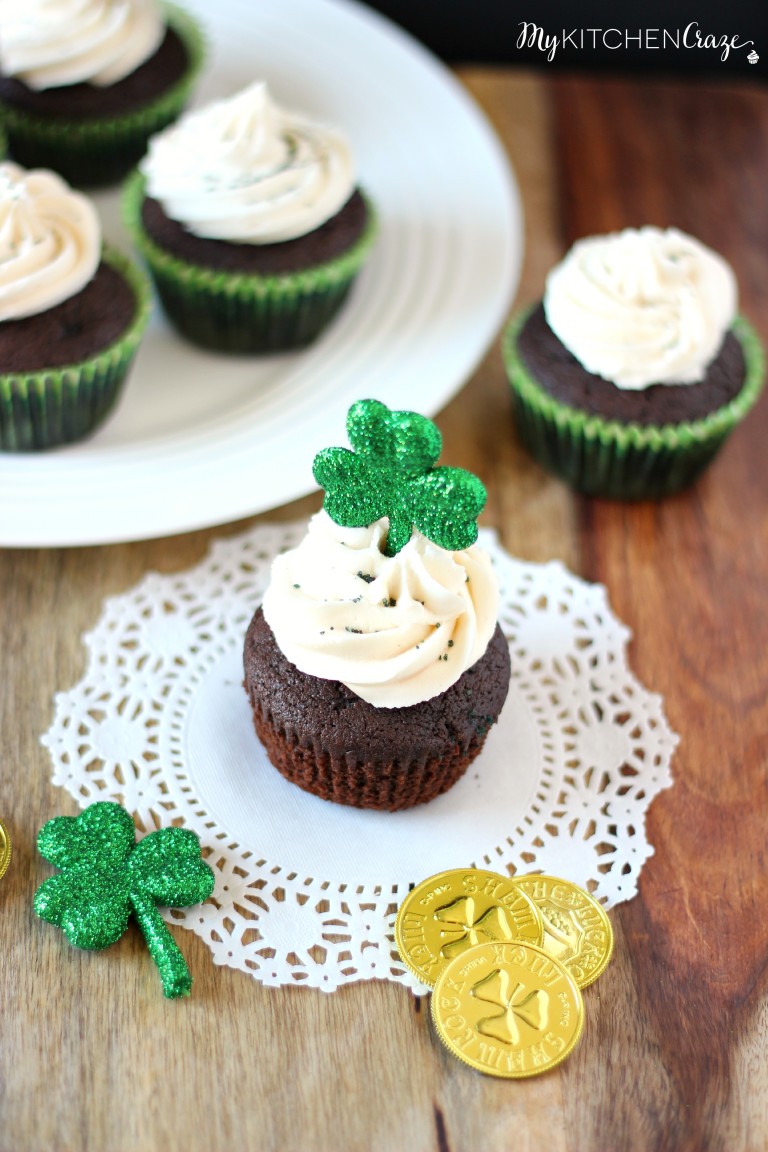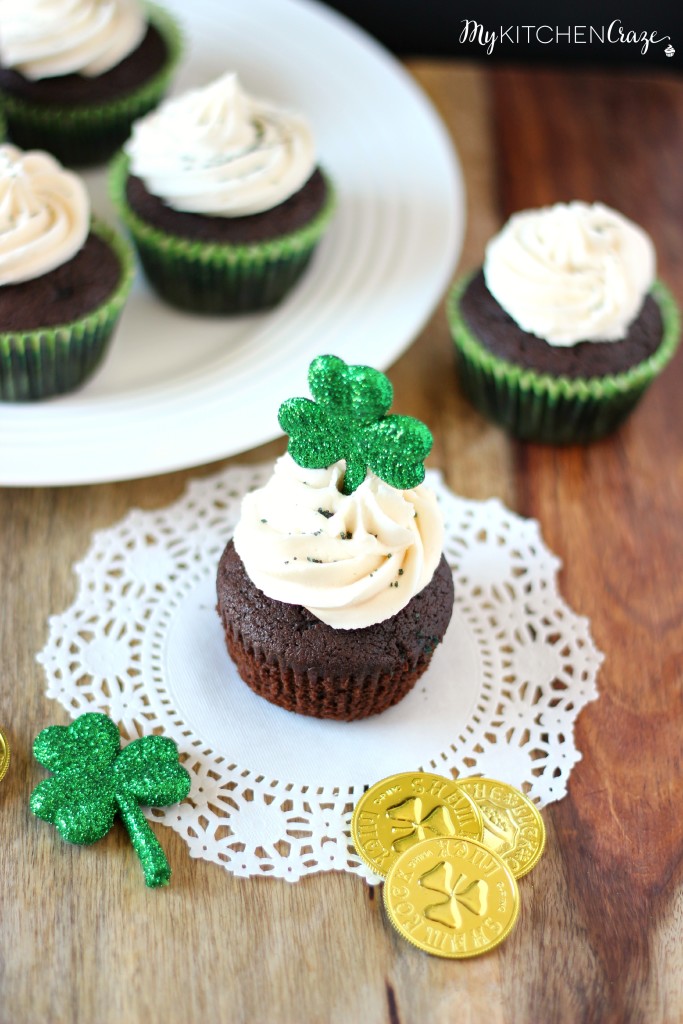 Now if you want to make these kid friendly just don't add the Irish Cream Liqueur to the buttercream. Yes, you still add the beer, but by the time the cupcakes bake, you'll have cooked out the alcohol content. These will still taste delicious with traditional buttercream too.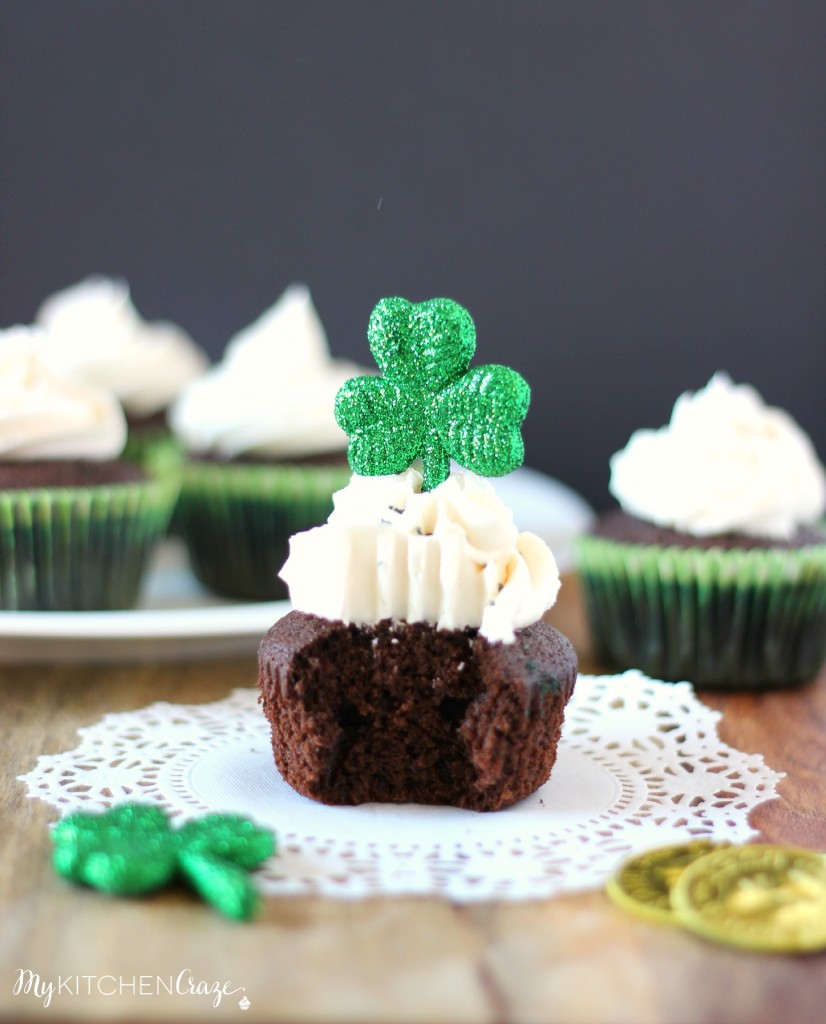 Happy St. Patty's Day and come back friday for some more St. Patty's Day recipes.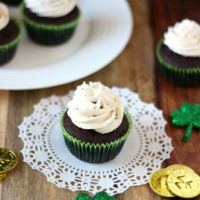 Get the Recipe:
Chocolate Stout Cupcakes with Irish Cream Buttercream
Ingredients
Cupcake:
1 3/4

cups

all-purpose flour

1

cup

unsweetened cocoa flour

1

teaspoon

baking soda

1/4

teaspoon

salt

1 1/4

cups

Guinness beer

1/4

cup

brewed coffee

1/2

teaspoon

vanilla extract

2

sticks

,

1 cup unsalted butter, softened

1

cup

brown sugar

,

packed

1/2

cup

granulated sugar

3

eggs

,

room temperature
Buttercream:
1/2

cup

shortening

1/2

cup

butter

,

softened

3-4

cups

powered sugar

,

I used 4 cups

1

teaspoon

vanilla extract

3-4

tablespoons

Irish cream liqueur
Instructions
Cupcakes: Preheat oven to 350 degrees F. Line two 12 cup muffin tins with paper liners. Set aside.

Whisk together the flour, cocoa powder, baking soda, and salt in a large bowl. Set aside.

In a 2 cup measuring glass or small bowl, add the beer, coffee and vanilla extract.

Beat butter and both sugars in a stand mixer with the paddle attachment, until light and fluffy, about 1 minute. Add the eggs, one at a time. Making sure all eggs are fully incorporated.

With the mixer on low speed, add the flour mixture and beer mixture, alternating each mixture. Make sure to start with the flour mixture and end with the flour mixture.

Ladle the bottom and sides of the mixing bowl. You'll want to stir in any excess flour. Mix for another minute or so.

Scoop batter into paper muffin liners, filing each 3/4 full.

Bake 18-22 minutes, or until toothpick inserted in the center comes out clean. Transfer to a wire rack and let cool completely before frosting.

Buttercream: In a stand mixer, beat shortening and butter on low until smooth. Gradually add the powdered sugar, 1 cup at a time, mixing until well combined.

Add vanilla extract and 2 tablespoons of the irish cream, mix until well blended. If you need to add more to thin it out add 1 tablespoon at a time. If the buttercream is to thin, add some powdered sugar to thicken it up slightly.

Beat together the frosting until it becomes light and fluffy.

Forst cupcakes and serve!