Easy Buttermilk Cornbread
Want to make an delicious buttermilk cornbread? Then, look no further. There is a great recipe below. 
Be sure to follow me on Facebook, Instagram & Pinterest to stay up to date on all of my recipes!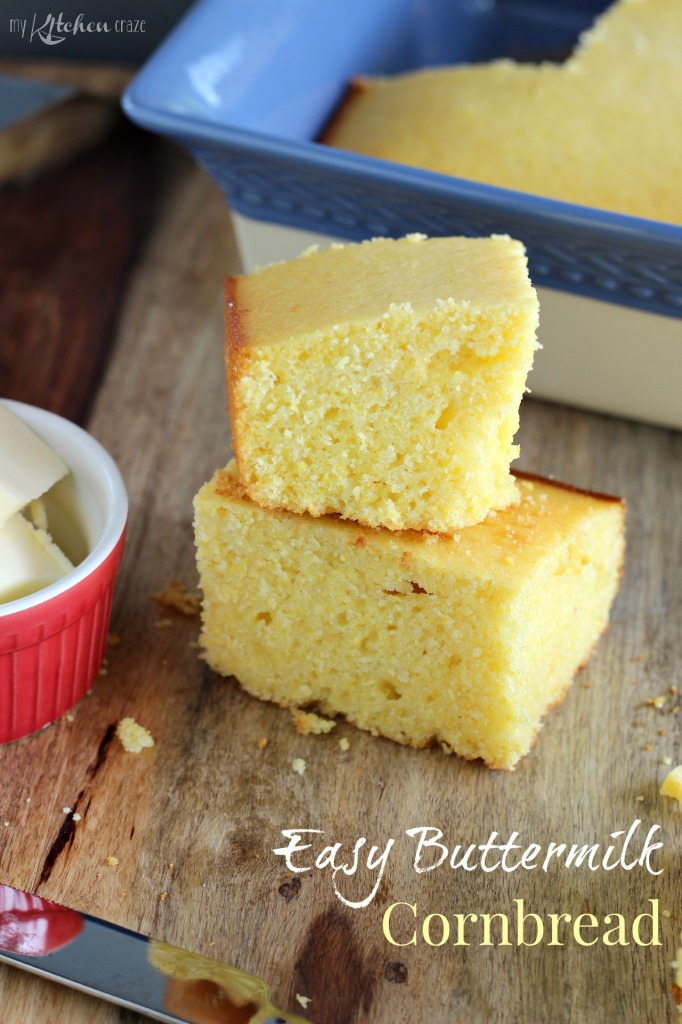 Winter is finally coming to Southern California, I think. The nights have finally been cool enough that I can wear a sweater. YAY! I know my brother is going to kill me when he reads this. He lives in Colorado, where it's been snowing and 5 degrees. Am I crazy to wish for snow where we live sometimes? We will of course never get snow but, since I'm starting to feel the cooler weather, I'm getting my slow cooker out and making some soups. My hubby is a meat, potatoes and starch kinda of guy, so when I make soups, I need to have some sort of bread to go with it. I was making chili one day and thought I should go to the store and buy some cornbread mix. My hubby asked, "Cyndi, why don't you make some homemade cornbread?" I thought to myself, "what a great idea." Why didn't I think of that?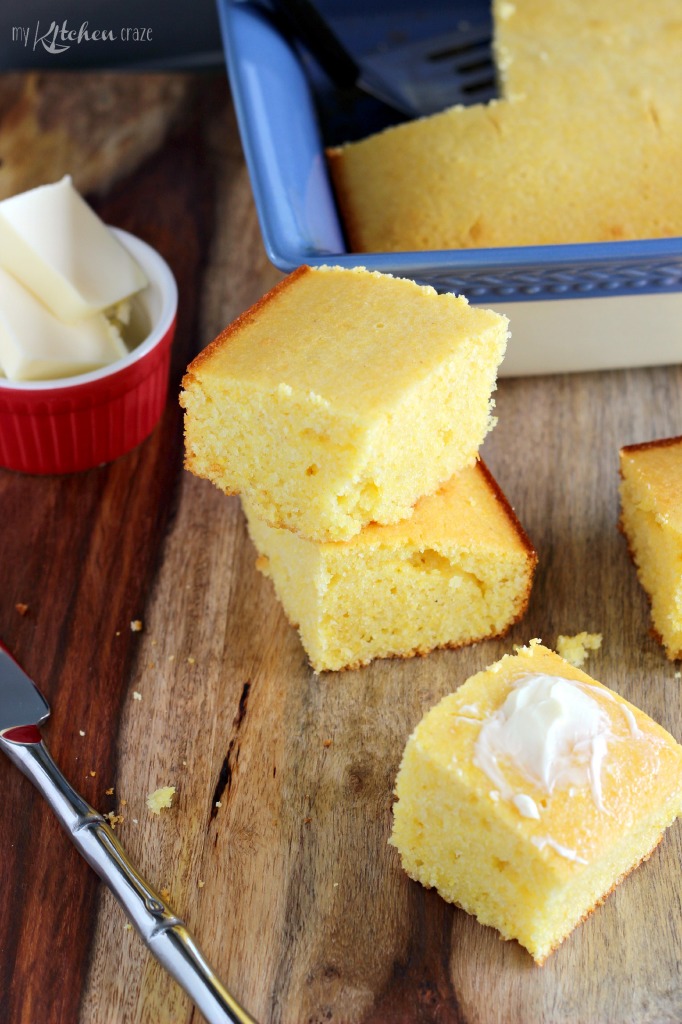 The problem I ran into was all of the cornbread recipes were cast iron skillet kinds. And since I don't own a cast iron skillet,  (why don't I own one?) I knew I couldn't make those. Well bummer. What do I do now? So I kept searching and searching for something. I didn't realize that I would find not only the easiest recipe ever, but the moist, delicious tasting cornbread ever. Beside this cornbread baking for 30-40 minutes, it literally takes minutes to throw together. You can have homemade delicious tasting cornbread on your table within an hour.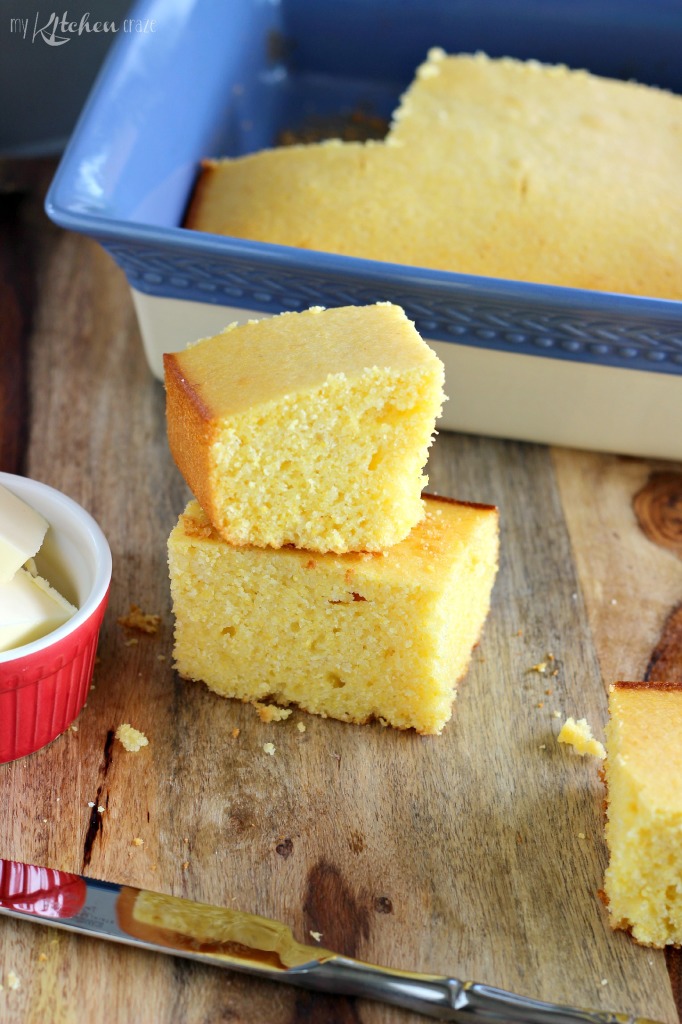 If you need a side dish for some soup or maybe you're craving some good ole' cornbread with honey and butter, then you need to make this. It is literally the easiest and most delicious cornbread I have ever made. And guess what? There are no preservatives or any of that junk that come in those boxed ones. Give it a try! I hope you love it just as much as we do. Happy Friday and weekend! 🙂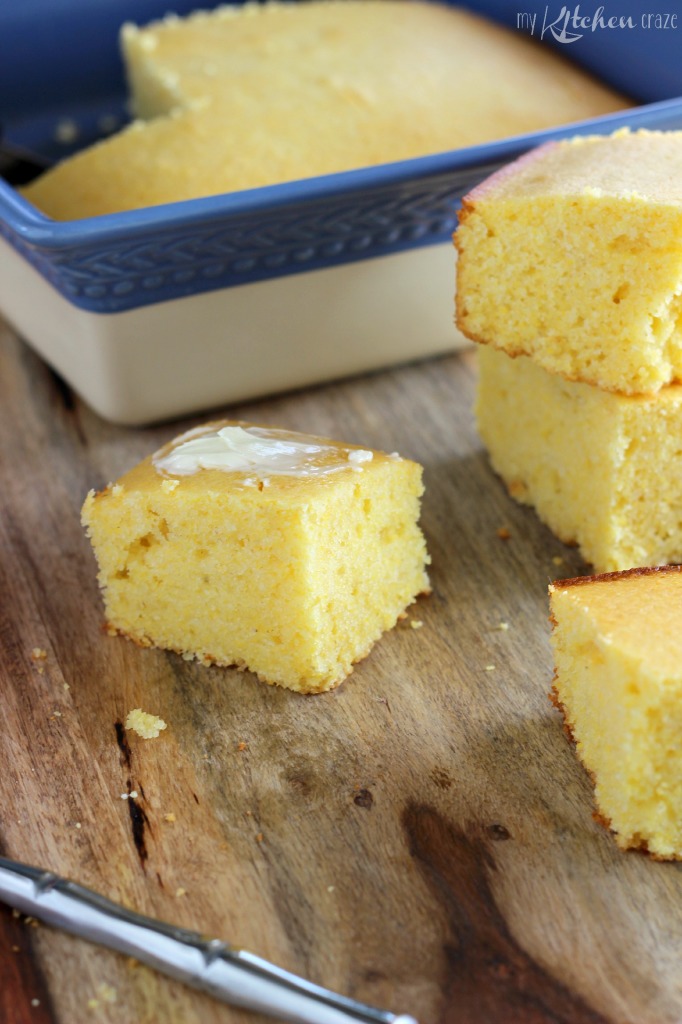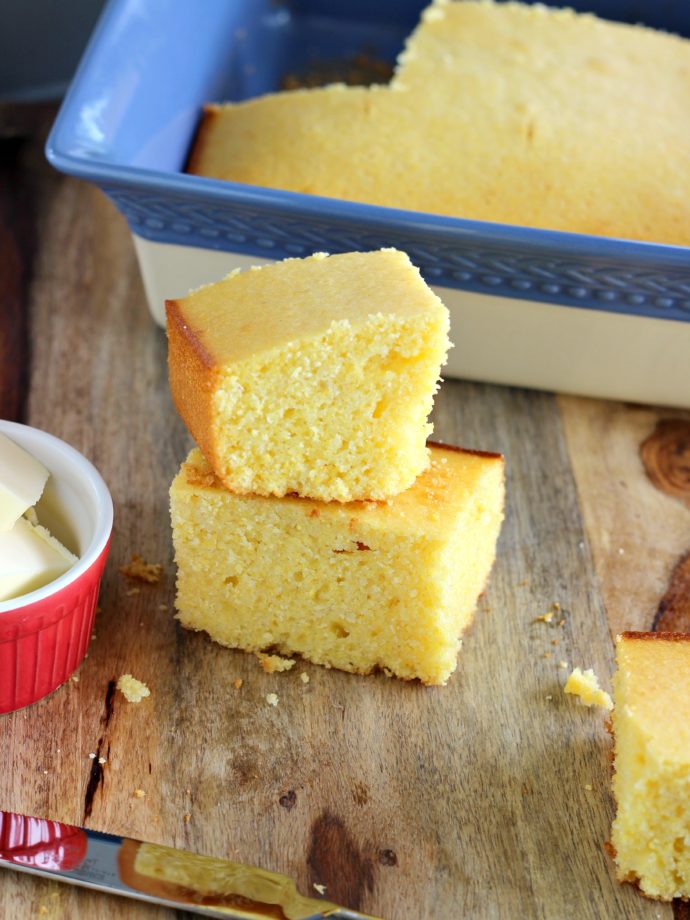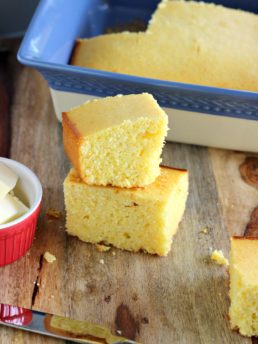 Get the Recipe:
Easy Buttermilk Cornbread
Ingredients
1/2

cup

butter

,

1 stick

2/3

cups

sugar

2

eggs

1

cup

buttermilk

1/2

teaspoon

baking soda

1

cup

all-purpose flour

1

cup

cornmeal

1/2

teaspoon

salt
Instructions
Preheat oven to 375 degrees F. Spray cooking spray in a 8x8 square baking dish.

In a medium size pan, melt butter over medium-high heat. Once melted, remove from heat and stir in sugar with a whisk.

Quickly add eggs and whisk until blended.

In a glass measuring cup (or bowl), add buttermilk and baking soda; whisk to combine.

Add buttermilk to pan and whisk together. Add all-purpose flour, cornmeal and salt to the pan. Whisk all ingredients together until few lumps remain.

Pour batter into the prepared baking dish.

Bake for 30-40 minutes, or until a toothpick inserted in the center comes out clean.

Enjoy!