Traditional Stuffing
If you haven't made stuffing from scratch then you are really missing out! This is recipe is delicious!!
Be sure to follow me on Facebook, Instagram & Pinterest to stay up to date on all of my recipes!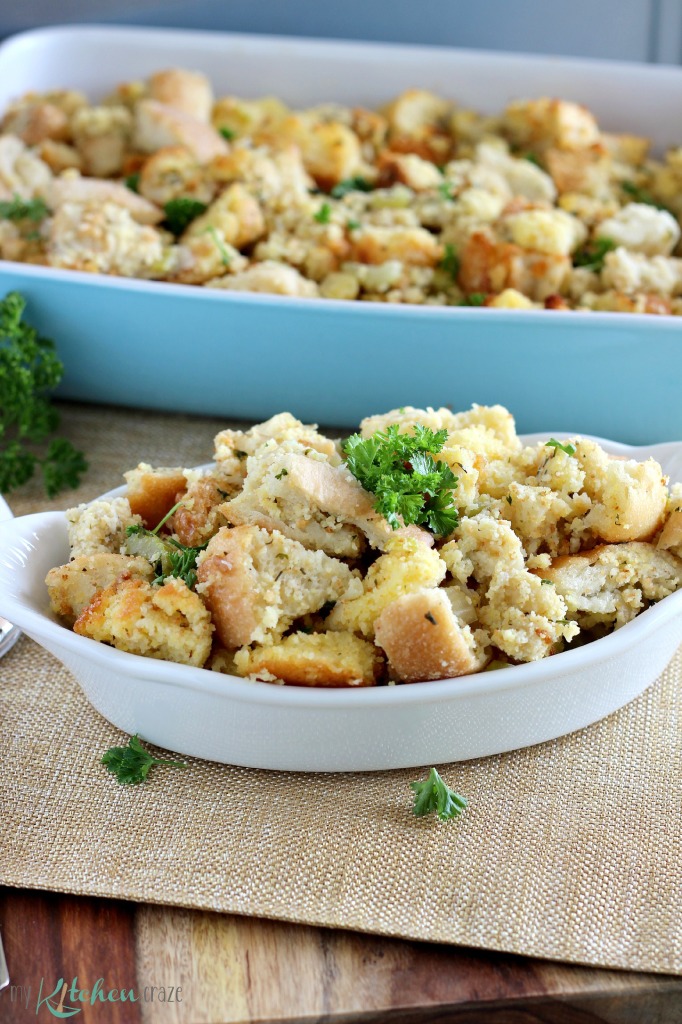 As Thanksgiving is fast approaching, I am trying to get all of my ducks in a row. Grocery lists, shopping, and house cleaning…there is so much to do, but such little time. I know that you are probably saying to you self, "You have a week and a half". But I just feel like I blink and it's Thanksgiving. So, I need to make sure that I am organized and prepared. I am rarely ever organized and really prepared. There is always something that I forgot to do, or something I forgot to buy. Ugh, the list really does just keep going and going.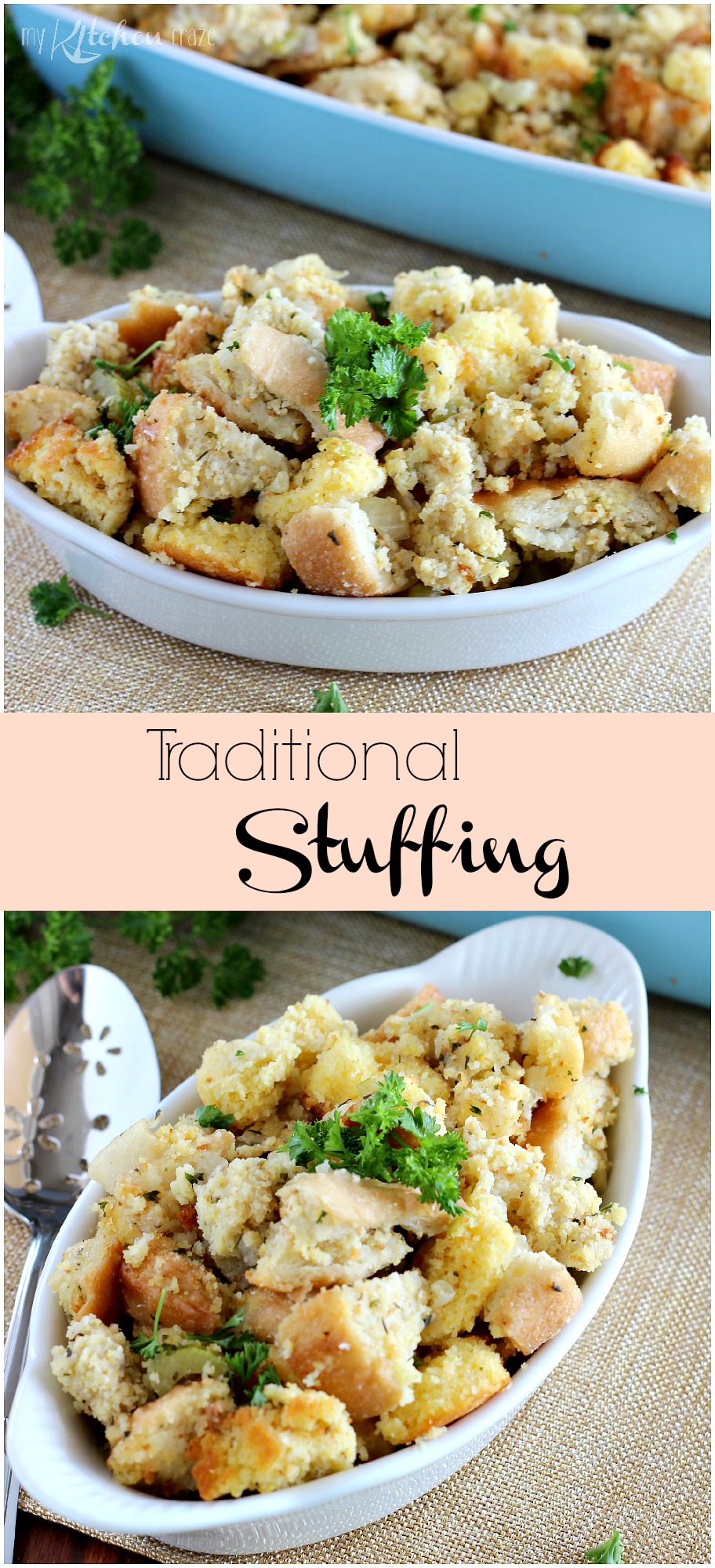 Well this girl right here is trying to get organized. Oh yea! Look at me. Hehe. I am planning what I want to cook in advance so Thanksgiving day I am not stuck in the kitchen all day. See, now you all know why my blog is called My Kitchen Craze. Cause this girl is crazy in the kitchen, but not this year. No I am vowing to be on top it of.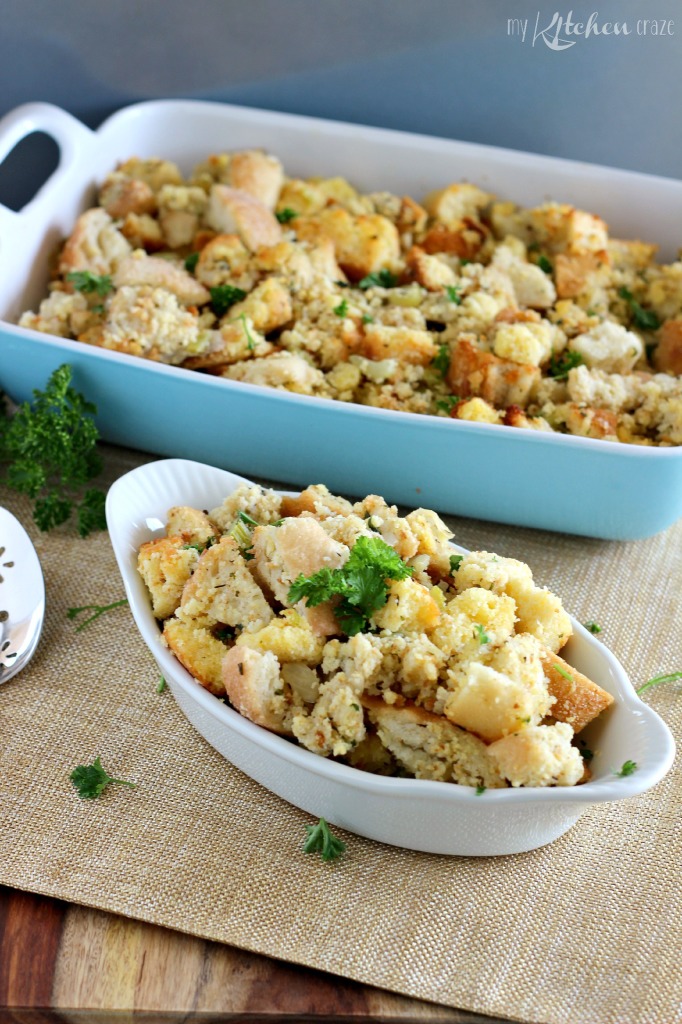 So let's talk stuffing guys. Have you ever made your own stuffing? It is seriously the best ever. There is no comparison with the box stuff! Stuffing was one of those things that I would buy the box stuff, add some onions and celery and call it a day. Well that boxed stuffing has nothing on this homemade stuffing. It is honestly the best stuffing I have ever had. It tastes so good, that I could eat it all day, every day. What's nice about making it yourself, is you can make it as dry as you like, or you can make it as moist as you like. It's so versatile that you can add a little bit here or take away a little bit there. It's your stuffing, so make it as you would like.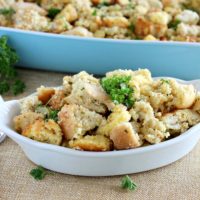 Get the Recipe:
Traditional Stuffing
Ingredients
1/2

the pan of a 8x8 dish cornbread

,

I use this [url href="https://mykitchencraze.com/2014/11/14/cornbread/" target="_blank" title="Easy Buttermilk Cornbread"]cornbread recipe[/url]

1

loaf french bread

1

stick butter

1

medium onion

,

diced

4

celery ribs

,

chopped (approx. 2 cups)

4

cups

low sodium chicken broth

,

have a little extra on hand in case

1/2

teaspoon

dried basil

1/2

teaspoon

dried thyme

3

teaspoons

fresh rosemary

,

chopped

1/4

cup

fresh parsley

,

chopped

Salt to taste
Instructions
Day Before: Chop the cornbread and french loaf into small pieces. No more than 1 inch big. You can have some 1 inch pieces and then some smaller 1/2 inch pieces. Spread the cornbread and french loaf bread on two baking sheets. Lay some paper towels over them and let them dry for 24 hours.

Day of: Pre-heat oven to 350 degrees F. You will need a 9x13 baking dishes for this stuffing.

In a large skillet, melt butter over medium heat. Once the butter is melted, add the onions and celery. Cook for 5 mins; until the onions become translucent

Add in 4 cups of chicken broth and bring to a boil. Add in basil, thyme, rosemary and parsley. Stir to combine.

In an extra large mixing bowl (if you don't have one, do this in batches if needed), place dried cornbread and french loaf and mix them up a little. Ladle in the liquid mixture little at a time. Mix the bread while ladling in the liquid. (This is the time were you might decide that you have enough liquid or you might want to add a little more chicken stock. I sometimes add another 1/2 cup. But not always.)

Once you have added all the liquid give the stuffing another good mix.

Pour stuffing into the baking dishes and place in the oven.

Bake for 20-30 minutes, rotating dishes halfway through, until golden brown.

Serve and Enjoy your Thanksgiving!