Chocolate Chip Hazelnut Skillet Cookie
Chocolate Chip Hazelnut Skillet Cookie is a delicious and easy way to enjoy a giant cookie with some ice cream. This skillet cookie is by far the best cookie I've ever made. Trust me and give it a try!!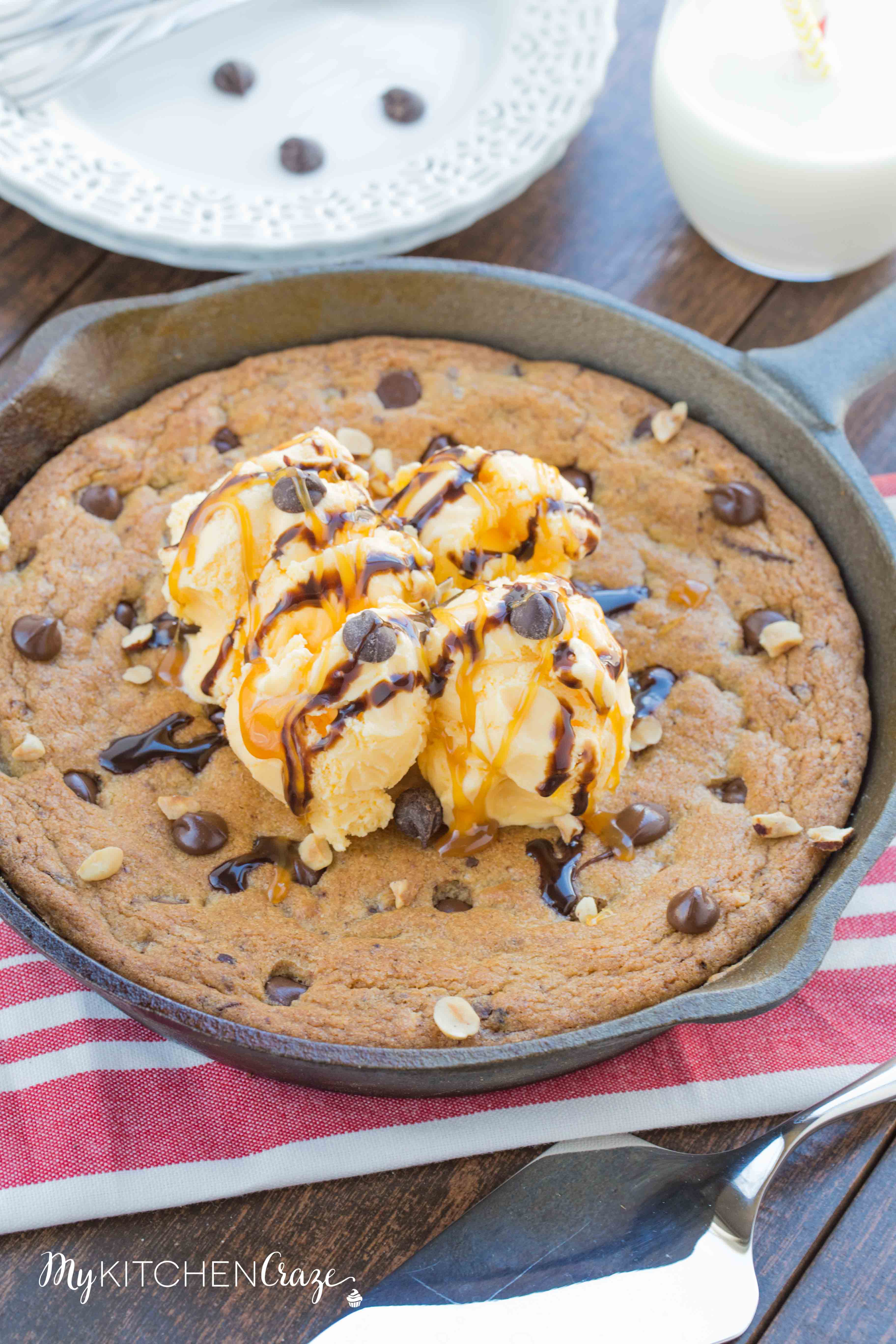 I think I've died and gone to cookie heaven. Okay not literally, but this skillet has got to be the best darn cookie I've ever eaten. Seriously. No joke.
I made this cookie skillet on a whim and it turned out to be the best recipe ever. I know there are a ton of cookie skillet recipes out there, but what makes this one so good are the hazelnuts.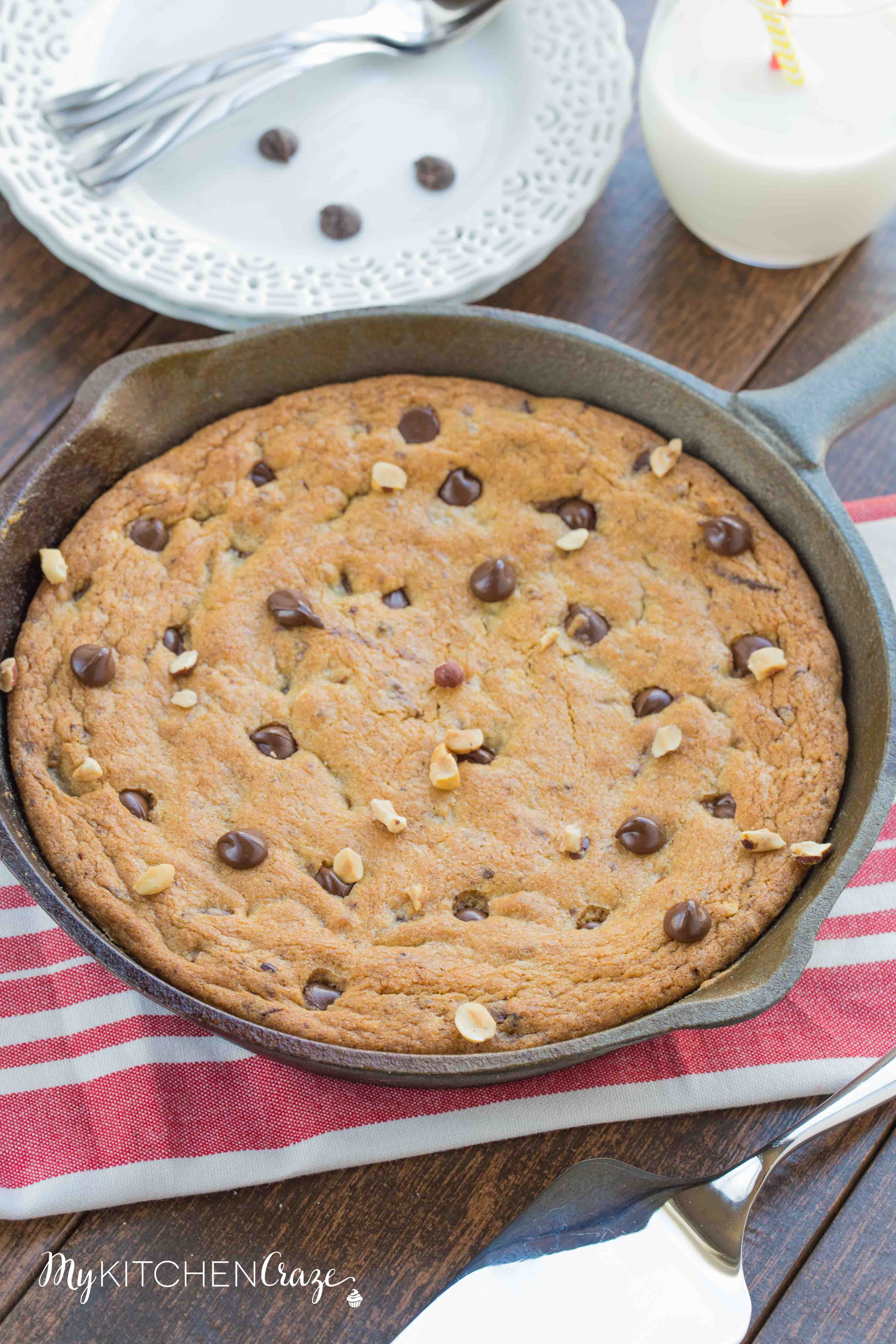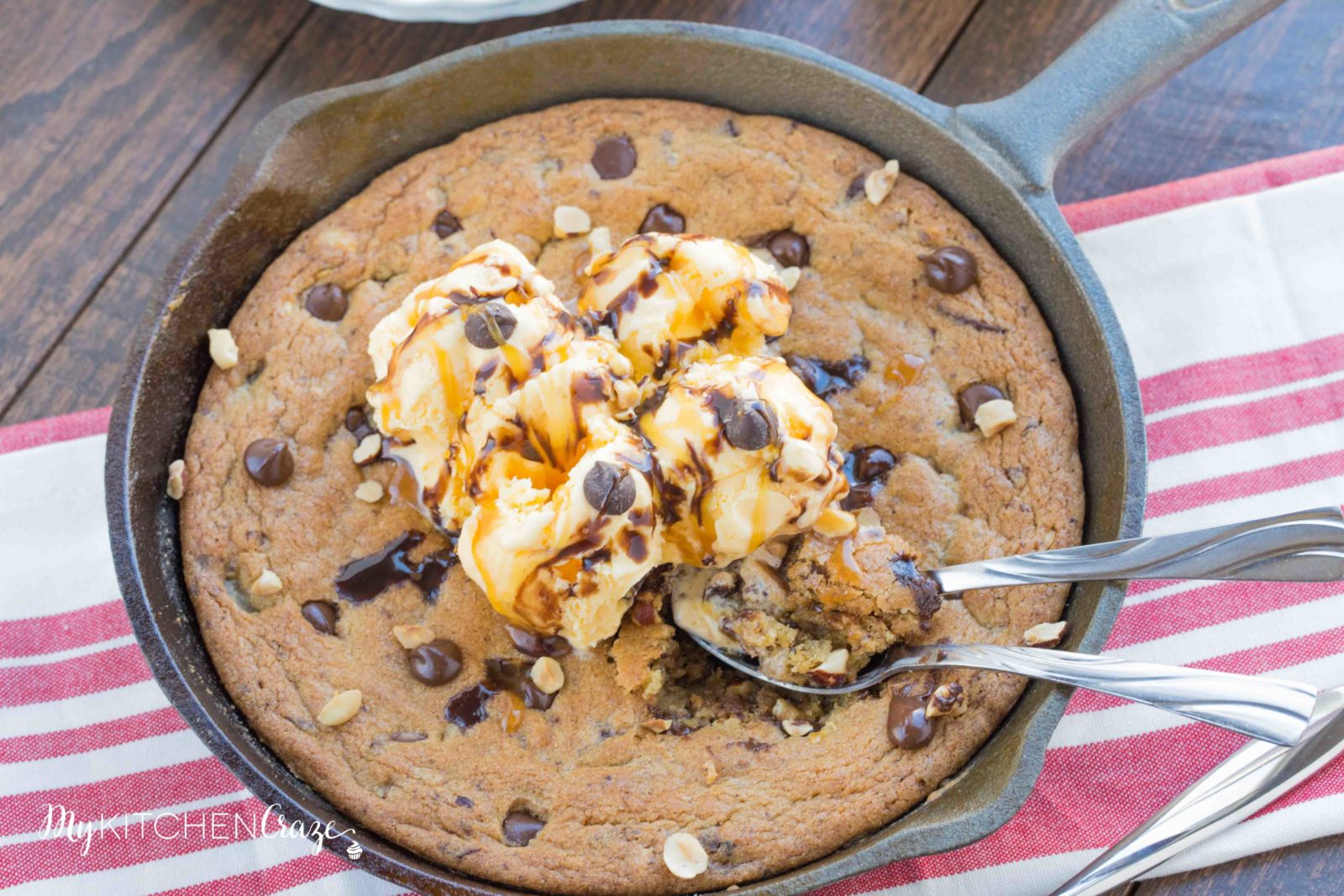 I remember when I was younger hazelnuts were hard to find. You had to go to a specialty store that you knew would sell them. Fast forward a ton of years and now they're readily available at the grocery store. I love it. I can now get chopped hazelnuts anywhere and ever where. I really love the flavor the hazelnuts give this skillet.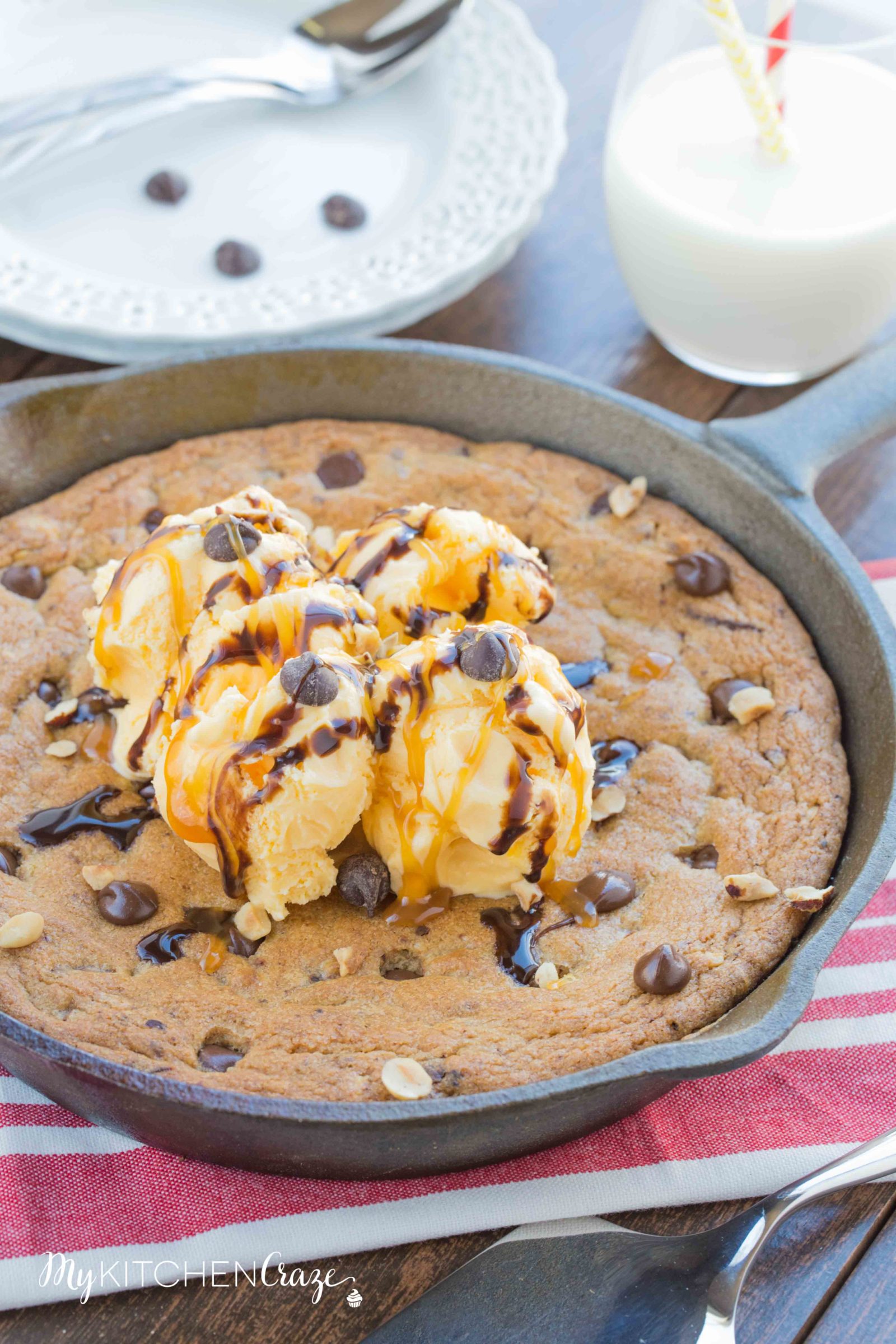 Added with the chocolate chips and of course ice cream, this is one delicious must make recipe. What spurred me to make this recipe was Sean and I were out to eat at BJ's Pizzeria a few weeks ago and we of course had to eat one of their pizookie's because duh who doesn't. While we were eating it, Sean said, "Cyndi you could totally make this".
That got me thinking and before you know it I created this delicious Chocolate Chip Hazelnut Skillet. I've tried numerous recipes and this is the one I finally ended up with. It's easy to whip up on a busy night or make it for your family and friends. Either way this skillet will be a hit.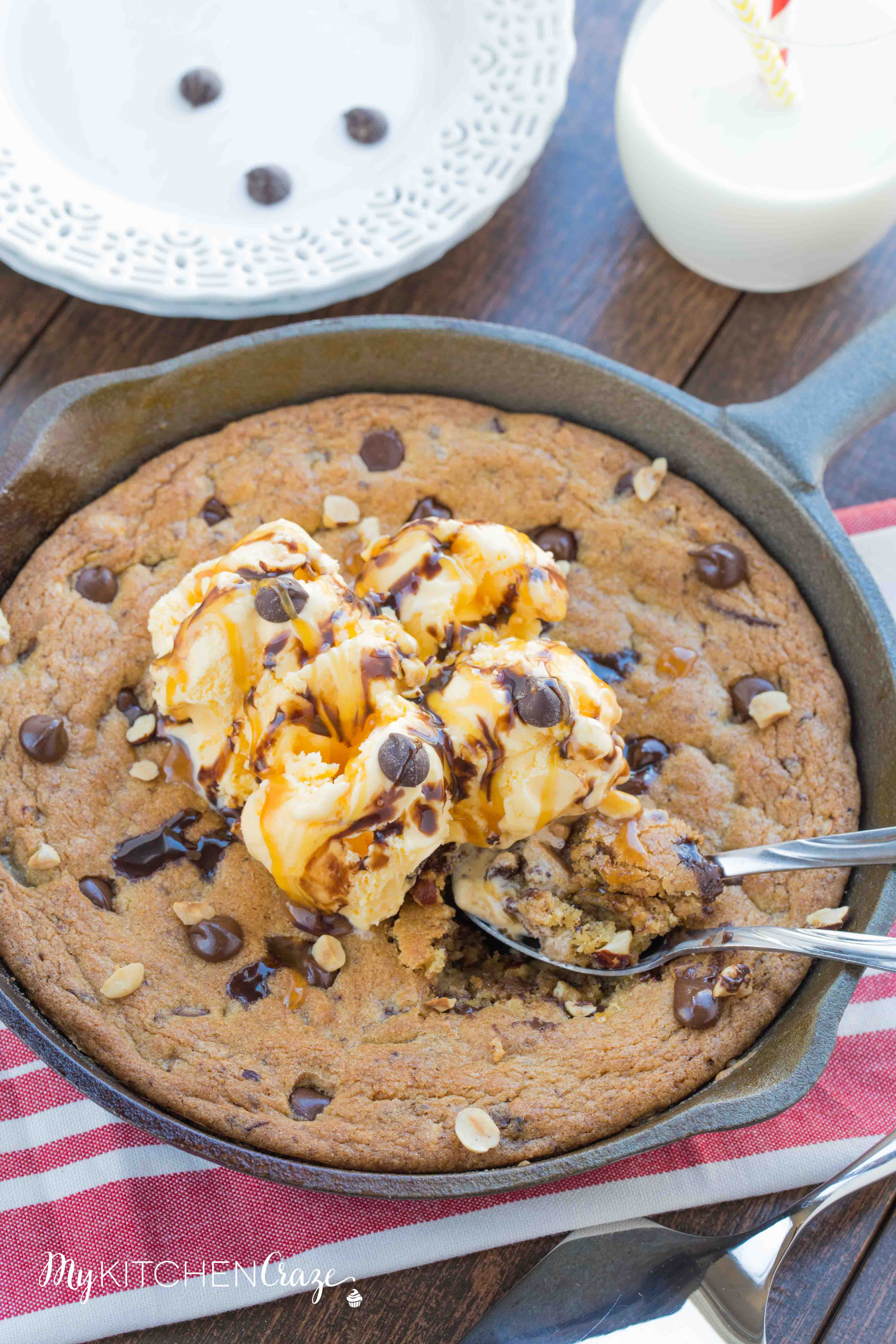 PS – you could also divide the dough into small ramekins and make individual portions. It's a fun way to have dessert with the kids and the adults will love it too. Enjoy!
THIS POST FIRST APPEARED OVER AT WEARY CHEF WHERE I'M A CONTRIBUTOR! HEAD OVER TO SEE WHAT ANDI'S COOKIN UP!
Servings: 6 -8
Chocolate Chip Hazelnut Skillet Cookie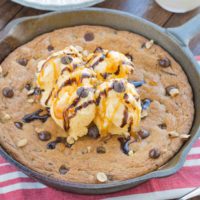 Print
Ingredients
1 stick unsalted butter, softened
½ cup brown sugar
¼ cup sugar
1 egg
1 teaspoon vanilla extract
1 cup all-purpose flour
½ teaspoon salt
1 teaspoon baking powder
1 teaspoon coffee granules
½ cup hazelnuts, chopped
½ cup chocolate chips
Toppings:
Vanilla ice cream
Chocolate sauce
Caramel sauce
Chocolate chips
Chopped hazelnuts
Instructions
Preheat oven to 375 degrees F. Spray a 10 inch cast iron skillet with non-stick cooking; set aside.

In a large bowl, add butter, brown sugar and sugar. Stir until combined.

Add egg and vanilla, stir until just incorporated.

Add flour, salt, baking powder and coffee granules to a bowl and whisk together.

Slowly add the dry ingredients into the wet ingredients and stir until just incorporated.

Stir in hazelnuts and chocolate chips.

Transfer cookie dough to prepared skillet. Spread into an even layer.

Bake for 25-30 minutes, or until a toothpick interested comes out clean.

Allow to cool for 10 minutes, then cut into pieces and add toppings.