Cherry Walnut Fluff Salad
Cherry Walnut Fluff Salad is my favorite type of salad and great for all occasions. Perfect for potlucks and BBQ's. Your guests will keep coming back for seconds and thirds. Delicious!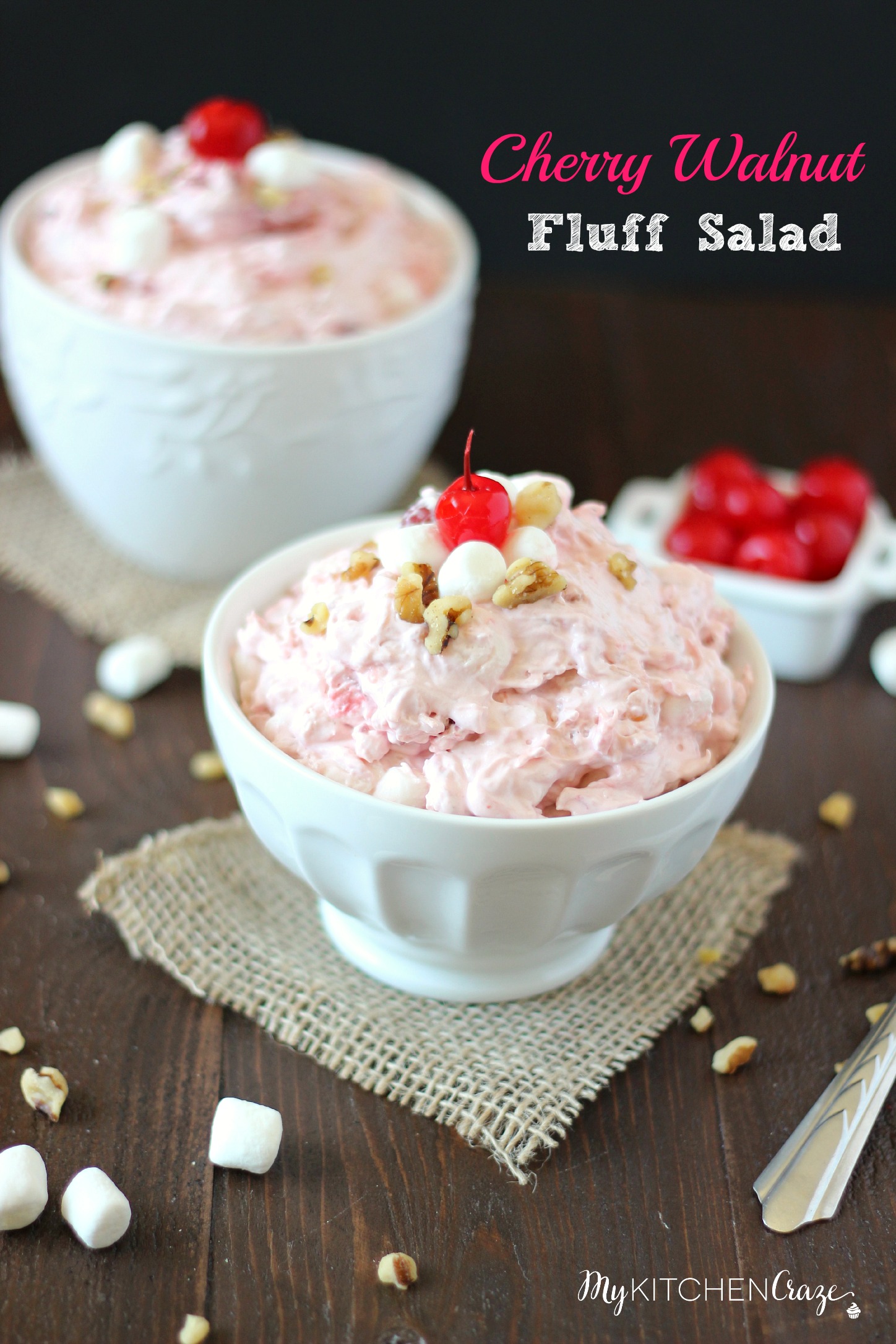 When I think of fluff salad, I think of my grandma and aunts. I have those really cool aunts and grandma that make all kinds of things. Things like jean blankets, quilts, porcelain dolls and anything in between. My aunts and grandma were always working on something new when we went over for the holidays.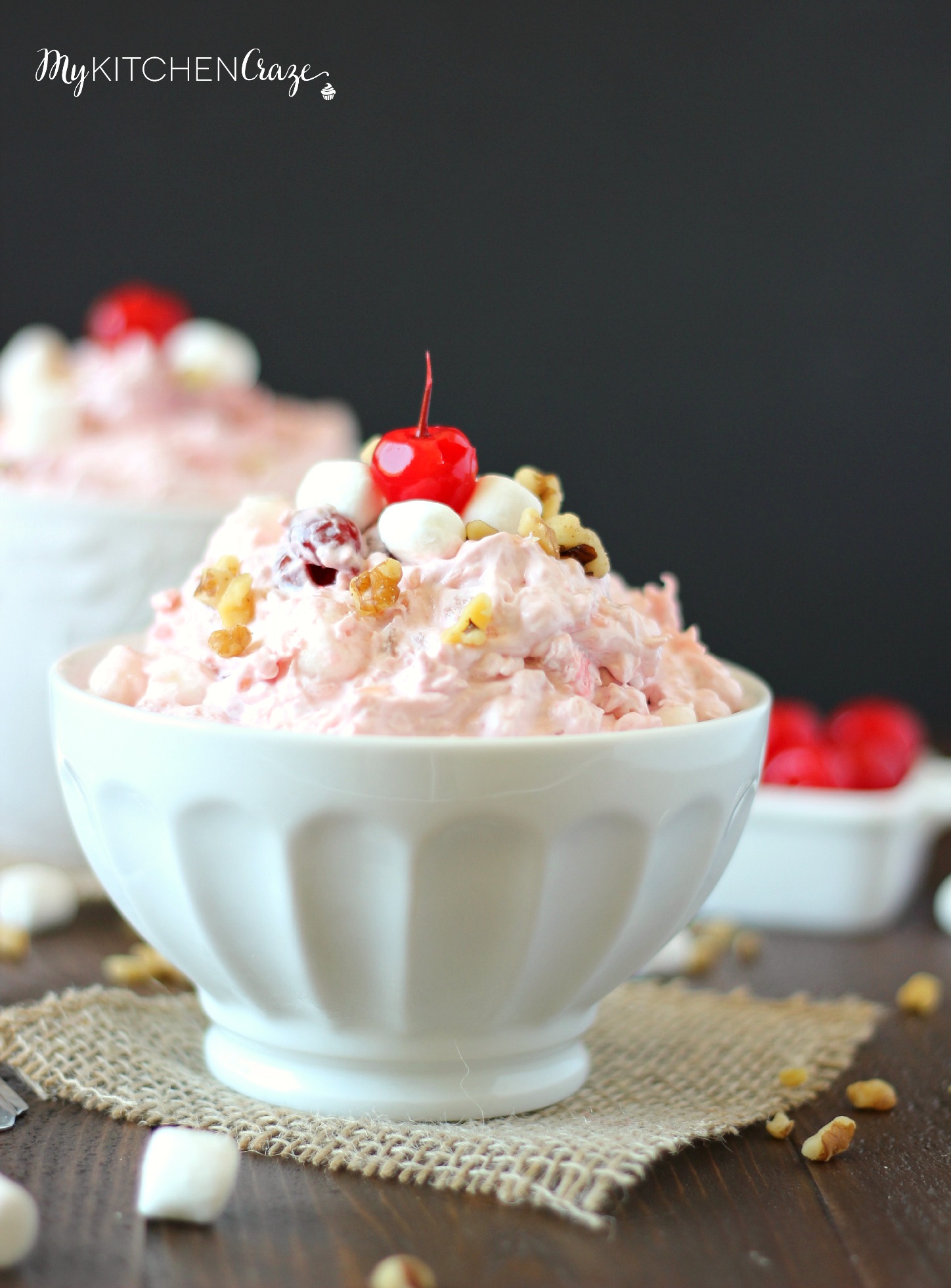 I also remember eating fluff salad. Fluff salad is one of those salads thats been around for years at our house. We always have fluff salad at thanksgiving and christmas get togethers. I remember always eating it, wondering what the heck it was and who brought it. Being a kid I didn't care what it was or who brought it. As long as I could eat it, I was a happy girl.
I remember thinking and wondering if fluff salad was suppose to be a dessert or a side dish. My grandma would always set it on the table with the food, so I never really knew. Regardless I always ate it and loved it.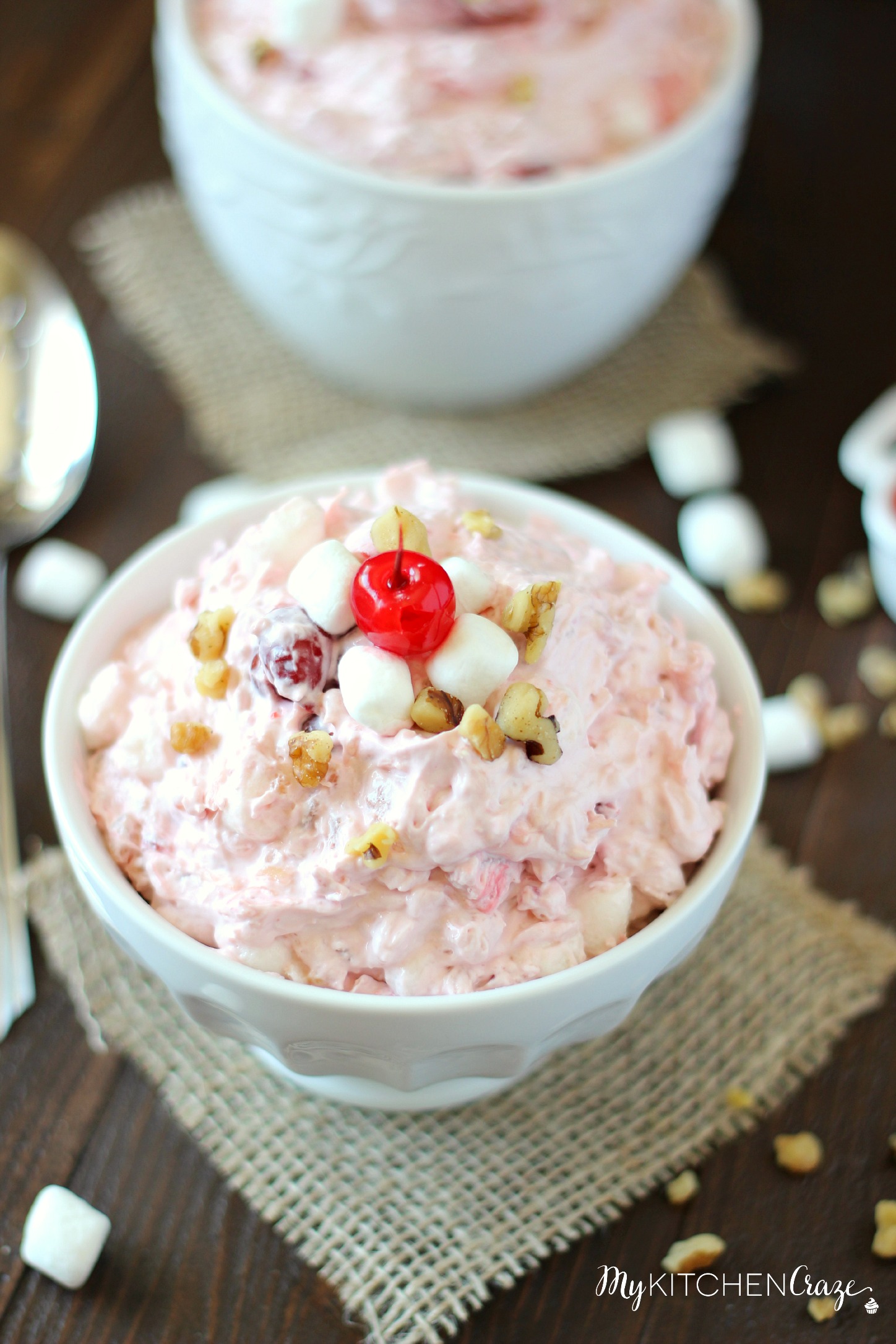 My grandma is no longer with us anymore, so my Aunt Marlys took over bringing the fluff salad. Me being the food blogger and all, I needed to get this recipe and share it with you all. So, the last time I saw my Aunt I asked her to give me the recipe. She was sweet. Her response was, "Oh I don't know it Cyndi. I just add a little bit of this and a little bit of that, but I'll try to email you the recipe."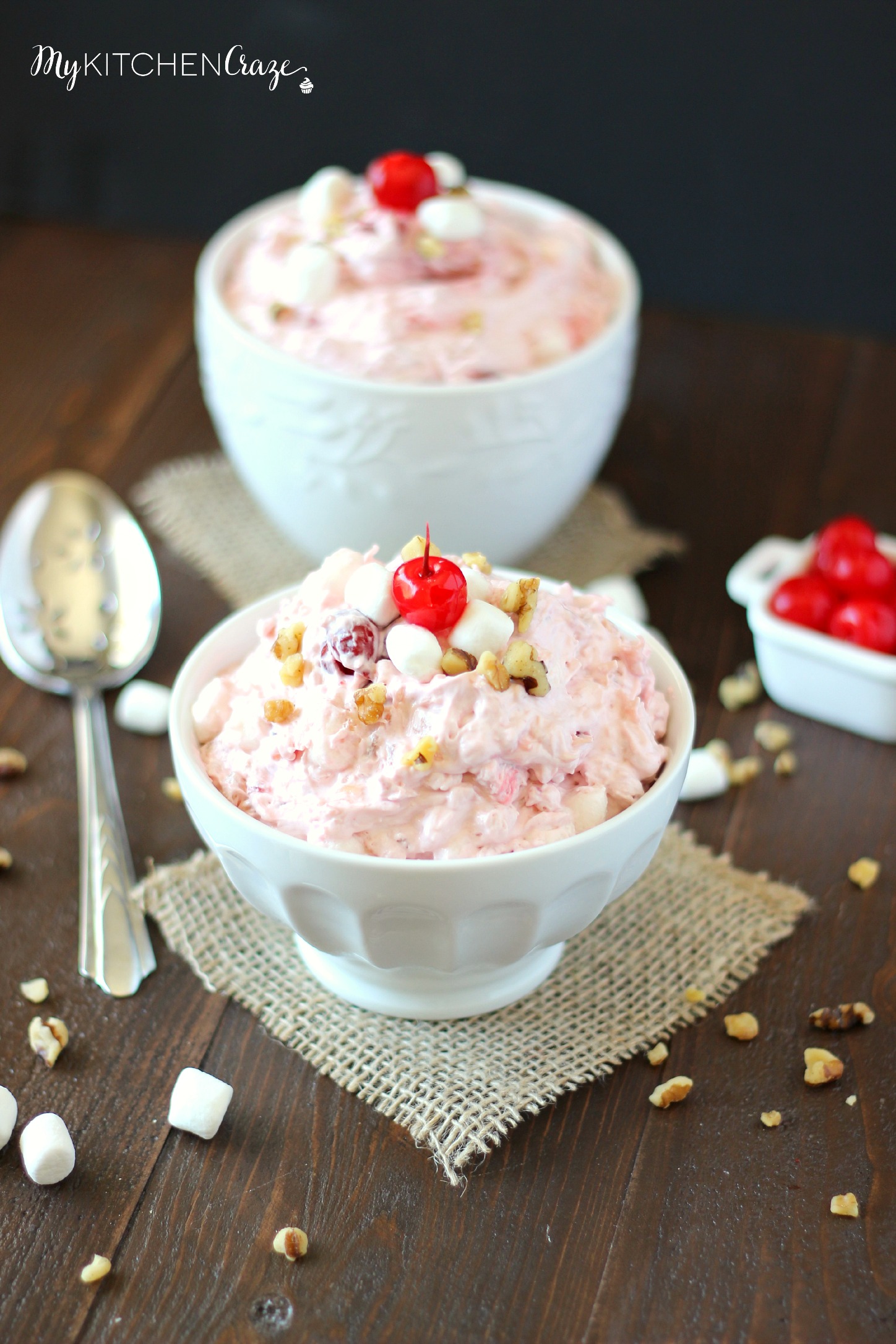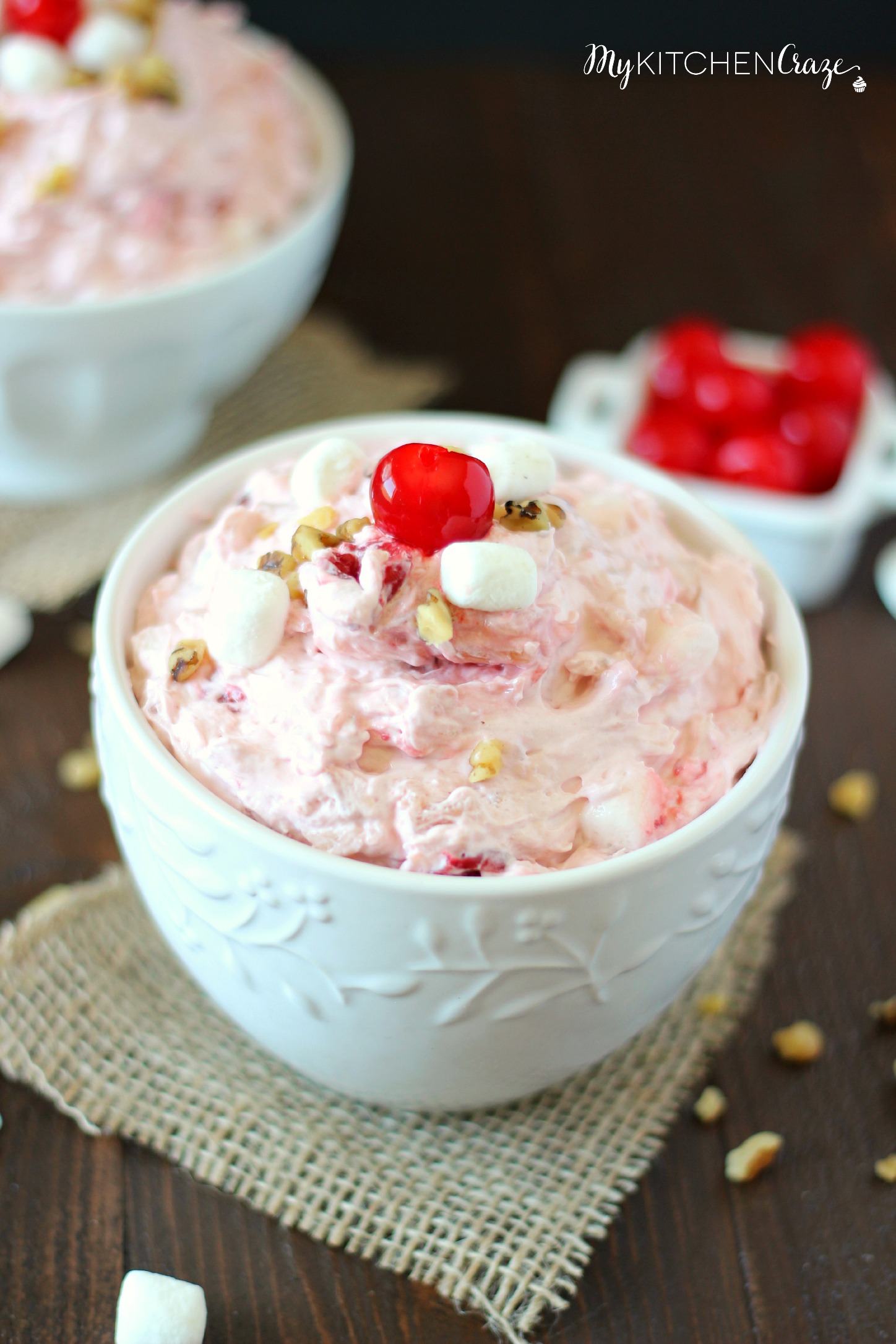 A few weeks later I got her email, bless her heart. I couldn't believe how easy this Cherry Walnut Fluff Salad was to make. I always thought it was one of those recipes that was extremely hard to make because we only had it at family gatherings. Was I wrong. This fluff salad takes 10 minutes to throw together and a few hours to set. Now I'm wishing I would of been in the kitchen more with my grandma and aunts. I would love to know all their great delicious recipes.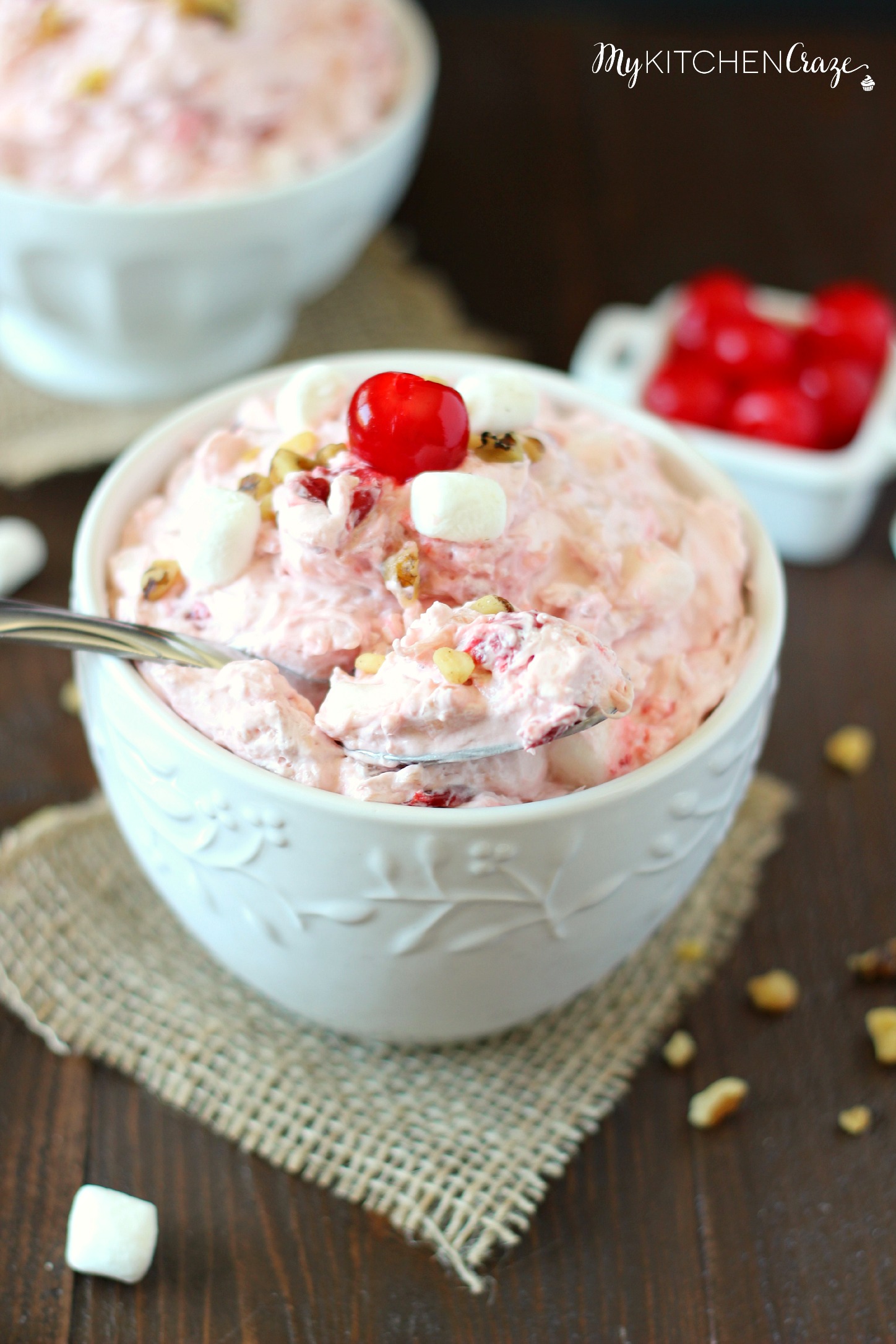 This Cherry Walnut Fluff Salad is creamy, perfect for all sorts of occasions and taste ah-mazing. If you're having a hot day outside and need something to cool off. I would highly recommend this fluff salad. It's so refreshing and taste delicious! Also if you're having a gathering at your house, I recommend you making this Cherry Walnut Fluff Salad. It's always a huge hit at our house.
Cherry Walnut Fluff Salad
Author:
Prep time:
Cook time:
Total time:
Ingredients
1 (21 ounce) can cherry filling
1 (14 ounce) can sweetened condensed milk
1 (20 ounce) can crushed pineapple, drained
1 (8 ounce) cool whip, thawed
1 1/2 cups miniature marshmallows
1 cup chopped walnuts
Instructions
In a large mixing bowl, mix together the cherry filing, condensed milk, crushed pineapple, marshmallows and walnuts.
Add in the cool whip and mix well to combine all the ingredients.
Cover and refrigerate for a minimum 2 hours before serving.
Notes
**Keep fluff salad refrigerated. Will keep 3-5 days in a closed container. Make sure to stir together before serving.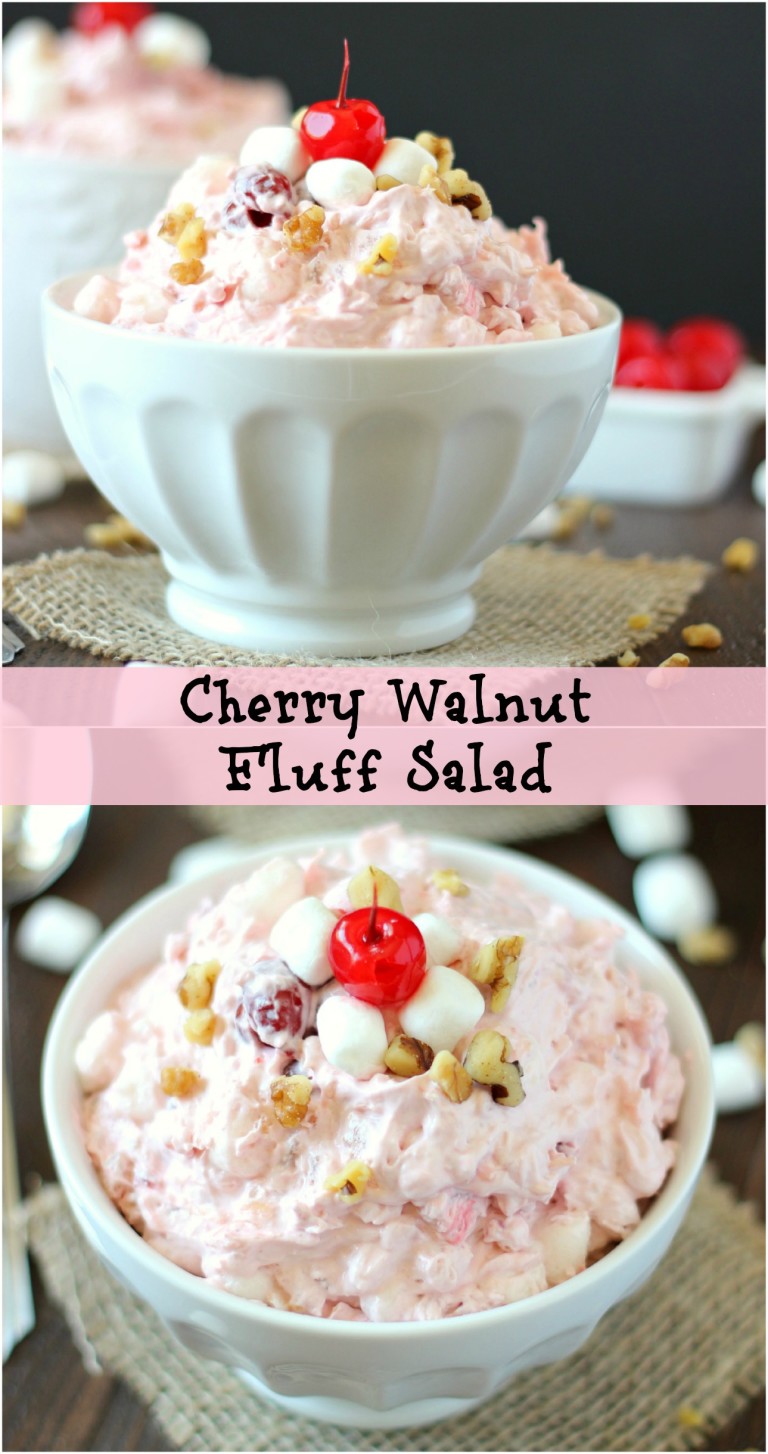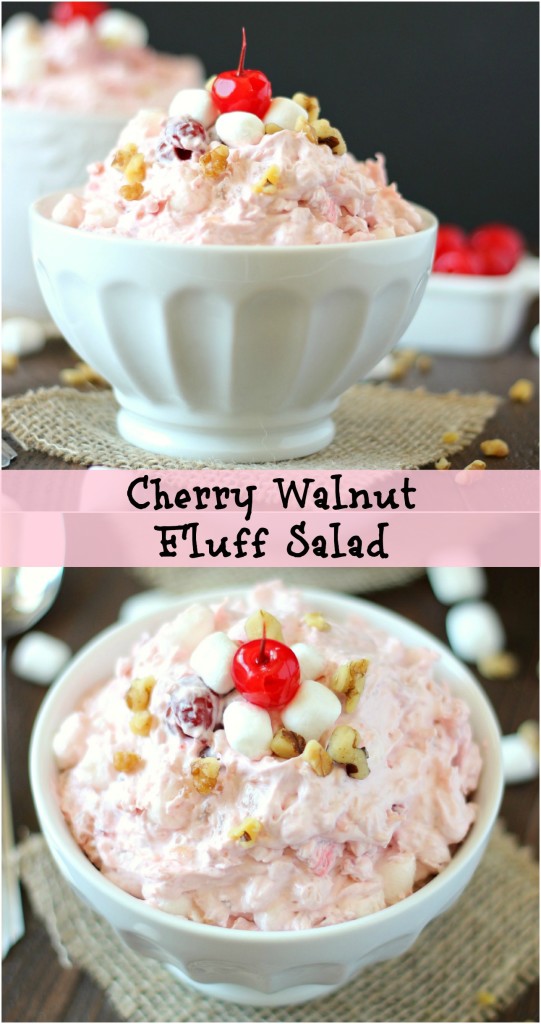 Love Fluff Salad's? Here's some more fluff salad recipes from my friends:
Banana Split Fluff Salad by Inside BruCrew Life
Pistachio Fluff Salad by Shugary Sweets
Orange Fluff Jello Salad by Six Sisters' Stuff