Caramel Almond Biscotti
Caramel Almond Biscotti are a delicious and amazing dessert to go with your coffee. They're crunchy on the outside with a semi soft center. Added with Caramel Bits to give them a nice flavor and texture. Chocolate is then drizzled over the tops to take these Caramel Almond Biscotti to a whole new level!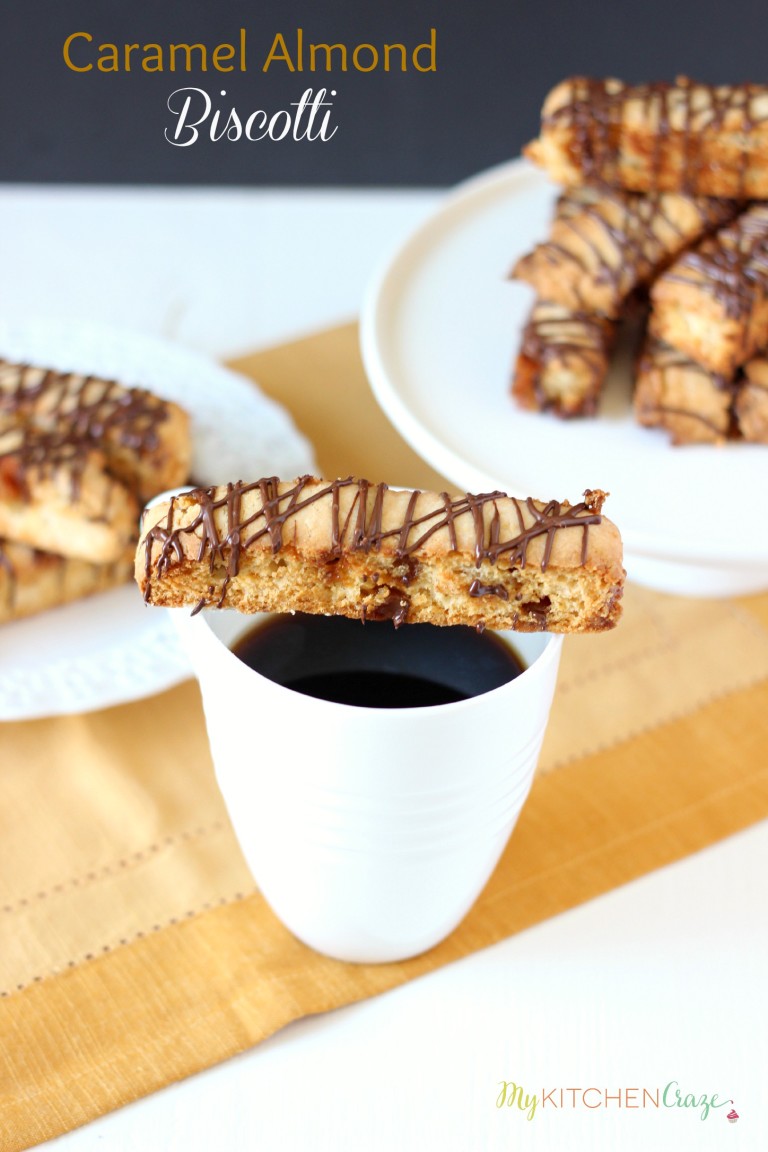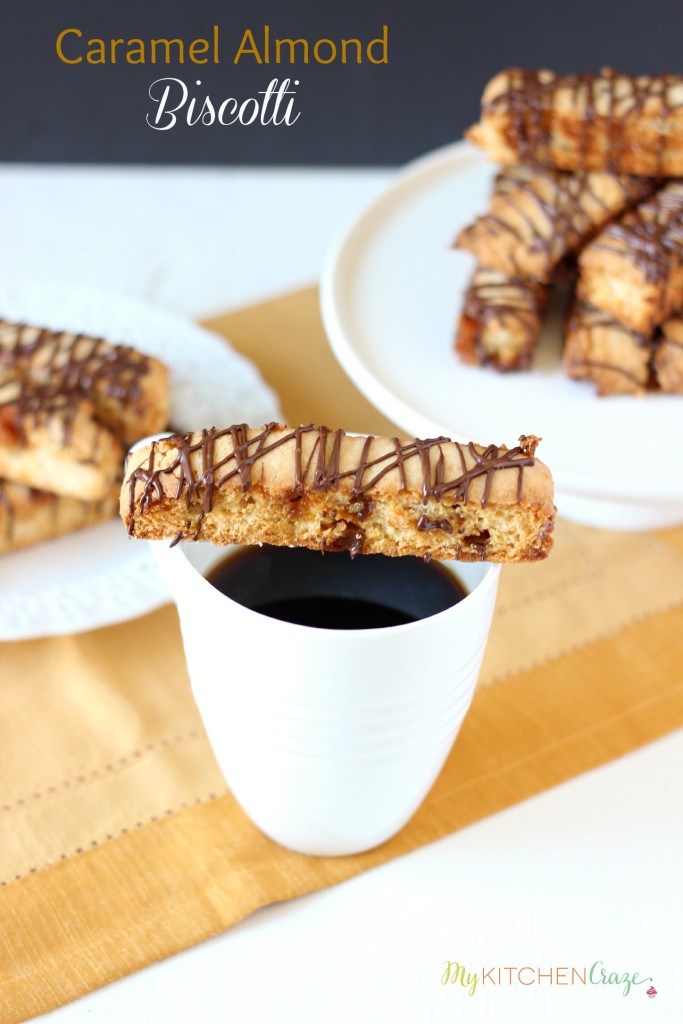 I have an obsession and I don't know how to stop it. And if I am being honest, I don't want to stop it.
I love coffee. I love to drink it all day, every day and I can seem to stop. The funny part about this whole coffee obsession is I never used to like coffee when I was younger. When Sean and I first got married, we used to go to coffee shops all the time and sit outside San Diego's amazing city. But the I never drank any coffee.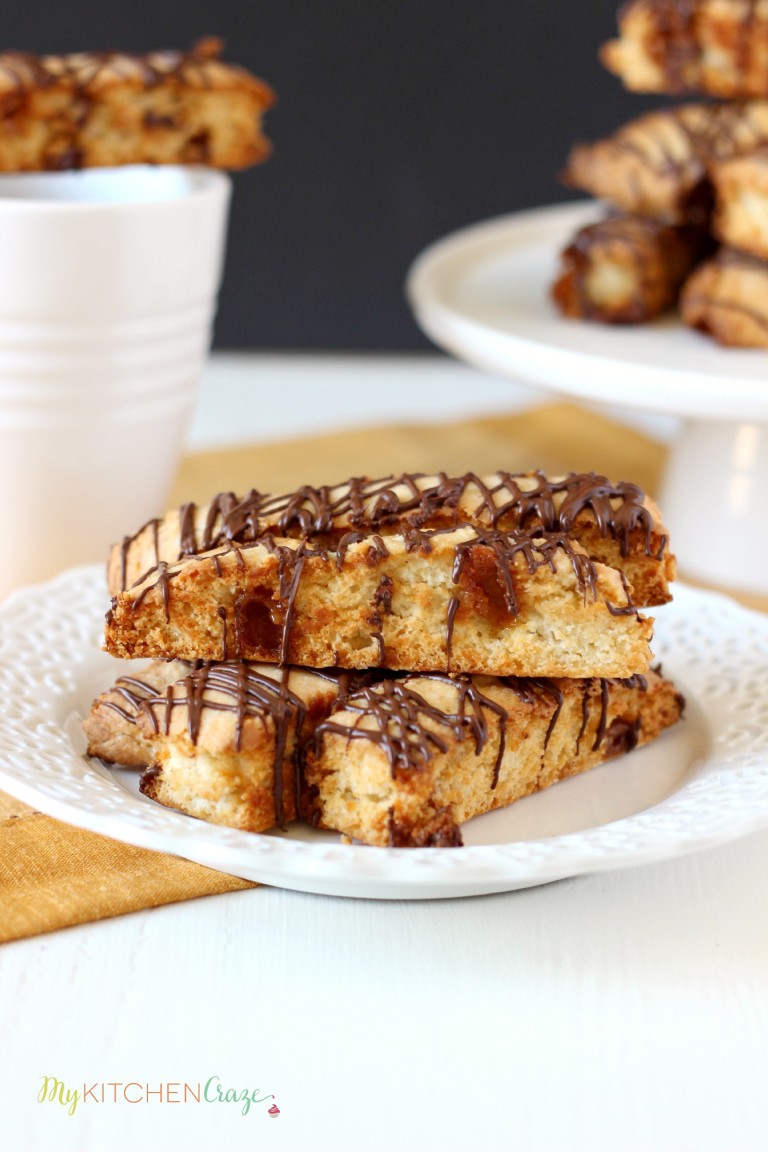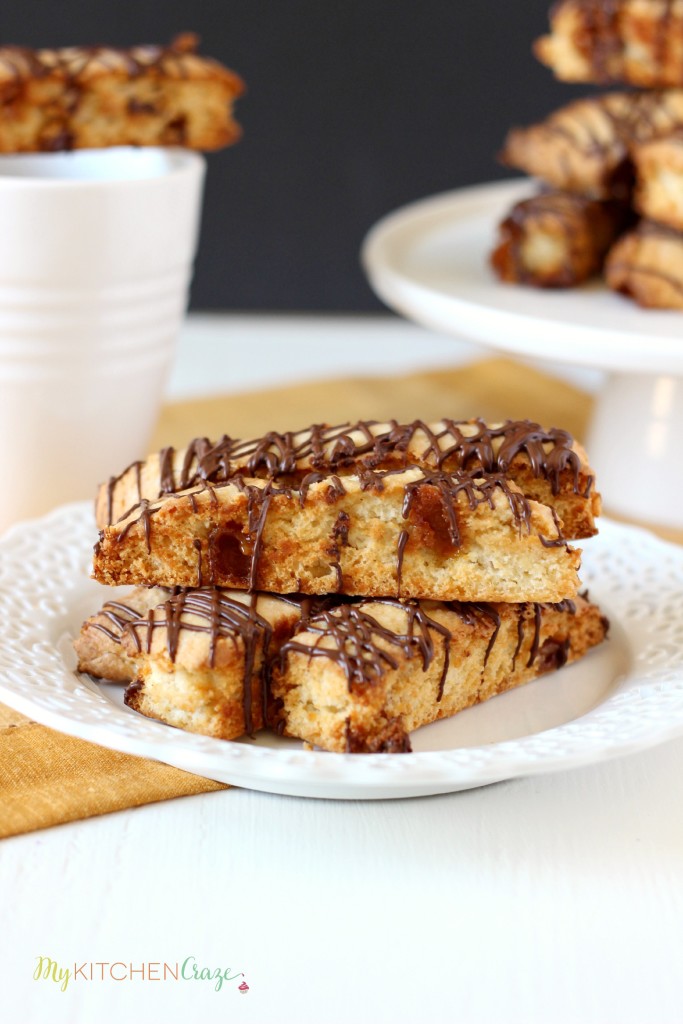 Sean would get the coffee drinks and I would go next door to the ice cream shop and grab a huge bowl of ice cream. I never knew why there was such a big hype about coffee. It was this warm drink with cream and sugar. That was it. Or if you got yourself a latte, then it was just warmed milk.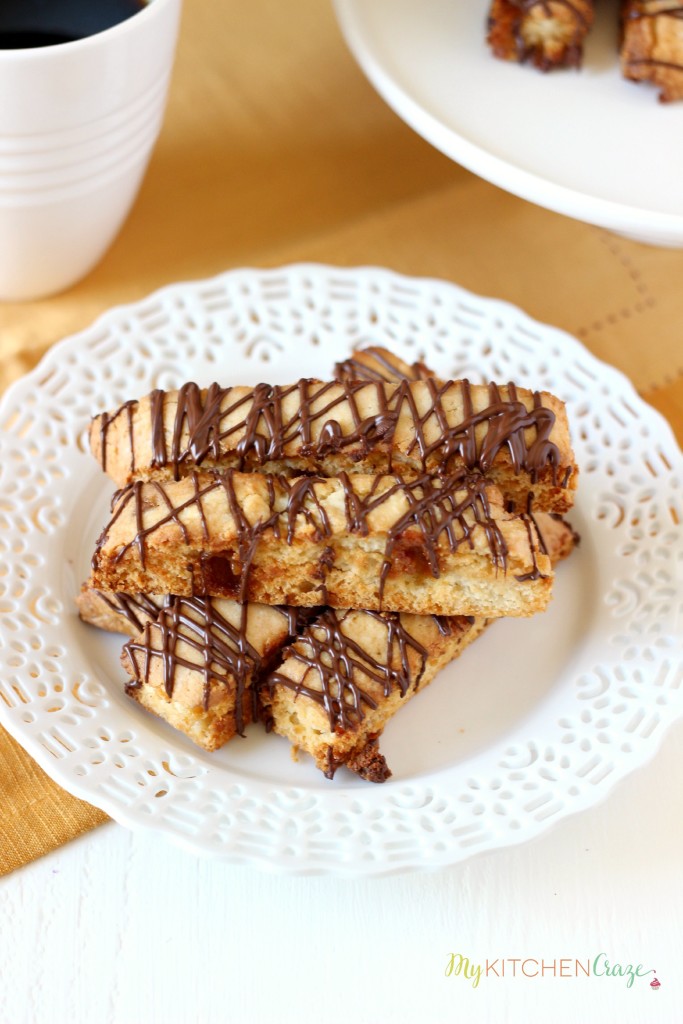 Well fast forward 10 years and I'm now eating drinking my own words. I love coffee. In fact I'm quite obsessed with it. Now, Sean and I got to Starbucks and have our favorite Caramel Macchiatos and every morning and night we have at least 1-2 cups of coffee. I know it's an addiction that I need to work on, but I just don't want to right now.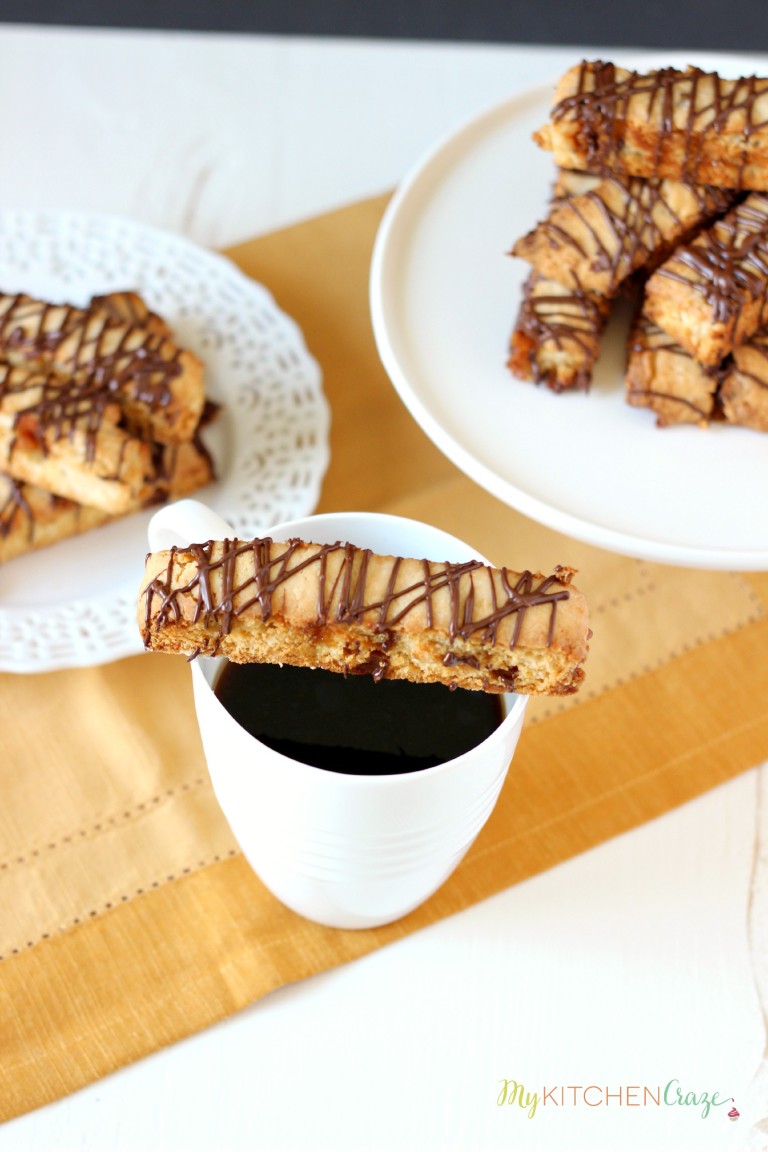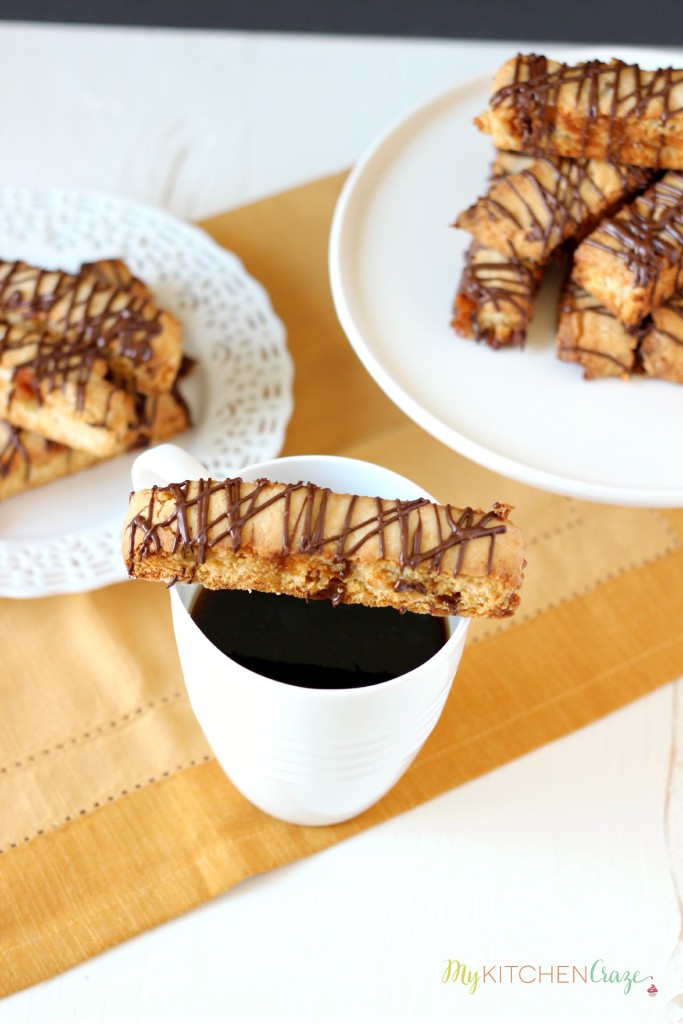 We love to have some sort of dessert with our coffee and these biscotti are an amazing companion. Any type of biscotti in general are perfect desserts for your coffee. They're crunchy, but get soft when you dunk them in your warm coffee. And who doesn't love to dunk things in their drinks?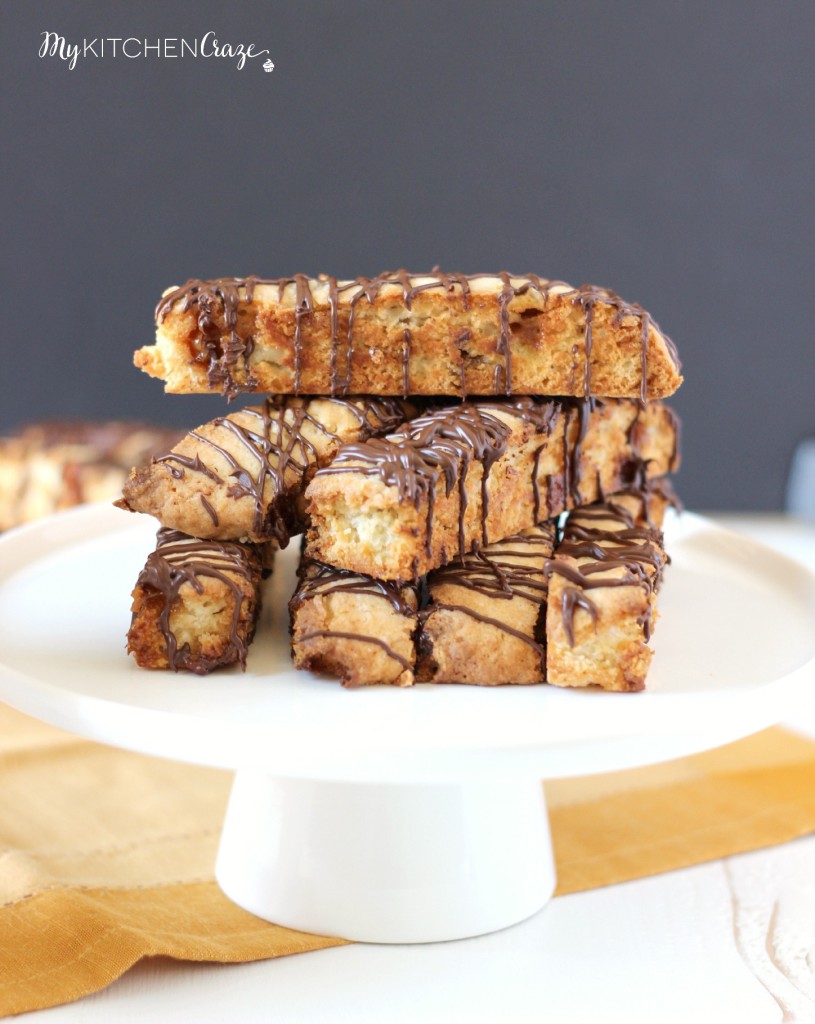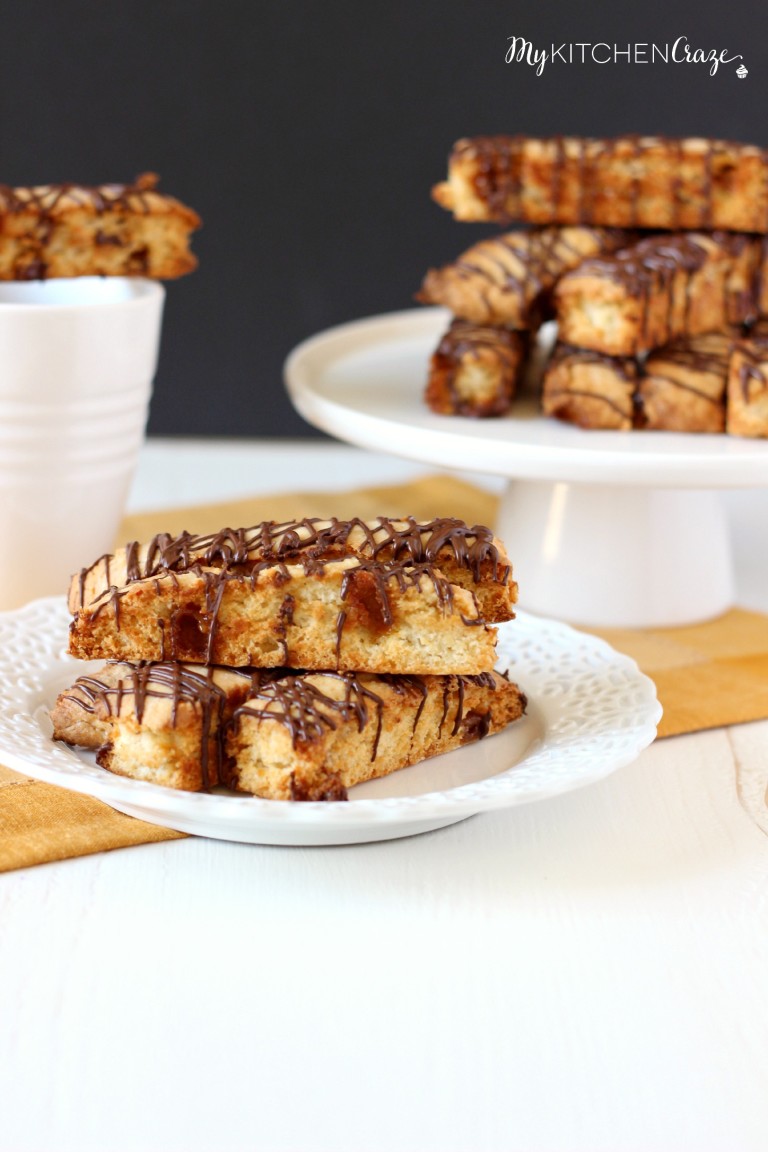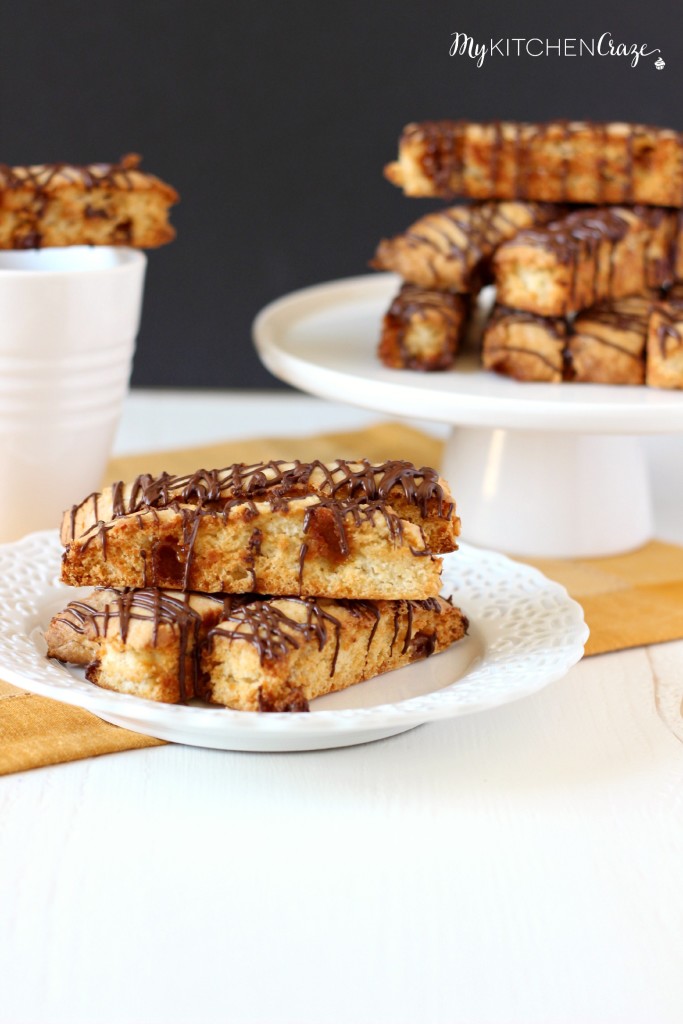 So, grab your coffee and these deliciously crunchy and chewy Caramel Almond Biscotti. These biscotti's have such a wonderful almond flavor that you won't be able to eat just one. I also added some caramel bits to give these biscotti a nice sweet and chewy texture. Then of course drizzled some chocolate over the tops. They're amazing and I know you're going to love them.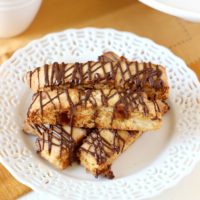 Get the Recipe:
Caramel Almond Biscotti
Ingredients
1

7 ounce almond paste, grated

1

stick unsalted butter

,

cold and cut into pieces

1 3/4

cup

all-purpose flour

1/2

cup

granulated sugar

1

teaspoon

baking powder

1/4

teaspoon

salt

4

egg whites

1/2

teaspoon

vanilla extract

1/2

cup

Kraft caramel bits

1

4 ounce bar baking chocolate
Instructions
Preheat oven to 350 degrees F. Line two cookies sheets with parchment paper or a silpat. Set aside.

Add grated almond paste, flour, sugar, baking powder and salt to a large bowl. Mix throughly. Add cold butter and work into the flour mixture. Mix until crumbly.

In a medium bowl, add egg whites and vanilla extract. Mix until eggs become frothy. Add egg mixture to the flour mixture and mix until combined.

Add caramel bits and mix.

Transfer to dough to a lightly floured surface and work into a rectangle, approximately 10 1/2 by 4 inches. Transfer to prepared baking sheet.

Bake for 20 minutes, then remove from oven and let sit 10 minutes.

Cut dough in half, length wise. Making two log forms. Then transfer one to the other prepared baking sheet. Slice each log into 1-inch biscotti pieces and arrange each biscotti on its side.

Bake another 20-23 minutes. Remove from oven and place on a wire rack. Let cool completely before applying chocolate drizzle.

In a small bowl, add chocolate and microwave for 30 - 60 seconds. Stir until melted through. Drizzle over biscotti and let sit until harden.

Serve & Enjoy!